Donner is a music instruments company that started its journey by mostly selling guitar pedals online and slowly expanding its catalog of products. Donner has managed to introduce great offers for guitarists, especially beginner guitarists.
So, Where are donner guitars made, and are they good? Donner is a Chinese guitar company whose manufacturing and design is based in China. While the materials they use are not the best of quality, for $100 to $200 guitars they play and sound great, in other words, they provide a great price/quality ratio.
Considering that their products receive positive reviews online, the quality is not the reason for it. Let's see what makes the Donner guitars different from others.
Donner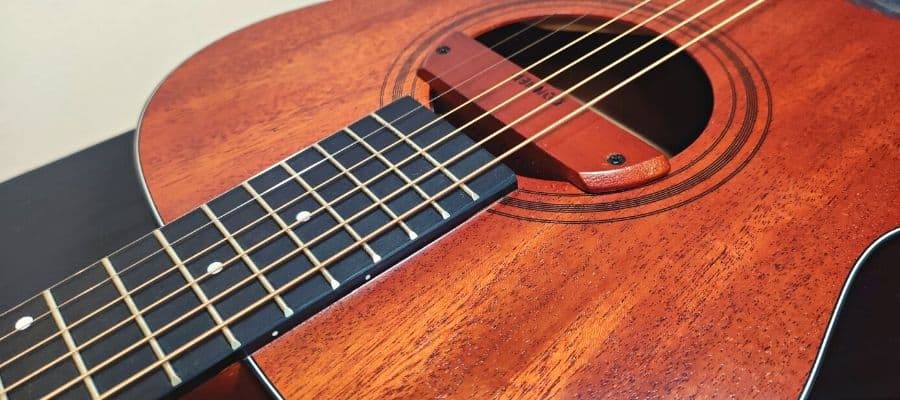 The Donner is a company that flies under the radar for most beginner guitarists, which is understandable for a young company like this. Donner was introduced as a company that makes budget-friendly pedals for electric guitars but they slowly shifted towards making guitars.
Nowadays, they expanded their manufacturing to other instruments such as wind instruments, drums, piano, and keyboard. According to the reviews they provide a great value for money ratio and provide some innovative designs
At the time of writing this article, they have 5 brands that cover a variety of products (Donner, Eastar, Moukey, and Redtimo).
Where Are Donner Guitars Made?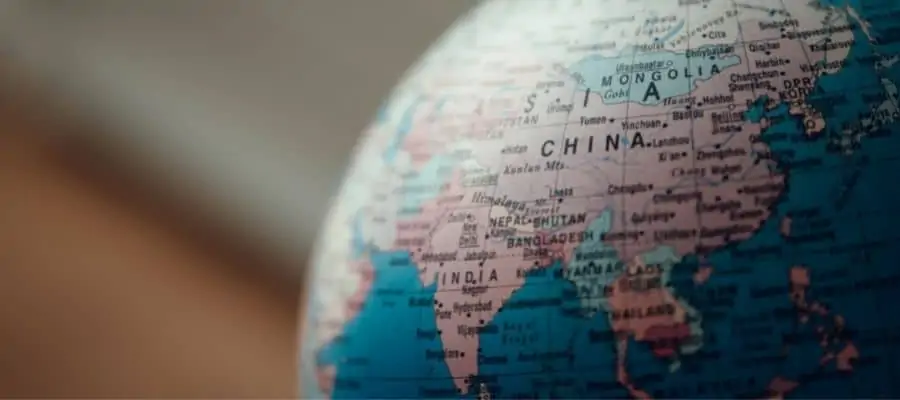 Unlike many American brands that manufacture their instruments in China, but offer premium American-made guitar alternatives as well, Donner is offering completely Chinese-made products.
While other brands like Gibson or Fender have years of experience and big history behind them, Donner is a little more mysterious to the consumer. At the time of writing this article, information about this company is very scarce.
Does It Matter Where Donner Guitars Are Made?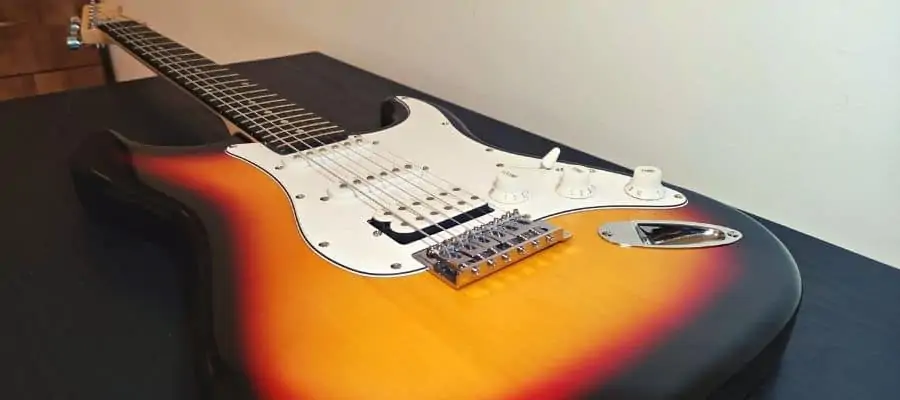 When it comes to ordering stuff from China, most people tend to avoid doing that. Mainly because it takes a long time for the item to arrive and in the end, you may not even get the item you ordered.
But Donner Guitars in the past years have received great reviews about their customer support and reliability.
The fact that all of their manufacturing and design is based in China makes their products uniform and mostly in the same quality range.
All of their orders are shipped from a local warehouse If you are from the U.S, Canada, or Europe and it takes only 7-10 days for the order to arrive.
You may find articles claiming that they represented themselves as a non-reliable company with terrible customer support in the past, nowadays they are far from that.
The reviews now show that they have gone a long way from the beginning of their career
How Good Are Donner Guitars?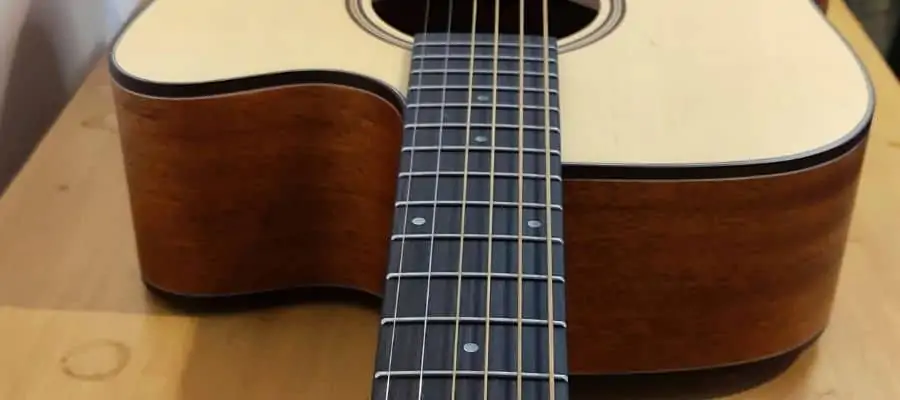 I have tested quite a few guitars from Donner and I have to say that they offer excellent value for your money. Either by offering bundles that include a lot of accessories such as tuners, picks, strings, and amplifiers or by offering a guitar with fewer accessories but much better hardware and quality control.
Some people tend to buy a Donner electric guitar and replace the hardware, most of the time just pickups, and they manage to get a high-quality instrument for 3rd of the price. It could also be a good learning opportunity for beginner guitarists to see the "insides" of an electric guitar.
The Price of Donner Guitars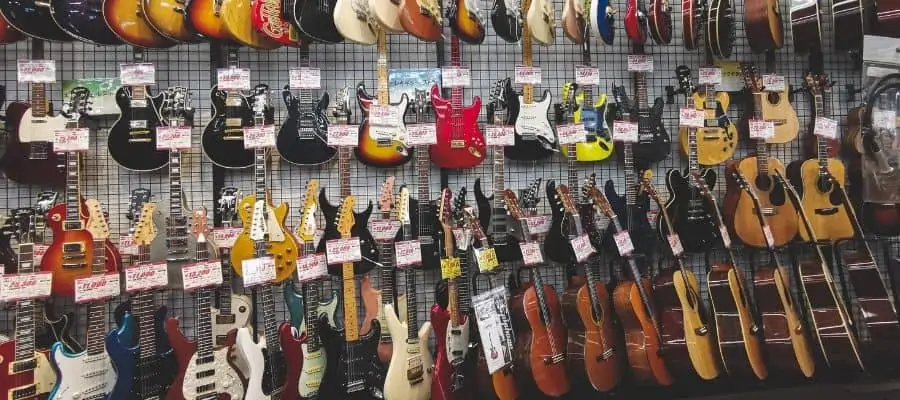 Donner offers great value for the price. There are no guitars over $200. The price range of electric guitars is between $120 to $200.
For acoustic guitars, the price range is between $100 and $190. Keep in mind that they offer great discounts and have frequent sales.
Donner Electric Guitar Models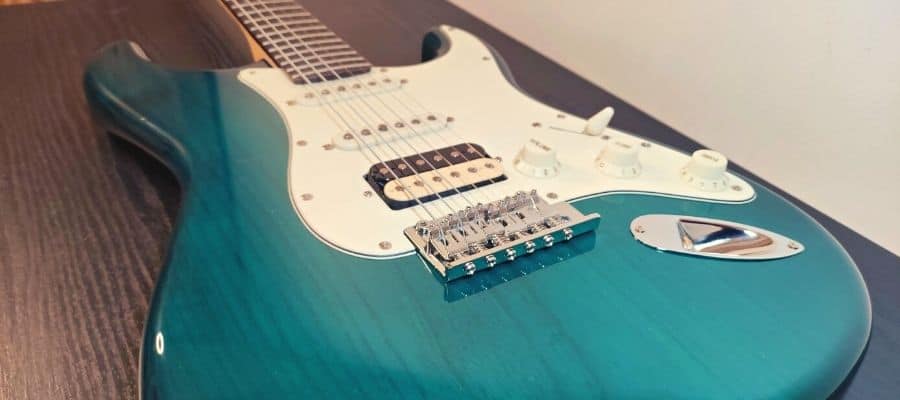 These are the current models that Donner has in production. All of these guitars come with accessories such as an amplifier, gig-bag, strings, tuners, and guitar picks.
DST Series
All of the electric guitars in the DST Series have a solid basswood body with Stratocaster style double-cutaway, chrome tuner keys, good-quality brass strings, and a PVC pickguard. All of the guitars in this series come with S-S-H pickups which provide you with big tone diversity.
A good example of this series is Donner DST-120S. This guitar is excellent for beginner guitarists and it looks and feels rather good. The selling point of this guitar is the price which is around 150$. You get the necessary equipment to start playing as soon as you get your hands on the guitar. The package includes the amplifier, strap, picks, tuner, cable, capo, bag, and so on.
This guitar features a humbucker in the bridge position. The quality of pickups is not impressive. You will get a lot of noise as you increase the drive, but even playing it on a clean channel will not deliver the clean Stratocaster sound. While there are many flaws with this guitar, considering the price and the fact that this is an entry-level guitar, this is a great deal.
DLP Series
DLP Series features a Gibson Les Paul body style made of solid basswood. It comes with Laurel Wood fingerboard, Canadian maple neck, H-H pickups, 3-Ways Pickup switch, Volume & tone controls.
We can take a look at the DLP-124S guitar from this series. This guitar comes in two colors: Black and Sunset Yellow. This guitar has made it on the list of most-sold electric guitars in the world, especially during the lockdown. It won the hearts of beginner guitarists who do not want to break their budget but have the desire for a high-quality instrument.
This guitar has a comfortable neck and it is lightly weighted which makes it easy to play. It features two humbuckers which give a great warm sound while still can deliver a crunchy punch.
DTC Series
The DTC Series features a Telecaster-style body made of solid Poplar wood, chrome tuner keys, good-quality nickel-plated steel strings, and a PVC pickguard.
The representative of this series is DTC-100S. Reviews for this guitar are 90% of the time positive and people seem to really love what they get. This guitar delivers a nice and bright Telecaster style tone. It comes only in sunburn finish which is high quality for this price.
DJC Series
This series features a semi-hollow body style with H-H pickups. It is made of a solid poplar body, maple fingerboard, and Canadian maple neck.
It does not give the "traditional" jazz tone, still warm but more "modern" sounding. Known for its warm tone, playability, and build solid enough to take a beating.
DJC-1000S is the most popular guitar from this series. At the time of writing this article, it comes in Sunburst Maple body only. The reviews state that the body of this guitar feels not too heavy but solid, the neck is smooth without any sharp fret edges. Overall, it is a great-sounding guitar that will give you a mild but still punchy tone that will allow you to stand out of the mix for a great price.
DPB Series
This is a bass guitar series that features guitars with a solid basswood body with fine arches, chrome tuner keys, good-quality brass strings, and a PVC pickguard. These guitars come with P-Bass pickups which provide a clear and warm bass tone.
We will take a look at DPB-510S. This guitar comes with a Modern C-shaped body. You can get this guitar in Sunburst and Black color. Reviews claim that the guitars feel surprisingly solid for their weight. While the pickups of this guitar are not the highest of quality, they can give slap & pop, while allowing you to get a grittier and more attack-driven sound when playing with a pick.
Donner Acoustic Guitars Models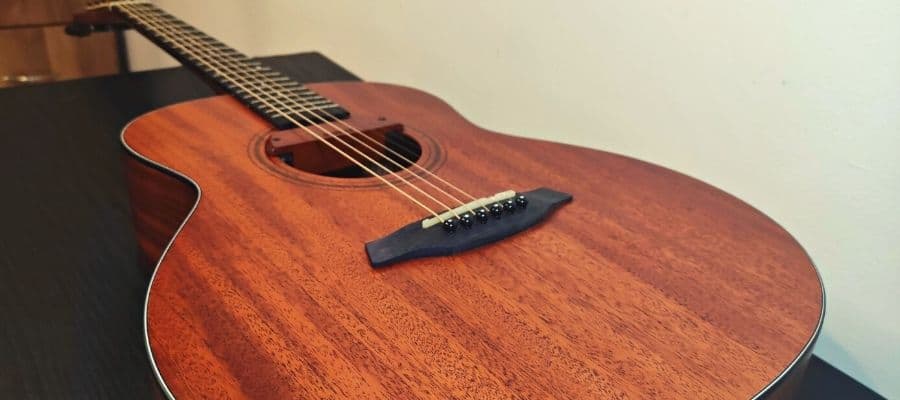 These are the current acoustic guitar models that Donner has in production. Like electric guitar series, these also come with accessories such as a gig-bag, strings, tuners, and guitar picks.
DAG Series
The DAG series presents dreadnought acoustic guitar series with a bold sound and features a spruce top with scalloped bracing. It comes with a mahogany back and sides, chrome tuning keys, and high-quality brass strings.
We will take a look at DAG-1C. This is a perfect guitar for people who are just entering the world of music. Its super low price with great quality makes this guitar an amazing deal. This guitar is one of the best choices for beginner acoustic guitar on the market today.
This guitar provides great sound quality while its price tag is lower than $150. It comes in a package with accessories such as a tuner, strap, pickguard, extra string, picks, and microfiber cloth. It comes in Sunburst, Natural wood, and Black finish dreadnought body shape.
Like every guitar, Donner DAG-1C has flaws. Fret edges seem to be very sharp on the down part of the neck but this can be easily fixed with luthier and the guitar might need some adjustments out of the box, such as restringing the guitar and tightening the tuning pegs. All of these imperfections are overshadowed by the price of this guitar.
DAE Series
This series features traveler acoustic guitars. The full body is made out of high-quality mahogany wood. Guitars in this series come in three different colors: Natural, Black, and Mahagony. They are also equipped with a Dss-mini soundhole pickup.

A perfect example of this series is DAE-36M. Considering the fact that this guitar is classified as a travel guitar, it is perfect for children who are just starting to learn guitar. Considering that the size of this guitar is ¾, it is not great for players with big hands but makes it perfect for children. Matte satin finish feels great and makes the playability smooth when you move your hand across the neck.
Straight out of the box it comes with low action which is great for beginner players. While it delivers great mids and highs, its punch in the low end is not as good as it is with the full-sized guitar.
DAD Series
The Donner DAD guitar series comes with a solid top dreadnought with a big, bold sound and features that represent exceptional value. It features a Solid Stika spruce top, mahogany back, and sides chrome tuner keys, and good quality brass strings.
DAD-812 is a good example of this guitar series. It comes only in natural color with gloss finish spruce top and mahogany back. The resonance is the point where this guitar stands out. For such a small price you will get a great resonance from this guitar. Reviews claim that it is easy to play and it stays in tune which makes it perfect for beginners.
DAJ Series
Donner DAJ guitar series features the standard string scale length and a slightly smaller body than our full-sized guitars, giving you a wonderful, resonant sound and ideal portability. The size is similar to a folk or auditorium guitar. This series of guitars has great projection, balance, and a deep and full sound.
The DAJ-110CD is one of the guitars from this series. When it comes to beginner guitars, this one is a hidden gem on the market. This guitar is made out of Sitka spruce mahogany wood with retro art color. Its sound is balanced and pickup is great for outdoor performance. With its excellent deep rich sound, this guitar also delivers smooth highs.
This guitar feels great and it is smaller than Dreadnoughts. With this guitar, you will not find any of the sharp fret edges. DAJ-110CD perfect instrument for players with small hands or bodies and teenagers. It is a great beginner guitar with excellent sound and feels.
Donner Guitar Starter Bundles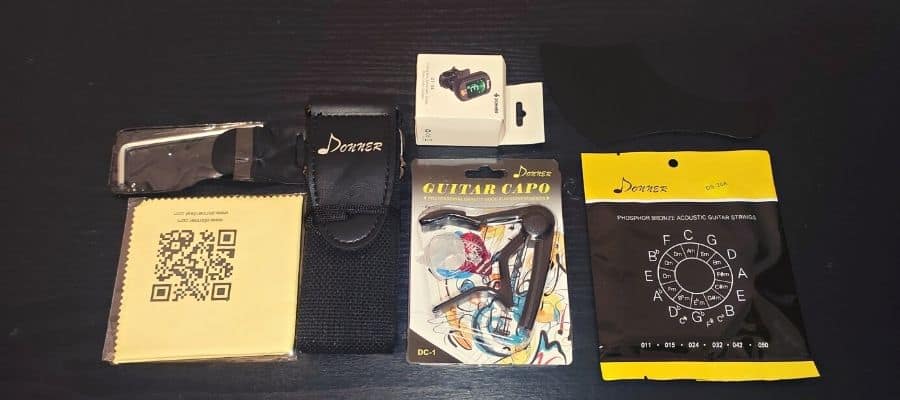 What makes Donner different from other companies is the fact that they offer great guitar starter bundles. These kits come with everything one beginner guitarist needs for a step in the right direction.
A good example of these kits is Donner DST-102S 39 Inch full-size electric guitar kit.
Along with the electric guitar, this kit comes with an amplifier, strings, guitar strap, capo, tuner, cable, picks, and bag included. This kit at the time of writing this article is selling for around $170 on Amazon.
Does Donner Make Other Instruments Besides Guitars?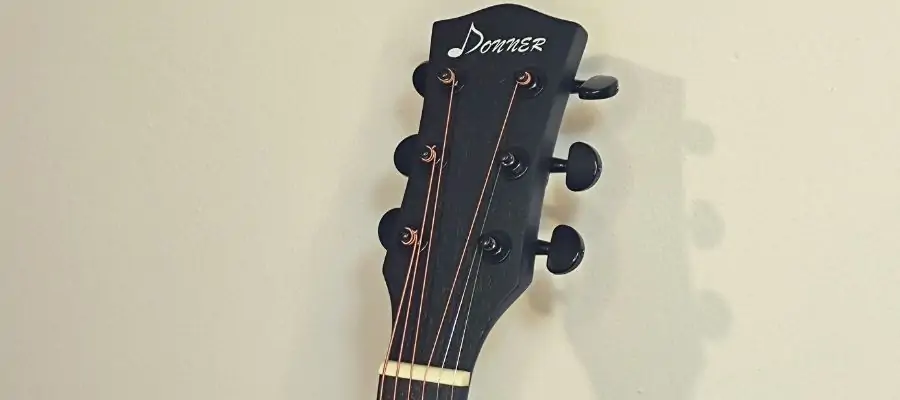 Donner at the moment is not a solo brand. Currently, Donner has four brands, namely Donner, Eastar, Moukey, and Reditmo, covering a wide range of products. For all of these brands, the products they make are all shipped from warehouses located in USA and Canada
Donner
For their customers, this brand offers guitars, effect pedals, keyboards, electric drums, ukuleles, mandolins, and amplifiers. This brand provides some great effect pedals and beginner guitars which are good quality considering they offer budget-friendly prices.
Eastar
Eastar offers a wide range of classical brass, string and wind instruments, percussion, guitars, electric pianos, and other popular instruments, as well as a wide range of tuning equipment.
The great thing about this brand is the fact that they offer great deals for beginners who are willing to try themselves in classical brass, string, and wind instruments without breaking their budget.
Moukey
Moukey brand offers great studio equipment for budget-friendly prices microphone, headphones, tongue Drum, party lights, and many others. This brand has some great deals on Amazon which are great for people who would like to create their small home studio to create their music. Although they may not offer high-quality audio interfaces, studio monitors, or headphones, they offer great products such as microphone isolation shields, cable clamps, microphone stands, and many others.
Reditmo
Reditmo offers a variety of products made for kids. This brand also offers a variety of gifts for guitarists and musicians. The most notable product from this brand is the ukulele. Reditmo would be a perfect way to get your kids into a world of music at an early stage.
Conclusion
Buying your first guitar is the first barrier to entry into the reality of becoming a guitar player. It is hard to find a good quality instrument for a reasonable price, especially now because we have more guitar brands than ever.
Luckily, some brands do their best to offer better quality for value ratio. Donner aims to be one of those brands.
These guitars are perfect for guitar beginners who have not yet uncovered their true potential.
If you found this article useful you may want to save this pin below to your Guitar board