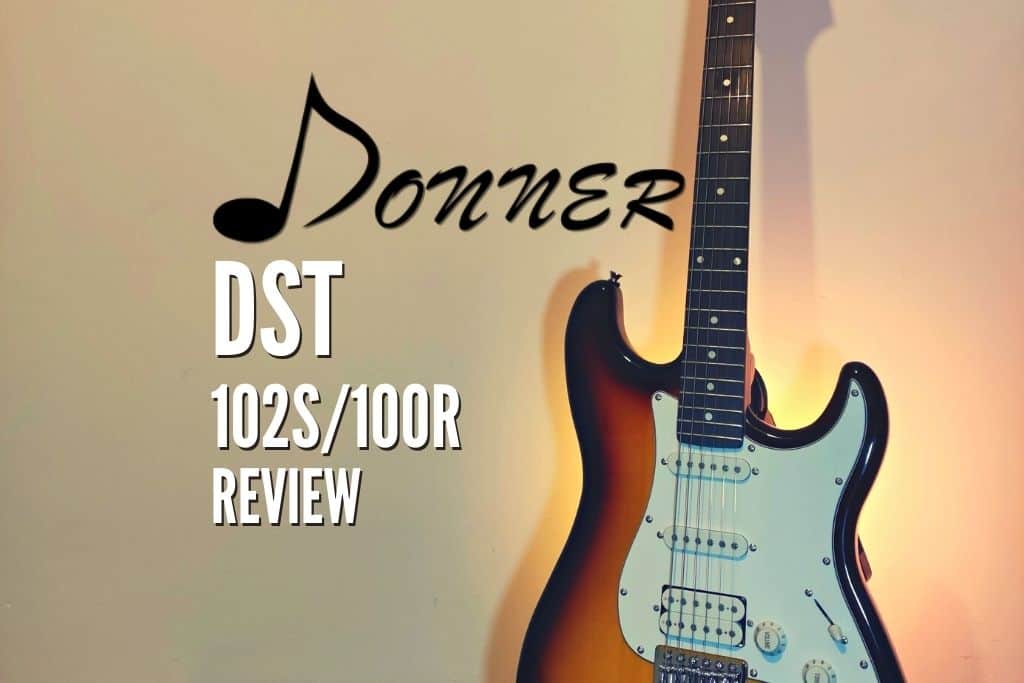 For anyone that is looking to buy themselves (or for someone) the first guitar, they probably thought of Donner. The company offers numerous deals for such a low price that it is nearly impossible to miss.
Now, the main question is whether these guitars are any good. Discovering a guitar for $150 seems like it's too good to be true, and here, I will review Donner DST-102R. This way, you will get to know all the pros and cons, and whether the guitar is worth the money.
For some, this might seem like a small price to pay, and they'd be willing to invest so they (or their children) can learn how to play the guitar.
Donner DST-100S 39 Inch Full Size Electric Guitar Kit Solid Body...
[H-S-S pickups] Donner electric guitar has two classic Single-coil pickups...
[Canadian maple neck with "C"shaped profile] Donner DST-100 beginner...
[22 copper-nickel frets] The 39-inch electric guitar features a pick up...
[All-in-one beginner package] Donner electric guitar set comes with a...
The guitar can be an excellent tool for beginner players, and it is a decent looking/performing instrument. Needless to say, you shouldn't expect to get a Fender for this money, and if you consider the price/quality ratio, it is a good deal.
| Pros | Cons |
| --- | --- |
| The guitar is really cheap. Perfect for beginners looking to learn more about music and guitars. You will have a hard time finding a better deal in terms of price/quality. | The quality of the guitar is not great. It is an entry-level guitar, and the materials are bad compared to the more expensive instruments (which is expected). |
| You get the necessary equipment to start playing as soon as you get your hands on the guitar. The package includes the amplifier, strap, picks, tuner, cable, capo, bag, and so on. | There are no pedals in the package, which means that you'll have to rely on the sound from the amp. The amplifier works on batteries. |
| Well-known shape and variety of colors. | The target audience is beginners, and the instrument is not satisfying or good for those with more experience. |
It is more than obvious that the guitar is designed for those starting to learn how to play an instrument. It's something that parents would buy for their children, and it can be a decent guitar for learning.
Naturally, once the person gets more familiar with the instrument and learns how to play (at least basics) they will probably want to proceed to something better. The selling point of this guitar is the price, and if you decide to buy it, you'll be satisfied.
All things considered, it is a decent-looking instrument, and I am a bit thorned here. On one hand, I'd give it five stars just because the price is so low, but if we're being honest, it is around 4 stars for the entry-level instrument.
Donner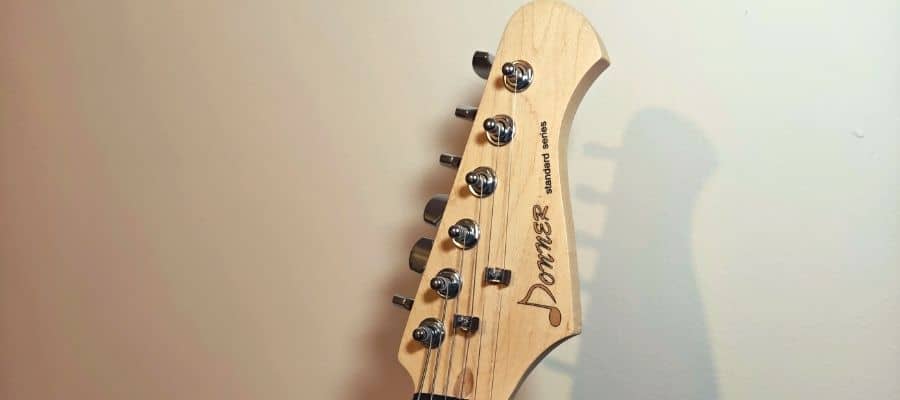 Donner is a Chinese company founded in 2012. They started their journey by making cheap pedals for electric guitars. Even today, the company doesn't have any factories or facilities outside of China.
In the past eight years, Donner grew and they started making all kinds of instruments. Most notably, they make incredible (and affordable) kalimbas. In 2018, the popularity of Donner increased rapidly when they started selling ukuleles on Amazon.
For years now, Donner has been creating affordable instruments and gear that is mostly targeting beginner players. You can find ukuleles, kalimbas, pedals, guitars, keyboards, accordions, and others.
Currently, Donner covers four different brands. Donner – which is in charge of ukuleles, guitars, keyboards, pedals, electronic drums, and others. The second one is Eastar, which manufactures violins and wind instruments. The third is Moukey that focuses on microphones, headphones, and other electronics. And finally, there is Reditmo in charge of instruments for children.
Unlike other companies that offer both affordable and expensive or mid-range guitars, Donner focuses on the former one and the company is trying to help people learn how to play an instrument even if they are inexperienced.
The Specs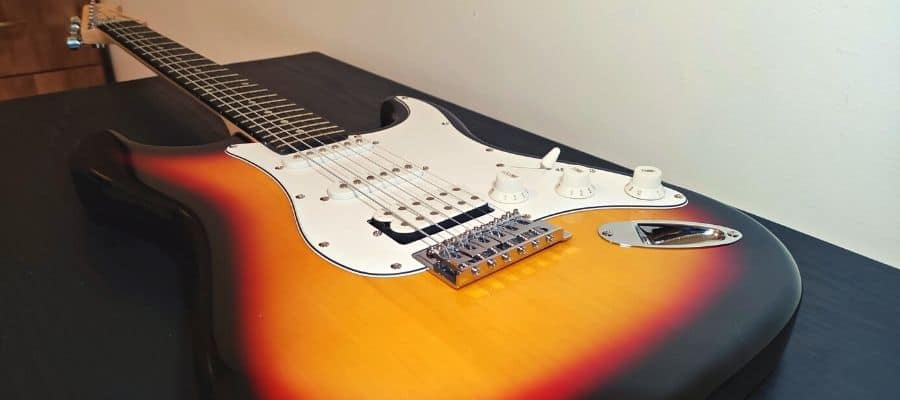 There is no doubt that price is important when looking for an instrument. But specifications are also something that matters. Whether you are a beginner or an experienced player, you'd like to know what Donner guitar offers, and whether it is something you'd enjoy having.
General
| | |
| --- | --- |
| Series | DST |
| Number of Strings | 6 |
| Hand Orientation | Right |
| Colors | Red, Black, Sunburst, Blue |
| Weight | 7.27 lbs (3.3 kg) |
Body
| | |
| --- | --- |
| Body Shape | Strat |
| Body Construction | Double Cutaway |
| Body Type | Solid |
| Body Material | Basswood |
| Top Material | Basswood |
| Top Type | Curved |
| Back Material | Basswood |
| Finish | N/A |
Neck
| | |
| --- | --- |
| Scale Length | 25.5" (648 mm) |
| Neck Construction | One-piece |
| Neck Material | Maple |
| Truss Rod | Adjustment at the nut |
| Truss Rod Type | Wrench |
| Fretboard Material | Ebony (Laurel) |
| Fretboard Radius | 12" (305 mm) |
| Position Inlays | White dot inlay |
| Number of Frets | 22 frets |
| Fret Size | Medium |
| Nut | White plastic |
Electronics
| | |
| --- | --- |
| Pickup Configuration | HSS |
| Neck Pickup | Classic Single-coil pickup |
| Middle Pickup | Classic Single-coil pickup |
| Bridge Pickup | Power 203S Humbucker |
| Controls | Volume, Tone, Tone |
| Switch | 5 positions: Neck, Neck and Middle, Middle, Middle and Bridge, Bridge |
Hardware
| | |
| --- | --- |
| Tailpiece | Tremolo |
| Bridge Type | 6-screw Tremolo |
| Tuners | Steel |
| Finish | Chrome color |
| Pickguard | White, 3-ply |
As you can see from the specs, Donner DST models are nothing special or unique. If you are looking for an innovative guitar that offers something different, then you might want to seek it elsewhere.
The guitar has the shape of a Stratocaster with a three-ply pickguard and standard Strat controls (two tones and one volume). It also has a five-way switch that allows you to select the pickup you're using: neck, neck and middle, middle, and middle and bridge.
What is different compared to the standard Strat is that it offers a humbucker in the bridge position. The quality of the pickups is not impressive, and there is a lot of noise if you increase the drive. But even if you play it on the clean channel, it still won't have that sparkly, crispy sound like a real Strat.
The frets on the guitar are made of nickel and brass, and they can be a bit rough, and it is possible that you might need to adjust the truss rod before you start playing. Both sharper frets and neck tension can be easily adjusted in your local store.
While there are tons of little flaws in the instrument, there is no doubt that the price is incredible. Moreover, you will also get a rechargeable amplifier, tuner, and everything else you'd need to start playing the guitar.
All things considered, Donner DST is worth the money, especially considering how low the price is. You will have a challenging time finding a cheaper guitar, and even if you did, the quality will be ridiculously lower.
Of course, if you can afford to pay more, buying a more expensive guitar is undoubtedly a better option. Especially if you really want to learn how to play it, and plan on using it in the future. But you won't make a mistake if you buy this one either.
The Sound, The Feel Of The Instrument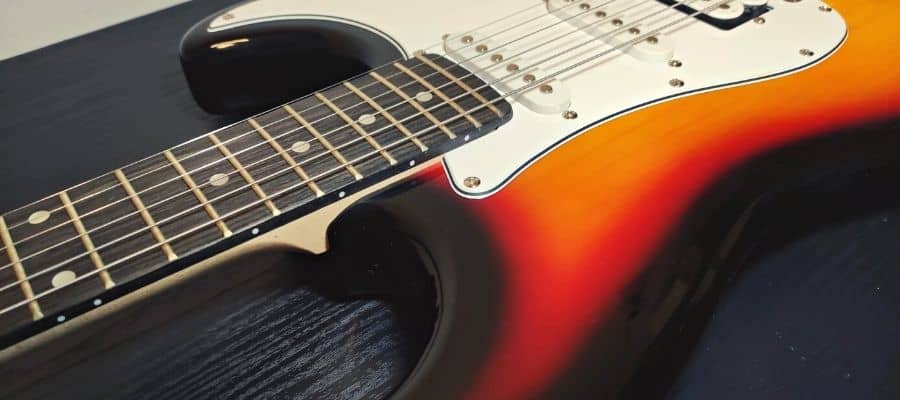 One of the primary complaints I have with Donner DST is something that you can easily fix. And if you are an absolute beginner, you can go to the local music store and let someone experienced do a setup.
So, assuming that you'd do just that, it would mean that the guitar will get a proper tuning, adjusted truss rod, reasonable action, polishing frets, and so on. You can also get better strings as well. All of this is not really expensive, and it is easily fixable. However, it will make a world of difference.
For those that are just starting to play the guitar, they are unfamiliar with terms like action, and they'd probably want to avoid doing anything that might mess up the guitar. Once your guitar is ready, you will be able to learn so much and improve your guitar playing skills.
If anyone is curious, you can check out the review by Herman Li from Dragonforce. He plays the guitar out of the box with the original settings, and later you can see the type of adjustments needed to improve the feeling and playability of the guitar.
Of course, I should mention that he uses a Kemper amp for this video, and you can hear how great the guitar sounds on a high-end amplifier. Naturally, you probably won't use a $2,000 amplifier, and the sound will be a bit worse.
If you are looking to hear the sound of the amp, you can check the second video where Herman Li compares it to Kemper, and it is surprisingly good.
Especially if you consider that it is a part of the package.
Donner DST 102 Is Perfect For Whom?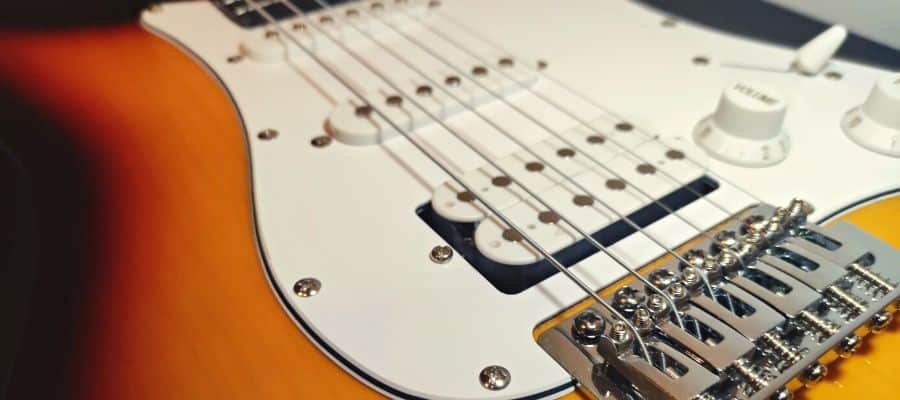 Donner DST is a perfect guitar for beginners. There is no doubt about it. Whether you are looking to buy the guitar for yourself or your kids, it is an excellent choice. You won't spend a fortune, and you will get a decent guitar that can be used to learn so much about music.
A couple of decades ago, finding something like Donner would be nearly impossible. All of us had to learn how to play the guitar either on something more expensive or to start with the acoustic guitar.
Another important thing to mention is about kids. We all know how their attention is. They are interested in something today, and they don't care about it tomorrow. Getting a $120 guitar is the best possible idea. If they decide that it is too challenging (or boring), it's not the end of the world.
But if they love playing it, you can easily get something better in a couple of years. Spending $1000 on a guitar for someone who is just starting to play would be a mistake. Furthermore, no one needs an expensive guitar to learn how to play. All they need is a will to learn and patience to go through the whole process.
So, Donner DST is an excellent choice for anyone who is at the beginning of their music journey, regardless of their age.
Is It Possible To Upgrade Donner DST 102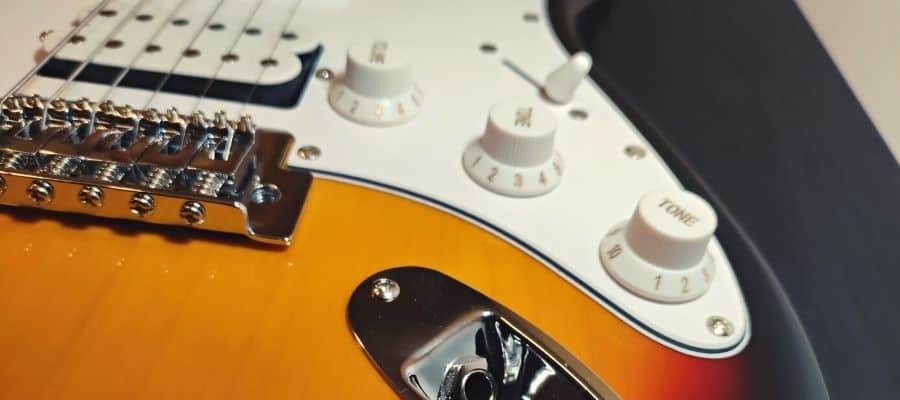 The short answer is yes. You can upgrade the guitar and change nearly every part of it. If you don't like the bridge, you can buy a new one and replace it in a couple of minutes. The same applies to pickups as well, but the process might take you a bit longer.
Since the guitar is based on the Fender Stratocaster, every single part is removable and replaceable. Now that we've understood that, I need to explain a couple of things.
Firstly, upgrading a guitar like this is not a good idea, unless you really love your instrument. The reason for this is simple. The guitar is around $120. Getting a set of good pickups can be over $200. Replacing a tremolo can cost around $100 – $150. Fender's locking tuners are around $70. And even if you replace all of that, you'd still be left with a not-so-impressive neck (replacing a neck is another $200 or more).
As you can see, almost every part of you might want to replace would cost you more than you paid for the guitar. I, honestly, don't think it's worth the investment. For that amount of money, you can buy a mid-range guitar that will have significantly better parts.
The only reason you might want to upgrade it is if you are emotionally attached to the instrument. And in that case, money is probably not an issue, and you'll be able to replace every part you dislike. I believe that instead of upgrading this guitar, you might want to invest in a better amplifier.
Alternatives To The Instrument In Terms Of Look, Feel, Sound, Specs, And Price
For those looking for something different, there are a couple of options you might want to consider. Since this guitar is based on the Fender Stratocaster, there are so many options to choose from. We all know that Strat is one of the most popular shapes in the history of guitars, and you won't have a hard time finding one for yourself.
Squier Stratocaster
For all Fender lovers out there, Squier is an excellent option. The company is owned by Fender, and you will get a real Stratocaster instead of a cheap knockoff.
There are many different series of Squier Stratocaster, and the only thing that will decide which one's for you is your budget. The cheapest and lowest-quality Squiers are from the Bullet series, and I'm not really fond of it. If you add a couple of bucks more, you'd be able to buy an Affinity or even Standard Stratocaster.
Of course, there is also a Classic Vibe series, but it is a lot more expensive compared to the Bullet Strat or Donner.
Jackson JS22 Dinky Arch Top
In terms of price, Jackson Dinky is in a similar range, and it is another excellent guitar for beginners.
While both guitars have a similar design (double cutaway), Jackson is for players who are into metal or any other genre with heavier distortion or overdrive.
Peavey Raptor
Peavey Raptor Plus Black Electric Guitar
25 1/2 inch scale
Solid body construction with new styling for better ergonomics and balance
Dual action torsion rod
Wide top pole piece single coil pickups for bigger string window with more...
There is also Peavey which is a company often associated with amplifiers. They have a decent repertoire when it comes to guitars, but it is not as impressive as Fender, Gibson, Ibanez, and others.
There are a couple of other guitars you might want to check, but the main difference is that none of these models come with an amplifier or additional equipment. It is possible to find a Squier beginner kit, but the guitar is usually sold separately.
Furthermore, each of these models is more expensive than the Donner one. So, unless you can find a Squier guitar kit, then you might be better off with Donner since you will get an all-in-one package.
Summary
For experienced guitarists out there, Donner DST 102 might seem like a bad guitar. But for those without any prior knowledge, Donner is an excellent choice. You will have a challenging time finding a cheaper guitar that has the same quality, and the majority of problems that this guitar has can be easily fixed.
It is an incredible option for those looking to start playing the instrument, and you will get everything you'll need with this model. It comes with an amp, strap, tuner, strings, picks, capo, and several other items, which means that you won't need to buy anything else for quite a while.
All things considered, Donner DST 102 is a great option for beginners, and it is undoubtedly worth the money.
If you found this article useful, you may want to save this pin below to your Guitar board.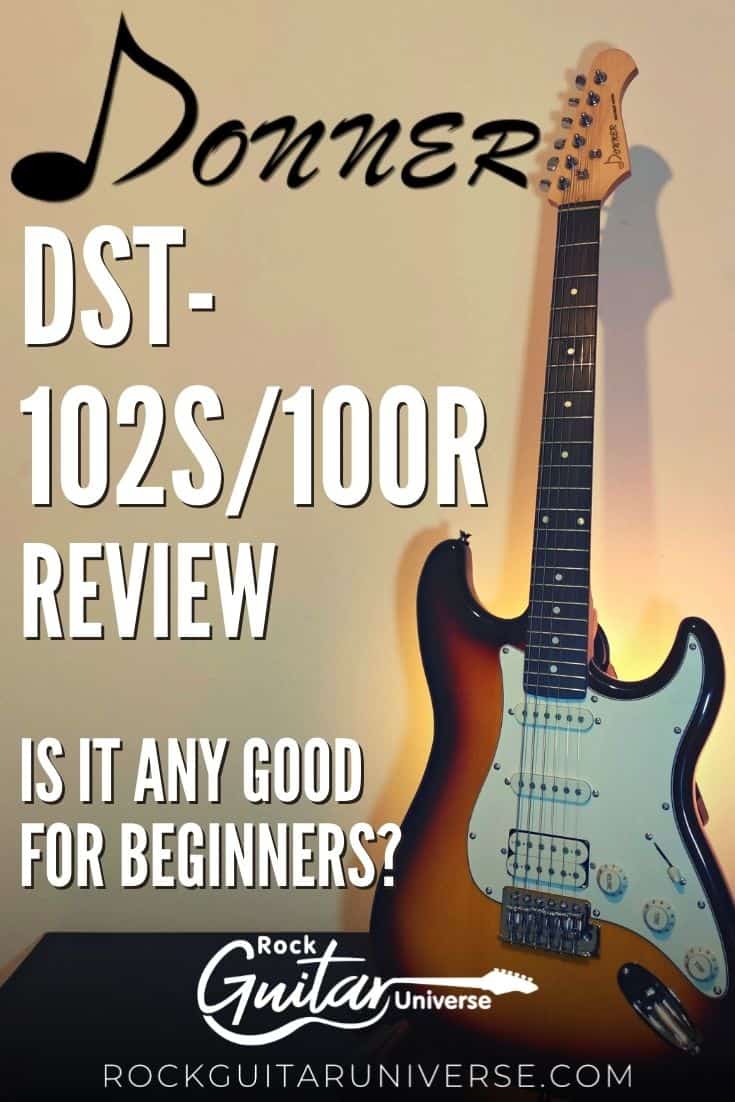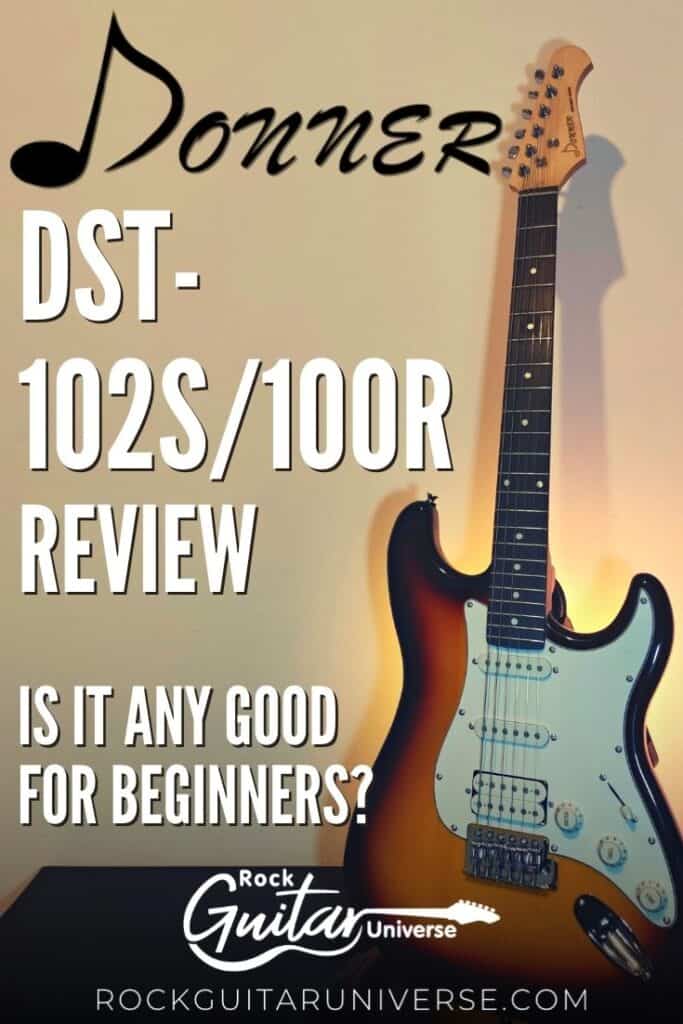 Last update on 2023-02-06 / Affiliate links / Images from Amazon Product Advertising API