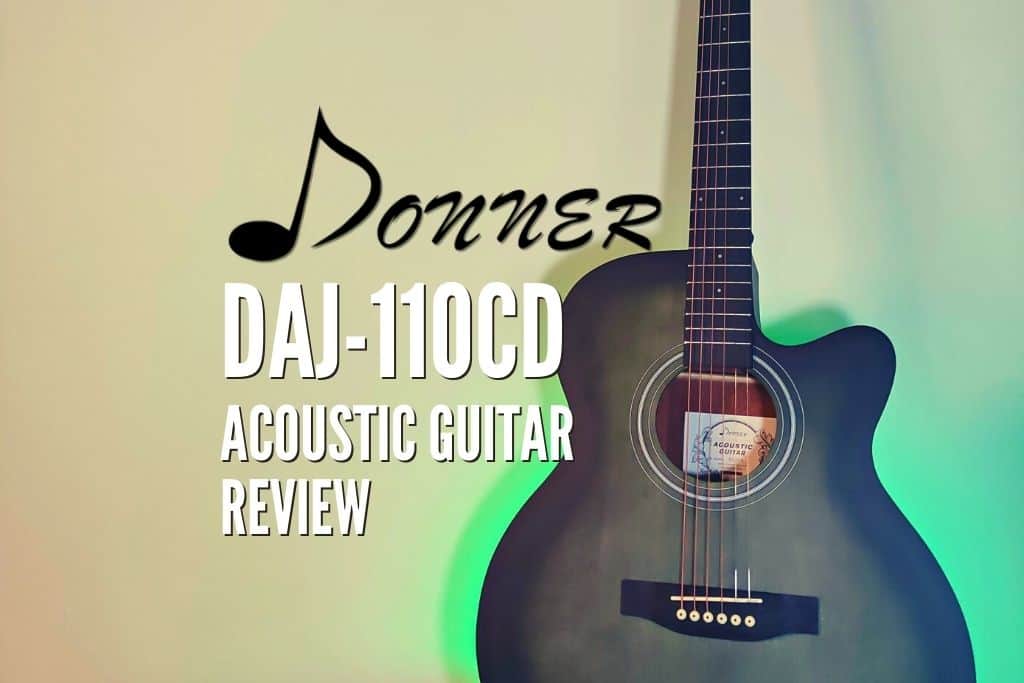 When you first start to decide to play guitar, there is a lot to learn in front of you. One of the first crucial questions is typical "Which guitar should I buy." Then come the accessories and you will have to put some research on the topic to find the best deals.
In order to save beginner players from this hassle, many mainstream guitar brands offer handy starter kits. These kits often consist of a guitar and many useful accessories that get the player to start rocking right away. Many big names like Fender and Gibson offer various kits, but today I am going to review a hidden gem on the marker: the Donner DAJ-110CD Acoustic Guitar.
Donner 40 Inch Beginner Acoustic Guitar Cutaway Acustica Guitarra...
Sitka Spruce Mahogany Wood with Retro Art Color: Made of Sitka spruce top...
Crisp Balanced Sound: Donner mini jumbo guitar's unique slim waist design...
Complete Guitar Kit with PICKUP for Outdoors: Donner acoustic guitar...
Lightweight & Easy to Handle: Donner 40 inch acoustic guitar has standard...
| | |
| --- | --- |
| Pros | Cons |
| Great value for the price – Includes gig bag, celluloid picks, digital tuner, pickguard, capo, extra pack strings, truss rod, strap, pickup, clean cloth | Tuners click |
| Excellent build quality, smooth frets | |
| Good sound quality | |
With its Sitka spruce mahogany wood with retro art color, crisp, balanced sound, complete guitar kit with pickup for outdoor usage, lightweight and smooth playability, Donner DAJ-110CD is a fantastic guitar with an excellent value for the price. It is a beginner guitar with excellent build quality, smooth frets, a nice matte finish, along with good sound quality.
It is a mini-sized instrument, which means it is a bit smaller than a regular acoustic guitar, perfect for children or people with small hands. Although the shape is jumbo and is only a little smaller than the regular size. The guitar is prefect for beginners and intermediate players.
I would rate Donner DAJ-110CD 4.5 stars out of 5 as a beginner-level acoustic guitar without a doubt. It has everything you need in the gig bag along with a beautiful sounding instrument for a price below the $200 mark – a deal not to be missed.
Donner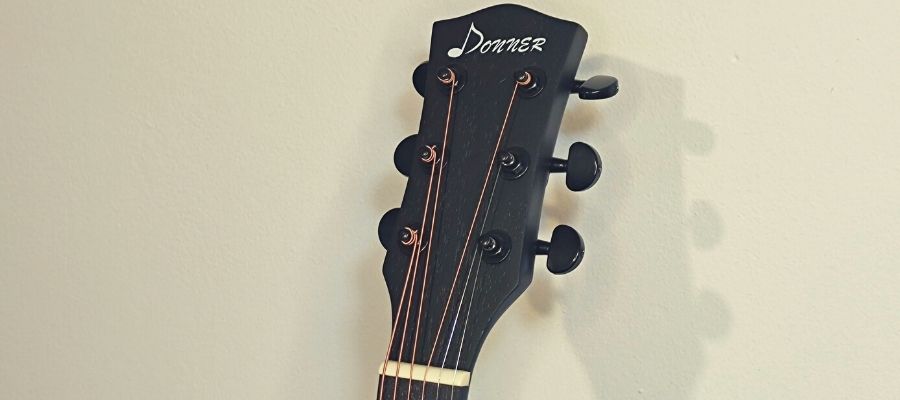 Donner is a relatively young musical instrument and accessories brand founded in 2012. The brand offers exceptionally high-quality and affordable products globally. Although the brand is specialized in the effect pedals sector, they also produce outstanding musical instruments and accessories for players of all levels. They have created themselves a good name in the music world with their reliable and surprisingly impressive products.
Donner is not a solo brand but is related to 3 other brands; Eastar, Moukey, and Reditmo. All the brands offer different products for different instrument lines. By the way, the warehouses of all the brands are located in the U.S.A. and Canada. So these are where all the orders are shipped from.
Donner became a well-known and reliable brand thanks to its low-priced and innovative musical products. The brand indeed has a brilliant R&D team and fantastic customer service, who keep ensuring to satisfy the customers' needs. Even though the reputations of Chinese musical products are not the best, brands like Donner have kept changing this conception in the last decade with their high-quality, cheap, and unique products.
The Specs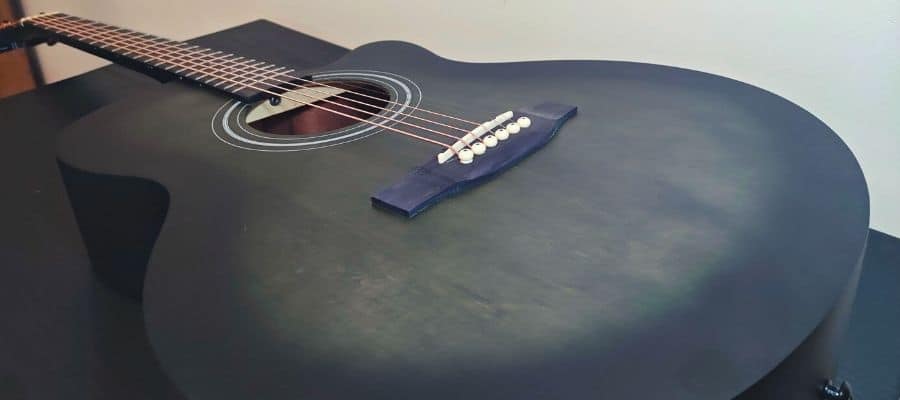 Let's take a closer look at the Donner DAJ-110CD acoustic guitar specs to get further information on the instrument.
General
| | |
| --- | --- |
| Series | DAJ-110CD/C |
| Number of Strings | 6 |
| Hand Orientation | Right |
| Colors | Green, Black Brown, Natural |
| Weight | 3.63 lbs (1.65 kg) |
Body
| | |
| --- | --- |
| Body Shape | Mini Jumbo Cutaway |
| Body Construction | 3-Piece |
| Body Type | Solid |
| Body Material | African Mahogany |
| Top Material | Sitka Spruce |
| Top Type | Flat |
| Back Material | African Mahogany |
| Finish | Matte Finish |
Neck
| | |
| --- | --- |
| Scale Length | 25.5" (64.7 cm) |
| Neck Shape | C shaped |
| Neck Material | Mahogany |
| Truss Rod | Adjustment at the neck |
| Truss Rod Type | Wrench |
| Fretboard Material | Laurel |
| Fingerboard Radius | 16″ |
| Position Inlays | Dots |
| Number of Frets | 21 |
| Fret Size | Narrow Frets – 0.07″ (1.8mm) width |
| Nut | Bone |
| Nut Width | 1.69" (4.3cm) |
Hardware
| | |
| --- | --- |
| Bridge Type | Purpleheart |
| Bridge Pins Type | Plastic |
| Tuners | Donner Black Chrome Tuners |
| Finish | Chrome |
| Pickguard | Comes in the pack |
Donner DAJ-110CD is a lightweight mini-sized but jumbo-shaped acoustic guitar with 6 strings. It is only a little smaller than a regular-sized acoustic guitar and comes in three different colors; green, black-brown, and natural.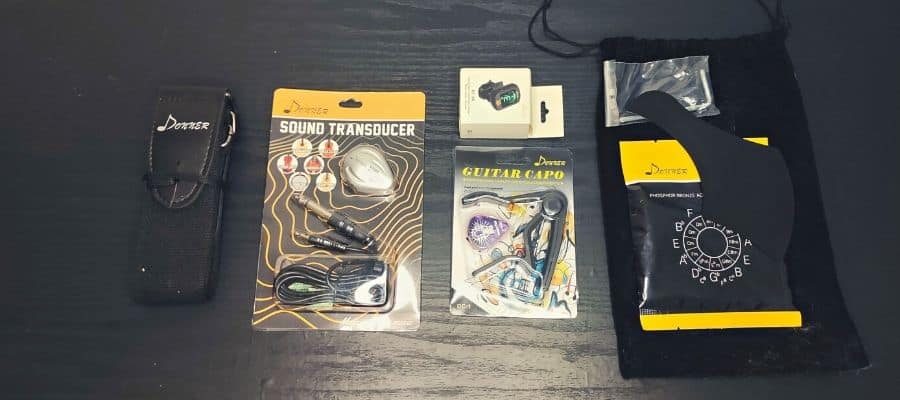 The guitar comes with an accessory pack that includes a gig bag, celluloid picks, digital tuner, pickguard, capo, extra pack strings, truss rod, strap, pickup, clean cloth. It covers more than everything a player would need to start playing.
The guitar is made of Sitka spruce top from North America, African mahogany back, and sides with X bracing inside to have better stability and balanced sound. Thanks to high-quality material and craftsmanship, it delivers a warmer, brighter tone and deeper overall resonance. Plus, it features a flat top along with a matte finish.
DAJ-110CD features a comfortable C-shaped, mahogany neck with a 25.5" (64.7 cm) long fretboard on top. The action can be adjusted from the built-in truss rod hole in the neck, using the wrench in the accessory pack. The laurel fretboard has 21 frets and dot position inlays.
One of the best features of the instrument is the high-quality bone nut with a length of 1.69" (4.3cm.) The nut material quality reflects on the sound greatly.
The guitar has a purpleheart wooden bridge and an optional pickguard that comes in the accessory pack. The tuners are Donner black chrome tuners that hold the tuning well without any jumps, but they click after being turned for a while.
The Sound, The Feel Of The Instrument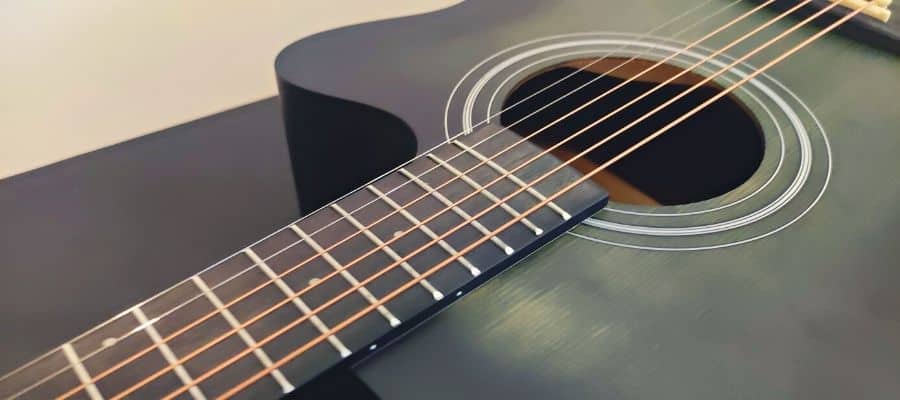 Donner DAJ-110CD provides a super crisp sound that would not be expected from an instrument with a low price tag. It has an excellent deep rich sound with smooth high frequencies. The solid spruce top, the bone nut, and the saddle genuinely make the difference, which is easily heard in the sound.
The guitar has a good amount of volume, even when fingerpicking. The strong highs are well balanced with enough bass and mids. The guitar performs especially well with strumming and can cut through a mix/band. Overall it is a great-sounding guitar with a full and lively tone.
The instrument feels highly comfortable, and it is smaller than Dreadnoughts, making it easier to play for electric guitar players. The frets are well polished without any sharp edges. Furthermore, the action was incredibly spot on and relatively low, considering it is an acoustic guitar which made it even easier to play.
The thin finish, high-quality woods, and the small size combined with the lower cutaway in the body create a very comfortable playing experience without any sacrifice in the sound or tone. The neck also feels comfortable enough to play for long periods without any problem as it is quite smooth and easy to move your hand around it.
Cheap-end beginner guitars go out of tune pretty quickly, which is frustrating for players. But, Donner DAJ-110CD holds the tuning pretty stable, and the intonation is quite satisfying. As it is hard to adjust, these are crucial aspects that elevate the feeling of the instrument.
Overall, the sound and the feel of this instrument are pretty amazing. The guitar provides a crisp and well-balanced sound when strumming or picking the strings individually. If you want to hear the instrument yourselves, you can check the attached video, which is the sound demo of the guitar.
Donner DAJ-110CD Is Perfect For Whom?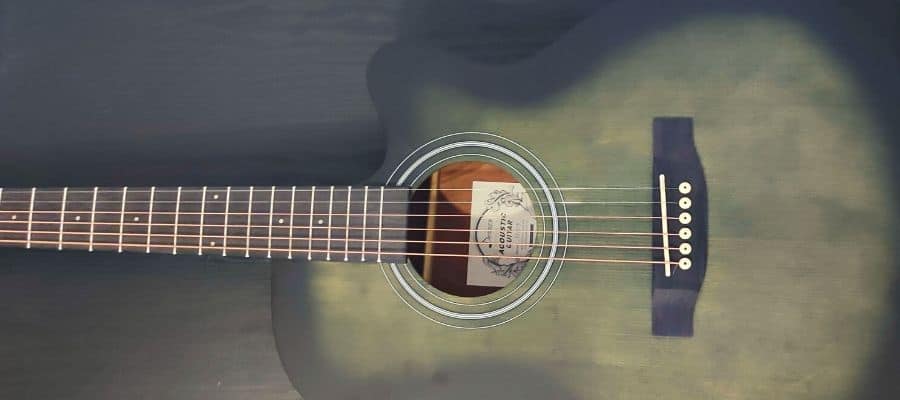 As mentioned before, Donner DAJ-110CD is a mini-sized but jumbo-shaped guitar which means it is just slightly smaller than a regular-sized guitar. With its lightweight added, it is the perfect instrument for players with small hands or bodies and teenagers. It is a great beginner guitar with excellent sound and feels.
As it is a lightweight guitar with a 40" body length, it is also a great guitar to travel with. You can take it anywhere to play by the campfire or just as a companion for playing and practicing away from home.
If you are a big guy or girl and have big hands, you might want to look for another guitar to play. Also, if you are an experienced player looking for a professional sound and feel, you might not be satisfied with this guitar. You should look for higher-end options.
Is It Possible To Upgrade It?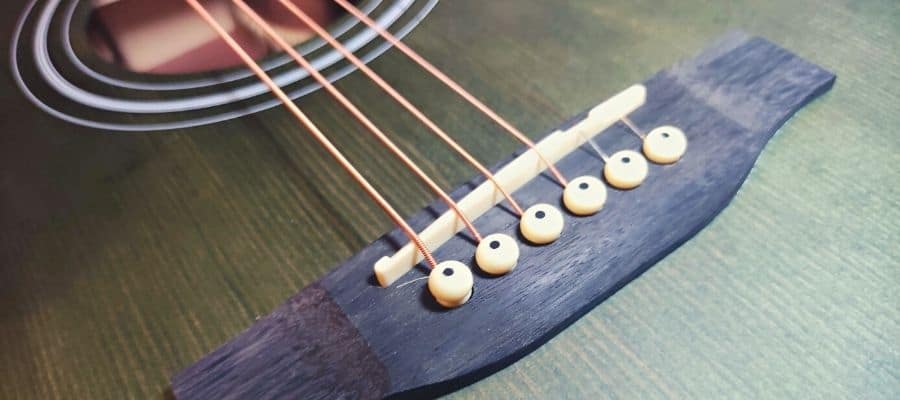 Although the DAJ-110CD acoustic guitar has high-quality parts for a beginner guitar, you can customize it to elevate the quality even more. My suggestion would be to change the strings, the tuners, and the bridge pins.
Strings
The guitar comes with phosphor bronze steel strings which are not the best quality. As they are hard on the fingers, they are not suitable for beginners. You can change the strings with higher-quality ones such as D'addario or Elixir to make it easy and more comfortable on your fingers.
Tuners
Although the Donner black chrome tuners hold the tuning well and do not have any jumps when adjusting, they make some kind of click after turning them for a while. This might not be a huge problem, but you can change them with a more reliable tuner set to get rid of any potential problems.
Bridge Pins
The string pins on the bridge are often made of various materials such as plastic, ivory, or bone.
Low to medium-level acoustic guitars generally feature plastic pins, which are not the best quality and get easily broken or damaged. You can change them with ivory or graph tech strings pins in order to achieve better tone and tuning stability.
Alternatives To The Instrument In Terms Of Look, Feel, Sound, Specs, And Price
Martin LXK2 Little Martin
Martin is one of the most respected acoustic guitar producers on the market. This model, Martin LXK2 Little Martin, is one of their beginner-style lower-end products. It is a 23" scale portable guitar which is a beginner-friendly instrument. It has the unique elements of Martin guitars, like the patented mortise neck.
The guitar's shape is a classic dreadnought, which is thought to have been invented by Martin. Sitka spruce bracing provides better durability, while the laminated finish elevates the durability even more by allowing it to withstand weathering in contrast to the non-laminated acoustic guitars. The nickel-plated high-quality tuners hold the tuning well and get the job done without question.
The scale size is a bit large for a 3/4 guitar which makes it unsuitable for small children and players with very small hands. However, it is the perfect instrument for a teenager or a player with slightly small hands. Plus, it features the perfect weight and size to travel around with, for which the guitar was actually designed.
The tone is natural, well-balanced, and warm. I can undoubtedly say it sounds just like a full-sized Martin guitar. The unique KOA design is truly eye-catching, and it is available in various colors for different styles. So, it is sure that you will find one that you like.
However, Martin LXK2 Little Martin is almost double the price of the Donner DAJ-110CD acoustic guitar.
Luna Safari Series Muse Mahogany
Luna Safari Series Muse Mahogany is a really attractive ¾ size travel guitar at a highly affordable price. Luna is a lesser-known brand; however, they produce pretty impressive instruments. With a typical dreadnought body, the Luna Safari Series Muse Mahogany travel guitar features a Celtic laser-made henna design that elevates the instrument's elegant look.
As the name suggests, most parts of the guitar, such as the neck, back, sides, and top, are made from Mahogany wood. The rosewood fingerboard is relatively smooth, and the neck is comfortable with good size.
This backpacker travel guitar has good craftsmanship with an overall good construction; there is no sign of substandard construction such as extra glue or sharp fret edges. Overall, it is pretty sturdy and sounds quite good for its price. The laminated top gives extra durability, which makes this guitar an ideal instrument to travel around. It can resist any climate or condition, keeping on sounding sweet.
Luna Safari Series Muse Mahogany is slightly cheaper than the Donner DAJ-101CD.
Oscar Schmidt OG1-A-U
Mainly known for its affordable yet high-quality instruments, Oscar Shmidt is a U.S.A. based brand founded in 1871. The OG1-A-U model is a 3/4 size acoustic guitar perfect for younger or smaller guitarists thanks to its compact size. As it is mini and lightweight, it is also a great traveling companion to take around with you.
Just like the rest of Oscar Shmidt's instruments, the build quality is top level. The back and sides are made from Catalpa, and it has a fixed bridge system. With twenty fret long fretboard, it has a regular size neck. It is slightly thinner than a regular neck, perfect for beginners, and has smaller hands to maneuver.
The guitar comes in various colors and finishes, so, indeed, there will be one that you would like. All of the colors look pretty elegant and top-notch. It comes with a set of D'Addario acoustic strings. The sound is warm, crisp, and well-balanced with good bass. The resonance is also quite powerful that you would not expect from a small-sized guitar.
Oscar Schmidt OG1-A-U 3/4-Size Acoustic Guitar is slightly cheaper than the Donner DAJ-101CD.
Conclusion
Overall, Donner DAJ-110CD is an excellent choice for younger or small-handed players who are about to start their journey as a guitarist. It is an outstanding purchase for the price, and the bundle has everything to get you to start playing. If you are looking for a travel-sized, durable guitar, you can also go with this one without hesitation.
The sound of the guitar is crisp, vibrant, and powerful. The comfortable neck and the cutaway design elevate the guitar's playability to a high level, while the bone nut and saddle elevate the sound quality to a higher-end guitar level. The look of the model is also good with matte finishes.
Of course, as a low-budget guitar, it has some cheap parts such as the strings and the tuners that may need to be upgraded. The sound is excellent for the price, but, of course, it can not compete with a professional higher-end acoustic guitar. This model is perfect for beginners, but its sound and playability would not satisfy the needs of experienced players.
To sum up, I love its simplicity and great sound. The bundle pack is fantastic, with many exciting accessories to keep you rocking. I recommend it to beginner players without a doubt; great purchase for the price.
If you found this article useful, you may want to save this pin below to your Guitar board.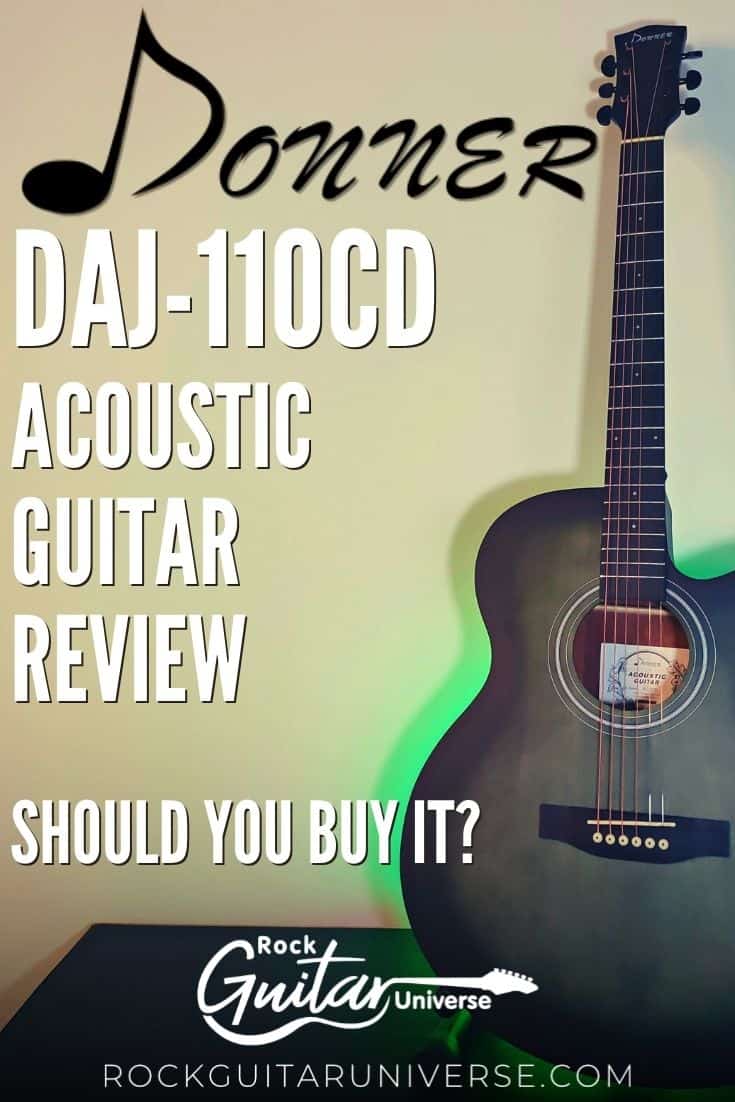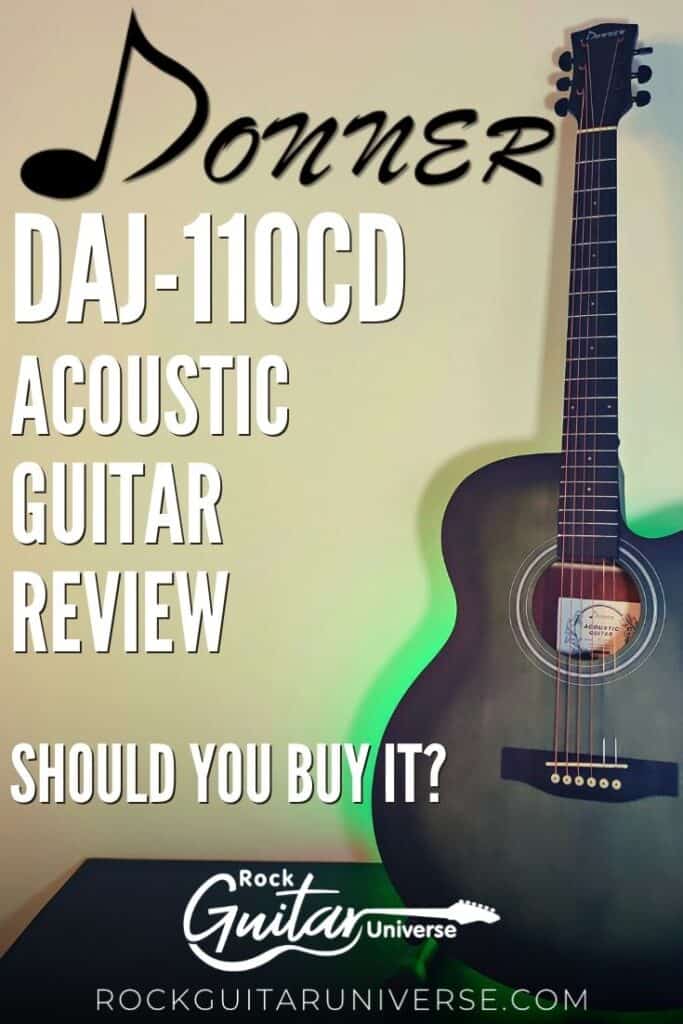 Last update on 2023-02-06 / Affiliate links / Images from Amazon Product Advertising API