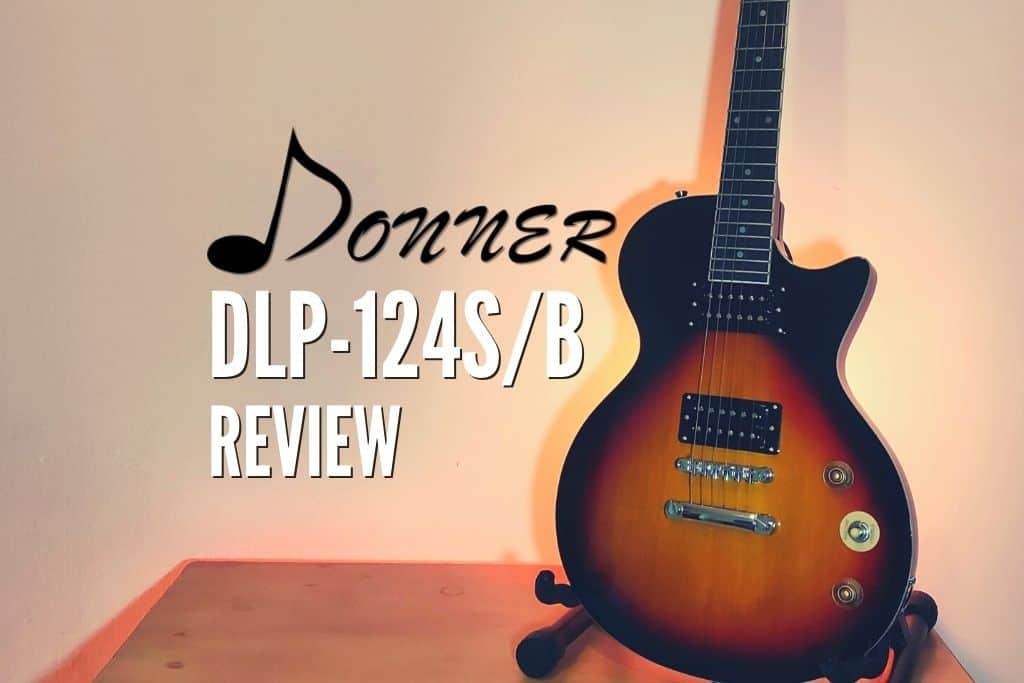 As time passes and technology advances, the quality of the low-budget beginner guitars keeps on rising. There are some fantastic offers from some brands from China and East Asia with low price tags and incredible sound, playability, and versatility. Donner DLP-124B/S is just one of those surprisingly unique instruments.
There is a reason why Donner DL-124 electric guitar was in the most-sold electric guitars lists in the world, especially during the lockdown. With its aesthetic style, price, and comfortable playability, it won the hearts of beginner players who do not want to spend hundreds of dollars on their first instrument but desire a high-quality guitar that will give them joy while playing. In this sense, this guitar is truly a steal.
Donner 39 Inch LP Electric Guitar Solid Body Beginner Kit Sunburst...
【Humbcker Pickups】 Donner 202S humbcker pickups. Two classic humbucker...
【Okoume Neck with "C" shaped Profile】Laurel Wood fingerboard,...
【22 Copper-nickel Frets 】 The LP electric guitar features a pick-up...
【3-Ways Pickup Switch】 3-Ways Pickup switch provides different tone...
| | |
| --- | --- |
| Pros | Cons |
| Great value for the price – Includes gig bag, strap, and cable. Probably the best LP style beginner guitar. | Bad tuners |
| Comfortable C-shaped neck which is a joy to play | Bit of buzz on lower strings |
| Elegant look | Low-quality badly cut nut |
| Lightweight and balanced instrument | |
The Donner DLP-124 is a beautiful Les Paul junior-style guitar that shines with its outstanding appearance. The guitar looks elegant with its excellent finish and cream-colored bindings. In addition, the comfortable neck and the low weight elevate the playability, while the pickups sound more than satisfying.
As it is a low-budget guitar, it comes with some imperfections. The tuners are a bit jumpy, meaning that sometimes turning them does not change anything, and sometimes they change the tuning more than required with big jumps. Also, the nut quality is not enough as you expect from cheap guitars. Lastly, the action is not perfect, with a bit of buzz on lower strings.
All things considered, I would rate the Donner DL-124S/B electric guitar 4 out of 5 without hesitation. For an electric guitar under the $200 mark, Donner offers an amazing instrument that will get the beginners going on their guitar journey with much comfortability and joy.
Donner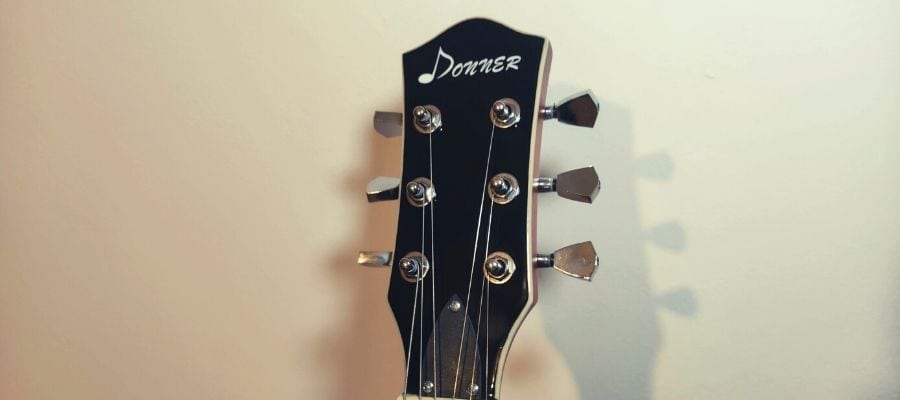 Donner is a relatively new brand founded in 2012 and has been creating new experiences for musicians since then. Donner is a brand specialized in producing mini pedals, but the brand also manufactures many musical instruments and accessories.
Donner is known for its innovative products with low price tags. The brand has a solid and efficient R&D team, and it quickly became famous for its high-quality and affordable musical instruments and accessories. Their goal is to make every customer happy therefore they offer a 30-day return on their products.
The Specs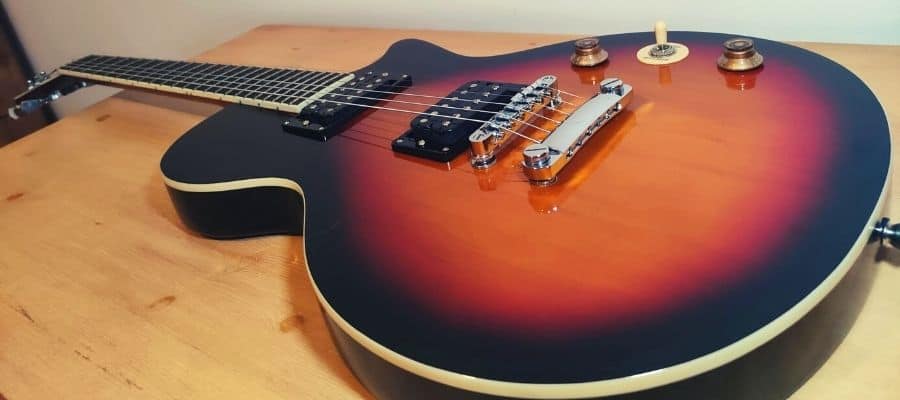 Let's take a closer look at the specs of the Donner DLP-124 electric guitar to get further information on the instrument.
General
| | |
| --- | --- |
| Series | DLP-124 |
| Number of Strings | 6 |
| Hand Orientation | Right |
| Colors | Black, Sunburst |
| Weight | 6.17 Ibs (2.8 kg), |
Body
| | |
| --- | --- |
| Body Shape | LP Style |
| Body Construction | 3-Piece |
| Body Type | Solid |
| Body Material | Basswood |
| Top Material | Maple |
| Top Type | Flat |
| Back Material | Maple Wood |
| Finish | |
Neck
| | |
| --- | --- |
| Scale Length | 24.75″ |
| Neck Shape | C shaped |
| Neck Construction | Bolt-on |
| Neck Material | Maple |
| Truss Rod | Adjustment at the back |
| Truss Rod Type | Wrench |
| Fretboard Material | Laurel |
| Fingerboard Radius | 14″ |
| Position Inlays | Dots |
| Number of Frets | 22 |
| Fret Size | Tall-Thin : 0.094″ (2.4mm) width |
| Nut | Plastic |
| Nut Width | 43 mm (1.7″) |
Electronics
| | |
| --- | --- |
| Pickup Configuration | HH |
| Neck Pickup | Donner 202S |
| Bridge Pickup | Donner 202S |
| Controls | Volume and Tone Knobs |
| Switch | 3 Positions: Bridge only, Bridge and Neck, Neck Only |
Hardware
| | |
| --- | --- |
| Tailpiece | Yes |
| Bridge Type | Tune-o-Matic Bridge |
| Tuners | Die-Cast Steel |
| Finish | Chrome |
| Pickguard | None |
The Donner DLP-124 is an excellent Les Paul Junior-style guitar with a fantastic look. Both color options, black, and sunburst, look truly lovely with the cream-colored binding on the edges. It is one of the most preferred beginner electric guitars, thanks to its amazing look and sound. Additionally, the guitar comes with a set of gifts, including a gig bag, guitar strap, and guitar cable.
Another significant aspect of the guitar is its lightweight. It weighs 6.17 lbs (2.8 kg), which in my opinion, is a great weight, especially for beginners. Heavy guitars can be a nightmare for beginners, discouraging them from playing. But this one sits well balanced on the knee without any neck dive, making it easier and more comfortable to play.
The LP-style solid body is built with AAA Solid African Basswood, while the back and the top materials are made from AAA Canadian maple. The neck is also AAA Canadian maple, and the fretboard is made with top-quality Indian Laurelwood.
The C-shaped neck features a semi-matte finish on the back, making it easy to slide up and down the neck. The 22-fret long fretboard has position inlay dots on the neck and top of the fingerboard. The copper-nickel frets are well polished, and there weren't any sharp edges in my case.
The guitar has two Donner 202S humbuckers as the pickup configuration, which gets the job done. The pickup switch traditionally has 3 Positions; bridge only, bridge and neck, neck only. There are two knobs on the guitar; one for volume and one for tone adjustment. As this is a Les Paul Junior style guitar, the bridge is a Tune-o-Matic bridge with a tailpiece.
One of the problems with the guitar is the tuners. Although they hold the tuning well, the adjustments are not stable. They feel like there is a specific range where moving them does nothing; it doesn't move the gear, and then suddenly there is a huge jump, making it challenging to predict and tune the instrument. Also, they have sharp edges which makes them uncomfortable to turn, nothing too bad that cuts you, just unpleasant. In addition, the nut is low-quality and badly cut.
On the other hand, the setup of the guitar was really good. The action was normal to low: 2.25mm on the 6th string, 1.5mm on the 1st. This is great because the player won't have to press the strings too hard, which is crucial for beginners. Furthermore, the intonation was almost spot-on; it needed just a bit of adjustment. Also, the neck came pretty straight out of the box, so there was no need for truss rod adjustment.
All of the specs are truly remarkable for the price. I can say without hesitation that the Donner DLP-124B/S is a fantastic offer for beginners.
The Sound, The Feel Of The Instrument
Donner DLP 124 has a striking look. It is undoubtedly an attractive guitar but what is more important is the sound and the feel of the instrument. Fortunately, this guitar thrives on both.
The two Donner 202S humbuckers work pretty well for an inexpensive guitar. The bridge pickup sounds a bit muddy, which can be overcome by dialing down the volume. In my case, adjusting the volume around 7 gives the best result with distortion. Besides this issue, the pickup gets the job done with quite a versatility, sounding pretty good in clean tones as well as crunchy tones. The same things can be said for the neck pickup too. I must add that the neck pickup sounds pretty warm and dark. Both pickups are great, especially if you take the guitar's price into account.
The feel of the instrument is surprisingly impressive. With its lightweight, it sits really well balanced on the lap without any neck dive. The C-shaped neck is pretty comfortable, which fills your hand greatly. It is not a thin neck, but it is very comfortable. The semi-matte finish at the back makes it easy to slide down the neck, which is a great plus added to the feel of the instrument.
You can check out this demo video of the instrument to listen to how the guitar sound with different settings and tones to decide for yourself.
Donner DLP-124B/S Is Perfect For Whom?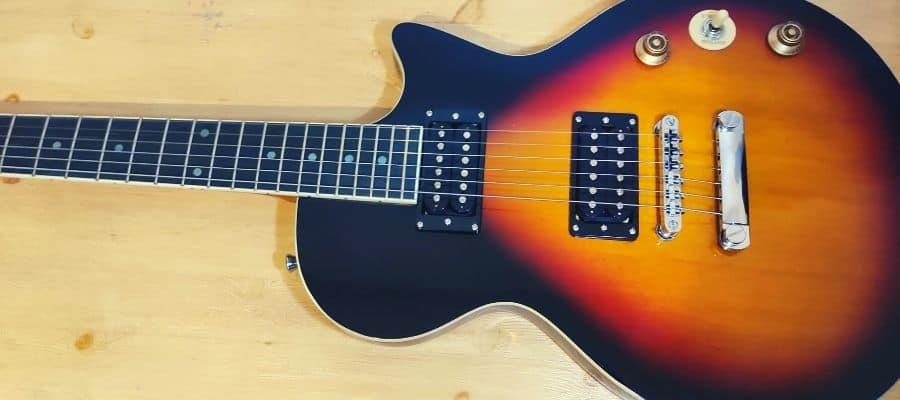 As I said before, Donner DLP-124B/S is a fantastic guitar for beginners who are looking for a budget guitar to start their guitar journey. It is light and comfortable, looks elegant, sounds pretty satisfying, and comes with essential accessories except for the amp.
As a low-end instrument, it is specially designed to make everything easier for beginner guitarists. The action is low to make it easy for the fingertips of the beginner players, the lightweight of the guitar is easy to handle, encouraging the guitarists to play more and more.
Although it is not small, the neck feels pretty comfortable with the semi-matte finish on the back. The neck is quite important as comfortable ones make the learning progress much faster. The tuning process can be problematic for beginners as the tuner pegs are not stable but at least they hold the tuning pretty well.
Most important of all is that the Donner DLP-124B/S electric guitar is one of the cheapest guitars on the market. Plus, as mentioned before it has a satisfying and versatile sound. All things considered, it is an amazing guitar to start learning while you explore the specs, tones, genres you like to play to build a solid foundation.
Is It Possible To Upgrade It?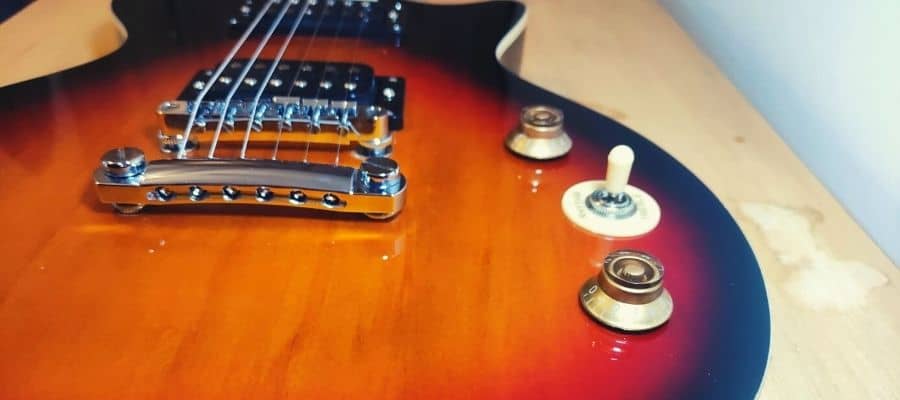 Like most electric guitars, Donner DLP-124's parts can be upgraded. The parts you should look to upgrade are the nut and the tuners, as they are problematic. You can also upgrade the pickups if you are looking for a specific sound or if you are not satisfied with the Donner ones.
Tuners
For me, the worst part of this guitar is the tuning set. As I mentioned before the tuners are not stable and have specific spots that do not change anything when moved, while in some positions, they make high jumps. They hold the tuning well as a plus, but it is a challenge to tune the guitar.
This is a common problem for DLP-124 and cheap electric guitars, but you might not experience any problems if you are in luck. But if you do, you can easily change the set with a Grover or Gibson tuning pegs as they are known for their reliable and top-quality products.
Nut
The nut of the Donner DLP-124 is a low-quality badly cut nut which is normal for a low-end guitar. You might consider changing it with a bone nut to have better resonance and sustain along with higher tuning stability.
Pickups
The Donner 202 humbucker pickups are pretty satisfying, especially for a beginner guitarist. But if you want to specialize the guitar for a specific tone you can go for it. While the neck pickup is pretty alright, the bridge pickup is the one with minor issues. So if you are not going to buy a new humbucker set, you can also consider changing only the bridge pickup.
Brands like Seymour Duncan and DiMarzio have great humbucker pickup offers for Les Paul-style guitars. If you are after a more vintage style Bluesy sound you can check out Seymour Duncan Pearly Gates. You can go with DiMarzio DP100 for great high gain tones. Finally, if you want to play more hard rock and heavy metal, an EMG 81/85 pair will get the job done.
Alternatives To The Instrument In Terms Of Look, Feel, Sound, Specs, And Price
Epiphone Les Paul Special VE
The Epiphone Les Paul Special VE electric guitar offers the look and feel of one of the world's most popular electric guitars; Gibson Les Paul. As Epiphone is the side brand of Gibson, this guitar is also the most affordable official Les Paul ever made.
Comprised of a poplar body with a mahogany neck and rosewood fingerboard, the Les Paul Special VE is ready for rock and blues, and like its namesake, it is incredibly versatile across a wide range of styles. The Special VE comes with Epiphone's 650R and 700T Humbuckers, master volume and master tone controls, and a three-way switch providing access to a wide range of sounds.
With the Epiphone Les Paul Special VE, new players can learn and progress while playing an excellent replica of the world's one of the most popular electric guitars. The sound and feel of the instrument are great making it a joy to play.
Glen Burton GE320
Glen Burton GE320 is a great Les Paul copy with a low price tag and classic LP features like the solid LP body, 2 humbuckers, and the rosewood fretboard. The volume and tone controls along with a 3-way toggle are yet another LP characteristic.
The maple neck is not bolted on but set just like a Les Paul. The neck profile is a little chunky which can be challenging for beginner guitarists to deal with. But the more experienced players will like the comfortable feel in their hands.
The knobs, switches, and tuners all feel great and secure, while the frets are well rounded down.
The main difference between this guitar and a Les Paul is that the body is made with solid ash instead of the traditional mahogany of a Les Paul. The wood affects the guitar's tone and sustain in a way but it is not easy to tell the difference with inexperienced ears.
In short, if you want an affordable Les Paul Junior-style guitar, you can go with Glen Burton GE320. It is a terrific guitar for the price range. It sounds great, looks nice, and is really similar to a genuine Les Paul.
ESP LTD EC-10 BLK
ESP LTD EC-10 KIT Electric Guitar with Gig Bag, Black
A great ESP guitar for players of any skill level, but especially great for...
Has a smooth, comfortable, thin U-shaped maple neck for easily getting to...
Features a well-balanced and contoured basswood body that's good for...
The ESP designed LH-100 pickups are great for any genre of music you like...
The affordable modified version of ESP's classic single-cutaway design is the LTD EC-10. The guitar catches the eye with its distinctly contoured body which features a smoothened part where your arm comes in contact with the guitar making it easier to reach higher frets.
The guitar's U-shaped comfortable neck has a 24-fret fingerboard which is pretty smooth. The two LH-100 humbuckers sound pretty great and versatile. They can be controlled with the master tone and volume knobs as well as the 3-way toggle switch.
ESP LTD EC-10 is mainly known as a rock guitar because of its appearance but looks can be deceiving. This guitar offers pretty versatile sound along with highly smooth and comfortable playability. Many users also praised the quality of its hardware, from the wood to the bridge.
In short, you can check out the ESP LTD EC-10 if you are after a low-budget black rock guitar with a versatile sound and comfortable feel.
Conclusion
Choosing your first guitar is one of the most complicated choices you will ever make on your guitar journey. It is crucial because the first steps on this journey significantly affect the rest of it. If you like the guitar's feel, sound, and look, you will be much more encouraged to play, while if it is the other way around, you will have a hard time.
If you have the option to see and try the instrument before buying, definitely go for it. Physically touching the instrument and experiencing the sound and the feel reach many more places in our brains than reading the specs or reviews on the internet.
But for you to get an idea, I strongly recommend you to try Donner DLP 124 as it is one of the best budget beginner guitars I have ever tried. It is one of the most sold guitars on Amazon, and surprisingly it is amazing. Every guitarist who examines this guitar comes to the same conclusion: It outshines every other beginner electric guitar in its price range.
You might want to upgrade some parts, but the same thing can be said for every guitar under the $200 mark. So, do not worry about it. With its elegant look and design, quite satisfying pickups, incredible feel, thanks to its lightweight and comfortable neck, Donner DLP124 is a great instrument to start.
If you found this article useful you may want to save this pin below to your Guitar board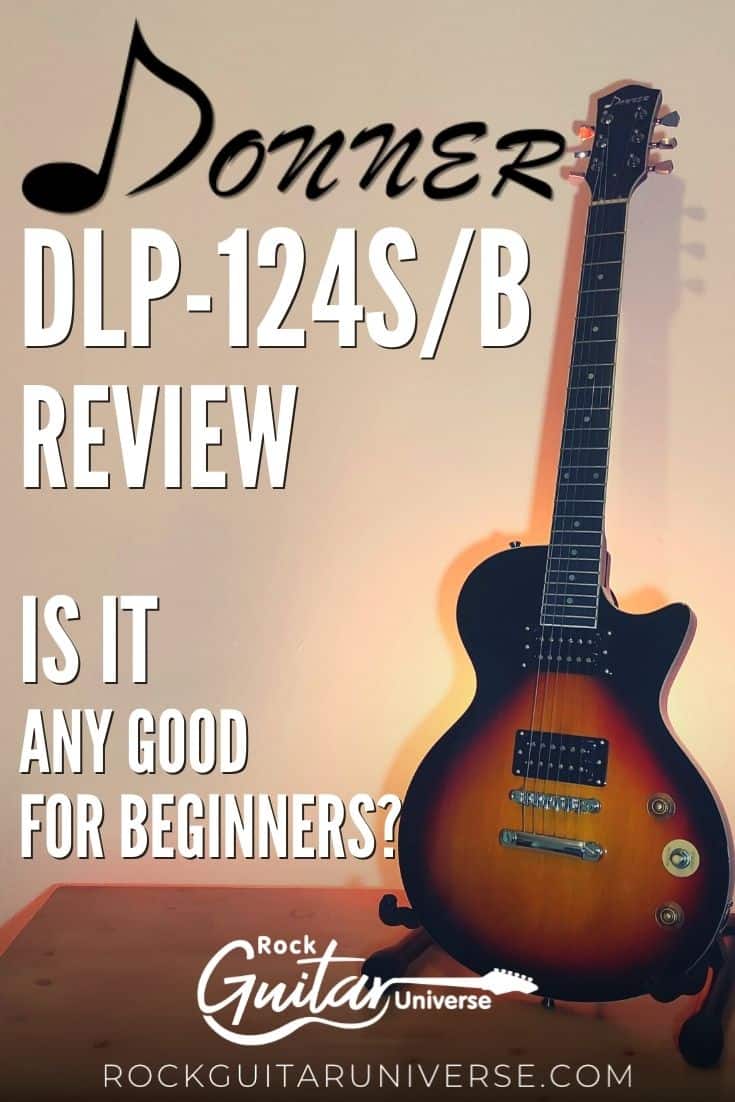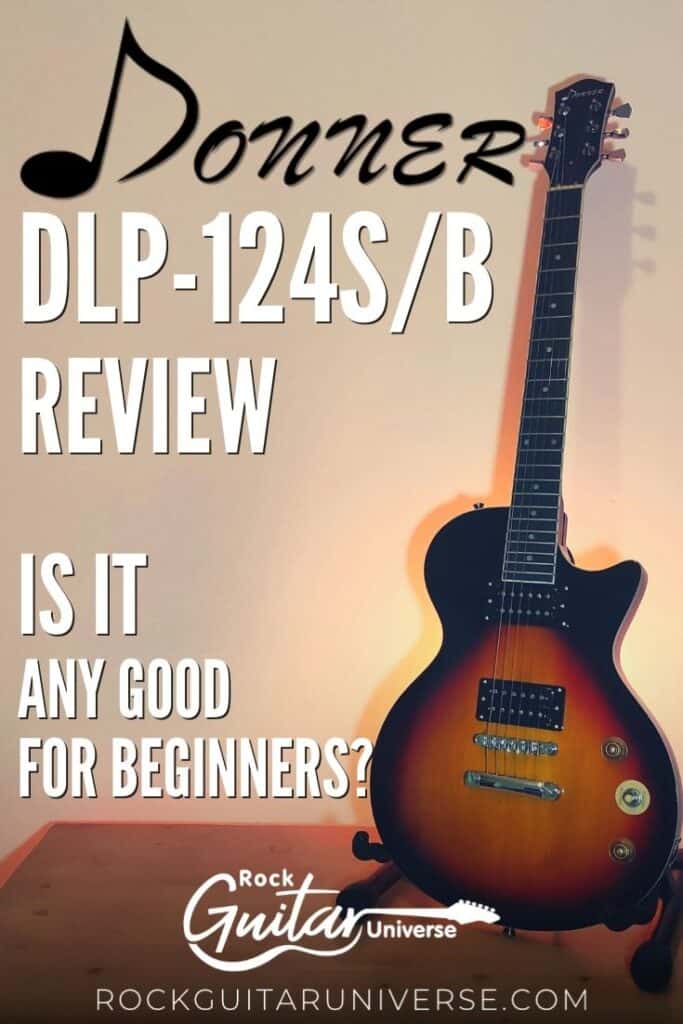 Last update on 2023-02-06 / Affiliate links / Images from Amazon Product Advertising API