It is not easy to find the ideal travel companion as a musician as guitars are designed to perform instead of traveling. They are heavy, fragile, and sometimes too expensive to travel with and play on the go, which is always a shame as you can not play your guitar at perfect moments.
Luckily, now there are acoustic and electric guitars designed with on-the-go musicians in mind. They allow you to travel with them easily, thanks to their compact sizes, lightweight designs, and extra added durability for any case.
So here are 25 of the best guitars that can be the ideal travel companions for guitarists.
Taylor Baby Mahogany BT2
6-String 3/4 Size Dreadnought
Layered Sapele back and sides
Tropical American Mahogany top
Laser-Etched soundhole rosette
Tropical American Mahogany neck
Ebony Fretboard
Ebony Bridge
Tusq Nut/Micarta Saddle
Taylor Baby Mahogany BT2 is a compact dreadnought guitar with its 3/4-scale yet full voice. The portable guitar has a warm and sweet tone like a full-scale guitar, and it shines with its versatility for different playing styles, from strumming chords to playing with alternative tunings.
It comes with a solid mahogany top, layered Sapele sides and back, mahogany neck, and ebony fretboard. The mahogany body gives an excellent mid-range punch and an attractive dark color. This mid-range punch is often called the bluesy edge, as mahogany guitars shine with their bluesy mid-range tones, which are ideal for genres like blues and classic rock.
Furthermore, the looks and the feel of the guitar are also amazing again, thanks to the great quality mahogany wood on the neck and the body.
Washburn Rover
Solid Spruce top
Mahogany back, sides, and neck
Engineered wood fingerboard
18 frets
ABS Nuts
1-11/16″ Nut Width
Equipped with a solid spruce top, mahogany back and sides, a full 23.75″ scale length, engineered wood fingerboard, and different color finish options, Washburn Rover is an excellent blend of feel, sound, and great looks.
Furthermore, it comes with a deluxe gig bag for safe transport. The guitar is lightweight, the smooth finish feels great in the hands, and the guitar's sound is quite powerful and balanced. The compact guitar has 18 frets on the fretboard, which is quite enough to play on the go.
Enya Nova Go Carbon Fiber
1/2 sized (33 in.) body, molded all in one piece
"Zero Fret" feature is added to this acoustic guitar for smoother tuning
Fret ends are polished to round edges for a more comfortable hand feel
Comes with an EVA case, custom-made
Carbon Fiber guitars may be a topic of huge discussion, but there is no denying that they are perfect for traveling with. Often carbon fiber guitars are pretty expensive, but Enya Nova Go Carbon Fiber is an exception. The guitar is lightweight, it also feels and sounds great, but also it is pretty affordable for a carbon fiber guitar.
Carbon fiber guitars are perfect choices if you do not want to worry about temperature, humidity, or impacts. They are highly durable and resistant, so you can travel as you'd like, and this guitar will follow you without any issue.
Ibanez EWP14OPN Exotic Wood Piccolo
Cutaway Tenor Style EW body
Solid Ovangkol top
Ovangkol back & Ovangkol sides
EWP Okoume neck
Purpleheart fretboard
Maple dot inlays
Abalone Soundhole Rosette
Chrome Die-cast Tuner machines
Ibanez EWP14OPN is a very compact instrument that has the ⅓ size of a traditional guitar. It is somewhere between a guitar and a Baritone ukulele (17"). Plus, it has an EW-style cutaway body made from Ovangkol wood, like the top and back. The EWP Okoume neck and Purpleheart fretboard also feel great in hand.
For travelers, children, and beginners, Ibanez EWP14OPN Exotic Wood Piccolo is a great choice. If you are looking for a small guitar to play while on the road, you should check this one.
Journey Instruments OF660M Overhead Carbon Fiber
The guitar can collapse into a compact size with a unique removable neck system.
It can fit into any luggage and overhead compartment on the planes when folded.
The carbon fiber is temperature and humidity-resistant to prevent cracks and warps.
The Low C profile neck and 24.5" scale fretboard is a highly playable instrument.
Easy access to all 20 frets on the fretboard thanks to the scoop away function
Under-saddle transducer pickup provides greatly amplified tones
Bone nut and saddle, along with the ebony bridge pins, give extra sustain, stability, and tonal richness
It comes with a travel backpack with a TSA-compliant laptop foldout
Journey Instruments OF660M Overhead is another great carbon fiber guitar built for traveling musicians. It has a unique removable neck system, allowing you to assemble and disassemble the guitar in a few minutes. When disassembled, the guitar fits into a small bag that can accommodate a car's small trunk to an airplane's overhead compartments.
The bag is specially designed for TSA regulations, and the airport security can scan the panel on the bag, so you would not even need to open the bag.
The guitar has a peculiar shape with a deeper depth than a dreadnought. This way, the guitar delivers a powerful sound like a full-scale guitar with its small body. The offset soundhole also helps the resonance to be more powerful. Also, the proprietary bracing also gives the tone fantastic clarity.
Gretsch G9520E Gin Rickey
Highly playable parlor-style acoustics for powerful volume
Gretsch Deltoluxe acoustic magnetic soundhole pickup provides great tones and volume
Basswood body with supported X-bracing for enriched tones
Walnut fretboard with a 24-inch scale
Walnut bridge with synthetic bone saddle
Vintage frets, open-gear die-cast tuning machines, and pin strap
One of the earliest instruments of Gretsch was the Gin Rickey from their Roots collection. This reissue of the vintage guitar is an excellent instrument with the smooth walnut fingerboard and 24-inch scale nato neck. Thanks to the classic parlor-style design and Gretsch Deltoluxe acoustic magnetic soundhole pickup, the volume is amazing for the size.
The compact and lightweight guitar is a great travel companion and delivers a big, bold, and full sound for live performances, practices, or recording on the go.
Cordoba Mini II M
Comfortable 1/2 size guitar, with standard tuning
Layered Mahogany top, back, and sides
Nub one nut, 1. 875″ Width
C-profile Mahogany neck; 22. 875″ Scale Length
Satin polyurethane Body and neck finish
This guitar is light and portable for those on the move or for younger learners. It has the feel of a guitar but with the sound of a ukulele. It is a well-made instrument with a good tone.
The neck is quite wide for a small guitar, and there are some limitations with regard to the range of tones that the Cordoba Mini can produce. Nevertheless, it will be ideal for use at open mic nights or on trips away with the walking group. Not so sure about the strings that came with it, though. The fourth string is already on its way out, and it has been less than a month since I purchased the instrument.
Taylor GS Mini-e
Great looking and sounding solid koa top
Excellent tones with the Hawaiian Koa back and sides
Comfort and high playability with Sapele neck and ebony fingerboard
Great koa grain patterns on the body without a pickguard
Good ES-B pickup
5mm Dot fretboard inlays, chrome tuners, and 3-ring rosette accent
One of the best and most popular travel guitars is the GS Mini-E model of the great Taylor Guitars. The guitar is inspired by the Taylor's Grand Symphony (GS) body shape but built with portability in mind. It offers great playability in comfortable travel size and fantastic sound with a full-voiced and tonally rich sound palette.
The guitar features an Expression System-B that uses a proprietary pickup behind the saddle instead of under-saddle piezo transducers. The custom-designed preamp system delivers a hotter signal up to %25. The overall sound is very natural, rich in dynamic range, and highly responsive, thanks to these innovative approaches from Taylor.
Luna Safari Acoustic-Electric
Outstanding performance and looks for a great price
Great artistic design made by lasers
Dynamic and expressive spruce top
Rich mahogany back and sides
Comfortable 3/4-sized Dreadnought body style
Luna Safari is yet another great travel-size acoustic-electric guitar made from high-quality woods such as dynamic spruce and mahogany. The dreadnought 3/4 size body is quite comfortable to hold and sounds good with enough punch, balance, and overall output volume.
One of the most significant aspects of this guitar is its looks. Luna Safari has great artistic touches made from a laser and luna Pearloid dots on the fretboard. It also has a nonboard preamp with 3-band EQ, master volume, and phase controls. Plus, the onboard tuner is convenient on the stage or in the house.
Martin Backpacker
Solid Spruce Top
Solid Tonewood Back and Sides
Unique Contour Neck Shape
Features 24-Inch Scale Length
Features 15 Frets
Martin Backpacker is a trendy travel guitar thanks to the Martin quality and reliability. The compact guitar features a solid spruce top and solid tonewood back and sides. The rich and warm sound of the high-quality woods makes it one of the best-sounding travel guitars.
Furthermore, it is very light, around 2.5 lbs, and the guitar comes with a great padded-back gig bag for safe traveling and a Martin woven strap. It only has 15 frets with a 24-inch scale, but the sound is so fantastic you will not be looking for the extra frets.
Traveler Guitar LTD EC-1
Built-in conjunction with ESP LTD
24.75″-scale guitar in a 28.5″ frame
Compact design to fit in a luggage
Resonant mahogany body
ALH-200B active humbucker
Built-in headphone amplifier with onboard distortion
1/8″ auxiliary input
Traveler Guitar's LTD EC-1 shines with its full scale and handy features that you'd expect from an ideal guitar on the road. The compact body with a full 24.75″-scale, an active humbucker, onboard headphone amp, and aux input are great touches for versatility. Plus, the guitar can easily fit anywhere from a piece of luggage to airplane overhead compartments.
The looks of the guitar are also pretty sleek. It is small but does not feel small in hand. It is one of the greatest innovative travel guitar designs ever made.
Squier Mini Jazzmaster HH
3/4-size Jazzmaster guitar, perfect for young and-or entry-level players
Great humbucker pickups
Real maple neck and fingerboard
Comfortable slim "C" neck profile and 22.75-inch scale length
Chrome hardware
Hardtail 6-saddle bridge
Jazzmaster Squier Mini Jazzmaster HH might be ideal for you if you want a smaller version of an iconic guitar to travel with. It comes with a HH pickup layout with great-sounding two humbucking pickups. The sound is much bigger than the compact guitar's size and instantly gets you ready to rock n' roll.
The 3/4 sized guitar comes with a three-way toggle switch, single volume knob, and single tone knob layout. Plus, it has a short 22.75-inch scale making the barre chords and long stretches easier for beginners and small-handed players. The mini C-shaped neck is highly comfortable and playable, while the maple neck feels great and smooth.
PRS SE Parlor P20E
Compact parlor sized acoustic-electric guitar.
Made from the solid mahogany top, back, and sides for a rich and warm tone
Fishman GT1 under-saddle pickup system
Mahogany neck and ebony fingerboard
Great looking herringbone rosette and accents
Bone nut and saddle for enriched tone support
PRS SE Parlor P20E is ideal for players looking for a parlor-sized yet full-sounding acoustic-electric guitar. The guitar has an eye-catching look with its traditional acoustic appearance combined with modern adornments and embellishments. The construction quality is impressive with the solid mahogany top, X-brace/classical hybrid bracing, herringbone rosette and accents, and a bone nut and saddle.
The electronics also perform great as the Fishman GT1 under-saddle pickup system delivers powerful tones. The crystal-clear sound and ample projection are great features to go with the PRS SE Parlor P20E, along with its comfortable neck, easy-to-pack, and travel with system.
Traveler Guitar Travelcaster Deluxe
Travel-size compact guitar with a full-scale and S-style body
Made of poplar and maple wood
3 single-coil pickups layout
Vintage type tremolo
5 lbs weight and 33.75 inches long
Comes with a padded gig bag
As the name suggests, Traveler Guitar Travelcaster Deluxe was created with mobility in mind. The 25.5-inch scale length, solid body from poplar, maple necks, fingerboard, and 5 lbs weight make the guitar great for playing on the road with the sound of a traditional guitar.
The 3 single-coil pickups design and traditional controls give you good versatility and make it feel like playing a Strat. The vintage-style tremolo gives extra sustain and control. Finally, it comes with a padded gig bag, and its compact size can fit most luggage and overhead airplane compartments.
Martin LXK2 Little Martin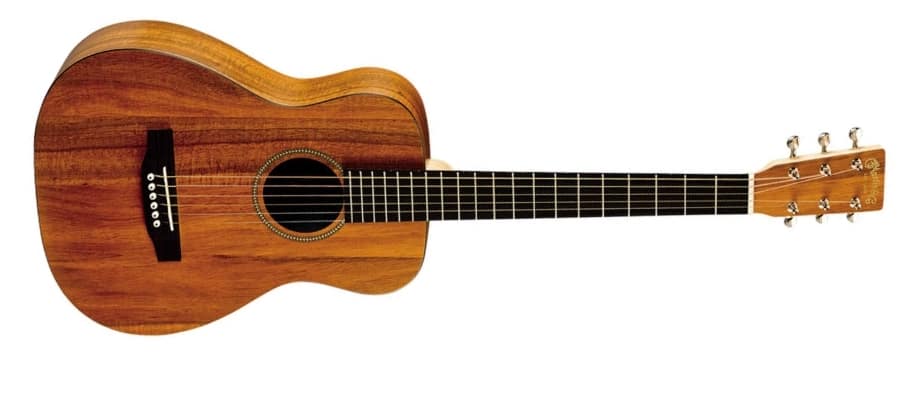 Koa Wood Pattern HPL Textured Finish
Natural Stratabond neck
Richlite fingerboard material
Rosewood bridge
Padded gig bag
Another great travel guitar by Martin is the Martin LXK2 Little Martin model. The guitar features a Koa wood pattern high-pressure laminate on the body, top, back, sides, and headstock. The fretboard and the bridge are made with rosewood, while the neck is created from natural Stratabond. The great Martin workmanship can be felt all over the instruments as the guitar sounds quite fantastic.
The instrument is highly durable and comfortable to play. The pick-up-and-play design makes it highly easy to play the guitar, and the padded gig bag gives extra safety for the road.
Journey Instruments FP412 FirstClass Parlor
Travel-ready, collapsible acoustic-electric delivers outstanding tone and playability.
Patented collapsible neck system that lets you detach and reattach the guitar neck with just a few simple clicks and turns
It easily fits inside its included travel backpack and into overhead bins on planes.
Solid spruce top and solid Sapele body for exceptionally rich acoustic tone
A proprietary under-bridge transducer pickup system delivers stellar amplified acoustic tone.
Ovangkol Bridge and bone nut and saddle add to the rich tone.
When you need portability and great tone, the FP412 FirstClass Solid Sitka/Sapele Parlor acoustic-electric from Journey Instruments is an amazing instrument that truly has to be experienced to be believed. The FP412 features Journey Instrument's patented collapsible neck system that lets you detach and reattach the guitar neck with just a few simple clicks and turns, letting you easily fit the FP412 inside its included travel backpack and into overhead bins on planes.
This traditional parlor acoustic features a solid spruce top and solid Sapele body for a vibrant acoustic tone. A solid Sapele neck with carbon fiber reinforcement is beautifully playable and responsive. When you are ready for the plugin, a Proprietary under-bridge transducer pickup system delivers stellar amplified acoustic tone.
Gretsch G5021E Rancher Penguin
Elegant look with gold hardware, unique finish, and headstock designs
Maple back and sides, solid spruce top delivers great sonic performance with a punchy direct tone
Fishman Presys III pickup system for top-quality sound
U shaped neck for increased playability and comfort
Compact parlor body shape for extra mobility
Gretsch G5021E Rancher Penguin is one of the top-quality travel-sized acoustic-electric guitars with its Rancher style from the '50s. The iconic looks with triangle soundhole and compact design combined with the great sound of the instrument make this one the ideal travel guitar for acoustic guitar lovers.
The unique look of the guitar is pretty elegant and eye-catching. The high-quality wood used in the construction delivers amazing tones, while the Fishman Presys III helps fantastically to amplify the sound when necessary.
The natural timbre is present without any coloration with the pickup. You can also shape your sound with volume mid-sweep and bass knobs on the control board of the guitar. Plus, it also has a chromatic tuner.
Takamine GY93 New Yorker
Parlor-style guitar with a unique tone
Solid spruce top for the extra resonant body along with X-bracing for extra volume output
Maple center with 3-piece walnut back for tonal flexibility and high definition
Mahogany neck with laurel fretboard on top
20 frets with dot inlays on the fingerboard
Gold finished machine heads
When it comes to acoustic guitars, Takamine is one of the most reliable and popular brands on the market. The GY93 New Yorker model shines with its parlor-style construction, compact size for mobility, and high-quality woods such as solid spruce top, maple center, mahogany back and neck, and laurel fretboard. The sound of the guitar is fantastic, just like its pretty look, all thanks to the high-quality wood used in the workmanship.
The neck is highly slim for an acoustic guitar, making it an extremely comfortable and fun-to-play guitar. The 12-inch radius laurel fingerboard has a fantastic feel to it, and the playability is in the sky.
Furthermore, it has a Takamine TK-40D preamp system with a built-in tuner, three-band EQ, gain controls, notch filter, EQ bypass, and a mid contour switch for increased versatility and sound quality.
Luna Gypsy Parlor Mahogany
Mahogany top, back, and sides
Mahogany set neck, C profile
Black walnut fingerboard, 14″ radius, MOP Moon Phase inlays
25.25″ scale length, 21 frets
1.6875″ nut
Black walnut bridge
Chrome sealed die-cast tuners.
Parlor-sized guitars are great for traveling with, as you probably have figured out by now. This one, Luna Gypsy Parlor Mahogany, is a relatively affordable acoustic travel guitar with a big sound that you would not expect from such a compact body.
The guitar features a great-looking mahogany top, back, and sides, along with blackwood stringers on the backside of the neck. The black walnut fingerboard has a 14" radius and is quite comfortable to play with. Another great detail is the Luna signature MOP moon phase design of the dot inlays.
There is also a Celtic-themed rosette which looks fantastic with the quality tonewoods. The sound is pretty warm and clear, with great mid frequencies. The neck has a C-shaped profile that is great for beginners and small-handed players. For the price offered, Luna Gypsy Parlor Mahogany is a great travel acoustic guitar with its comfortable playability and amazing sonic performance.
Fender PS-220E
Compact sized parlor guitar from Fender with traditional and modern features combines
Sitka spruce top and mahogany body for warm and natural sound
C-shaped mahogany neck with ovangkol fretboard
Fender-Fishman Sonitone Plus Soundhole pickup system for organic amplified tones
Ovangkol bridge, ebony pins, open-back tuners for a traditional appearance
If you are after the Fender quality for your travel guitar, Fender PS-220E is a great choice. It is inspired by parlor guitars and combines the traditional features with modern enhancements for amazing looks and sonic performance. The guitar performs and looks fantastic with the mixture of high-quality tonewoods, including mahogany, Sitka spruce, and ovangkol.
The acoustic-electric guitar has a highly resonant tone which is organically reflected by the Fender-Fishman Sonitone Plus Soundhole pickup system. The sound of the natural woody tones gives impressive results, while the volume and blend controls are there to help you shape your tone as you would like. It is a great overall guitar in terms of sound and feel, as you would expect from Fender.
Kala Solid Cedar Top Parlor
The solid cedar top
Mahogany back and sides
Comfortable mahogany neck
Easy-playing 19-fret ebony fingerboard
Toneful bone nut and saddle
Light-diffusing satin finish
Kala Solid Cedar Top Parlor is one of the most portable guitars on the list. It is a great choice for recording, songwriting, or performing while on the road with its lightweight and compact design. The guitar features a solid cedar top, mahogany back, sides, and neck, an ebony fingerboard with 19 frets, as well as a toneful bone nut and saddle. The light-diffusing sating finish looks excellent and adds to the elegance of the instrument.
The playability of the guitar is extremely high thanks to the smooth neck, balanced weight, and 19-fret ebony fingerboard. Thanks to the bone nut and saddle, the sustain and tone are increased.
The price range is also great for this guitar as it can be considered affordable. The small body, big sound, and fantastic looks make this guitar ear, eye, and budget pleasing all at the same time.
Guild P-240 Memoir
Mahogany back and sides align with solid spruce top
Outstanding mahogany neck with Pau Ferro fingerboard for increased comfort and playability
X-bracing for enhanced tone
24.75-inch scale length and 19 frets
Mother-of-pearl rosette and vintage-inspired Guild script logo on the slotted headstock
Guild P-240 Memoir is another compact yet big-sounding guitar for singers and songwriters. The parlor size and the lightweight are ideal for traveling with the instrument. The woods used in the construction are mahogany for the back, sides, and the neck, Pau Ferro for the fretboard, and solid spruce for the top. The combination of the woods provides a rich, full and varied tone.
The guitar has 19 frets and a 24.75" scale length which is ideal for fingerpicking and flatpicking. The Pau Ferro fingerboard feels great and plays incredibly well on the 16" radius C-shaped neck profile.
The guitar is one of the best travel guitars for recording as it provides amazing tones with a natural woody touch.
Squier Mini Strat Electric
3/4-size Stratocaster-style guitar, for the traveler or younger players
3 single-coil pickup configuration like a traditional Stratocaster
Great-feeling maple neck
Indian Laurel fretboard
Traditional vintage-style large headstock
Chrome-finished tuners and hardware
Hardtail bridge with 6 saddles
The Squier Mini Strat is the perfect choice for guitarists who are after a compact Stratocaster while on the road. It is also a great entry-level guitar for younger players and beginners. Just like a traditional Stratocaster, it comes with three single-coil pickups, tone and master volume controls, a 5-way pickup switch, and the famous great-feeling maple neck of Strats.
The guitar's sonic versatility is impressive, just like a genuine Stratocaster. You can shape the sound with tone and volume controls and a pickup switcher. Thanks to the real maple neck and Indian Laurel fingerboard, the neck is highly playable and comfortable.
The guitar also looks great with its vintage design and large headstock. There are multiple color options for different tastes as well. Overall, it is the perfect guitar for kids, small-handed players, and musicians on the move.
Fender Sonoran Mini Acoustic Guitar
Classical acoustic guitar with a vintage design
Compact sized body for improved playability and comfort
High-quality mahogany top, back, and sides for warm tones
C-shaped neck and Walnut fingerboard for increased playability and comfort
Short scale length for portability and softer string feel
Fender Sonoran Mini is a unique travel-sized acoustic guitar equipped with a scaled-down, all-mahogany body for meaty, beefy, and present tones. The guitar competes with full-scale guitars in terms of sound as its innovative and high-quality design provides impressive tonal versatility and richness.
The compact size and lightweight are ideal for traveling with this guitar. You can use it on the stage, in the studio, on the street, or wherever you are without any hesitation. Thanks to the C-shaped neck and Walnut fingerboard, the guitar also looks pretty good, and the neck feels great in hand.
Yamaha APXT2 3/4-size Thin-line
The compact version of Yamaha's iconic and popular APX500 acoustic-electric guitar
The 3/4 size is perfect for a travel companion instrument
The high-quality tonewoods deliver natural and balanced acoustic tones
ART-based preamp and System 68 contact pickup provides amazing amplified sound when plugged in
Built-in-tuner and volume-tone controls come in handy for tone shaping and getting ready for playing
Yamaha APXT2 3/4-size Thin-line is a versatile travel-sized 3/4 acoustic-electric guitar for musicians on the go. The guitar blends quality, performance, looks, and versatility in one pot, offering one of the best travel companions. It can also be a great choice for small-handed players.
The guitar has the APXT2 with a System 68 contact pickup and active preamp for plugged-in performance, which successfully reflects the balanced and natural tones of the guitar provided by the high-quality tonewoods. Plus, it comes with a great gig bag to carry it around with.
Conclusion
Travel guitars come in so many shapes and forms. They are different in size and style. Whether you need acoustic or electric, there is a lot to choose from. Today, fortunately, companies improved travel guitars a lot, and they are much more functional than travel guitars in the past. Most of them really are pretty inexpensive, and if you travel a lot, buying one is a no-brainer.
If you found this article useful, you may want to save this pin below to your Guitar board.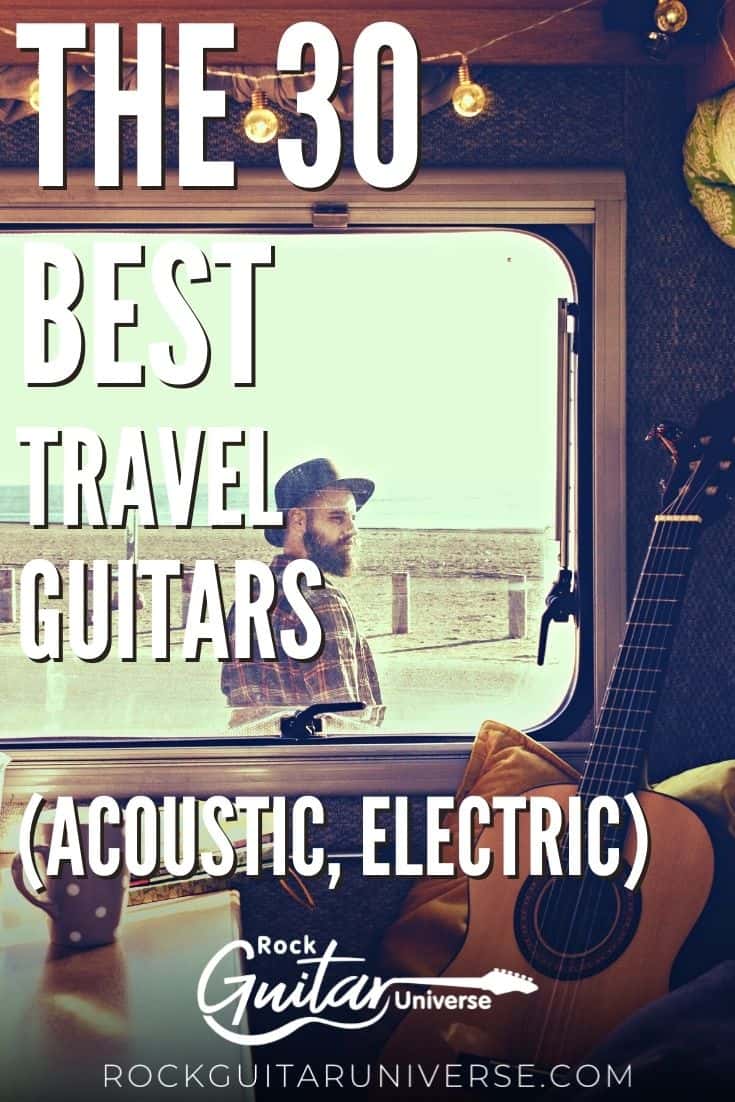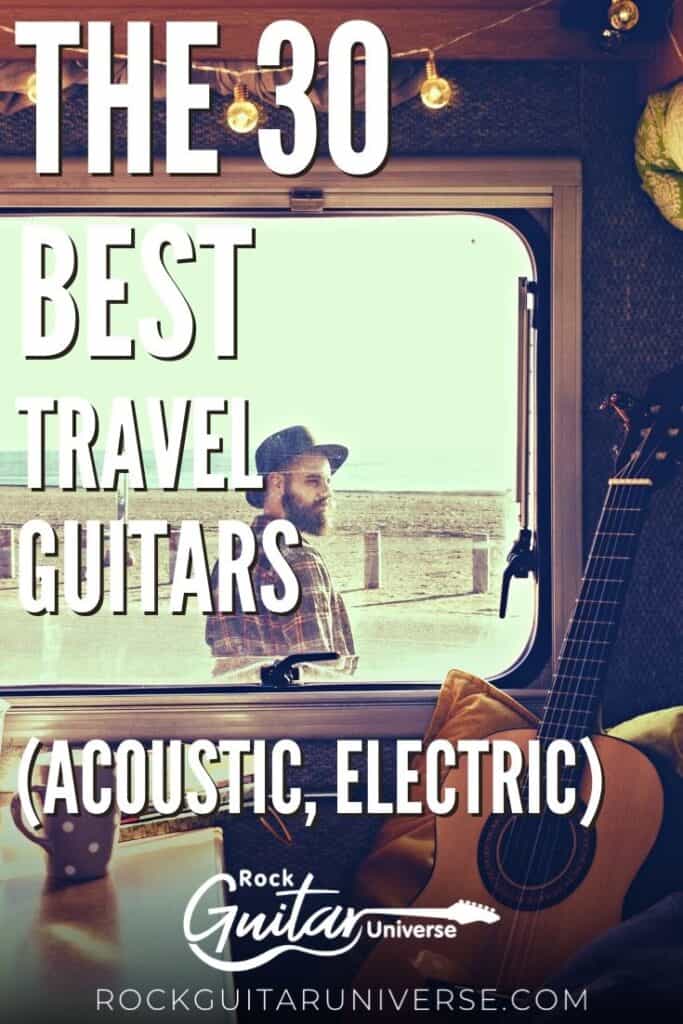 Last update on 2023-02-06 / Affiliate links / Images from Amazon Product Advertising API