There are so many reasons why a player would want to get an audio interface for guitar. One of the primary ones is to be able to record yourself playing the guitar. This is excellent for mixing, trying out new things, and even recording songs.
However, this isn't the only possible option. Audio interfaces can serve as a replacement for the amplifier, and you can get similar results or even better. Of course, you will need to have the appropriate software, and there are numerous ones you can find for free.
This way, you'll be able to use an audio interface as an app simulator and download any pedals or amps you like. Some programs will even allow you to try out legendary amps like Twin Reverb or JCM800.
But as with regular amps (and guitar equipment), audio interfaces can get rather expensive. If you are not willing to spend a fortune, I will cover some of the budget options that you might want to consider.
Top 5 Budget Audio Interface For Guitar Under $50
The first category I will discuss is the cheapest one. While some of these can be quite decent, they aren't a good replacement for anything, and the only value is that you won't need to buy an amp. It is an excellent solution for those unable to buy a real amp, and it will do the trick. However, you shouldn't expect high quality from any interfaces in this category. 
Behringer Audio Interface 1x XLR/TRS
2×2 audio interface
Can record mic and other instruments
48 kHz
Compatible with popular software
2 inputs
2 outputs
Preamp
Black
Modern design
9.1 ounces (257.98 grams)
5.04 x 4.65 x 1.97 inches (12.8 x 11.89 x 5 centimeters)
Behringer is an excellent company with numerous great products, and it isn't surprising that they offer so many audio interfaces for a decent amount of money.
XLR/TRS is designed for all audiophiles out there, and it offers a maximum sample rate of up to 48 kHz. The interface also works great with all popular audio software like Steinberg Cubase, Ableton Live, Avid Pro Tools, and others.
It also has two inputs and two outputs, and it has a V-powered XENYX Mic Preamp that is comparable to boutique amps. Needless to say, if you plan on using programs like Cubase, you won't get it for free, and you will need to buy them separately. But the great thing is that there are numerous programs you can get for free.
Behringer Guitar Link UCG102
Allows you to plug your guitar into your PC
Stereo headphones output
Works with Windows, Mac, and iOS
USB output
3.2 ounces (90.72 grams)
3.76 x 2 x 0.97 inches (9.55 x 5.08 x 2.46 centimeters)
Ultra-low latency
While others might be equally good, you won't get the same quality as you will with a well-known brand such as Behringer.
Guitar Link UCG102 is an interface that allows you to plug your guitar into your PC. It has a guitar to the USB port, and you can use it on both Mac and Windows. Since you can easily find numerous different apps and pedal simulators online, you won't need to spend a lot to get your hands on beautiful effects.
Once again, since this is the cheapest possible category, you shouldn't expect mind-blowing quality and options. But considering the price, it's a great option for beginner players that want to experiment a bit and record themselves.
Miditech Guitarface II
Allows mic and guitar recording
Aluminum case
USB interface
Low latency
Works with iPad
Modern design
9.6 ounces (272 grams)
1.46 x 4.33 x 3.07 inches (3.71 x 10.998 x 7.798 centimeters)
If you ever wanted to have a handy little device for recording mic and guitars, this might be a good choice. Naturally, the device is rather affordable, and it looks great. Miditech used aluminum for the outer case, and every part of the interface looks great.
Furthermore, you won't need to worry about latency issues, and audio drivers will ensure that everything runs smoothly. While the device is meant to be used on Windows, you can still plug it into your iPad using the Apple Camera Connection Kit.
One of the main benefits of Guitarface II is that you don't need to worry about anything. There is no external power supply, no drivers, and you don't even need to install anything. Even though Miditech offers ASIO drivers, using them is completely optional.
Samson MDA1 Mono Active Direct Box
Metal case
Two positions (0db and -15db)
Ground Lift Switch
¼" input and thru
Balanced XLR output
Works on 9V battery
1.3 pounds (589.67 grams)
1.95 x 3.38 x 5 inches (4.95 x 8.59 x 12.7 centimeters)
One of the first things you'll notice if you get Samson MDA1 is how great it looks. The entire case is made of metal, which makes it highly durable and sturdy. You won't need to worry about potential damage if you put it in your pedalboard, and it has a similar size to regular pedals.
What makes MDA1 special (besides the price) is the design. There are two switches on the box. The first one is to choose between 0db and -15db. The second switch is for ground or lift. There are also two inputs both a quarter of an inch in size, and a switch if you plan on using the battery.
As with regular pedals, the battery is a 9V one. The box works with nearly any instrument including guitars, basses, synths, and others. The primary goal behind Samson MDA1 is to ensure that the signal coming out of your instrument is perfect for recording.
TC Helicon Audio Interface GO VOCAL
Compact
High-quality microphone preamp
Works with iOS, Android, Mac, and PC
XLR input
48 V phantom power
Headphone output
Adjustable gain
8.3 ounces (235.3 grams)
1.77 x 1.5 x 3.62 inches (4.496 x 3.81 x 9.19 centimeters)
TC Helicon is primarily designed as a microphone preamp for mobile devices. It supports iOS and Android, but you can also use it on your Mac or PC. The device offers a headphone output, and you can use adjustable gain if you are interested in real-time monitoring.
It also works really well with TC Helicon apps you can download for both iOS and Android, and it is also compatible with numerous other apps you can try out for your smartphone. GO VOCAL is a great tool for recording, and you can easily sync it with your mobile device.
Probably the best thing about GO VOCAL is the price, and you won't need to spend a lot to get your hand on it.
Top 4 Budget Audio Interface For Guitar Under $100
So, let's turn it up a notch and see what you can find in a higher price range. These audio interfaces are still in the affordable category, but we will take a look at those between $50 and $100. As you might know already, professional equipment can be quite expensive, so this is still something that might be worth your money.
PreSonus AudioBox USB 96
Bus-powered
Compatible with Mac and Windows
24-bit resolution
High-performance
Low-noise
Zero-latency
48V phantom power
Software included
2.01 pounds (911.72 grams)
5.5 x 5.5 x 1.75 inches (13.97 x 13.97 x 4.45 centimeters)
PreSonus AudioBox USB96 is an interesting tool for recording. It's simple and reliable, and you can carry it with you wherever you go. Needless to say, the device is easy to use, and all you need to do is plug in your instrument, and you'll be ready to go. It is a great choice for songwriters and guitarists, and it is quite sturdy so you won't need to worry about potential damage.
It is compatible with nearly all Windows and Mac programs for audio recording, and you will also get a free license for the PreSonus DAW program. But if you want, you can try out others that are free or more comfortable for you.
There are also a couple of knobs that allow fine-tuning, and you can also use headphones to monitor recording. It has MIDI input and output and supports up to 96 kHz sampling rates.
Behringer U-PHORIA UM2
+48 V-powered XENYX mic preamp
Up to 48 kHz sampling rate
XLR/TRS input
¼" input
Compatible with popular software
Headphone output
Great design
3.82 pounds (1.732 kilograms)
12.01 x 10.63 x 6.85 inches (30.51 x 27 x 17.4 centimeters)
While other items on the list are still great, you usually know what you are getting with a well-known brand like Behringer.
U-Phoria is the more expensive version of the XLR/TRS interface, and it brings many improvements. It will allow you to record nearly anything from vocals to instruments, and it supports a sampling rate up to 48 kHz.
All you need to do is plug in your instrument, and connect it to your Mac or PC. Of course, as with the previous version, you can use a variety of popular programs like Steinberg Cubase, and you will also get Xpix TRS and XLR cables, 2RCA male to male dual cables, fibertique cloth, headphones, and others.
Synco MC4
4 channel mixing console
Stereo input
USB output
XLR and RCA sockets
Knobs for fine-tuning
Bluetooth connection
Works with iPad, iPhone, Android
1.4 pounds (635 grams)
9.25 x 8.78 x 2.76 inches (23.5 x 22.3 x 7.01 centimeters)
Synco MC4 is an interesting device that will allow you to record instruments. It has a built-in 48V phantom power supply, it supports Mp3 broadcast, Bluetooth, USB, and many others. MC4 also has four channels, and it has an option to adjust high pitch, bass, gain, reverb, and volume.
Thanks to Bluetooth, you can easily connect it to your smartphone (regardless of the OS), and you can monitor everything using headphones. There is also a small display that will allow you to check the working status of the mixer.
The frequency response is between 20 Hz and 20 kHz, and it can be so much fun. The price of this mixer is great, and it is quite low considering what you'll get if you opt to buy it.
Pyle Professional Audio Mixer
4 channels
USB support
Compatible with Mp3
Bluetooth
Mic and stereo input
Multi-voltage power supply
Steel chassis
FX analog effects
3.64 pounds (1.651 kilograms)
9.3 x 7.5 x 2.6 inches (23.62 x 19.05 x 6.6 centimeters)
It is a bit larger compared to your regular pedals, but it is a great option for those interested in recording. It has a steel chassis which is quite durable, and it is a mixer for DJs and recording musicians.
Pyre mixer has four channels, with analog effects and a 16-bit processor. It also offers an LCD display and has sound recordability. There are numerous knobs you can use for fine-tuning, that will ensure that you get the perfect tone you were looking for. These include gain, high, low, mid, FX/send, bass, level, tone, and others.
The Pyre mixer is also compatible with most devices you can find today, and it has Bluetooth 4.0.
Top 6 Budget Audio Interface For Guitar Under $200
The final category I will cover is audio interfaces between $100 and $200. As you can probably guess, these are the best ones you can find. At least out of the interfaces I mentioned here.
If you are looking for the best available interfaces in general, you might need to spend a bit more. As I said before, music equipment can be quite pricey, and the prices of high-quality gear can be quite high.
But when it comes to budget options, these might be your best option.
Focusrite Scarlett Solo
No products found.
24-bit/192 kHz
3rd generation Scarlett preamp
Recording software
OS X and Windows
Samson SR360 stereo headphones
Cables
Accessories
10 x 8 x 6 inches (25.4 x 20.32 x 15.24 centimeters)
2.97 pounds (1.347 kilograms)
Focusrite designed their Scarlett Solo model, which got the name for its color. They claim that it is the simplest USB audio interface you can find and that it is an excellent choice for songwriters, guitarists, and other musicians.
This is the third generation of Scarlett Solo models so far. One of the best things about the Focusrite interface is that it comes with everything you might need along the way. Firstly, you will get numerous programs you can use like Softube Time and Tone Bundle, Red Plug-in Suite, Plug-in Collective, Ableton Live, Avid Pro Tools, and many more.
But you will also get stereo headphones, cables, and even microfiber cloth for easier cleaning. All things considered, Focusrite is a great product, especially for the price. So, if you are looking for a great audio interface without busting the bank, you might want to consider Scarlett Solo.
Behringer Audio Interface UMC404HD
4×4 USB 2.0
Audio/MIDI interface
24-bit/192 kHz
Works with popular software
48V phantom power supply
Impact-resistance
Designed in Germany
Zero-latency
2.65 pounds (1.202 kilograms)
11.5 x 5.12 x 1.81 inches (29.21 x 13 x 4.597 centimeters)
It surprises no one that Behringer is in this category as well, and you can find even more expensive products by this company. UMC404HD is another audio interface from the U-Phoria class, and it is a lot better compared to the ones I already mentioned.
It offers a 24-bit processor with up to 192 kHz sample rate. There are MIDAS preamplifiers, and fast USB 2.0. You can use UMC404HD to record microphones, keyboards, guitars, and even MIDI devices.
As with many other devices from this list, it has a 48V phantom power supply and works on Mac and Windows. Behringer UMC404HD is an excellent option, especially if you consider the price. And if it's of any importance, it looks quite good. Behringer claims that UMC404HD is impact-resistant, which means that you won't be able to damage it by accident.
Steinberg UR22C
High-quality
Super speed USB 3
USB-C
32-bit/192 kHz
Class-A D-PRE mic preamp
Zero-latency
Supports ASIO, WDM, or core audio
MIDI input and output
Cubase AI
2.2 pounds (997.9 grams)
9.21 x 8.07 x 4.13 inches (23.39 x 20.498 x 10.49 centimeters)
Steinberg is a company behind Cubase, which is one of the most popular programs for audio recording and editing. This is the primary reason why you might want to go for their product since they are known to offer excellent quality.
The maximum sampling rate for UR22C is 192 kHz with a 32-bit resolution. It also has a D-PRE preamp, that offers incredible quality for this price range. Naturally, the device is compatible with the majority of audio programs, and it supports ASIO, WDM, and core audio, with almost any DAW you want to use. 
UR22C also has two switchable modes D.J. and DAW. DAW works great with programs like Cubase, while DJ mode is designed for performances, backing tracks, and DJ software. Thanks to USB 3.0 and type C, you will be able to use it on any possible device.
Mackie Audio Interface Onyx Artist
Onyx mic preamp
48V phantom power supply
TRS input
Zero-latency
Easy recording
Comes with software
1.2 pounds (544 grams)
4.4 x 6.4 x 1.9 inches (11.18 x 16.26 x 4.83 centimeters)
Onyx Artist is an excellent tool for those interested in learning more about recording. It is durable and looks great. Mackie Audio Interface offers high-resolution 24-bit/192 kHz, and it has analog circuitry.
It is perfect for singers, songwriters, guitarists, and it allows you to record using your phone. Furthermore, there is no latency which means that you can easily hear yourself in real-time and monitor the whole situation.
The device also has dedicated outputs if you want to use studio monitors, and it supports USB 2.0. If you decide to buy it, you will also get Tracktion Music Production Software and DAW Essentials Collection. It is also compatible with all major DAWs, and it works on both PC and MAC.
M-Audio AIR 192
Two inputs and two outputs
USB and USB-C
ProTools and Ableton Live
Plus Studio-Grade FX
24-bit/192 kHz
Low latency
XLR and TRS input
Rugged metal chassis
Central volume control
LED VU meters
1.76 pounds (798 grams)
8.04 x 6 x 2.76 inches (20.42 x 15.24 x 7.01 centimeters)
M-Audio AIR 192 sounds great and looks even better. It is an excellent choice for any solo performer or those looking to record in studio quality. AIR 192 supports 24-bit and 192 kHz recordings, and it is easy to use. 
One of the main qualities of this audio interface is the amount of software you get with it. If you buy it, you will get Pro Tools, First M-Audio edition, Ableton Live, the Avid Effect Collection, Eleven Lite, Xpand!2, Creative FX collection, Vacuum, 2 GB of content from Touch Loops, and many others.
Thanks to low latency, you will be able to hear what you play instantaneously, and in high quality. AIR 192 supports USB and USB type C, and you can get a Vocal Studio Pro version that comes with headphones and a microphone. However, the pro version is a bit more expensive.
PreSonus Studio 24c
Two lines out
XMAX-L solid-state preamp
24-bit/192 kHz
Mac and Windows
Easy to use
Headphones output
USB-C
+48V phantom power supply
Cables for USB-C to C and USB-C to A
1 pound (453.59 grams)
7.09 x 6.3 x 1.77 inches (18 x 16 x 4.5 centimeters)
PreSonus Studio 24c is a portable high-def audio interface, and it supports USB type C. It is a great choice for musicians, guitarists, and those looking to record music. PreSonus has two inputs and two outputs, with XMAX-L mic preamps.
There are also monitoring controls at the front, and it comes with the necessary software – PreSonus Studio One Artist. USB-C interface works with nearly any device, Mac or Windows.
If this sounds interesting to you, you can also check out 26c, 68c, 1810c, and 1824c versions, but they are a bit more expensive and don't fall into this category.
Summary
If you are looking to buy an audio interface, it doesn't mean that you will need to spend a fortune on it. You can still find great products that don't cost a thousand dollars, and you will be able to record yourself playing the guitar.
Of course, these examples might not be perfect for those looking to go pro, but they might help them along the way. Some of the interfaces I mentioned on the list are quite good, especially if you consider that all of these are budget options.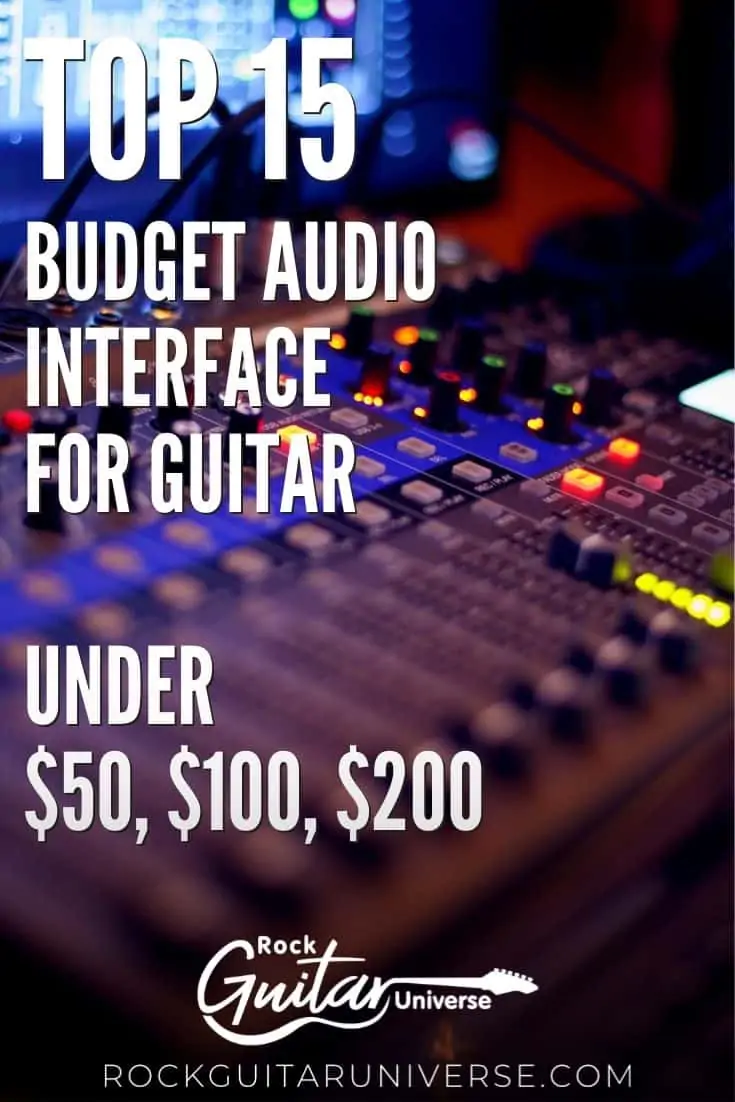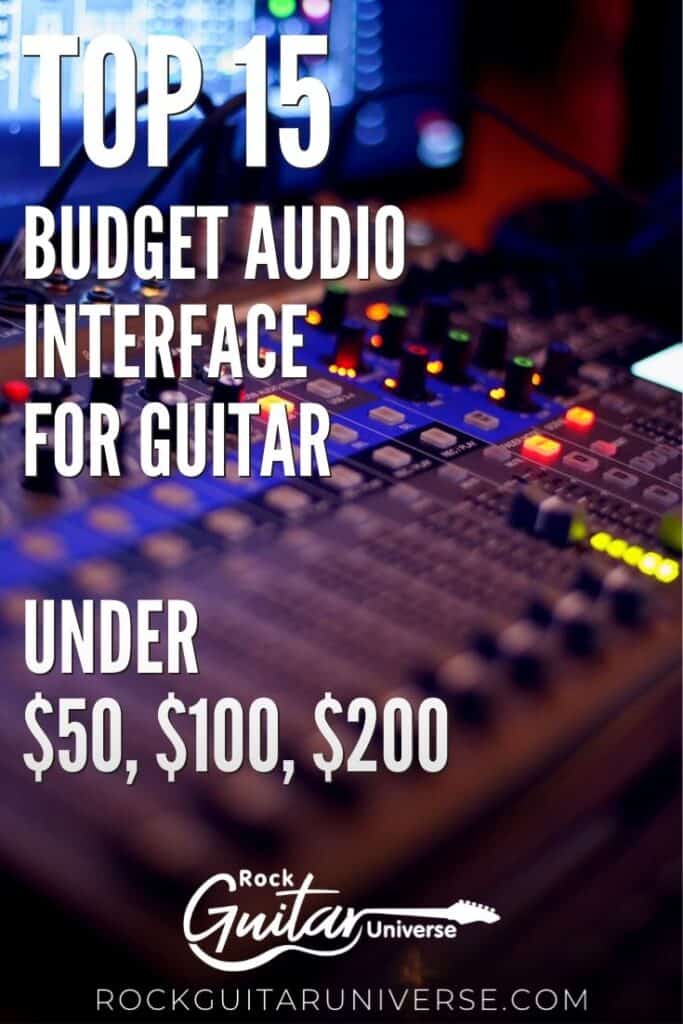 Last update on 2023-11-30 / Affiliate links / Images from Amazon Product Advertising API