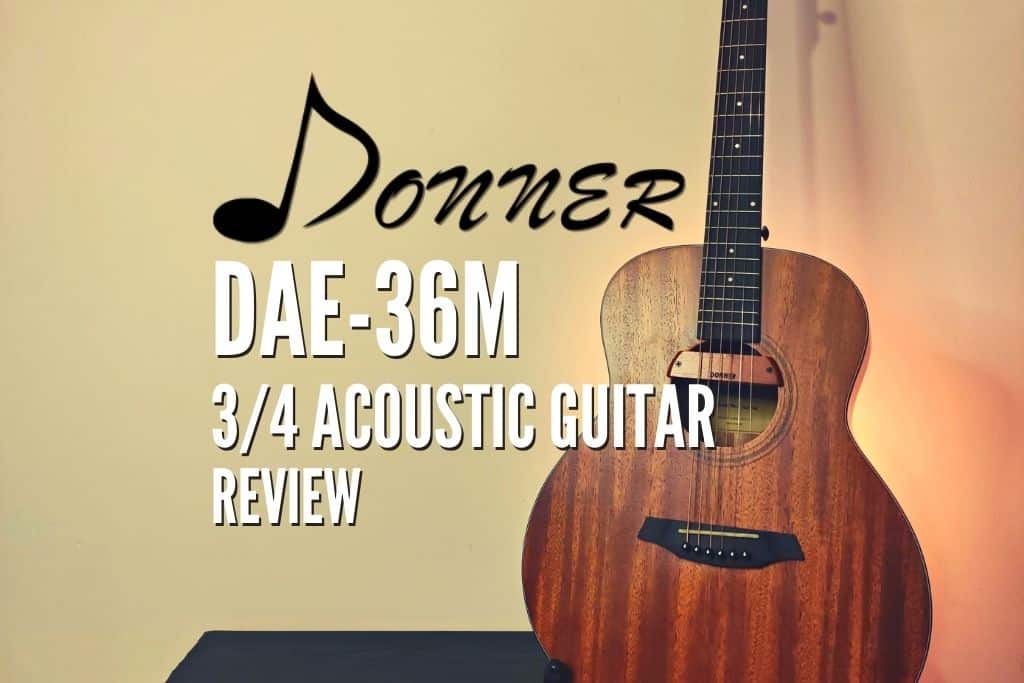 3/4-sized guitars are excellent choices for traveling musicians as well as younger guitarists. They are compact, lightweight, and portable, which make them great companions on the road as well as for small hands. But, especially with acoustic guitars, size matters, and it is not easy to find a small affordable guitar that sounds good.
Just at this point, Donner steps in and offers DAE-36M 3/4 Acoustic Guitar, an affordable yet high-quality instrument; an electro-acoustic design, or pure acoustic design. It is a 3/4-sized guitar with a relatively long neck and fretboard, which is again great to practice the fretboard fully.
Donner Acoustic Guitar Electric 36 Inch All Mahogany with DSS-mini...
Full Mahogany Body: Top, back and sides are made of mahogany wood. Full...
36 Inch Traveller Size: 3/4 scale small dreadnought body provides...
Dss-mini Mahogany Pickup: DAE-36M acoustic electric guitar package sets up...
Complete Acoustic Guitar Kit: Come with most of accessories you may need....
Donner DAE-36M 3/4 has a great value for its price as it features a good sound quality, a portable and lightweight design, and a highly comfortable neck. Plus, it comes with many different accessories making everything ready to start playing the guitar.
| | |
| --- | --- |
| Pros | Cons |
| Comes with accessories including a gig bag, picks, digital tuner, pickguard, capo, extra pack strings, truss rod wrench, strap, and a cleaning cloth | Small-sized guitar, not suitable for big hands |
| Great value for the price with the high build quality | Beginner guitar not for professional use |
| Good sound quality | Plastic pins |
| Portable and comfortable | |
| Suitable for younger guitarists | |
It must be noted that this guitar is not suitable for big-handed players, and it is a beginner-level guitar with basic features. When its price and aim are considered, I will rate this guitar 4.5 out of 5, as it is an ideal guitar to travel with or to start playing for a small-handed or a younger guitarist. Its high-build quality, decent tone, comfortable playability elevate this guitar to a level of the great instrument in its price range.
Donner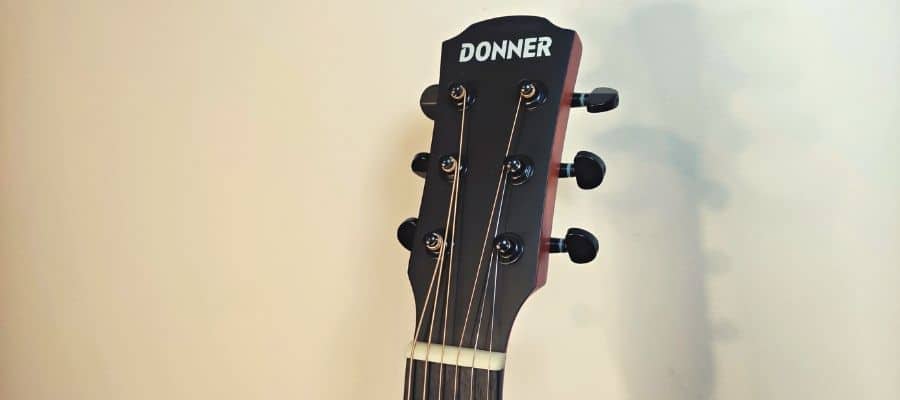 Donner is a pretty new musical instruments and accessories company. They came to the music scene in 2012. they offer good quality products at affordable prices, making the brand favorable among musicians who are after high-quality and reliable gear for reasonable prices.
Donner specializes in the effect pedals sector, which gave them a big reputation on the internet thanks to their high-performing gear with meager price tags. However, Donner also offers excellent musical instruments and accessories for players of all levels. There are many instruments the brand offers, from keyboards to wind instruments, from drums to violins.
The Donner products are produced in China and go through decent quality control, ensuring the high quality of any gear. This way, the company destroys the bad opinion of the products that are associated with the Made In China labels. Donner products are always reliable, high-quality, and surprisingly affordable, making them a great choice.
The warehouses of the brand are located in the U.S.A. and Canada, so your instruments will be shipped from these places. The delivery times are good, and rarely a problem occurs. In any case, they have a pretty responsive customer service, ready to solve any potential problem.
The Specs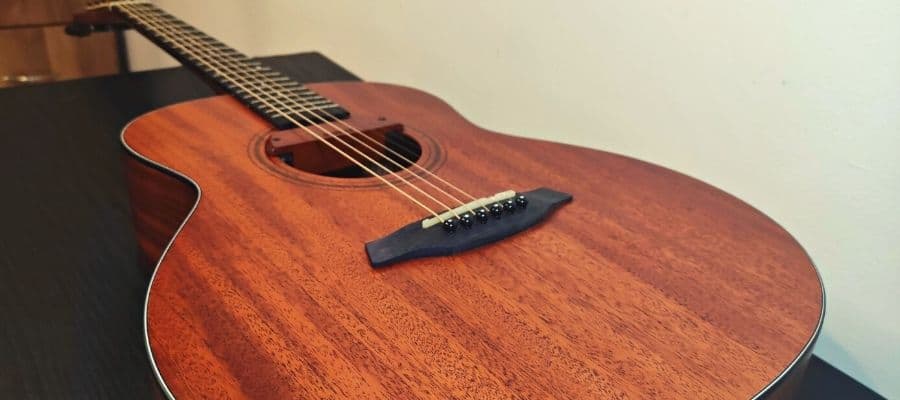 Let's take a closer look at the Donner DAE-36M electro-acoustic guitar specs to get further information on the instrument.
General
| | |
| --- | --- |
| Series | DAE-36M |
| Number of Strings | 6 |
| Hand Orientation | Right |
| Colors | Natural mahogany wood color |
| Weight | 3.42 lbs (1.55 kg) |
Body
| | |
| --- | --- |
| Body Shape | 3/4 size (3/4 small auditorium (000) style) |
| Body Construction | 3-Piece |
| Body Type | Solid |
| Body Material | Mahogany |
| Top Material | Mahogany |
| Top Type | Flat |
| Back Material | Mahogany |
| Finish | Matte lacquer finish |
| Pickup | DSS-mini Neodymium Pickup |
Neck
| | |
| --- | --- |
| Scale Length | 23.23" (59 cm) |
| Neck Shape | Standard D-shape |
| Neck Material | Mahogany |
| Truss Rod | Adjustment at the neck |
| Truss Rod Type | Wrench |
| Fretboard Material | Purpleheart |
| Fingerboard Radius | 14″ |
| Position Inlays | Dots |
| Number of Frets | 20 |
| Fret Size | Regular Frets – 0.078″ (2mm) width |
| Nut | Bone |
| Nut Width | 1.7″ (43mm) |
| Strings | Phosphor Bronze Strings |
Hardware
| | |
| --- | --- |
| Bridge Type | Peltogyne |
| Bridge Pins Type | Plastic |
| Tuners | Donner Custom Mechanical Heads |
| Finish | Black Chrome |
| Pickguard | Comes in the pack |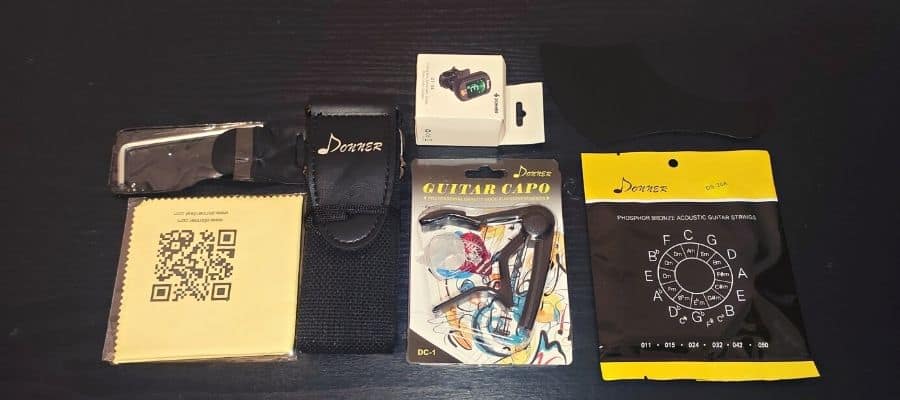 Donner DAE-36M is a 3/4 sized electro-acoustic guitar that comes with standard 6 strings with a right-hand oriented design. It is a small, lightweight, and portable guitar, perfect for traveling or young hands. It weighs around 3.42 lbs (1.55 kg) and has a natural mahogany wood color.
The 3/4 small body is made of 3 pieces of mahogany. The top, back, body, and neck are all made of mahogany wood, which is pretty standard for 3/4 sized guitars. The top is flat like most acoustic guitars, while the finish is a matte lacquer finish.
The mahogany neck features a purpleheart fretboard with 20 frets which is more than a standard 3/4 sized guitar. This is great as the neck gives you the chance to have a longer fretboard to reach all the notes. The scale length is standard for a 3/4 sized guitar's neck with 23.23" (59 cm).
The electro-acoustic guitar is equipped with a DSS-mini Soundhole Pickup that sounds good with decent bass response, and it does not need battery power; you can just plug and play. It has a rare earth neodymium magnet for better performance and works only with steel strings.
The neck has a comfortable D-shape without being too small or big with a good balance. The neck is smooth and is comfortable to play on, which is great for beginner guitarists.
The nut and saddles of the guitar are made of bone, which is great for a guitar in this price range. They are solid and get the job done successfully.
The bridge is made of Peltogyne wood for better vibration transmission performance. The strings are phosphor bronze strings which feel slightly better than stiff steel strings.
The tuners are Donner Custom Mechanical Heads which look good and are okay-quality, in my opinion. They sometimes struggle to keep the guitar in tune in extended periods of playing.
One of the great things about this guitar is that it comes with many accessories, including a gig bag, picks, digital tuner, pickguard, capo, extra pack strings, truss rod wrench, strap, and cleaning cloth.
The Sound And The Feel Of Donner DAE-36M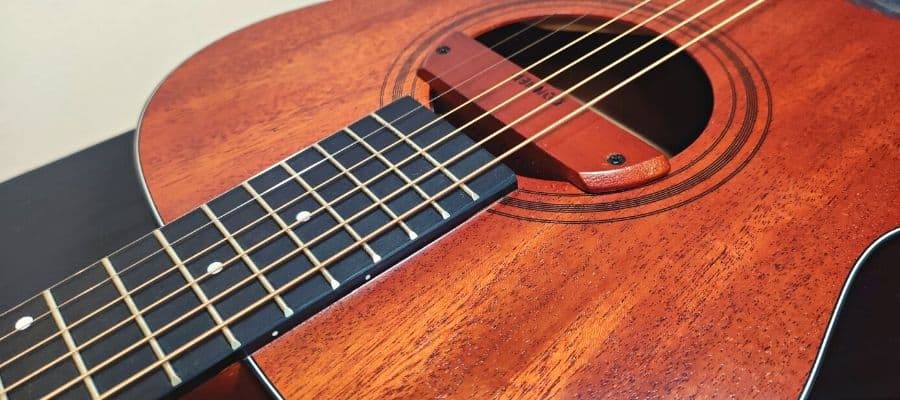 To begin with, the feel, Donner DAE-36M, is really comfortable, which makes it easier to pick it up and play. Its small size is great for guitarists who are used to electric guitar shapes. I really prefer the 3/4-sized or 00 or 000 sized-guitars to the standard Dreadnought shape, as the Dreadnoughts are too big for me to play because I'm used to electric guitars.
The matte satin finish feels excellent, making the playing really smoother when you move your hand through the neck. The D-shaped neck feels balanced in hand and is great to play around with.
The guitar came with low action, which is another plus as it makes it easier to play. This is another great feature for beginners to make the learning process easier.
When it comes to the sound, I can say that it sounds really good with enough balance that you would not expect from a small-sized guitar. The mids and the highs are very nice, but the low-end punch is not as good as a full-sized guitar which is not surprising.
The pickup is a nice addition to the guitar, and it blends really well with the instrument. The sound quality is great for a beginner or for a small-sized travel guitar, but of course, it is not enough for professional use. Also, I had to really crank the amp to hear it.
Overall, I think the guitar sounds and feels great for its price and size. It is not as loud as a full-sized guitar and the low-end is not as dominant, but for the price and its size, it sounds highly warm, natural with great mids and highs.
Donner DAE-36M Is Perfect For Whom?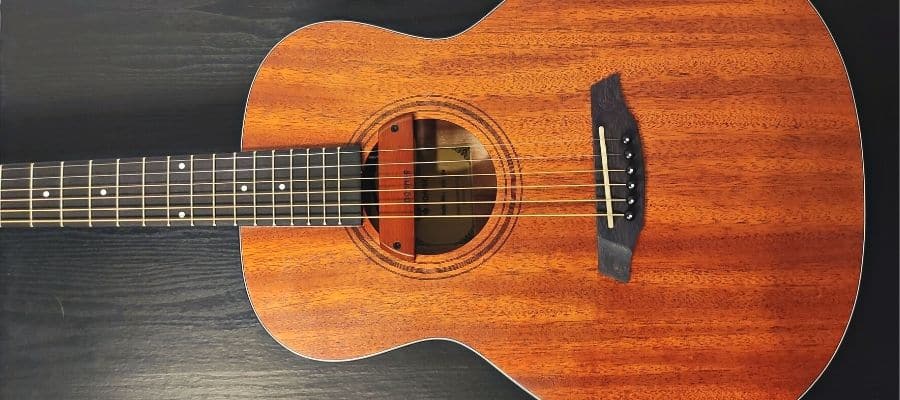 Donner DAE-36M is an ideal guitar for beginners, music students, younger guitarists, and musicians on the road. Its small size, affordable price, and good sound quality make it an ideal instrument for younger hands and traveler musicians.
I would recommend this guitar to any player who is looking for an affordable yet high-performing electro-acoustic guitar for any genre. It sounds good enough, plus it is really comfortable, which are great features to start learning guitar.
It also looks great with mahogany wood which is another plus to keep players motivated for more playing.
Furthermore, it is lightweight, portable, and compact for traveler guitarists to carry around easily. It is also pretty well-constructed, which would not get damaged and broken easily.
I would not recommend this guitar to players with bigger hands as they may struggle with the small size of the body and the neck. Also, this guitar is for beginners to learn or intermediate guitarists to use on the road, but the sound and the feel would not satisfy experienced guitarists. It is not for gigs or recordings.
Other Donner Guitars Worth Mentioning
Donner DAG-1M 3/4 Acoustic Guitar
Donner Acoustic Guitar for Beginner Adult 36'' Dreadnought 3/4 Size...
Most Complete Beginner Guitar Package: Donner acoustic guitar kit includes...
36 inch Dreadnought Body : Perfect combination of tone and playing comfort....
Rich Warm Resonant Sound: Spruce top and laminated mahogany back and sides...
Stay in Tune: Constructed with high quality alloy metal made tuning...
Donner DAG-1M has two models: one with a natural color finish and another black-finished model. They are entirely acoustic models, not like the electro-acoustic DAE-36M model. While these guitars, DAG-1M, DAG-1MB, and DAE-36M, are pretty similar, they feature some nuances that differentiate them.
First of all, the full acoustic models feature spruce top and laminated mahogany back and sides. It has a 36" traveler size 3/4 scale small dreadnought body along with the natural color or black color choices.
As these models are fully acoustic, they have slightly better bass, better volume, and fuller sounds. Plus, they have phosphor bronze strings with high carbon steel hex cores, high hardness bridge saddles, and bone nuts.
The rest of the specs are the same as the electro-acoustic model.
Donner DAG-1C
Donner Acoustic Guitar Kit for Beginner Adult Teen Full Size Cutaway...
Most Complete Beginner Guitar Set: Donner acoustic guitar kit includes...
Well Made Craftsmanship: Spruce top, mahogany back and sides with X...
Rich Warm Clear Sound: Spruce top mahogany body brings you richer and...
Stay in Tune: Constructed with phosphor bronze strings with High Carbon...
The Donner DAG-1C is very similar to the Donner DAG-1M model with a beautiful cutaway dreadnought-style guitar with a big, bold sound. The only difference is the size, as DAG-1C is a full-size dreadnought guitar. As it is a full-size guitar, the sound is better and fuller with punchier low-end frequencies.
Donner DAJ 110-CD
Donner 40 Inch Acoustic Guitar Cutaway Acustica Guitarra Beginner...
Sitka Spruce Mahogany Wood with Retro Art Color: Made of Sitka spruce top...
Crisp Balanced Sound: Donner mini jumbo guitar's unique slim waist design...
Complete Guitar Kit with PICKUP for Outdoors: Donner acoustic guitar...
Lightweight & Easy to Handle: Donner 40 inch acoustic guitar has standard...
Donner DAJ-110CD is another great acoustic guitar with a mini jumbo cutaway design. It has a Sitka spruce top with mahogany back and sides along with a mahogany neck and a comfortable C-shaped neck. It also has a bone nut and saddles, which are great for the price and elevate the sound quality of an acoustic guitar.
Is It Possible To Upgrade It?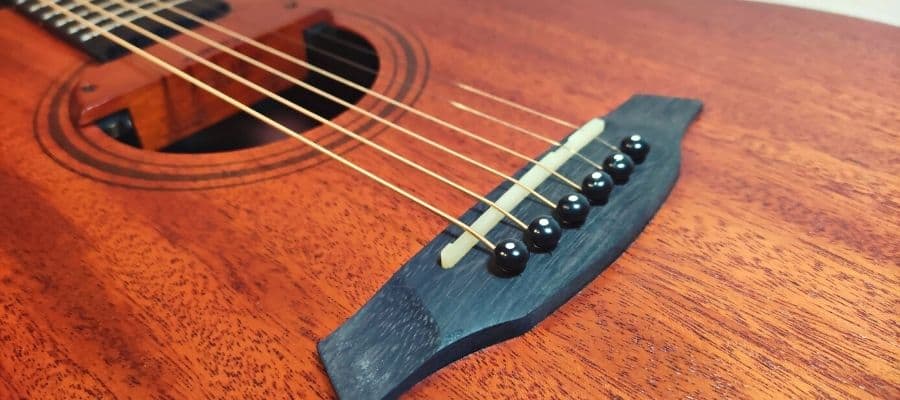 Like most of the guitars, Donner DAE-36M can be upgraded in some parts. The weaknesses of this guitar are the pins, as they are made of plastic. They are not utterly low-quality but, a little upgrade can extend the life and the tuning stability of the guitar significantly. You can also upgrade the pickup and the strings for a better overall sound.
Pins
The pins of the guitar are made from plastic. This is the only part that I recommend you to change for sure as these pins have a short life, and they do not provide good tuning stability. Bone pins are again great choices here.
Pickup
While the addition of a pickup to Donner DAE-36M, the onboard pickup is not the greatest. I had to crank up the volume on the amp to hear the guitar well, which shows the pickup performance is not enough. There are some great soundhole pickups for acoustic guitars offered by Fishman, which you can check for an upgrade.
Strings
Another necessary upgrade should be done with the strings. Actually, you should change the strings of any newly purchased guitar as they are most probably old strings that stayed there for a while. I recommend you to go for Elixir Acoustic Guitar Strings for a long-lasting tone life.
Alternatives To The Instrument In Terms Of Look, Feel, Sound, Specs, And Price
Yamaha JR1 FG Junior 3/4 Acoustic Guitar
Yamaha JR1 FG Junior 3/4 Size Acoustic Guitar
The FG Junior is a 3/4 sized guitar modeled after the acclaimed Yamaha FG...
The JR1 has a smaller body and shorter neck, perfect for young players or...
Yamaha craftsmanship and a spruce top give this compact guitar an authentic...
Great for use as a travel guitar when space is limited
Yamaha is a well-known and reliable brand when it comes to any musical instrument. Yamaha JR1 FG Junior 3/4 acoustic guitar model is a great choice for music students or traveler musicians who want a small-sized big-sounding guitar.
It features a spruce and mahogany body with a nato neck. The rosewood fretboard has a 21.25 inches (54 centimeters) scale length with 20 frets on top.
It is the smaller version of the popular Yamaha FG full-sized acoustic guitar series. It is an excellent choice of instrument to travel with or to start playing for younger musicians. The price is around the same as the Donner DAE-36M.
Ibanez PF2MH
Ibanez PF2MH is a 3/4-sized mini dreadnought acoustic guitar at an extremely affordable price. It is a great beginner-level guitar for younger musicians backed up by one of the most reliable guitar brands, Ibanez.
The guitar features a Sapele top, back, and sides, which provide a warm and balanced tone. It comes with an open pore natural finish which looks quite good. The chrome die-cast tuners hold the tuning well and the nyatoh neck with nandu fingerboard is decent for an entry-level guitar.
Luna Aurora Borealis 3/4
Luna Aurora Borealis 3/4 Acoustic Guitar, Black Pearl
Luna Guitars' Aurora line offers the perfect beginner guitar, especially...
A student guitar line that pairs affordability with Luna's characteristic...
Sized for comfort, and the petite cutaway bodies deliver true sound
The necks are adorned with Luna's signature moon phase fretmarkers
Luna is a famous acoustic guitar brand that is mainly known for its well-designed elegant looking guitars. Not only the looks but the sounds of Luna guitars are also great with good woods and construction.
Luna Aurora Borealis is a 3/4-sized acoustic guitar with a basswood body and mahogany neck. The fretboard is black walnut with different phases of moon dot inlay, which looks fantastic. The soundhole also has a crescent moon which is the signature touch of Luna guitars.
The guitar shines with its look and comfort. The C-shaped neck is very playable, perfect for guitar students. Sound-wise, it is also satisfying with enough warmth and volume. It costs slightly higher than Donner DAE-36M.
Conclusion
In short, Donner DAE-36M is a great 3/4-sized guitar with good looks and decent sound, especially when its price is taken into account. The mahogany body and D-shaped neck, along with a comfortable fretboard with a matte finish, elevate the comfort and the feel of the guitar. The sound is also great, and the addition of the pickup makes the sound much better than its price.
I would recommend this guitar to any music student, younger players, guitarists with small hands, as well as musicians who want a portable, lightweight, and compact guitar to carry around. It is an excellent guitar with high comfort, feel, and good sound.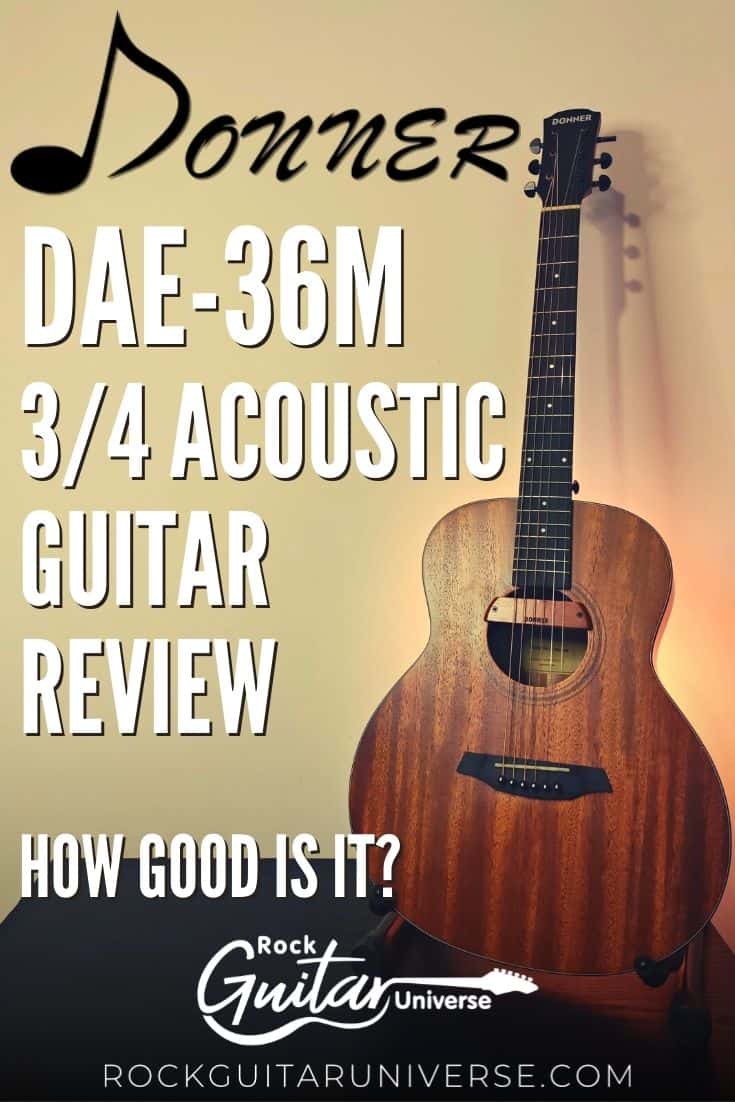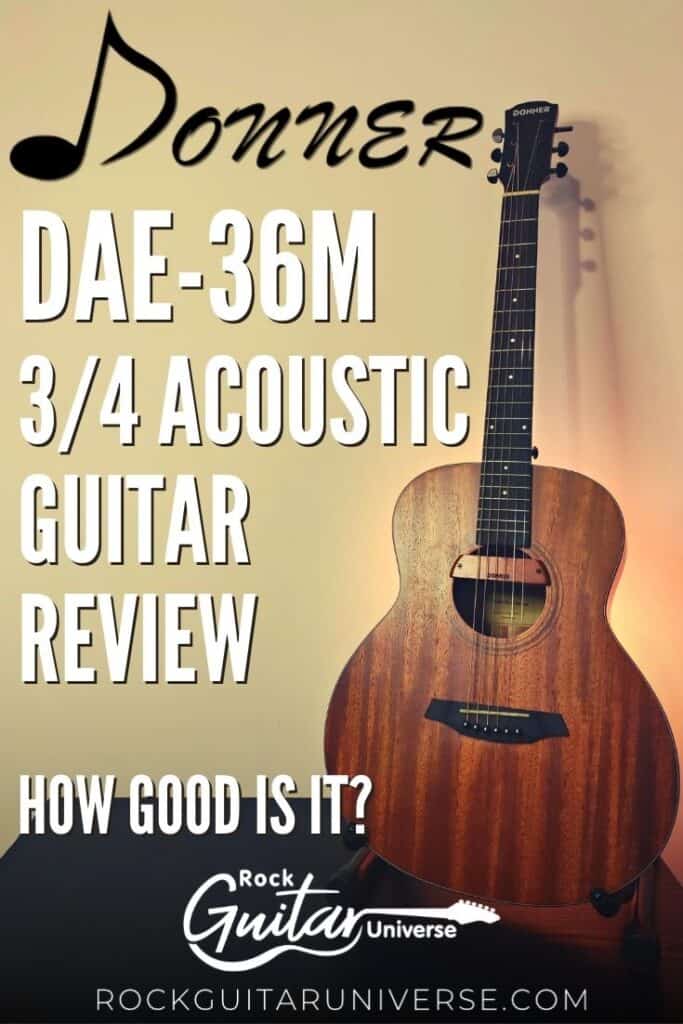 Last update on 2023-02-06 / Affiliate links / Images from Amazon Product Advertising API