Throughout the golden years of guitar, companies have given us some great designs and models. It is through the hands of legendary guitar players that these guitars have achieved their reputation in the guitar world.
Thanks to guitar companies such as Fender, Gibson, ESP, and many others, we now have thousands of excellent-quality guitars that are sought out by professional guitarists and guitar aficionados.
Today, I'll take a look at the 10 Most Popular Electric Guitars In The World. I'll give you a bit of background as to how these guitars came to fruition and some of the specs that give them the legendary status they hold.
Gibson Les Paul Standard '60s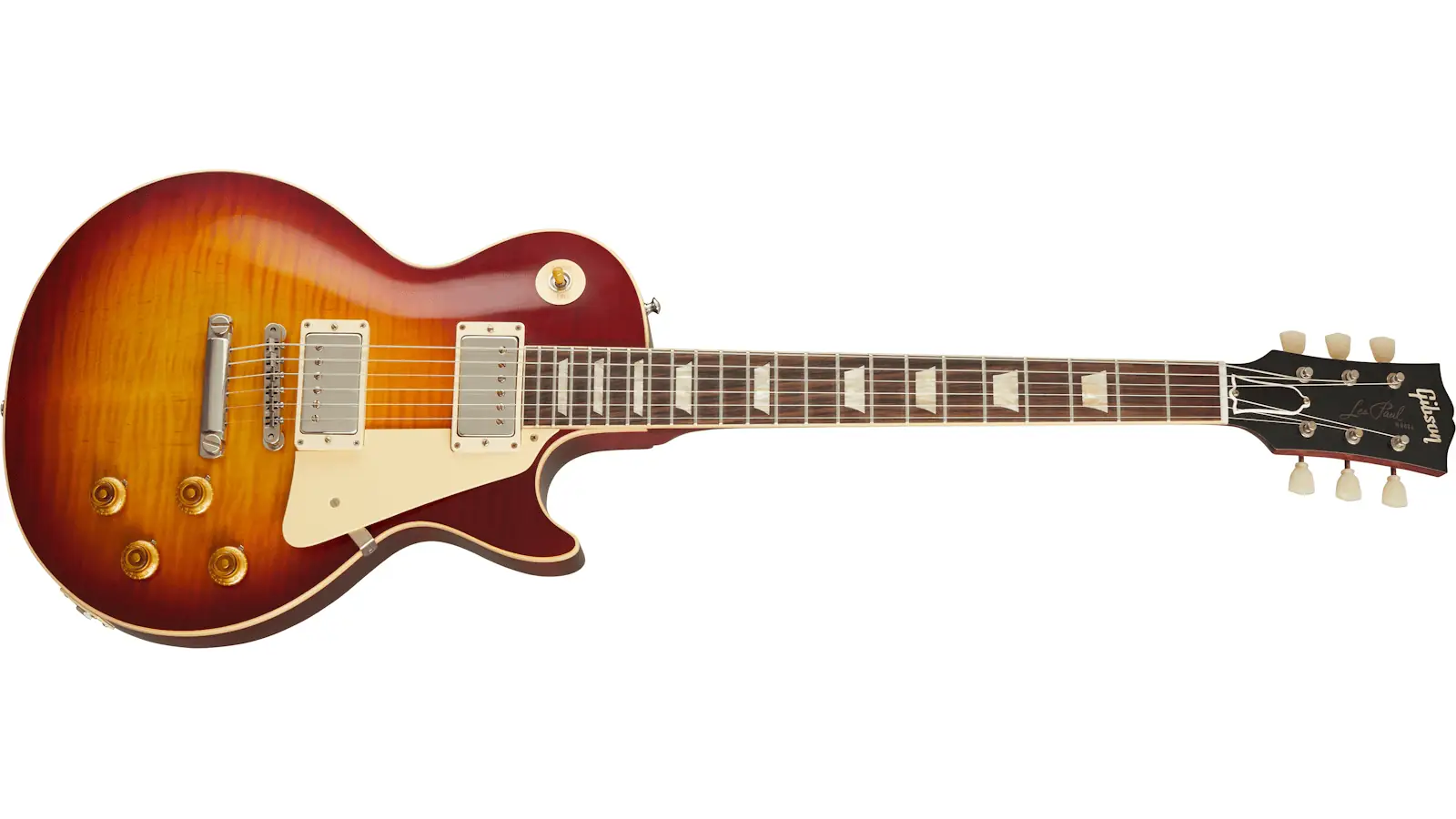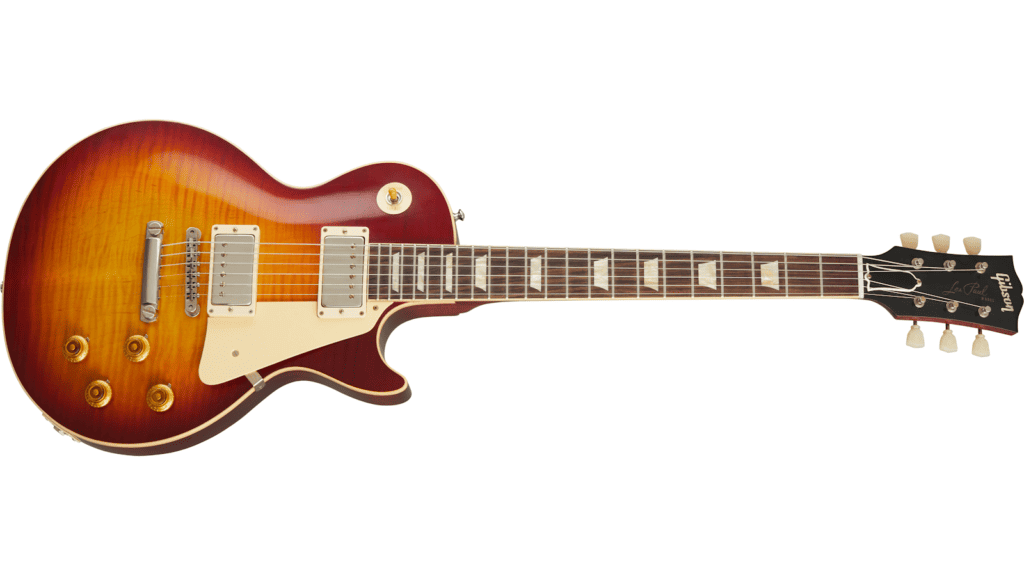 This iconic guitar can easily be the face of Gibson Guitars. Interestingly enough, this guitar did not do too well sales-wise when it first came out in 1952. In fact, the first two Gibson Les Paul models had to be discontinued in 1961 since guitarists thought it was too heavy.
It was in the mid-1960s that interest sparked once again, mainly thanks to legendary guitarist Keith Richards, who began using a sunburst 1959 Les Paul Standard. The Gibson Les Paul Standard is one of the most popular guitars in the world, and many legendary artists play them. This list includes the likes of Jimmy Page, Slash, Billy Gibbons, and, of course, the man himself, Les Paul.
This guitar comes with a solid mahogany body with an AA figured maple top. It also comes with a slim-styled mahogany neck and a 22-medium jumbo fretted rosewood neck. Its hardware includes the specs it had back in the 60s, with a Tune-O-Matic bridge and cream knobs.
As for sound, this guitar has two humbucker pickups, the Burstbucker 61R for its neck and the Burstbucker 61T for the bridge that provides that classic Les Paul sound. Both are AlNiCo V magnets and come with their own tone and volume controls and a 3-way toggle switch.
American Original '50s Stratocaster

If we can consider the Gibson Les Paul the face of Gibson Guitars, then we have to consider the Stratocaster the face of California-based guitar manufacturer, Fender. Guitar creators Leo Fender, Bill Carson, George Fullerton, and Freddie Tavares designed the Stratocaster and released it to the public in 1954.
The Fender Stratocaster was the first Fender guitar to feature three single-coil pickups and a vibrato system. Their invention proved to be revolutionary in the guitar world of the 50s, giving Fender a big leap in sales. Many great guitar players use the Stratocaster as their main weapon. Some of these artists include Eric Clapton, Stevie Ray Vaughan, Jeff Beck, John Mayer, Eric Johnson, and many others.
This iconic guitar comes with an alder body, which Fender uses in almost all of their guitars. It also includes a maple neck and a 21-fretted maple fretboard. Hardware-wise, it comes with a Pure Vintage 6-Saddle Synchronized Tremolo System and nickel/chrome finish.
Finally, we have the renowned Fender sound. The 50′ Stratocaster comes with 3 Pure Vintage '59 Single-Coil pickups and a 5-way pickup selector that provides you with a myriad of tonal choices. This is the main feature of this Stratocaster and all Stratocasters, for that matter.
Fender does an exceptional job of giving you a replica of the vintage sound of the 50s, making this guitar a classic model and one of the most popular guitars out there. Paired with the Gibson Les Paul, these are the two most popular guitars in the world and have many different models with slightly different specs.
Ibanez JEM7VP Steve Vai Signature


Ibanez teamed up with guitar virtuoso, Steve Vai, to design the Ibanez JEM Series. The first one came out in 1985 and since then became a top guitar for those looking to explore the guitar virtuoso world.
The Ibanez JEM7VP comes in an alder body, back, and sides. It also features a 5pc maple/walnut neck with titanium rods to ensure maximum sustain and intonation. Finally, the JEM7VP comes with a 24-jumbo fretted ebony fingerboard with a beautiful Tree of Life inlay (as per Steve Vai's design).
It is in both the hardware and electronics that this guitar shines. Hardware-wise, we have the Edge Tremolo Bridge w/Lion's Claw Tremolo Cavity. This tremolo system allows you to do the craziest things you can imagine with the guitar without losing proper intonation and playability. You can do dive-bombs, heavy vibrato, or insane pull-ups and the JEM7VP will not lose stability.
Finally, we come to the electronics of this guitar. Steve Vai's Signature features 3 DiMarzio Evolution humbucker pickups Both the neck and bridge are Ceramic humbuckers, while the middle position has a single-coil. Added to this, is a 5-way toggle switch that allows you to get various tones and get one step closer to Steve Vai's sound.
The Ibanez JEM7VP is an all-rounded boutique guitar that favors rock, fusion, and metal players looking to maximize their guitar skills. The fact that guitar master Steve Vai had close involvement in the creation of this guitar, guarantees the quality of the Ibanez JEM7VP
Fender American Original '50s Telecaster

Just as the Stratocaster, Fender's Telecaster is an iconic model that gained much popularity in the golden age of guitar. Legendary guitarists such as Keith Richards, Prince, Bruce Springsteen, and Muddy Waters use this guitar as their main instrument, proving the qualities of this guitar.
This guitar came out in 1950 and was the first mass-produced solid-body guitar Fender released. Initially, it was named the Broadcaster, but due to legal naming issues with Gretsch, Fender changed its name to Telecaster.
The Fender American Original '50s Telecaster has all of the authentic features from back in the day and along with the Stratocaster, is one of the most sought out guitars Fender has to offer.
It comes in an ash body, a maple neck, and a maple fretboard with 21 vintage tall frets. Vintage-tall frets make it easier for the player to bend notes without having fret issues. Its thick "U"-shaped neck enhances comfort and playability.
Hardware-wise, the Fender American Original '50s Telecaster comes with a 3-Saddle American Vintage Strings-Through Body Bridge. Added to this, you have Pure Vintage Single Line "Fender Deluxe" tuning machines that are classic of this model.
Finally, as it pertains to electronics, this guitar comes with 2 Pure Vintage '52 Single-Coil Tele's that reproduce the authentic sounds of the 50s. Its 3-way pickup selector gives you all the tonal possibilities this guitar has to offer. This guitar is particularly favored for rock and country styles of music.
Gretsch G5422TDC Electromatic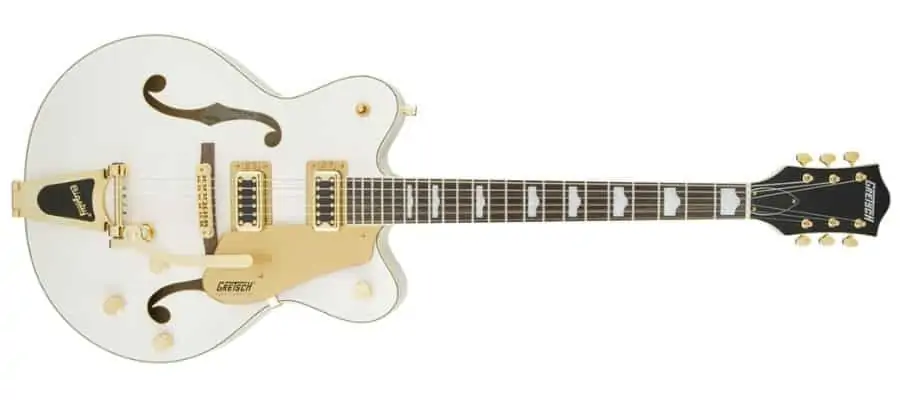 Gretsch Guitars is one of the oldest guitar manufacturers in the world. They began making instruments available to the public in 1883 and are one of the most respected companies out there. Legends in their roster include Chet Atkins, Bono from U2, Malcolm Young, and George Harrison.
Interestingly enough, Fender struck a deal with Gretsch in 2002 and is now in charge of manufacturing and distribution. This helped Gretsch achieve a larger reach and distribution without sacrificing the tonal qualities that first put them on the market.
The Gretsch G5422TDC Electromatic is a hollow-body guitar that holds all of the Gretsch standards. From impressive dynamics to an excellent sound and playability, this guitar is one of the top choices for guitarists looking for a hollow-body guitar.
This guitar comes in a 5-Ply maple neck, a maple neck, and a rosewood fingerboard with 22 medium jumbo frets. Speaking of hardware, the Gretsch G5422TDC Electromatic comes with an all-gold hardware finish. Its main feature, however, is its Adjusto-Matic with Secured Rosewood Base Bridge and a Bigsby B60 Vibrato Tailpiece. This is characteristic of the top tier Gretsch guitars.
Finally, we have sound. The Gretsch G5422TDC Electromatic comes with dual Black TopFilter'tron humbucking pickups and a 3-way pickup selector. These pickups guarantee you get what is known as "The Gretsch Sound" and is the main reason guitarists favor this hollow-body.
ESP E-II NT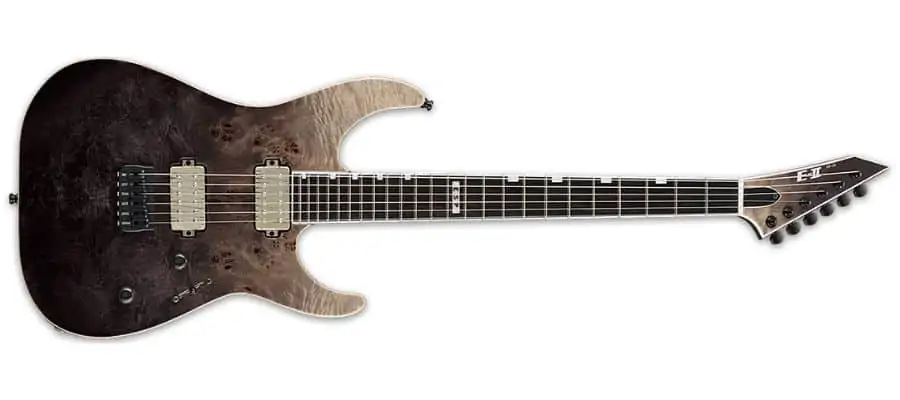 ESP guitars are most commonly associated with hard rock and metal acts. Since their beginning in 1975, ESP found popularity and recognition by endorsing guitarists leading the thrash metal movement in the 80s. Their roster includes the likes of Kirk Hammet, Alex Skolnick, James Hetfield, and Alexi Laiho.
The ESP E-II NT comes in a mahogany body, a 3Pc maple, and an ebony fingerboard with 24 jumbo frets. Its neck has a satin finish that gives it a lot of smoothness and playability.
Hardware-wise, everything comes in black and is equipped with a Hipshot w/String Thru Body type of bridge. This bridge provides maximum tuning stability and intonation, especially for the aggressiveness required for heavier genres, such as metal.
As for electronics, the ESP E-II NT has dual Bare Knuckle Aftermath Tyger humbuckers. These pickups are designed for the modern metal guitarist and have an excellent bass response and high-end clarity. It's tone controls are pretty simple, as it only has a 3-way pickup selector and a master tone and volume control.
However, the ESP E-II NT has a very rich and unique sound that metal guitarists predominantly favor. This guitar is most likely the best heavy-genre guitar on this list.
1961 Gibson SG Standard Reissue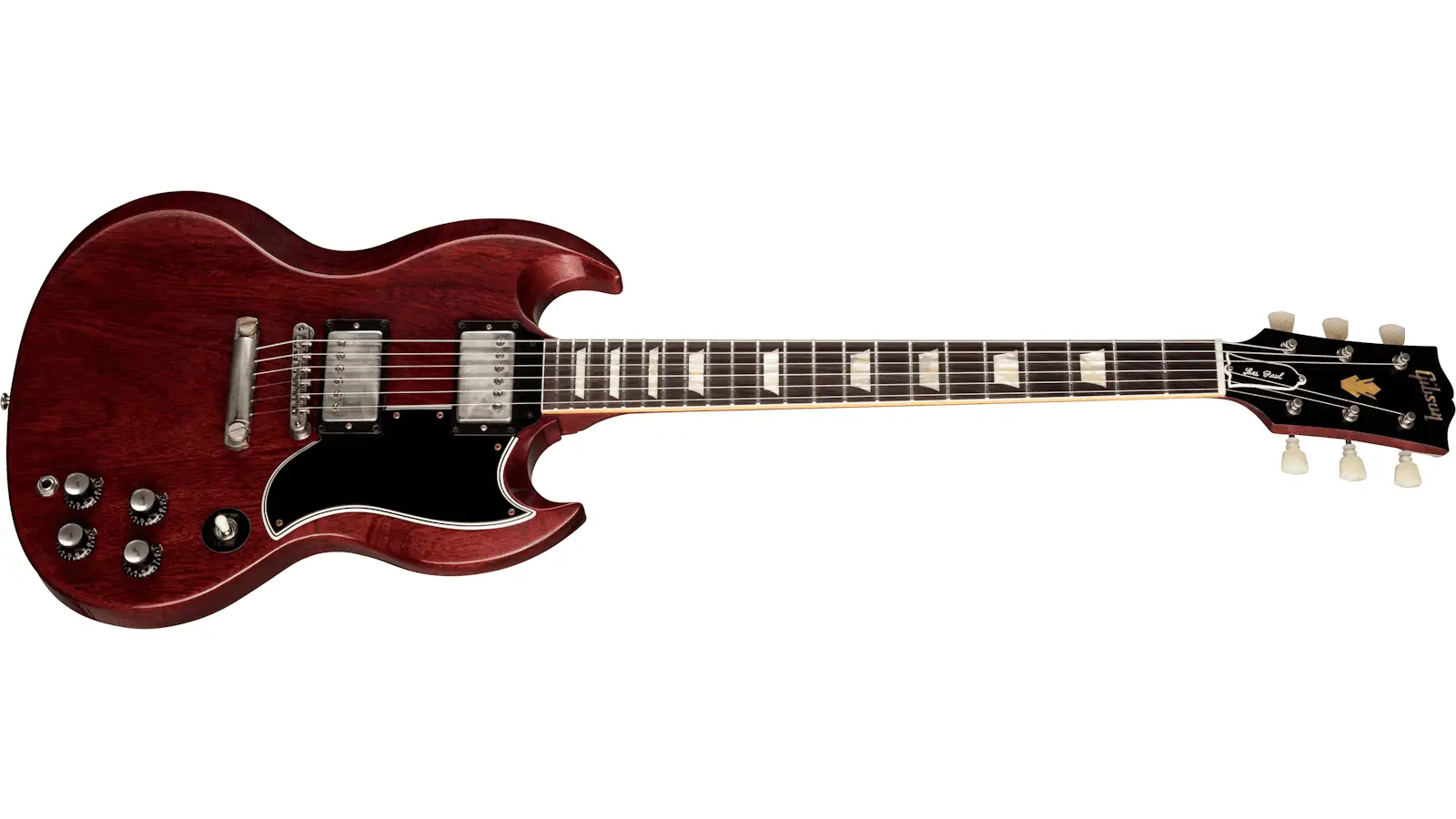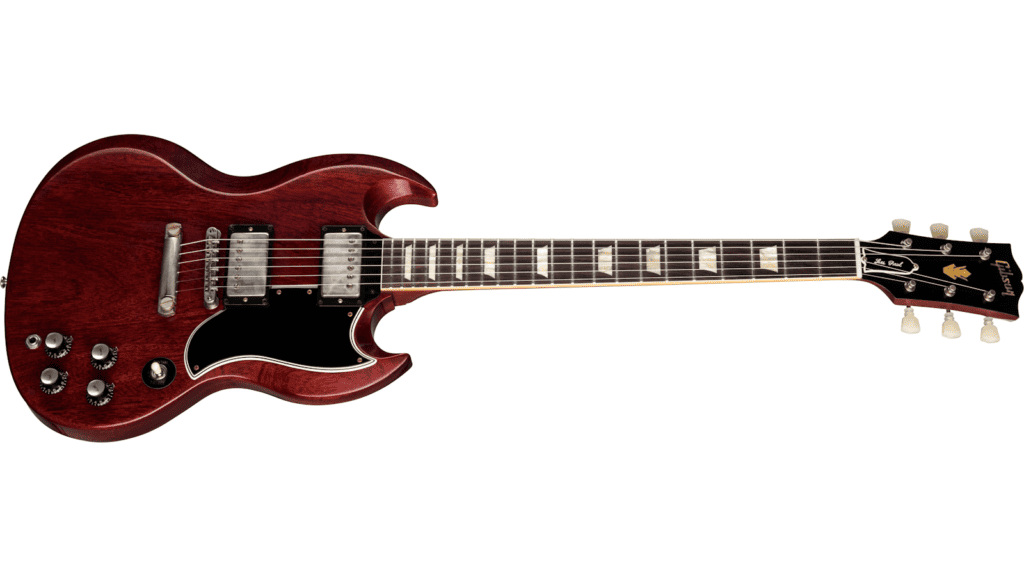 Another iconic model Gibson released that went on to achieve legendary status in the guitar world. It was released in 1961 and is actually Gibson's best-selling model of all time.
This guitar came to fruition due to the lack of economic success the first Les Paul models had. One of the first components Gibson changed was adding a double-cutaway to the guitar's body to facilitate higher frets. It was around this time that Les Paul and Gibson parted ways, which is why this newer Les Paul model was renamed and is now called Gibson SG (Solid Guitar).
The 1961 Gibson SG Standard Reissue (also known as "The Red Devil") is made with a 1-Piece solid mahogany body that extends all the way throughout the neck. This gives the guitar a much-improved resonance and tonal clarity. The fingerboard is made of Indian rosewood and comes with 22 authentic medium-jumbo frets.
Speaking of hardware, the 1961 Gibson SG Standard Reissue has an ABR-1 tailpiece that is part of the classic design that was released back then. All of its hardware is nickel covered.
Lastly, this guitar is equipped with dual Custombucker AlNiCo III Humbucker Pickups. These are only installed on the 1961 Gibson SG Standard Reissue and are a perfect representation of the vintage SG Sound.
The 1961 Gibson SG Standard Reissue is a legendary model that many guitarists favor, including Angus Young, Robby Krieger (The Doors), Tony Iommi, and Geroge Harrison.
Jackson USA Soloist SL1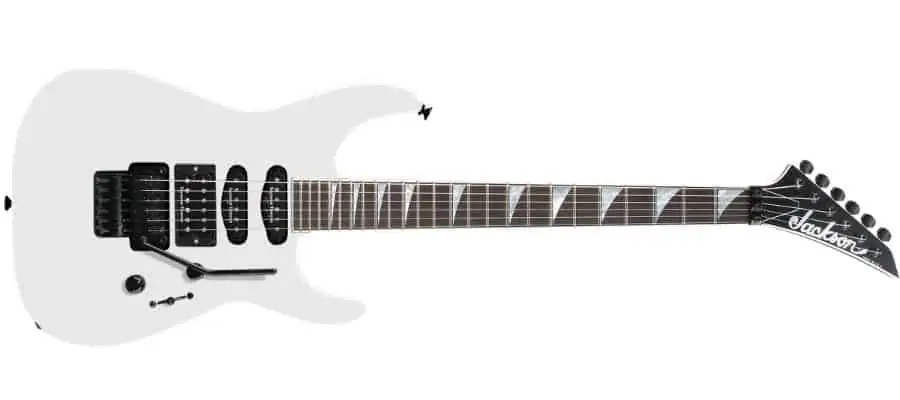 Jackson Guitars are also considered one of the best manufacturers for heavier-genre guitars. They have been around since 1980 and have consolidated themselves as a top brand. One of their most sought out models is the Jackson SL1 from their USA Soloist Series. This USA Select Series represents Jackson's top-line best.
The Jackson USA Soloist SL1 has an alder body, a quartersawn maple neck, and an ebony fingerboard with 24 jumbo frets. As for hardware, this guitar has a Floyd Rose Original Double-Locking Tremolo System for heavy-duty guitar chops. To ensure proper intonation and stability, this guitar is also equipped with Jackson Sealed Die-Cast tuning machines.
Electronics-wise, the Jackson USA Soloist SL1 has one humbucker pickup and two single-coils. For the bridge, you get the Seymour Duncan JB TB-4, which is one of the most popular humbucker pickups Seymour Duncan has to offer. For the neck and middle, you have dual Seymour Duncan Classic Stacks, which create a very good balance tone-wise.
The Jackson USA Soloist SL1 is one of the best rock and metal guitars in the world and is favored by guitarists from heavy bands such as Megadeth, Iron Maiden, and Slipknot.
PRS Custom 24


American guitar and amp manufacturer Paul Reed Smith Guitars (PRS) first came to the market in 1985. It quickly established itself as one of the top guitar manufacturers, mainly due to the release of their Custom 24. The PRS Custom 24 is the quintessential PRS guitar and is favored by many guitarists, such as Brad Delson from Linkin Park and rock guitarist Orianthi.
A critical component in this guitar's reputation comes from its well thought out specs. The PRS Custom 24 has a hybrid body that incorporates carved figured maple and mahogany. It has a mahogany neck and a rosewood fretboard with 24 frets.
Hardware-wise, the PRS Custom 24 has a PRS Patented Tremolo Gen III, which is one of the best tremolo systems available for a guitar. To top it off, this guitar comes with a PRS Phase III Locking Tuner System that ensures maximum intonation and stability.
As for sound, this guitar comes with two PRS 85/15 pickups with volume and tone controls and a 5-way pickup selector. These pickups are very well balanced and fit any style with grace.
The PRS Custom 24 is one of the most popular guitars out there and works excellently in blues and rock genres.
Gibson ES-335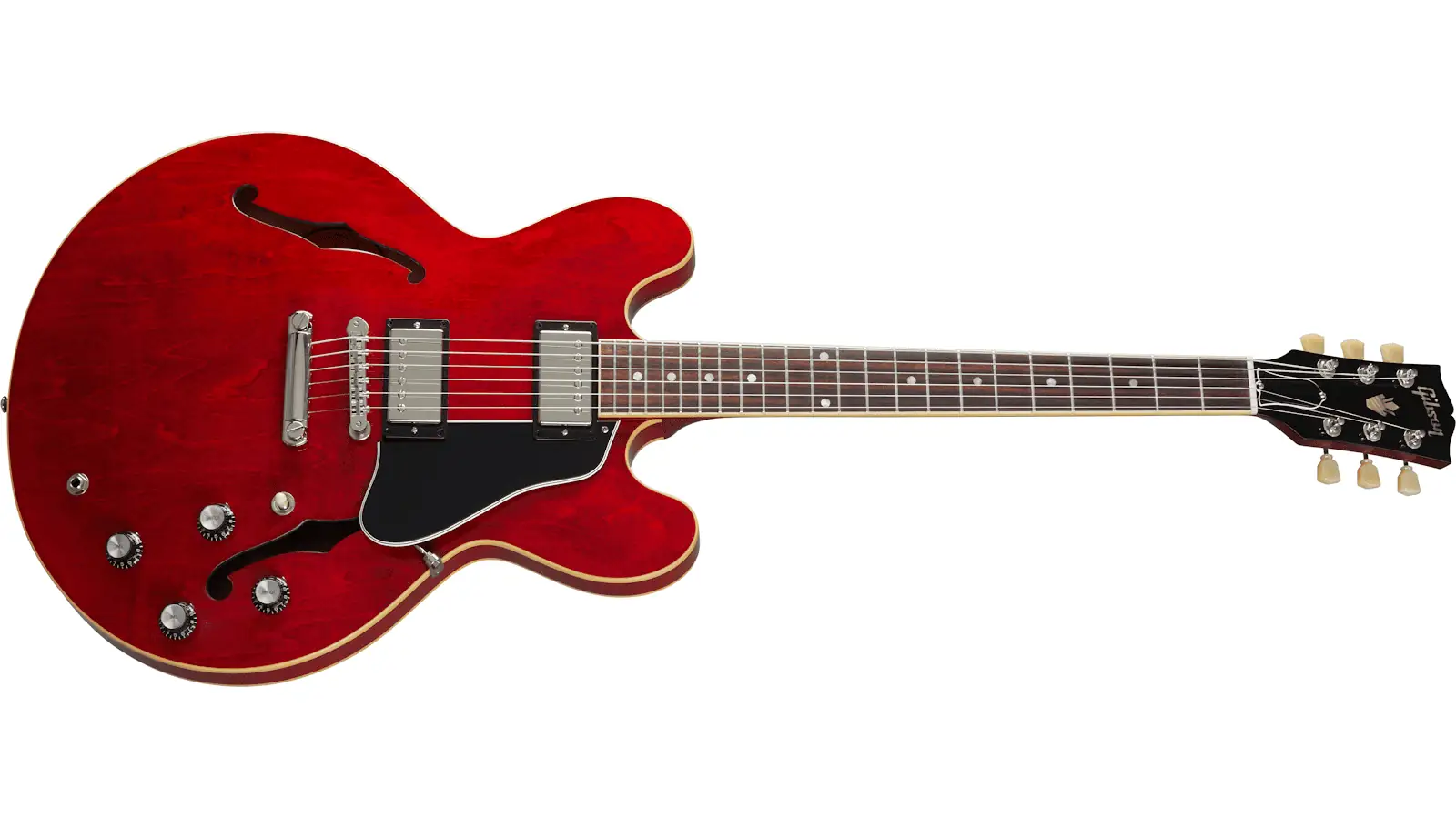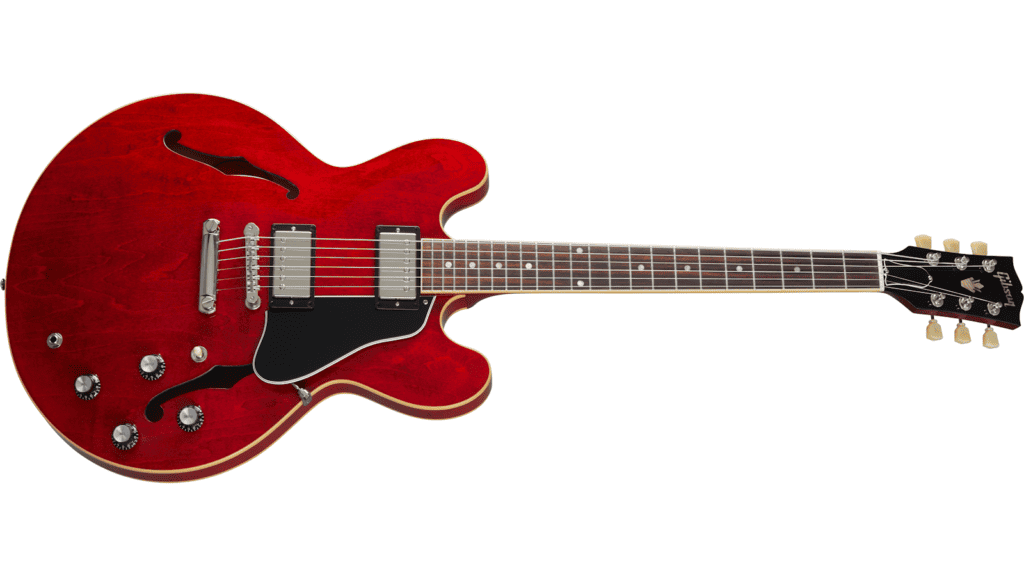 The legendary Gibson ES-335 is a milestone in guitar history, as it is the world's first commercial semi-hollow body to ever be produced. Gibson released it in 1958 as part of the Spanish Series and it features two side wings and a solid maple wood block to give it its semi-hollow status. Many players have used this guitar, including Eric Clapton, Noel Gallagher, and the father of Rock N' Roll, Chuck Berry.
The Gibson ES-335 comes with a 3-ply AAA Figured Maple/Poplar/Maple and a Thermally Engineered Maple center block. It also features a rounded "C" profile mahogany neck and a 22 medium-jumbo fretted fingerboard.
Speaking of hardware, this guitar has an ABR-1 Tune-O-Matic bridge with an Aluminum Stop Bar. This is the classic setup for a Gibson Guitar and has proved to be very effective over the years.
Finally, we have electronics. The Gibson ES-335 has two Calibrated T-Type humbuckers, one for rhythm and one for the lead. This makes the Gibson ES-335's sound very versatile but particularly well-suited for blues, jazz, and rock.
The Gibson ES-335 is the most veneered semi-hollow body guitar in the world and is one of my top choices for blues and jazz guitar players.
Conclusion
There are many more models that can be considered great classics, such as the Gibson Firebird, the Fender Nashville, or the Ernie Ball Music Man John Petrucci Majesty Monarchy. However, these ten guitars are one the highest-quality, most sought out guitars, and you are guaranteed to see top craftsmanship on any one of them.
If you found this article useful, you may want to save this pin below to your Guitar board.