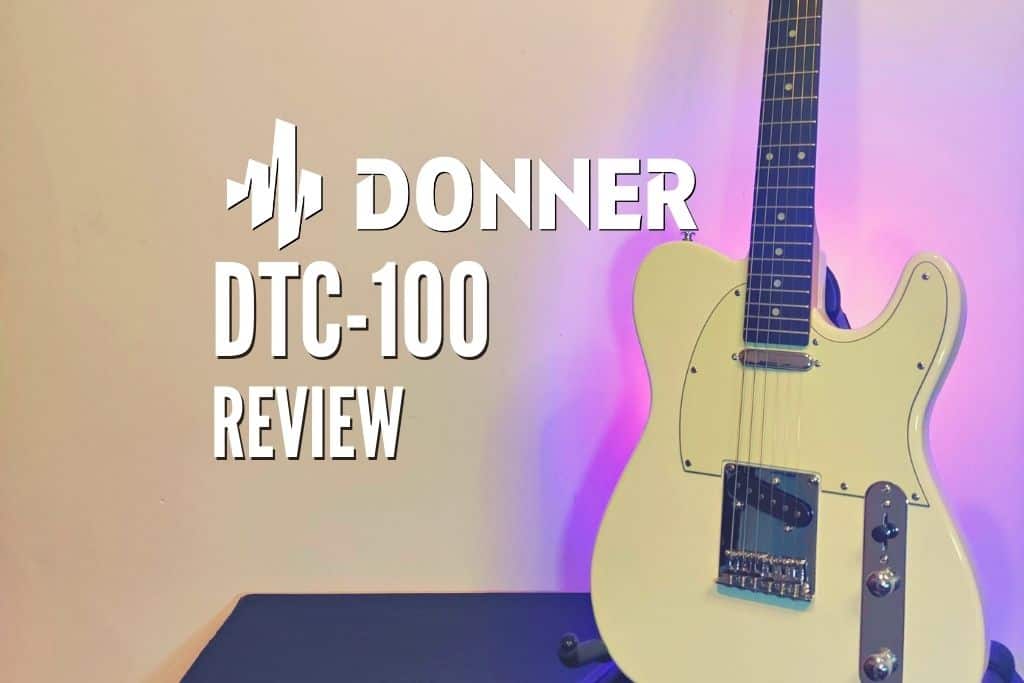 Donner is one of the first brands to come to mind when talking about cost-effective instruments and gear. The brand is continuously getting high appreciation and ratings from users with its great guitars, pedals, accessories, and other instruments with affordable prices and high-quality construction.
One of those great guitars is the Donner DTC-100, a Telecaster copy with an extremely affordable price tag, high-quality components, good construction, and a great sound for the price. The instrument is a true bargain with a great value-for-price ratio.
Donner Electric Guitar 39 Inch Electric Guitar DTC-100 Solid Body TC...
Solid Poplar Wood body - Poplar, a lightweight wood known for its strong...
Six-Saddle Bridge - DTC-100 electric guitar loaded with the comfortable,...
S-S Pickups &3-ways pickup switch - Donner electric guitar has two classic...
Perforated Design - DTC-100 electric guitar's perforated design is good for...
The shining stars of the DTC-100 are the highly playable maple neck, decent dual single-coil pickups, and its great looks thanks to the great construction and quality components like the woods used and the hardware. For an entry-level instrument, Donner DTC-100 is a hard-to-fault guitar.
Of course, there are some drawbacks to the price as the guitar needs some adjustments out of the box like the action setup, truss rod adjustments, and string change. Also, some parts like the nut and the pots can be upgraded to have a better quality instrument.
| | |
| --- | --- |
| Pros | Cons |
| Great value for money | Needs setup adjustments |
| The neck feels great, highly playable guitar | Some parts need to be upgraded |
| The well-built instrument, good quality components | |
| Decent pickups and sound for the price | |
| Looks great | |
Overall, I would rate this instrument 4 out of 5 stars without hesitation. Aesthetically it looks amazing, sonic performance is great for the price, playability is high, and it comes with a bundle of accessories. Truly nothing to complain about here for the price point!
Donner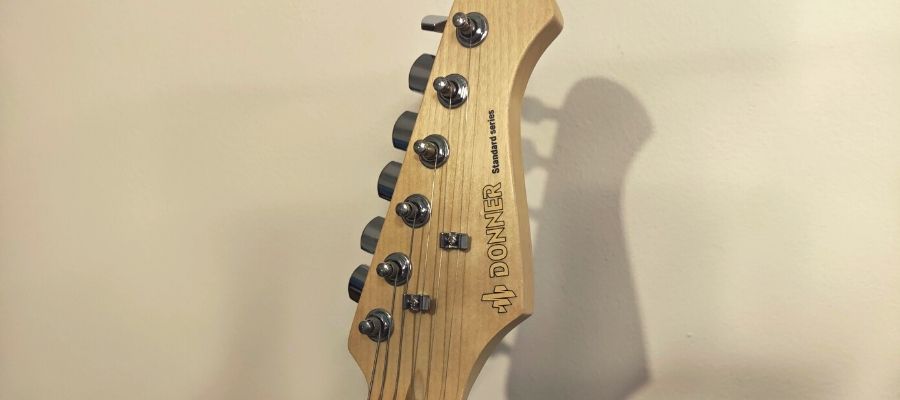 Donner is a China-based, relatively new brand founded in 2012. The brand mainly focuses on guitars, effect pedals, and guitar accessories but offers a wide range of musical instruments, from wind instruments to keyboards, drums, and string instruments.
Donner is more focused on entry-level instruments which feature cost-effective designs which have great value for the price they are offered. For this reason, the brand got highly popular among musicians and got outstanding feedback and ratings on many platforms. Nowadays, the brand is one of the first names to come to mind when talking about reliable and quality instruments and gear for extremely reasonable prices.
The brand's warehouses are located in the U.S and most of Europe, which are the countries where the orders are shipped from. Donner's products can be found and purchased on their official website as well as on Amazon. The company ships the products worldwide.
In case of any problem, responsive customer service is often apparent and ready to solve your problem. As the quality control and the shipment procedures of the brand is pretty good, rarely a problem occurs. In short, Donner is a highly reliable brand to purchase cost-effective entry-level instruments and gear with great value-for-price ratios.
Donner DTC-100 Specs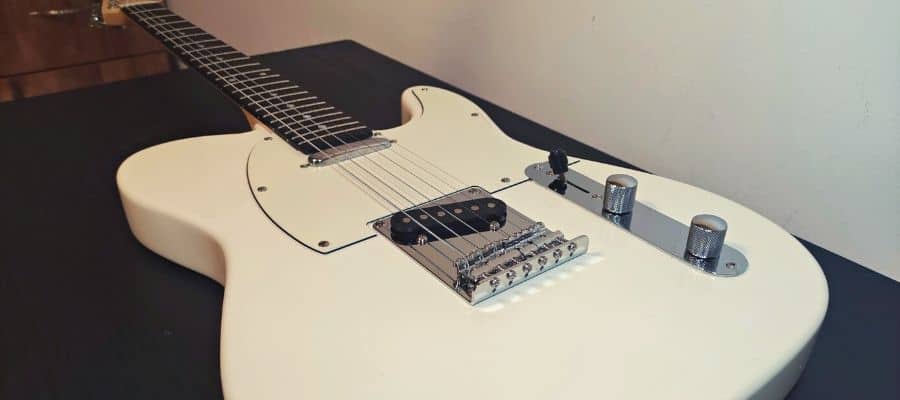 Let's come to the fun part and take a deeper look at the specs of the Donner DTC-100 and what it has to offer.
General
| | |
| --- | --- |
| Series | Standard |
| Number of Strings | 6 |
| Hand Orientation | Right and Left Options |
| Colors | Sunburst, White, Black |
| Weight | 7.2 lbs (3.26 kg) |
Body
| | |
| --- | --- |
| Body Shape | Telecaster |
| Body Construction | 3-Piece Body |
| Body Material | Poplar Wood |
| Finish | Gloss |
Neck
| | |
| --- | --- |
| Scale Length | 25.5″ (648 mm) |
| Neck Construction | Bolt-On |
| Neck Shape | C |
| Neck Material | Canadian maple |
| Truss Rod | At headstock |
| Truss Rod Type | Allen Wrench |
| Fretboard Material | Perilla wood |
| Fretboard Radius | 12" |
| Position Inlays | Dots |
| Number of Frets | 22 copper-nickel frets |
| Fret Size | Medium Jumbo |
| Nut | Plastic |
| Nut Width | 1.62" (41.15 mm) |
Electronics
| | |
| --- | --- |
| Pickup Configuration | SS |
| Neck Pickup | Classic single-coil pickup |
| Bridge Pickup | Classic single-coil pickup |
| Controls | Volume and Tone knobs |
| Switch | 3-way pickup switch |
Hardware
| | |
| --- | --- |
| Tailpiece | None |
| Bridge Type | Fixed Tele-style six-saddle bridge |
| Tuners | Donner Tuners |
| Finish | Chrome |
| Pickguard | Donner 3-ply pickguard |
To start with, Donner DTC-100 is offered in the Standard series of Donner and is a great Telecaster copy. It has a traditional layout with 6 strings and comes both in right-hand and left-hand oriented versions. There are 3 color options to choose from, including Sunburst, White, and Black options. The weight of the guitar is quite good, which is around 7.12 lbs (3.23 kg) and feels balanced.
The guitar has the classic Telecaster body shape made from Poplar wood. The solid body is made from 3 pieces of wood and also has fine arches. The body is finished with a high gloss shiny layer which looks quite great, especially on the white color option.
The instrument has a perforated design which is great for resonance and sound extension. This design means that the strings are in direct contact with the body of the instrument.
One of the strongest aspects of the DTC-100 is its neck. The neck is highly comfortable and playable with its rounded C shape. It is made of Canadian maple and feels very smooth.
Furthermore, the fingerboard is made from Perilla wood which looks like rosewood. The scale length is 25.5″ (648 mm), and there are 22 medium-jumbo copper-nickel frets on top. There are classic dot inlays on the fretboard and on top of the neck.
The truss rod of the guitar can be adjusted with an Allen wrench on the headstock next to the nut. Speaking of nuts, it is one of the weakest points of the guitar as it is made from plastic. The width of the nut is 1.62" (41.15 mm).
The electronics of the guitar are pretty decent with a basic design. There are two Donner classic single-coil pickups that deliver quite a good sound for the price. The tonal versatility is provided by the volume and the tone knob as well as the 3-way pickup switch, just like a real Telecaster. The pots and the switch can be changed with better quality ones as they are not the greatest.
The hardware of the guitar is again great for the price and is finished with chrome. The bridge is Fixed Tele-style six-saddle bridge which is great as most Telecasters feature 3-saddle bridges, which are less functional.
The Donner steel tuners are standard and are good but not great. They hold the tuning well and get the job done. Also, the guitar has a Donner 3-ply pickguard which comes in white color.
Finally, the guitar comes with an accessory bundle which includes a great 10cm thick electric guitar bag with anti-wear parts for better durability, a high-quality guitar strat that matches your guitar's color, and a guitar jack cable.
The Sound, The Feel Of Donner DTC-100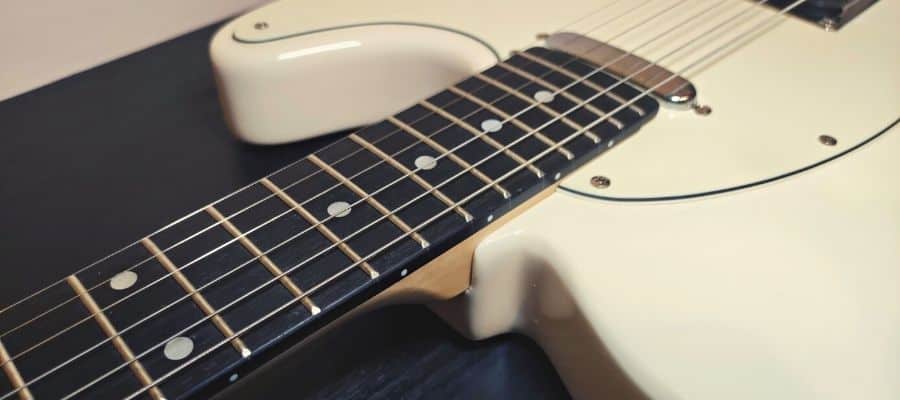 When evaluating the sound and the feel of Donner DTC-100, the first thing to keep in mind is that this is an entry-level and extremely affordable instrument. So, I will judge the sound and the feel with the price in mind as it puts everything in a different perspective.
The feel of the guitar is simply great. The neck especially fits to hand greatly with its rounded C shape, and the Canadian maple neck is very smooth, providing high playability. The guitar feels balanced, and there is no neck dive, which is great.
The frets also feel good, and there are no sharp edges or high frets. The guitar is highly playable, but it needs a bit of adjustment out of the box. I mean, the setup is good out of the box. It is not unplayable, but it feels much greater after the adjustments.
The action was a little bit too high out of the box, and the strings were very light, so there was some buzzing. After the adjustment of the bridge and truss rod, as well as changing the strings, the guitar felt ideal.
Coming to the sound, it sounds pretty incredible for the price. The sound is quite natural and warm with a good level of brightness. The sustain and the resonance are nice and quite impressive for a budget guitar.
The neck pickup sounded a bit dark like most Telecaster pickups. The bridge pickup is quite bright and has a nice balance to it. So, the neck pickup gives a jazzy tone, while the bridge pickup has a more spanky funky tone. In the middle position, you get the nice features of both pickups with a great balance.
The bridge pickup is a bit microphonic and may need an upgrade. Also, the overall volume of the pickups is a bit low, so you will need to crank up the volume on your amp.
I think Donner DTC-100 sounds pretty good for the price range and offers a great sound for rock and roll, blues, country, and funk style genres. For more high-gain tones, you might consider another guitar, as Teles are not meant for that, and this one is no different.
To get a better opinion about the sound of the guitar, you can check the video.
Donner DTC-100 Is Perfect For Whom?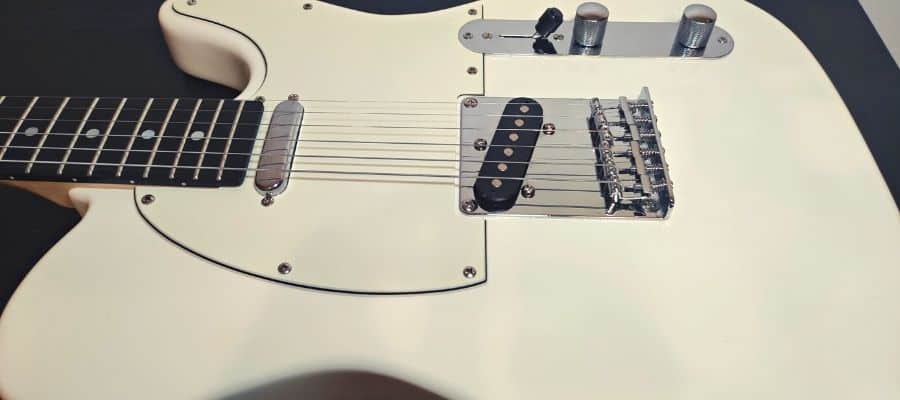 Donner DTC-100 is a great guitar for beginner guitarists as well as experienced guitarists who want to have an affordable second guitar for any kind of purpose. It can be a great travel guitar, or you can use it as backup, or you can experiment and learn adjusting action, truss rod, or any kind of modification you want. Or you can simply use it as a second guitar with a different tuning.
It is a great guitar with high comfort and playability and a decent sound. With a pickup upgrade, it can also be a good guitar, even for gigs or recording basic projects.
Of course, the genre you want to play is important here, too. Donner DTC-100 can deliver good tones for rock and roll, alternative rock, blues, jazz, funk, or country but would struggle with high-gain tones for hard rock, metal, or punk.
So, I recommend this guitar to beginners, as well as experienced guitarists, as a second guitar for experimenting or saving for different tunings or traveling with.
Other Donner Guitars Worth Mentioning
Donner DJC-1000S
Donner DJC-100S is another great Tele-style Donner electric guitar, which features a semi-hollow poplar wood body with fine arches, maple neck and fretboard, chrome tuning keys, and double humbuckers. The guitar has a natural, vibrant sound which is great for genres like rock and roll, and blues.
Donner DST-400
Donner DST-400 is Donner's take on Strat-style guitars. It comes with a solid alder body, Canadian maple neck with a satin finish, H-S-S pickup configuration, vintage-style hardware, and many controls including the split coil function which adds to the sonic versatility. A great cost-effective Strat-style guitar.
Donner DLP-124
Donner Electric Guitar LP Solid Body, Full-Size 39 Inch Electric...
【Humbcker Pickups】 Donner 202S humbcker pickups. Two classic humbucker...
【Okoume Neck with "C" shaped Profile】Laurel Wood fingerboard,...
【22 Copper-nickel Frets 】 The LP electric guitar features a pick-up...
【3-Ways Pickup Switch】 3-Ways Pickup switch provides different tone...
Donner DLP-124 is the Les Paul copy of Donner, which is equipped with a solid basswood body with fine arches, Canadian Maple and Perilla wood fretboard along with dual humbucker pickup configuration, and an accessory package including a gig bag, guitar cable, and strap. A good-sounding comfortable and affordable alternative to Les Paul.
Is It Possible To Upgrade Donner DTC-100?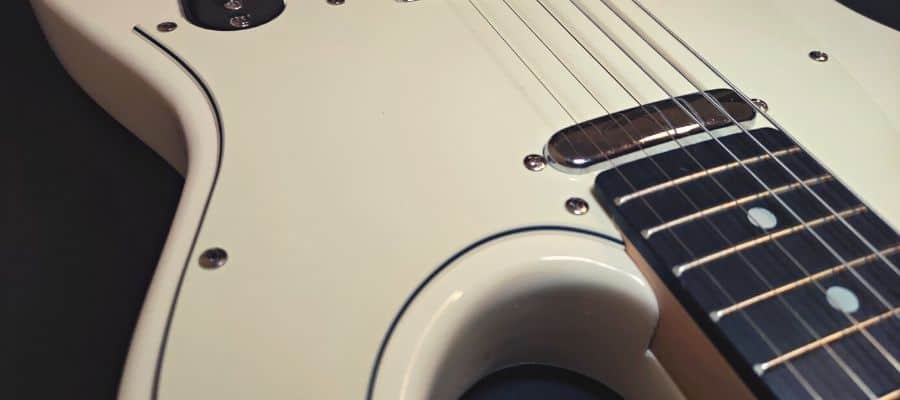 As with most guitars, you can upgrade parts of Donner DTC-100 to have a more stable and better-quality instrument. I would recommend changing the nut and the strings for sure and consider changing the pots and pickups if you like.
Nut
Donner DTC-100 features a low-quality plastic nut which is not the best. Consider changing it with a bone nut for a better tone.
Strings
You should change the strings of any new guitar; expensive or cheap does not matter. Plus, the strings that DTC-100 comes with are pretty light gauge strings and create a little buzzing. At least that was my case. So, I recommend Elixir 10-52 guitar strings, which have great quality and extended life.
Pots
The pots of DTC-100 are okay, but some users reported that they had stiff pots on their guitars. If that is your case, you can change them with higher-quality ones to have better control and stability of your tonal arrangements.
Pickups
Well, this one is more of a personal taste. The pickups of DTC-100 are okay, and I would even say they are pretty great for the price. However, if you want a more professional-sounding guitar or if you want to modify the guitar towards a specific tone, you should consider changing the pickups.
For telecasters, I would recommend going with Fender pickups as they are pretty great and feature top-quality.
Alternatives To The Donner DTC-100 In Terms Of Look, Feel, Sound, Specs, And Price
Squier Affinity Telecaster
Well, if you are after a budget Telecaster, you should consider buying Squier Affinity Telecaster, as it is the more affordable version of the original Fender Telecaster. The Squier Affinity Tele is a reliable and hard-to-fault choice with its simplicity, durability, and great value.
The guitar features a poplar body, maple neck, laurel fingerboard, dual single-coil Squier pickups, and a slim and comfortable C-shaped neck profile. The guitar sounds and plays well, and there are many color options to choose from.
Squier Affinity Telecaster costs significantly more than Donner DTC-100, but the difference between the quality, playability, and sound is not very different. I would say the Donner DTC-100 is a more comfortable and playable guitar, but the sonic performance of Squier is slightly better.
Harley Benton TE-52
One of the greatest Telecaster copies right in the affordable price range is Harley Benton TE-52. The guitar sounds and plays amazingly with its American Ash body, Vintage caramelized Canadian maple C-shaped neck and fingerboard, 2 Roswell TEA Alnico-5 vintage TE-style single coils, and amazing looks.
Harley Benton TE-52 is one of the guitars that receives top ratings in guitar blogs and platforms with its amazing sound and high playability for such an affordable price.
The vintage-style Tele has an exceptional price-performance ratio, its thick 50's style neck, and two outstanding single-coil pickups. However, it is a bit heavy guitar, and the overall quality control is not the best as there are minor issues reported in some cases.
Overall these are acceptable for the price point. I would say if you are after a vintage-style Tele Harley Benton, TE-52 is a great choice. If you are after a more modern Tele, Donner DTC-100 is the way to go. Both guitars have almost the same price tags.
Eart NK-C1
Eart NK-C1 is an exceptional Telecaster with features you would expect from higher-end guitars. It comes with a 2-piece roasted mahogany body with flame maple veneer, highly comfortable C-shaped roasted maple neck and fingerboard, stainless steel frets, T-style single-coil pickups, and quality and detail-oriented construction.
The guitar has a nice and mature sound with good Tele-style pickups and features a highly comfortable and smooth roasted maple neck with U to C compound neck profile and compound radius and insanely good fretwork of stainless steel frets with rounded edges. These are features you can not find on affordable guitars.
The guitar sounds good as Artec TRC44 single-coil pickups are very close to the original telecaster sound. They sound great, either clean or dirty, and the bridge pickup has great crispiness, while the neck pickup sounds smooth and clean.
Overall, Eart NK-C1 is a great guitar but has some quality control issues as there are some minor issues on each individual guitar. As it is a relatively new brand from China that produces budget guitars, this is expectable, but the problems are far from being deal-breakers. Eart NK-C1 costs double the price of Donner DTC-100, and I would suggest you go for one if you have the budget.
Conclusion
To summarize, Donner DTC-100 is a great entry-level guitar with an amazing value-for-price ratio. For the price offered, the construction quality is exceptional, as the neck feels comfortable and smooth, the components are high-quality without any problems, the pickups are decent and get the job done successfully, the body looks great without issues, and the guitar comes with great accessories.
The main drawback of the guitar is that it needs a setup out of the box to be more playable. Also, as it is a low-end guitar, it performs much better when some parts are upgraded, like the nut and the strings, as well as the pickups.
I would recommend this guitar to any beginner as a first guitar. Experienced players who are after a second guitar to experiment with or travel with, or basically to keep as a substitute guitar, can also prefer Donner DTC-100 without hesitation.
If you found this article useful, you may want to save this pin below to your Guitar board.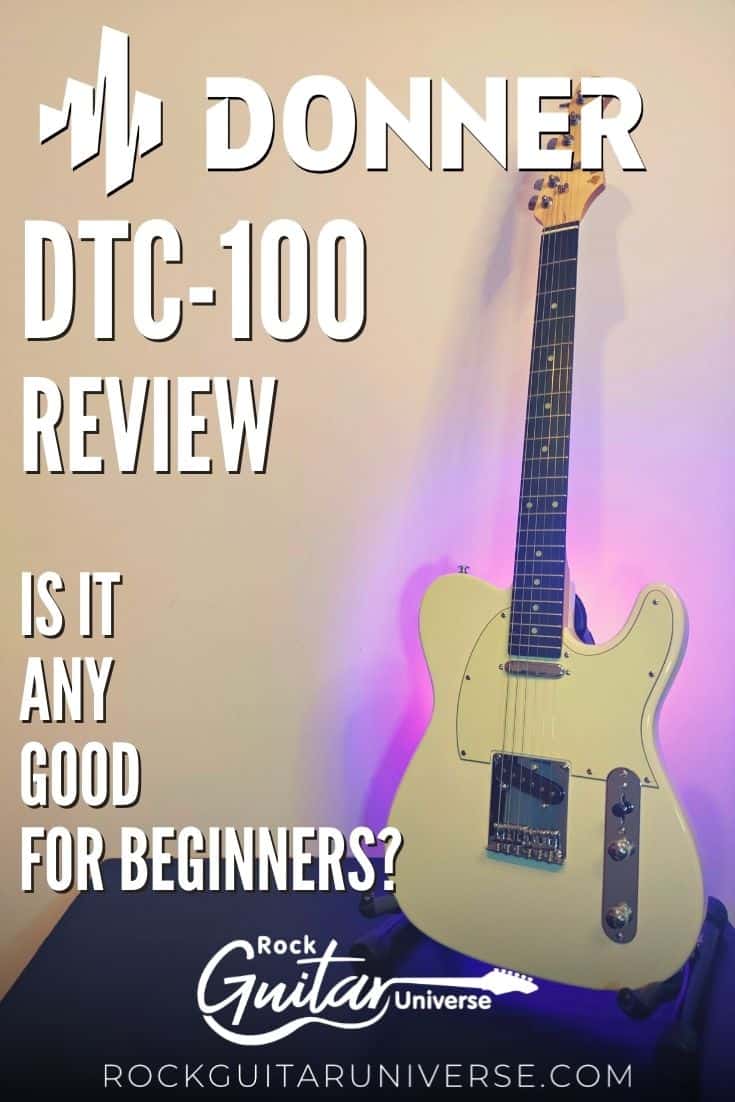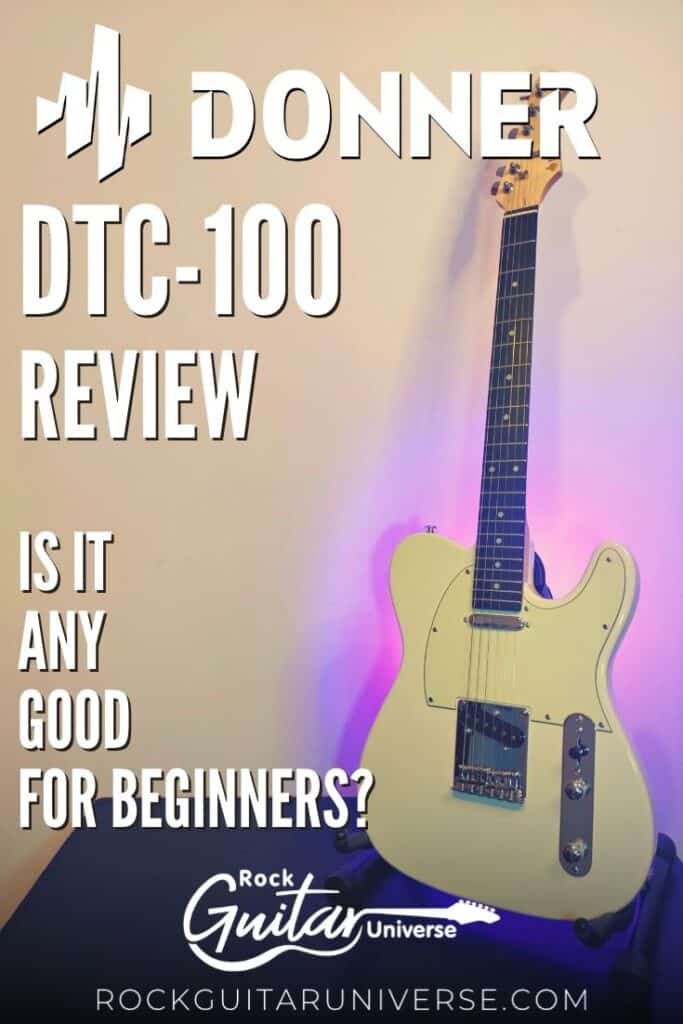 Last update on 2023-02-06 / Affiliate links / Images from Amazon Product Advertising API