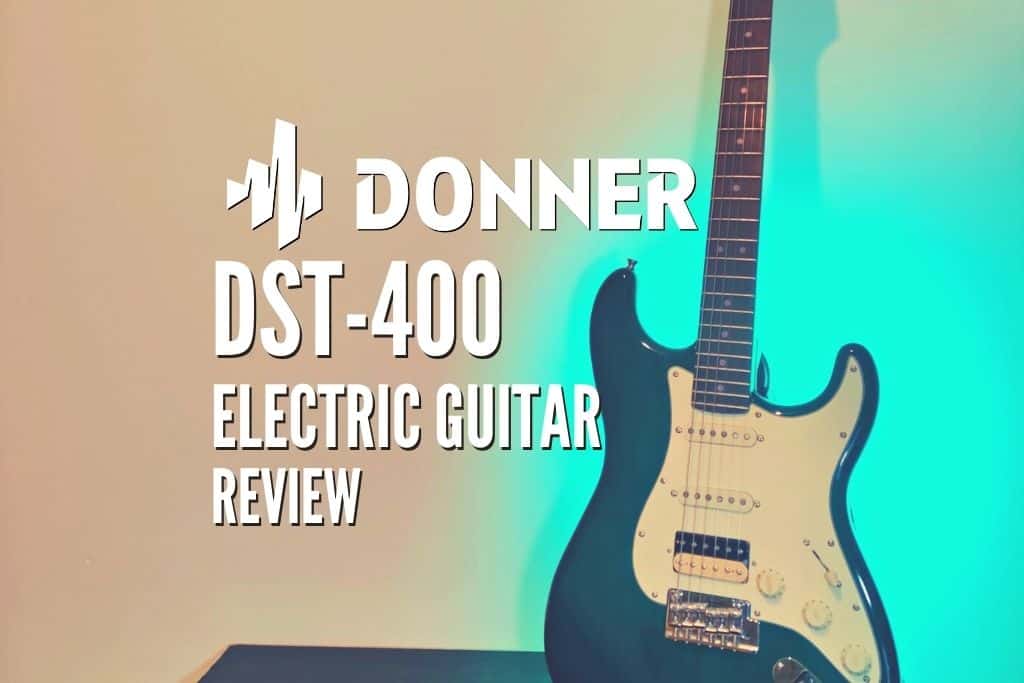 Buying the first guitar is one of the hardest choices a musician has to go through. It is crucial to purchase a guitar that is not only comfortable to play so you can progress easily, but also it should motivate you to play more and more with its sound and looks. And, above all, you should not spend a fortune on a first guitar, as you are just starting your journey learning what you like and not.
Luckily there are many great entry-level guitars today with features and performances close to higher-end models. Donner is just one of those brands that offer great quality instruments for affordable prices aimed at beginner guitarists.
Donner DST-400 is one of the classic models on their collection, which is Strat-style guitar with an H-S-S pickup configuration. It is a great-looking guitar with vintage-style hardware and an alder body. The construction quality is good, and the high craftsmanship is surprising for the price. Plus, it comes with some accessories to get beginners started right away.
| | |
| --- | --- |
| Pros | Cons |
| Amazing look, especially the green color option | A bit heavy for my preference |
| Good pickups, the coil-split feature is a nice addition | Plastic nut |
| Easy to set up with a 2-point bridge system | |
| Comes with many accessories | |
Donner DST-400 offers surprisingly high-quality for its price. First of all, it looks amazing with its great blueish-greenish finish and vintage parts. The pickups are custom made in Korea and sound pretty good, while the coil-split feature adds a lot of sonic versatility. The 2-point bridge system is easy to setups, and the guitar comes with many handy accessories.
It is a relatively heavy guitar for me, and the nut made of plastic is not of great quality. But, these are not dealbreakers, and I would rate this guitar 4.5 out of 5 when its price is considered.
Donner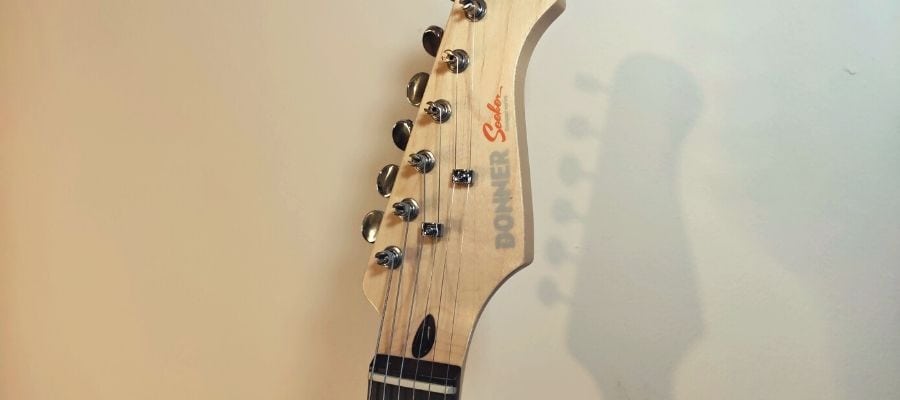 Donner is a relatively new China-based brand founded in 2012. Although the company is more focused on guitars and guitar accessories, especially effect pedals, they offer many different instruments, from keyboard to wind instruments, from drums to violins. The company offers mainly products for entry-level musicians.
Although it is a newcomer in the musical instruments and accessories scene, Donner is well-known for its affordable yet surprisingly high-quality gear among musicians. It offers many products with a high value-for-price ratio, making the brand favorable among musicians who are after reliable instruments and accessories for reasonable prices.
The warehouses of the brand are located in the U.S, Canada, Europe, and Japan, so your gear will be shipped from these places. The delivery times are good, and rarely a problem occurs. In any case, they have pretty responsive customer service, ready to solve any potential problem.
Specs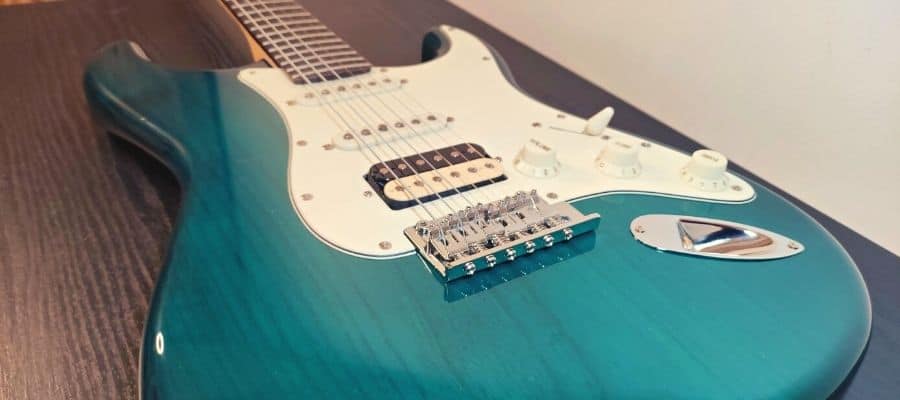 Let's check the Donner DST-400's features for a deeper examination.
General
| | |
| --- | --- |
| Series | DST |
| Number of Strings | 6 |
| Hand Orientation | Right |
| Colors | Black, Green |
| Weight | 8 lbs (3.65 kg) |
Body
| | |
| --- | --- |
| Body Shape | ST-style |
| Body Construction | Solid-Body |
| Body Material | Alder |
| Body Finish | High Gloss Finish |
Neck
| | |
| --- | --- |
| Neck Construction | C-Shape |
| Neck Material | Canadian Maple |
| Neck Finish | Matte |
| Truss Rod | Adjustment at the head |
| Truss Rod Type | Wrench |
| Fretboard Material | Rosewood |
| Fretboard Radius | 9.5″ |
| Fret Material | Laurel |
| Position Inlays | Dot |
| Number of Frets | 22 |
| Nut | 1.67″ (42.5 mm) |
| Pickup Configuration | H-S-S |
| Neck Pickup | Donner Single Coil Pickup |
| Middle Pickup | Donner Single Coil Pickup |
| Bridge Pickup | Donner Humbucker Pickup |
| Controls | Push/pull coil split-tone knob, volume knob |
| Switch | 5-Way switch |
Hardware
| | |
| --- | --- |
| Tailpiece | None |
| Bridge Type | 2-Point Tremolo With Cold Rolled Steel Block |
| Tuners | Donner Vintage Style |
| Pickguard | White |
Donner offers simple yet reliable Strat-style guitars in their DST series. The DST-400 model is one of those ST-style guitars but with a vintage vibe. It comes in black and green colors along with a 6-string right-hand-oriented traditional design.
The looks of the guitar are stunning, and I really liked the green version, which looks something between green, blue, and aqua with a transparent finish.
It is a bit heavy guitar, weighing around 8 lbs (3.65 kg), it feels quite balanced on lap.
The body is an ST-style solid alder body which is the most common choice for Stratocasters. Fender also uses Alder often with their St-style guitars. The high gloss finish of DST-400 is also a pretty classic choice which goes well with the Stratocasters.
The neck features a C-shape and is made of AAA Canadian Maple with a satin finish. On top, there is a Rosewood fingerboard with 22 frets and dot inlays. Donner once again follows Fender's footsteps pretty closely with these features.
The guitar has an H-S-S pickup configuration. The pickups are Donner Custom Pickups which are made in Korea. The two single-coil pickups are white, the same color as the fingerboard, while the humbucker features a cream color on one coil and black on the other.
This is because Donner added a Push/pull coil split-tone knob, which allows you to use the humbucker bridge pickup as a single-coil pickup. This way, with the 5-way pickup configuration switch, you get 7 different pickup configurations, which adds to the versatility of this guitar significantly.
Besides the 5-way switch and push/pull coil split-tone knob, there is also a volume knob on the guitar.
Donner DST-400 has a classic 2-Point Tremolo bridge with cold-rolled steel block along with Donner Vintage Style tuners.
The guitar comes in a package that includes an electric guitar bag, a guitar strap, and a jack guitar cable.
The Sound, The Feel Of The Donner DST-400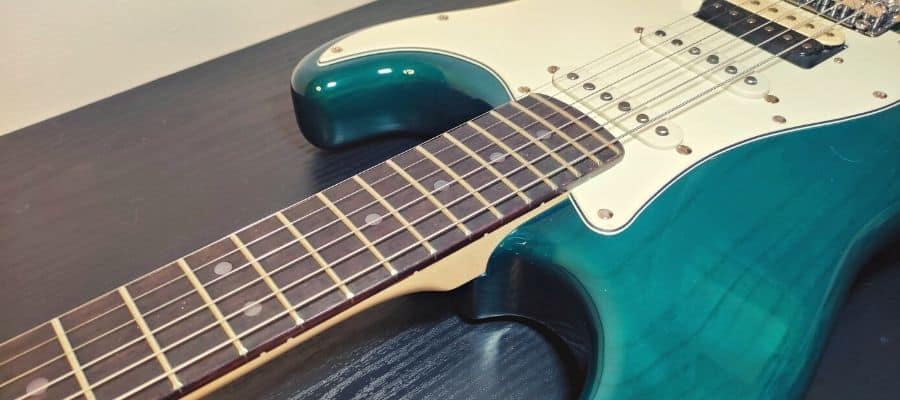 Before going into the feel and the sound of the Donner DST-400, I want to appreciate its looks. The amazing green-blue-aqua transparent color model looks stunning with a great finish. The vintage hardware, the bridge, and the tuning machines also look quite elegant. The humbucker has a different color than the rest of the pickups, with cream and black on each coil. I really liked how this guitar looked.
As I have tried many Donner guitars before, I can say that the pickups sound surprisingly good. These pickups are custom-made in Korea, which are different from the rest of Donner's pickups. The bridge pickup sounds quite crisp and bright, while the middle and neck pickups deliver smooth tones.
The coil-split features add so much sonic versatility, providing 7 different pickup configurations to play with. With this feature, you can use the bridge humbucker as a single coil if you like. Only some special Fender Strats have this feature. Overall the electronics on this guitar are pretty well-made, in my opinion. They add quite a bit of versatility to the guitar.
The neck also feels quite good with a nice C-shape. It is smooth and nice to play with. I have no complaints about the neck and the fingerboard. It is a plus of the guitar.
The setup the guitar came with is low, which is great. So it is ready to play out of the box. The 2-point bridge system is really good; I prefer it instead of the 5-point systems, as these ones are easier to set up.
The only thing I did not like about the feel of the guitar was its weight. I prefer lightweight guitars and anything above 7.7 lbs (3.5 kg) feels heavy to me. As this one weighs around 3.65 kg, it bothered me a little while standing up. But, when on the lap, the guitar feels balanced without any neck dives. It also does not feel heavy on the lap.
You can check the video demo of DST-400 to hear the guitar's performance for yourself.
Donner DST-400 Is Perfect For Whom?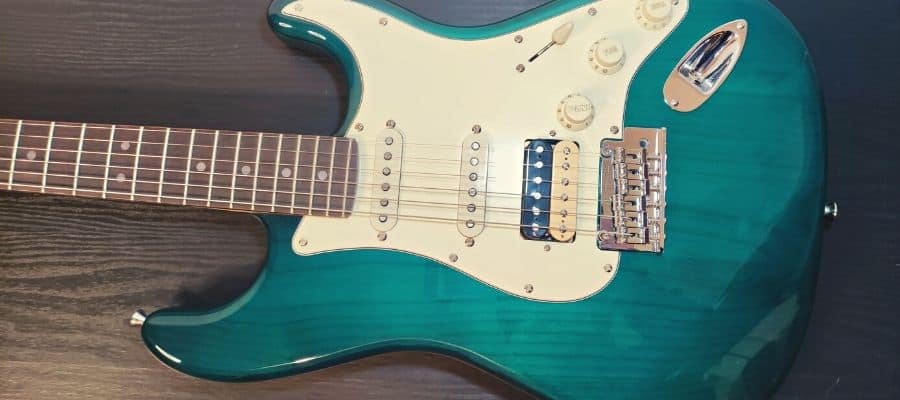 Donner DST-400 is a great entry-level guitar for beginner guitarists. It is highly affordable, sounds good, feels highly comfortable, and is quite versatile. It can be preferred by younger musicians as well as adults as their first instruments. But, as it is a bit of a heavy guitar, it may not be suitable for kids.
As the guitar features high sonic versatility, it is also good for beginners to experiment and find the tone with the pickup combinations they like. This way, they can know themselves better when they want to upgrade their instrument.
Of course, the shining feature of this guitar is its price. The quality you get for the price is amazing, making the guitar an ideal choice for musicians with a tight budget. Altoıgh the guitar is aimed at beginners; it can be a good substitute guitar or a guitar to experiment with for more experienced players. With a pickup upgrade, you can have a nice-sounding Strat-style guitar to use on some jams, recordings, or shows.
As this is a Strat-style guitar with an H-S-S pickup configuration, classic rock, hard rock, blues, pop, funk lovers can go with it. Even heavy metal can be played with this instrument with the help of some good pedals and amps. So there is little to no limitation of genre.
I would not recommend this guitar to professional guitarists or players who want to shred or play fast licks. As Strat-style guitars have relatively bigger C-shaped necks, they are harder to play fast with. On the other hand, experienced guitarists would not feel comfortable with this guitar, nor would they find the sound performance satisfying.
Other Donner Guitars Worth Mentioning
Donner DST- 100
Donner DST-100S 39 Inch Full Size Electric Guitar Kit Solid Body...
[H-S-S pickups] Donner electric guitar has two classic Single-coil pickups...
[Canadian maple neck with "C"shaped profile] Donner DST-100 beginner...
[22 copper-nickel frets] The 39-inch electric guitar features a pick up...
[All-in-one beginner package] Donner electric guitar set comes with a...
Donner DST-100/102 is the most affordable model in the DST series. It has many different configuration options with 4 different colors and a right/left-hand orientation option. The main differences with DST-400 are that this one has an African Basswood body and does not have a push-pull coil switch. Instead, it has 2 tone knobs. Plus, the fingerboard is Laurelwood.
The rest of the specs are quite similar, and DST-100S costs slightly cheaper than DST-400.
Donner DST-200
Donner DST-200 features the same design as the DST-400 with different colors and wood combinations. This one has a Poplar body with Perilla fingerboard and a Neck stiffener. There is a black finished model with a red-aged flame pickguard and a pink finished model with a cream pickguard.
Donner DST-200 costs the same as DST-400.
Donner DJC-1000S
Donner DJC-100S is an electric jazz guitar with dual humbuckers, semi-hollow poplar wood body, maple neck, and fretboard. It has a 3-way switch along with a volume and tone knob. It is a good-sounding, well-designed, and reliable beginner jazz TL-style guitar.
Is It Possible To Upgrade Donner DST-400?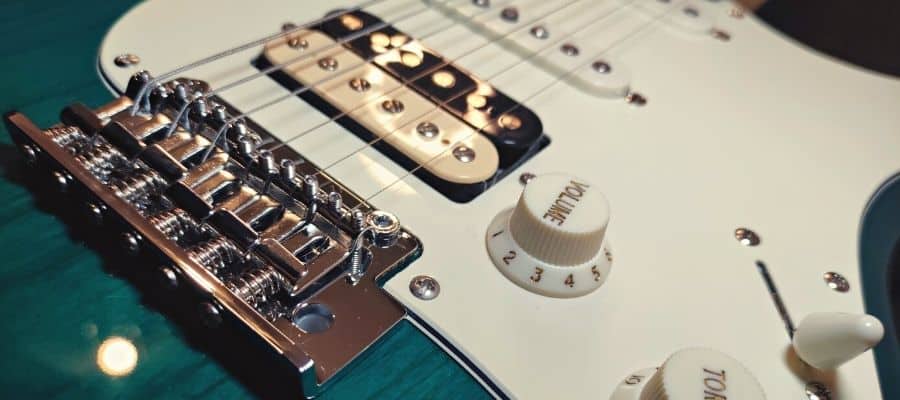 Like every eclectic guitar, you can upgrade Donner DST-400's parts for better sound, versatility, and tuning stability. I would suggest you upgrade the strings and pickups if you want a more reliable and professional-sounding guitar.
Pickups
The pickups are the most important elements for the sound of an electric guitar. Although the pickups on the DST-400 are quite good for a beginner guitar, you can change them for a more professional sound.
There are many great Strat-style pickups offered by brands such as Fender and Seymour Duncan, which you can choose according to your desired tone. For a more Strat-like classic rock, bluestone, I suggest you go for Fender pickups. However, for heavier sounds, Seymour Duncan has great offerings.
Nut
One of the letdowns of the Donner DST-400 electric guitar is its cheap plastic nut. In order to enrich the sound quality and have more tuning stability, you can change the nut with a Graph Tech nut. Do not forget you should check the nut size before purchasing a new one.
Alternatives To The Instrument In Terms Of Look, Feel, Sound, Specs, And Price
Squier Affinity Stratocaster
One of the best Stratocaster alternatives comes from the little brother of Fender, Squier. The Affinity Stratocaster model features an alder body with a double cutaway just like the original Fender Strat. It has a maple neck and 21-fret rosewood fingerboard, offering the real Strat playability for beginner musicians.
It has the HSS configuration with 3 decent Fender pickups. They do not sound as good as the real Strat, but they perform more than enough for beginners. Plus, this guitar has a tremolo bridge system, unlike Squier Bullet Strats, which gives you more versatility and playing options.
It has a volume and tone knob along with the 5-way pickup configuration switch for more sonic versatility. As one of the best budget Strat alternatives, Squier Affinity Stratocaster costs slightly higher than Donner DST-400. It is a great choice if you are after the highest quality and the most similar Fender Strat copy.
Yamaha Pacifica Series PAC112J
When it comes to budget guitars, Yamaha is one of the first brands to check what it has to offer. THeir PAC112J model is one of the most affordable guitars in the Yamaha collection. It is a commonly preferred guitar by beginners, thanks to its simplicity, good quality, and sound, along with its highly affordable price.
Yamaha Pacifica Series PAC112J is a very light guitar making it ideal for younger musicians. It is highly comfortable to play thanks to its balanced construction and good wood choices. It has an alder body with a maple neck and rosewood fingerboard.
It comes with an HSS pickup configuration and sounds good with great low ends and smooth high ends along with a good sustain. The guitar resembles the Squier Bullet Stratocaster, one of the greatest Strat alternatives with a high value-for-price ratio. Yamaha Pacifica Series PAC112J costs slightly lower than the Donner DST-400. It is a good choice if you want something even more affordable.
Cort G-200DX
Cort G-200DX is a higher quality Strat copy compared to other alternatives on the list. It comes with an Ash body, a Canadian hard maple neck, and a 22-fret maple fingerboard. Furthermore, the guitar features a flat-top Strat body, bolt-on neck, in-house hardware, and passive electronics.
The guitar has a comfortable C-shaped neck. It is also lightweight and quite balanced, which elevates the comfortability of the guitar.
It comes with an H-S-S pickup configuration which is controlled with a volume and tone knob as well as a 5-way switch. The pickups are Powersound pickups which get the job done successfully with bright mids and good low-ends.
Cort G-200DX has a price tag higher than the Donner DST-400. It can be preferred by guitarists who have some extra bucks to spend on the search for a Stratocaster alternative.
Conclusion
Overall, Donner DST-400 is a great guitar when its price is considered. Its amazing looks, good pickups, balanced sound and feel, along with the accessories it comes with, make it a great beginner guitar. I would totally recommend it as a first-time instrument for starters.
The weight is a bit heavy for me, but this is my preference. It is not a very heavy guitar and would be okay for most of the players. However, the nut should be changed as the plastic nuts are not good in the long term.
I rate this guitar 4.5 out of 5 for its sound and feel with the offered price. It is a great instrument with a very good value-for-price ratio.
If you found this article useful, you may want to save this pin below to your Guitar board.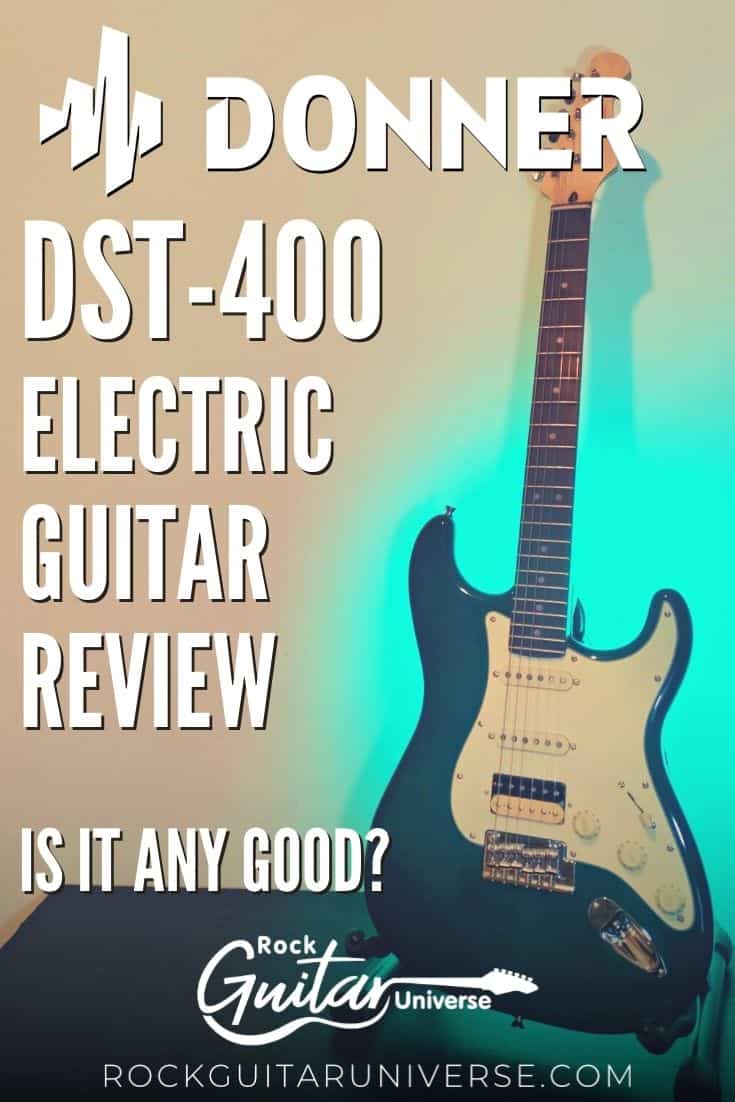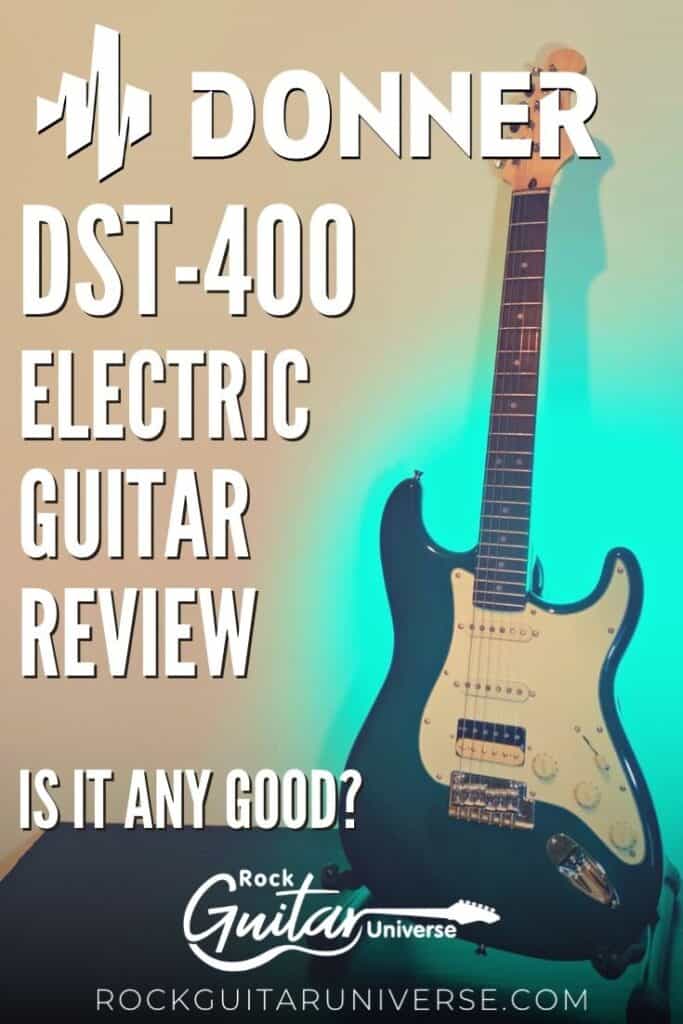 Last update on 2023-02-06 / Affiliate links / Images from Amazon Product Advertising API