The Telecaster is one of the legendary guitars oin music hisory along with Stratocasters and Les Paul styles. The Telecaster body shape inspired many other guitar makers and guitarists of all genres from jazz to alternative rock, from country to punk. Since the first Telecasters, the original Esquire and Broadcaster incarnations, it is not easy to imagine a guitar world without the T-style guitars and their users.
The traditional Telecaster guitars are highly versatile monsters that are designed to suit many different genres and playing styles. That is one of the main reasons it became an industry standard electric guitar body shape, and many guitar makers took the formula to make a twist of their own. Today there are many T-style guitars flooding the market. But the following guitars should be on your radar when you are on the lookout for a T-type guitar.
Squier Classic Vibe 50s Telecaster
Pine body
Maple neck
Maple fingerboard with a 9.5" radius
21 Narrow Tall frets
Bone nut
3-Saddle Vintage-Style Strings-through Body Bridge with Chrome Barrel Saddles
Vintage-style tuners
Fender Designed Alnico Single-coil pickups
Squier created a great Tele variation with cool retro features combined with the woods, specs, and hardware used to create the first Fender guitars. As Teles typically have that vintage vibes, they look like old-school guitars, but the Squier Classic Vibe 50s Telecaster series is a true vintage guitar with the black pickguard, ashtray bridge, and plenty more pay homage to the '50s design.
As expected from a classical style guitar, the Squier Tele features a pine body with a smooth maple neck and tall narrow frets. The guitar is ideal for beginners as well as experienced players as it is an easy instrument to play. The playability of the guitar is excellent when the price is considered.
The Squier Tele is equipped with Fender-style and Fender-designed single-coil pickups with a smooth tone and low output, ideal for classic rock, blues, jazz, funk, country, and more. But when you increase the gain, it has enough grit to get you going with a naturally nasal twangy tone. The vintage style is finished with the three-saddle construction, which helps significantly to keep the guitar in tune while giving it a classy old-school look.
Schecter PT Special
Swamp Ash body
Maple neck
Maple fingerboard with a 12" radius
22 Extra Jumbo frets
GraphTech Tusq XL
Vintage Ashtray bridge with Staggered Brass Saddles
Grover Vintage Tuners
Schecter Diamond V-90 Single-coil and Schecter Diamond VT-1 Single-coil pickups
Schecter PT Special is a great guitar whose tone can be described as a "fat Telecaster". The guitar features all the snaps and twang that a Tele should have. Plus, it also has an extra low-end punch with the P-90 style pickup in the neck position. It sounds spanky and quite clear like a single-coil Tele pickup but with the thickness of a classic P-90 without being too muddy.
The guitar has a Rosewood fretboard, but it does not sacrifice the high-end or attack that you see in the fretboards made of materials other than maple. The design has brass saddles that compensate for the loss of brightness that Rosewood fingerboards suffer from. The guitar sounds quite good, like a fat Telecaster with the help of both pickups.
The middle pickup also sounds quite quacky and has a harp-like plucked attack with a well-rounded sound profile. The pickups are ideal for both rhythm-playing and solo-playing. However, if you want more output and the two humbucker layout is better for you, you can take a look at the PT Custom model. It performs consistently well with great tones and high-level playability.
Harley Benton Fusion-T HH Roasted SSP
Nyatoh body
Roasted Canadian maple neck
Roasted maple fingerboard with a 12" radius
Graph Tech TUSQ XL nut
22 Medium Jumbo Blacksmith stainless steel frets
Roswell LAF-B AlNiCo-5 and LAF-N AlNiCo-5 humbuckers pickups
WSC Hipshot style custom hardtail bridge
WSC staggered locking DieCast tuners
With the modified T-style format, two humbucker pickups, roasted Canadian flame maple neck, and fretboard, Harley Benton Fusion-T HH Roasted SSP is a great guitar with a great price. The high-performance guitar feels and sounds amazing as the bolt-on neck has a modern C shape for playing comfort, and the solid Sapele body delivers the great mahogany-Esque warm sound.
The guitar is finished with a transparent layer and flame-maple veneers, which looks quite elegant. The Fusion-T HH Roasted features a 25.5" scale length, 22 medium-jumbo stainless steel frets, dot inlays, and a 12" fingerboard radius typical to Gibson guitars, and the Player Plus Series as Fender also started using this fingerboard radius.
Furthermore, the guitar is also suited for shredder-style playing and is quite versatile as it can be used for many different genres, from classic rock to funk, from hard rock to jazz. The Roswell LAF-B AlNiCo-5 and LAF-N AlNiCo-5 humbuckers pickups perform quite amazing with great dynamics.
Squier Affinity Series Telecaster
Poplar body
Maple neck and fretboard
Synthetic bone nut
21 Medium jumbo frets
Single-coil ceramic pickup layout
6-Saddle bridge with string guide through the body
Enclosed are DieCast tuners with split shafts
One of the best ways to have the authentic Tele tone and feel without breaking the bank is going for the Squier Affinity Series Telecaster. Its lightweight and resonant poplar body, bolt-on maple neck with the classic C-shape profile, and greatly balanced design provide amazing comfort and playability to the player.
The solid maple fretboard is quite smooth and a joy to play. The neck of the Squier's Affinity Series Telecaster is created to deliver a powerful and robust tone with smooth playability. The guitar is quite amazing when you play blistering lead runs and strum chords up and down the neck. The neck has 21 medium jumbo frets for playing without hand fatigue.
Soundwise, the guitar passes the test with its crisp, full-bodied sound that Telecaster is famous for. With the two vintage single-coil pickup layouts, the guitar delivers the classic, singing single-coil tones you expect from a vintage Tele. Furthermore, the tone does not sacrifice any quality when played at higher volumes.
Larry Carlton T7
Alder body
Roasted Maple neck
Roasted Maple fingerboard with a 9.5" radius
Bone nut
22 Medium jumbo frets
T7 single coils pickups
Vintage T-Style bridge with Brass Saddles
Sire Premium locking tuners
Larry Carlton T7 is the amazing guitar designed by the legendary guitarist Larry Carlton. The guitar has a modern design with modern playability but a classic style. This Tele model has many upgrades to the traditional foundation with the alder body and roasted maple neck.
The fretboard edges are rounded off greatly for better playability and a smoother feel for the fretting hand. The guitar also has a lower cutaway for an extra deepened angle for the player to reach the higher frets easier.
The guitar maintains the authentic and elegant Telecaster-style twang with a brutal edge added, thanks to the Super-T single-coil pickups in the neck and bridge positions. The pickups provide amazing sonic colors and versatility, which makes the guitar suitable for many genres, from singing cleans to spanky and snarly tones.
The roasted neck is a great addition that enhances the tone amazingly, clearing the sonic impurities. The rest of the specs are also quite good with medium-jumbo frets, rolled fretboard edges, and bone nut, along with a Vintage T-Style bridge with Brass Saddles and Sire Premium locking tuners.
Squier Classic Vibe 60s Telecaster
Nato body
Maple neck
Indian Laurel fingerboard with a 9.5" radius
21 Narrow Tall frets
Bone nut
3-Saddle Vintage-Style Strings-through Body Bridge with Chrome Barrel Saddles
Vintage-style tuners
Fender Designed Alnico Single-coil pickups
Another great Telecaster from Squier is the Squier Classic Vibe 60s Telecaster, which is one of the most recognizable guitars in the world. The retro design, combined with the modern features as well as the reasonable price, makes this guitar an ideal Tele for most layers. The instrument comes equipped with a nato body, a classic finish with top binding, an Indian laurel fretboard, and a parchment pickguard. The stars of the show are the two Fender-designed alnico single-coil pickups that give the great Tele twang you need.
The 3-saddle bridge and the vintage tuning keys combined with the parchment pickguard and body binding increase the vintage vibes and the elegance of the instrument. The 9.5″ fingerboard radius is great for a comfortable playing experience and allows for wider bends compared to the typical 7.25″ radius of vintage guitars.
Schecter PT Pro
Alder body
Quilted Maple veneer top
Roasted Maple neck with a 14" radius
22 Extra Jumbo frets
GraphTech Black Tusq nut
PT-H with Stainless Steel Saddles/String-thru body bridge
Schecter Locking tuners
Schecter USA Z-Plus Humbucker pickups
Shecter's Telecaster model Schecter PT Pro is the upgraded version of the classic T-style Schecter PT model. It comes with dual Schecter USA Z-Plus Humbucker pickups for a more modern sound. The guitar has premium features that are ideal for contemporary players who want the Telecaster style playability and versatility for high-level performance. The Schecter PT Pro also features a traditional Alder body for an amazing tonal foundation.
The instrument has a resonant and balanced tone with the industry-standard tonewoods that are famous for their strong mid-ranges for allowing riffs and solos to really stand out in the mix. The PT Pro's specs are pretty good with the bolt-on roasted maple neck, 22 Extra Jumbo frets, Quilted Maple veneer top, GraphTech Black Tusq nut, Schecter Locking Tuners, and PT-H with Stainless Steel Saddles/String-thru body bridge.
The guitar offers a snappy response with a bright high-end, excellent attack and clarity. The roasted maple neck gives amazing stability and strength for a comfortable playing experience. Shechter's USA Z-Plus pickups provide great versatility with plenty of bites in high-gain tones and great articulation in clean tones.
FGN Boundary Iliad MN BK
The first thing to notice with FGN Boundary Iliad MN BK is the unbelievable price point. The high-end Japanese construction offers a beautiful guitar with amazing punch and playability as well as high-quality sound. The unique C.F.S. (Circle Fretting System), Gotoh tuners, coil tap, as well as the basswood body and maple neck, create an amazing guitar.
The sculpted neck design offers great comfort to players, especially when playing higher frets. The Japanese guitar features excellent attention to detail, and there is no competitor in the price range that can beat this instrument.
G&L Tribute Asat Classic Blonde
Sassafras body
Maple neck and maple fretboard
9.5" radius fretboard
22 Medium jumbo frets
Leo Fender-designed G&L MFD single coils made in USA pickups
G&L 18:1 radio tuners
3-way switch
Chrome hardware
G&L guitars are one of the three guitar brands formed by Leo Fender, along with Fender and Music Man. George Fullerton and Dale Hyatt are the other two names in the foundation of the brand. So you can expect top-quality instruments from G&L.
G&L Tribute ASAT Classic Blonde is the final design of Leo Fender on the traditional single-cutaway style bolt-on ax. The guitar comes with a classic boxed-steel bridge and single-coil Magnetic Field Design bridge pickup that are famous for their great dynamics, crispy attack with articulated and complex harmonics. The individual brass saddles increase the intonation refinement significantly to a modern level.
The instrument offers a highly rich tonal palette with amazing versatility. You can use this instrument to reach clean jazz tones as well as thick and gritty blues tones. So it is the ideal instrument for chameleon-style players who like to experiment with different genres. The neck is also highly comfortable with the medium jumbo frets on the maple fingerboard. So overall, it is a top-quality modern instrument with a classic sound.
Larry Carlton T7 FM
Alder body with Flame Maple top
Roasted Maple neck and fretboard
Bone nut
22 Medium jumbo frets
T7 humbucker pickups
2-Post tremolo with steel block and stainless steel tailpieces
Sire Premium locking tuners
Another Larry Carlton design, Larry Carlton T7 FM, is the slightly altered version of the previously mentioned Larry Carlton T7 model. This one features a dual-humbucker layout allowing the players to reach and explore new sonic possibilities. Sire's modern take on the traditional T-type is designed with the relationship with jazz fusion legend Larry Carlton. The guitar maintains the legendary shape and comes equipped with some great features that shift the guitar to a more modern point.
Some important specs of the guitar are the flamed maple top, rock-solid roasted maple neck with a rolled-edge fretboard, medium jumbo frets, locking tuners as well as a 2-point tremolo, and flexible electronics. Just like most Sire instruments, the guitar has a great value-for-price ratio and has a brilliant design for contemporary guitarists.
We are used to seeing these kinds of specs, such as roasted maple necks on higher-end guitars, but Sire adopted these specs for a guitar with a moderate price point. So the result is a premium look and feels with a modern sound. The guitar has impressive playability thanks to its smooth neck and balanced weight.
LTD TE-200 SW
Mahogany body
3-Piece Maple neck
Roasted Jatoba fingerboard with a 14" radius
24 Extra Jumbo frets
Molded Plastic nut
LTD Fixed with String-thru body bridge
LTD tuners
ESP Designed LH-150N and ESP Designed LH-150B Humbucker pickups
The LTD TE-200 Snow White catches the eye with its stunning looks as it is one of the coolest-looking guitars ever made. The classical T-style guitar combines modern features with an elegant look with a mahogany body finished in amazing Snow White and black hardware.
The guitar comes equipped with a slick and smooth maple neck on a roasted jatoba fretboard. The specs are quite traditional with 25.5″ scale length, 42mm nut width, a 350mm radius, and of course, 24 extra jumbo stainless steel frets. The neck profile is quite different than classic Teles as this one has a U profile for a faster playing experience. The pickups are high-output humbuckers and provide hot output with fat and snarling tones.
Overall, it is a great Telecaster variation that plays nice in any musical setting. Its primary feature is its beautiful looks, but it is a great Tele if you want to play high-gain modern tones such as hard rock or metal. Plus, the price point of the guitar is also quite reasonable.
Chapman Guitars ML3 Pro Traditional CSM
Alder body
Solid alder arched top
Roasted maple neck with Fluorescent side dots
Roasted maple fingerboard with Chapman Infinity f inlay on the 12th fret
Fluorescent side dots
22 Stainless steel jumbo frets
Seymour Duncan Hot Tele single coils pickups
2020 Chapman bridge
Open hipshot locking tuners
Chapman Guitars ML3 Pro Traditional CSM is another vintage-style Telecaster variation with a modern and roaring engine for extra sonic performance. It comes with a pair of Seymour Duncan Hot Tele single coils pickups, special high-output pickups with Alnico 5 magnets, special coil wind, and waxed knobs.
The guitar's maple neck and fingerboard increase the playability and offer a smooth touch. The frets are made of stainless steel, the body is made of alder, and the finish is amazing with a metallic color.
Alder is a quality wood famous for its structural stability and straight grains, perfect for a traditional T-style guitar. It is a lightweight wood, making it more comfortable to play on the stage while standing up. The guitar is highly balanced, and the roasted maple bolt-on neck increases the playing experience even more to the top level.
Godin Stadium HT Havana
Canadian Laurentian Basswood body
Hard Rock Maple neck
Maple fingerboard with a 12" radius
22 medium frets
GraphTech nut
Custom T Ashtray Bridge with 3 Brass Saddles
Closed Gear, 18:1 ratio tuners
Godin GS-3 Single-coil and Godin Custom Cajon Single-coil pickups
Godin Stadium HT Havana is a modern single-cut instrument with distinctive features and looks that make the guitar stand out from the rest. The guitar's star is the silky feel of the Stadium HT Hard Rock Maple Neck, which allows for a highly comfortable playing experience and fast licks and riffs. The guitar also has super-light Canadian Laurentian Basswood string-through-body for an expressive, smoothly finished, and balanced playing.
The guitar has a distinctive acoustic-inspired finish which makes the guitar look like a true vintage guitar. With this finish, the instrument also breathes and resonates more freely and age and wear genuinely as you play more and more. The guitar's tones and sustain are impressive with the Custom T-Ashtray Hardtail Bridge with brass saddles and Godin GS-3 Single-coil and Godin Custom Cajon Single-coil pickups.
The instrument also has the vintage-style control plate with volume, tone, and tone knobs, as well as a 3-way switch for tonal versatility.
Charvel Pro-Mod So-Cal Style
Alder body
Caramelized Maple neck
Caramelized Maple fingerboard with a 12″-16″ compound radius
24 Jumbo frets
Graph Tech Tusq nut
Charvel HT6 String-through Hardtail bridge with Brass Saddles
Charvel Die-cast Locking tuners
Fishman Fluence Open Core PRF-COC Humbucker pickups
Charvel's take on the Telecaster, Charvel Pro-Mod So-Cal Style, catches the eye with its dramatic curves for enhanced ergonomic comfort. The guitar features an alder So-Cal Style 2 body with a scalloped lower back and shredder's cut heel to make it easier to reach the higher frets for the players.
The neck is quite comfortable and smooth with the graphite-reinforced bolt-on design for rock-solid stability. The neck has a hand-rubbed urethane finish for increased comfort, and a 12"-16" compound radius caramelized maple fingerboard with 24 jumbo frets, Pearloid dot inlays, and Graph Tech® TUSQ® XL nut.
Another great detail of the guitar is the Luminlay side dots that can guide even in the darkest environments. The guitar is designed to have a high performance and versatile sound, which is why it is equipped with multi-voiced Fishman® Fluence® Open Core PRF-COC pickups. The bridge pickup has two voices; a quintessential hot-rodded humbucking tone and an ideal vintage PAF humbucking tone calibrated for perfect output.
Reverend Pete Anderson Eastsider
Reverend Pete Anderson Eastsider is another vintage style Telecaster with a rosewood fretboard, satin tobacco-burst finish with white binding, and chambered Korina as the tonewood. The guitar resembles Anderson's 1959 Fender Telecaster Custom as it has a classic look of the 50s. The Korino wood has subtle grain patterns, which are more visible in the center of the guitar. Along with the satin finish, the guitar's body looks gorgeous.
The guitar's workmanship is excellent as the finish application, construction, and attention to detail are top-level. The dot inlays are slightly aged and yellowed, which looks amazing on the tinted classic-style neck. The nut is graphite nut which is cleanly slotted, and the 22 jumbo frets are polished perfectly. The fingerboard radius is compound, and the neck profile is medium-slim which resembles the early-'60s Fender C profiles. The neck is highly fast and comfortable and allows for great playability.
The guitar's hardware is also great as the pin-lock tuners and Wilkinson tremolo bridge get the job done without any issue. Overall, this one is a great instrument for the price, and the build quality, playability, and sonic performance are impressive.
Eart NK-C1
3-Piece Roasted mahogany body
Flame Maple Veneer top
Roasted Canadian Hard Maple neck
Roasted Maple fingerboard with a 7.25″-9.5" compound radius
22 Medium Jumbo frets
Bone nut
Three-point fixed bridge
ARTEC TRC44 single-coil pickups
Eart is one of the younger brands compared to the other names on the list. The China-based brand offers great guitars for the price, and the Eart NK-C1, the T-style model, is no different. Eqıipped with a 3-Piece Roasted mahogany body, the guitar has a superb resonance and rich, lower-mid-focused tone. The innovative design does not have the slab body most Teles have, which means bad ergonomics. However, the forearm contour and the belly cut increase the playing comfort of the guitar significantly.
The stainless steel frets are a joy to play with and are rare in the guitars in this price range. The neck and the fretboard are excellently smooth for nice and easy big bends. The neck has a unique U to C compound profile which takes time to get used to but it is very comfortable when you do. So, the overall playing comfort of the guitar is quite high. The guitar sounds decent and can sound even better with a pickup upgrade and a good choice of an amp. However, in terms of playing feel and comfort, it is unmatched.
Framus D-Series Panthera Supreme
Mahogany body with AAAA Flamed maple veneer top
Mahogany neck
Tigerstripe ebony fretboard with a 12" radius
22 Nickel silver jumbo frets
Graphite nut
Seymour Duncan SH-1n (neck) and SH-4b (bridge) pickups
Framus machine heads
Tune-O-Matic bridge
Framus D-Series Panthera Supreme is another cost-effective Telecaster copy with a Mahogany body with AAAA Flamed maple veneer top and a Mahogany neck with an ebony fingerboard. Before anything, the Panthera Supreme catches the eye with its simple elegance as it looks unique and basic. Like Les Pauls, it has a three-way pickup selector and a knob for tone and another for volume.
The pickups are Seymour Duncan SH-1n (neck) and SH-4b (bridge) pickups, which are top-quality pickups that allow for clean, vintage-style tones as well as modern crunch tones for more high-gain sound.
The guitar delivers enough sustain and punch for many genres that require high-gain tones, such as hard rock and heavy metal. Altough Teles are not ideal for these tones, this guitar is quite different. With incredible dynamics, Framus D-Series Panthera Supreme is the way to go for versatility and high-gain tones in a T-style body.
Godin Radium Electric
Mahogany body
Canadian Laurentian Basswood top
Mahogany neck
Rosewood fingerboard with a 12" radius
22 medium frets
Wraparound Stopbar bridge
Closed Gear tuners
2x Custom Godin Humbuckers and 1x Custom Cajun Nickel Single-coil pickups
Godin Radium Electric combines the best elements from the Godin Stadium and Radiator, creating a great instrument with the best sides of both worlds. The T-style instrument takes the single-coil pickup, shape, and controls from the Stadium while the rest of the specs come from the Radiator. The scale length is 24-3/4," and the tuning machines have the 3×3 layout while the Godin humbuckers are all features of the Radiator.
The guitar is perfect for guitarists who like both the T-style and LP-style guitars, as this one is the perfect hybrid instrument. As with most Godin guitars, this one is also a top-quality instrument for a highly reasonable price. The Canadian brand again gives amazing and unique instruments for surprisingly acceptable prices.
Charvel Joe Duplantier Pro-M SD ST2 NT
Mahogany body
Mahogany neck
Ebony fingerboard with a 12″-16″ compound radius
Pearloid Big Blocks inlays
22 Jumbo Nickel frets
Charvel Fully Adjustable Radius Compensated Bridge and Anchored Tailpiece
Charvel Branded Die-cast Locking Tuners
DiMarzio PAF 36th Anniversary Humbucker neck and Joe Duplantier Signature DiMarzio Fortitude Humbucker bridge pickup
Charvel Joe Duplantier Pro-M SD ST2 NT is designed with the innovative guitarist Joe Duplantier from Gojira. Just like Joe likes, guitars try to push the limits to create innovative and unique designs. The guitar features a no-nonsense, hard-hitting, solid body with a sonic performance that is ideal for guitarists who like to play heavier genres. The guitar has an all-mahogany body that is sturdy, resonant, and beautiful onstage.
Some noticeable features are the mahogany neck and the ebony fingerboard, allowing amazing feel, response, and playability. DiMarzio humbuckers are responsible for the tones, which are quite hot-output humbuckers for a fuller, thicker sound. The PAF 36th Anniversary replicates the magnetic field of the 1959 Les Paul humbucker, so the sustain is amazing as the strings vibrate longer with a great definition like in the single-coil layouts.
The guitar also feels great as the neck finish is oiled. So you can feel your hand flying around the neck when you shred or play fast licks and riffs. The fingerboard is excellently smooth, making the playing experience quite effortless.
Solar Guitars T2.6N
Ash body
Maple neck
Ebony fingerboard
24 Jumbo frets
Solar logo at 12th fret inlay
Graphite nut
2 Duncan Solar (Alnico 5) humbuckers
Solar 18:1 tuners
Solar Guitars T2.6N shines with its classy and elegant metal looks that are unique to the instrument. The guitar has great specs making it suitable for professional use on the stage or studio as well as beginner use for practice.
It is equipped with a string-through-body hardtail bridge and a set of Duncan Solar pickups for tonal versatility and playing comfort, and stability. The scale length is 25.5" and the neck is quite fast, thin and comfortable which is ideal for shredding. The ebony fingerboard has 24 jumbo frets.
The guitar also features Solar 18:1 tuners, graphite nut, black matte hardware, three-way blade pickup switching, and full access neck. The finish is natural matte which looks classic but elegant. It is not a typical Tele but a modern guitar with a metallic look. The design is based on the Telecaster from the 50s, but the modern touches are quite apparent making the guitar something more.
Conclusion
As these guitars are some of the most iconic guitars in music history, Telecasters have so many fans today. The looks, the feel, and the sound of these instruments are unique, which is the reason so many people adore them. Having a Fender Telecaster may be the best choice for most as they are the real Teles, but budget-wise they are not easy to achieve.
Also, there are many guitars inspired by the Teles but have distinctive touches for different sonic possibilities and visual appearances, as well as different features for playability. So checking the Tele-copies might be a good idea as you can find one that suits you even better than the real Teles. Also, you would save a lot of bucks for different gear.
So if you're one of them, figure out what you look for in a guitar. Is it vintage output pickups with elegant original finish, or are you a humbucker kind of guy? You can choose one with a flashy flame maple top, and you got yourself a modern beauty; you'll play with joy, and others will look with envy. It's up to you, but there is no denial; every serious guitar player should have at least one T-style guitar in the arsenal.
If you found this article useful, you may want to save this pin below to your Guitar board.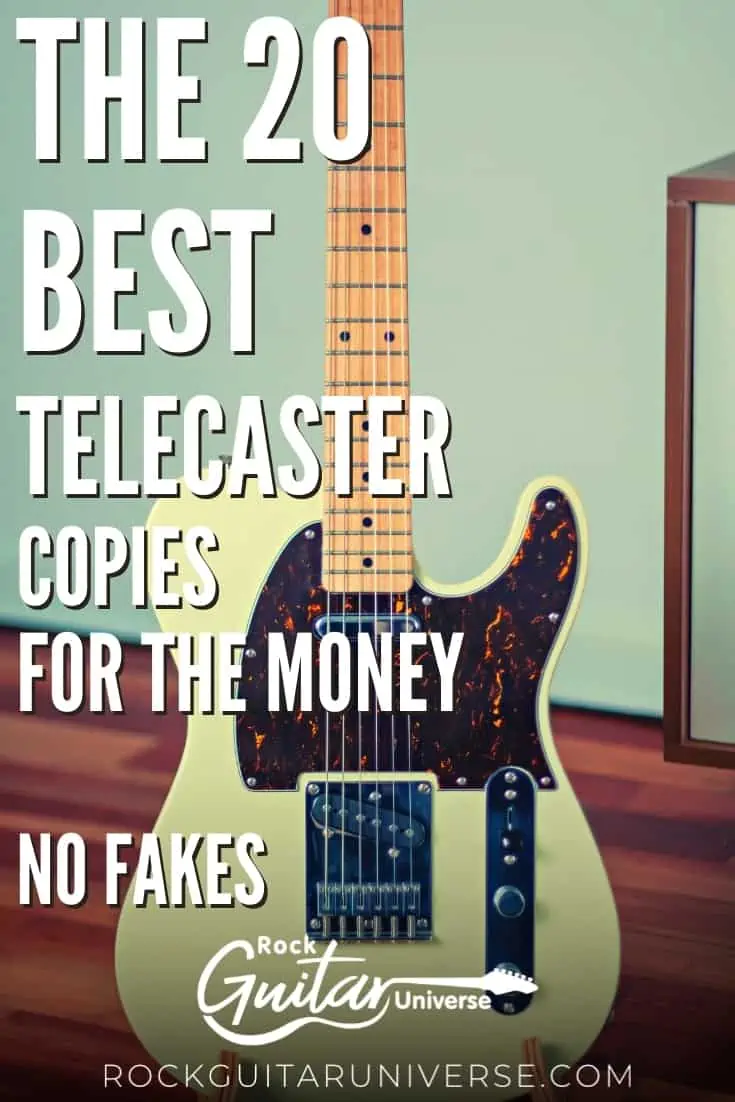 Last update on 2023-10-05 / Affiliate links / Images from Amazon Product Advertising API