Changing pickups in your guitar is one of the most common modifications to your instrument, and it's relatively simple in most cases. Upgrading pickups in your inexpensive guitar for a set of high-quality ones can take your sound to another universe compared to the stock pickups.
This article will specify humbucker pickups. These days, there is a great humbucker with different models suitable for jazz-blues vibes, heavy metal, hard rock or more modern-sounding tones, or even tasteful, clean chimy sounds. Read these articles and find out the best humbucker pickups available for many different music styles.
Seymour Duncan Hot Rodded SH-4/SH-2n Set
Best for metal, rock, classic rock, alt-rock, worship, jazz
Best for Les Paul, PRS
Strong treble detail with aggressive harmonics
Clean, articulate tone
Versatile
Moderate output to High output
The Hot Rodded SH-4 model is one of the most famous and used humbuckers of the legendary pickup brand Seymour Duncan. The SH-4 provides the classic hot-rodded humbucker sound that has been loved for the last 30 years.
With plenty of output capacity that never sacrifices the tone and adds the perfect amount of sustain, harmonic, and distortion. Although the humbucker shines with heavy tones, it is highly versatile and suitable for many genres from heavy metal to blues.
SH-4 also thrives with clean tones delivering a warm and sweet clean tone. For cleaner, more articulate tones, there is also the SH-2 Jazz model, which is the perfect fit for softer genres. It performs great with country, blues, funk, and heavy rock tones when placed in the neck.
EMG ZW Zakk Wylde Active Signature Set
Ideal for many genres including metal, rock, alternative-rock
Great for guitars like Les Paul, ESP, and PRS
Single EMG 81 and single EMG 85 Humbucker
EMGs exclusive solderless installation system
Dual 25k Long shaft volume potentiometer
Dual 25k Long shaft tone potentiometer
4 Connection cables
Comes with an output cable and battery cable
Zakk Wylde's choice of humbuckers has always been the EMG Active pickups to achieve his iconic tone. He has a particular combination of the Single Cut and EMG, which sounds impressive. His choice is the EMG 81 for the bridge position for its long sustain and sharp attack, along with the EMG 85, the PAF model of the brand, in the neck position for the bluesy sounds.
If you are after high-output active pickups, EMG 81 and 85 are fantastic choices. With the combination, you can get long sustain and high output for heavier tones as well as tamer and bluesy tones for softer genres.
Fishman Fluence Modern Active Humbucker Set
Ideal for genres like rock and metal
Best for guitars such as Les Paul, PRS, ESP
Two selectable voices with multi-voice Fluence core
Wide-range humbucker tone with a unique touch
Ceramic pickup voicings
200+ hours of playing with the power supply
The unique thing about the Fishman Fluence Modern Active Humbucker Set is that each pickup in the set features two selectable voices. The Modern Ceramic pickups have a great active sound with crispy highs, tight lows, a high-output humbucker tone for high gain, and a touch of growl. On the other hand, the modern alnico pickup shines with its unique wide-range humbucker tone and its modern active humbucker style sound.
There are many different standard pickup switches and push-pull controls for selection voices that you can add to the set. With its versatility, Fishman Fluence is a revolutionary new way to approach humbucker pickups with its versatility. However, they need special pots and a power source to function.
All of the necessary accessories come with the pickups when you purchase, but you can always try your ones. The pickups, the wiring, push-pull knobs, and a standard 25k potentiometer are all included in the package. Plus, installing and getting ready the instrument for playing is highly easy.
Gibson '57 Classic Plus Bridge
Best for blues, rock, classic rock,
Best for Les Paul, PRS, Telecaster, Stratocaster
Much more coils than the Classic 57 pickup
higher output power, the amp can be overdriven more easily, strong rhythmic sound and easy singing lead sounds
It would be a big mistake to assume that all humbuckers sound alike. There have been many different Gibson humbuckers in the market for many years. Yet each of them sounds unique with their distinctive tones. The '57 Classic Plus reissue is the reissue of late 1950s humbucker types. These pickups were delivering hotter output with their slightly overwound circuitry.
Made with special Alnico II magnets, Gibson '57 Classic Plus Bridge performs great with overdrive tube preamps. They had vintage enamel-coated wire, nickel-plated pole pieces, maple spacers, two-conductor braided wiring, and nickel slugs. The pickups blend the low-end punch and mid-range crunch amazingly.
Mojo Tone '59 Clone Humbucker Set
Highly versatile pickup set
Can be used for many genres like rock, blues, jazz, and alternative rock
Great for a guitar like Les Paul, PRS, Telecaster
Made in the U.S.A. components
Vintage style bobbins and long leg frames like 1959 Spec
Vintage custom enamel wires and Alnico 4 cast magnets
Custom-made alnico 4 cast magnets
Mojo Tone '59 Clone Humbucker Set might be the best vintage style humbucker for G-style guitars. The American-made humbuckers have the classic warm, bright, and articulated sound of the original '59 G-style open-coil humbucker.
The pickups deliver a great treble bloom and an open-airy sound of the unpotted coils. The classic PAF tone is excellent for many genres like rock, jazz, blues, and alternative rock.
TV Jones Power'Tron Bridge Humbucker Pickup
Best for rockabilly, blues, rock, classic rock, clean, jazz
Best for Gretsch
Whole, even tone with midrange bite
Rockabilly twang
Dynamic breakup
Position: bridge
DC resistance: 7.8k
Tom V. Jones created fantastic humbucker pickups, especially for Gretsch guitars in the '50s and '60s. That is why many great guitarists use them today, such as Billy Gibbons, Keith Urban, and Brian Setzer.
The top-quality humbucker is entirely hand-made with fantastic attention to detail and top-notch workmanship. In the process, voice-tailored metal pole screws and vintage-spec alnico magnets are used. The pickups are also lightly wax saturated in order to reduce feedback. If you want a unique flavor and looks of the '50s and 60's with your pickups, TV Jones Power'Tron Bridge Humbucker Pickup is ideal.
Seymour Duncan Seth Lover Set
Great for genres like soft rock, jazz, blues, classic and alternative rock
Can be used with guitars like Les Paul, PRS
Delivers the classic PAF humbucker sound with vintage output
No wax in pots like the original ones
Alnico 2 bar, black paper tape, and wood spacer
Nickel-silver long-legged bottom plate
Butyrate plastic bobbins and plain enamel wire
Guitarists who like the classic humbucker sound love Seymour Duncan Seth Lover Set tones, thanks to its similar tones to the original Seth Lover designed for Gibson in 1955. Many famous faces like Joe Perry and Steve Stecebs use them on their guitars.
The reissue stays completely loyal to the original design. They deliver the pure vintage PAF sound to get you started rocking. It is not meant for use with ultra-high-gin tube amps, especially over 50 watts, as they are not potted. If you do so, your guitar may squeal uncomfortable.
PRS 57/08 Humbuckers
Best for jazz, clean rock, classic rock, worship
Best for Les Paul, PRS, Telecaster, Stratocaster
Alnico 2 magnet
DC resistance: 8.5k
Compatible with 3-way, 3-way push/pull, or 5-way pickup selectors
Inspired by the classic 1957 humbucker and introduced in 2008, the 57/08 by Paul Reed Smith is made with vintage-style wire and wound in-house
PRS 57/08 Humbuckers are some of the favorite pickups of many guitarists due to their warm and responsive tones that resemble the 1950s tones. The humbucker was made with the 1957 humbuckers in mind and with hand-wound at PRS with vintage-style wires.
The humbuckers feature great vintage qualities with the experimentation of Paul Reed Smith. It blends the modern attributes of classic humbuckers like the consistency, tone, and clarity with the vintage features of construction and sonic possibilities.
The model has Treble and Bass versions for the neck positions and the bridge positions. Many famous guitarists are delighted with the tones of PRS 57/08 Humbuckers.
Fender Shawbucker 1
Best for metal, rock, classic rock, alt-rock
Best for Strat, Telecaster
Pickup with a beefy sonic flavor
Alnico II magnets for a sweet, musical sound
Enamel-coated magnet wire emits a vintage-style tone
There is no substitute for OEM parts for repair, replacement, or restoration.
The Fender Shawbucker 1 humbuckers are designed by the pickup expert Tim Shaw for Fender lines. Thanks to its high clarity and note definition, it goes fantastic with Strat and Tele-style guitars. At the same time, the pickup is highly resistant to 60-cycle hum and other noises.
The unique design has lots of flavor inside its tones with fantastic overtones with high definition. It is an open-coil pickup design that greatly balances and complements the instrument's pure natural sound.
DiMarzio The Tone Zone Bridge Humbucker
Best for metal, rock, classic rock, alt-rock
Best for Les Paul, PRS, ESP
High-output pickup
Wiring: 4 Conductor
Magnet: Alnico 5
DC Resistance: 17.31
The DiMarzio Tone Zone is a classic high-output pickup with an amazing dynamic range and versatility. The humbucker is well-known for its excellent dynamics, which allows you to sound clean and quiet when you pick the strings softly and fat and dirty when you attack the strings harder. Plus, it features a vowel-like open wah sound along with the tremendous midrange and lower frequencies.
When you play chords with the humbucker, the instrument sounds amazingly deep, and it has great overtones even if it sounds fat. The humbuckers add multi-dimensional layered sound to your tone, making your instrument shine with its incredible sound.
Seymour Duncan APH-2s Alnico II Pro Slash Set
Best for clean, metal, rock, classic rock, alt-rock
Best for Les Paul, PRS
Neck and bridge positions
Alnico II magnets
Color: Zebra/Reverse Zebra
Moderate output
Seymour Duncan's Alnico II Pro Slash APH-2 pickups set sounds like a true rock star. The humbuckers provide moderate output with warm tones that can be used greatly with jazz, blues, classic rock, and hard rock. With the right amount of boosted output, the humbuckers deliver an exceptionally balanced sound to make your guitar shine.
One of the most famous users of these humbuckers is Slash. He has the original version of these pickups in his legendary '86 guitar. It comes equipped with a wooden spacer, a single-conductor cable, and a long-legged bottom plate.
Xotic Raw Vintage PAF Bridge
Best for blues, rock, classic rock, clean
Best for Les Paul, PRS
Custom raw vintage Alnico magnets
The fantastic tonal range for any style
Hand-wound enamel copper wire for a great translation
Gorgeous nickel cover
Xotic Raw Vintage PAF Bridge is another vintage style PAF pickup specially designed by Xotic engineers for the best vintage classic tone possible. They have period-accurate specs all over and are made from Alnico 5 magnets, with hand-wound circuitry and enamel copper wire along with nickel covers.
The pickups have a well-balanced overall sound with an amazingly versatile tonal range. It delivers clear highs and thick bass as well as a distinct midrange. They are perfect for Les Paul and PRS-style guitars to play anything from blues to hard rock.
EVH Frankenstein Bridge/Neck Humbucker
Best for metal, rock, classic rock, alt-rock
Best for EVH, Strat
Nail Eddie's tone!
Great upgrade to all standard humbuckers
DC resistance: 14.4k
The famous pickups of Eddie Van Halen's iconic guitar Frankenstein called EVH Frankenstein Bridge/Neck Humbucker set is the perfect pickup set for guitarists who like the hard rock and heavy metal tones of the '70s and '80s. The pickups came to life with deep experimentations of Eddie to find his unmistakable sound.
With this pickup set, you can easily and quickly achieve the iconic Frankenstein humbucker sound that is associated with the tremendous hard rock tones of Eddie Van Halen. The stinging sound with singing highs and snarling mids combined with the fat bottom ends of the humbuckers provide a perfectly full and balanced sound.
Bartolini PBF-55-BK PBF Jazz Neck
Great for jazz, worship, and soft rock, as well as clean tones
Suited for Hollowbody style guitars
Low to medium output pickup
Provides tones with an outstanding balance, full-body, and warmth
Features a sealed design to prevent damage from sweat and other substances
If you are looking for a humbucker for clean tones with crystal clarity and great warmth, the Bartolini PBF Jazz humbucker is perfect. The pickups sound delicate with dampened high-ends, excellent balance, and mid-frequency warmth. It is never muddy or wooly and operates very quietly.
Another great aspect is the sealed design that prevents sweat and other substance damage. It never encounters shorting issues, and it gives greater comfort, safety, and performance when the bridge and the neck models are used together.
Seymour Duncan Antiquity Humbucker Set
Best for blues, rock, classic rock
Best for Les Paul, PRS
The legendary "PAF" humbucker sound you've heard on countless records
Custom aged Alnico 2 bar magnet
No wax potting just like the original model
Traditional push-back cloth braid wire
Another great PAF-style pickup set is the Seymour Duncan Antiquity Humbucker Set. Designed with the '50s PAF humbuckers in mind, the Antiquity humbucker set features amazing vintage looks and sound with its handmade pups, own DC resistance, and sonic character.
The pickups are finished with gold covers and aged poles to have that iconic Antique look. They are not wax potted, which significantly adds to the vintage looks and sound. Seymour Duncan Antiquity humbuckers are ideal if you want a vintage PAF pickup with the true PAF sound and look.
EMG JH James Hetfield "Het" Active Humbucker Set
Best for metal, rock, classic rock,
Best for Les Paul, ESP
Metallica's James Hetfield signature set of EMG pickups
Solderless Installation System lets you effortlessly change out your electronics
Sleek black nickel-plated caps for a cool stealth look
James Hetfield's signature humbuckers, EMG JH James Hetfield "Het" Active Humbucker Set, combines the clarity and punch of a passive pickup with the fat wall of sound of an active humbucker. He has been using this fantastic humbucker set for 30 years.
James Hetfield tested over twenty prototypes to achieve the perfect balance he liked. The result EMG JH Set is an active two-humbucker set that gets you very close to the Metallica sound with its high output, great attack, and complete low end. The pickups deliver a tight attack with less inductance for low-end cleaner frequencies, giving you the best blend of the two worlds.
Fishman Fluence Tosin Abasi 7-string Signature Set
Versatile and great for many genres like hard rock and metal as well as alt-rock
Suited towards the modern 7-string metal guitars
Active pickup
Different coil combinations work together for sonic versatility
Can function as a passive PAF humbucker, single-coil, and active humbucker
If you like the sound of Animals As Leaders, Fishman Fluence Tosin Abasi 7-string Signature Set is the perfect humbucker for you. Tosin Abasi is well-known for his wide range of gear to create different tones, and this one is his signature set. It is equipped with a versatile circuit that provides a great range of tones, more than any Fluence pickup. The set is well-appreciated for its multiple coil combinations for different sounds.
Voice 1 features the modern active humbucker sound with beefy low mids and a perfectly balanced output level. Voice 2 is more like a traditional PAF pickup, perfect for hard rock tones with articulated, rich, and detailed highs, cutting mids, and fantastic percussive attack response. Voice 3 is more in the realm of single-coil tones. The neck pickup resembles Tele pickups, and the bridge is more like a Strat-style humbucker.
DiMarzio PAF 36th Anniversary
Best for clean, blues, rock, worship
Best for Les Paul, PRS
Humbucking pickup offers a true PAF tone
Standard string spacing
Wiring: 4 Conductor
Magnet: Alnico 5
The DiMarzio PAF 36th Anniversary humbucker differs from the traditional PAF vintage-style pickups with its modern touches. The design is inspired by the Larry DiMarzio's own 1959 Les Paul pickups, and the construction was made with that smoothness in mind but without the muddiness of the original ones.
Either in the neck or the bridge position, DiMarzio PAF 36th Anniversary performs incredibly. You can reach that vintage PAF tone with modern reliability to have the best of both worlds. You can use the pickup without hesitation for blues, rock, and all the vintage-style tones.
TV Jones Super'Tron Neck Humbucker Pickup
Ideal for rock n' roll, blues, rock, rockabilly, and jazz
Perfect for Gretsch guitars
Sounds slightly mellower compared to the original version
Good inductance and volume retention for bends
When played with low output, the amp's character stands out
Shines with its jazzy smooth midranges
If you want to have the iconic 60's tones TV, Jones Super'Tron Neck Humbucker Pickup might be the ideal candidate for you. The genuinely vintage humbucker delivers the great tones with a sweet breakup for vintage enthusiasts. You can use it as an individual pickup on the neck position or combine it with the TV Jones Super'Tron Bridge Humbucker Pickup to have the whole vintage set.
You will get the even and mellow tones f the 60's with the TV Jones Super'Tron Neck humbucker. The pickups have the twangy bite you need for many genres, from jazz to punk. It provides a jazzy sound with fantastic sustain and hot output on the neck positions.
Friedman Classic Neck Humbucker
Best for blues, rock, classic rock, alt-rock
Best for Start, Telecatser, PRS
Same vintage-voiced humbucker found in Friedman guitars
4-conductor wiring
Loaded with Alnico 5 magnets
Custom voiced by Dave Friedman
Made in the USA by Grover Jackson
Friedman Classic Neck Humbucker is the humbucker of choice of the excellent guitar virtuoso Dave Friedman. The PAF-style humbucker blends the vintage vibes with a bit of unique bass punch for modern genres. The pickup is the exact model that is seen on the Friedman guitars.
These pickups are handmade by Grover Jackson for Dave Friedman's special needs. The humbucker shines with its clarity and low-end punch that Dave Friedman loves to have in his tone.
Gibson Burstbucker Type 3 Bridge
Ideal for rock, hard rock, alternative rock, and metal
Suited towards guitars like Les Paul, PRS
The type 3 model is perfect for bridge position as it delivers overwound and hot performance.
Equipped with the Alnico II magnet
Features 2-conductor wiring
One of the earliest "Patent Applied For" PAF pickups of the Gibson line is the Gibson Burstbucker Type 3 Bridge. The pickup was created using imprecise machines, which led to different pickups with different tones and outputs. These pickups are the reissue of those legendary humbuckers, first released in the 1990s and still in production.
There are three different versions with types 1, 2, and 3. They all provide the classic humbucker tones with unique bobbin windings and Alnico II magnets. The end-tone is full and airy with magical distortion performance with rich highs when the gain is cranked up.
EMG Jim Root Daemonum Humbucker Set
Perfect for playing genres like hard rock and metal
It can be used with almost all models, including Telecaster, ESP, Modern metal guitars
Slipknot's guitarist Jim Root's design
Great versatility with the blend of active pickups and passive pickups
Has active preamps to prevent unwanted noise
For the clean and percussive tones, the neck pickup has ceramic poles
For the brutal metal riffing with heavy tones, the bridge pickup has black steel poles
The influential guitarist of Slipknot, Jim Root, is known for his affection for EMG humbuckers. In 2017, EMG created a signature model for Jim Root, who used EMG 81/60 pickup set back then. The new design is equipped with the strength and power of the 81/60 pickups combined with the versatility of EMG's Retro Active design.
The two passive humbucker design has active preamps in the base plates. This way, the set can deliver a gigantic wall of sound that cuts through the mix successfully. It is excellent for heavier genres and tones and sounds huge with palm-muted rhythm guitar sections and shredding solos. The Daemonum Humbucker set is the ultimate death metal pickup set.
Fender Double Tap Bridge Humbucker
Great for playing clean tones of jazz, rock, and worship
It can be used with Stratocasters and Telecasters
Tim Shaw, the pickup guru, and expert design
Has the full-bodies killer tones when in the humbucker mode
Features Alnico IV magnets for a well-defined rich tone with expressive dynamics
Fender's Double Tap Humbucker is considered a revolution in the humbucker world. The pickup has the split single-coil and humbucker technology which gives you a full-throated killer sound in the humbucker mode and a mellow and chimy single-coil tone when switched to the single-coil mode. There is no volume sacrifice between the modes, and the Alnico IV magnets provide a great response with a well-defined expressive voice. Plus, the dynamic response is also excellent.
The pickup has light wax potting to prevent feedback. The sonic texture and performance of the pickup are great for Strats as well as Teles. The pickup can be a fantastic upgrade to any Strat-Tele model.
Fender CuNiFe Wide Range Neck
Best for rockabilly, rock, classic rock, alt-rock, jazz, clean
Best for Telecaster Deluxe, Stratocaster
An authentic reissue of a legendary 1970s pickup
Based on the original Seth Lover design
Fat humbucker tone with hi-fi clarity and great crispiness
CuNiFe magnet rods were used with a large bobbin
Fender CuNiFe Wide Range Neck humbucker is Fender's take on the 1970's fat stadium-sized tones that shaped the rock scene. Fender took the iconic Seth Lover pickup and transformed it into a hot-rodded humbucker. The result was a tremendous Fender-style pickup with the iconic Fender flair and chime blended with the humbucker girth.
It performs excellent with Telecasters, like Custom, Thinline, and Deluxe guitars of the era, as the pickup, is based on the CuNiFe, copper-nickel-iron magnet rods with the huge bobbin design.
In 1979, Fender decided to discontinue Telecaster Custom models, and the Fender Wide Range pickup was stopped from production. But, as vintage lovers tried to find the pickups for decades, Fender started producing the new range of Fender CuNiFe Wide Range pickups with the exact authenticity and sonic performance.
DiMarzio Steve Vai UtoPIA Bridge
Most suitable for lead guitar tones of rock, metal, and hard rock
Ideal for guitars like Les Paul, PRS
Provides a thick and fat tone for lead guitar playing
Fantastic bass range response with muscle and body
Gives you fantastic control with dynamic responsiveness
Snarling upper mids when pushed
Another great signature pickup is the DiMarzio Steve Vai UtoPIA Bridge humbucker which is initially located on Steve Vai's signature Ibanez PIA guitar. The beast humbucker is a thick-sounding pickup perfect for lead guitar playing. The pickup performs outstandingly with powerful highs, bold lows, and plenty of output.
The pickups add muscle and body to the tone with each note played. The dynamic response is impressive, giving you extreme control over your sound. The UtoPIA delivers lower upper mids, snarled mids, and boomy lows.
Mojo Tone DW Tomahawk Humbucker Set
Ideal for tones of rock, hard rock, and metal
Great for using on PRS, ESP, Super Strat guitars
High-output humbuckers with hum-canceling tech
Great power and precision without muddiness or compressed tones
Combination of alnico and ceramic magnets
Versatile with 4-conductor lead setup
Mojo Tone DW Tomahawk Humbucker Set is a great pickup set for those looking for American-made, high-output humbuckers for tasteful metal tones. Both the solos and chord-playing shine with these humbuckers.
The pickups are entirely made in the U.S.A., and top-quality materials are used. The design combines ceramic and alnico magnets with Mojotone's unique winding system. They create hot, versatile tones with high clarity and responsiveness. The result features fat lows and expressive highs, ideal for metal music.
Gibson 490R Modern Classic Neck
Perfect to play rock, hard rock, alt-rock, and metal
Can be used with Les Paul, PRS, ESP
The modernized version of the Classic 57
It is equipped with vintage-style Alnico magnets
Sounds excellent with powerful rhythm playing and singing lead tones
Not all humbuckers sound the same, clearly heard with Gibson pickups. Gibson 490R Modern Classic Neck is a unique humbucker with the tonal characteristic of the iconic '57 Classic humbucker, but with the upper midranges slightly increased.
The humbucker is 100% pure with great modern touches that provide contemporary tonal characteristics along with the vintage base. The 490R and 490T complement each other wildly with neck-spaced pole pieces on the neck and perfectly calibrated 490T in the bridge. They shine with their smooth frequency response.
PRS Tremonti Humbucker Pickup – Treble
Great for playing many genres from metal and hard rock to classic rock and alt-rock
Can be best used with Les Paul, PRS
The design of Mark Tremonti from Creed and Alter Bridge
Performs aggressive yet articulated and balanced
Versatile as it sounds great with rhythm, lead, and riff tones
Is equipped with a muscular-sounding custom magnet
Mark Tremonti is one of the greatest modern guitarists, and his signature pickup PRS Tremonti Humbucker Pickup – Treble is great for Creed and Alter Bridge-style hard rock, alternative rock, and post-grunge tones. The pickup performs aggressively and is articulated with an outstanding balance, making it quite versatile. So, it is an excellent choice for heavy riffing, chiming cleans as well as scorching leads.
The pickup performs best in the bridge position with its uncovered design. It sounds pretty muscular with its custom magnet, boosting the high-octane output for driving the amp to its limits and into harmonic-filled tones. It is one of the most versatile humbucker out there, which opens the doors of a whole new tonal universe.
Seymour Duncan Custom Shop Greenie Set
Best for blues, clean tone classic rock, worship
Best for Les Paul
The humbucker is set for nailing Peter Green's iconic tones
Reversed neck pickup magnet delivers the iconic quack
Clear and warm PAF tones
4-conductor wiring for coil splitting options
DC Resistance: 7.7k, 8.7k
Seymour Duncan Custom Shop Greenie Set is the famous humbucker set of the blues master Peter Green. The pickups travel between the "quack" tone associated with the guitarist. The classic PAF-style pickups inspire the design, but the flipped magnet in the neck pickup is unique and unprecedented.
The pickup plays the main role in Green's iconic tones. He uses both pickups together to get his quack-style tones. As they feature 4-conductor wiring for coil splitting use, they also deliver a versatile tonal palette.
EVH Wolfgang Neck Humbucker
Best for metal, blues, rock, classic rock
Best for Les Paul and Wolfgang style guitars
Nail Eddie's lead tone!
Ideal upgrade for all standard humbuckers
Another Eddie Van Halen signature humbucker is the EVH Wolfgang Neck Humbucker, which immediately gets you to Van Halen's realm. The design belongs to Eddie himself, as he created this pickup, especially for his Frankenstein Strat. The unique part is the attention to different pickup windings.
The Wolfgang Neck humbucker is the perfect choice for Eddie's smoother, more classic-rock tone, which he uses occasionally. The pickup delivers singing highs, snarling mids, fat lows, and stinging high volume output.
Conclusion
Pickup changes are, as mentioned, one of the most desirable guitar modifications. It's because they can improve your sound the most. As you can see from the article, there are different kinds of flavors in the humbucker size market.
If you want to sound like Zakk Wylde, you'll wish to hot active pickups, such as his signatures EMG. On the other hand, if you want to to that jazzy Pat Metheny sound, you want passive, clear underwound pickups. It's really up to you to see your preferences, and don't be afraid to experiment; that's always a good thing.
If you found this article useful, you may want to save this pin below to your Guitar board.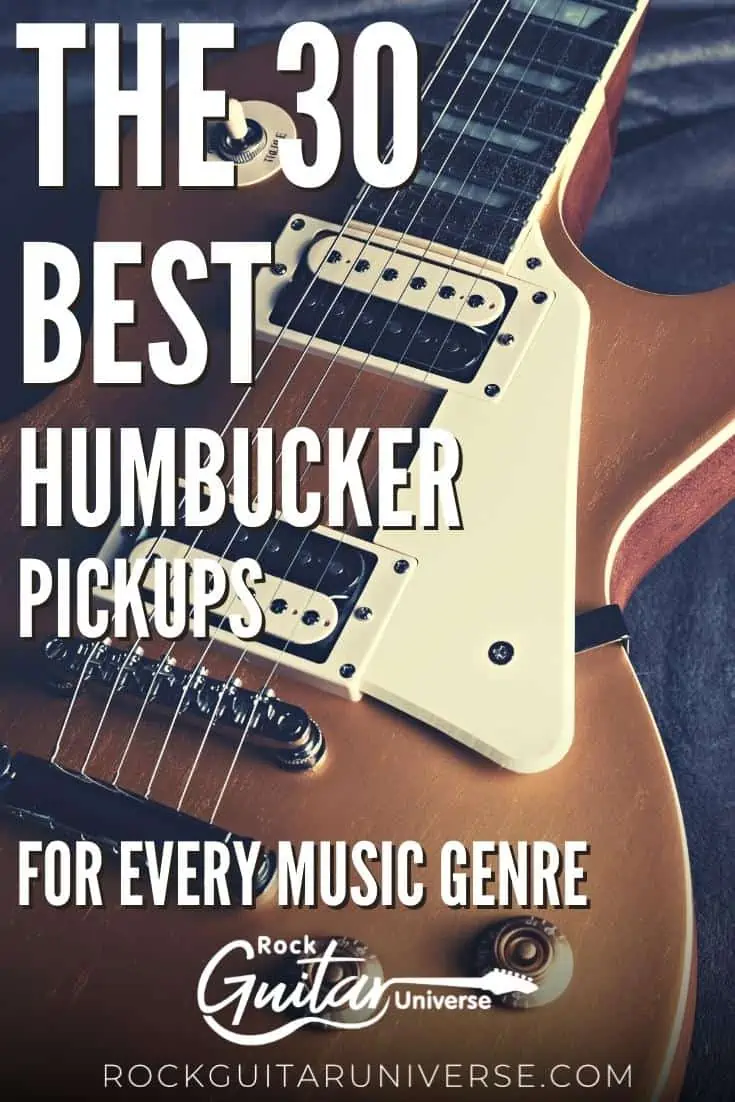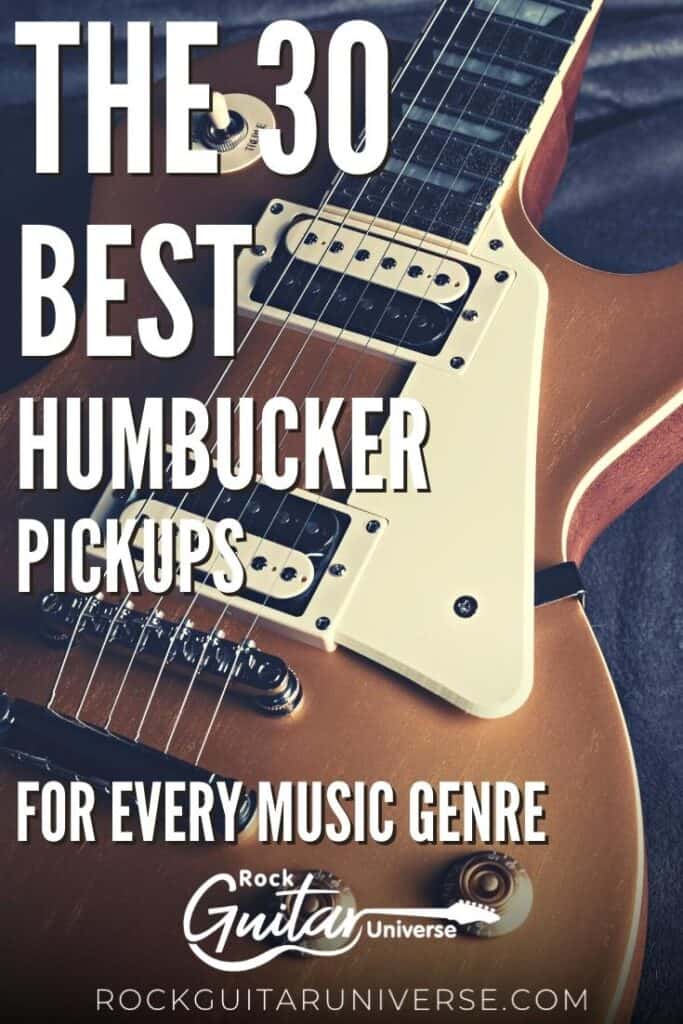 Last update on 2023-05-29 / Affiliate links / Images from Amazon Product Advertising API