One of the most frequently asked questions is the difference between Epiphone and Gibson guitars. There is so much speculation about this comparison all over the internet as Gibson and Epiphone both produce some of the most iconic models of all time.
Today I am going to shed some light on the topic via one of the most iconic guitars of all time, the Gibson SG. With its iconic rock and roll and hard rock tones, Gibson SG is one of the guitars that defined the rock genre and era. Its unique looks, amazing performance, and huge versatility make this guitar one of the best of all time.
So, let's dive deep into two SGs from different brands; the Gibson SG against the Epiphone SG. While both guitars are very similar, the main difference is that Gibson SGs are produced in the U.S.A., while Epiphone SGs are produced in Asia, China, or Korea, depending on the model. So, the biggest difference is the quality and, of course, the price.
The main quality difference comes in the electronics, as the Gibson SG has great-sounding 490R Humbuckers, while the Epiphone comes with lesser quality Alnico Classic PRO Humbuckers, which lack the finesse of the Gibson SG's pickups.
The difference in the hardware quality is also apparent. Gibson SG has nickel-plated Grover Rotomatics, while the Epiphone gets Epiphone Deluxe vintage-style tuners. Also, Gibson SG has a Nashville Tune-O-Matic bridge, whereas the Epiphone has an ABR Tune-O-Matic. The difference is small, but Gibson's hardware is an upgrade without a doubt.
So, the construction and the design are the same; the materials slightly vary in favor of Gibson but are generally the same except for the pickups, in which Gibson is much better. But with the workmanship and attention to detail, Gibson wins the race by far, which makes it a better guitar.
| | | |
| --- | --- | --- |
| | Gibson SG | Epiphone SG |
| Body Shape | SG Standard | SG Standard |
| Body Wood | Mahogany | Mahogany |
| Neck Shape | Rounded | '60s SlimTaper |
| Neck Wood | Mahogany | Mahogany |
| Neck Constructions | Set Neck | Set Neck |
| Fretboard Material | Rosewood | Indian Laurel |
| Scale Length | 24.75″ | 24.75″ |
| Number Of Frets | 22, Medium Jumbo | 22, Medium Jumbo |
| Frets Material | Nickel Silver | Nickel Silver |
| Type Of Bridge | Nashville Tune-O-Matic with Stopbar | LockTone ABR Tune-O-Matic Bridge with Stopbar Tailpiece |
| Tuning Machines | Grover Rotomatics | Epiphone Deluxe Tuners, 18:1 ratio |
| Pickups | Dual 490R and 490T Humbuckers | Dual Alnico Classic PRO Humbucker |
| Pickup Selector | 3-way toggle switch | 3-way toggle pickup switch |
| Controls | 2 x volume, 2 x tone | 2 x volume, 2 x tone |
| Weight | 6 lbs (2.7 kg) | 6.69 lbs (3.03 kg) |
Gibson SG History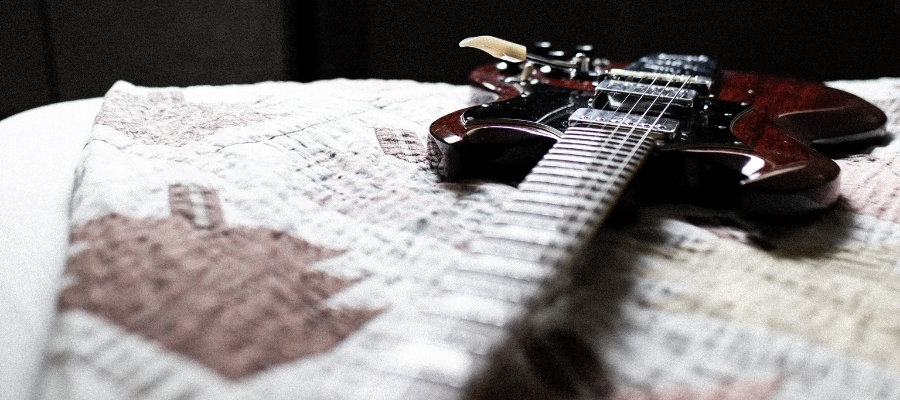 Gibson Les Pauls were and still are some of the most iconic guitars in rock history. However, during the early 60s, their sales were going significantly down after their domination of the market in the 50s. So, Gibson came up with a new Les-Paul style model with a flat top and a contoured thinner body with a double-cutaway design for easier upper frets access.
Gibson also moved the neck joint three frets to make the upper frets access even easier. The end design was a unique guitar with a slender neck profile and small heel, which Gibson promoted as the guitar with the fastest neck in the world.
The guitar was first named Les Paul, as it was the new Les Paul model. However, Les Paul himself did not really enjoy playing the guitar and decided to remove his name from this model, asking for a new name from Gibson. So, Gibson changed the name to SG, which meant Solid Guitar.
So, history started to be written. Many great guitarists played Gibson SG, enjoying its great sound, high playability, and iconic looks. Guitarists like Angus Young, Tony Iommi, Pete Townshend, and many more often used Gibson SG models, which made the guitar an iconic legendary instrument.
Today Gibson SGs are still produced and are some of the most popular guitars in the world. Their ease of play, vintage heritage, great tonal capabilities, and sustain are some of the primary reasons people are still using them. Many different brands copy the shape creating their Gibson SG replicas, even though they are not as common as Les Pauls or Fender Stratocaster.
Epiphone SG History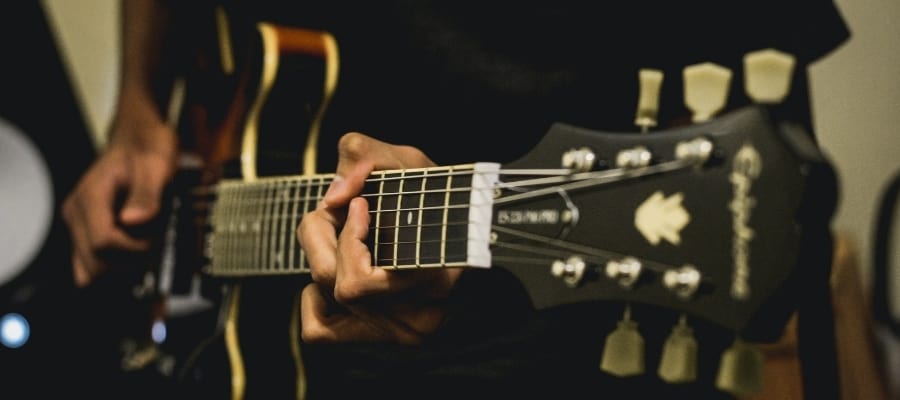 In 1957, Gibson decided to buy the Epiphone brand, its big rival in the arch-top guitar market of the era. But, Gibson did not interfere with Epiphone production, allowing the brand to continue producing its own instruments for many years. Only during the early 80s did Gibson transform Epiphone to manufacture affordable versions of Gibson guitar models.
So, Epiphone became the little brother of Gibson, producing iconic Gibson models with more affordable materials and construction techniques for players who can not afford high-end Gibson models. Just like Fender had Squire at the time, Gibson had Epiphone.
Since 1989, Epiphone has been producing different Gibson SG models in its factories in China and Korea.
Body Compared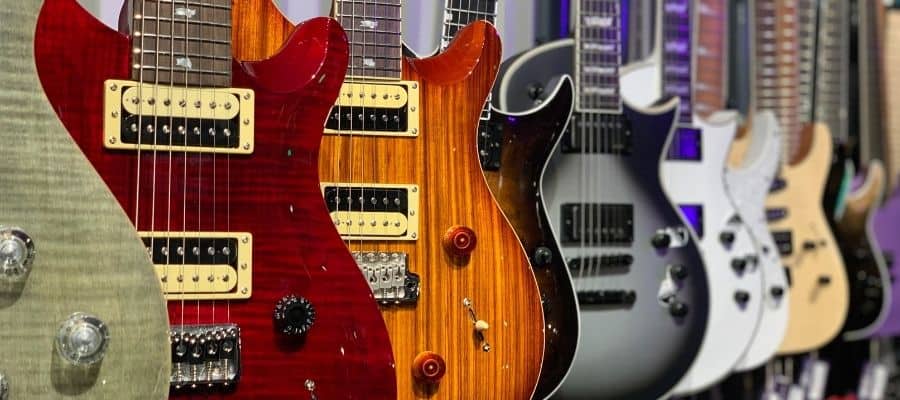 The bodies of both models are quite similar as both Gibson SG and Epiphone SG has the iconic "devil horn" SG Standard body shape made of mahogany. The body style features a flat top and thinner body with the double-cutaway design, which allows for better high-frets access for lead guitar playing.
Both are lightweight guitars with around 6 to 6.7 lbs, thanks to the lightweight mahogany wood. As the guitars are lightweight, they are good choices to play standing or on the stage for players who like to move a lot with the instrument.
The only difference between the body construction is the finish. Gibson SG features a nitrocellulose finish, while the Epiphone has the polyurethane lacquer, which is shinier.
Neck & Scale Length Compared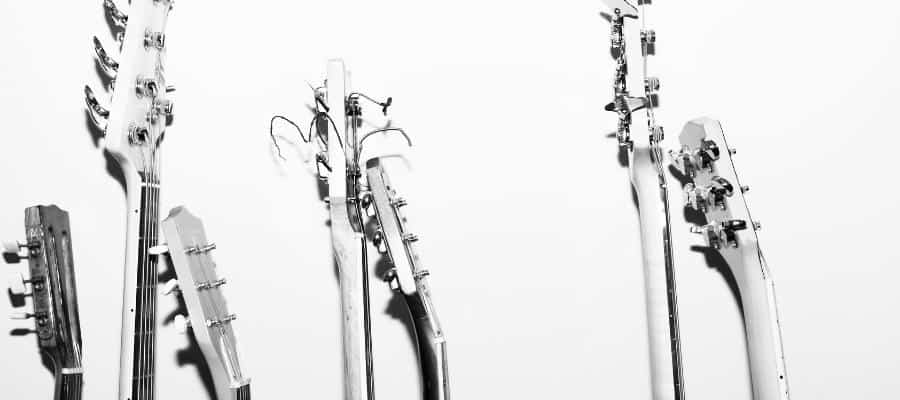 The neck and scale are highly important for the playability and feel of the instrument. Both guitars thrive on this aspect as they have highly comfortable and playable necks.
Gibson SG features a beefy, round neck profile, while Epiphone SG has a '60s slim taper neck shape which is a bit thinner and good for beginners. Gibson SG's neck is thicker but highly fast and comfortable with amazing construction.
Both guitars have set necks made of mahogany with an Indian Laurelwood fretboard on the Epiphone and a plush rosewood fingerboard on the Gibson. There are 22 Medium Jumbo frets on both guitars, and the scale lengths are 24.75". Plus, both have Graph Tech nuts that work great for tuning stability, tone, and string longevity.
Another unique Gibson SG feature is that the neck joint is around the 22nd fret, which is 3 frets higher than a regular Les Paul. This makes the higher frets more reachable and the neck more comfortable.
Hardware Compared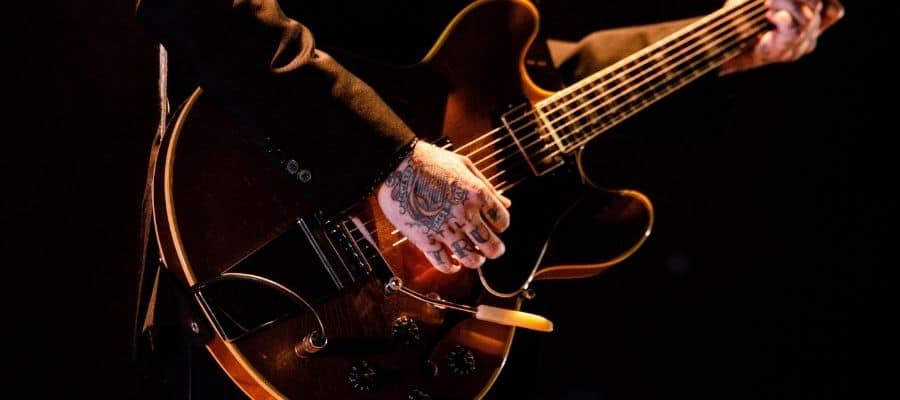 The hardware on both guitars is pretty good, with a slight quality difference in favor of the Gibson SG. The headstock shapes and the tuners are a bit different, which are the first noticeable aspects of the hardware. Gibson has nickel-plated Grover Rotomatics, whereas Epiphone has Epiphone Deluxe Tuners, 18:1 ratio. Both tuners work pretty well, holding the tuning stable, nothing to complain about any of them.
The second noticeable difference is with the bridges. Gibson SG has the popular Nashville Tune-O-Matic with Stopbar bridge, while the Epiphone SG has the Epiphone, which comes with an ABR Tune-O-Matic bridge. Gibson's Nashville is a higher-quality bridge which is better than the Epiphone's ABR, but they both work just fine.
These Tune-O-Matic bridges do not have tremolo bars. If you want to use a tremolo bar while playing, this is not good news for you.
Pickup Configuration Compared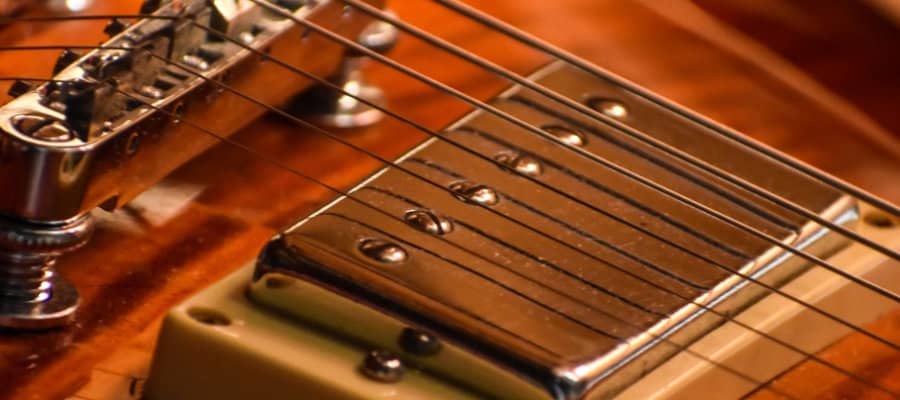 This is the area where the quality difference is reflected in favor of the Gibson SG over the Epiphone SG. Both guitars have dual humbucker configuration, but the Gibson's pickup set is much better than the Epiphone's.
Gibson SG comes with a 490R in the neck and a 490T in the bridge position. These pickups perform great and have great versatility, as they provide great clean tones, while they also thrive with the dirty crunch with high gain. The pickups have the late-period PAF pickup sound, which is the fat, snarling tone Gibson SG is famous for.
Epiphone SG features dual Alnico Classic PRO humbuckers, which are good for the price and provide decent sound, but they lack the finesse and the articulation that the Gibson SG can deliver.
If you want a more vintage-sounding Gibson SG, you can have the old-school P90s in your SG. There is a vintage reissue model of the guitar, which comes equipped with P90s.
Both Gibson SG and Epiphone SG are equipped with a 3-way toggle switch, 2 volume knobs, and 2 tone knobs to shape the sound.
Gibson SG Tone
Soundwise, Gibson SG is a highly versatile guitar, as can be clearly seen when you take a look at the wide range of guitarists from different genres who use Gibson SGs. Angus Young and Tommy Iommi use the guitar for hard rock and heavy metal, while Thom Yorke uses it for alternative rock.
Gibson SG provides a pretty bright tone with emphasis on the mids and highs. It delivers a more pronounced overall sound than most guitars, such as its cousin Les Paul for instance.
On the other hand, mahogany is known for its warm sounds, and this is also felt in SG tones. Combined with the double humbuckers, SG provides the iconic thick, fat, and snarling tones.
The pickups play the biggest role when it comes to guitar tones. While the Gibson SG standard comes with 490R and 490T humbuckers, which are closer to the late PAF humbuckers with a slightly modernized sound, you can go for a vintage reissue Gibson SG with P90 pickups to get more of those great vintage-style tones for classic rock.
Epiphone SG Tone
Epiphone SG's tone is not far from Gibson SG's tone, as the Alnico Classic PRO Humbuckers are based on the Gibson SG's 490R and 490T pickups. However, as they are the cost-effective versions of their bigger brother, they lack finesse and articulation.
The tonal flexibility is pretty similar, and the sound is quite close. Gibson SG has a bit more sonic quality and is fuller compared to the little brother. For the price range, Alnico Classic PRO Humbuckers do a great job, in my opinion.
Gibson SG Feel & Playability
One of the strongest aspects of Gibson SG is its feel and comfort, which means great playability. This is where the quality difference is highly reflected against the Epiphone SG.
While the neck materials and scale lengths are the same, the neck profile and the fingerboard are different. Gibson SG has a great mahogany neck with rosewood fingerboard and slightly carved frets. The neck profile is thick and chunky, but still, the fretboard is quite fast, which feels great in hand.
Overall, both SGs have thinner bodies and shorter fretboards compared to most guitars like its cousin Les Paul. The double-cutaway body is great for higher fret access, and the neck joint on the 22nd fret makes everything easier when playing higher frets. These aspects make it a great guitar for soloing.
One minor issue with the Gibson SG is the neck dive due to the lightweight of the guitar. It is not a dealbreaker but can be a little annoying from time to time.
Epiphone SG Feel & Playability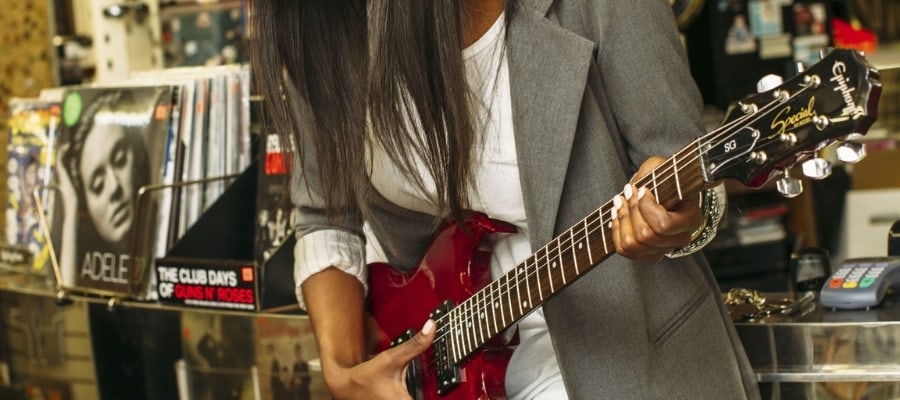 Epiphone SG also is a highly playable guitar, but for the price range. When compared to Gibson SG, the feel and comfort are not the same. This is pretty acceptable as they are made in China or Korea with less attention to detail and a more cost-effective production style in mind.
The neck is again mahogany, and the scale length is 24.75", but Epiphone has an Indian Laurel fingerboard with a thinner neck profile. Also, the fretboard is not carved like the Gibson SG, which makes playing less comfortable.
The thinner neck is better for beginners and small-handed players, actually, but for experienced hands, Gibson SG's neck is ideal.
As Epiphone SG is heavier compared to Gibson SG, it does not suffer from the neck dive and is more balanced when played standing.
The rest of the specs are the same such as the easy higher fret access thanks to the cutaway design and moved neck joint. I would say Epiphone SG Standard is a fantastic feeling guitar for the price, but when compared to his bigger brother Gibson SG, it is not as playable or comfortable, which is quite acceptable as Gibson SG costs three times more than the Epiphone SG.
Gibson SG Look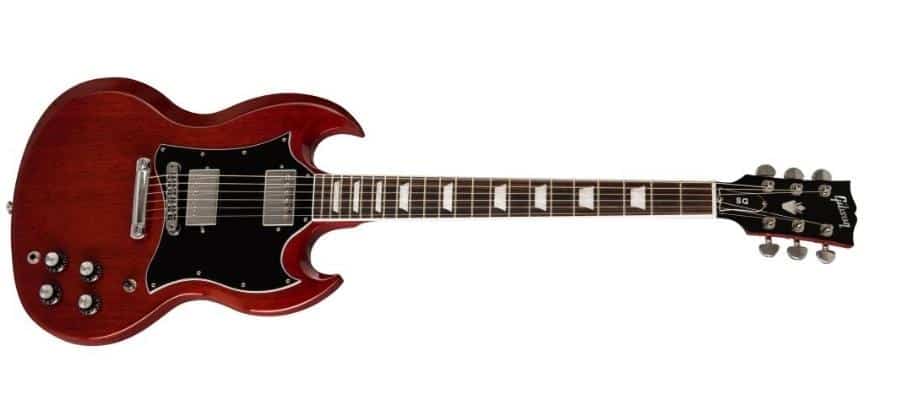 Well, there is not much to say about the iconic look of the Gibson SG. With the iconic "devil horn" SG Standard body shape, red nitrocellulose finish, and woody look, it is a fantastic-looking guitar.
The guitar also has black and natural wood color options if you want to go out of the traditional zone.
Epiphone SG Look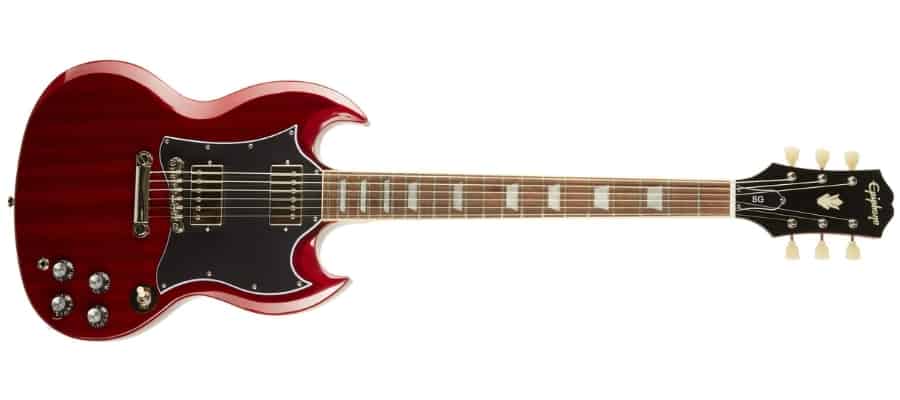 Epiphone SG looks very similar to the Gibson SG, so it also features that amazing aesthetics with the double-cutaway design. The difference is the finish, as Epiphone SG has a polyurethane lacquer finish, which makes the guitar look more shiny compared to the Gibson SG.
As the look is a bit woody, I personally like Gibson SG's finish more as it is more matte. Another difference is the headstock, as both guitars have slightly different shaped headstocks.
In short, both guitars look pretty similar and good, in my opinion.
Famous Gibson SG Players
Angus Young
The first guitarist to come to mind when talking about Gibson SGs is Angus Young of AC/DC, without a doubt. He is mainly known for his affection for Gibson SGs, which helped him a lot while creating the iconic AC/DC hard rock tones.
The emphasized highs and mid frequencies are great for the AC/DC sound, while the
lightweight allows him to do his iconic dances and duck walk.
Angus Young has a signature Gibson SG model called Thunderstruck Angus Young SG and looks great with an extra slim, narrow neck profile, lightning bolt inlays, and burgundy finish.
Pete Townshend
Pete Townshend of The Who is one of the guitarists that is highly associated with Gibson SGs as he used them often during the late 60s. He liked the guitar's high playability and thick tone, which he used in many recordings and shows such as Tommy and Live At Leeds. Gibson also made a Pete Townshend Signature SG model in 2000, which has an angled heel, and soap bar P-90 pickups.
Tony Iommi
Tony Iommi is another famous Gibson SG fan who used the guitar to open the doors of a new genre in rock history, heavy metal. When the neck pickup of his Fender Strat got damaged during the recording of Black Sabbath's debut album, Tony Iommi decided to go with a Gibson SG due to its thick tone and comfortable neck. The rest was history; he down-tuned the guitar and used the guitar to the fullest.
He had many different Gibson SG models, along with some customized SGs handcrafted by Birmingham's JayDee Custom Guitars. However, his signature model made by Gibson is based on his heavily-modified 1964 Gibson SG, which had P-90 pickups.
Frank Zappa
Although he used Fender Strats more often, Frank Zappa liked playing with Gibson guitars, especially Gibson SGs. The avant-garde virtuoso had two Gibson SGs, which he named 'Baby Snakes' and 'Roxy' SG.
Both SGs were heavily modified by him, as he liked customizing guitars as he desired. The Roxy features a mirrored top, several preamps, phase switches, and active filters. On the other hand, the Baby Snakes had 23 frets and an onboard preamp and phase switch. This way, Zappa increased the tonal flexibility of the guitars to the moon.
Gary Clark Jr.
The famous blues player of modern times, Gary Clark Jr., often uses Gibson SGs in the studio as well as on the stage. His Gibson SG model has P-90 pickups for the vintage sound he seeks for. In tracks like When My Train Pulls In and This Land, the guitar can be heard.
Recently, Gibson released an unconventional signature Gibson SG version for Gary Clark Jr., which is equipped with a classic Gloss Yellow finish and three P-90 pickups.
Famous Epiphone SG Players
Well, as there is a more professional version of the Epiphone SG, which is the Gibson SG, there is no famous guitarist who preferred an Epiphone SG over a Gibson SG. While Epiphone SG is a great beginner guitar and an affordable alternative to Gibson SG, which is great for traveling with, it is not a professional instrument.
Conclusion
Gibson SG is one of the most iconic guitars of rock history and has been used by many virtuosos who shaped the genre with their unique tones and playing styles. It is a highly versatile, great-sounding, amazingly playable, and comfortable guitar that is a joy to play.
But, just like most iconic guitars like Fender Stratocaster, Telecaster, or Gibson Les Paul, Gibson SGs are quite expensive guitars. That is why there is the Epiphone SG for players who want to get close to Gibson SG playability and sound without breaking the bank.
The main difference between the Gibson SG and the Epiphone SG is the attention to detail and construction quality, along with the slightly different material quality. Epiphone SGs are produced in China or Korea with less attention to detail and quality control, while Gibson SGs are produced in the U.S.A. with fantastic attention to every detail and high-quality workmanship.
The main difference between the material comes with the pickups as Gibson SG features great-sounding 490R Humbuckers, while the Epiphone SG comes with lesser quality Alnico Classic PRO Humbuckers.
There are slight differences in other gear, too, but it is not that important. About the playability, Epiphone has a thinner neck, while Gibson SG comes with a great thick and fast neck with a carved fingerboard, which makes it more comfortable and playable.
Of course, another important difference is the price, as the Gibson SG costs three times more than the Epiphone SG. For me, both guitars are amazing. Epiphone SG shines with its quality for the price, and I think it is hard to beat for the price range. But Gibson SG has the iconic quality, which I would definitely go for if I would have the budget.
If you found this article useful, you may want to save this pin below to your Guitar board.