The Australian guitarist Malcolm Young is best-known as the founding member, rhythm guitarist, and backing vocalist as well as co-songwriter of the Australian hard rock legends AC/DC. As a founding member Malcolm Young has played the rock-solid rhythm guitar partitions for the band since 1973.
As the rhythmic spine of the band, Malcolm Young was responsible for all the iconic melodies and riffs of AC/DC and made the rhythm guitar playing look amazingly cool and fun. He was also taking an active role in songwriting, creating those fantastic riffs that were coming from the roots of rock 'n' roll with the traditional formula of a few easy chords and powerful pentatonic licks.
Malcolm Young liked to have tones that were raw and uncomplicated with sonic purity. He liked to keep things simple but loud. That is why his rig was pretty simple with a few elements.
He was mainly known for his faithful companion, The Beast, which was a 1963 Gretsch Jet Firebird. He mainly relied on this guitar and occasionally used other guitars, which have pretty similar layouts to The Beast. He also liked to modify his guitars by playing with the circuits, removing and changing pickups, and experimenting to find the best-sounding instrument.
Malcolm Young passed away recently in 2017 at age 67, after suffering from dementia which was the reason he had to leave AC/DC. The founding member and rhytym guitarist of AC/DC and one of the best rhytym guitarists of rock history, Malcolm Young, was inducted into the Rock and Roll Hall of Fame in 2003 and was the driving force and leader of the band.
Thanks to Malcolm Young, today, Gretsch guitars are not seen as only rockabilly and Beatles machines; he showed how to hard rock with these guitars impressively.
Let's dive deeper into Malcolm Young's guitars, amps, and gear to better understand his tone and how to replicate it successfully.
Malcolm Young's Signature Guitars
Gretsch G6131MY Malcolm Young Signature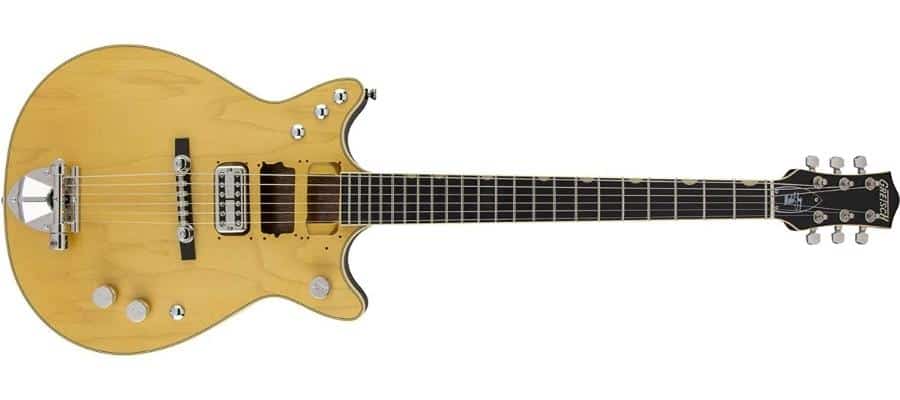 In 2017, Gretsch finally built a signature model for Malcolm Young based on his iconic guitar "The Beast," which is the 1963 Gretsch Jet Firebird Malcolm modified himself. The Gretsch G6131MY is made in Japan and offers the exact look and design of Malcolm's Beast.
The guitar has the vacant pickups slots in the middle and neck position with a humbucking pickup in the bridge position. The solid-body guitar has a chambered mahogany body, a mahogany neck, and an ebony fingerboard, as well as an aged finish, tour-worn feel, and DIY pickup routes. It also comes with a Space-Control bridge, a bone nut, and Schaller die-cast tuners.
The TV Jones Power'Tron bridge humbucker allows for the smooth, silken tones of the golden-age PAF with the rockabilly twang of the 60's. It sounds dark and twangy with a hot output that delivers the great AC/DC tones somewhere between hard rock and rock n' roll.
Malcolm Young's Electric Guitars
1963 Gretsch Jet Firebird ("The Beast")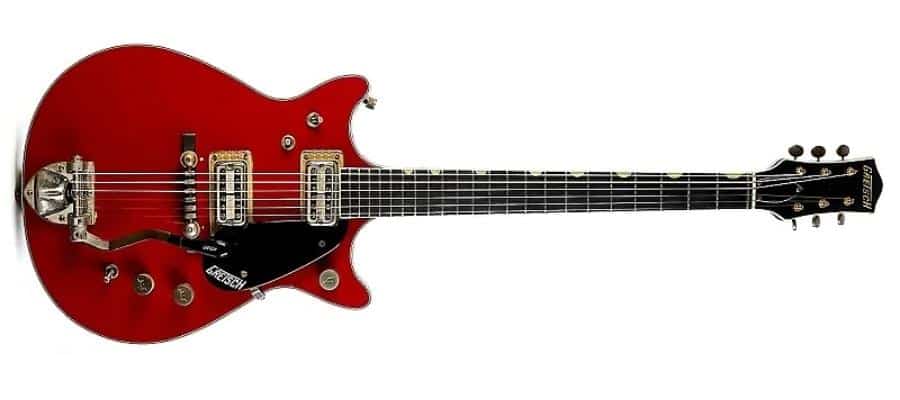 The Beast is the iconic guitar of Malcolm Young that he played all throughout his career. The iconic guitar was given to Malcolm by his brother, George Young. When Malcolm received the guitar, it already had a Gibson humbucker as the modified third pickup along with the two default Filter'Tron pickups. Malcolm removed the third pickup and the neck pickup to leave the guitar with a single FilterTron' in the bridge position.
Later, he also removed the Burns Tailpiece and installed a Schaller Bad Ass Bridge along with a custom-made tailpiece. He also removed the red finish and left the guitar with the bare wood look, which gave the famous authentic aesthetics to the guitar.
The guitar is pretty effortless to play with the single humbucker on the bridge position. It has the smooth tones of PAF pickups with a great twang along with a hot output to deliver the rocky tonEs of AC/DC.
Malcolm Young used this guitar all throughout his career, occasionally shifting to other models. In most AC/DC recordings and live performances, the guitar can be heard.
1959 Gretsch White Falcon (G6137)


Another electric guitar that Malcolm Young used often was the 1959 Gretsch White Falcon (G6137). He used this guitar during the For Those About To Rock and Back In Black tours, also partly in We Salute You Tours. He uses it primarily for live performances instead of studio sessions.
In one interview, Young said that after a repair, the guitar lost its unique sound, and that was the reason Young sold the guitar. Today it can be seen in the Hard Rock museum.
The hollow-body guitar has a maple body, maple neck, ebony fingerboard, and 2 humbucker pickups along with a Bigsby Tailpiece. It is one of the most famous Gretsch guitars used by many great artists. The vintage white finish and gold plated electronics give a distinctive look to the guitar, which is why it is called the White Falcon.
Jaydee Custom Guitar Jet Firebird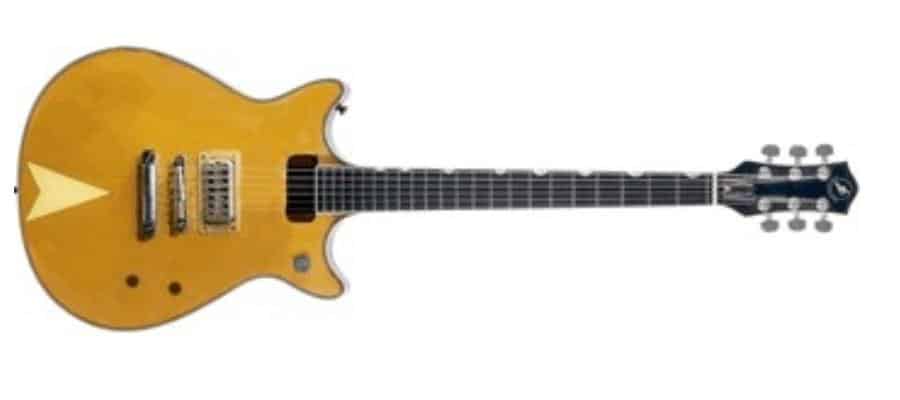 Malcolm Young used a Jaydee Custom Guitar Jet Firebird version for a while, which can be seen in the video clip of the song Big Gun. The guitar features a FilterTron pickup, a stop-tail bridge, and an empty neck pickup slot.
The guitar had similar features to The Beast and was a nice backup to it.
1973 Gibson LS-6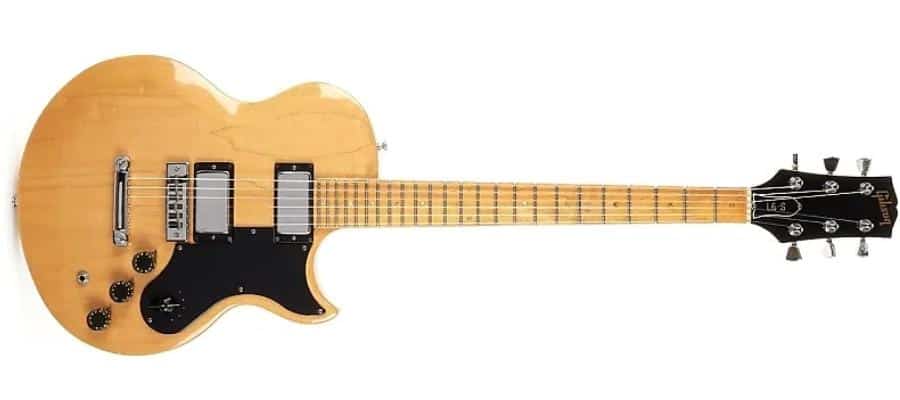 In the early years of AC/DC, Malcolm played a 1973 Gibson LS-6, which features two pickups and a traditional Les Paul-style body. The guitar can be seen in the video clip of the song Baby Please Don't Go and some rare live performances footage from the era.
Malcolm modified the guitar, as always, by cutting the guitar so that the sides of the body had a horn on the top. He continued by removing the neck humbucker and leaving the bridge humbucker as the single pickup on the guitar.
The instrument has a maple body and neck along with an ebony fingerboard. It is one of the first and rare guitars by Gibson that looks like a wide Gibson Les Paul with a 24-fret two-octave neck.
Malcolm eventually got rid of this guitar and started playing The Beast.
Duesenberg Starplayer TV Electric Guitar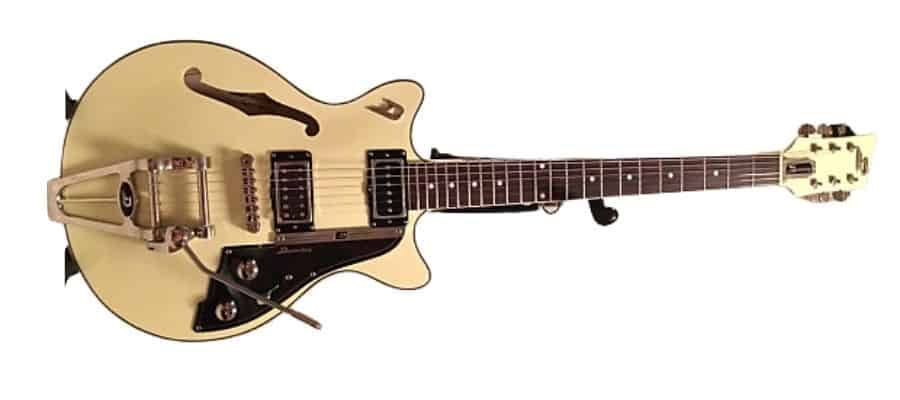 Well, this guitar was not a regular in Malcolm Young's gear as he only played it once in 2003 in a live performance with Rolling Stones. Duesenberg Starplayer TV Electric Guitar, surprisingly, had no modifications as he played the exact model on the stage.
The guitar has a semi-hollow body, 60s style tremolo, and a floating bridge with steel saddles, custom-wound DP90 in the neck, and a vintage P90 humbucker in the bridge position giving authentic blues tones a distinctive arched spruce top and an elegant flamed maple arched back. The wood of the body and the neck are maple, while the fingerboard is made of rosewood.
Gretsch G6128T Duo Jet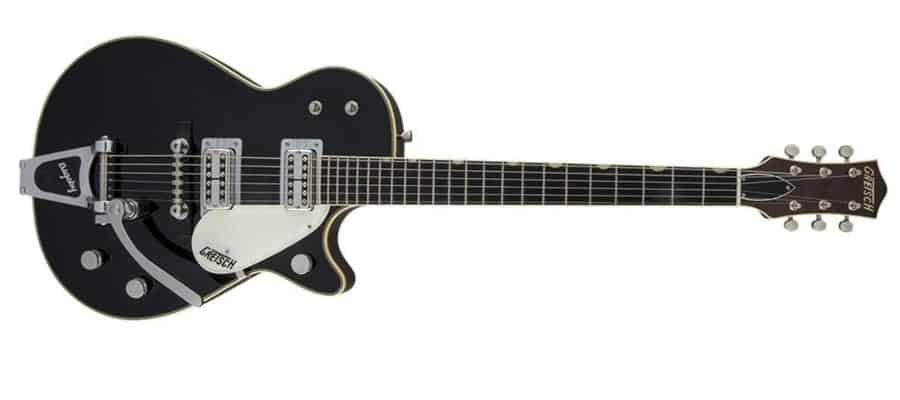 Another guitar that Malcolm Young experimented with was a Gretsch G6128T Duo Jet which can be seen in the video clip of Are You Ready. Young did not use this guitar often, only in some rare live performances.
The guitar has a semi-holly laminated mahogany body with a black gloss finish, a maple neck, ebony fingerboard along with FilterTron pickups.
Malcolm Young's Pickups
Gretsch FilterTron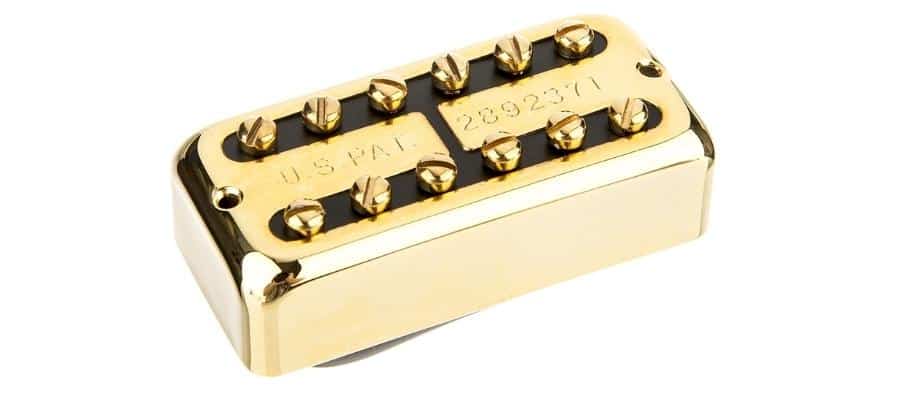 Malcolm Young's favorite pickups are the Gretsch FilterTron humbuckers. He likes to have one in the bridge position without any other pickups on the guitar. He likes the vintage 60's style sound he gets from the pickups.
These pickups are designed with bucking the 60 cycle hum of a single-coil pickup in mind. That is why they sound great somewhere between dirty and clean tones. They can be described as a step between single-coil and modern humbucker pickups. They have a warm tone and twangy high end with a low output which allows Malcolm Young to have a dirty sound when he attacks the strings heavily and a cleaner sound when he plays softly.
Malcolm Young's Guitar Strings
Gibson Pure Nickel Strings '12 – '56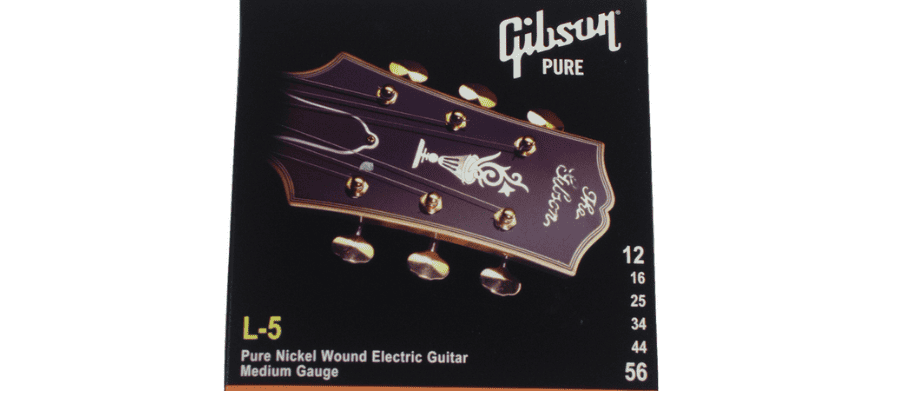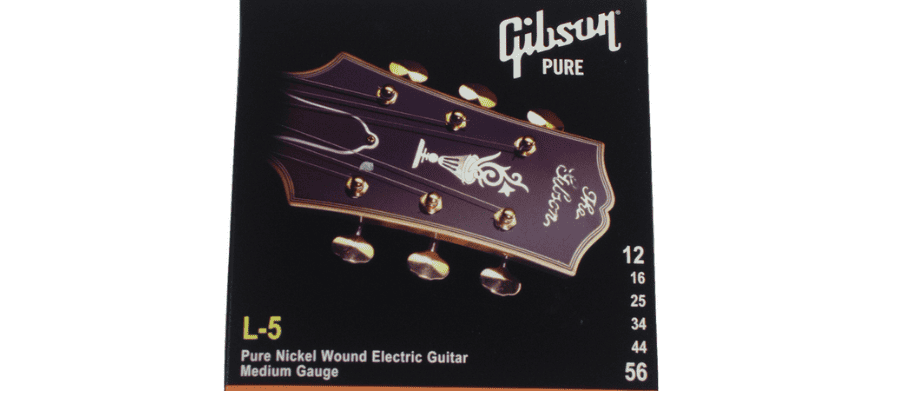 Unlike most hard rock guitarists, Malcolm Young prefers to play with relatively thicker strings. He likes to play open chords with heavy and measured rhythm strums. To achieve that solid tone, he prefers '12 – '56 Gibson Pure Nickel Strings.
He often mutes the strings with the palm muting technique in order to keep feedback and unwanted harmonic noises under control. This way, he can also create his unique accented playing style. String gauge is a big factor in getting his iconic AC/DC tone.
Malcolm Young's Amps
1971 Marshall Super Bass 100 Watt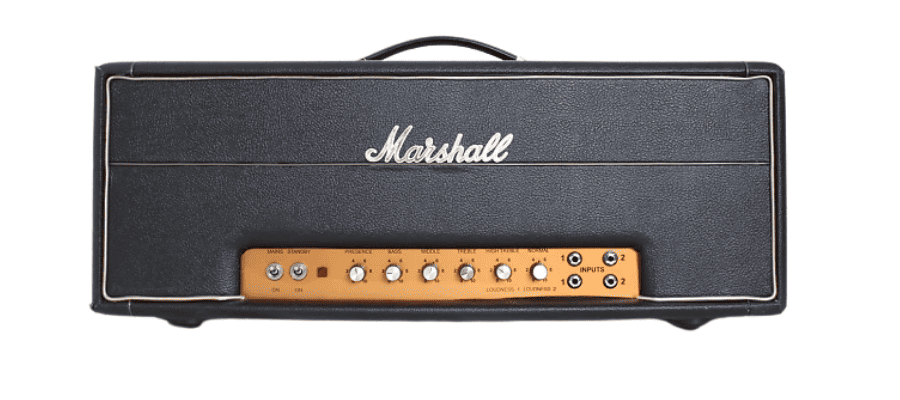 Malcolm Young solely relies on his amp heads to get his unique tones. He does not use any pedals or processors and remains with his simplistic approach to get his old-school hard rock tones. That is why the amp-guitar combination plays a gigantic role in his tone.
"Malcolm's number one: 1971 metal-front Marshall Super Bass. It has a mod on it — it has an extra tube on it for slaving it out in the studio." says the AC/DC tech Greg Howard in an interview.
Malcolm always used British-style high-gain amps, and his favorites were Marshall amps. Both in the studio and live, he likes to have the scratchy rock sound, which is best delivered by Marshall amps.
His first choice was regularly the 1971 Marshall Super Bass 100 Watt. It is very hard to find these amps these days, and the best chance is to look for a second-hand one.
The fully hand-wired amp features the iconic Marshall high-gain tones. The tube amp head features the classic Marshall tube crunch with accentuated lows, which sounds great paired with the Gretsch guitars and FilterTron pickups.
1966 and 1967 Marshall JTM 45 100 Watt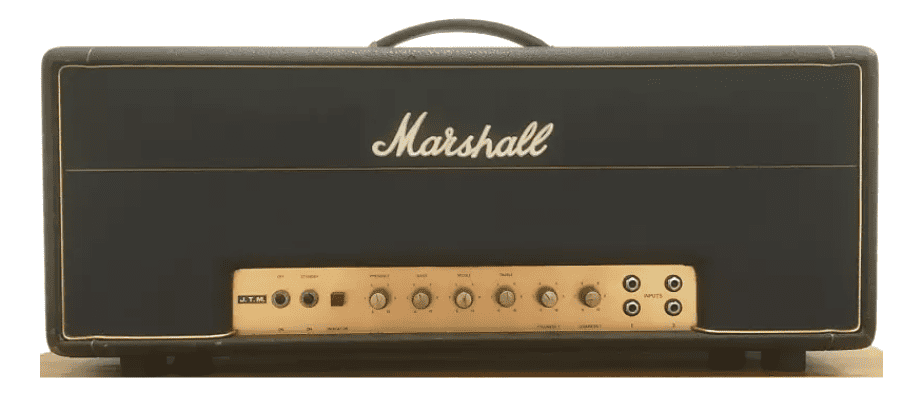 Another Marshall amp Malcolms uses in his live setup is a 1966 and 1967 Marshall JTM 45 100 Watt. The amp is powered up by KT66 Power Tubes and is designed with the special request of Pete Townshend of The Who as he needed larger wattage amplifiers for their Maximum Volume Larger Shows.
This amp is very hard to find and is quite expensive as it features a nostalgic value.
Marshall Plexi 1959SLP 100W Tube Guitar Amp Head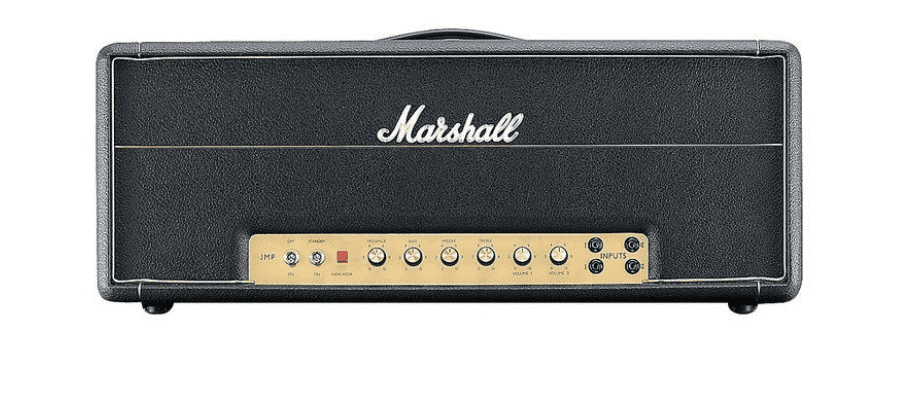 Listed on Malcolm's official Marshall page, Malcolm Young uses Marshall Plexi 1959SLP 100W Tube Guitar Amp Heads in many of his live shows. There are many reissues of this amp, which makes it a great amp to use to get the AC/DC tones.
The 100-watt vintage tube amp features 2 channels with a true bypass series FX loop. The iconic amp shaped the sound of an era with its great clean chord work and crunchy rhythm tones, which Young really liked.
Marshall Bluesbreaker
30-watt 1-channel 2×12″ All-tube Guitar Combo Amplifier with Celestion G12M Greenback Speakers and Footswitchable Tremolo – Black
Marshall Bluesbreaker is a part of the studio equipment of Malcolm Young, which is shown in this section of the Gretsch guitars page. On the page, you can see some photos of Young playing through his Bluesbreaker. The amp is also apparent in The Story of Back In Black documentary.
The all-tube combo guitar amp features one channel with Celestion G12M Greenback 2×12 speakers.
1976 Marshall Super Bass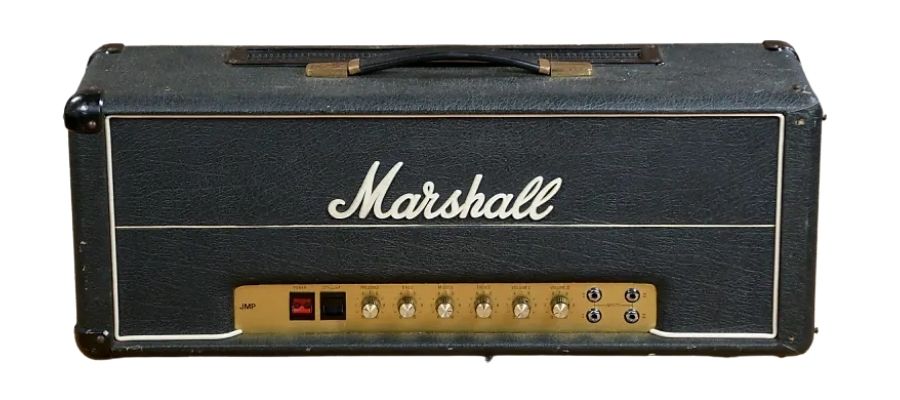 Another Marshall Super Bass Malcolm used was the 1976 Marshall Super Bass. It is very similar to the 1971 Marshall Super Bass 100 Watt tube amp head. It is one of the amps that Young uses on the stage.
Wizard Modern Classic II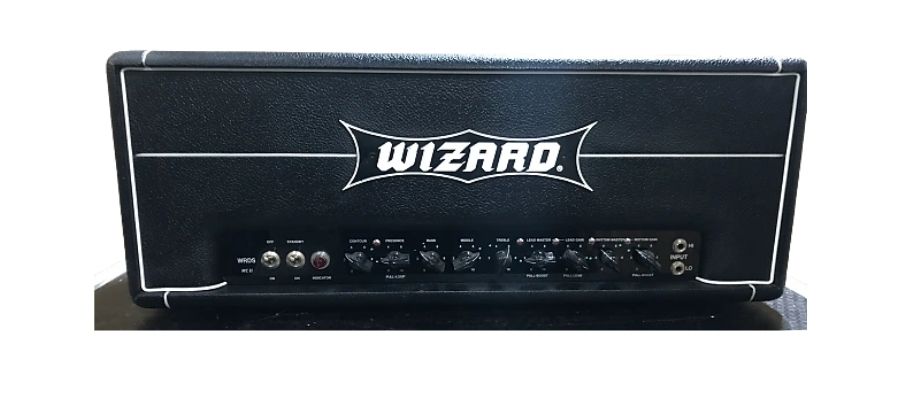 During the late 80s and until the end of the Black Ice Tour, Young used a Wizard Modern Classic II amp head. The amp is the most versatile amp in Young's collection as it features
foot-switchable lead boost and rhythm boost, foot-switchable tube buffered effects loop, two inputs with high and low sensitivity, along with Treble, Middle, Bass, Presence, Contour controls.
Malcolm Young's Cabinets
Marshall 1960BX 4 x 12 Cabinets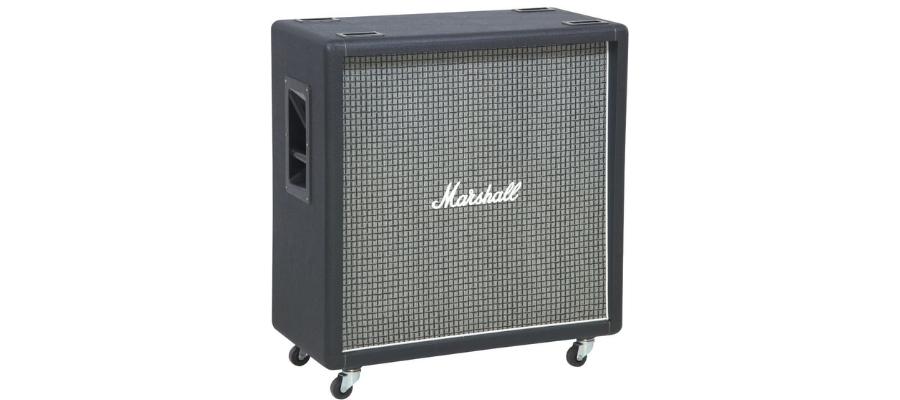 Listed on Malcolm's official Marshall page, Malcolm Young's first choice of cabinets is the classic Marshall 1960BX 4 x 12 Cabinets.
Mesa Boogie 4×12 Cabinet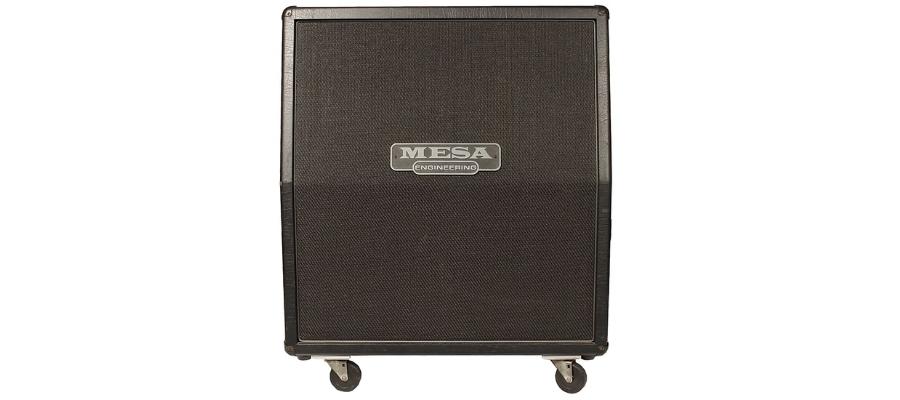 Malcolm Young also uses Mesa Boogie 4×12 Cabinets in his live setup.
Malcolm Young's Pedals
Mooer Pure Boost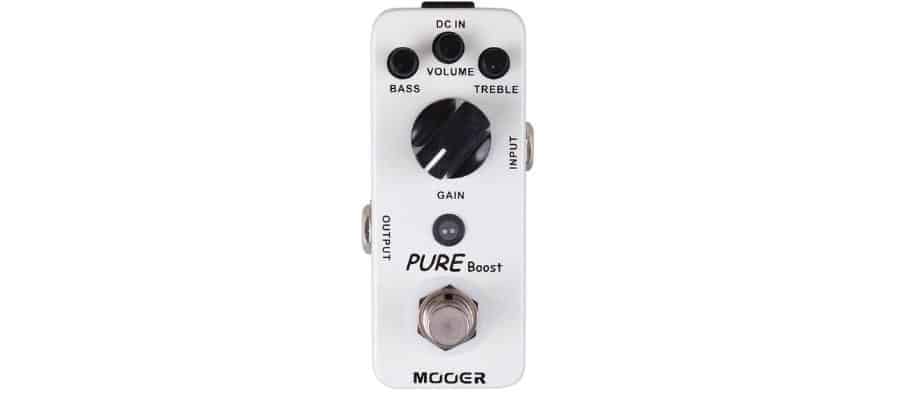 Malcolm Young has a simplistic approach when building up his tone. He does not use any pedals but only a Mooer Pure Boost to boost his tone when it is necessary.
He only uses the pedal in live performances.
Malcolm Young's Accessories
Fender Heavy Picks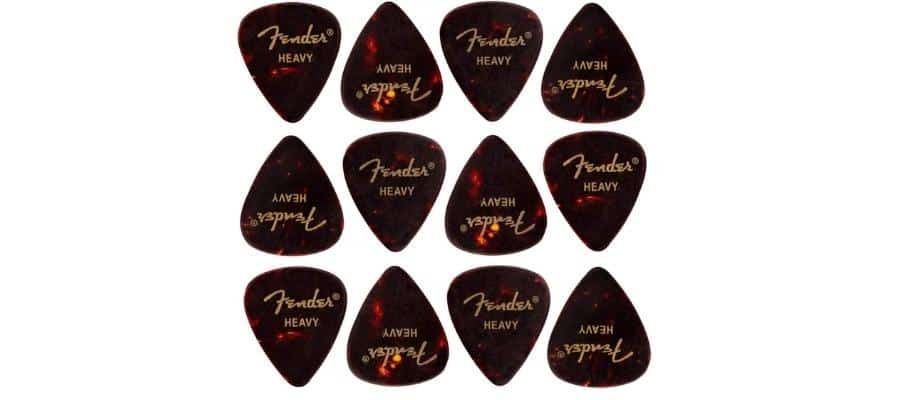 As Malcolm Young likes the play with many dynamics getting aggressive on the strings sometimes, he uses Fender Heavy Picks. These picks are quite thick and great for playing with dynamics, performing well with aggressive-style playing as well as with softer touches.
Lectrosonics R400A Digital Hybrid Wireless Diversity Receiver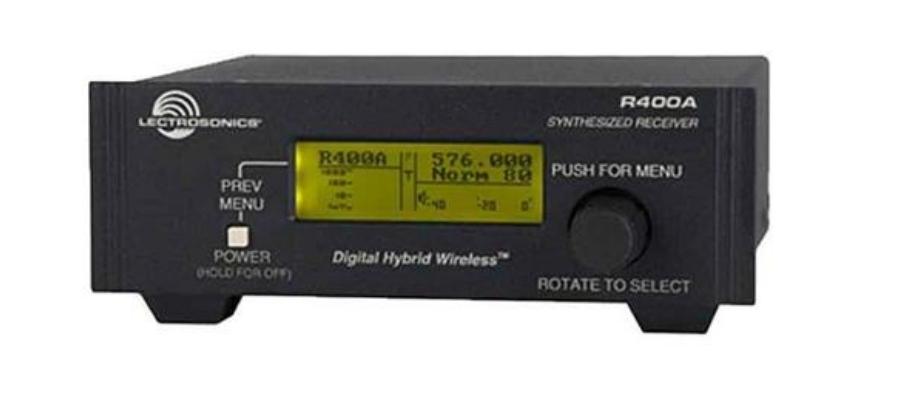 On the tour of the Black Ice Album, Malcolm Young used the Lectrosonics R400A Digital Hybrid Wireless Diversity Receiver on the stage.
"The new Lectrosonics system used by Malcolm Young includes two R400A Digital Hybrid Wireless™ diversity receivers, eight LMa Digital Hybrid UHF beltpack transmitters, and several MI39A guitar cables with right angle plugs." says the official website of Lectrosonics.
LMa Digital Hybrid UHF Transmitters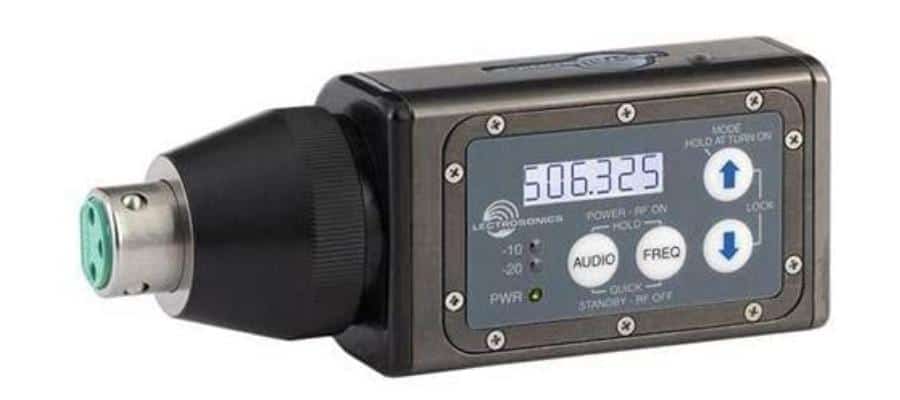 In the same article, it says that Malcolm Young included LMa Digital Hybrid UHF belt pack transmitters during the Black Ice Tour.
"The new Lectrosonics system used by Malcolm Young includes two R400A Digital Hybrid Wireless™ diversity receivers, eight LMa Digital Hybrid UHF beltpack transmitters, and several MI39A guitar cables with right angle plugs." says the website.
What Is Special About Malcolm Young's Guitar Tone?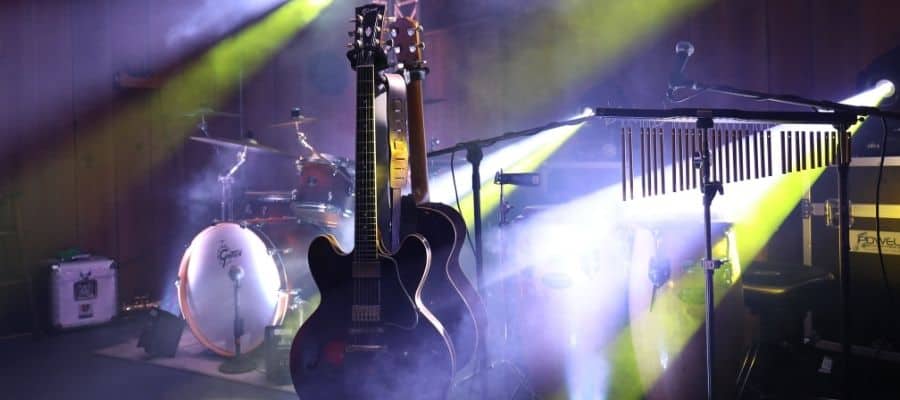 The rhythm guitar is the foundation of rock history as those iconic riffs and melodies are the responsibility of the rhythm guitarists. That is why the tone of the rhythm guitar is crucial for many bands. Although rhythm guitarists are mainly underrated behind the lead guitarists with their amazing solo guitar tones, the rhythm guitar's importance for the whole song is much more vital.
One of the best rhythm guitarists in rock history is, without a doubt, Malcolm Young. He is not only the rhythm guitarist of AC/DC but also the founding member and one of the main songwriters. His brilliant work with many songs such as It's A Long Way To The Top (If You Wanna Rock 'n' Roll), Jailbreak, Dirty Deeds Done Dirt Cheap, Highway To Hell, Back In Black, You Shook Me All Night Long and many more are fantastic. And one of the top reasons for this brilliance is the tone he brings to the table.
Malcolm Young has a minimalistic approach when building up his tone as he solely relies on his self-customized Gretsch guitars and classic Marshall tube amp heads. He is one of the biggest examples that you do not need fancy and crowded equipment to create an iconic tone that can rock the world. His way of playing is also a reflection of his tonal approach, without any fancy lines, basic and effective.
One of the most unique elements of Malcolm Young's tone is his no-nonsense approach to rock 'n' roll. He did not use large amounts of distortion or flashy licks to create his tone. The main element of his tone in tracks such as Back In Black, Highway To Hell, Jailbreak, and many more is the Filter'Tron/Marshall combination, which provides the tight, percussive grit and sparkling harmonics of Young's rock n' roll-hard rock tone.
Young's tone is purely analog, and he likes it that way. He says in an interview that "AC/DC is in an area that's going back in time with the sounds – the old analog sounds… And the sounds are bigger than digital."
Of course, with pure hardware, you can't get the iconic style of Malcolm Young, as his playing style is also vital to get his tone. He is a master of the groove with a great feel for the tempo. He can masterfully break up the chords using up or down accents and choke them off. He also uses the palm muting technique often, along with muting the string with the fingers on the fretboard, to achieve his distinctive playing style and tone.
So, his simplistic approach to all-analog elements and his mastery of the rhythm put Malcolm Young in a special place in rock history as one of the main driving forces of the legendary band AC/DC.
How To Sound Like Malcolm Young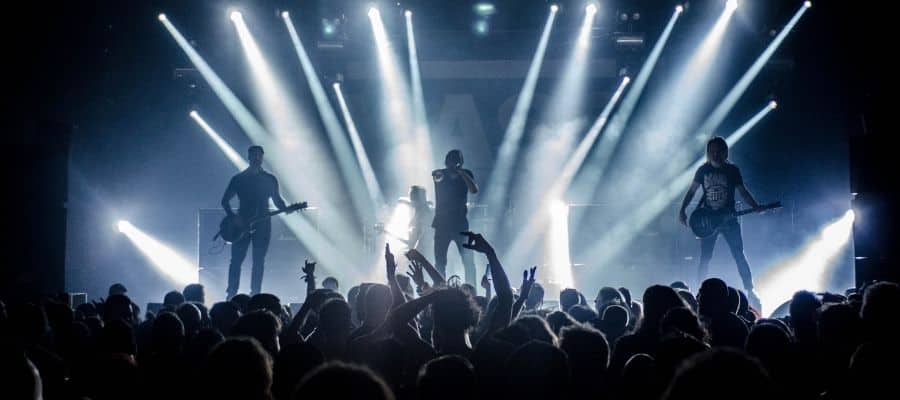 Sounding like Malcolm Young is not complicated, but it can be a bit expensive as he relies solely on particular elements like the FilterTrone-vintage Marshall tube amp combination; after the hardware comes the challenging part, which is mastering the rhythm and dynamics as he does.
Guitar
As discussed before in the article, Malcolm Young mainly used Gretsch guitars throughout his career. His masterful groovy rhythm sections were created with the crispy high-ends of Gretsch pickups, especially the FilterTron. His Gretsch was a solid-body guitar that sounded fuller compared to hollow-body or semi-hollow body guitars without the air inside the body.
Also, as he always used moderate to high gain, he had to protect himself against the feedback with the choice of a solid body guitar. Hollow-body or semi-hollow-body guitars are prone to feedback which are not the best choices to play with the gain.
So, choosing a Gretsch guitar is the best way to get close to his tone. Actually, you can get close with any solid-body guitar equipped with FilterTron pickups, but a Gretsch starts one step ahead.
A guitar like Gretsch Double Jet or Gretsch with TV Jones-style pickups can do the trick. If you insist on a hollow-body guitar, you can go with the famous White Falcon, which Malcolm also used at a point in his career. But, you have to be careful with the gain if you will be using the hollow-body option.
Malcolm used hollow bodies in the early AC/DC days and got his iconic tone which was less resonant than solid bodies and with a more airy and bright tone with less sustain. Later after the solid-body guitar, he continued this tradition, trying to catch that dry, bright tone with low sustain.
Another important factor is the strings. Malcolm prefers thick strings, '12 – '56 Gibson Pure Nickel Strings, to be exact. This way, he can play with more dynamics and sound a bit darker and twangier.
Also, you should use a heavy pick and attack the strings quite hard and aggressively to play like him.
Amp / Amp Settings
The second step of Malcolm Young's tone is the amp choice. He always used high-gain tube Marshall amp heads which sounded great with the FilterTron pickups. These British-style high-gain amps were his main choices in the studio and on the stage.
As his Marshall amps are quite expensive and hard to find, a modern version British-style high-gain amp like a Vox, Hi-Watt, or Marshall would do the trick. You should keep the lows rolled off and drive the lows from the guitar's electronics. To make the tone shine bright, you should crank up the treble almost all the way, both on the amp and the guitar. Mids can be scooped off until you feel your sound is scrappy and feel close enough to his tone.
Both Angus and Malcolm use very little pre-gain. So adjusting the gain to around 6 would be enough. Bass should be around 3-4 and while the treble around 8-9. The mids can be somewhere between 2 to 4, depending on your amp. The volume pot around 7-8 should be good. If you feel the bass from your guitar is not enough, you can dial the bass pot a bit higher.
Pedal Effects / Pedal Settings
Well, there are no pedals in Malcolm Young's setup. So, you do not need any pedals to replicate his tone if you have the right guitar and amp combination. However, you can get a Fulltone OCD pedal if you want to get a bit closer to his overdrive tone with other guitar-amp combinations.
Techniques
Well, coming to the last and the most challenging step to replicate Malcolm Young's tone, his techniques are master-level as far as rhythm guitars are concerned. His secret weapon is definitely his picking hand which creates the exactly right dynamics when playing.
His consistency with his right hand is fantastic. He mainly plays downstrokes, and his precision with the groove is unparalleled. He has a heavy-handed, percussive approach which can be heard in many songs like Shoot to Thrill, Back In Black, and If You Want Blood (You Got it). When you play these songs with alternate picking, they do not sound the same.
So, why are dynamics so important in his style? Well, the main reason is that he uses a tone with just a slight amount of gain. For that, he can create dirty tones attacking the strings heavily and aggressively, but when he plays softly, his tone is almost clean. This diversity is the main element behind his playing style, which comes from a loud-yet-clean approach leading to maximum note clarity and dynamic range.
This way, he can get all the tones between the two extremes, from clean to high-gain sounds. If you listen to Highway To Hell, this approach is highly clear.
Coming to what he plays, he mainly plays power chords, open chords, and barre chords in different parts of the song. Both Malcolm and his brother Angus Young are very detail-oriented when playing chords, as they change the chord shapes slightly to make them better fit the song. That is why they use many different chord shapes in their songs.
He also uses palm-muting, dead notes, and mutes with fingers on the fretboard to create contrast.
One of the most unique AC/DC approaches is using both single-note figures and chords in the riff. This is apparent in many songs like Riff Raff, Have a Drink on Me, Back In Black, and Girls Got Rhythm. The licks are mainly in pentatonic scales.
Malcolm also uses lots of space in his riffs, as we hear in Highway To Hell and Problem Child, also in Back In Black. He plays a chord, mutes it, and allows time for the space before the initial attack with another chord or a single-note lick. This way, he creates contrast and grabs the audience's ear.
When playing chords, he relies on downstrokes, but with the single note licks, he uses mainly alternative picking.
So, all these little details in his playing sum up and create his iconic style and tone, which, for me, is one of the best rhythm guitar tones in rock history.
Malcolm Young Guitar Rig Examples
Budget
Guitar
To get Malcolm Young style tones, nothing is better than a vintage-style Gretsch guitar. Gretsch G2210 Streamliner Junior Jet Club is the most affordable choice in the Gretsch collection, which comes with two Broad'Tron Humbucker pickups, which are more affordable versions of FilterTron pickups Young uses.
Amp
Well, to get the Malcolm Young tones, you will have to buy a tube amp head which can not be purchased with a small budget. That is why I recommend you to go with the Marshall Code 25 1×10″ 25-watt Digital Combo Amp to digitally model that tube amp tone and get close to it.
Pedals
You do not need any pedals, as Malcolm does not use any pedals, and you already have a digital modeling amp to get the tonal versatility.
Mid-Range
Guitar
Gretsch G5232T Electromatic Double Jet FT is a great guitar that has similar features to The Beast of Malcolm Young. It sacrifices some quality parts as it is a much more affordable guitar but has the Black Top Filter'Tron Humbuckers, which are essential to get his tone.
Amp
Marshall DSL20CR 1×12″ 20-watt Tube Combo Amp is a great tube combo amp that can deliver you some of the iconic Marshall tones, which were a vital part of Malcolm Young's AC/DC tones.
Pedals
You can also get the help of the Fulltone OCD Obsessive Compulsive Drive Pedal to create the iconic overdrive tone Malcolm Young uses.
High-End
Guitar
There is nothing better than using the exact same guitar with Malcolm Young to get his tones. His signature guitar Gretsch Professional G6131-MY Malcolm Young Signature Jet is based on The Beast, which is the Gretsch guitar he modified and used all throughout his career.
Amp
Even though Marshall's 1959HW 100-watt Handwired Tube Head was not the first choice of Malcolm Young, he used it many times on the stage. His first choice is the Marshall Super Bass amps, but they are extremely hard to find. So, going with the Marshall 1959HW will give you the iconic Malcolm Young tones without the hassle of finding a nice second-hand Marshall Super Bass.
Malcolm Young used this amp combined with Marshall 1960BX or 1960AX 100-watt 4×12″ cabs, which you can easily find today.
Pedals
With this guitar-amp combination, you do not need any pedals, as they are enough to get the desired tone. Malcolm Young also does not use any pedals.
Conclusion
Malcolm Young is one of the most iconic rhythm guitarists in rock history with his school uniforms, vintage Gretsch guitars, Marshall amps, and his masterful playing style of the AC/DC grooves. Following his steps, you can see that you do not need fancy licks or gear to create a great guitar tone and be a master guitarist.
If you found this article useful, you may want to save this pin below to your Guitar board.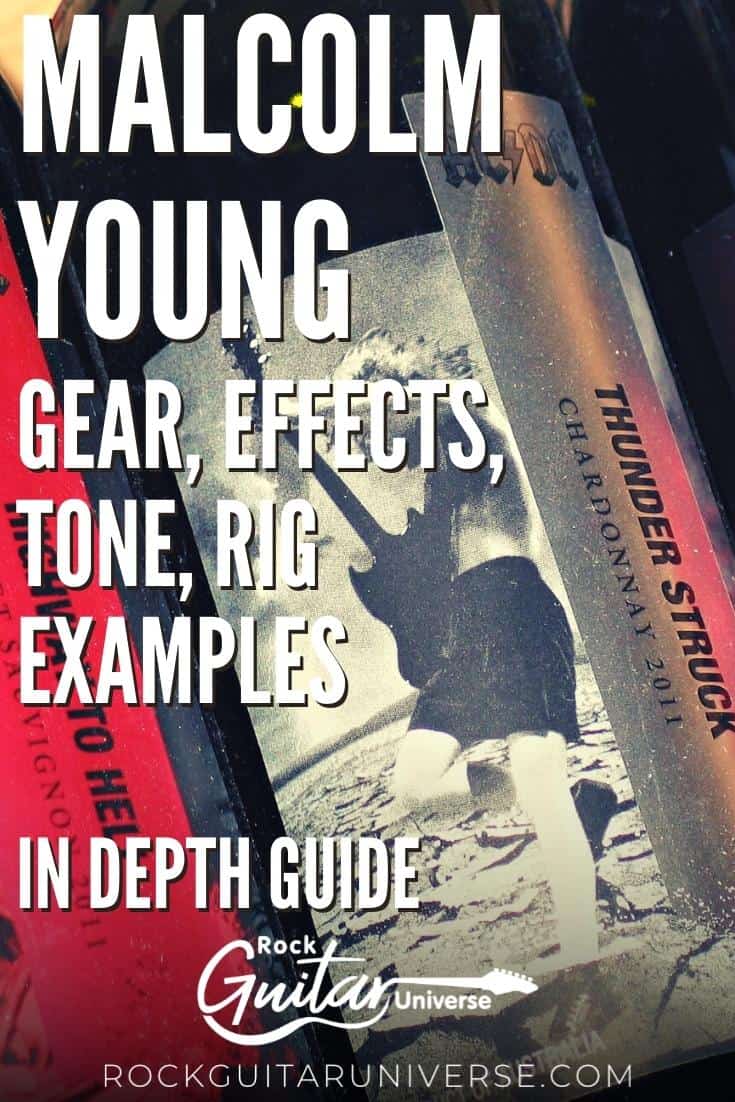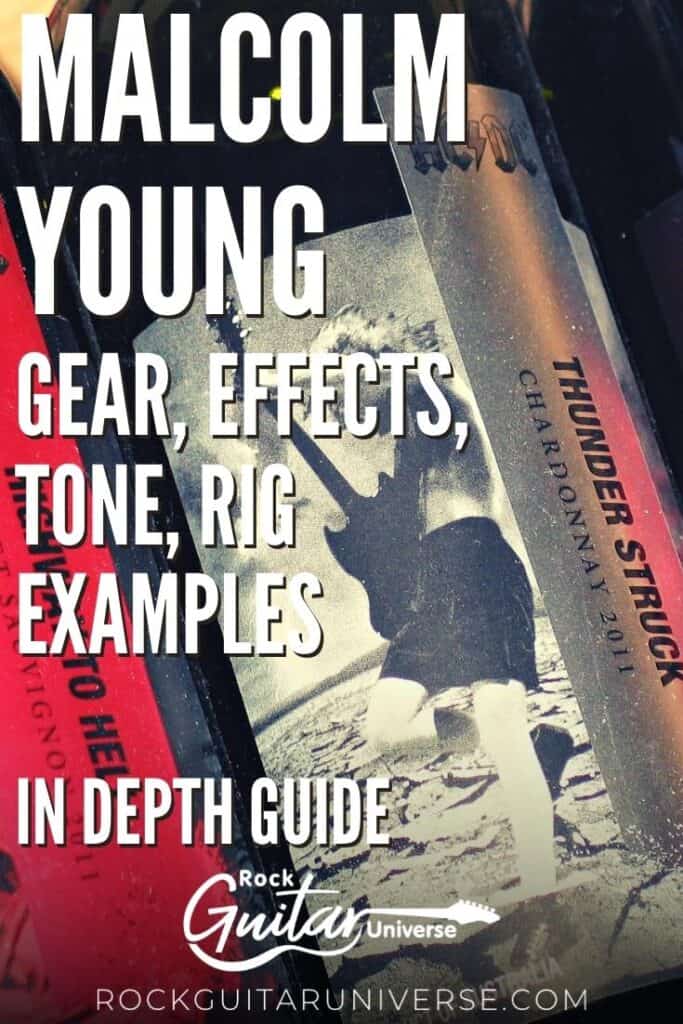 Last update on 2023-02-06 / Affiliate links / Images from Amazon Product Advertising API