It is difficult to imagine today's music without electric guitars, and there are so many incredible players out there. But have you ever wondered what are the most popular guitars you can find? Over the years, musicians kept experimenting with different brands and models, but there are a couple of guitars that became a part of rock history.
Of course, you can play any genre on any type of guitar. There are no limitations. But there are some models that are more common in rock music, and that are easier to modify to create a perfect rock sound.
Fender Stratocaster

Among the famous players of Strat are Eric Clapton, Mark Knopfler, John Frusciante, Eric Johnson, Jeff Beck, David Gilmour, Jimi Hendrix, Pete Townsend, Eddie Van Halen, Stevie Ray Vaughan, and many more.
SSS (or three single-coil pickups), HSS (humbucker and two singles), or HSH combination
Bolt-on neck
Maple neck with maple or rosewood fingerboard
Tremolo bridge (some Strats have fixed bridge but it's not as common)
Double-cutaway
Alder or ash body (later they started using basswood and other types of wood)
21 or 22 frets
Three potentiometers, two tone and one volume
Five-way switch (early Strats had three-way switch)
When Leo Fender started creating guitars, no one had the slightest clue of the impact it would have. Stratocaster came out in 1954, and musicians from all over the world went insane. There was nothing similar to this model, and it was obvious that Strat was here to stay.
The basic design of Stratocaster is simple, yet effective. Leo Fender was an inventor and he never learned how to play the guitar. However, he developed a unique approach that made everything simpler and replaceable.
This is the logic used on Strat as well. If you didn't like something (or a part of the guitar was damaged) you could simply replace it. The main difference Stratocaster offered was a bolt-on neck and electronics under the pickguard.
Strat was also the first guitar ever to have three pickups and a vibrato system. Over the years, many companies tried replicating the design and look of Stratocaster creating their own models. Among the most popular S-type manufacturers is Schecter.
Fender Telecaster

Rock Stars that used Telecaster are Noel Gallagher, John 5, Richie Kotzen, Johnny Marr, Muddy Waters, Roy Buchanan, Keith Richards, Bruce Springsteen, Joe Strummer, and many more.
Solid-body guitar with a bolt-on neck
Alder, ash, poplar, basswood, or pine body
Maple neck with maple, Pau Ferro, or rosewood fretboard
One or two single-coil pickups
Single-cutaway
Two potentiometers and three-way switch (for models with two single-coil pickups)
Ashtray bridge
Telecaster or Tele is an older sibling of Stratocaster. The guitar came out in 1950, and it was the first commercially successful solid-body guitar. The first prototype was Esquire in 1949, and a year later came out as Fender Broadcaster. Fender had a legal dispute with Gretsch due to their drum series named Broadkaster, and in 1951, Telecaster came to existence.
I should mention that the differences between Esquire, Broadcaster, and Telecaster were minimal, and they all had almost identical body shapes.
Similarly to Stratocaster, Telecaster is a highly versatile guitar. While most people connect it to the country, it is not rare to see it in rock performances as well. Furthermore, it is one of the three most popular guitar shapes, and there have been numerous copies and models inspired by Telecaster.
There is no reason why you can't play rock on Tele. The only important thing is that you feel comfortable and enjoy playing your guitar.
Gibson Les Paul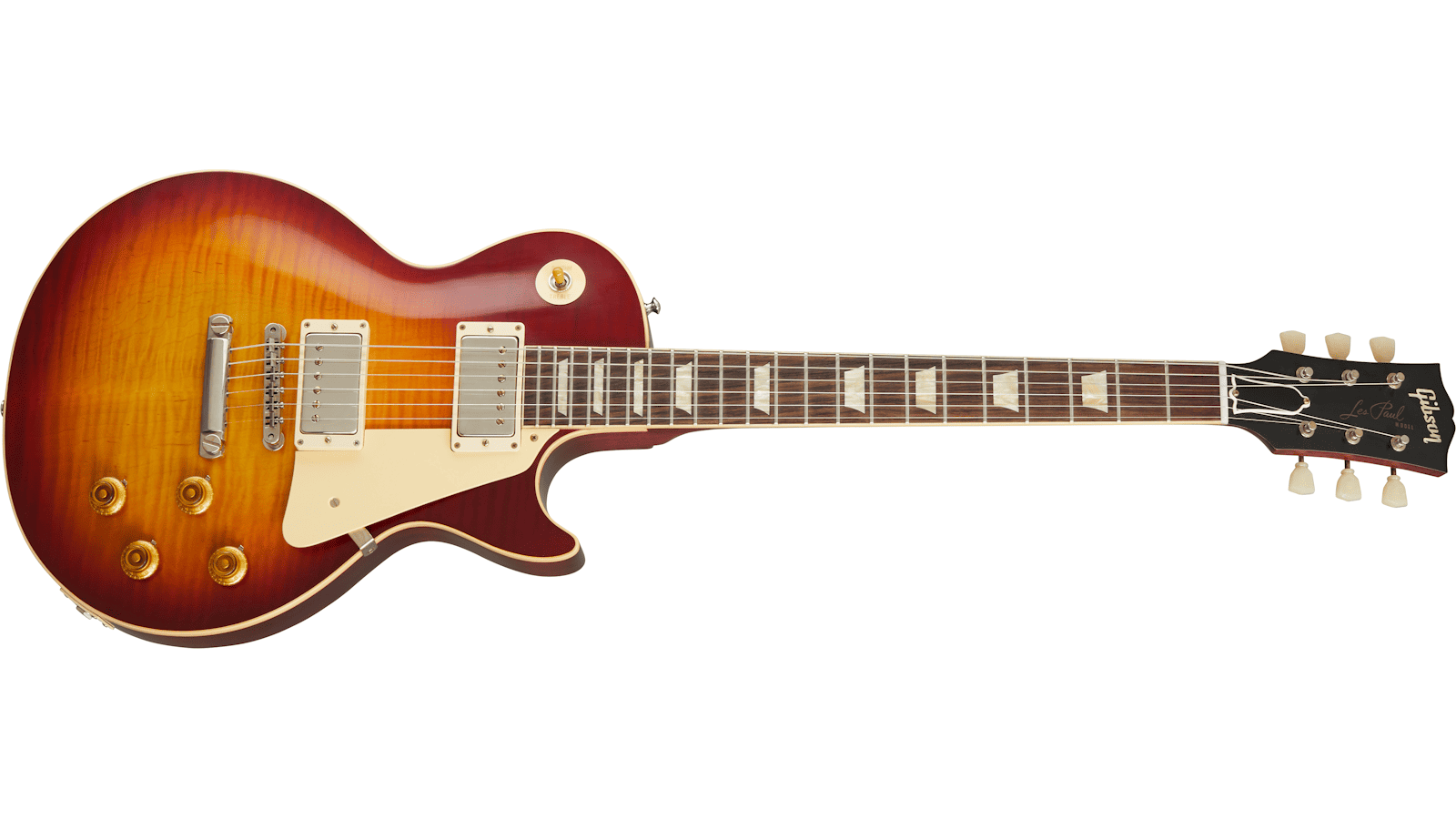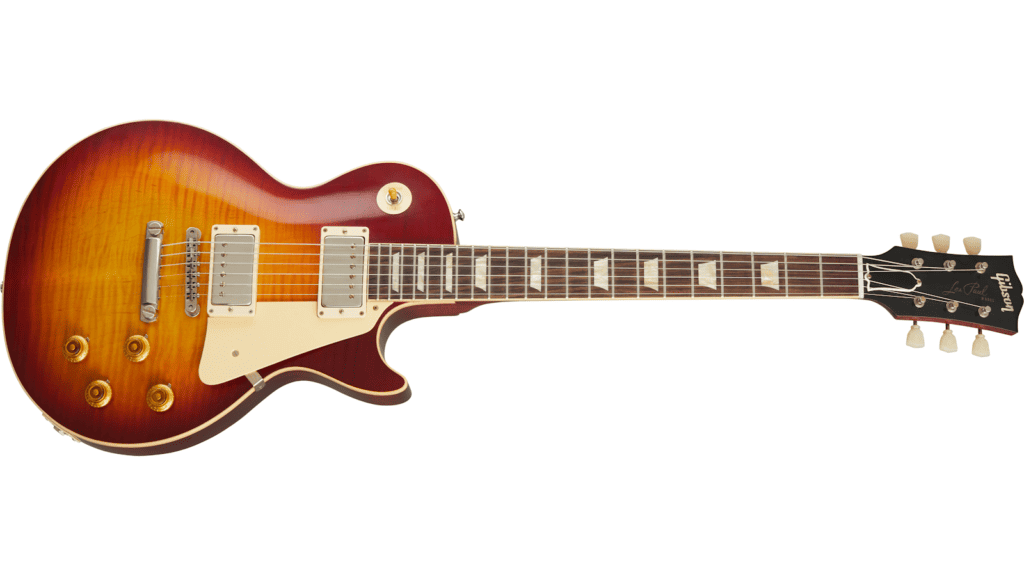 Players who used Les Paul throughout their career are Slash, Jimmy Page, Billy Gibbons, Zakk Wylde, Clapton, Knopfler, Buckethead, Peter Green, Gary Moore, Frank Zappa, and others.
Solid-body, but you can also find semi-hollow or chambered models
The body is usually made of mahogany or swamp ash
The neck is most commonly made of mahogany, but some models use maple
The fretboard is rosewood, ebony, or maple
Fixed bridge (Tune-o-Matic)
Most commonly, Les Paul has two humbuckers, but earlier models had P-90. Some series also offer three humbuckers
Glued set neck
Three-way switch
Single-cutaway
If you are looking for any type of list of the best or most popular guitars ever, everyone knows the first three entries. Besides Strat and Tele, Gibson Les Paul is one of the best guitars you can find on the market.
The first Les Paul came out in 1952, and famous guitarist Les Paul helped in the process. Over the years, the guitar became associated with rock music, and it quickly became one of the most popular models you can find.
Did you know that Gibson considered this model to be a failure? It had low production and even lower sales, and the company believed that it was a mistake. It wasn't until the mid-sixties that Eric Clapton, Keith Richards, and several other British players started using it. And the rest is history.
Gibson ES-335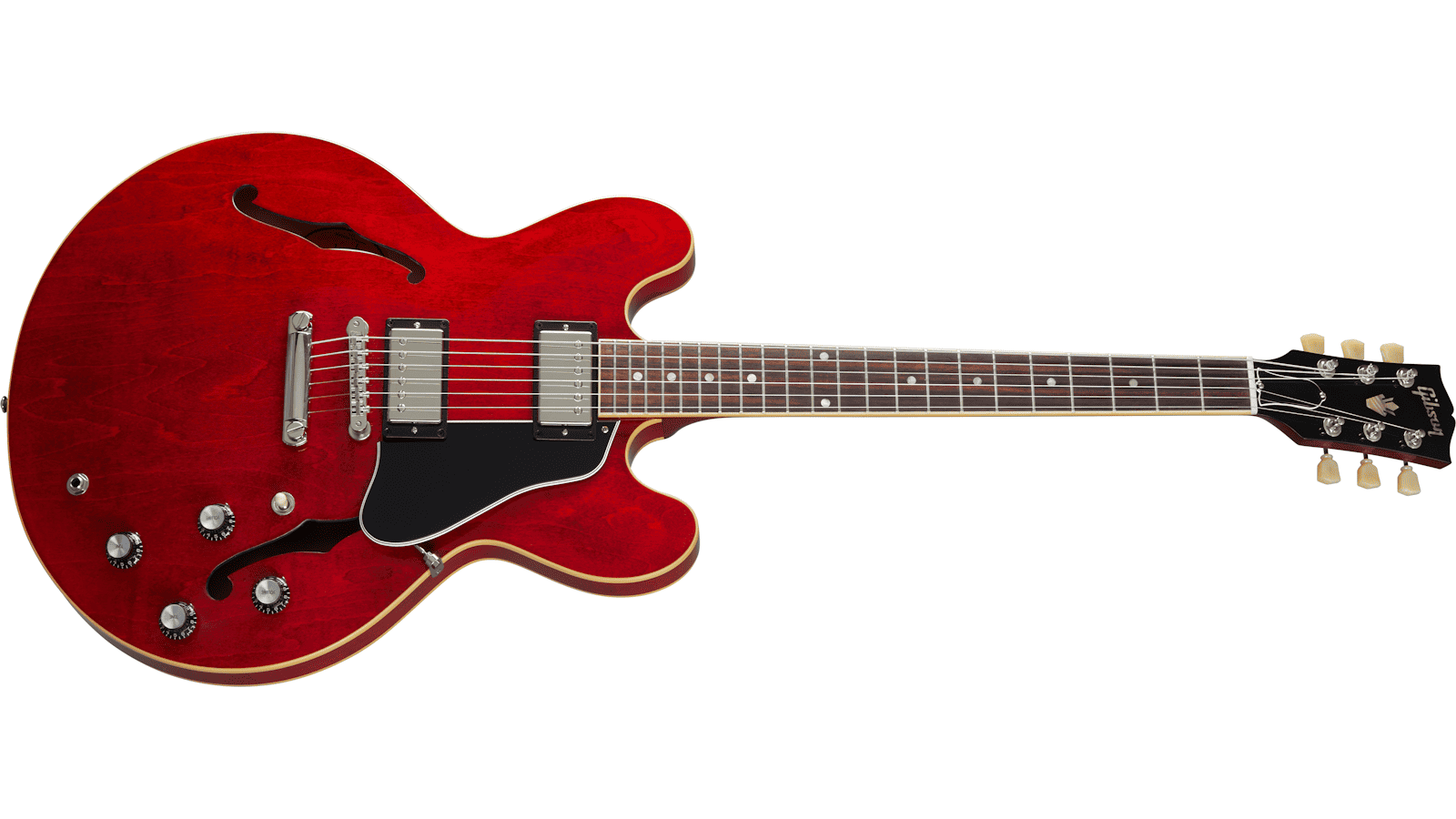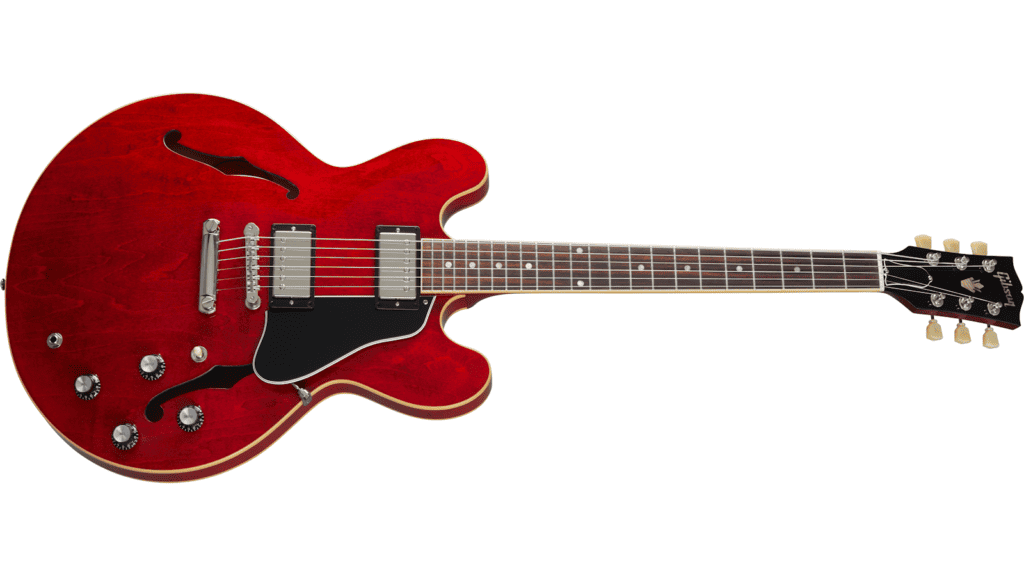 Players that used ES-335 are Chuck Berry, Dave Grohl, B.B. King, Angus Young, Joe Bonamassa, Chris Cornell, Clapton, The Edge, and others.
Semi-hollow body
Glued set neck
F-shaped holes
Two humbuckers
Maple-poplar-maple body
Mahogany neck with rosewood or ebony fretboard
Fixed bridge (Tune-o-Matic)
Large body with two cutaways
Four potentiometers (two tone and two volume)
Three-way switch
ES-335 is neither solid-body nor hollow. It has a center block going through the middle, with two "wings" with cutaways. Usually, the only hollow part of the guitar are the wings, and it has two violin-like holes on it.
Over the years, many players used ES-335 throughout their careers. While it might not be as versatile as Les Paul or Stratocaster, you can still play any type of music on it. The model was released in 1958, and it soon became popular among the blues guitarists.
However, blues is not the only genre where you can find ES-335. Chuck Berry is probably the most notable player. While he did record Johnny B. Goode on another guitar, many people associate him with ES-335.
Gibson ES-335 is also the first commercial semi-hollow guitar, and it served as an inspiration for many following models.
Gibson SG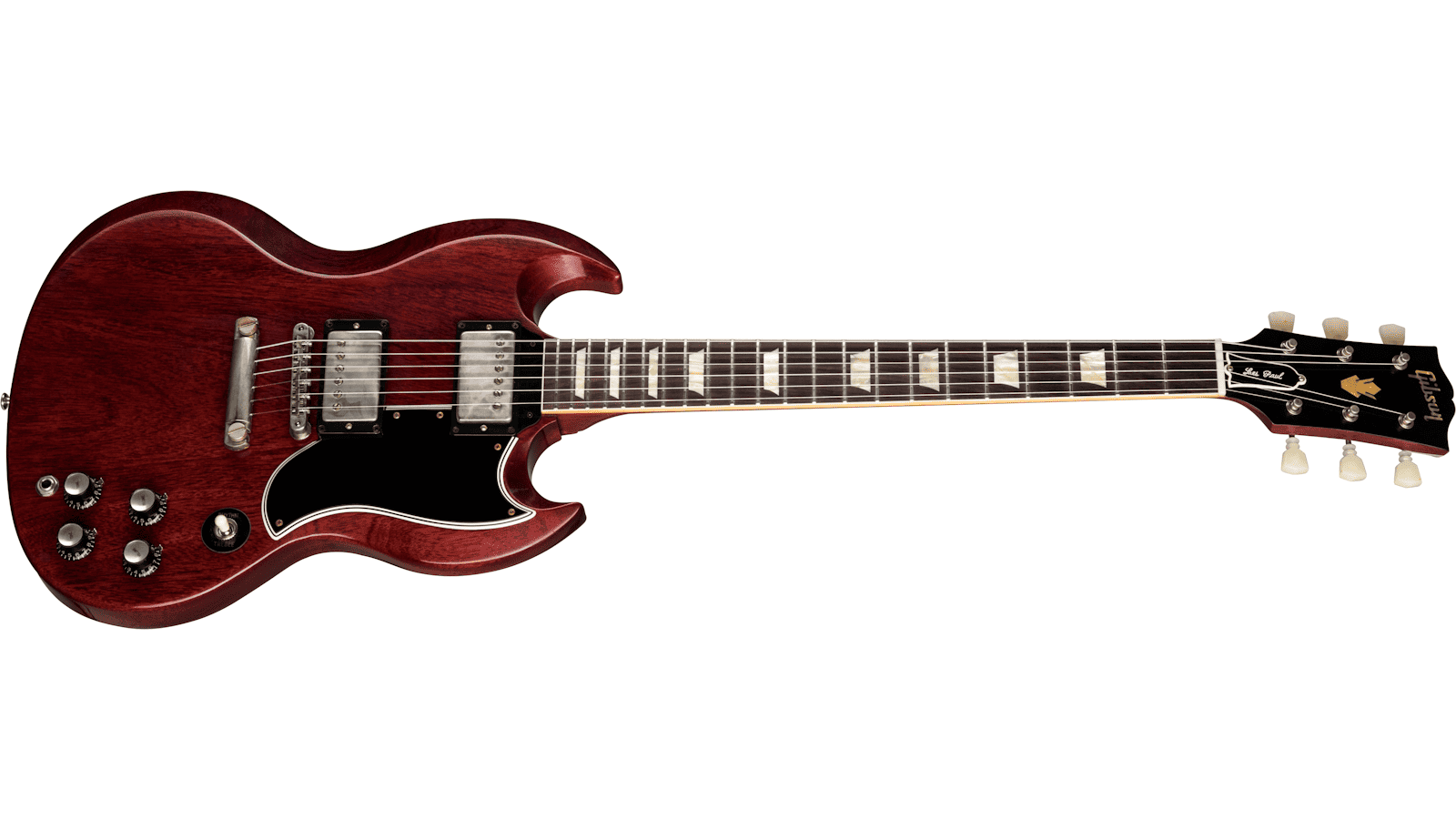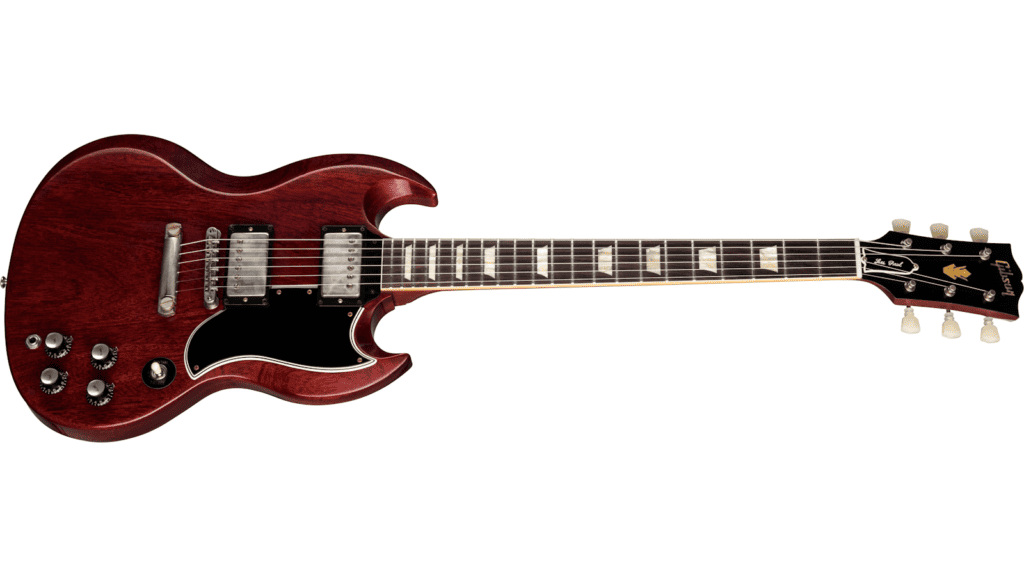 The most notable SG player of all time is undoubtedly Angus Young of AC/DC, but others that used this model are Tony Iommi, Frank Zappa, Derek Trucks, Clapton, Pete Townsend, Thom Yorke, and others.
Solid-body with set-in neck, but some entry models have bolt-on neck instead
The body is made of mahogany, and you can find SGs with maple tops
Mahogany, birch laminate, or maple neck
Rosewood, ebony, maple, richlite fretboard
Hardtail (Tune-o-Matic) bridge or Gibson Vibrato
One, two, or three humbuckers, or P-90 pickups
Double cutaway
Four potentiometers (two volume, two tone)
Three-way switch
Gibson SG came out in 1961 as a response to Les Paul's "failure." It offered a much thinner body, double cutaway, access to higher frets, and the "fastest neck in the world."
Over the years, the popularity of SG only grew, and it still is the most selling model by Gibson, including Les Paul.
There are several players who significantly increased the popularity and interest in this model of the guitar. Firstly, Eric Clapton played his unique model named the Fool during his time in Cream. He also used ES-335 and Les Paul, but his SG remained the most associated with this part of his career.
Of course, we should also mention Tony Iommi from Black Sabbath that helped create heavy metal in the seventies. Finally, Angus Young from AC/DC is known for his SG and has his own signature model.
Ibanez JEM


The most notable Ibanez player of all time is undoubtedly Steve Vai.
Ibanez JEM is made of alder or basswood
It has a maple neck with rosewood, ebony, or maple fretboard
Ibanez Edge bridge (similar to Floyd Rose)
Two potentiometers
HSH pickup configuration
Vine or "tree of life" inlay across the fretboard
Double cutaway
Monkey Grip
Scalloped higher frets
Tune lock
Five-way switch
Bolt-on neck
Ibanez JEM came to life in 1987 thanks to Steve Vai. During that period there weren't many companies willing to create something different or unique, and most of them stick to "approved" products.
Steve Vai obviously enjoyed the design of Stratocaster but had a couple of modifications and improvements to do. Finally, he teamed up with Ibanez, and the rest is history.
While the guitar started as a Superstrat, it soon became something unique on its own. Ibanez JEM is the name of several guitars and they are slightly different from each other.
Probably the first thing you'll notice on Ibanez JEM is a monkey grip. It is a cutaway on the upper part of the body above the pickups. It is notched for four fingers, and it looks like a nice way to carry your guitar without a case.
While it doesn't serve any purpose, Mr. Vai used it for flashy maneuvers while performing. Other than that, the guitar has an HSH combination, and the higher frets are often scalloped.
PRS Custom 24


Most notable PRS player in the world is Carlos Santana, but others used PRS models as well like John Mayer, John McLaughlin, Gary Moore, Dave Navarro, and many more.
Solid-body made of mahogany with flame maple top
Maple neck with rosewood fretboard
PRS bird inlay
Two potentiometers (one tone and one volume)
Two humbuckers
Double cutaway
Tremolo bridge
Three-way switch
Paul Reed Smith started making guitars in the eighties, but he never got as much respect as other companies. Well, at least not until people realized how incredible his guitars are. Carlos Santana played Les Pauls, SGs, and he wasn't ready to change.
After he tried PRS Custom with new pickups, he was more than convinced that Paul is a great craftsman. As a result, he continued playing PRS models to this day. But Santana is not the only one that understood the beauty of PRS guitars. Today, there are many artists using these models, and there will be even more in the future.
Among the main characteristics of PRS Custom 24 are bird inlays on frets that give a unique look to the entire guitar. Furthermore, each model has a gorgeous maple top that really adds to its look. Regardless of the model you pick, each will be different and beautiful in its own way.
Gretsch Thunderbird Billy-Bo Jupiter


Players that used Jupiter Thunderbird are Tom Petty, Jack White, Bo Diddley, and of course Billy F. Gibbons.
Solid-body guitar with chambers
Set-in neck
Mahogany body with maple top
Mahogany neck with ebony fretboard
Adjusto-Matic bridge
Two humbuckers
Three-way switch
Three potentiometers (two volume and one tone)
Gretsch is known for making incredible guitars and there are many models you probably know already. But one of the most interesting is Jupiter Thunderbird.
The guitar was originally made for Bo Diddley who is known for having unique and unusual guitars. One of his favorite models was a rectangular model that allowed him to move freely on the stage while playing.
In 1959, Bo Diddley asked one of the Gretsch employees to create him a guitar from Gretsch hardware but his own design. And that's how Thunderbird was made. Years later, he gifted this trapezoid guitar to Billy Gibbons from ZZ Top.
Since this was a gift and such a rare guitar, Billy Gibbons disliked the idea of using it on stage. As a result, Gretsch decided to build him another model named Billy-Bo Jupiter Thunderbird.
Besides Billy Gibbons, another excellent player who loves his Billy-Bo model is Jack White. There is something unique and incredible about this model, even though it has such an unusual design.
Fender Jaguar

The most notable Jaguar players are Kurt Cobain, John Frusciante, Johnny Marr, Elvis Costello, and others.
Solid-body guitar
The body was made from alder or basswood
Maple neck with rosewood, maple, or Pau Ferro fretboard
Bolt-on neck
Vibrato (Tune-o-Matic)
Two single-coil pickups (or two humbuckers)
Two potentiometers
Unique switching system for rhythm and lead
Fender tried to create something different with Jaguar, and it didn't go as well as they planned. The guitar was heavily inspired by their own Jazzmaster, which also had an offset-waist body to allow more comfortable playing while sitting.
But the main problem with Jaguar was selling. The guitar was more expensive than both Stratocaster and Telecaster, and after thirteen years, Fender decided to stop making them.
Naturally, the guitar gained popularity just then. Over the years, many players in the surf scene started using Jaguars, and soon it found a place in alt and indie rock.
In 1975, Fender stopped producing Jaguars, and the price of models went sky-high. Finally, in 1999, the company started creating Jaguars again and you can find new models by both Fender and Squier now.
Gibson Flying V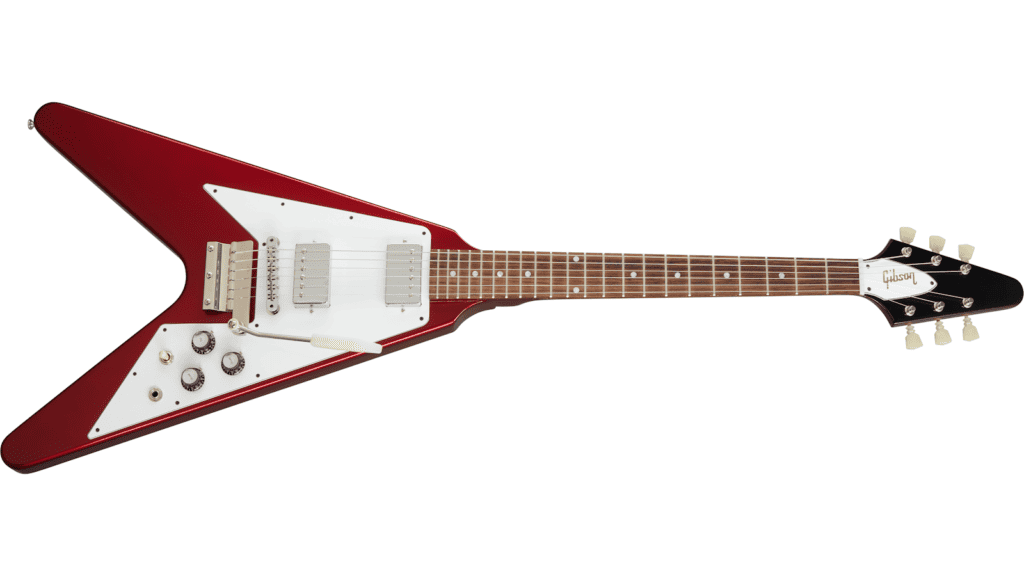 The most popular Flying V players are Jimi Hendrix, Michael Schenker, Eddie Van Halen, James Hetfield, Kirk Hammett, Paul Stanley, Albert King, Zakk Wylde, Lenny Kravitz, and many others.
Solid-body shaped like a letter V
Set-in neck
Korina or mahogany body
Korina or mahogany neck with rosewood, maple, or ebony fretboard
Tune-o-Matic bridge
Two humbuckers
Three or four potentiometers
Three-way switch
At one point, Gibson made many new models with the idea of being futuristic. But not many survived. Probably the only model from that era that became popular (besides Explorer) was Flying V. While most people associate the guitar with metal music, it actually became popular in blues.
The guitar has a unique shape, and it can be quite uncomfortable unless you are sitting. But the reason for the popularity is how exquisite it looks. Over the years, rock stars and V-shaped guitar became almost a synonym, and many companies copied the design.
Probably everyone in the world saw Flying V guitar at one point, and they are among the most popular types of guitars for metal players. But the interesting fact is that this model did not sell well when it first came out. Moreover, it was discounted after just a year due to low selling.
Summary
It would be difficult to imagine rock music without electric guitars, and in the last fifty or sixty years, there have been many iconic models. Among the most popular guitars that rock stars use to this day are Fender's Stratocaster and Telecaster, and Gibson's Les Paul and SG.
Of course, there are many other models that are popular as well like Flying Vs, Jaguars, Explorers, and others.
Each guitar has something different and unique to offer, and you should find the one you enjoy the most.
If you found this article useful, you may want to save this pin below to your Guitar board.