Fender Stratocaster and Fender Telecaster are some of the most iconic guitars of music history that shaped a whole generation's sound with their amazing playability and tones. While they are both golden guitars in music and rock history, they have different tonal palettes and areas of use.
Since their birth in the 1950s, these guitars set the standard of electric guitars and have been copied many times by different brands. When people think of an electric guitar, they think of the shape of a Strat or a Tele or a Gibson Les Paul, as these are the most iconic guitars of history.
Although the Tele and Strats are both amazing guitars, they respond to different needs.
Telecasters are sonic chameleons and are more versatile than Stratocasters, but Strats perform better with warm rock tones. While Teles have a more straightforward design and are easier to tune and play, Stratocasters are much more comfortable with their iconic C-shaped necks.
The body styles are also pretty different. Strats often come with a tremolo arm for vibrato action, while Teles do not have vibratos.
The wood used is both the same, mainly Alder on both guitars, and the electronics and hardware are also similar. Where they differ are the tonal palette, playability, and some design features.
In this comparison, I will take into account the Fender American Standard Stratocaster and Fender American Standard Telecaster.
| | | |
| --- | --- | --- |
| | Fender American Professional II Stratocaster | Fender American Professional II Telecaster |
| Body Shape | Strat-style | Tele-style |
| Body Wood | Alder | Alder |
| Neck Shape | Deep C | Deep C |
| Neck Wood | Maple | Maple |
| Neck Constructions | Bolt-on | Bolt-on |
| Fretboard Material | Maple | Maple |
| Scale Length | 25.5″ | 25.5″ |
| Number Of Frets | 22, Narrow Tall | 22, Narrow Tall |
| Frets Material | Nickel Silver | Nickel Silver |
| Type Of Bridge | 3-Saddle Top-load String-through body with Brass Bullet Saddles | 2-Point Synchronized Tremolo with Cold-rolled Steel Block |
| Tuning Machines | Fender Standard Die-cast | Fender Standard Die-cast |
| Pickups | 2 x V-Mod II Tele Single-coil | 3 x Fender V-Mod II Single-coil |
| Pickup Selector | 3-way blade pickup switch | 5-way blade pickup switch |
| Controls | 1 x master volume, 1 x master tone (push/push series) | 1 x master volume, 2 x tone (push/push add neck) |
| Weight | 8 lbs (3.6 kg) | 8.5 lbs (3.85 kg) |
Fender Stratocaster History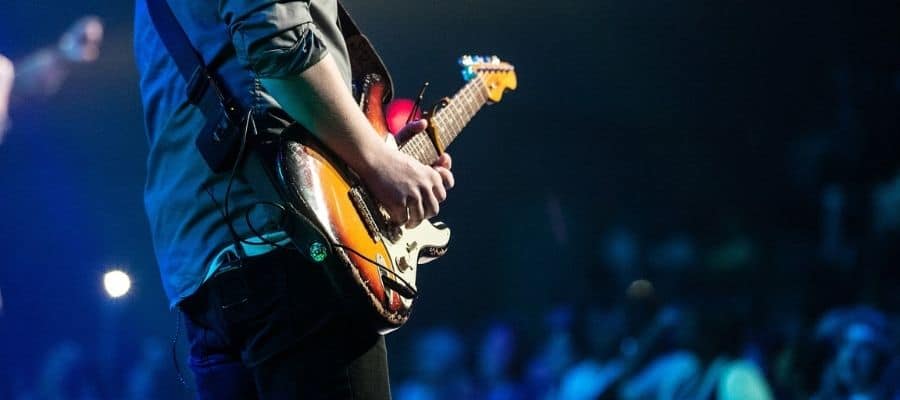 The Fender Stratocaster was released in 1954, two years after the release of Telecaster guitars. The design was actually based on Telecaster, but it was responding to the need for some tweaks in the specs. Players wanted an extra pickup, a more comfortable contoured body, and the ability to use vibrato on the guitar.
Leo Fender found these requirements pretty reasonable and started designing a new model instead of changing the Telecaster design. So, they designed the Stratocaster, which became one of the most iconic models of history and never got out of production.
Fender Telecaster History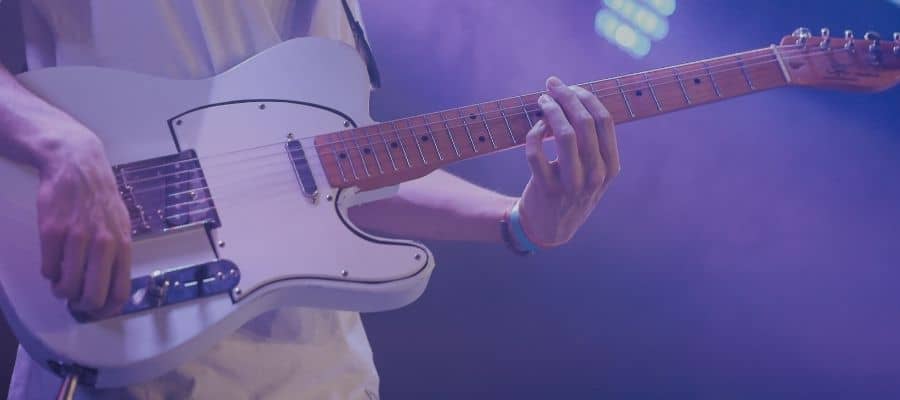 Fender Telecaster is the first mass-produced solid-body guitar in the world. The design of the guitar was started back in 1949, and the first version called Esquire was launched the next year. The Esquire had a single pickup configuration.
After a short while, the Broadcaster version was released, which had a two-pup pickup layout. And, finally in 1952, after a small dispute with Gretsch guitars, Leo Fender released the Telecaster, which was loved by the players thanks to its versatility, sweet tones, and comfortable playability.
Bodies Compared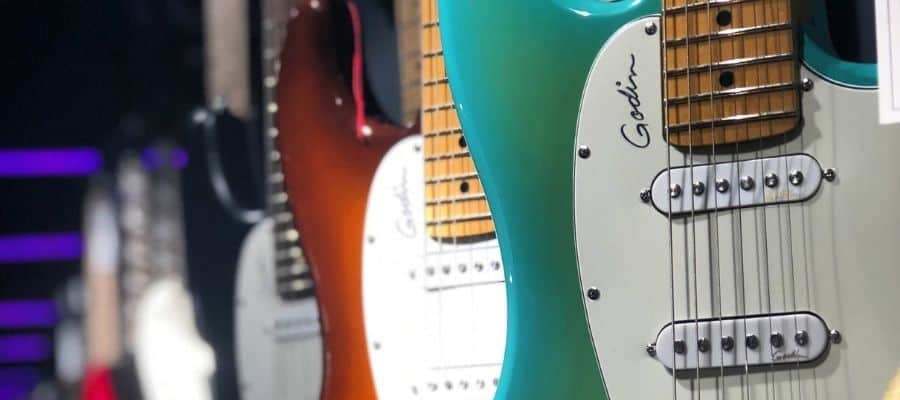 Both guitars typically are made of Alder body, but there are also versions with different wood choices. Alder is a great wood that gives guitars a good bite and snappy sound to the instruments. There are also Teles and Strats with Ashwood bodies that are more resonant yet heavier.
The body shapes are different as Strats have a kind of double-cutaway body, while Teles have a single cutaway on the bottom. You can differentiate the bodies of the guitars easily by looking at the upper parts of the bodies.
The upper part of the Strat's body has an ear shape, which gives the players a bit more comfortable access to the upper frets. But, the difference is not that big as Teles are also comfortable guitars when it comes to higher fret access.
Also, Strats have body contours while Teles do not have any contour in the body. The Strat's contours make the instruments a bit more comfortable and more playable compared to Teles.
Neck & Scale Length Compared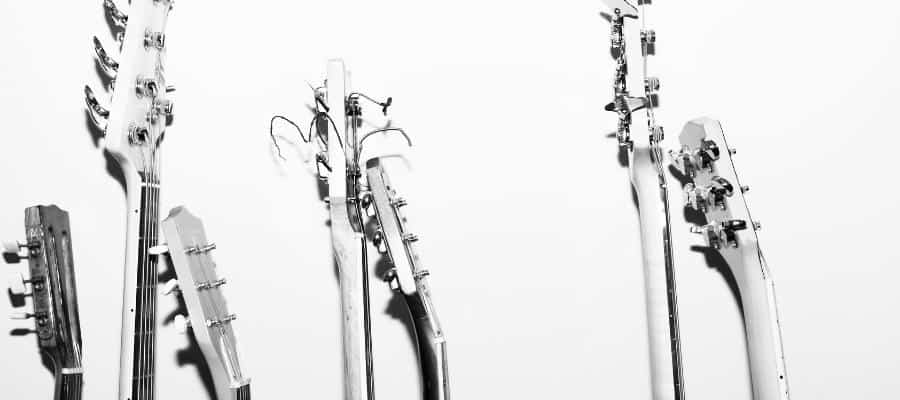 Both Telecaster and Stratocaster necks are made of maple and have the Modern C shape. For the fingerboard, there are options for maple or rosewood.
The maple necks provide slightly more bite to the sound, while rosewood fingerboards make the tone of the instrument slightly rounder.
The scale lengths are also the same with 25.5" as well as the fingerboard radius, both have the 9.5" radius. On top of the fretboard, both guitars have 22 narrow-tall frets. The only difference is that the Strats have a larger headstock.
Hardware Compared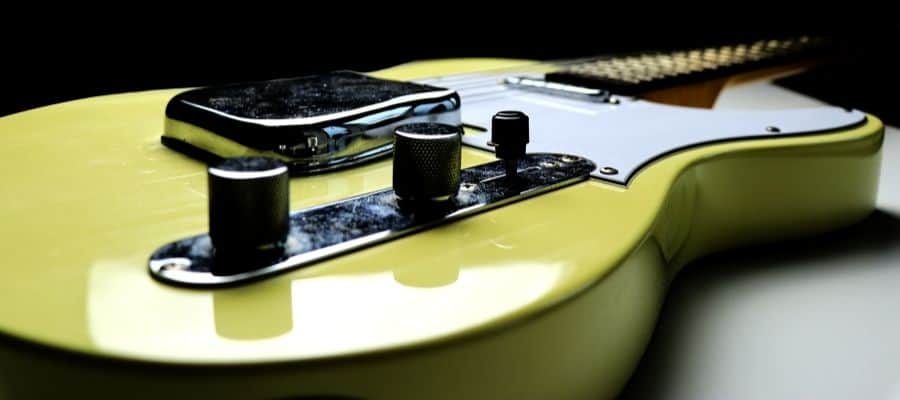 When it comes to the hardware, the biggest difference between these guitars is the bridge. Telecasters have six-saddle fixed bridges with an extension that houses the bridge pickup. Stratocasters have 2-point tremolo w/ bent steel saddles that has a whammy bar for some vibrato action.
So, Telecasters stay in tune more consistently compared to Strats, thanks to their fixed bridge system. But Strats are more versatile in this sense, as they have the option for the whammy bar action.
There are many musicians who play with the Stratocaster's bridge to change it with a fixed bridge for more stability or with a Floyd Rose system for a more versatile instrument with the whammy bar action, especially for heavier genres like hard rock and heavy metal.
The rest of the hardware is pretty similar, with chrome finishes and high-quality workmanship.
Pickup Configuration Compared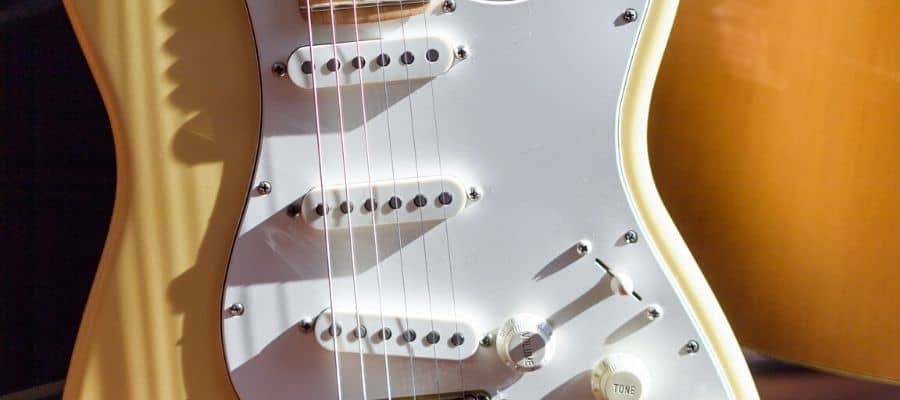 Another big difference between Telecasters and Stratocasters is apparent in the pickup configuration. Both guitars' standard versions come with single-coil pickups, but the Strat has three single-coils, while Teles only have two.
Srats have Fender Custom Shop Fat 50's single-coil Strat pickups, while Telecasters feature Custom Shop Broadcaster in the bridge pickups and a custom Twisted Tele pickup placed around the neck.
So, Strats have a five-way pickup selector, and the Teles have a three-way.
The pickups' sounds are also pretty different. Srat's tones are more versatile with round, warm, and polished tones. In comparison, Teles pickups have more twang and dirtiness.
But, I must add that there are also different Stratocasters with HSS pickup configurations or Teles with HH pickup configurations.
Fender Stratocaster Tone
Fender Stratocaster has a highly unique tone which can be described as glassy. The Strats provide a warm and woody sound with a bit of plink, just like the sound when hitting a glass with a fork.
The sonic versatility is also great as the bridge, neck, and middle pickup have different characteristics. For example, the difference between the pickup sounds is very apparent if you listen to the Voodoo Child or Little Wing by Jimi Hendrix.
Stratocasters have a unique tone that can go well with many genres, from hard rock to blues, pop to jazz, and funk to heavy metal. Of course, for heavier sounds, Strats come with a humbucker on the bridge position, making the sound more suitable for high-gain tones.
Fender Telecaster Tone
Telecasters can be described as sonic chameleons as they shine with their versatility. From jazz to country, from classic rock to hard rock, Telecasters perform well with almost every genre.
For example, Jimmy Page used a 1959 Fender Standard Telecaster for the legendary Stairway To Heaven. Still, at the same time, Funky Mama by Danny Gatton also was recorded with a Telecaster. On the other hand, Me Neither by Brad Paisley and most Radiohead songs are the sounds of Telecasters.
So, the Telecasters' tonal palette is comprehensive and can go well with almost anything. It is even more versatile than Stratocasters, and the overall sound is a bit more twangy and dirty at times.
Fender Stratocaster Feel & Playability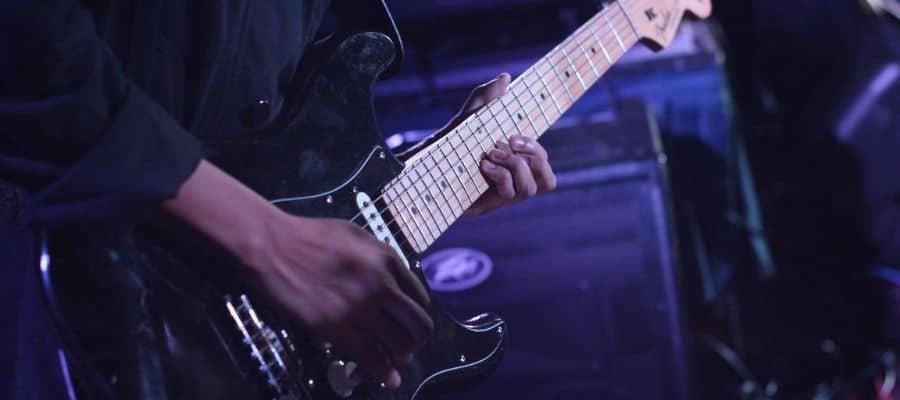 Stratocasters are some of the best guitars on earth when it comes to comfort and playability. The Strats balanced weight and great rounded C-shaped maple neck; it is a very comfortable guitar and is one of the most playable guitars ever.
Strats are considered to have some of the most comfortable necks and are easy-to-play guitars even for beginners. That is why it is the most copied guitar in the world.
Also, Strat's thin body and well-positioned contours placed at the back and the extra cutaway make it even more comfortable to hold and play while seated or standing up.
So with every feature, Strat is a highly comfortable and ergonomic guitar that is hard to beat.
Fender Telecaster Feel & Playability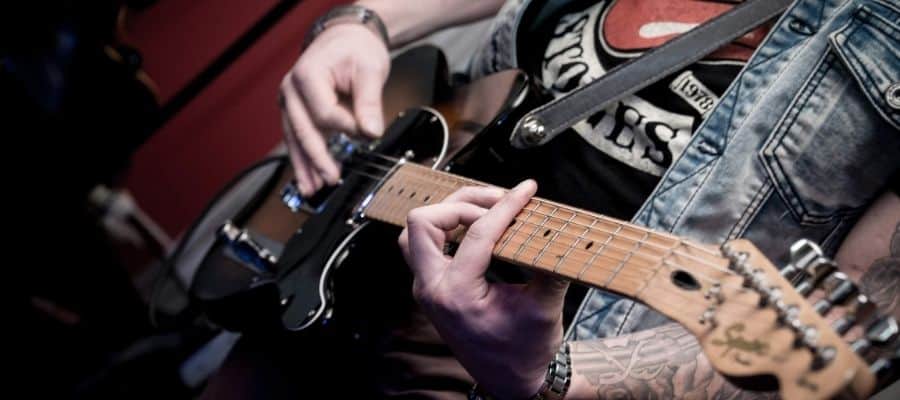 Telecasters are also comfortable guitars but compared with Stratocasters, and they lose at this comparison. Telecasters have a more chunky neck, and overall it is less comfortable and playable compared to Stratocasters.
The Telecaster body is slightly lighter and thicker compared to Stratocasters. It also does not have the contours and features a single cutaway. All these features make it slightly less comfortable.
But, this does not mean Telecaster is not comfortable or playable. The difference is small, and Teles are also great guitars. You get used to playing them pretty easily.
Fender Stratocaster Look

When it comes to looks, it is more of a personal taste. Stratocasters come in a variety of colors that all look iconic; as these guitars are both legendary guitars, I can not distinguish which one looks better. The choice is yours.
Strats have a double-cutaway, contoured body, and a larger headstock. These are the most important details that the eye catches in the first look compared to the Tele design.
Fender Telecaster Look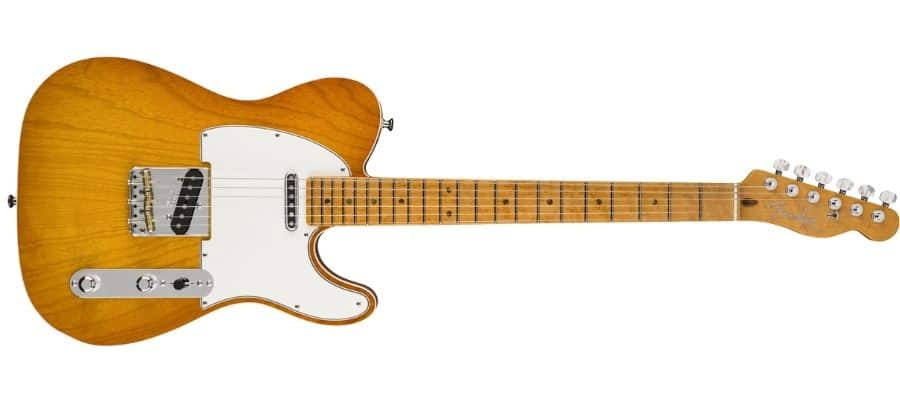 The Telecasters have a unique look that is less popular than Strat's iconic look. It has a single-cutaway and thicker body, smaller headstock, and only two pickups with the bridge pickups sitting in the bridge's extension.
Famous Fender Stratocaster Players
There are countless legendary guitarists who preferred Stratocasters as their main instrument.
Jimi Hendrix
The legendary guitarist Jimi Hendrix is maybe the most famous Strat player in the world. As a left-handed guitarist, he turned a right-handed Stratocaster upside down and played it as a left-handed guitar.
He combined his Strat with a Marshall amp and the iconic wah-wah pedal, which was his invention, or a fuzz face. He created some of the most iconic and amazing guitar riffs and tones of all time with this combination.
You can hear his amazing playing and tones in most of his live shows. But, for me, Voodo Child and Little Wing are the ones in which his tones shine with versatility and great sounds.
Eric Clapton
Eric Clapton once said that he tried almost every guitar but returned back to Stratocasters in the end. The virtuoso player played rock, pop, acoustic, reggae, jazz, and more genres with his Stratocaster creating amazing tones.
He started using Strats in the early 1970s after his experience with Gibson guitars in his bands Cream and Bluesbreakers. He liked playing in a bluesy style which was the perfect fit for Stratocasters. His masterful playing style reflected well with Strats, as can be heard in the songs like Layla or Bad Love.
Mark Knopfler
Another Fender Stratocaster lover is Mark Knopfler, the virtuoso fingerpicker of Dire Straits. He is mainly known for his red Fender Stratocaster and his distinct playing style without picks but his awe-inspiring technique with fingers.
You can check out Sultans Of Swing to see how he uses his Strat with clean shimmery tones and a unique finger-picking style for creating amazing tones and wonderful solos and riffs. His dynamics and emotions coming from his red Stratocaster are simply jaw-dropping.
Eddie Van Halen
One of the creators of heavy metal and pioneers of hard rock, the virtuoso Eddie Van Halen, is another fan of Fender Stratocasters. His way of approach to playing guitar is unique as he created techniques like tapping and gave a new perspective to many players.
He used his modified Stratocasters, which he called FrankenStrat, to create heavy metal and hard rock tones and play amazing solos. His Strat had humbucker pickups and a Floyd Rose system along with different kinds of paint and patterns on the body.
Check out his Eruption solo, where he introduced the world to his two-handed tapping style technique.
David Gilmour
Without the legendary Pink Floyd guitarist David Gilmour, a Fender Stratocaster players list can not be complete. His groundbreaking work is one of the most melodic, atmospheric, passionate, and beautiful parts that came from a Stratocaster.
His all-black Stratocaster is his most faithful companion, which features white pickups, a maple fingerboard, and a tone that is simply unique. He used many effects and various gear to create his iconic tone, and Strat responded well to any of them.
You can check out Comfortably Numb or High Hopes to listen to his amazing playing style and tones.
Famous Fender Telecaster Players
Just like Stratocasters, Fender Telecasters are also preferred by countless famous guitar players from many different genres.
Jimmy Page
While the great Jimmy Page used many guitars, including Strats, Les Pauls and Teles, throughout his career, some of his most iconic recordings were made with Telecasters. His Jimmy Page's Dragon 1958 Blonde Tele is an iconic guitar that can be heard in the arguably the greatest song of hard rock history, Stairway To Heaven.
In 1967, he modified his Telecaster, scratching off the paint and painting the guitar with psychedelic artwork. So his unique Tele was born, and he used it in many recordings to create his amazing blues-rock, sometimes hard-rock tones. But, the guitar was repainted in later years.
Keith Richards
Keith Richards of The Rolling Stones is one of the most skillful and famous Telecaster players in history. He used the "Micawber" Telecaster most of his career, which was given to him by Eric Clapton in the 1950s.
The guitar initially had a single-coil neck pickup, but Keitch Richards changed it with a Gibson PAF humbucker for some extra grit in his tone. He installed the humbucker backward, so the magnet poles of the pickup faced the rear end of the guitar. This is a crucial part of his tone.
You can check out the pieces like Brown Sugar to hear his amazing tones and how he gets that twangy iconic Rolling Stones sound.
Muddy Waters
The father of modern Chicago Blues, Muddy Water had a huge guitar collection under his arm, but his favorite guitars were always Telecasters. He started using Telecasters in around 1957 and used it regularly afterward.
His Telecaster had a maple neck and white finish. Later, he modified the guitar, changing the fretboard with a rosewood one and painting it candy apple red. His bluesy tones with crying and sliding sounds were iconic and reflected the pain in Blues music amazingly.
Bruce Springsteen
Another iconic Telecaster player was "The Boss" Bruce Springsteen. He said, "I've got this guitar, and I learned to make it talk." in an interview, which showed his affection for his 1952 Telecaster, called "The Mutt."
Most of his singles and live shows were made with this 1952 Telecaster that he bought in 1973 and used for all his career. He modified the guitar slightly, getting rid of some electronics as he wanted to prepare it for his marathon live sets and wanted a distinctive, quasi-acoustic timbre.
Jonny Greenwood
One of the most startling guitar players of the modern era is Jonny Greenwood of Radiohead. He loves to play with Fender Telecasters as he uses tons of effects and creates amazingly unique tones, which Telecasters respond beautifully with their sonic versatility.
His mangled frenetic style of playing is excellent for his Telecaster Plus model with Lace Sensor pickups from the early '90s. The guitar has some extra modifications, like the killswitch. He also put a ball-end of a guitar string attached to the body near the neck pickup. This way, he can hook his high E string to that point for obscene bends.
Greenwood is a master of creating otherworldly tones, and there is no better choice than a Telecaster to achieve his mission.
Conclusion
Both Fender Telecasters and Stratocasters are some of the most iconic guitars of history that shaped the era with their amazing tones, playability, and looks. They are some of the most copied and preferred guitars today and are great instruments for any player.
The main difference between the two models is that Tele shines with its sonic versatility and is more suited to different genres, from country to blues, from rock to any genre with peculiar tones you'd like.
On the other hand, Stratocasters are more comfortable, and playable, and have better choices for heavier tones of rock, hard rock, and heavy metal.
Both guitars are highly versatile and comfortable, but some unique differences play a role in shaping them for different genres and playing styles. Either way, you can not go wrong with any of them.
If you found this article useful, you may want to save this pin below to your Guitar board.