Gibson SG and Fender Jazzmaster are iconic guitars that shaped different generations in rock history. Both guitars shine with their amazing tones and construction but are totally different guitars with different tonal possibilities and playing feel.
To start with, Gibson SG is the guitar that rocked the 60s and 70's with its ease of play, holding comfort, popularity, and great tones. Gibson SG was mainly preferred by classic rock, hard rock even blues players due to its great sustain, comfortable neck, lightweight woods, and throaty tone with more of a mid-range punch.
Fender Jazzmaster was actually made as an alternative for hollow body archtop guitars of the late 50s and '60s for jazz players. But, it gained its popularity after the 80s with the birth of the alternative rock and indie rock scene.
The guitar's unique fat sound with plenty of harmonic overtones from the string vibrations between the tailpiece and bridge, a good amount of indie cred, and good playability make the guitar a good choice for many genres, primarily alternative rock but also blues, jazz, country, and classic rock.
So, Gibson SG shines with its great comfort and playability, provided by its lightweight, thinner neck and ergonomic double-cutaway design, along with its versatile sound provided by dual humbuckers, ideal for many genres from hard rock to blues tones with its pronounced mid and high frequencies.
On the other hand, Fender Jazzmaster features a heavyweight but a great comfort for playing seated. Soundwise, it is more suited toward indie and alternative rock due to its fat sound provided by single-coil pickups with their high articulation, clarity, and chime.
So let's dive deeper to examine both guitars closer to find the differences between them to see which one suits better for which players, styles, and genres.
Quick Comparison
Here, I take the Gibson SG Standard and Fender American Professional II Jazzmaster as the base models. The specs can alter slightly depending on the model and the series.
| | | |
| --- | --- | --- |
| | Gibson SG | Fender Jazzmaster |
| Body Shape | SG Standard | Jazzmaster |
| Body Wood | Mahogany | Alder |
| Neck Shape | Rounded | Deep C |
| Neck Wood | Mahogany | Maple |
| Neck Constructions | Set Neck | Bolt-On |
| Fretboard Material | Rosewood | Round-laminated Rosewood |
| Scale Length | 24.75″ | 25.5″ |
| Number Of Frets | 22, Medium Jumbo | 22, Narrow Tall |
| Frets Material | Nickel Silver | Nickel Silver |
| Type Of Bridge | Nashville Tune-O-Matic with Stopbar | Jazzmaster/Jaguar Bridge with Panorama Tremolo |
| Tuning Machines | Grover Rotomatics | Fender Standard Die-cast |
| Pickups | Dual 490R Humbuckers | Dual Fender V-Mod II Jazzmaster Single-coil |
| Pickup Selector | 3-way toggle switch | 2-way slide switch (rhythm/lead)3-way toggle switch |
| Controls | 2 x volume, 2 x tone | 1 x master volume, 1 x master tone, 2 x thumbwheels (neck volume, tone |
| Weight | 6 lbs (2.7 kg) | 8.5 pounds (3.9 kg) |
Gibson SG History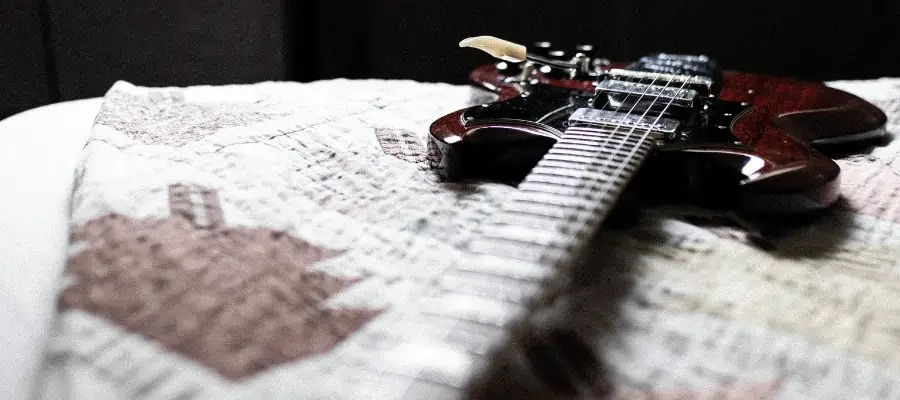 In the early 60s, the sales of Gibson Les Pauls were significantly going down, and the company decided to release a new design to resurrect the sales. They created a Les Paul-style guitar with a flat top and thinner body, a double-cutaway to make upper frets easier to access, and a contoured body.
They also moved the neck joint around three frets in order to make the access to the upper frets even easier. The result was a great guitar with a slender neck profile and small heel, which Gibson advertised as the guitar with the fastest neck in the world.
However, Les Paul did not like the guitar and wanted his name to be erased from the model name. That is why the new design was not a Les Paul anymore but an SG, which stood for Solid Guitar.
Many great guitarists in rock history played Gibson SG, making the guitar an icon throughout the years. Players like Angus Young, Tony Iommi, Eric Clapton, Pete Townshend, and many more preferred to play SG, thanks to its comfort, ease of play, and great tones.
Today, it is one of the most popular guitars in the world with its holding comfort, ease of play, vintage heritage, great tonal capabilities, and sustain. Although it is much less frequent than the Les Paul series and Fender Stratocasters, many other manufacturers copy the shape and design.
Fender Jazzmaster History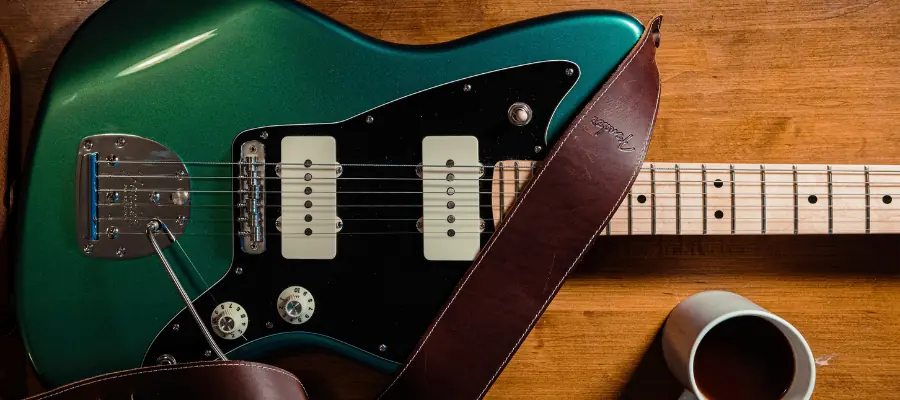 Fender Jazzmaster was Fender's alternative model to hollow body archtop guitars that jazz guitarists were using in the late 50s and '60s. As Telecasters and Stratocasters were offering great tones for rock genres, Fender wanted to create a jazz guitar to compete with Gibson.
However, unexpectedly the guitar got popular among Southern California surf rock and instrumental rock players in the same era. Instead of jazz players, the guitar became popular among surf rock bands and guitarists. So, Fender designed the follow-up guitar Jaguar with the guidance and input of these players.
As the rock scene of the '70s and the hard rock-metal scene of the '80s required fat humbucker tones and more sustain, Fender Jazzmasters and Jaguars were not getting much attention from guitarists, and Fender stopped producing them in the early 80's. The guitar was considered old-fashioned and did not have the tonal characteristics to adjust to the new music scene.
But a few years later, Tom Verlaine of Television and Elvis Costello started using Jazzmasters which made Jazzmasters revive from the grave and made them popular in the late '80s and '90s alternative rock and indie rock scene.
Thanks to their great tonal possibilities, versatility, ease of customization, and of course, their popularity in the alternative rock scene, Fender Jazzmasters and Jaguars have been started to be produced again by Fender.
Bodies Compared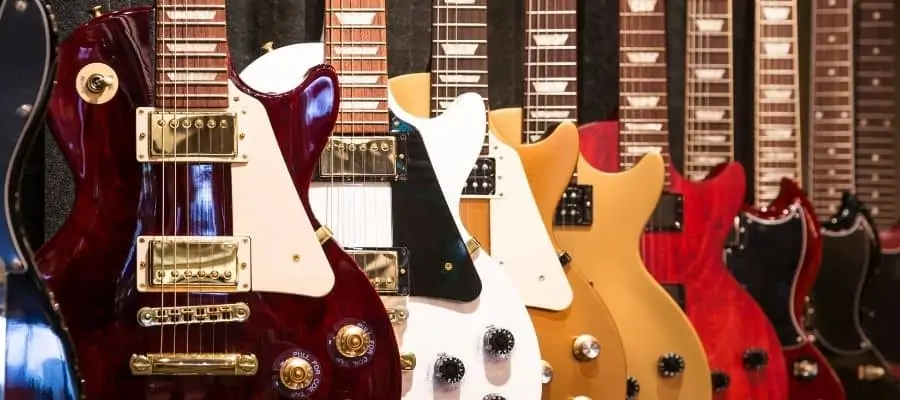 Let's start the comparison from the bodies of both guitars. Gibson SG has the iconic SG Standard body shape made of mahogany, while the Fender Jazzmaster features a Jazzmaster-style body with alder wood.
Gibson SG's flat top and thinner body with the double-cutaway design make it a great guitar for soloing as the access to upper frets is much easier this way. The guitar is made of lightweight wood like mahogany, which is the reason it is a lightweight guitar, weighing around 6 lbs (2.7 kg).
The weight makes it an ideal choice for smaller players and extended playing sessions as it is easy to handle and does not give you any back pain even when played for hours. The ease of use, balance, and comfort is one of the strongest aspects of Gibson SG.
Coming to Fender Jazzmaster, it has the classic Jazzmaster body, which is a contoured offset-waist body. Made of alder wood, the body was designed to give comfort to the player when played in a seated position, which was the way most jazz guitarists were playing at the time.
The body is bigger than most guitars and is pretty heavy. The guitar weighs around 8.5 pounds (3.9 kg) which can be a bit heavy for most players but is not a huge problem. The guitar feels pretty balanced with a level of modern build quality and playability in its body.
Neck & Scale Length Compared Compared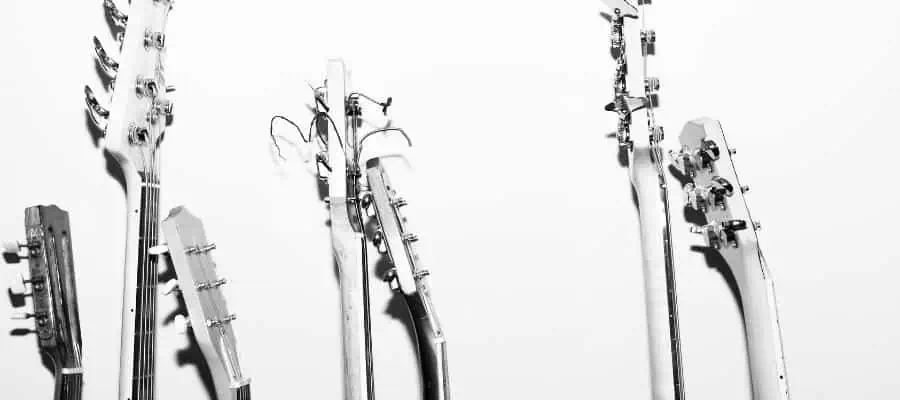 When it comes to the playability and feel of the instrument, the neck plays the biggest role. Gibson SG features rounded mahogany set neck with a rosewood fingerboard along with a 24.75" scale length and 22 medium-jumbo nickel-silver frets. On the other side, Fender Jazzmaster has a deep C shaped maple bolt-on neck, rounded-laminated rosewood fretboard, 25.5" scale length and 22 narrow tall nickel silver frets.
Gibson SG shines with its playability and comfortable neck. The neck shape is considered 60's slim, but of course, it is thicker than today's slim neck like on Jackson or Ibanez guitars. In any case, it is comfortable to hold, and the playing experience is quite smooth.
Another great feature is that even though the neck is 24.75", it feels quite long. This is because Gibson moved the neck joint 3 frets forward to make the upper frets more reachable. This is why it is a great guitar to play lead guitar partitions, as the neck is comfy, and the access to higher frets is highly easy.
Fender Jazzmaster features a traditional deep C profile which feels chunky and big in hand like old Stratocasters. The satin polyurethane finish feels smooth and nice and makes the guitar a joy to play. The bolt-on neck has the classic Fender maple with an around-laminated Rosewood fingerboard.
In comparison, I find the neck of the Gibson SG slightly more comfortable and better for lead guitar playing, while Fender Jazzmaster has a chunkier neck, great for bigger hands and more rhythm-style guitar playing.
Hardware Compared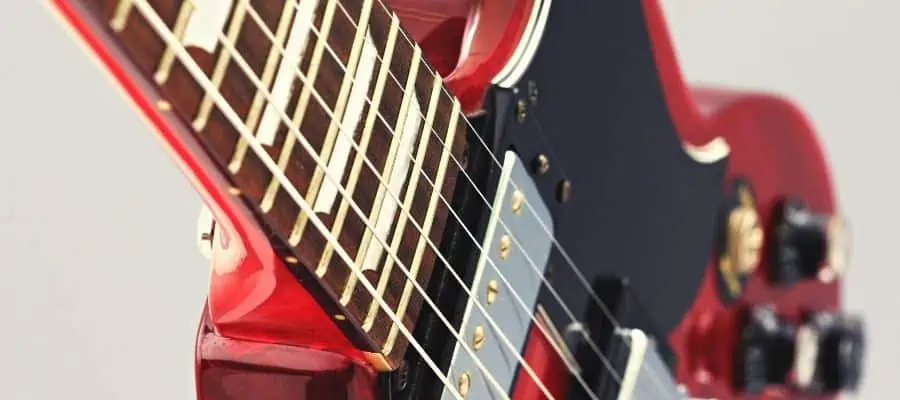 When the hardware designs of both guitars are compared, there are some major differences. Gibson SG comes with a Nashville Tune-O-Matic with Stopbar bridge and Grover Rotomatics, while the Jazzmaster features Jazzmaster/Jaguar Bridge with Panorama Tremolo and Fender Standard Die-cast tuners.
Nashville Tune-O-Matic with Stopbar is a bridge without tremolo like most Gibson designs. If you want to use a tremolo bar while playing, this is not good news for you. The Grover Rotomatics tuners perform and hold the tuning well.
Fender Jazzmaster's bridge with panorama tremolo is a great vintage-style bridge that is responsive, stable, and, best of all, musical. After using, it quickly gets back to the tune and allows for greater bending.
The Fender standard tuners hold the tuning well, and there is nothing to complain about there either.
Pickup Configuration Compared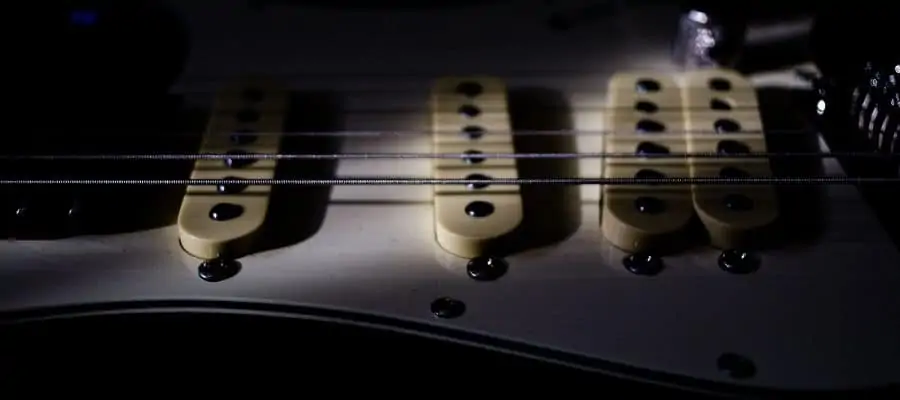 The pickups are the most important aspects when it comes to the sound of an electric guitar. Both guitars are equipped with a dual-pickup configuration with Gibson SG Standard featuring 490R Humbuckers and Fender Jazzmaster featuring Fender V-Mod II Jazzmaster Single-coils.
Gibson SG's 490R Humbuckers replicate the late-period PAF humbuckers with a slightly increased upper mids for a more modern sound. While it provides the classic fat, snarling tone Gibson SG is famous for; they are also amazingly responsive.
But, if you want the old-school P90s in your SG, there is also the vintage model of the guitar, which comes equipped with P90s.
Gibson SG is also equipped with a 3-way toggle switch, 2 volume knobs, and 2 tone knobs to shape the sound.
Fender Jazzmaster comes with a pair of toneful humbuckers, the second-generation V-Mod II single-coil Jazzmaster pickups. The single-coil pickups shine with their high articulation, clarity, and chime.
Where Jazzmaster shines is the versatility with the option of choosing anywhere between a powerful, throaty sound or a lower-output vintage sound.
There are many controls on the body to shape the sound, such as a 2-way slide switch (rhythm/lead), double thumbwheels for neck volume and tone, and a 3-way toggle switch for pickup configuration as well as a master volume and master tone knob.
When compared, it is clear that Gibson SG is a better choice for heavier tones of rock, hard rock, and likes, while Fender Jazzmaster's sound is more suited towards alternative and indie rock and similar relatively softer genres.
Gibson SG Tone
Tonally, Gibson SG is a highly versatile guitar. This is evident if you check the range of guitarists who uses SGs. From Angus Young to Thom Yorke, Gibson SGs are used for different tones and genres such as classic rock, funk, blues, alternative rock, and instrumental rock.
The sound of the guitar is pretty bright in its highs and mids. It has a more pronounced overall sound compared to most guitars like its close cousin Les Paul, for example.
The mahogany is a pretty warm-sounding wood, and the wood is also felt in the tone of SG. With the double humbuckers, SG has the classic thick, fat, and snarling tone.
Of course, the pickup choice is pretty crucial here. While the classic Gibson SGs come with the 490R Humbuckers that replicate the late PAF humbuckers, you can also go with a vintage Gibson SG, which features P90 pickups for the ultimate vintage-style classic rock tones. However, the vintage Gibson SGs cost a bit more than the standard editions.
Fender Jazzmaster Tone
Fender Jazzmasters also have a quite versatile sound, but they sit more on the softer side of the spectrum as it is widely used for blues, country, jazz, classic rock, fusion, and indie sounds.
Jazzmasters were intended for jazz and blues, but they ended up being the favorite guitars of surf rock and alternative rock players. They have a deeper tone and larger scale length, which makes them ideal for these genres.
The guitar thrives with mellow tones and has a defining tonality of twang and thin, clean sound drenched in reverb. Its performance peaks with cleans and slightly overdriven tones rather than high-gain tones.
Their unique tone and setup are highly customizable and allow for a fuller tone by adding different pickups.
Another great aspect of Jazzmasters that increases its flexibility is the tonal controls on the guitar. There are many controls to shape the sound as you like with rhythm and lead circuits, separate volume and tone knobs for both circuits, as well as master volume, tone knobs, and a 3-way toggle switch. With all these controls, you get to shape your sound more than most guitars on the market.
Another unique aspect is that these guitars have a unique buzzing sound due to the lack of tension on the strings that some players love and hate. This is because the bridge sits on two fulcrum points. The sound is highly noticeable, especially unplugged.
But, if you are one of the haters, you can remove it by replacing the bridge or placing a buzz stopper.
Gibson SG Feel & Playability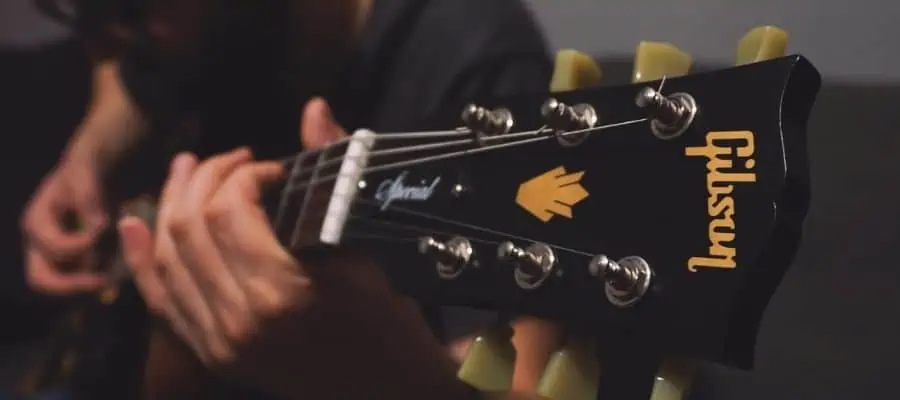 The strongest aspect of Gibson SGs is their feel and comfort, without a doubt. This is the part where Gibson SG shines before its cousin Les Paul. SGs have a thinner body and shorter fretboard, which leads to a lighter and more playable guitar overall when compared to Les Pauls.
The double-cutaway body and the neck joint at the 22nd fret allow for easier access to higher frets which makes it a great guitar for soloing.
Coming to neck comfort, Gibson SG has a thin neck made of mahogany and is one of the most ergonomic and comfortable necks in the guitar world. Also, the guitar is quite lightweight, which sometimes creates problems as the neck dives when let go.
With the thinner and lighter body as well as improved access to the high frets, Gibson SG is one of the greatest-feeling and most playable guitars in the Gibson range.
Fender Jazzmaster Feel & Playability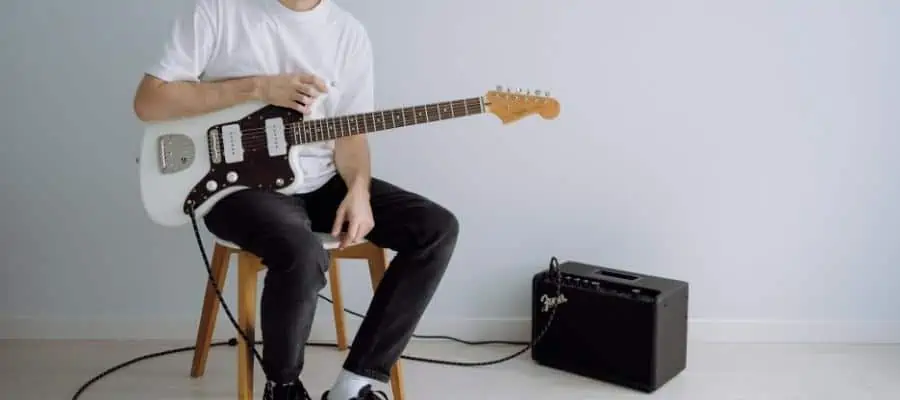 The first thing to say about the feel and playability of Fender Jazzmasters is that his guitar is pretty heavy and was designed for playing while sitting with its off-set waist body and overall design. As most jazz guitarists were playing while seated at the time, and these guitars were meant to be jazz guitars, they were created for seated players.
But, if you are comfortable carrying a slightly heavier guitar than usual, this is no problem. Also, when in a seated position, the guitar has an amazing balance and is quite a joy to play.
Another distinctive feature is the neck profile, and it is pretty similar to a classic Strat-style neck with a C-shaped neck profile, maple neck, and rosewood fingerboard. It is a quite comfortable neck to play with, but the access to higher frets is not as easy as with Gibson SG. Also, the neck may feel a bit too big and long for small players when compared to the SG.
One of the most distinctive points of these guitars is the bridge system. The Jazzmaster/Jaguar Bridge with Panorama Tremolo allows for a better vibrato and bridge system than the older Jazzmaster with a floating bridge which created some issues for players.
Gibson SG Look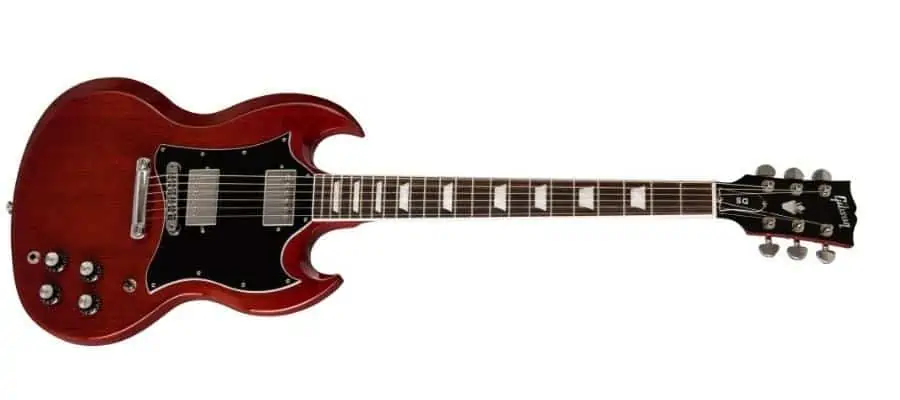 The Gibson SG looks quite unique and iconic in its traditional woody red color finish and double-cutaway design. It also comes in black and natural wood color finishes, but the best-looking ones are the traditional red ones, in my opinion.
Fender Jazzmaster Look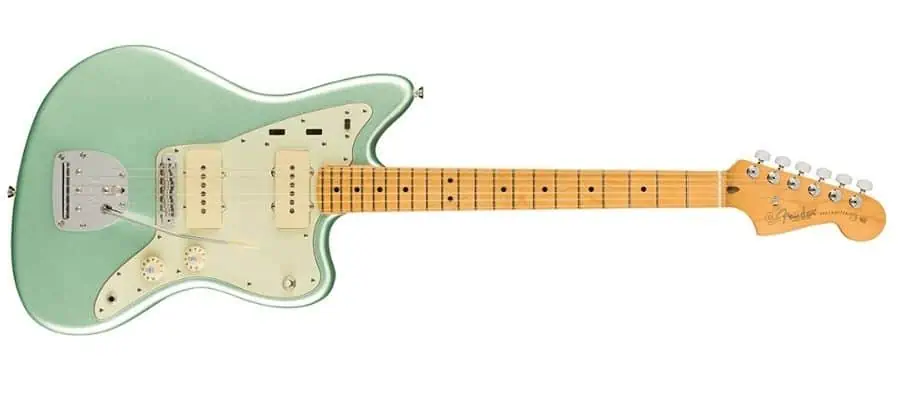 Where Jazzmasters truly shine, according to most people, is how they look. Jazzmasters have an elegant off-set waist design in many different colors that look pretty elegant and eye-catching.
Famous Gibson SG Players
Angus Young
When talking about Gibson SG, the first guitarist to come to mind is probably Angus Young of AC/DC.
While the guitar provides the great hard rock tones of AC/DC with its emphasized high and mid frequencies, the guitar's lightweight design also lets Young be active on stage and make his signature duck walk without keeling over. He also has a signature Gibson SG model.
Pete Townshend
Another Gibson SG fan during the late 60s was Pete Townshend of The Who. The guitar's thick tone can be heard across seminal LPs such as Tommy and Live At Leeds. Gibson also made a Pete Townshend Signature SG model in 2000.
Tony Iommi
When the neck pickup of his Fender Strat got damaged during the recording of Black Sabbath's debut album, Tony Iommi decided to go with a Gibson SG due to its thick tone and comfortable neck. He drop-tuned to guitar and started creating a new genre of rock history, creating heavy metal tones.
Iommi owns several Gibson SG models and also some customized SGs handcrafted by Birmingham's JayDee Custom Guitars.
Frank Zappa
The enigmatic avant-garde instrumentalist Frank Zappa is one of the greatest guitarists in history, who is known for his affection for Fender Stratocasters. However, he also played some Gibson models, especially SGs, many times in his career. The most famous ones are the 'Baby Snakes' and 'Roxy' SG.
Both SGs were heavily modified, just like many of Zappa's guitars. The Baby Snakes had 23 frets and an onboard preamp and phase switch. The Roxy features a mirrored top, several preamps, phase switches, and active filters. This way, Zappa increased the tonal flexibility of the guitars to the moon.
Gary Clark Jr.
The modern blues guitar virtuoso Gary Clark Jr. is another player who often performs with Gibson SGs. His Gibson SG is equipped with P-90 pickups and can be heard in tracks like When My Train Pulls In and This Land.
Recently, Gibson released a signature Gibson SG version for Gary Clark Jr., which is equipped with a classic Gloss Yellow finish and three P-90 pickups.
Famous Fender Jazzmaster Players
J Mascis
One of the first guitarists to come to mind when it comes to Fender Jazzmaster is J Mascis of Dinosaur JR. He manages to get great, immensely distorted guitar tones from the Jazzmasters that are pretty unconventional.
Fender created many signature models in the name of J Mascis, which feature high action settings, jumbo frets, and tune-o-Matic bridges.
Georgia Maq
Georgia Maq, the lead guitarist of the band Camp Cope, prefers a Fender J Mascis Signature Jazzmaster to play in the studio and on the stage. She says, "I like the Jazzmaster because it sounds like a piano." and appreciates the harmonic clarity of Jazzmasters.
She modified the guitar to have a more simplistic setup, with the neck pickup wired directly into the jack with no knobs for volume or tone.
Robert Smith
The famous band, The Cure's guitarist Robert Smith, uses a 1965 Fender Jazzmaster, among many other guitars from his big guitar collection. However, his most appreciated tone comes from the Jazzmaster, which he used in many albums such as Disintegration, Seventeen Seconds, Faith, and Pornography.
He says that the guitar is virtually unbearable and that he can shape the sound however he likes, which is the main reason he likes it so much.
Elvis Costello
New wave punk artist Elvis Costello was one of the main figures in the 80s that made Fender Jazzmasters famous after Fender discontinued the production of these guitars. He saw the guitar in a shop and thought it was a modified Fender Strat.
He tried it and admitted it was much better than his guitar and immediately changed his main guitar preference, taking the Fender Jazzmaster.
He liked the ease of playing of Jazzmasters along with the floating tremolo bridge system. In many of his recordings, the guitar can be heard. Fender also created a signature model under his name, and the model features changes in finish rather than major technical alterations.
Jim Root
Arguably the weirdest genre a Jazzmaster has been used is death metal. Slipknot's Jim Root uses a modified Fender Jazzmaster, which is far outside the range of Jazzmaster tones. However, with some alterations, well, many alterations, Root manages to get great tones out of it.
He customized the Jazzmaster with Strat features as he customized the electronics to be simpler, added a hard-tail bridge, and put everything in the comfort of a Jazzmaster body.
The Jim Root Jazzmaster has many modifications, which makes the guitar, well, less Jazzmaster-y. It features dual humbuckers; the body is boxier and made of mahogany and a black satin finish.
Conclusion
In conclusion, I can say that both Gibson SG and Fender Jazzmaster are great guitars that serve different purposes. Gibson SG is a great choice if you are after an ergonomically designed, light, and versatile rock guitar, while Fender Jazzmaster would be a great choice to play more clean tones for alternative and indie rock scenes, but you can get great distorted tones if you play your cards right with this guitar.
Fender Jazzmaster gives more control over the tone of your guitar and can be customized to increase its tonal versatility. On the other hand, Gibson SGs are quite versatile already and can be used for many different genres.
SGs are great for soloing and allow easy access to higher frets; while Jazzmasters are more suited towards riff and chord playing, they are also great for basic soloing. Also, Jazzmasters are a bit heavy, and the neck is bigger, which may be uncomfortable for small players. But, they are one of the most comfortable guitars for seated playing.
If you found this article useful you may want to save this pin below to your Guitar board