The iconic offset guitar models, Fender Jazzmaster, Fender Jaguar, and Fender Mustang are highly popular guitars that became synonymous with alternative rock, indie rock, and shoegaze genres. Their unique look, sound, and versatility make these guitars stand out from the more conventional guitars as powerful musical tools.
As these guitars look pretty similar to the offset-waist designs, sometimes it can be confusing to realize their distinctions. Because they have a lot of common ground in terms of their use and fanbase, along with their similar designs, there is often confusion about the differences between these three guitars' features.
So, this is the reason I wanted to write this article to end the discussion by pinning out the differences and similarities of these 3 offset legends. Let's dive in!
To summarize, Fender Jazzmaster is the father of the Jaguar and Mustang models as it was the first offset model of Fender in the 60s. Jaguar and Mustang were created as upgrades for the Jazzmaster.
The Jazzmaster often features a 25.5" scale neck while the Jaguars and Mustangs have smaller 24" necks. So, Jaguars and Mustangs are lighter compared to Jazzmasters. Also, Mustang has a slight offset waist while Jaguars and Jazzmasters have full offset waist designs.
Jazzmasters often come with soap bar-style pickups, while Jaguars come both with single coils and humbuckers. On the other side, Mustangs have two angled single-coil pickups. Jazzmasters have 3-way pickups selectors, while Jaguars and Mustangs have two-way on-off switches.
Soundwise, Jazzmasters is the most versatile of the three and features a little more body and warmth along with a wider frequency range and a hotter output. The Jaguars sound brighter, more focused, and twangier with percussive, bell-like tones.
Mustangs have a similar sound to Jaguars, but their sound is slightly brighter with a thinner tone. Where Mustang shines is its playability with a chunky yet lean neck for rhythm playing styles.
Quick Comparison
When comparing the guitars, the models I am examining are Fender American Professional II Jazzmaster, Fender Player Series Jaguar, and Fender American Performer Mustang. As these are the modern reissues of the vintage guitars, they are slightly upgraded with modern features.
Fender Jazzmaster
Fender Jaguar
Fender Mustang
Body Shape
Jazzmaster
Jaguar
Mustang
Body Wood
Alder
Alder
Alder
Neck Shape
Deep C
Modern C
Modern C
Neck Wood
Maple
Maple
Maple
Neck Constructions
Bolt-On
Bolt-On
Bolt-On
Fretboard Material
Round-laminated Rosewood
Pau Ferro
Rosewood
Scale Length
25.5″
24"
24″
Number Of Frets
22, Narrow Tall
22, Medium Jumbo
22, Jumbo
Frets Material
Nickel
Nickel
Nickel
Type Of Bridge
Jazzmaster/Jaguar Bridge with Panorama Tremolo
6-saddle Vintage-style Adjustable bridge with Floating Tremolo
American Performer Mustang Bridge with Tremolo
Tuning Machines
Fender Standard Die-cast
Fender Standard Die-Cast/Sealed
Fender Classic Gear
Pickups
Dual Fender V-Mod II Jazzmaster Single-coil
Player Series Alnico II Jaguar Single-coil
Player Series Alnico III Jaguar Humbucker
Dual Yosemite Mustang Single-coil
Pickup Selector
2-way slide switch (rhythm/lead)3-way toggle switch
2-way slide coil-split switch, 3-way blade pickup switch
3-way toggle pickup switch
Controls
1 x master volume, 1 x master tone, 2 x thumbwheels (neck volume, tone
1 x master volume, 1 x master tone
1 x master volume, 1 x master tone
Weight
8.5 pounds (3.9 kg)
7.9 lbs (3.58 kg)
7.68 lbs (3.48 kg)
Fender Jazzmaster, Jaguar, Mustang History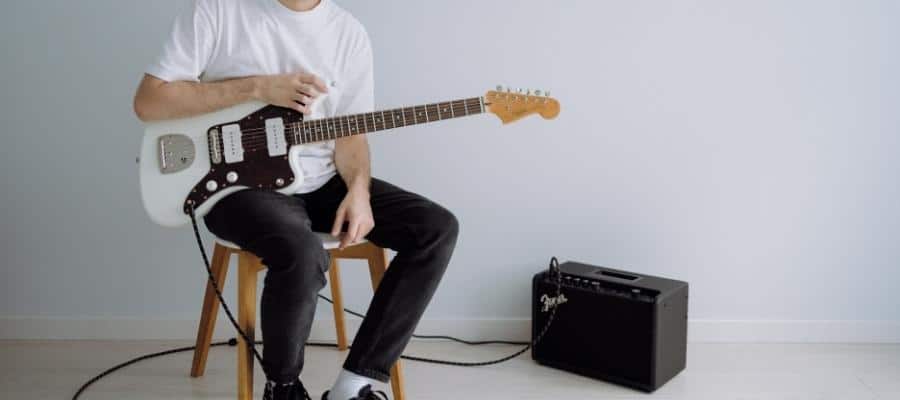 Fender Jazzmaster was the first offset waist model Fender released in the late 50s. It was designed as an alternative model to hollow body archtop guitars of jazz guitarists at the time. Fender already had Telecasters and Stratocasters dominating the rock genres with Gibson, so they wanted to step into the jazz world to compete with Gibson.
However, things did not go as planned, and Jazzmaster was a failure in the jazz world. Unexpectedly, the guitar became popular among Southern California surf rock and instrumental rock players, which made Fender design another model with the feedback and guidance of these guitarists. The follow-up guitar was going to be the Jaguar.
The reason why Jazzmaster was not successful among jazz players was probably that the design felt too futuristic and more complicated than jazz guitarists were used to playing. The innovative bridge, the soap bar pickups, new dual circuit, versatile yet complicated pickups switches, and tone controls were too much to handle for the conservative players of the era.
But, bands like The Ventures and The Beach Boys in the Surf Rock scene loved the guitar and quickly started using them. So, the Jaguar was created in 1962 with those players in mind, and even the promotional pictures had beach themes.
Jaguar design was very similar to Jazzmaster's design but had a smaller and shorter neck and some improvements in the circuitry. Like the Jazzmaster, the Jaguar featured an unusual floating vibrato mechanism which caused many problems among users as the bridge tended to move a lot and strings slipped out of alignment when they were strummed hard. Many players found practical solutions like replacing saddles that have deeper slots or grooves to hold the strings or changing the bridge completely.
Two years later, Fender came up with a new offset design called Mustang to solve the problems Jaguar had. Mustang was inspired both by the Jaguar-Jazzmaster lien as well as the Musicmaster and Duo-Sonic line, which were the existing student models.
The design was a bit different than the offset Fender models with a slightly offset waist, dual angled single-coil pickups, each with an adjacent on-off-on switch without pickup selector, Fender Dynamic Vibrato tailpiece with the floating bridge, and only one string slot on the saddles.
In the end, all three offset guitars were, well, failures. They did not get popular among players, and nobody was using them as Surf Rock was disappearing from the music world. And by the late 70s and early 80s, Fender decşded to discontinue the production of all three models one by one.
The music scene in that era requires fat humbucker tones, more sustain, and adaptability to heavier styles of hard rock, metal, and classic rock. So the offset guitars were kind of old-fashioned and did not have the required tonal characteristics.
However, as the prices went down of these guitars before they were discontinued, some new generation guitarists purchased them to play. Punk players like Tom Verlaine and Richard Lloyd, along with Elvis Costello, were among these guitarists.
Although the models were discontinued in the mid-'80s, the offset guitars were starting to revive with some bands and artists using them like Sonic Youth and Elvis Costello, who inspired many alternative rock bands of the later era such as Dinosaur Jr.
And in the late 80s and early 90s, the guitar got highly popular again, mainly thanks to the alternative and indie rock scene along with Kurt Cobain's choice of Fender Jaguar. He even designed a new offset guitar model combining the elements of Mustang and Jaguar, which was called the Jag-Stang.
After that point, many alternative rock bands started to use offset guitar models, and Fender decided to continue the production of these guitars. Today, there are a wide variety of offset guitars available in different price ranges.
Bodies Compared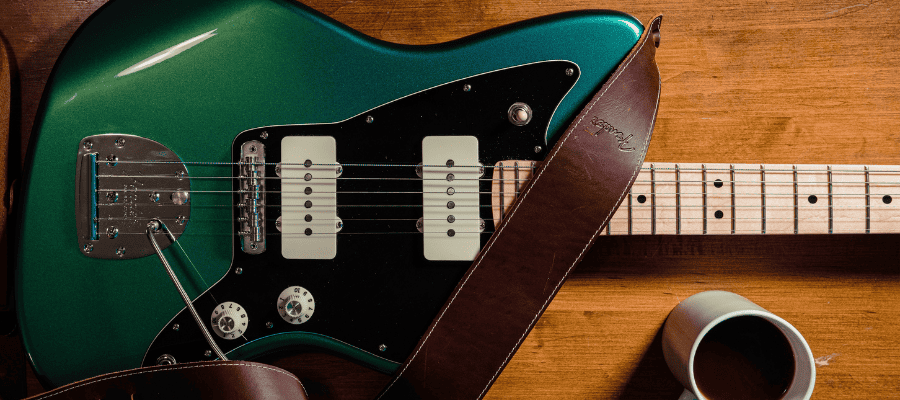 Fender Jazzmaster has the classic Jazzmaster contoured offset-waist body made of alder wood. The design was created with jazz players in mind to give them a more comfortable playing experience while in a seated position as they mainly played their guitars seated.
The body weighs around 8.5 lbs (3.9 kg) and is the heaviest of the three offset models. It is a heavy guitar to play while standing, especially for smaller players. But, it feels very balanced and is highly comfortable to play with, especially seated.
The Jaguar has a Jaguar style solid body made of alder wood. The body is highly similar to the Jazzmaster body without any changes. It weighs around 7.9 lbs (3.58 kg), half a pound lighter than Jazzmaster as it features a shorter neck.
The Mustang differs from the two rest models as it has a slightly offset-waist Mustang body. It is somewhere between an offset and a Strat-style body. It is made of alder, and the guitar weighs around 7.68 lbs (3.48 kg), making it the lightest among the three models.
All guitars have great balance and are quite comfortable to play with bodies, allowing you to reach higher frets easily. However, the Mustang and Jaguar are more comfortable playing standing as they are significantly lighter compared to the Jazzmaster.
Neck & Scale Length Compared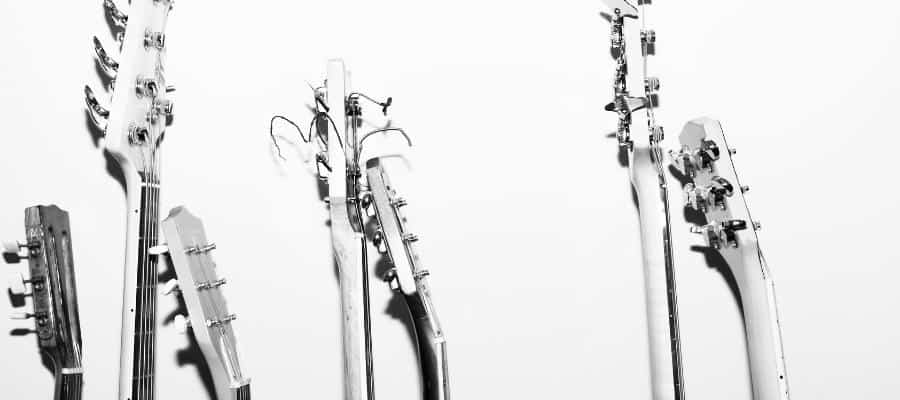 Fender Jazzmaster has a traditional deep C neck profile that feels chunky and big in hand like vintage Stratocasters. The neck has a satin polyurethane finish which feels highly smooth, making it very comfy to play with. The neck has a bolt-on design made of classic Fender maple with a Rosewood fretboard.
The Jazzmaster has a 25.5″ scale length which is different from Jaguar and Mustang style necks. The scale length of the other two models is shorter with 24.5" scales, which makes them easier to play for smaller-handed players. Also, the neck of the Jaguar and Mustang have modern C shapes with a thinner profile.
The fretboards of Jazzmaster and Mustang are Rosewood, while Jaguar has Pau Ferro fretboard. But, the fretboard material changes from version to version. Also, Jazzmaster has 22 Narrow Tall frets, Jaguar, 22 Medium Jumbo, and Mustang, 22 Jumbo frets.
When necks are compared, the comfort and playability of Mustang are one step forward compared to Jaguar and Jazzmaster. As the scales and neck profiles are shorter and thinner, Jaguar and Mustang have more comfortable necks and fretboards, in my opinion.
Hardware Compared
All three models have unique bridge styles, which are a topic of discussion. The offset guitars' bridges were always problematic as the floating bridge system of Leo Fender created many unexpected issues. However, with the modern line, problems are solved, and the floating bridges perform truly great.
The Jazzmaster has the panorama tremolo, which is a great modernized vintage-style bridge that is responsive, stable, and musical. It allows for a greater range of bending than a Strat, and, after using, it immediately gets back to the tune.
The Jaguar bridge is the slightly upgraded version of the vintage floating bridges of Jaguars. It is not designed for dive bombs but rather for a Bigsby-style response. It is great for shoegazer pitch wobbling and understated tremolo actions. The upgraded bridge holds the tuning better than the old versions, but the strings are still susceptible to going out of alignment.
The Mustang model comes with American Performer Mustang Bridge with Tremolo, which is the improved vintage Mustang tremolo system. The improved idiosyncratic Fender Dynamic Tremolo works well and solves the problems of the older version, holding the tuning well and keeping the strings aligned. Nothing to complain about here.
Pickup Configuration Compared
Vintage Fender Jazzmasters typically feature soap bar-style humbucker pickups. However, most modern reissue models have single coils with some lines offering dual humbucker configurations. Fender American Professional II Jazzmaster comes with the second-generation V-Mod II single-coil Jazzmaster pickups, which feature high articulation, clarity, and great chime.
There are many controls on the body to shape the sound, such as a 2-way slide switch (rhythm/lead), double thumbwheels for neck volume and tone, and a 3-way toggle switch for pickup configuration as well as a master volume and master tone knob.
The Jaguars, however, have both humbuckers and single coil versions. That is why Fender created the Fender Player Series Jaguar, which comes with a humbucker in the bridge position and a single-coil in the neck position. This way, the Jaguar has a versatile tonal range that can go from great cleans to Kurt Cobain style heavy humbucker tones.
The Jaguar also features a 2-way slide coil-split switch and 3-way blade pickup switch, which add to the versatility, but the coil-split utility does not give the greatest performance.
Mustangs were a bit different with their dual angled single-coil pickups in the good old days. But, the modern reissues often come with Mustang Dual Yosemite Mustang Single-coil pickups.
The bridge pickup is pretty bright, present, and full of air and sits somewhere between Stratocaster bridge pickups and Rickenbacker toaster-top. The neck pickup is airy and articulate, which is great for jazzy chords and clean tones. The pickup provides airy, open, and chiming tones, which are great to use with many effects.
Fender Jazzmaster Tone
Fender Jazzmasters are famous for their sonic versatility, but they are better used for softer tones. The tonal range is great for alternative and indie rock, jazz, blues, fusion, and classic rock.
The guitars were designed for jazz and blues tones but ended up being great alternative rock guitars with their deeper tone and large scale length, which is ideal for alternative and indie rock.
The guitar's single-coil pickup design provides mellow and chimy tones, which can perform great with many effects added like delay, reverb, modulation, etc. Rather than high-gain tones, Jazzmasters are better choices for slight overdrive and clean tones.
But, you can have a Jazzmaster with humbuckers to use them for relatively heavier tones.
The tonal versatility of Jazzmasters is great as they have many controls to shape your sound. There are rhythm and lead circuits, separate volume and tone knobs for both circuits, as well as master volume, tone knobs, and a 3-way toggle switch.
Jazzmaster also has a unique buzzing sound due to the lack of tension on the strings that some players love and others hate. The sound is created due to the bridge style, which sits on two fulcrum points.
Overall, Jazzmasters feature high articulation, clarity, and great chime, which is perfect for clean, mellow jazzy tones.
Fender Jaguar Tone
Fender Jaguars often featured dual single-coil pickups, but that started to change when Kurt Cobain started using them with humbuckers. That is why today, you can find Jaguars equipped with humbuckers as well as single coils. But, the best is to have them both on the same guitar, which takes us to the modern Fender Player Jaguar.
Fender Player Jaguar is highly versatile as it has a humbucker in the bridge and a single-coil in the neck position. So, this way, the versatility of the guitar is increased as it can provide some great gain tones from 90's grunge scene as well as harmonically rich bass-heavy clean tones that Jaguars are associated with.
The guitar has the tones of the surf rock and 90's indie and alternative rock scenes, which are lean in the low-end with complex and shimmery overtones. The humbucker provides a fatter and louder version of the single-coil pickup, which makes the Jaguar more suitable for overdrive and gain tones than Jazzmaster and Mustang.
The sonic versatility is also great as the guitar has many tone-shaping controls like the Jazzmaster. In addition to that, it also has the coil-split function to use the humbucker as a single-coil, but in my opinion, the guitar sounds too thin that way.
Fender Mustang Tone
Fender Mustang is considered a great guitar for rhythm-playing but not as great for lead guitar playing. This is mainly because it offers less twang and sustain than its longer-necked brother, the Jazzmaster. The guitar's tone is more like a blank state which can work wonders with effects.
With a slight overdrive, a bit of delay, reverb, modulation, or any effect combination you like, the guitar gives great sounds. It is more suited toward less-overdriven and clean tones as it has single-coil pickups.
The shorter scale gives some fluffiness to the lowends, which increases the warmth of the guitar. The guitar's overall tone can be described as bright, present, and full of air.
Compared to Jaguar and Jazzmaster, Mustang is more suited towards mellow jazzy chords playing or rhythm guitar playing with lots of effects. This is why it can be a great choice for alternative and indie rock as well as pop genres.
The guitar also has a pair of three-way pickup selectors, which was not the case with vintage Mustangs. The improved electronics allow the single coils to be switched off and run in parallel and out of phase. So, it is less versatile but easier to control compared to Jaguars.
Fender Jazzmaster Feel & Playability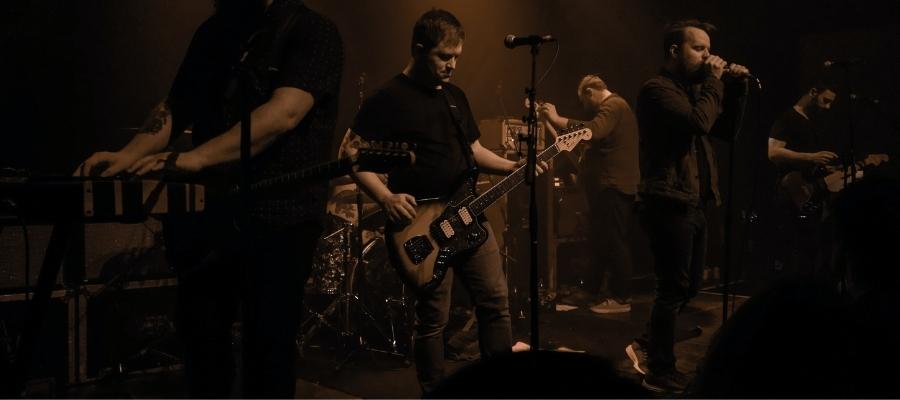 Fender Jazzmasters are heavy guitars as they are designed for playing while seated. This is the first thing that you feel when you hold the guitar. So, if you are a small person, playing the guitar standing can be a bit exhausting.
However, while seated, the guitar is highly balanced and feels very good. The neck profile is a deep C, which is close to a classic Strat-style neck. The access to higher frets is easy thanks to the body shape, and the fretboard feels quite smooth with a Super Natural satin-finished neck.
For me, Jazzmasters are highly playable guitars and have great necks along with the greatly improved bridge system, which allows for better sustain and can dive greatly.
Fender Jaguar Feel & Playability
The first thing you notice when you hold the Fender Jaguar is the short-scale neck. It is great for shorter and smaller players as the guitar is also lighter than the Jazzmaster. This guitar is a breeze to play with its satin finish, short scale length, and smooth Pau Ferro fretboard, along with the floating vibrato.
The modern C-shaped neck profile sits in the perfect balance between fat and thin. The flatter radius, a thinner C shape, and fatter medium-jumbo frets are the differences from the Jazzmaster, which makes this guitar more suited for smaller players.
The bridge is not meant for diving like the Jazzmaster's bridge but is more suited towards a kind of Bigsby response and is great for understated tremolo and woozy. But, still, the strings go out of alignment, which does decrease the playability of the guitar.
Fender Mustang Feel & Playability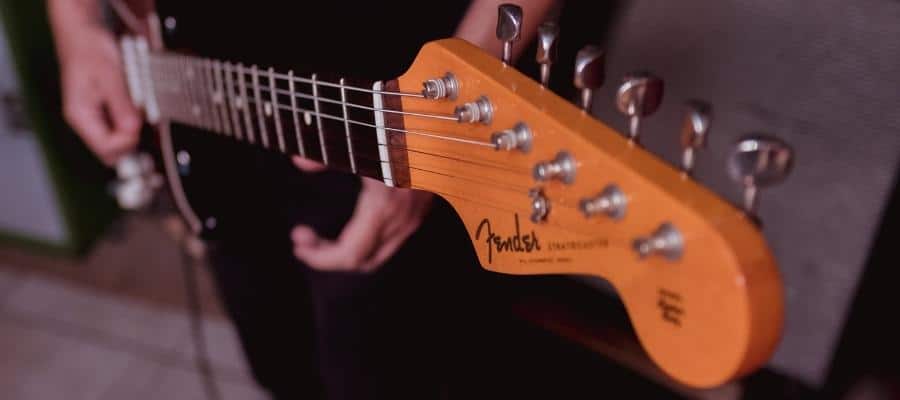 Just like the Jaguar, Fender Mustang is an ideal instrument for players of small stature or with smaller hands. The weight is lighter than both of the other two offset models, and the neck is similar to the Jaguar's neck, making the guitar perfect for small bodies and hands.
The shorter neck with the modern C profile, jumbo frets, satin polyurethane finish on the necks, and the 9.5″ fretboard radius feel great and make the guitar highly playable. A slightly bigger radius adds a great sense of stability, smoothness, and heft to the guitar.
The jumbo frets can be a problem as they can make the intonation sharper if you have a heavy fret-hand grip. But with subtle touches, the problem is solved.
The guitar provides great playability for chords and rhythm playing, but the big frets also make it kind of okay for lead guitar playing, too – at least compared to older Mustang generations.
The final word for the bridge; the improved Dynamic Vibrato feels great and is highly quirky. It allows for twitchy and bouncy playing with great response. It has a fast pitch-shift taper which is less flexible than Strat or Jazzmaster vibrato. You have to be subtle again and master the touch to unlock the full potential of the vibrato. I can say the tuning stability is quite satisfying with the bridge.
Fender Jazzmaster Look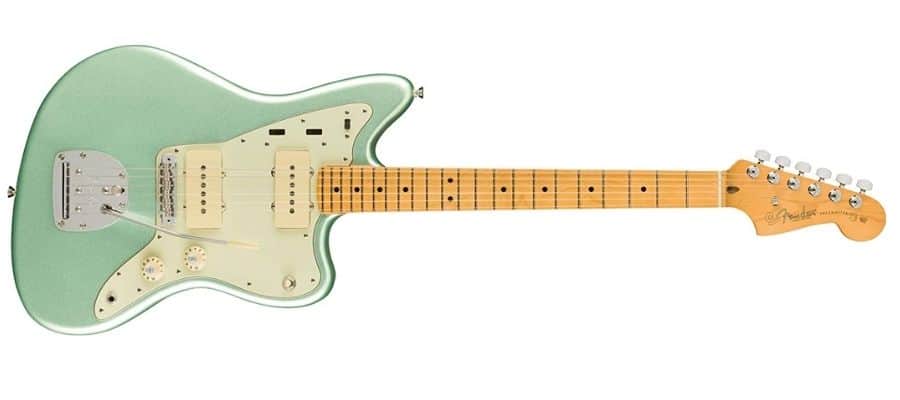 Fender Jazzmaster has the iconic vintage look with the elegant offset-waist body. The guitar comes in many different colors that look great and eye-catching. The pickups look truly vintage with the soap bar style, and the floating bridge adds to the vintage look.
Fender Jaguar Look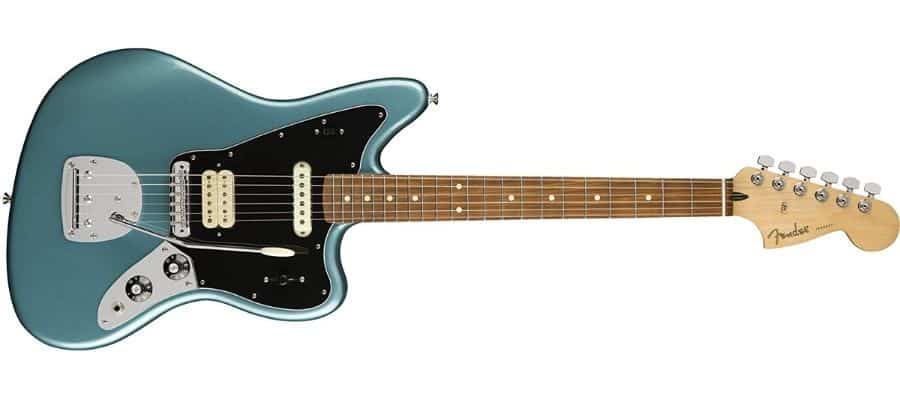 Fender Jaguar looks pretty similar to the Jazzmaster with the elegant offset waist, vintage style floating bridge, and many different color options. The main difference is with the pickups, as here, the pickups are not soap bar-style. The overall guitar is also slightly smaller than Jazzmaster due to the shorter scale length.
Fender Mustang Look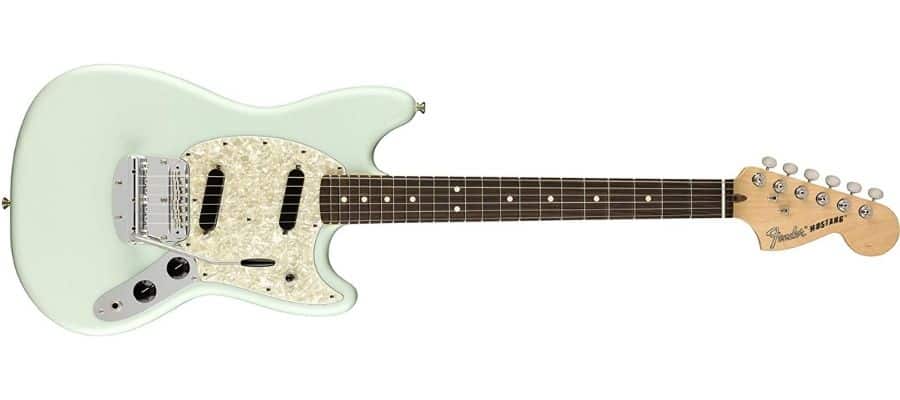 The Fender Mustang has a different look than the Jaguar-Jazzmaster line as it does not have the full offset waist. The body is slightly offset and sits somewhere between the Strat-body and Jazzmaster body.
The pickups are distinctive with the angled design and look vintage, along with the old-school vintage-style Mustang bridge. Again, the guitar comes in many colors, and the choices are more pastel, which adds to the vintage look.
Famous Fender Jazzmaster Players
J Mascis
J Mascis is one of the first guitarists to come to mind when talking about Fender Jazzmasters. The lead guitarist of the famous band Dinosaur Jr. creates great and immensely distorted guitar tones with the Jazzmasters, which is actually not the main goal of the guitar. But, with few effects and some tweaks, he manages to get great high-gain tones of the guitar.
Fender has a J Mascis Signature Jazzmaster model, which features high action settings, jumbo frets, and tune-o-Matic bridges.
Georgia Maq
Georgia Maq, the lead guitarist of Camp Cope, follows the steps of J Mascis and plays a Fender J Mascis Signature Jazzmaster. "I like the Jazzmaster because it sounds like a piano," she says as she explains her affection for the Jazzmasters. She modified the guitar to have a more simplistic setup, with the neck pickup wired directly into the jack with no knobs for volume or tone.
Elvis Costello
One of the first guitarists to use and popularize Fender Jazzmasters was Elvis Costello. The new wave punk artist saw the guitar in a shop back in the '70s and thought it was a modified Stratocaster. He tried it and liked it a lot as he thought it was much better than his guitar in terms of playability and sound. So he started using Jazzmasters.
He liked the ease of playing Jazzmasters along with the floating tremolo bridge system. In many of his recordings, the guitar can be heard. Fender also created a signature model under his name, and the model features changes in finish rather than major technical alterations.
Famous Fender Jaguar Players
Kurt Cobain
The most famous Fender Jaguar player is Kurt Cobain, without a doubt. The father of the grunge and the iconic Nirvana frontman was a fan of Jaguars and had several left-handed Jaguar models. His favorite one was a modified 1965 Sunburst model loaded with DiMarzio humbuckers and a trusty Tune-o-Matic bridge.
He used the guitar on Nevermind and In Utero tours as well as in the studio. Years after his death, Fender released a signature model under his name, Fender Kurt Cobain Jaguar, which has his modifications.
With the DiMarzio pickups, Cobain created the iconic gain-heavy Nirvana tones. As he was a small player, the Jaguar fit perfectly with him.
My Bloody Valentine
My Bloody Valentine is heavily associated with Fender Jaguars as both Kevin Shields and Belinda Butcher make extensive use of the Jazzmaster, Mustang, and Jaguar, but especially the Jaguar. The band's unique tone in the studio and on the stage is thanks to these offset guitars. The band heavily helped popularize these guitars during the 90s.
Kevin Shields often plays a Burgundy Mist Jaguar often, while Belinda Butcher prefers an Olympic White or Lake Placid Blue Jaguar. In any of their shows or recordings, Jaguars can be clearly heard.
John Frusciante
While the prodigal guitarist of the Red Hot Chili Peppers, John Frusciante, is mainly known for his Stratocaster-Marshall combination, he used Fender Jaguars at different points in his career. He has a soft spot for the Jaguars due to the playability and great tonal versatility of the guitar.
He can be seen using a Jaguar in many shows and also in the official Under The Bridge video. He has a vintage '62 Candy Apple Red Jaguar, which he also used on Californication, along with an old Sherwood Green Jaguar for overdubs across the band's 1991 opus Blood Sugar Sex Magik.
Famous Fender Mustang Players
Kurt Cobain
Again Kurt Cobain is on the top of the list as he is famous for his Jaguars and Mustangs. For his distinctive Nirvana tone, Cobain sometimes used a Fender Mustang. He started using them in the late '80s around 1988 with the Fender Greco Mustang and later continued with another 1973 Fender Mustang.
This guitar was equipped with double humbuckers, a Pearloid pickguard, an alder body, maple neck, and rosewood fingerboard. It was covered with many drawings and words written by Cobain himself. With its punchy and aggressive tone, it was a perfect guitar for Nirvana-style grunge tones.
David Byrne
The frontman of The Talking Heads, David Byrne, mainly used a white Fender Mustang in the early years of his career.
He was often seen with a Mustang on the stage strumming chords, but he used the guitar also in the studio during the recordings of the first two albums of the band, Talking Heads 77 and More Songs About Buildings and Food.
Todd Rundgren
The songwriting and producing master Todd Rundgren liked to play a black modified Fender Mustang on almost all of his live performances in the 70s. He says, " I wanted a guitar with a Fender-style tremolo bar.
And I also wanted a guitar that had 22 frets, and a standard Stratocaster only had 21 frets, and a Mustang had 22." But, as Mustangs are almost a student guitar, he replaced the pickups, the switches, and everything except the tailpiece, the body, and the neck.
Conclusion
Well, to summarize, I can say that Jazzmasters are great for many genres and shine with their versatility. They have a chimy sound with more body and warmth, along with a wider frequency range and a hotter output. They are great for clean tones and genres like jazz, blues, alternative, and indie rock. But, without the humbuckers, they are not the best for high-gain tones.
Jaguars are more gain friendly as the modern version comes with a humbucker and a single-coil. The Jaguars sound brighter, more focused, and twangier with percussive, bell-like tones. As they have a shorter scale, they are lighter and more suited to smaller players than Jazzmasters.
On the other hand, Mustangs have a slightly offset design and are meant for more rhythm playing. They have a similar tone to Jaguars, but they do not have a percussive, bell-like attack. Instead, they have a mellow chime tone which is great for jazzy tones and playing with lots of effects.
If you found this article useful you may want to save this pin below to your Guitar board