Ever since Fender was first introduced, they had almost no misses in terms of guitars and quality. Stratocaster and Jazzmaster are one of the most famous models by Fender. Although both are made by the same manufacturer and share some similarities, these guitars differ in many aspects.
At first, visually, they are different and have different body shapes. Both of these guitars pack the same pickup configuration; only with Jazzmaster will you get wider pickups, resulting in a warmer and low-end oriented tone. Jazzmaster models are usually more expensive than Stratocaster. This may be the reason why Stratocaster models are more popular than Jazzmaster.
The body wood of these models is Alder, and they weigh about the same, with Jazzmaster being slightly heavier. The fretboard material is different, with Stratocaster having Maple fretboard while the Jazzmaster models have Rosewood fretboard.
Fender Stratocaster and Jazzmaster represent one of the most famous models ever made. Many young guitarists dream of owning one of these guitars since they are the first step toward a professional instrument. While both of these guitars share some of the same features, they are completely different animals from one another.
| | | |
| --- | --- | --- |
| | Fender StratocasterFender American Professional II Stratocaster | Fender Jazzmaster |
| Body Shape | Strat-style | Jazzmaster |
| Body Wood | Alder | Alder |
| Neck Shape | Deep C | Deep C |
| Neck Wood | Maple | Maple |
| Neck Construction | Bolt-on | Bolt-on |
| Fretboard Material | Maple | Round-laminated Rosewood |
| Scale Length | 25.5″ | 25.5″ |
| Number Of Frets | 22, Narrow Tall | 21, Narrow Tall |
| Frets Material | Nickel Silver | Nickel Silver |
| Type of Bridge | 3-Saddle Top-load String-through body with Brass Bullet Saddles | Jazzmaster/Jaguar Bridge with Panorama Tremolo |
| Tuning Machines | Fender Standard Die-cast | Fender Standard Die-cast |
| Pickups | 3 x Fender V-Mod II Single-coil | Dual Fender V-Mod II Jazzmaster Single-coil |
| Pickup Selector | 3-way blade pickup switch | 2-way slide switch (rhythm/lead)3-way toggle switch |
| Controls | 1 x master volume, 1 x master tone (push/push series) | 2-way slide switch (rhythm/lead)3-way toggle switch |
| Weight | 8 lbs (3.6 kg) | 8.5lbs (3.9 kg) |
Fender Stratocaster History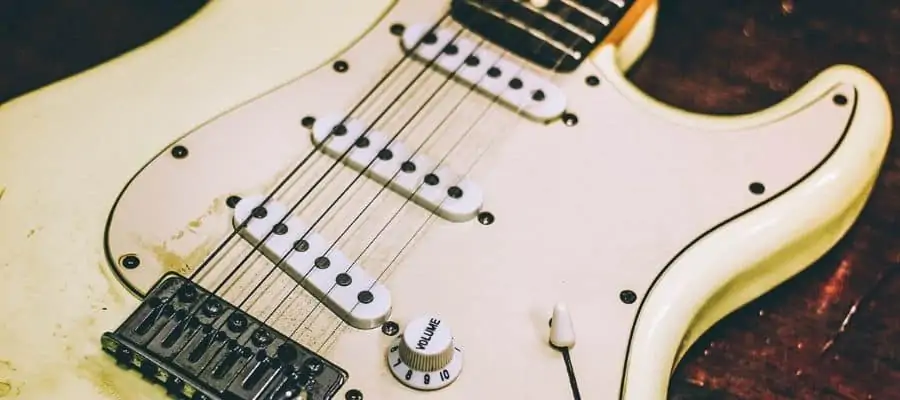 Since its creation in 1954, Stratocaster will grow to be the most famous guitar model. The origin behind its design sits with Telecaster with different specs added. What players were in lack of with Telecaster, the Stratocaster was there to provide.
Telecaster being the grandfather of electric guitars, was lacking some of the new features for the time that other guitar models had. Therefore, Fender will create Stratocaster to satisfy players' needs for a more comfortable body, tremolo bridges, and a wider tone specter with an extra pickup.
Since the model's creation, it will mostly remain the same in terms of design. Today, you can get them with different hardware and finishes to satisfy any guitarist's need. For most, this is a go-to guitar for modification.
This guitar will soon become extremely famous worldwide and be part of almost every genre out there. Many players will become recognized by this model and be part of the most beautiful and influential songs ever recorded.
Fender Jazzmaster History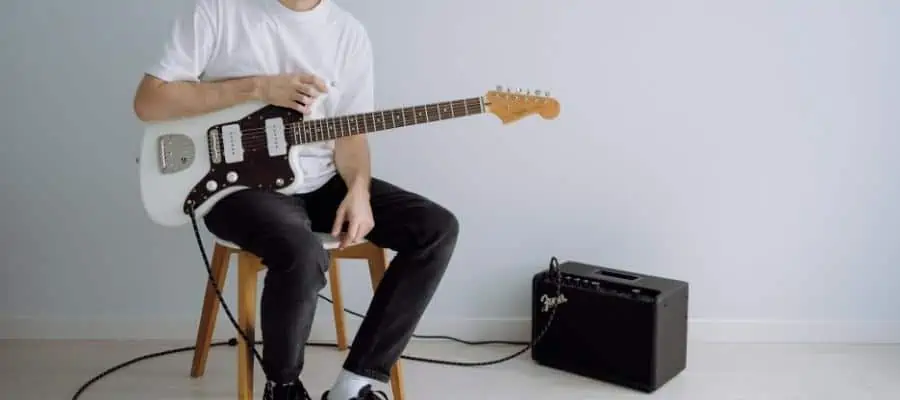 In need of a response to Gibson jazz models, Fender introduced the Jazzmaster models in 1958. To everyone's surprise, this guitar will not grow with Jazz players but rather with Southern California surf rock. This sparked the idea for the Jazzmaster design-based guitar that Fender will call Jaguar. This guitar will fit greatly with the surf rock genre.
But, Jazzmaster models will not remain famous for too long. During the hard-rock era in the '70s and '80s, due to their lack of sustain and lack of humbuckers, Jazzmasters disappeared from the scene. Fender will even stop producing them,
The rebirth of the Jazzmaster occurred in the 90s, and the man behind it was Tom Verlaine. He had started using Jazzmaster on TV shows giving the instrument a chance to rise from the ashes. Ever since then, Fender will continue to produce them.
Bodies Compared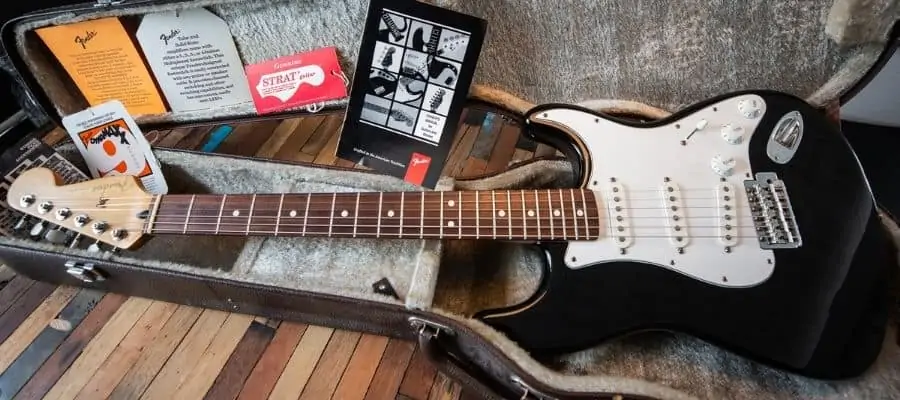 Visually, these guitars don't share many similarities apart from the neck. Their body shapes are similar. Stratocasters have that iconic strat-style double-cutaway body shape, while the Jazzmasters have an offset double-cutaway body. Both bodies are made out of Alder wood.
Stratocaster is lighter at around 8lbs, while the Jazzmaster weighs around 8.5lbs. Both guitars are among the lightweight category and have comfortable to-play bodies while standing and sitting.
Neck & Scale Length Compared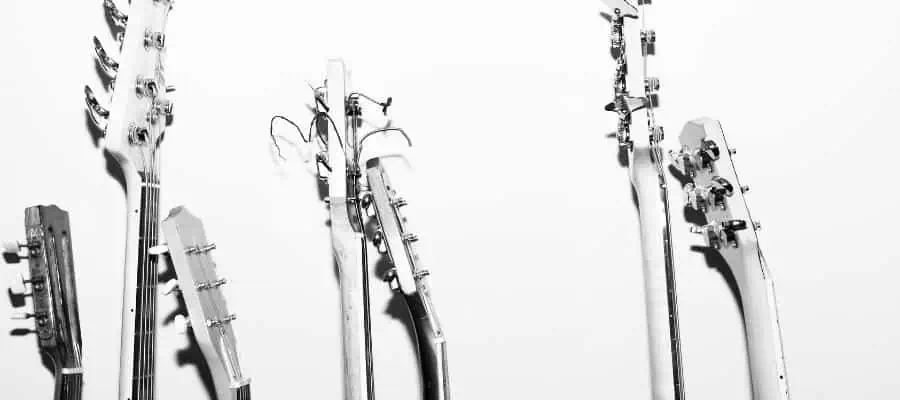 The necks of these guitars are what they have in common. Both of the neck shapes are Deep C and made out of maple. Their neck constructions are bolt-on. While their scale is the same, the fretboard material is different.
The Stratocasters have all maple neck and fretboard, and Jazzmasters, on the other hand, have Round-laminated Rosewood fretboard. Another difference is the number of frets. The Jazzmaster has 21 frets, one less than the Stratocaster, which has 22 frets.
Hardware Compared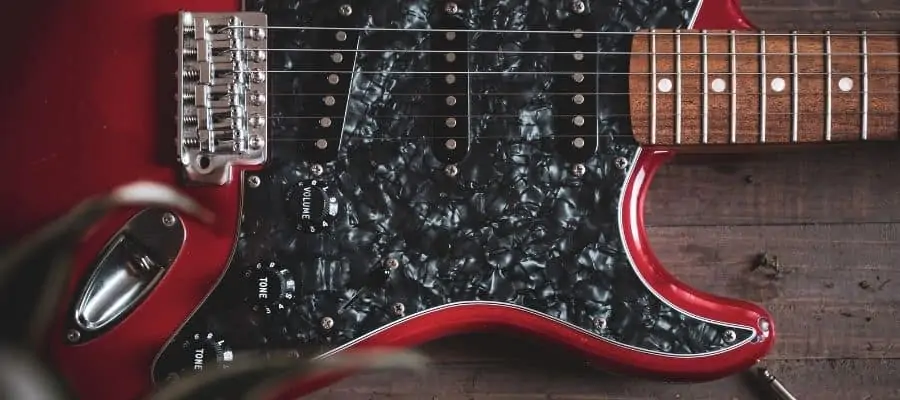 Both guitars pack a floating tremolo bridge with them. There is a slight difference in the position of the bridge, with Jazzmaster models having it further back on the body. You will also notice that Stratocasters have a String-through body type of bridge, and Jazzmasters don't.
The tuning machines on these guitars are the same. Both have Fender Standard Die-cast tuning machines. Usually, you will not have problems with these guitars going out of tune. Once the strings are settled in, you can go crazy as much as you want. You will not go out of tune.
Pickup Configuration Compared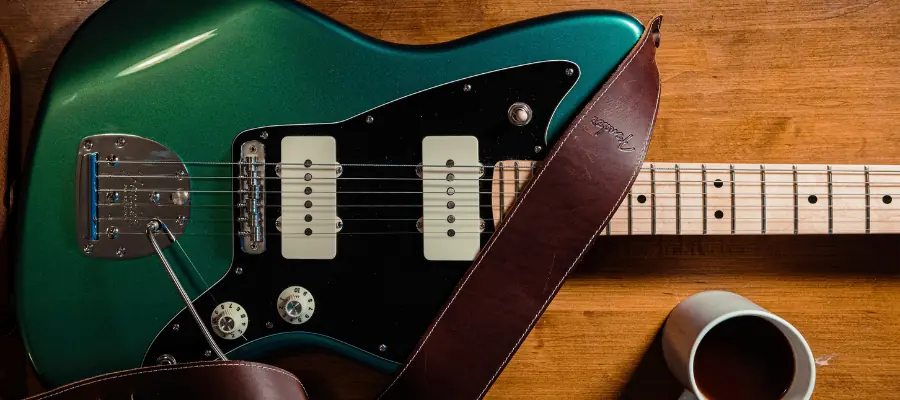 The key feature of these guitars is the pickups. Stratocaster is famous for being a guitar with three single-coil pickups, which are in most cases in SSS configuration, in some cases in HSS with a humbucker on bridge position. Jazzmaster, on the hand, has two wide single coil pickups; in some cases, you can find them with two humbuckers.
There is also a difference in tone controls. With Stratocaster, for most models, you will have three knobs for volume and tone, while the Jazzmaster usually has two knobs. You will also notice that Jazzmaster has a 3-way pickups selector and Stratocaster has a 5-way switch.
Since these guitars have many variants and versions to them, you can find them with many different pickup configurations. Guitar players love to modify these guitars, and there are many different types of them.
Fender Stratocaster Tone
Stratocasters have one of the most recognizable guitar tones ever. Without any modifications, they have a warm and "glassy" tone. Their tone is considered to have the most natural sound electric guitar can have. This is the reason why so many guitarists gravitate toward it.
They are considered to be a chameleon among guitars. You can get almost every type of sound out of them. The three single coil pickups stand behind that tonal versatility. With just one change of the switch position, you will get a different tone.
When you ask guitarists what would be their go-to guitar for versatility, it would be a Stratocaster. The Stratocaster with a humbucker on the bridge position is probably the best option for tonal versatility. This way, you can use them in every genre, from mild jazz to heavy metal.
Fender Jazzmaster Tone
Compared to Stratocaster, the Jazzmaster tone is much warmer and full, which was the goal of Fender in the first place. They are used in genres such as jazz, country, blues, classic rock, and indie.
Like Stratocasters, Jazzmasters' have great flexibility in the guitar tone control. Rhythm and lead circuits, independent volume and tone controls for both circuits, master volume control, tone control, 3-way toggle switch, and many controls to shape the sound to your liking.
Playing it unplugged due to its low string tension, you will hear the buzz only the Jazzmasters have. This feature has had a love-hate relationship with many guitars throughout its history. But this is also fixable in case you do not like it. You can replace the neck or ad the buzz stopper.
Fender Stratocaster Feel & Playability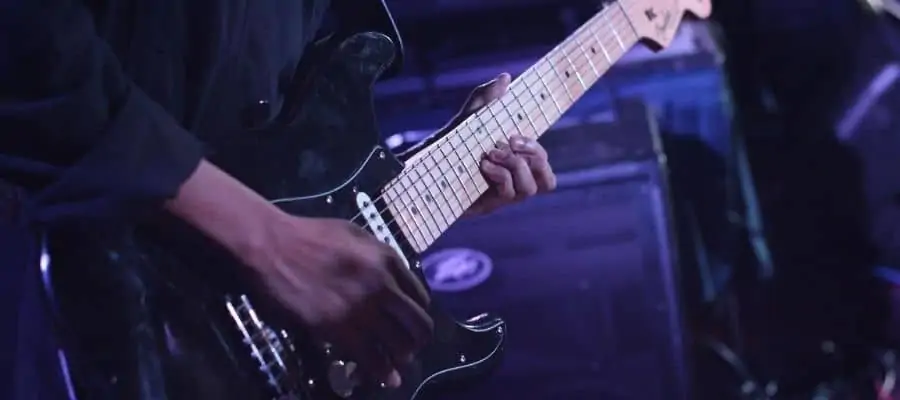 If you Google the most comfortable guitar ever, chances are the Stratocaster will show up on top of the list. It has great weight balance and a comfortable body and neck. Apart from sounding great, their comfortability is the reason why so many guitarists use them.
This guitar is the perfect choice for beginner guitar players who are just shifting from acoustic to electric. The neck of it feels amazing, and the double-cutaway design makes it easy to access the higher frets.
The thickness and contour of the body make this guitar super comfortable and easy to hold standing up and sitting down. With these features, you will hardly find a guitar that can beat a good Stratocaster.
Fender Jazzmaster Feel & Playability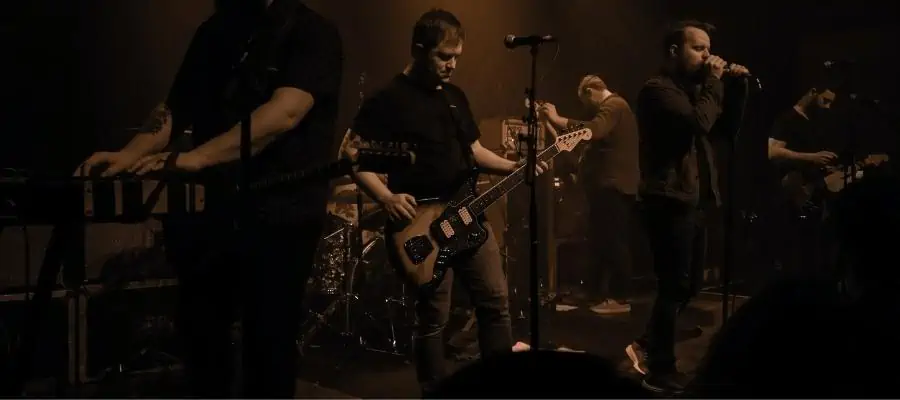 Switching from Stratocaster to Jazzmaster, you will notice that it is much heavier. The reason for this is that this guitar was originally built for Jazz guitar players; most of them were playing while sitting down. This may not be a problem for short sessions, but playing it for a longer time will have its toll.
Although it is on the heavier side, the Jazzmaster's balance is just the way it should be. Fender really took care to create a perfect body-neck balance. Like Strats, this guitar has a great and comfortable neck with easy higher fret access.
Fender Stratocaster Look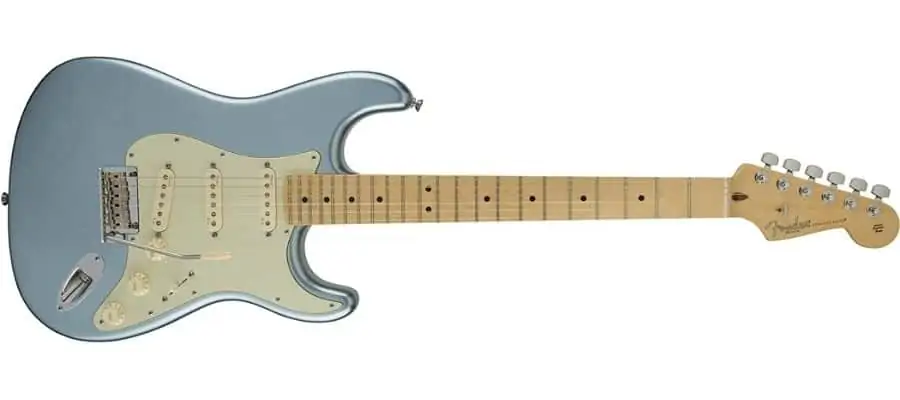 Today, you can find Stratocasters in every color out there. Sure, there are finishes that are legendary, and there are the ones you will find most often, but searching past that will give you great results.
The Stratocaster is one of the most famous guitars out there, which sounds great and looks even better. It is the perfect guitar for guitarists who like the classic look of electric guitar.
Fender Jazzmaster Look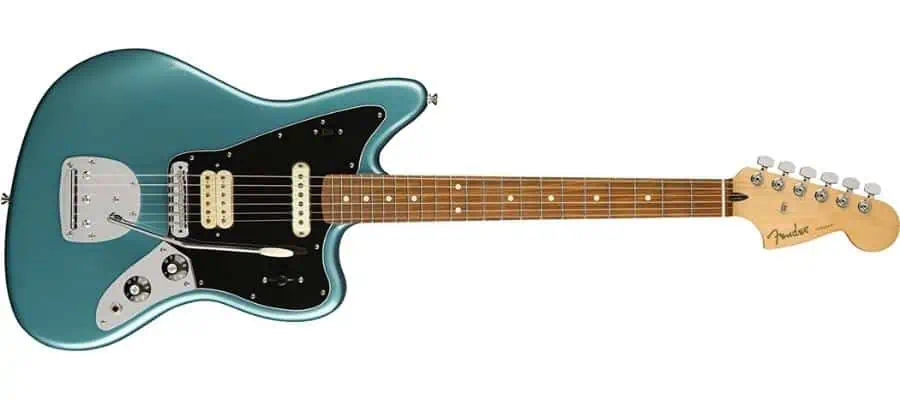 Jazzmaster's look may be the number one advantage over Stratocaster. It is a truly beautiful guitar with an elegant look to it. It has an offset waist design, and you can find them in many different variations of finishes.
Famous Fender Stratocaster Players
Jimi Hendrix
Jim Hendrix is the name that almost every guitarist will stand up for when mentioning his name. He is the man why so many guitarists took up a journey of learning the guitar and the reason why their first guitar was Stratocaster.
He was a Stratocaster player, maybe even one of the most famous players of the models. His go-to gear was a Stratocaster combined with a Marshall amp and the Wah-Wah pedal, for which invention Jimi is responsible.
He also may be the reason why Fender started making the Stratocasters for left-hand players considering Jimi flipped his guitar the other way around. He will record many songs with his Strat and show the true versatility of this guitar.
Eric Clapton
Standing right beside Jimi Hendrix is the guitar icon Eric Clapton. During his career, he tried every guitar and always returned to his trusty Fender Stratocaster. Clapton was a huge fan of the bluesy sound, which you can hear in almost every recording he did. 
The Stratocaster was, and still is, probably the best guitar for the blues. Even after all these years, Clapton will keep playing the Stratocaster. The reason for this may be the fact that it reflects back to his guitar playing the best.
Like Stratocaster, Eric Clapton is the guitarist who played many different genres, from rock to acoustic. The Strat was his number one choice for almost each one of them.
David Gilmour
The lead guitarist and vocalist of Pink Floyd have been using a Fender Stratocaster for almost the entirety of his career. With this guitar, he will live up to be the king of beautiful melody and amazing string bending technique.
The fact that Stratocaster is a really comfortable guitar to play helped David to shape the sound his way. In his recording, he used many different guitar effects to which Stratocaster responded beautifully.
To this day, his go-to guitar is his black finish Stratocaster. You can hear this guitar in many of his recordings throughout his career.
Jeff Beck
Jeff Beck is a huge part of Stratocaster's history. He is known as one of the most versatile guitar players out there. He will jump from genre to genre with ease in his songs, thanks to his Fender Stratocaster. He is known for creating slide sounds with nothing but his fingers and the tremolo bridge of the Stratocaster.
Interesting fact that he came from the same group, the Yardbirds, as Eric Clapton, Jimmy Page, and many other Stratocaster players. He appeared with different artists during his careers, such as Mick Jagger, Bon Jovi, Stevie Wonder, and many others. In almost every collaboration, he will use the Fender Stratocaster.
Rory Gallagher
This Irish guitarist is known for using his beat-up sunburst Stratocaster. This guitar corresponded with crazy energy and raw aggression during performances. He is credited for bringing back the legend Eric Clapton back to the blues.
He used his Stratocaster had greatly responded to his genre needs of combining folk, blues, and rock. A big influence on his sound and playing had the Saxophone players. Stratocaster helped him to achieve that technique.
He will sadly die in 1995 at the age of 47 but will leave a long-lasting legacy and still be an influence and idol to many guitar players.
George Harrison
You will probably not be surprised that the guitar lead guitarist of the Beatles used a variety of different guitar models. Still, he claimed that his "Rocky" Stratocaster was the favorite among them. Stratocaster had a big influence on his playing. Since he was influenced mostly by blues, Indian classical music, and country, Strat responded to his playing style beautifully.
An interesting fact is that he bought his Stratocaster together with Lennon in 1965. Originally the models had a Sonic Blue finish, but during the 60s, he would do a psychedelic makeover to it, giving it a new and modern look for the time.
He had used many different voices of guitars during his career. This may be the reason why the Stratocaster was his favorite guitar to play.
Famous Fender Jazzmaster Players
Robert Smith
The lead guitarist of The Cure is known for his wide collection of guitars. He used many different guitar models during his career but only stuck to his name. A big part of his tone was the Fender Jazzmaster.
He will use this guitar model in Disintegration, Faith, Pornography, and Seventeen Seconds albums. He stated that he loves the Jazzmaster because of the fact that you can shape its sound however you like.
J Mascis
One of the most famous Jazzmaster players is J Mascis, the lead guitar player of Dinosaur JR. His unique, highly distorted guitar tone is only possible with Jazzmaster. You will hardly get his sound with any other guitar.
Fender will eventually create a signature Jazzmaster model fitted to J Mascis's needs. This model has high action, jumbo frets, and a tune-o-Matic bridge. Many will consider this a rather unusual combination.
Jim Root
When you hear the name Jazzmaster, the last thing you expect is for it to be used for death metal purposes. Well, Jim Root had managed to do the impossible. After many alterations and modifications, he managed to bring the death metal sound out of the Jazzmaster.
The reason behind this tone is the fact that He customized the Jazzmaster with Strat features while simplifying the electronics and adding a hardtail bridge. In the end, the only thing Jim Root will keep is the Jazzmaster body on his model.
Lee Ranaldo
The lead guitarist of Sonic Youth was originally seen with the Telecaster, but slowly he shifted to Jaguar and Jazzmaster guitars. The reason for this was his tour with the Dinosaur Jr, on which he used the Jazzmaster, and it got his attention.
Like many guitarists, he started modifying it. The first step was changing the circuits to be more simple and replacing the pickups for humbuckers giving it a more beefy sound. Eventually, he will create what will later be known as Jazzblaster.
Fender will take over the idea and create Lee Ranaldo's signature guitar with the same name, the Jazzblaster. This guitar features fat-toned wide-range humbuckers, a Mustang bridge, and simplified circuitry.
Taylor York
Like many Jazzmaster players, Taylor York will also customize his. He will remove one of the key features of Jazzmaster, which is the rhythm/lead circuitry, and replace it with the 3-way selector.
In order to satisfy his wild strumming technique, he will move the jack from the pickguard to the bottom of the body. As you may have expected, the pickups were replaced with a humbucker on the bridge position and a P90 pickup on the neck position. This significantly beefed up the sound of his Jazzmaster.
Troy Van Leeuwen
This guitar player is known for being a member of the Perfect Circle and the Queens of the Stone Age. While playing these bends, and as a session musician, he will use a wide range of customized Jazzmasters.
His most notable Jazzmaster models are a black AVRI 62, an Aztec Gold AVRI 65, and Squier Vintage Modified Jazzmaster. Fender will make signature Jazzmaster with vintage-style frets, ox-blood finish Pear inlays, and Fender Mustang bridge.
Conclusion
In conclusion, both of these guitars are a great choice for anyone who likes a good instrument. The question of which one is better is the one you will have to find the answer for yourself since it depends on your guitar playing style and the sound you prefer.
In case you are in the beginning stages of learning the art of electric guitar, Stratocaster may be the best choice since it offers you the widest range of tones and will serve you for a long time. Apart from sounding great, it will not give you a hard time playing our back pain while holding it.
Jazzmaster models are great for people who like to use higher gain and have a warm sound to their guitar. Visually, it is a beautiful guitar, and you can always easily customize it to fit your playing needs. You can see them used in heavier genres such as metal or hard rock.
If you found this article useful, you may want to save this pin below to your Guitar board.