Rickenbacker is the creator of the first-ever electric guitar known to man. Later, its design and sound became a cornerstone of the 60s and 70s generations. Since its first creation, the legendary Rickenbackers are only made in the United States.
So, Where Are Rickenbacker Guitars Made? No matter the era, every one of Rickenbacker is made in the U.S. That is for sure! The company has been making every model in its small factory in Santa Ana, California, since 1931.
With its distinctive look and sound, Rickenbackers have inspired so many musicians along the way, such as John Lennon, Pete Townshend, Tom Petty, John Fogerty, Chris Squire, Phil Lynott, and many more! It's still popular worldwide and a unique choice for modern-day guitarists and bassists.
Rickenbacker Guitars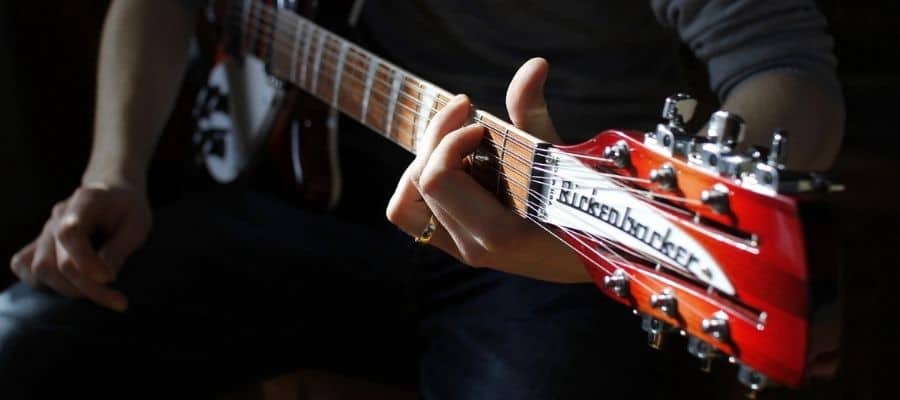 "I went pretty much for one tone, and I knew at that time that I wanted to play a Rickenbacker." John Fogerty
Rickenbacker International Corporation was founded 91 years ago in 1931 in California by George Beauchamp and Adolph Rickenbacker. They were the ones who invented the electric guitar with their invention of the "Frying Pan."." A solid-body electric guitar later becomes Hawaiian Lap Steels and namely the Electric-Spanish Guitar, which is the first-ever electric guitar with 17 frets on the neck in music history.
Even the inventors of the electric guitar could almost not survive financially through the late 50s. However, the company's fate has changed forever after the young John Lennon bought his first American-made electric guitar in 1960. Together they created the origins of British rock sound and introduced it to the world. Neither Lennon nor Rickenbacker and Beauchamp knew how big it was going to be!
Rickenbacker is a legend in rock music. Its sound gave birth to the most known rock bands in the 60s and 70s, shaped the ears of variable generations, and has arguably created rock 'n' roll. The Beatles, Thin Lizzy, Motörhead, Creedence Clearwater, The Eagles, Tom Petty and the Heartbreakers, The Who, Jefferson Airplane, Pink Floyd, Yes, and Rush were only the first bands who got inspired by Rickenbackers' revolutionary sound and design.
Rickenbackers are mostly known for the 12-string electric guitars and classical bass guitars. Every person who watched Beatles on T.V. or went to a Motörhead concert will surely remember how a Rickenbacker looks and sounds!
Where Are Rickenbacker Guitars Made?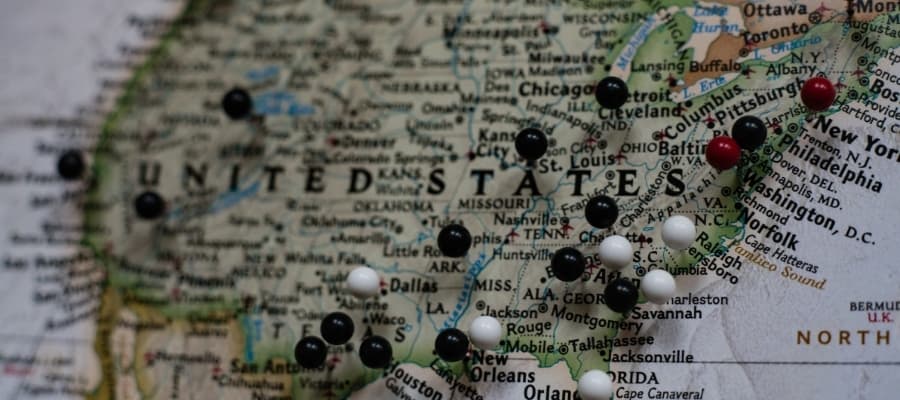 Since the 30s, Rickenbackers have been made from woodwork to finish and assembly in one place: A small factory in Santa Ana, California, United States. Even though there is a high demand for Rickenbacker guitars from all over the world today, the artisans behind the legendary guitars continue to make them in the same small factory.
Rickenbacker International Corporation is a family-owned brand, and its unique way of making guitars has been passed on from father to son since the 50s. The luthiers are attentively manufacturing every guitar and ensuring that every step is ideally done before the guitars go out from the factory.
Does It Matter Where Rickenbacker Guitars Are Made?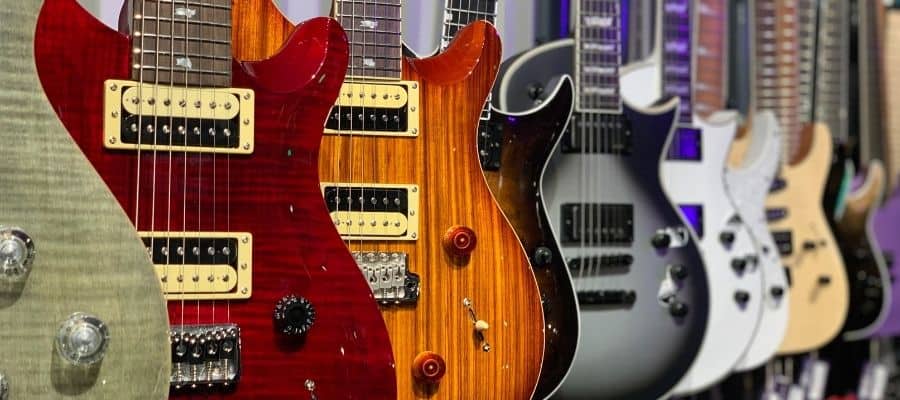 Like every guitar made in the United States, Rickenbacker guitars go through a strict quality process. As John Hall, the inheritor of the company, explains that every component of Rickenbacker guitars is made only in the United States and not imported from other countries.
So, yes, it does matter where Rickenbacker guitars are made! The company indeed sustains the tradition of the quality approach of guitar making in the United States. The family especially does not involve mass production to ensure the quality of their instruments and still makes the famous guitars by hand except for certain processes.
How Good Are Rickenbacker Guitars?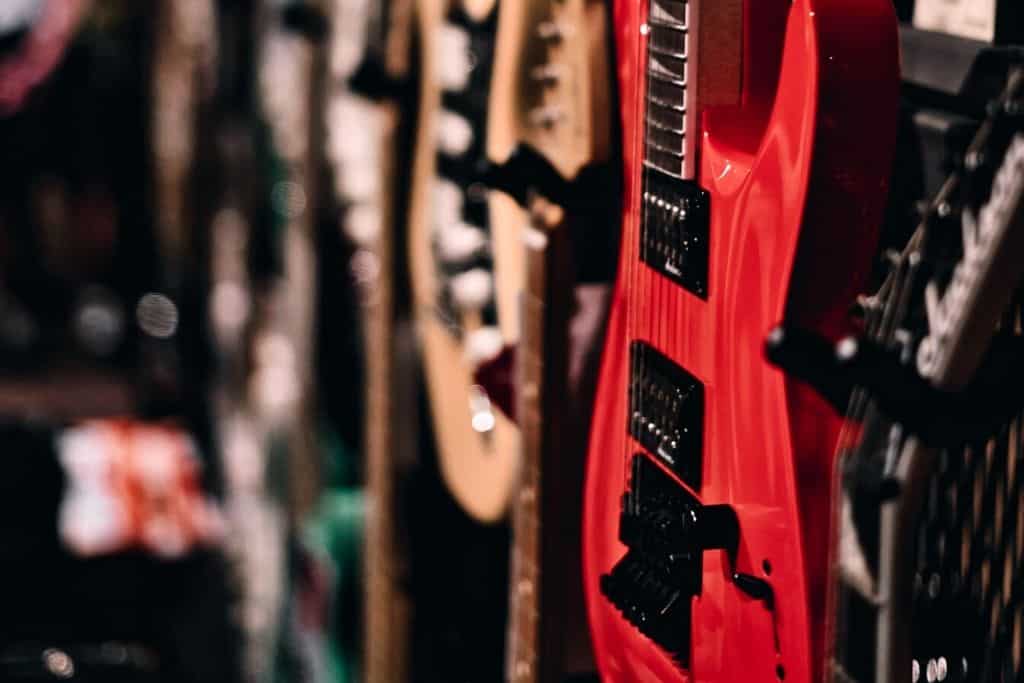 Most guitarists would say that If you want to recreate the clean jangle, shimmering sound of the 60s, it is the best guitar, but you can't do much else with it. I disagree with this argument. I think they are very versatile. Of course, it is up to individuals to love its sound or not. There are so many musicians from different genres who have used Rickenbacker guitars for decades, though. They have a rich heritage of players, which is not a coincidence.
Rickenbackers pretty much have an idealistic touch. As I said, the company doesn't compromise on its methods and approach to quality, that's how Rickenbacker guitars still have that vintage vibe, and they are unique in look and sound.
They are almost a mystery; we don't see them much in stores to try any. Because the company still works with pre-orders. There are people in line for these classical guitars!
What Are The Key Design Elements In Rickenbacker Guitars?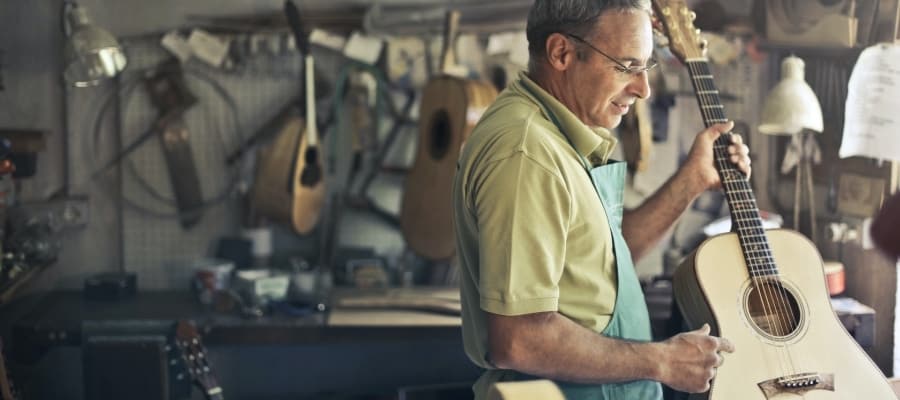 Let's take a look at the main elements of the magnificent, classic Rickenbacker guitars.
Vintage Design
Rickenbacker guitars are iconic and legendary by design. They are like a portal that brings the 60s back to mind when you see them. Rickenbackers have their own unique Californian character that you can not miss when you see one. The image of a Rickenbacker is historically significant, and it's still alive!
Classic Rickenbacker Headstock
Assembled with the classic Rickenbacker logo and smooth curves, the Rickenbacker Headstock is like a signature for Rickenbacker guitars. Especially for the electric guitars with 12 strings, they designed a unique headstock that has the 6 additional tuners lined up at the back. You won't see such a thing in general. It's another special element that Rickenbacker guitars have.
Distinctive Look, Colour & Finish
As the factory keeps its production limited and premium, the Rickenbackers are only available in 4 variations of color. You might find other options rarely here and there, but traditionally, Rickenbackers have red – Fireglo, black – Jetglo, midnight blue, and natural maple – Mapleglo options and their varieties.
High-Quality Material
As I said before, Rickenbacker guitars are built in the U.S. That means before they go for sale, they have a strict quality inspection like all U.S. guitar brands. They are attentively controlled and checked before they leave the factory.
Almost every little electronic component of Rickenbacker guitars is assembled in the same factory. Even the pickups or the wires inside have U.S.-made components. In comparison to competitors, other guitar brands mainly import electronic parts from China, which is mostly not a positive thing for the quality of the guitar.
One Piece Neck – One Piece Body
Rickenbackers have a neck that is a single whole-piece wood. It goes from the classic headstock to the edge of the body. This neck-through type method allows better sustain and resonance. Also, because the guitar doesn't need a neck joint, it makes it possible to access high frets easily.
Most of the Rickenbackers have a hollow body, but there are also solid-body options in general. The body is also a single-piece wood, which contributes to the general sustain and the unique sound of the guitar. Using multiple pieces of wood mainly affects the sustain negatively.
Double Truss Rod (Better Tuning)
This element is pretty special with Rickenbacker guitars. Rickenbackers assembled with a double truss rod for better tuning and neck health. It means they have two truss rods in the neck, not one. People even say that you can adjust them separately to give a different touch to the bass and treble parts of the neck.
Narrower Neck
Rickenbacker guitars, even the basses, have narrower necks than most of the other guitars on the market. Most of the models are 41.4 mm at the nut, while most of the competitors are 43 mm. Some get along well with them; some say they are not comfortable with thinner necks. I like to play guitars with thin necks than thick necks. This seems more controllable to me.
The "Rick-O-Sound"
Most of the Rickenbacker guitars have two different output jacks. A standard mono output and a stereo output, namely the "Rick-O-Sound" output. It transfers 2 different pickup signals separately out. This feature is one of the reasons that Rickenbacker's unique, crunchy sounds later became widely famous.
Authentic Rickenbacker Pick Ups
Rickenbacker guitars have these Low-Gain Pickups that highly contribute to their specific, vintage tone. Most contemporary musicians also find it a negative thing because it can't compete with new tech high-gain pickups. However, it is the only way to preserve the unique Rickenbacker sound and aspects.
The company has invented and used 4 types of pickup variations for years such as the "Horseshoe," DeArmond," Toaster," and "Hi-gain" pickups. Horseshoes are amazing for playing lap steels or any steel guitar, also basses. DeArmonds are pretty rare; they weren't a success in the steel guitar market back in the day.
Toasters are the Rickenbacker classics; they have been used since the late 50s till today as a standard. And as the evolved Toaster, Rickenbacker's Hi-Gain pickups came into the scene. Since the music was getting heavier and musicians needed a fuller sound in the late 60s, Rickenbacker invented this new model to provide the needs of variable guitarists from all over the world. 
The 5th Knob
The old Rickenbackers had a little problem when you changed between pickups. There was a huge difference in volume when you switched. That's why the manufacturers add this 5th knob, which is still a mystery for lots of guitarists who don't know much about Rickenbacker guitars.
The 5th Knob allows you to maximize the neck pickup's volume. Therefore, you don't get a big difference when you switch.
Rickenbacker Guitar Models
Rickenbacker Model 325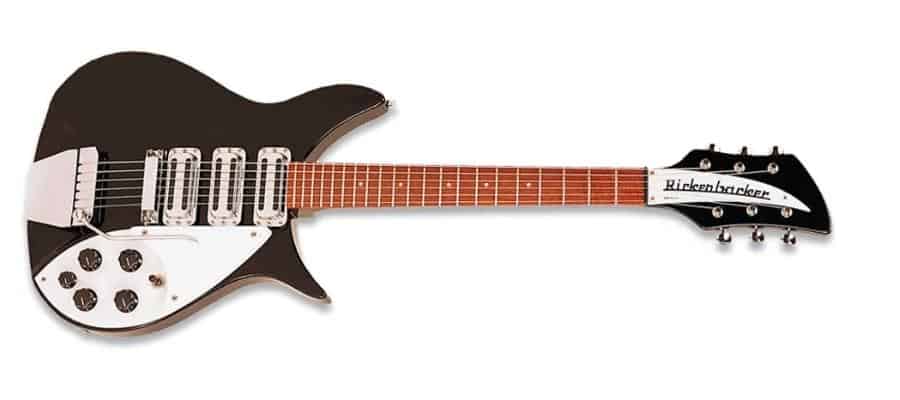 This model is the legend behind Rickenbackers' fame and success. Manufactured first in 1958, it was originally designed by Roger Rossmeisl, a German luthier. The first-ever Rickenbacker model that steals a Beatle's heart.
John Lennon purchased this guitar in Hamburg, Germany, before their famous concert. The legendary sound of the Beatles' debut album and shows isn't imaginable without its sound. 
Model 325 has a semi-hollow body type with three single-coil pickups. The original batch came colored in Jetglo. Now available only as a reissue form. Namely, 325C models. With their bright and jangly tone and charisma, they became an obsolete part of the British Invasion.
Rickenbacker Model 330 (Semi-Acoustic)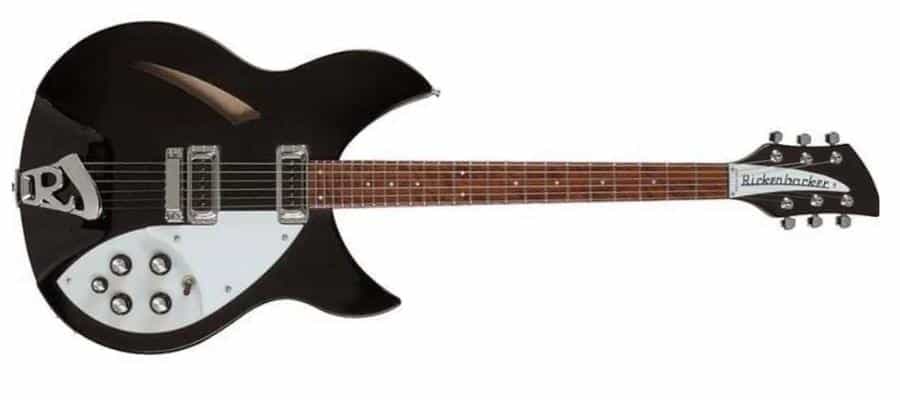 They are probably the most famous Rickenbackers of all time. This guitar has a warm and rich sound with a perfectly designed vintage look and finish.
They are good for playing arpeggios, rhythm, and lead solos. It has a classic semi-hollow, maple body with a set-in neck and 24 frets rosewood board. Model 330 has a double-cutaway on its body, allowing players to access higher frets easily.    
Rickenbacker Model 360 – 12 Strings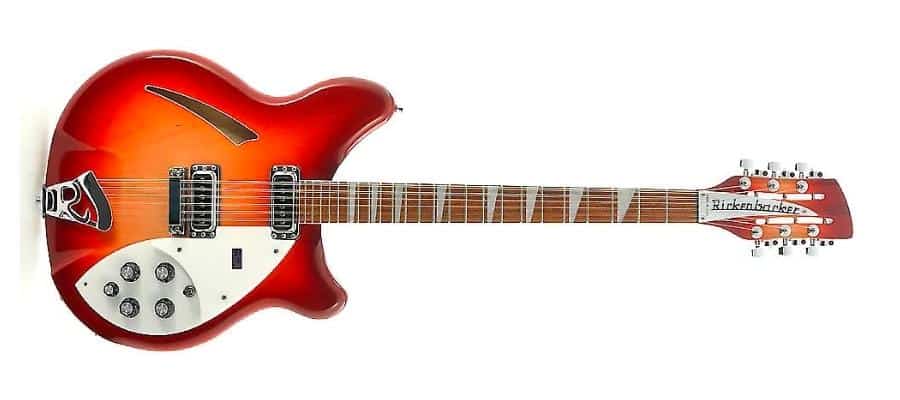 The most famous 12-string electric guitar in the world. A classic option to record in the studio for more than 30 years. Set up with two hi-gain pickups, has two types of outputs, assembled with maple semi-acoustic body and neck, and has a rosewood fingerboard with 24 frets. Its neck has slimmed and reformed, which makes it easier to play.
The 360's unique, "jangly" sound made it preferable during the British Invasion and makes it now in modern times.
Rickenbacker Model 620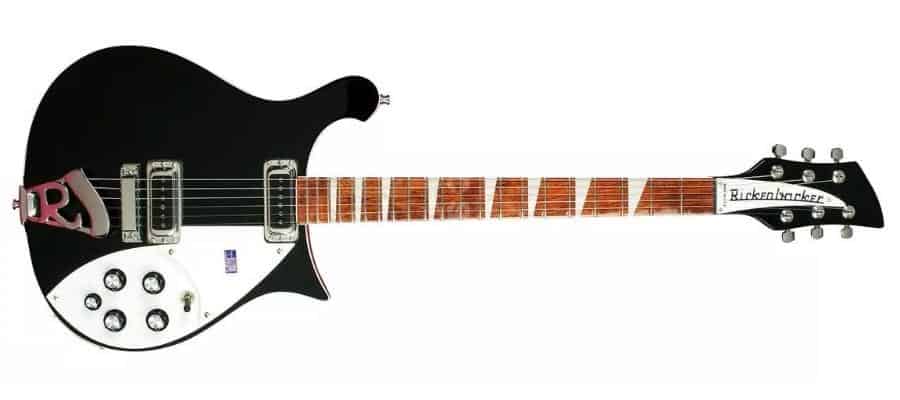 One of the other classics of rock 'n' roll with a solid maple body and neck has 21 frets on a rosewood fingerboard. Its popular and innovative design came from the 1950s and is called the "Crestling Wave."
Model 620 is almost an evolved version of the 300 Series with high gain pickups, 5 knobs, and two outputs options (stereo/mono). As an example of Rickenbacker's craftmanship, Model 620 is again a high-quality guitar offered by the company and is a significantly lightweight body guitar, by the way.
Rickenbacker Model 4003s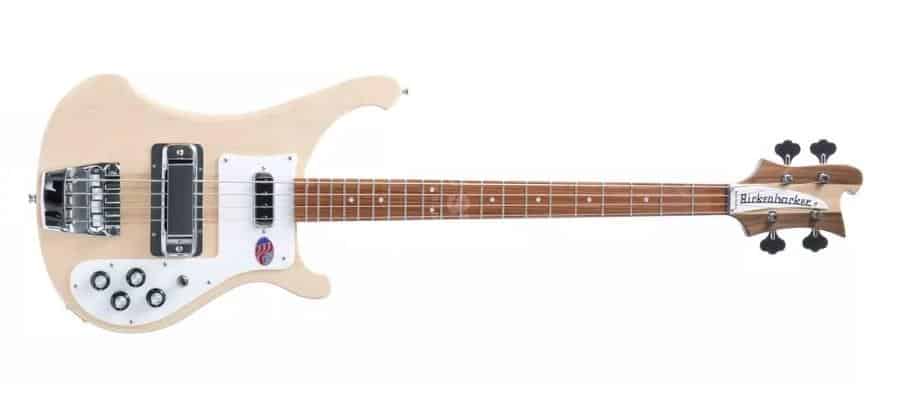 This is the classic, legendary, iconic Rickenbacker bass of all time. You can't imagine a Motörhead, Thin Lizzy, or an early Rush sound without it! Model 4003 is crafted from maple with a neck-thru design.
It is mostly famous for its bright, punchy high ends and serious sustain, has two types of outputs, single-coil pickups, and a 42.9 mm neck width, which is again thinner than the average and weighs 4.1 kg. 
Rickenbacker 1993Plus 12 String Fireglo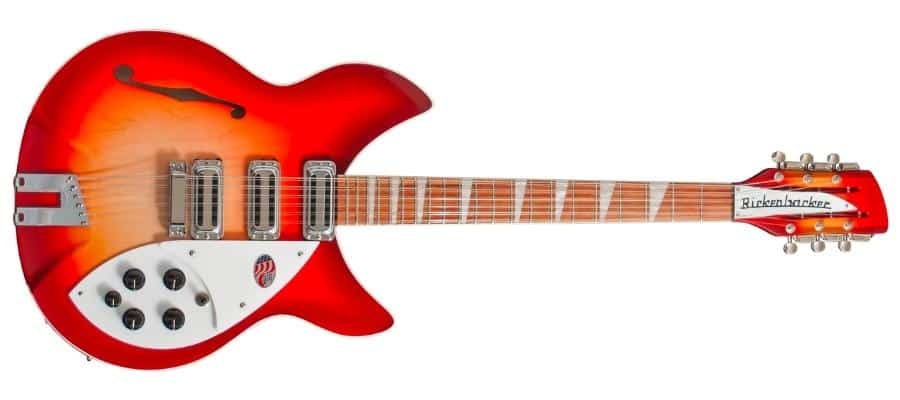 After Pete Townshend asked the company to reprise his Model 1993, Rickenbacker came with a perfectly evolved version of the guitar. With a semi-acoustic body type and three vintage single-coil toaster pickups, this 12-string signature electric guitar has a very balanced and fullest sound.
It has a broader neck width than the other models, 44.45 mm at the nut, and Caribbean rosewood has been used for the fingerboard. The legend weighs only 3.6 kg. 
The Price Of Rickenbacker Guitars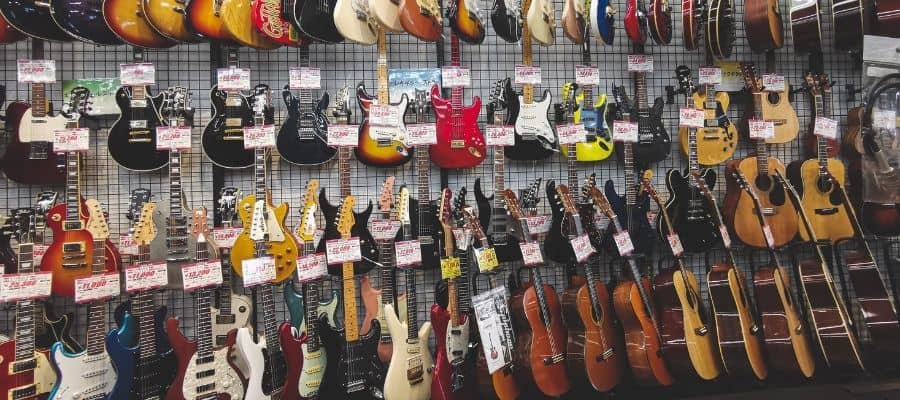 Standard Rickenbacker guitars have a price range of $2000 – 3800$ as of January 2022. The most affordable choices are the 620s and 330s with a suggested list price of around $2000 while a 12-stringed 660 is worth around $3100 and a 1993Plus (Townshend) Rickenbacker costs around $3800. 
There is also a series of vintage reissues available, including a free vintage case, such as the C series 325C64 for around $3600 and 360/12C63 for around $3850. They are only offered in specific colors. Furthermore, the 381/12V69 for around $5400 is the most expensive choice, and a 381V69 is available for around $5000. 
The 4003 Series bass guitars are available between the prices of $2100-$2500. 
Who Uses Rickenbacker Guitars?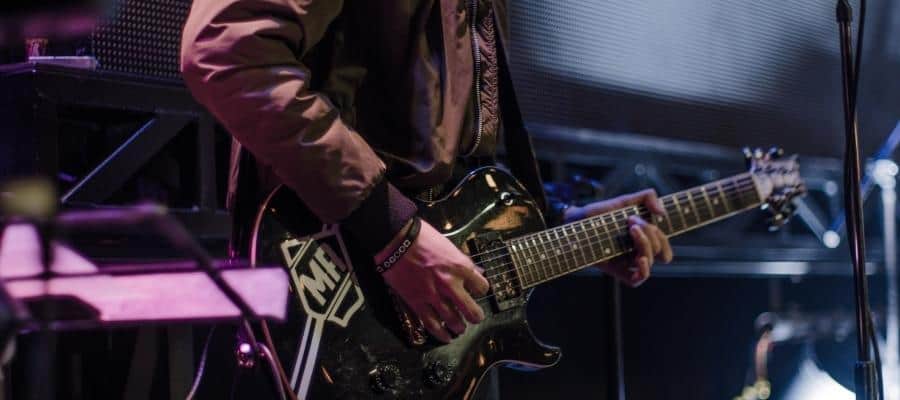 Rickenbacker guitars are widely used in the world. Their attractive look and sound took lots of guitarists' hearts and inspired them to create a new musical language. From old bands like the Beatles, Creedence Clearwater, Tom Petty, and the Heartbreakers, The Beach Boys, The Animals, Steppenwolf, Funkadelic, The Ramones, Fugazi, Genesis, Deep Purple, Thin Lizzy, Motörhead, and Metallica to modern musicians Rickenbacker guitars are still a desirable choice.
Famous artists who use Rickenbacker guitars in modern times are:
Peter Buck (R.E.M.)
Kevin Parker (Tame Impala)
Craig Cannon (The Smiths)
Joey Walker and Cook Craig (King Gizzard & the Lizard Wizard)
Al Cisneros (Sleep, Om)
Simon Gallup (The Cure)
Daniel Johns (Silverchair)
Noel Gallagher (Oasis)
The Edge (U2)
Billie Joe Armstrong (Green Day)
Daniel Kessler (Interpol)
Thom Yorke (Radiohead)
Does Rickenbacker Make Other Products Besides Guitars?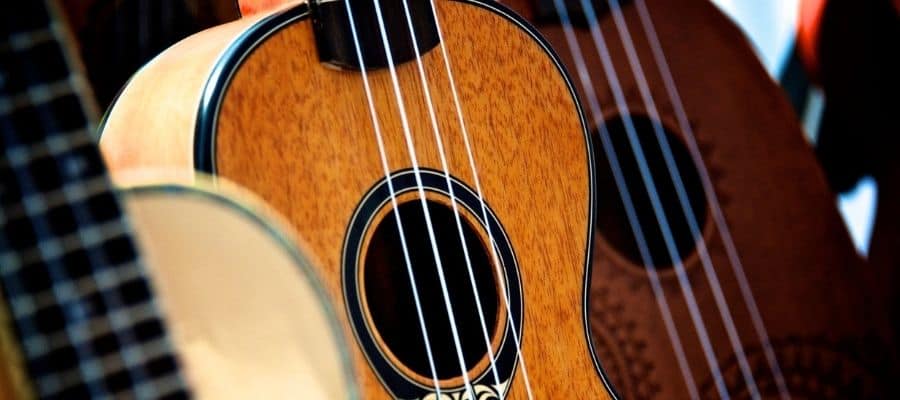 Rickenbacker has so many other products besides electric guitars and basses. Rickenbacker did have a series of acoustic guitars before, but now they are discontinued. The company also offers instruments such as electro violin, electro mandolin, electro banjo, and electric harp, a.k.a Harpo Marx.
They have variable options of amplifiers and extension speakers, also accessories such as cases, microphones, volume control pedals for Hawaiian and Spanish guitars, pics, stands, strings, and other amplifier accessories.
Conclusion
Rickenbackers are a legend; they are iconic. If you are willing to have a Rickenbacker, you have most likely to acknowledge its specific character of sound and design.
If you found this article useful, you may want to save this pin below to your Guitar board.