PRS or Paul Reed Smith is one of the most famous guitar companies in the world. Today, PRS has many models of guitars being made in different places. This results in differently priced models with different quality levels.
But where are PRS guitars made? Depending on the model, they are manufactured in the United States, South Korea, or Indonesia. The SE models are made in South Korea and Indonesia, while PRS Core, Private Stock, CE, and S2 are made in Stevensville, Maryland, in the United States.
Most guitar players will be able to recognize the PRS guitar on the first look just by the iconic design of the models and their features. But not every model is the same. PRS had made sure to add something unique to each one of them.
PRS Guitars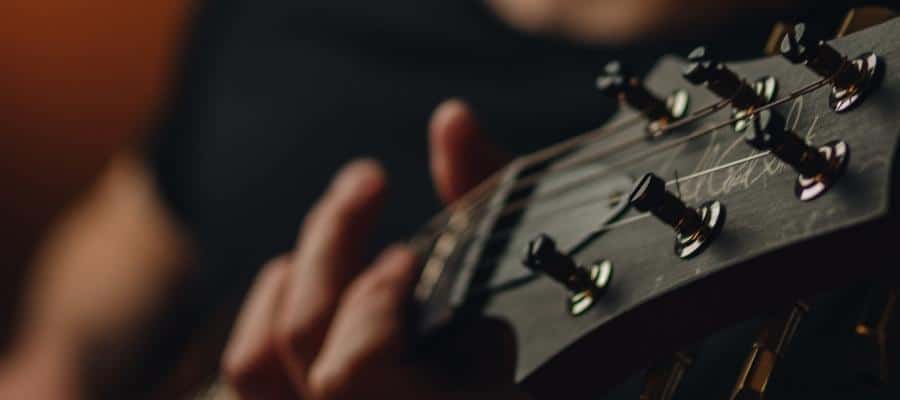 PRS has always had unique and recognizable designs for guitars. You may recognize their guitars by the bird inlays on the fretboard or in the hands of Santana, John Mayer, and many other famous guitarists. Since the 1980s, Paul Reed Smith or PRS has been making guitars of the highest quality. And it all started with Paul building the guitars for himself, which he field-tested as soon as they were ready to be played.
After Paul Reed Smith moved from his garage, he had managed to set up a partnership and create a factory in Annapolis, Maryland. Their Kickstarter guitar was the PRS Custom which hat mahogany neck attached to a mahogany body with a maple cap and the vibrato, which they had patented. It was the perfect blend between old and modern guitars, which was striking since, during that time, the focus was on the high-tech guitars in the guitar community.
Almost everything on the PRS guitars is designed and made within the facilities of PRS. One of the most notable things that PRS makes for their guitars is the pickups. They have two types of pickups: While most pickups are humbuckers, there are guitars with pairs of single coils wound in opposite directions. Usually, one is made for the neck and the other for the bridge position.
Most of the PRS guitar models feature a rotary selector which can blend the pickups between 5 different tones ranging from thick Les Paul style to bright Stratocaster sound. Their pickups are initially made for more aggressive tones, which are characteristic of the rock market at that time.
Where Are PRS Guitars Made?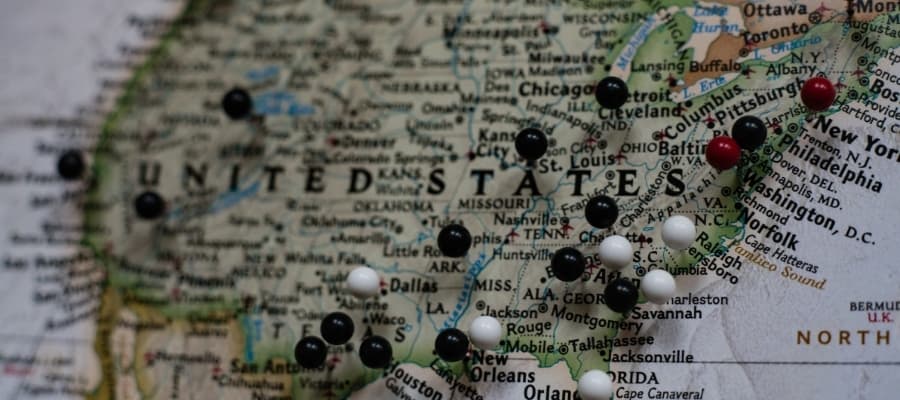 The root of PRS guitars is in Stevensville in Maryland, but their production is not limited to the USA only. The PRS guitars are made in Indonesia, South Korea, and the USA. The higher quality models such as Private Stock, Core, and S2 models are made in Stevensville.
On the other hand, you have the SE models that are made in South Korea and Indonesia. While USA models are of better quality, this does not mean that the Indonesia and South Korean models are bad. Both of the production lines produce great models which are worth trying out.
Does It Matter Where PRS Guitars Are Made?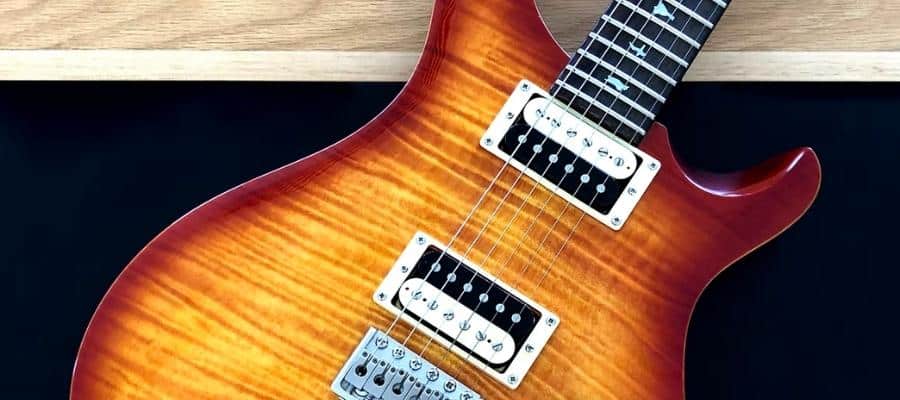 With most guitar companies, their quality is determined by where the guitars are manufactured. Most of the time, guitars made in the USA tend to be of higher quality. With PRS, you cannot go wrong with buying any of their models.
Sure, the USA models are, in most cases, better quality, but this does not mean the models made in Asia are bad. All of their guitars have the highest quality possible for the price. So the question of where a particular guitar was made is not important when it comes to PRS.
How Good Are PRS Guitars?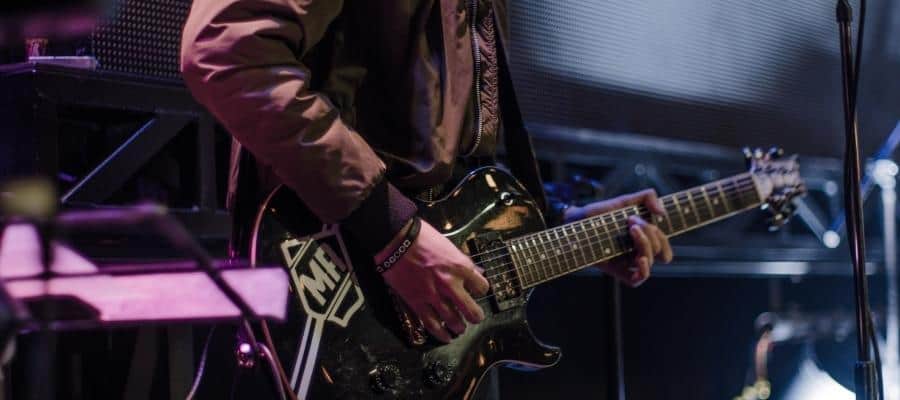 For many guitarists, the PRS guitar is a go-to option. This is not without reason. PRS guitars are one of the most famous and most frequently used guitars in the entire world. The reason is the great quality of construction, sonic performance, and versatility. These guitars are used for almost every genre.
If you order a PRS guitar, once it arrives, you will most likely be able to play straight out of the box without any adjustments to the setup. That is what makes the PRS guitars great, apart from care to detail. PRS production makes sure that every guitar manufactured in their factories has the best wood available and the best manufacturing process.
Besides the high quality, for most guitarists, PRS guitars are considered to have one of the most beautiful designs. They are super easy to play with and feel good under the fingers. Sure, they can be expensive, but considering what you get for a price, it is a great deal.
The Price Of PRS Guitars?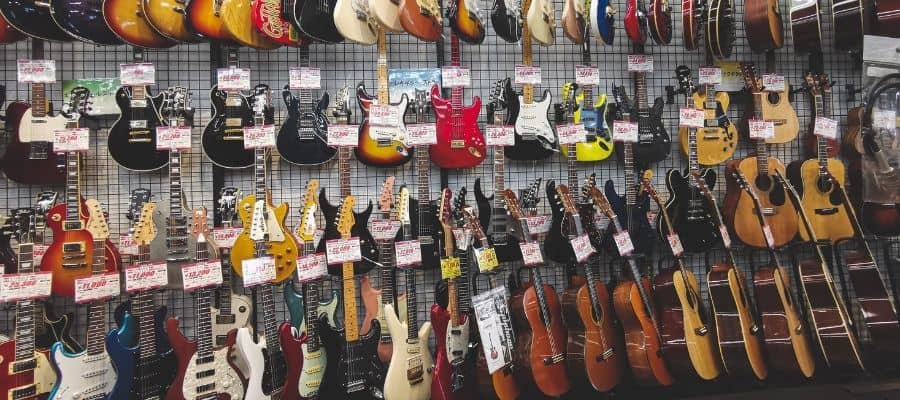 Today, you can find PRS guitars anywhere from $650 to $5000 or even more. The prices of the PRS guitars are completely dependent on the model and where it is made. Therefore, their guitars are divided into four different price range lines.
Starting with the more inexpensive line known as SE models, primarily made in South Korea, whose price starting point is around $600. The next series in line is the S2 models, which you can get for around $1000.
After this series comes the CE series, which price starting point is around $2000, and in the end, as a final series, we have the Core series, which price starting point is around $2500 and can go up to $5000. The S2, CE, and Core models are all manufactured in the USA.
With the increase in the guitar's price, the quality of parts used for the guitar is increased exponentially. To be honest, with PRS, you cannot get a low-quality instrument. All of their products are made with care, and they make sure that they nail it to the last detail.
PRS Guitar Models
PRS features five different series of guitars: SE, CE, S2, Core, and Private stock series. All of them come with different prices and quality, with the lowest being the SE models and the pinnacle of PRS manufacturing being the Core and Private stock models.
Each one of these series has a sub-series within them. This often confuses most people. For example, within the SE series, you can find Custom, Standard, Hollowbody, Extended range, Signature, SE 245, and SE Basses. It goes about the same way for most series, but there are still exceptions.
PRS Electric Guitar Models
There are many models of PRS guitars out there which means there is something for every guitarist. Today, you can see them used by bedroom musicians and by the most prominent artists in the modern world. We will try to cover a model from each of the series as we go.
SE Custom 24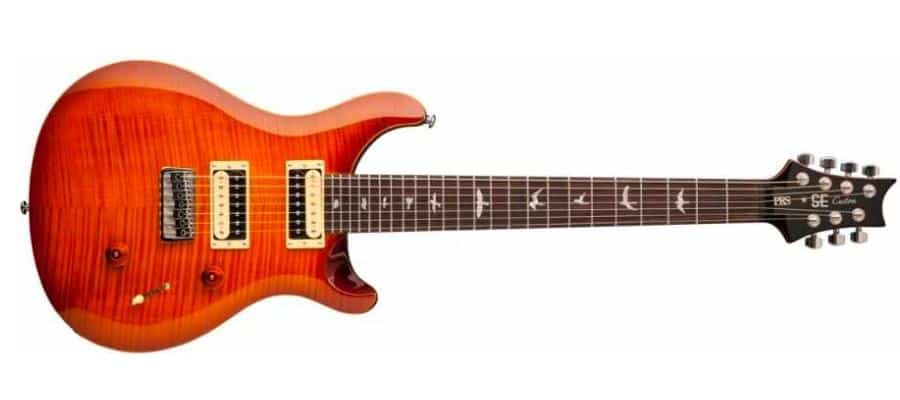 The PRS SE Custom 24 is one of their most popular and best-selling guitar. The reason for this is its relatively low price and great quality. It comes with a Mahagony body with a maple neck and archtop.
This guitar is extremely durable, and it is perfect for touring musicians. It can take a huge amount of abuse, making it a perfect workhorse for most. Most models will feature coil split on their 85/15 "S" pickups, which come in pairs.
So you can get a great humbucker and single-coil tone with one guitar: Perfect for every music genre. The best thing about this guitar is its price. Currently, you can get one of these guitars for around $800. Ordering it directly from PRS, the package includes a gig bag and a set of strings.
Core Custom 24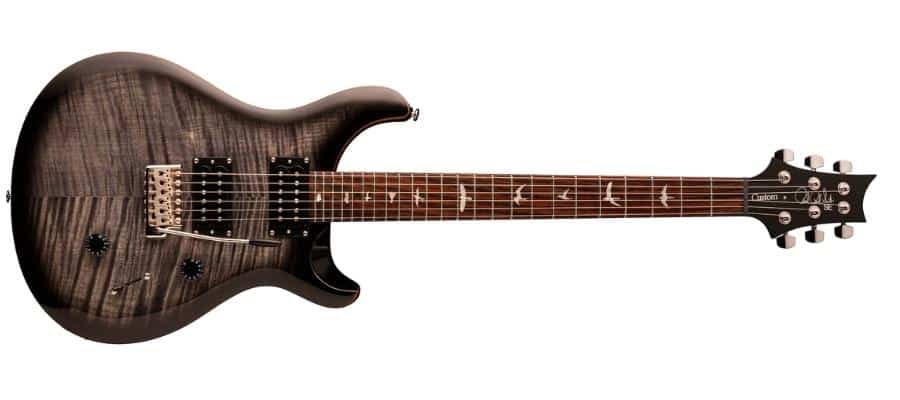 The PRS Custom 24 is one of the most sold guitars from the Core series. It has a solid body made out of mahogany and maple top, making it lightweight and perfect for touring guitarists.
This guitar's tone versatility is huge. It packs TCI-tuned 85/15 humbuckers and a 5-way switch to adjust the tone to your feel. The tone of this guitar has a mixture of a vintage character with modern clarity.
As is usually expected from PRS, the looks of this guitar are beautiful. You can get the Core Custom 24 in 14 different finishes, so there is something for everyone in terms of look. This guitar retails for around $4000. If you are looking for a high-end guitar, this one may be just the right one.
S2 McCarty 594 Thinline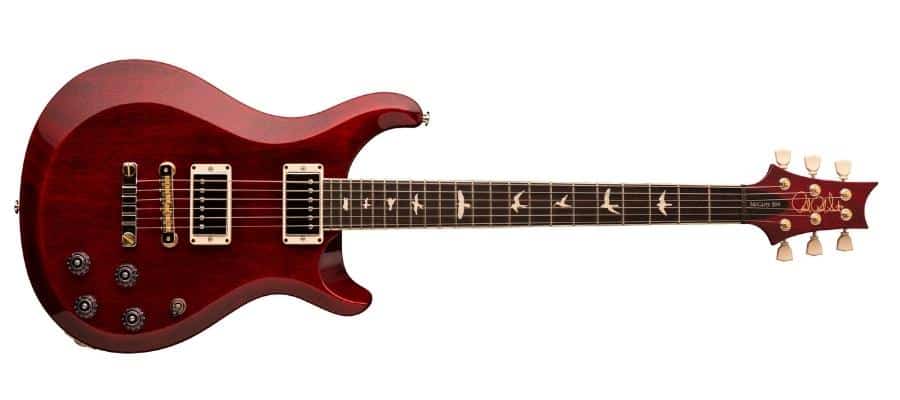 The PRS S2 McCarty 594 is our next model on the list. This is a solid-body guitar that is famous for its McCarty 594's 58/15 S humbuckers. These humbuckers have great clarity to them and can deliver real power to the sound. On this guitar, they come in pairs. Like many other PRS guitars, it has a beautiful design that will catch every guitarist's eye.
This guitar has a fast neck which is perfect for shredding. The body is made out of mahogany with a gloss finish. It comes in six colors: Antique White, Black, Frost Blue Metallic, Frost Green Metallic, McCarty Tobacco Sunburst, and Vintage Cherry. You can get this guitar for around $1700.
Silver Sky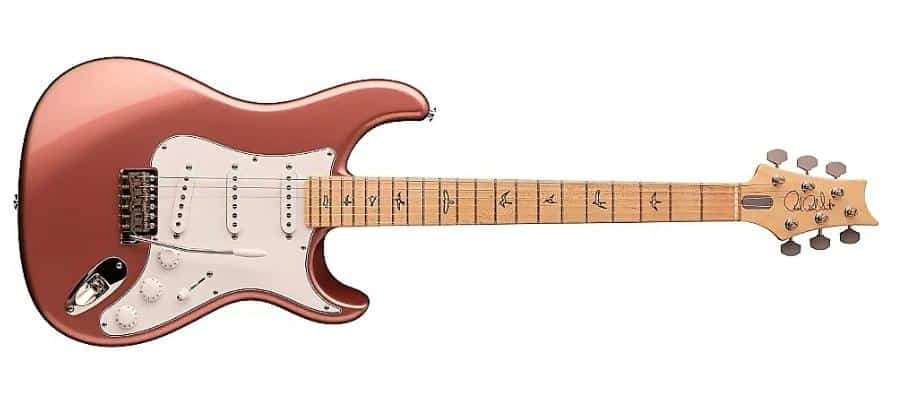 The Silver Sky is one of their latest guitar models. This is a John Mayer signature guitar for which John himself took a huge part in the design stage. Out of the entire pack, this guitar stands out from the crowd with its iconic PRS neck shape and Strat-style body.
You do not get to see a design like this as often. It has a vintage single pickups sound, which is beloved by many guitar players. With this guitar, you will get the round and full tone with the great high end that stands out of the mix.

While the sound is kept vintage, the technology is at its peak with this guitar. Apart from having great pickups, they are also noise-canceling and have a higher signal-to-noise ratio. In addition, it has a tremolo bridge which is flush to the body in the neutral position, so it only goes down in pitch.
This is requested directly by Jonh Mayer. This way, you can get the most out of the sound from the guitar. Combining this tremolo bridge with locking tuners, you will have a guitar that almost never goes out of tune. As a part of the Bolt-On Electrics series, this guitar retails for around $2500, but they also have the SE version for around $850.
Private Stock Orianthi Limited Edition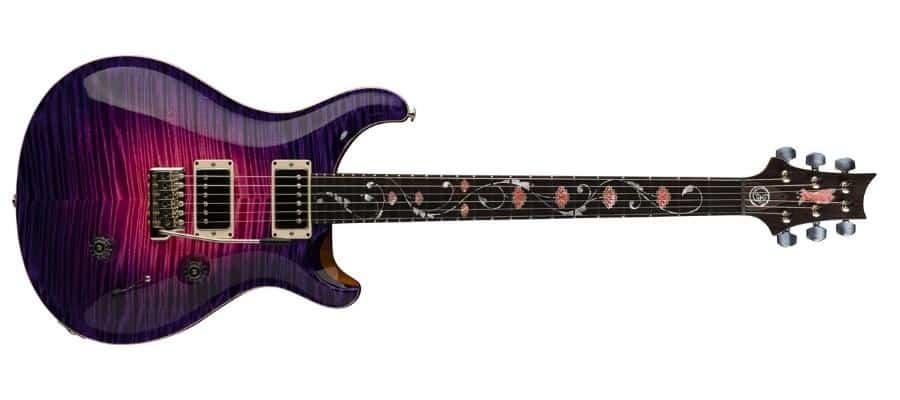 Now we come to the expensive side of the PRS. This guitar model is Orianthi's signature model, which is available only until the end of 2022. With its looks, it is similar to Orianthi's Custom 24. The body of this guitar is made out of mahogany with a violin-carved maple top. With its 58/15 humbuckers, it is ready for any challenge there is, from blues to metal.
The design of this guitar is breathtaking. It has a unique Lotus Vine fretboard inlay with Blooming Lotus Glow color. It has a beautiful neck that feels great in the hands. The design of the neck has evolved from the years of Paul Reed Smith prototyping and trying to find that sweet spot.
Most guitarists will say that necks like these feel like home. Considering this guitar is not only a signature but also a limited edition, it retails for around a jaw-dropping $11000.
PRS Bass Guitar Models
Apart from making great electric guitars, the PRS also has great bass guitars, which many players just adore. Like electric guitar models, the bass guitar models are categorized in three different series: SE, Core, and Private Stock. By doing a little bit of research, with PRS, you can find great bass guitars.
Grainger 4 String Bass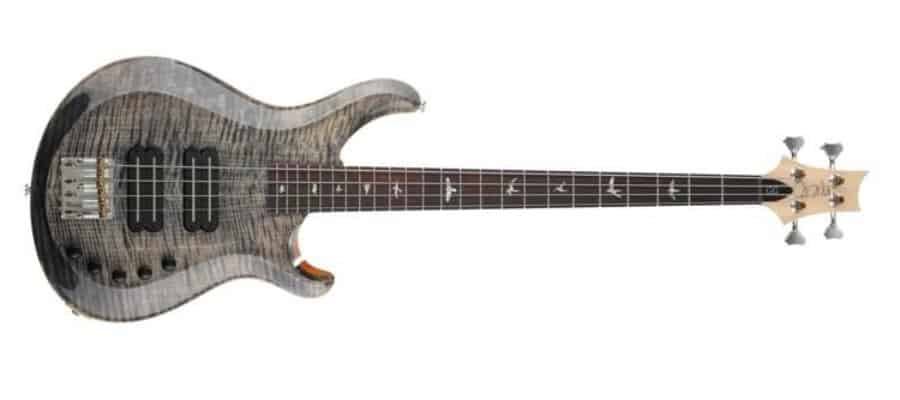 The first one on our list is the Grainger 4 String bass guitar. This is an extremely versatile instrument in which PRS really took care of the details. The Grainger 4 is the evolution of Gary Gringer's Private Stock model.
It features a solid body made out of mahogany with a maple top and maple neck. It has two custom-made GG pickups that deliver great punch and clarity. This guitar is meant to be a workhorse for bassists.
With this guitar, you will be able to do almost everything, from recording to the live performance. This means that its tone versatility is huge and can satisfy every genre's needs. It goes for around $5000, so if you want an instrument that will be reliable and will last you a long time, Grainger 4 may be just the right one.
SE Kestrel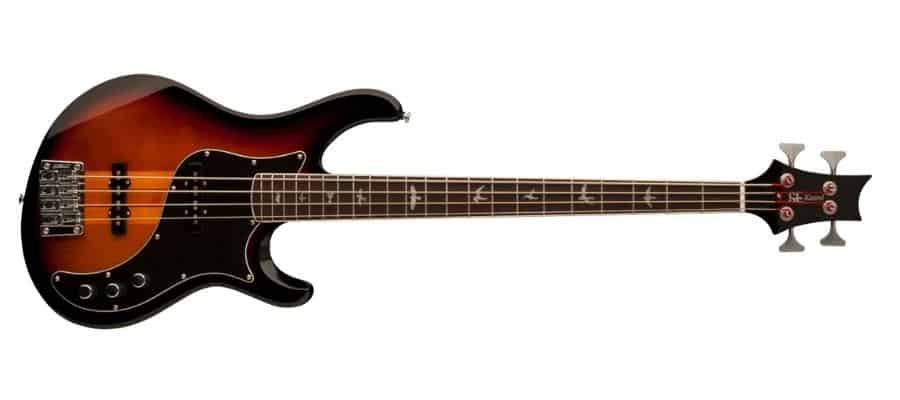 Like many guitars from the SE series, the SE Kestrel is great sounding guitar. It has a solid body made out of alder, which gives the guitar great resonance. Combine this with the PRS single-coil bass pickups, and you are in for a treat.
The shape of the maple neck is really comfortable, making the guitar easy to play. Since the guitar is neck-through, you can really amazing sustain from it. The sound is round and punchy, perfect for dense mixes. You cannot go wrong with this guitar. It is perfect for any genre. Currently, it retails for around $850.
Private Stock Gary Grainger Bass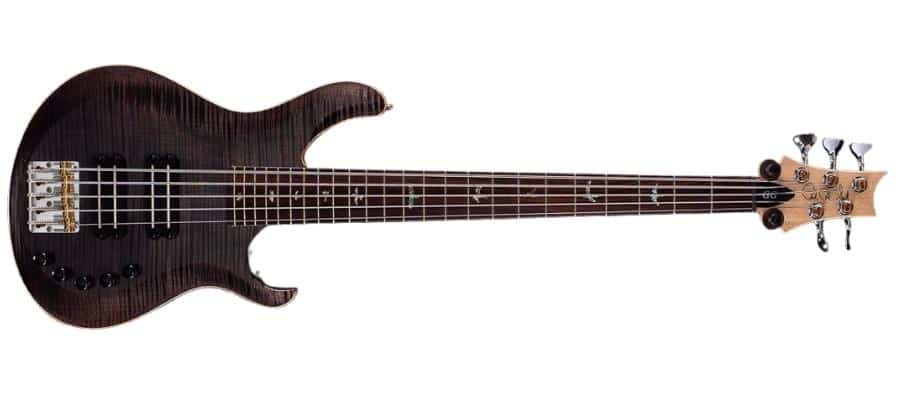 Coming from the Private Stock series, we have the Gary Grainger bass guitar. This guitar was designed to be as versatile as possible, and PRS nailed it as usual. It has a mahogany body with a maple top and neck with a rosewood fretboard. PRS made sure to optimize the GG pickups, so the guitar gives the player headroom to adjust the tone to their needs. The sound will come out great no matter if you are slapping or playing softly. An overall amazing-sounding guitar that is comfortable to play. While it may be on the more expensive side, it is worth the money. You can get this guitar for the price of around $4000 to $4500.
PRS Acoustic Guitar Models
The PRS is mainly known for making great electric guitars, and not too many people are familiar with their acoustic guitar models. PRS has always made great acoustic guitars that deserve to be part of every guitarist's arsenal. Unlike the electric guitar series, there are only two acoustic guitar series: Private Stock Acoustics and the SE series.
SE Angelus A40E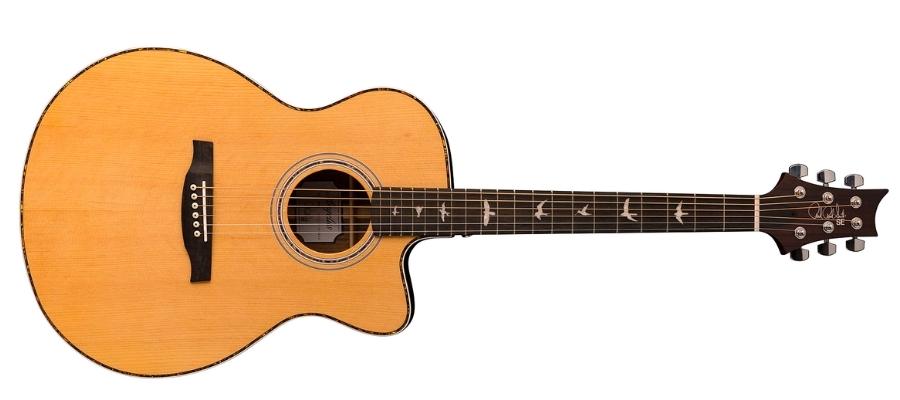 As a part of the SE acoustic guitar series, we have the SE Angelus A40E acoustic guitar. This guitar is known for its clarity and projection and is beloved by many guitarists who use the Angelus A40E in live performances.
It has an under-saddle pickup, which does a great job of delivering the true colors of the guitar. The body is made out of two types of wood. The top is made out of spruce, and the back and sides are made out of Ovangkol, giving it great resonance and sustain.
Overall it is a great guitar that feels and sounds great. At the time of writing this article, it retails for around $800.
Private Stock Acoustics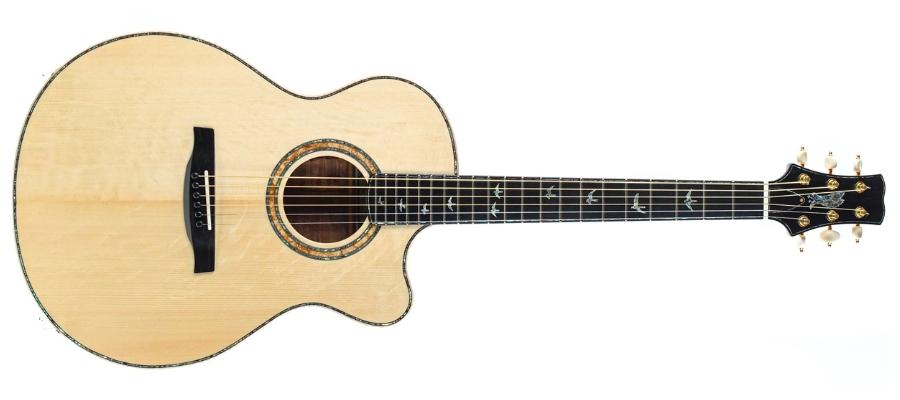 Like many guitar companies, PRS also has a part of their manufacturing where you can order a guitar that perfectly fits you and your needs. They had really made sure to have you part of the design process by giving you the option of choosing everything, from the type of wood to the inlays and everything else.
Sure, it may be on the pricier side, but PRS should be one of the first companies that cross your mind if you can afford it. The price of guitars from Private Stock entirely depends on the type of guitar you want and what parts you would like to use.
Does PRS Make Other Products Besides Guitars?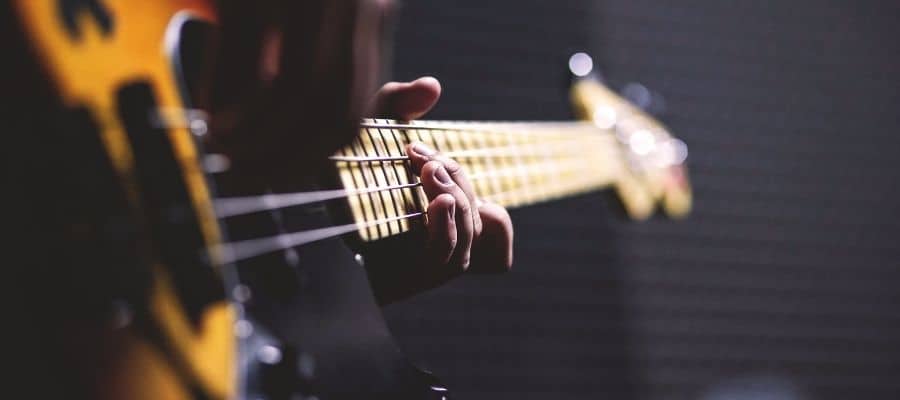 Apart from guitars, PRS has other things to offer. Sure, most of them are guitar-related, but these deserve to be mentioned. Apart from guitars, one of the best-selling PRS products is their amplifiers and cabinets. Combining these will give you the great sound and feel that every guitarist wants. Sure, they can be on the pricier side, but if you are looking for a great partner for your PRS guitar, having one of their amps and cabinets is great.
They also offer strings, straps, pickups, picks, cables, guitar parts such as bridges, nuts, covers and backplates, electronics, and almost everything you have as a part of the guitar. You may not expect a guitar company to sell clothes, towels, stickers, mugs, or glasses, but PRS has almost everything to offer, PRS branded. So for those hardcore PRS fans, this may be a gold mine.
Who Uses PRS Guitars?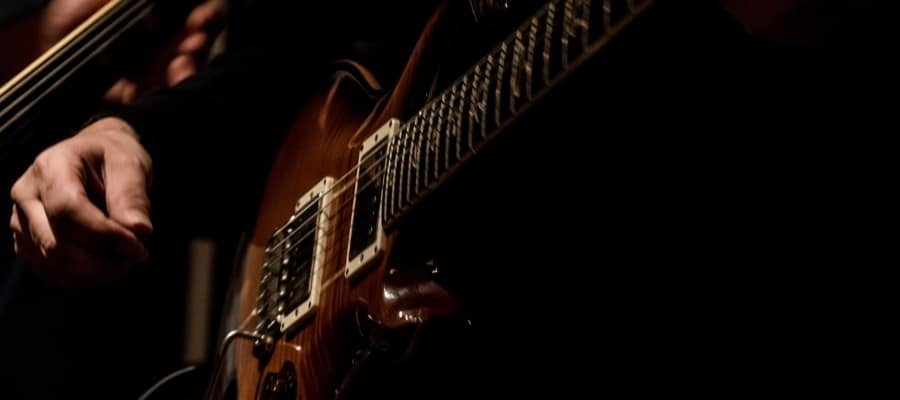 PRS guitars are used by many artists today. If you go to their webpage and look for artists, you will see that the list goes on and on. One of the most famous artists who use PRS guitars is Carlos Santana.
Without Santana, PRS would probably not be what it is today. He is the one who put them on the map and gave them credibility. In the fall of 1980, Smith went to the gig in Maryland to meet Santana and propose to build him a guitar. Since then, they have been in close collaboration.
Today, one of the most famous artists in the world is John Mayer. He had been a huge fan of PRS guitars his entire career. In 2018, John Mayer and PRS introduced the John Mayer signature model PRS Silver Sky which was a big hit. Without even touching the guitar, you can see that this guitar is unique.
It has a Strat-style body with an iconic PRS neck with bird inlays on them. At first look, it may be weird for some people, but as their eyes get used to it, people tend to fall in love with it.
PRS has cooperated with many artists during its existence. Apart from Santana and John Mayer, PRS has made guitars for
Apart from working with worldwide guitar stars, PRS has something unique up its sleeve. PRS has introduced the Pulse Artists program. This program gives the opportunity for guitarists from small communities who are making changes to the music locally to be endorsed by PRS. This way, they had given the opportunity for small-town guitarists to get a feel of how great guitars sound and feel.
Conclusion
PRS has always made great guitars which many guitarists love and adore. With PRS, you cannot go wrong when choosing any of their guitars. Sure, there may be a difference in the quality depending on the series and where the guitar is manufactured, but overall, the PRS really keeps the quality at the highest.
Their guitars are usually considered higher quality and keep the standard high in the industry. Many people may be confused by their categorization of the guitar models, but hopping over to their website makes things clear. PRS has a guitar for everyone, regardless of which genre they play.
If you found this article useful you may want to save this pin below to your Guitar board