Although he is not mainly known for his guitar playing, Kurt Cobain is one of the most iconic names in rock history. His amazing yet short career with Nirvana not only created a huge genre to go mainstream but also created one of the main milestones of music history.
By combining diverse elements such as the aggressiveness and power of punk, heavily distorted guitar tones of thrash and heavy metal, catchy riffs, and choruses of pop, the grunge band, Nirvana managed to succeed largely dominating the 90s. Kurt Cobain's iconic guitar tone plays a significant role in this achievement thanks to the crunchy yet thick distorted tone for power chords and main riffs, along with the twangy yet whole clean tone used in intros and verses.
Cobain used many guitars, amps, pedals, and other gear throughout his career, as he was not that picky about the gear. But, essentially, he had the main gear that he regularly relied on to get his distinctive tone.
Let's dive deeper into his guitars, amps, cabs, pedals, and other gear to better understand what makes Kurt Cobain's tone unique and figure out how to catch the iconic Nirvana guitar tone.
Kurt Cobain's Signature Guitars
Fender Kurt Cobain Jaguar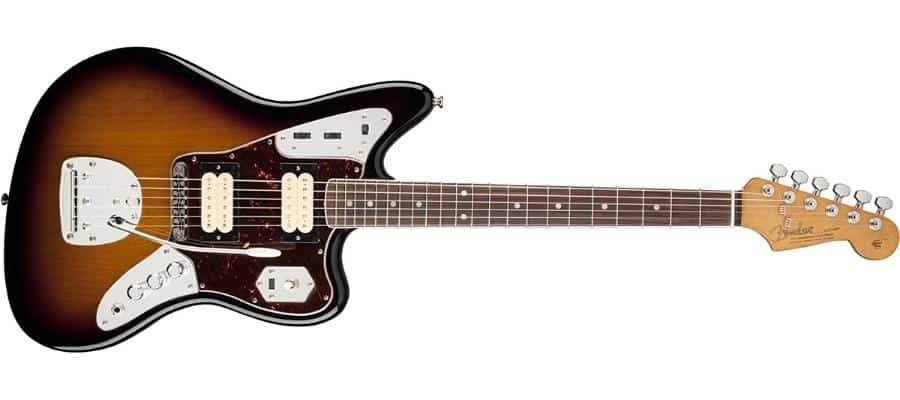 Fender Kurt Cobain Jaguar is the signature Kurt Cobain model by Fender, based on the highly unusual 1965 Jaguar he used in the early-'90s when Nirvana was rocking the world.
The guitar features an alder body, maple neck, and rosewood fingerboard with Pearloid inlay dots. It comes in two different versions for right-handed and left-handed players.
The guitar has a dual humbucker configuration with DiMarzio DP103 PAF 36th Anniversary (neck) pickup and DP100 Super Distortion (bridge) humbucking pickup. It has a dual circuit system with lead and rhythm modes, three knurled "chrome-dome" control knobs, a black chrome Adjusto-Matic bridge, and a floating tremolo tailpiece with a lock button.
Kurt Cobain's Electric Guitars
Univox Hi-Flier Phase 3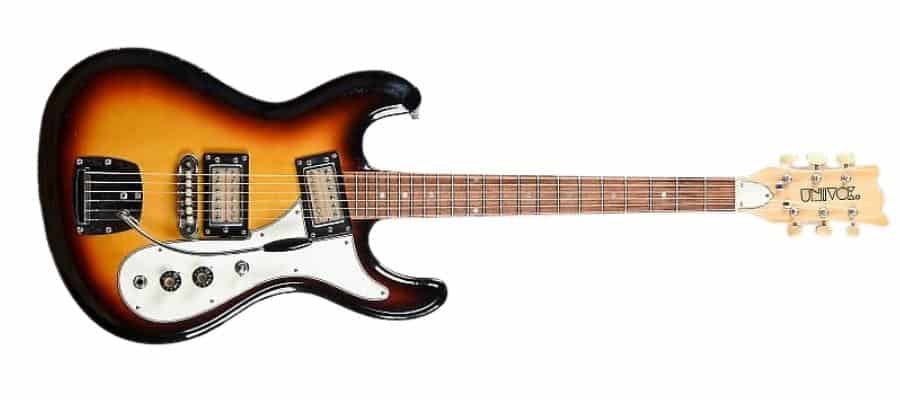 Kurt Cobain's first ever guitar was a Univox Hi-Flier Phase 3, which he used in the mid-80s, including the Nirvana gigs in 1987. These guitars were top-rated during the '70s with their two humbucker designs and reversed offset bodies.
The guitar has a plywood body, a maple neck, and a Rosewood fretboard. They are considered the affordable versions of the Mosrite "Ventures" guitars which Kurt Cobain used later in his career.
Fender ("Greco") Mustang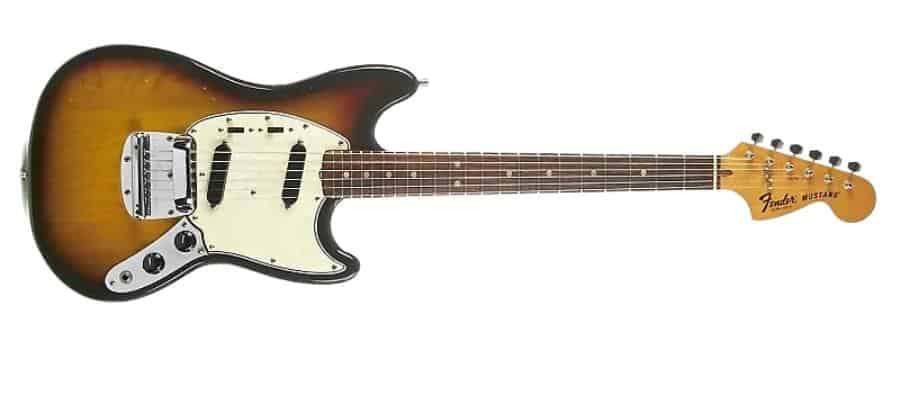 The first left-handed guitar Cobain used was the Fender ("Greco") Mustang, which replaced the Univox Hi-Flier Phase 3, that he eventually destroyed in a show in the late '80s. He extensively modified the guitar removing the pickguard, putting only a single humbucker pickup into the bridge position, and removing any brand marks on the headstock. Later, he also put many stickers on the guitar's body and painted it in different colors.
He used this guitar for a short time before destroying it in a concert in 1989. After this, guitar Mustangs became Cobain's first choice of a guitar as they were snapped up and hot-rodded by punk and grunge players who wanted a punchier and more powerful sound than the original Strats and guitars with single-coil pickups can provide.
Fender Mustang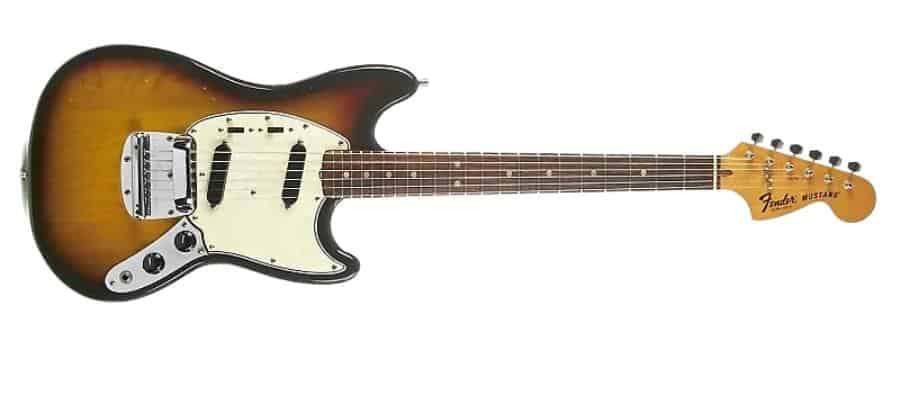 Fender Mustang is the guitar that is associated the most with Kurt Cobain and his distinctive tone. He started using Mustangs in the late '80s around 1988 with the Fender Greco Mustang and later continued with another 1973 Fender Mustang.
This guitar was equipped with double humbuckers, a Pearloid pickguard, an alder body, maple neck, and rosewood fingerboard. It was covered with many drawings and words written by Cobain himself. With its punchy and aggressive tone, it was a perfect guitar for Nirvana-style grunge tones.
Hagstrom II F-200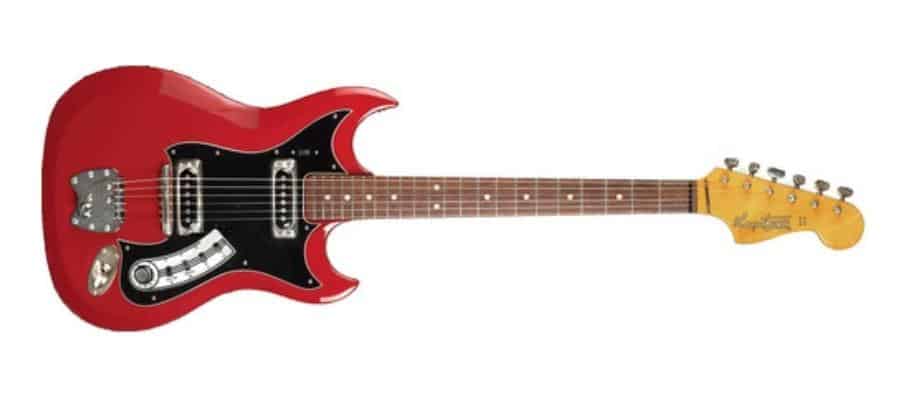 One of the guitars Cobain used in gigs was Hagstrom II F-200. He used this guitar in the 1989 Europe tour a few gigs before he destroyed the guitar on the stage; the same fate with most of his guitars.
It featured a red finish, two single-coil pickups, and a stop tailpiece. These guitars often come with a tremolo bridge, but Cobain's version differed.
Washburn Force 31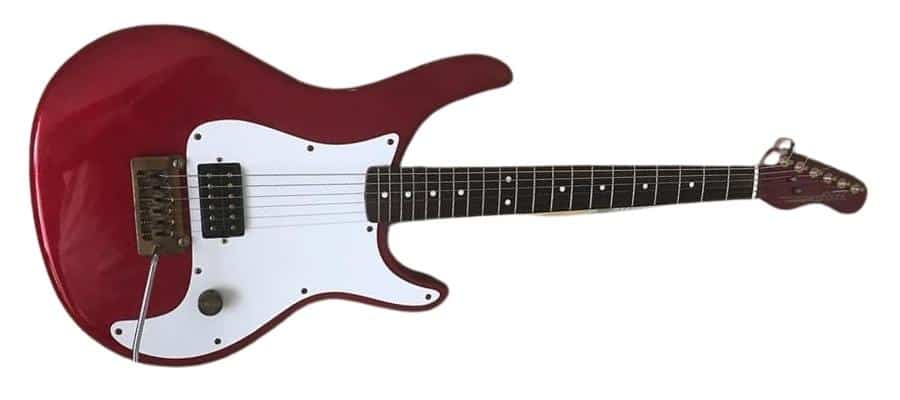 After Cobain destroyed the Hagstrom II F-200 in the European tour, he continued the tour with a 1980s Washburn Force 31. The guitar had a black finish, rosewood fretboard, and a humbucker pickup in the bridge position.
The guitar's lifetime with Cobain was pretty short as he destroyed the guitar after 5 gigs which is actually a week later; he started using Washburn Force 31 after the previously destroyed one Hagstrom II F-200. The remaining of this actual guitar was sold for 2000$ in an auction in 2003.
Gibson SG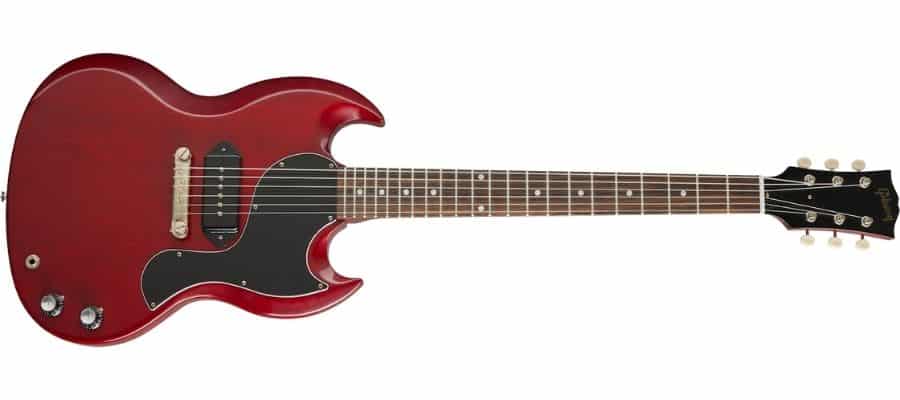 For a few concerts, Kurt Cobain used a Gibson SG, which he borrowed from Sluggo Cawley, the guitarist of the band The Grannie. It was common that these two musicians swap guitars between them as Cawley also used Cobain's Fender Mustang often.
Cobain inserted a humbucker into the bridge position from one of his old Univox guitars and used it that way before he smashed it on the stage in Mexico in 1990.
Epiphone ET270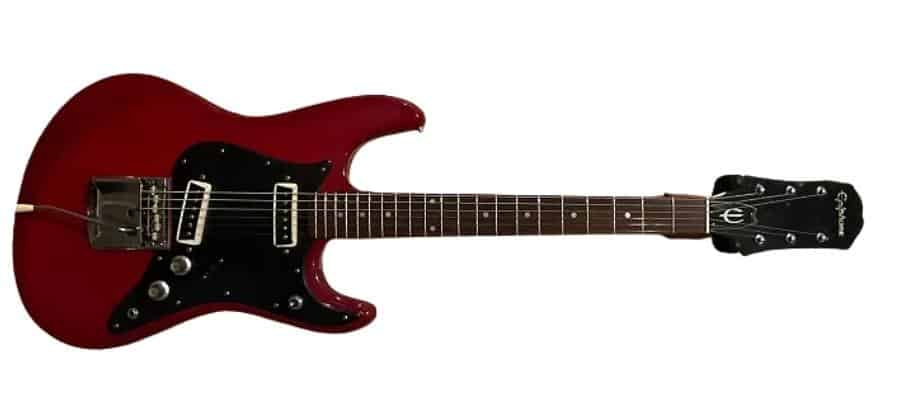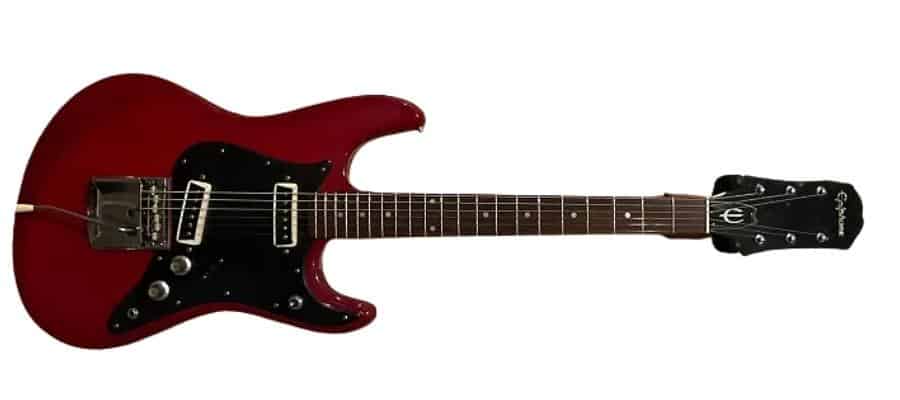 For a few months in 1990, Kurt Cobain mainly used an Epiphone ET270 with a hardwood cherry red body, a bolt-on hardwood neck, and rosewood fingerboard, and two single-coil pickups. Cobain can be seen using this guitar in the In Bloom music video as well as Nirvana gigs from January 1990 to April 1990.
Of course, Cobain smashed the guitar in April 1990. Cobain also had another Epiphone ET270, which he did not use later. It is now displayed in the Hard Rock Cafe Pennsylvania. These guitars were only produced from 1972 to 1975, so they are rare guitars to find.
Custom Fender Mustangs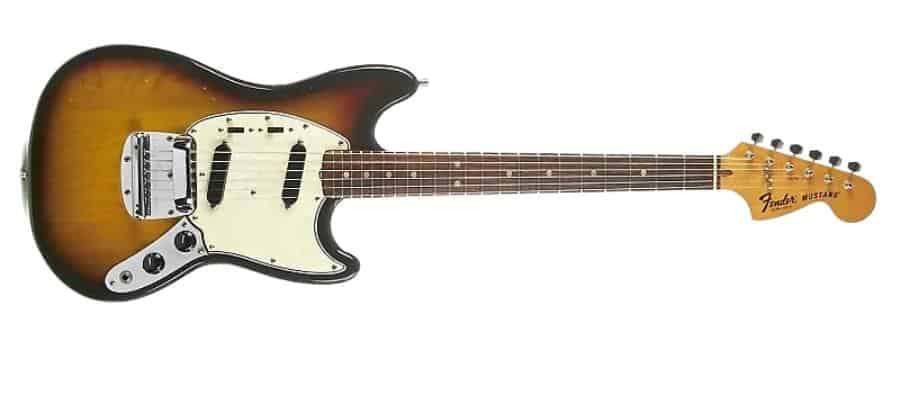 In the rest of 1990, Cobain used many different versions of Fender Mustangs that he customized himself in his garage. These guitars all featured a humbucker in the bridge position and were painted in different colors from pink to green and blue. All were destroyed in gigs.
Mosrite Gospel Mark IV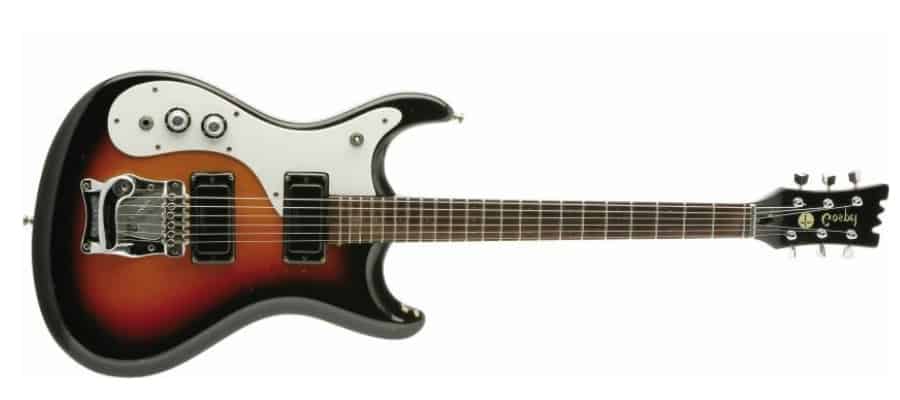 This was a unique guitar that Kurt Cobain purchased in the last quarter of 1990. It is one of the few Mosrite guitars Cobain had, and it was a unique one as it is the only Gospel with a Mark IV style body. It featured a sunburst finish, white pickguard, two single-coil pickups, and a Bigsby tremolo.
A year later, Cobain sold this guitar to a pawn shop. I guess he found it too unique to destroy. Today the guitar can be seen at the EMP/MoPoP Nirvana exhibit.
Fender Stratocaster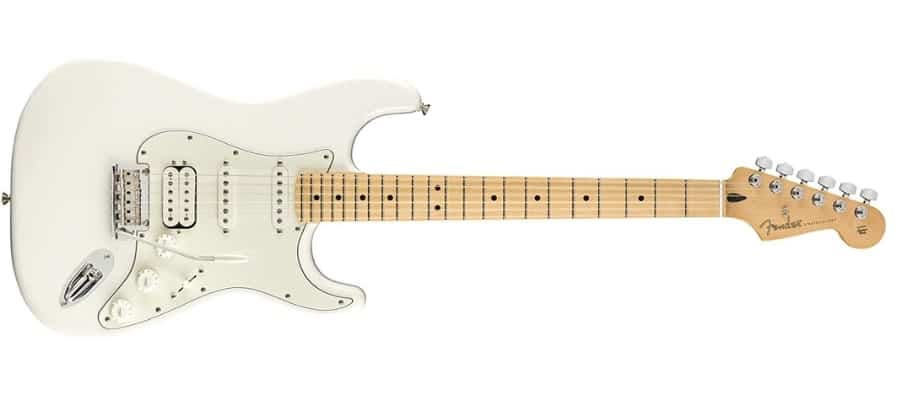 Like most guitarists, Kurt Cobain also used the traditional Fender Stratocaster at some point in his career. In his case, it was 1990 and 1991. His Strat had a white finish with a rosewood fingerboard as well as two single-coils along with an angled humbucker in the bridge position.
The guitar was last seen in April 1991 and probably faced the same ending, with most guitars of his; being smashed on stage.
Fender Jaguar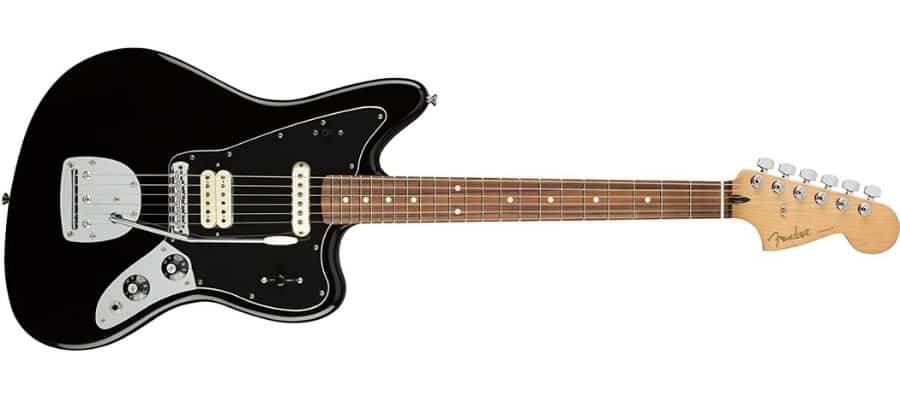 Along with the Fender Mustang, the most recognizable Kurt Cobain guitar is definitely the Fender Jaguar. Kurt first used this guitar in the Nevermind tour, switching from Stratocaster to Jaguars. He bought the guitar second-hand probably from Martin Jenner, guitarist for Cliff Richard and The Everly Brothers.
The first owner already modified the guitar, replacing the pickups with a PAF in the neck and a Super Distortion in the bridge positions. Instead of the stock bridge piece, there was a Gibson Tune-O-Matic bridge system, and the guitar also had an extra volume control. The control knobs were replaced with chrome ones, and the pickup selector was switched with a single toggle switch.
In most concerts until his suicide, Cobain used mainly this Fender Jaguar. When he wanted to destroy guitars, he was switching to a Fender Strat on stage.
Fender Stratocaster "Vandalism"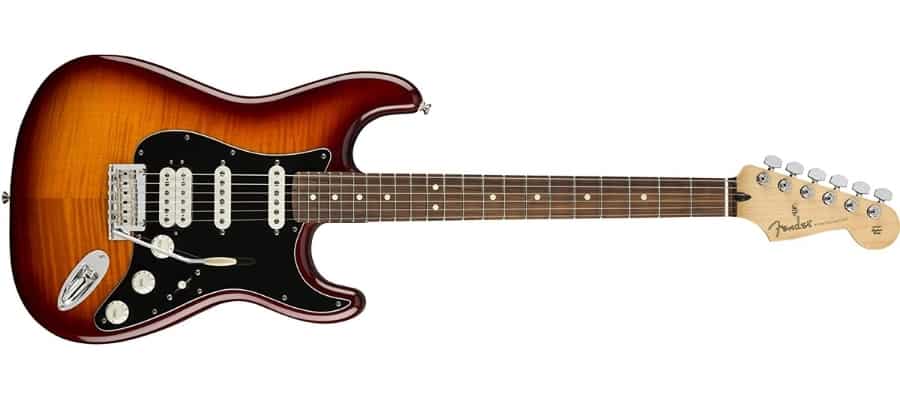 Before the Fender Jaguar, Kurt was using a black customized Fender Stratocaster which had a huge sticker with the quote: "Vandalism: As beautiful as a rock in a cop's face," and in small letters underneath "Courtesy of Feederz: Office of Anti-Public Relations." This is the reason why the guitar is called "Vandalism."
The guitar featured an HSS pickup configuration. Cobain slightly modified it, changing the humbucker in the bridge position with a DiMarzio H-3.
Cobain used the guitar in 1991 in the studio, most probably in the recordings of the Nevermind album. He also used it in the Nevermind tour before replacing it with the famous Jaguar of his. The reason was that Cobian smashed the Strat in a concert in France.
Today this guitar is on display at the EMP Museum located just next to the cardigan he used in the iconic MTV Unplugged concert, thanks to his guitar tech Earnie Bailey, who put the guitar back together.
Fender Competition Mustang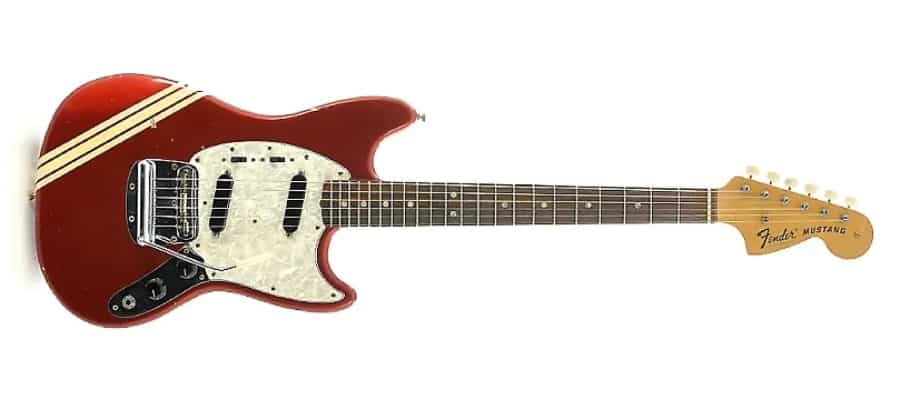 According to an interview that Kurt gave to Guitar World magazine in February 1992, this 'Competition' Mustang was Cobain's favorite guitar at the time, alongside his iconic 1965 Fender Jaguar. He did not use it in live performances often as he did not want anything to happen to it.
His Competition Mustang had a lade placid blue finish with the same colored headstock. It featured a black single-coil pickup in the neck position and a Seymour Duncan Hot Rails humbucker in the bridge. The guitar also features the Gotoh Tune-o-matic bridge system.
Today the guitar can be seen in the MoPoP exhibition in Seattle.
Fender Jag-Stang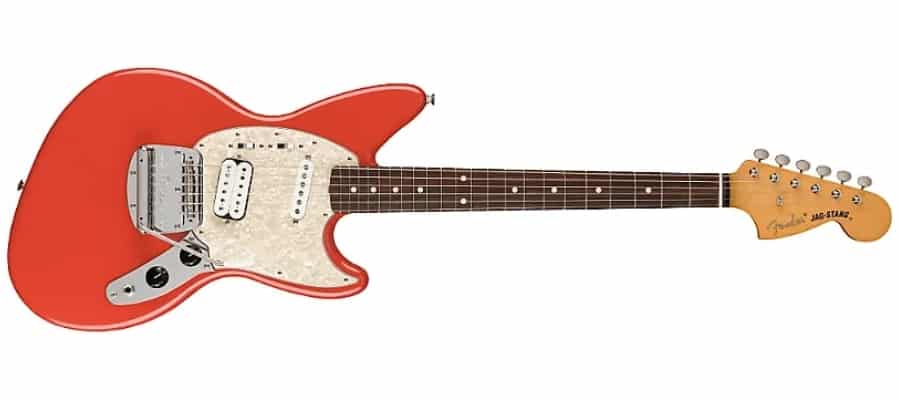 Fender Jag-Stang was Cobain's own design, which was a guitar prototype made as a combination of Fender Mustang and Jaguar, two of his favorite guitars.
The guitar had an alder body with a 24-inch scale maple neck and a rosewood fretboard. It had a Fender Texas Special single-coil pickup and a DİMarzio H-8 humbucker. He only used some prototypes of this guitar in 1993.
Fender Mustang Sky-Stang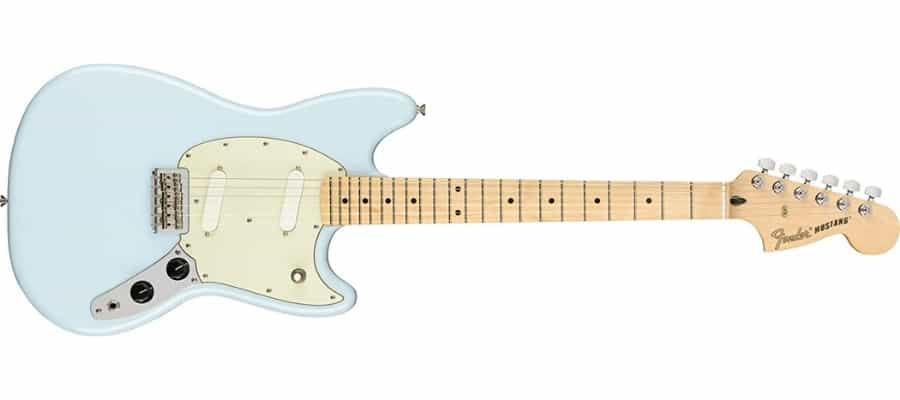 Kurt Cobain used four different Fender Mustang Sky-Stangs between 1993 and 1994 in the In Utero tour. The guitars were all modified mainly with the addition of Gotoh Tune-O-Matic bridge and Seymour Duncan JB humbucker. The humbucker was painted in white on two of these guitars, while the other two guitars had black humbuckers.
Kurt Cobain's Acoustic Guitars
Harmony Stella 12-string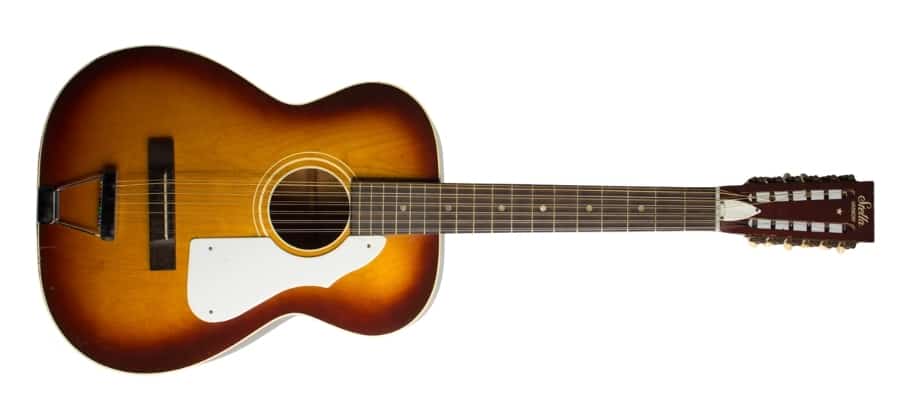 One of the acoustic guitars Cobain used was a Harmony Stella 12-string which he purchased in 1989. He used this 12-string acoustic guitar in all of the recordings of the acoustic songs on the Nevermind album, like Polly and Something In The Way.
He brought the guitar to the gigs but used it only as a warm-up guitar.
Kay P4 Archtop Blonde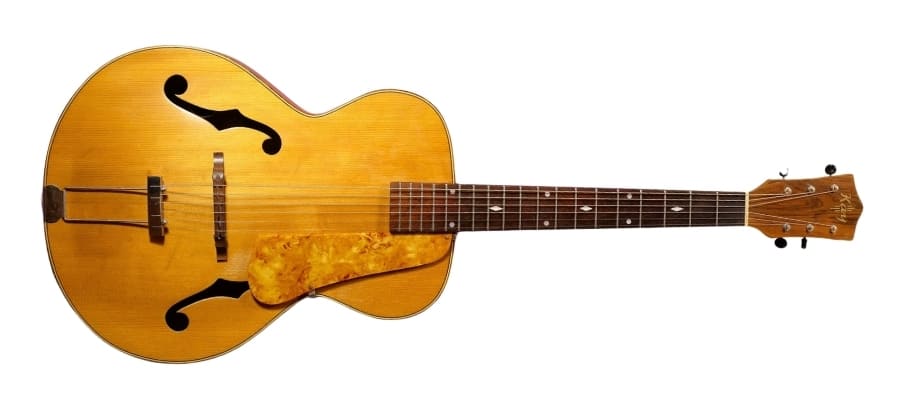 Kay P4 Archtop Blonde is one of the guitars that Cobain had but never used on stage or in the studio. He liked the looks and the design of this guitar and often used it at his house. The guitar also appears in the music video of Come As You Are.
Epiphone FT-79 Texan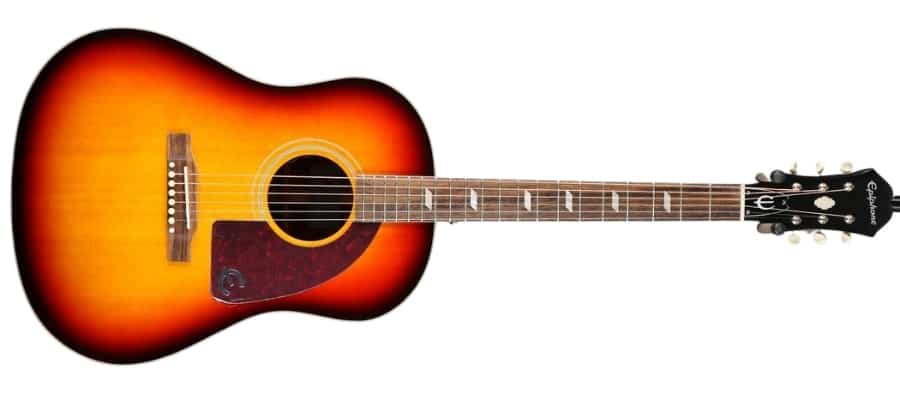 One of the acoustic guitars that Kurt Cobain often used on stage was Epiphone FT-79 Texan. He used it in most concerts after 1992. The guitar had Schaller Tuning Keys and a Bartolini 3AV sound hole pick installed.
Martin D-18E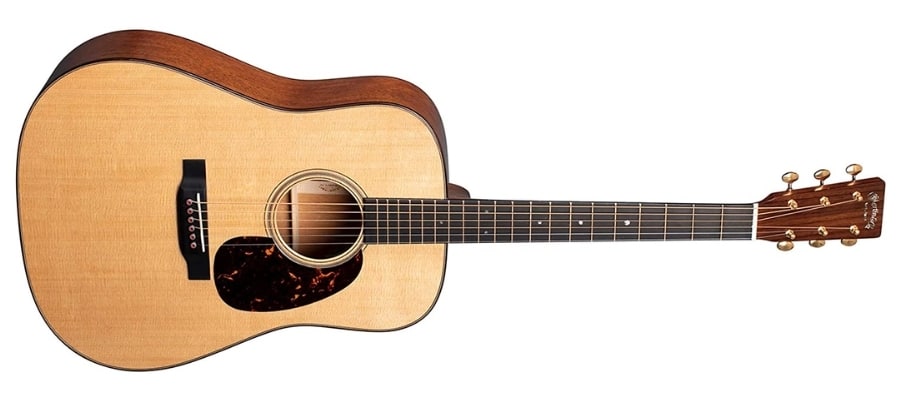 If there is one iconic Kurt Cobain acoustic guitar, it is the Martin D-18E, which Cobain used in the legendary MTV Unplugged concert in 1993. He purchased the guitar a few months before the concert, and it is a very rare guitar that was produced only for a year between 1958 and 1959.
It is one of the first guitars with electric pickups made from Martins. Kurt's guitar is the number 7 out of 302. Kurt changed the pickups with Bartolini 3AV soundhole pickup, which he also used with his Epiphone FT-79 Texan.
This guitar is the world's most expensive guitar today, as it was sold for 6 million dollars to the Rode Microphones founder, Peter Freedman, in an auction in 2018.
Kurt Cobain's Pickups
DP100 Super Distortion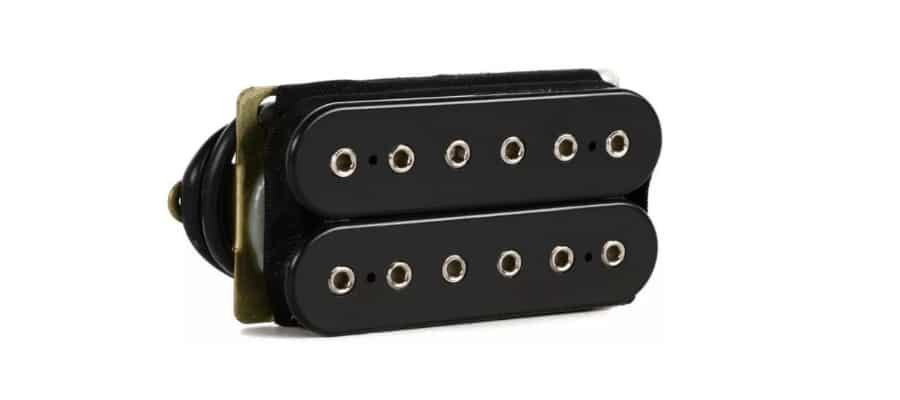 In many of his guitars, such as his iconic Fender Jaguar, Kurt Cobain preferred DiMarzio DP100 Super Distortion humbucker pickup in the bridge position. The ultra-high output humbucker provides a great tone for grunge with its thick, boosted mids, fat highs, and killer lows.
DiMarzio DP103 PAF 36th Anniversary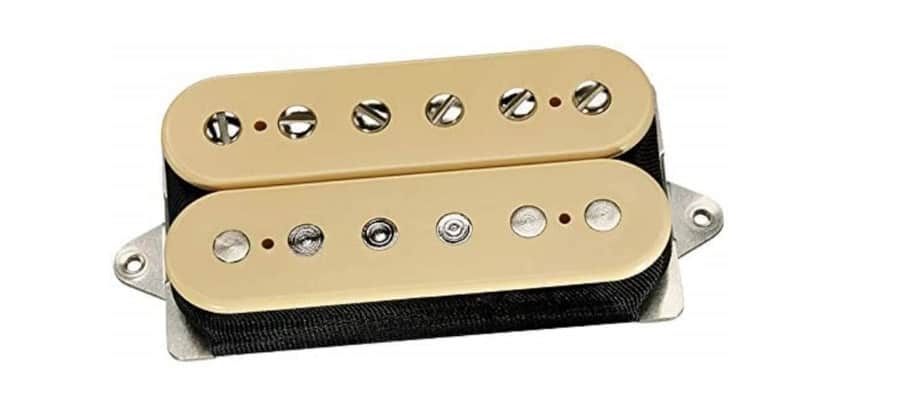 For the neck position in his Fender Jaguar, Cobain used a DiMarzio DP103 PAF 36th Anniversary humbucker pickup which is mainly known for its clean, open tone with enough top-end sparkle and low end for warmth. The vintage-style pickup has a warm character, which is great for the clean tones of Nirvana riffs.
Seymour Duncan JB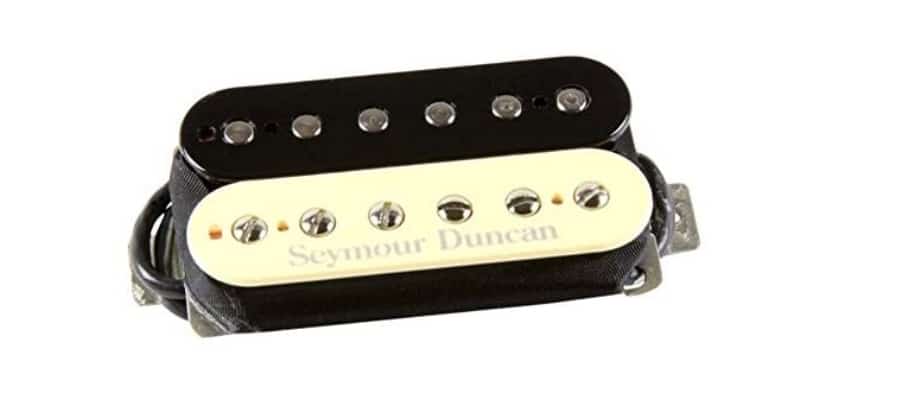 Kurt Cobain used the iconic Seymour Duncan JB humbucker with his Fender Mustangs. The pickup provides a versatile sound. With singing highs, aggressive harmonics, and just the right blend of sustain and distortion, the pickups provide great tones for many genres, from rock n' roll to heavy metal.
Bartolini 3AV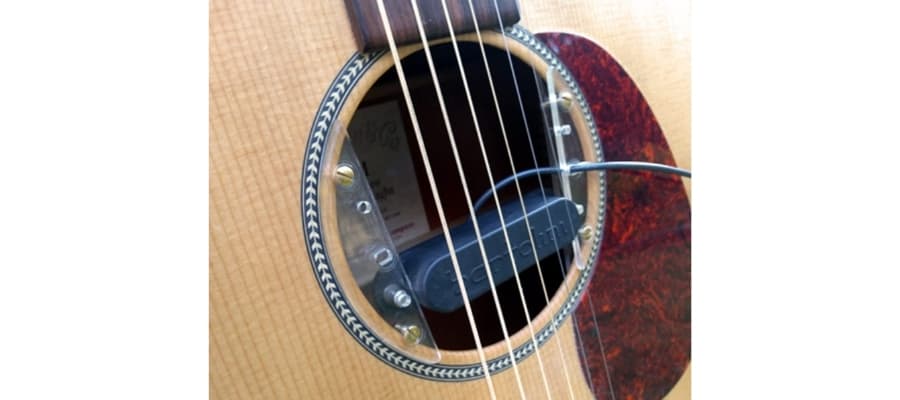 The acoustic guitar pickup choice of Kurt Cobain is Bartolini 3AV, which he used both for his iconic Martin D-18E and Epiphone FT-79 Texan.
Kurt Cobain's Guitar Strings
Dean Markley 2504 (Light Top/Heavy Bottom) Guitar Strings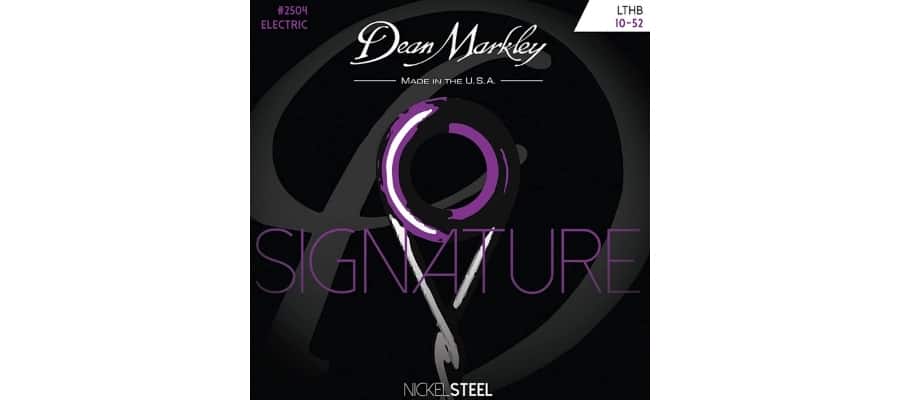 The primary string choice of Cobain throughout his career was Dean Markley 2504 (10-52). These strings are not produced anymore. If you want something similar, you can go with their Blue Steel heavy set (10-52.)
Kurt Cobain's Amps
Fender Twin Reverb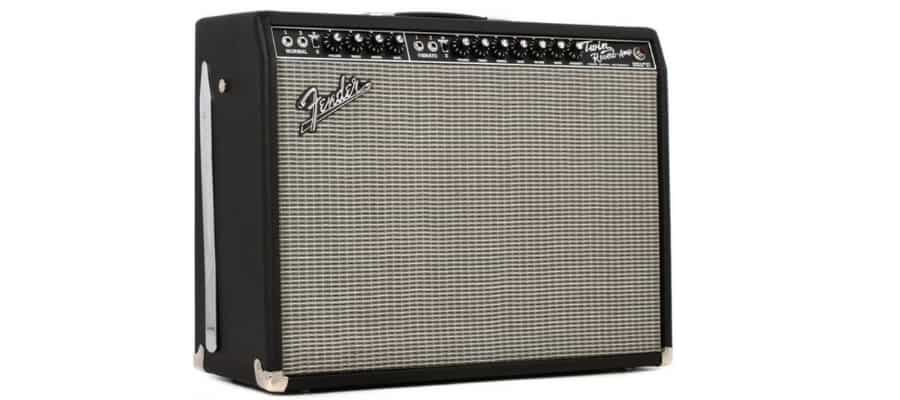 According to his interview with GuitarWorld, Kurt Cobain borrowed a Fender Twin Reverb from a friend of his for the recording of the Bleach album. Later, he purchased his own Fender Twin Reverb for the European tour.
Randall RG-120 Commander Amp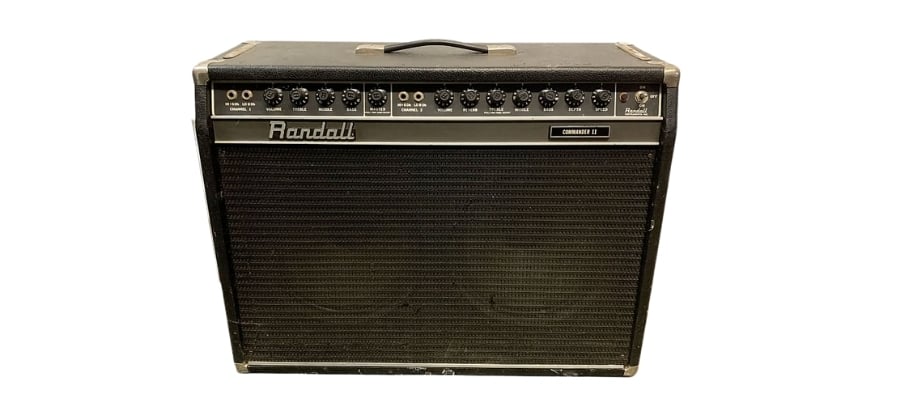 Randall RG-120 Commander Amp was Kurt's first amp of choice until 1989 as he tells in the interview, when the amp got somehow broken. After that point, he started using the Fender Twin Reverb amp, which he used for the Bleach album recording sessions and liked a lot.
Mesa/Boogie Studio Preamp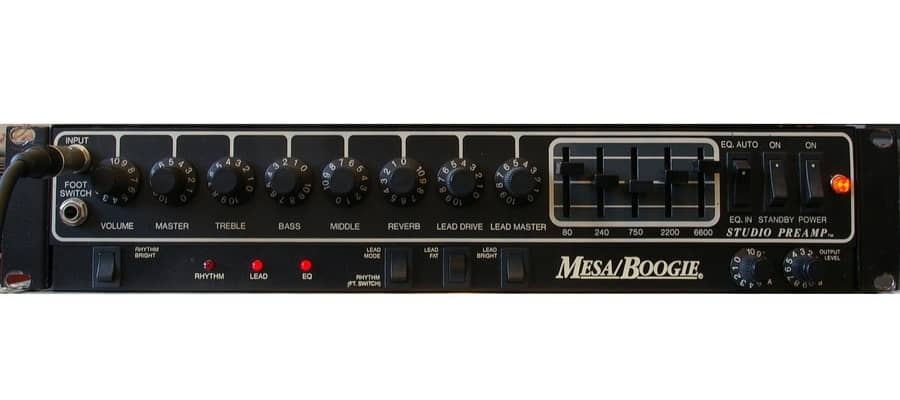 After 1990, Kurt Cobain started using a Mesa/Boogie Studio Preamp, purchasing one just before his show in Charlotte as he smashed his older Sunn Beta Lead Head amp. After that day, Mesa/Boogie Studio Preamp became his first live performance amp choice and used it in all Nevermind and In Utero recording sessions and tours. It was combined with a Crown Power Base 2 power amp in most cases.
Crown Power Base 2 Amplifier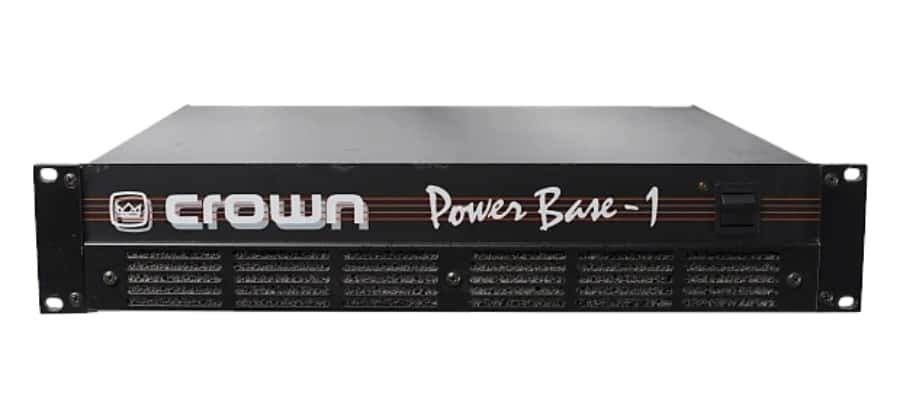 Prior to Nevermind studio sessions and tours, Kurt Cobain started pairing his Mesa/Boogie Studio Preamp with a Crown Power Base 2 Amplifier to get his iconic grunge tone. This is backed up by many different resources including the GuitarWorld magazine, which made an interview with Cobain in 1992.
Marshall JCM800 Amp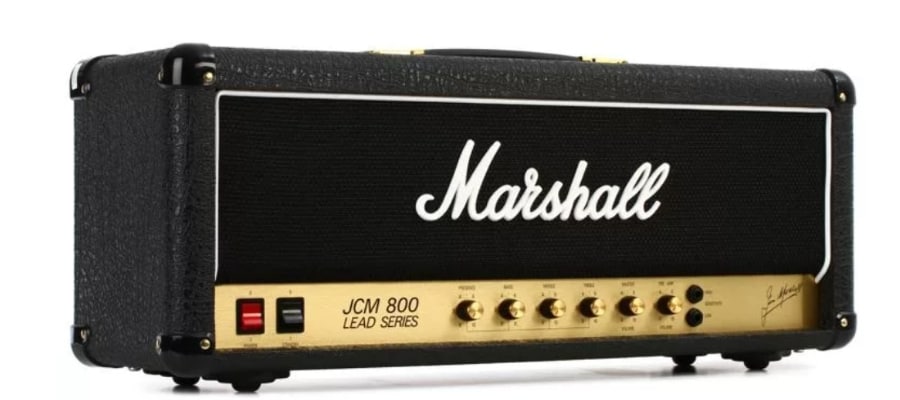 On rare occasions, Cobain experimented with a Marshall l JCM800 Amp in 1990. But, he did not continue using it.
Crest 4801 Power Amp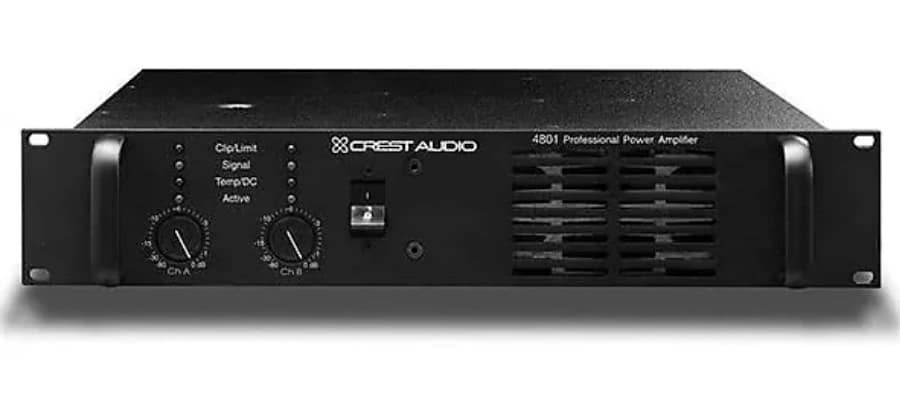 Cobain paired his Mesa/Boogie Studio Preamp with a Crest 4801 Power Amp after 1992 in live performances. This amp was a direct replacement for Crown Power Base 2.
Kurt Cobain's Cabinets
Marshall 1960A 4×12" Cabinet and Marshall 1960B 4×12" Cabinet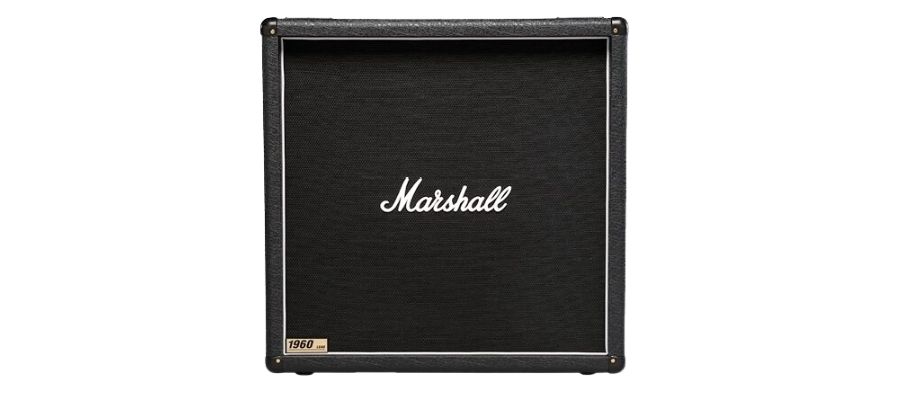 For most of his live shows, Kurt Cobain preferred Marshall cabs pairing them with his various amps, especially the Mesa Boogie. He did not like the Fender amps but liked the Fender cabs.
HIWATT LA412 Black
In the early days of Nevermind, Cobain used a HIWATT LA412 Black cab in some live gigs. Today this cab is in the exhibition in MoPOP Seattle.
Marshall JCM800 Cabinet 4×12″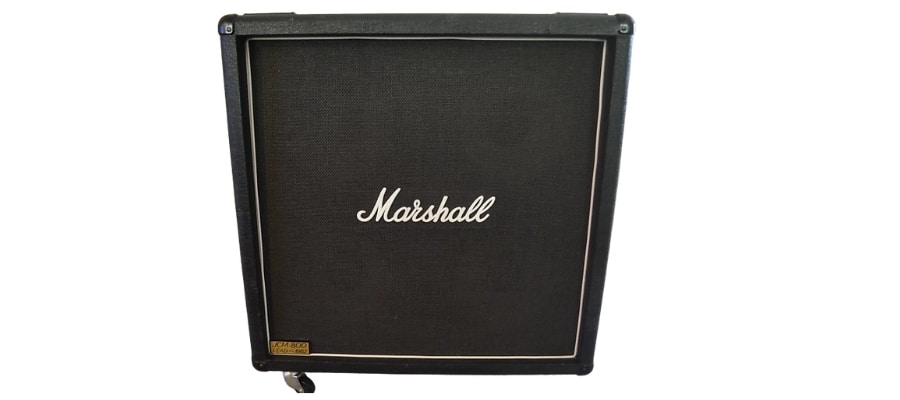 In a few concerts that Kurt Cobain used the Marshall JCM800 Amp, he paired it with a Marshall JCM800 Cabinet 4×12" cab.
BFI Bullfrog 4×12 Cabinet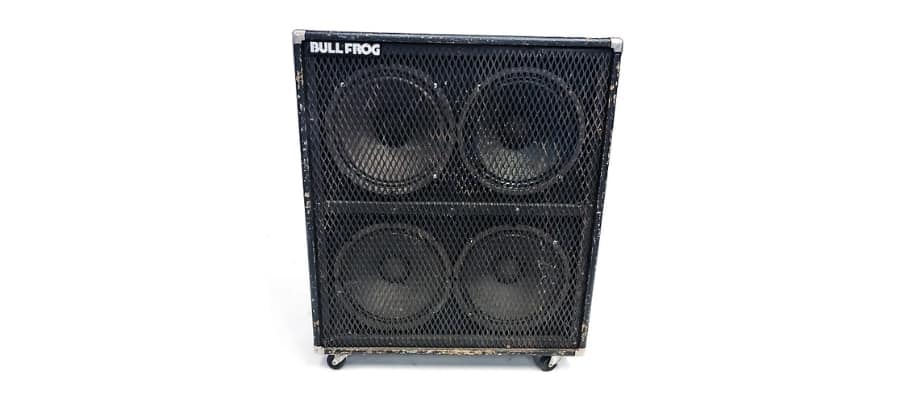 Prior to 1990, Cobain was mainly using a solid-state Randall amp head with the BFI Bullfrog 4×12 cabinet.
Kurt Cobain's Pedals
Boss DS-1 Distortion Pedal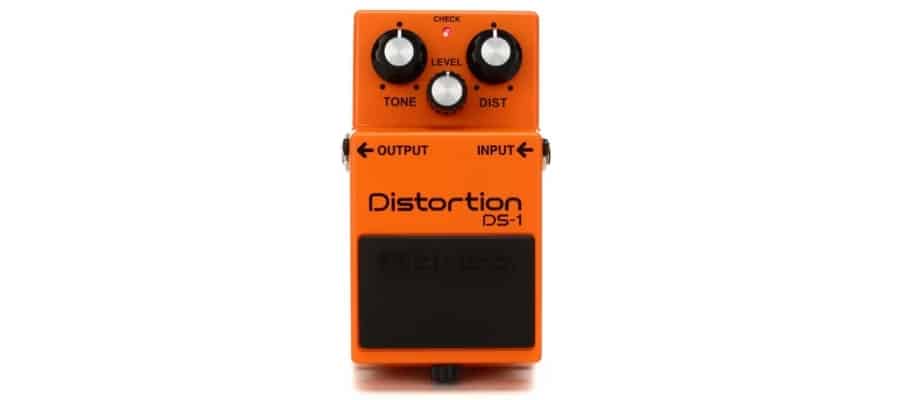 One of the critical elements of Kurt Cobain's iconic guitar tone is the Boss DS-1 distortion pedal. He relied on this pedal for his distortion tones and used it regularly in the Bleach and Nevermind album recordings and tours.
Boss DS-2 Distortion Pedal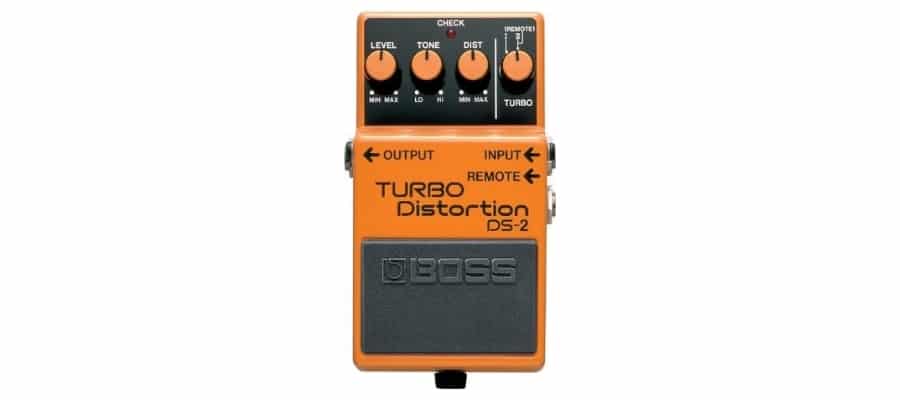 During the Nevermind tour in 1991, Cobain switched from Boss DS-1 to the Boss DS-2. For the rest of his career, he went on using DS-2 in his live performances.
Electro-Harmonix Small Clone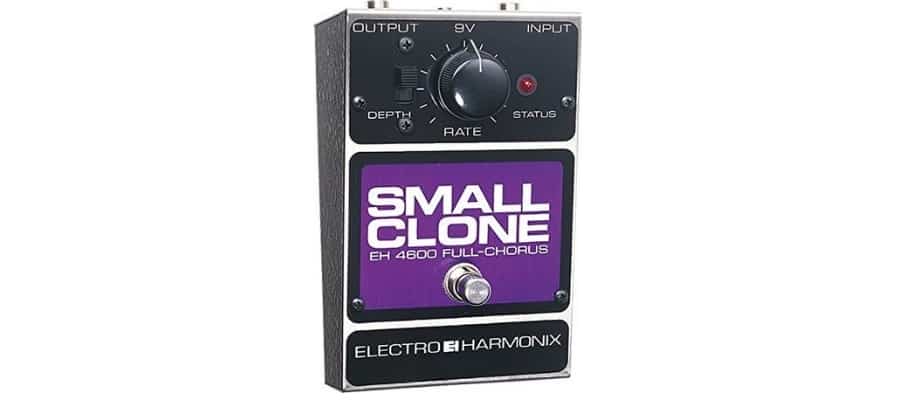 Another vital element in Cobain's tone, especially in the Nevermind era, was the Electro-Harmonix Small Clone chorus pedal. The pedal provides a shimmery water sound which can be heard in the entire Come As You Are, Endless and Nameless songs, during the chorus and the solo of Smell Like Teen Spirit, and the bridge part of In Bloom.
Electro-Harmonix Big Muff Pi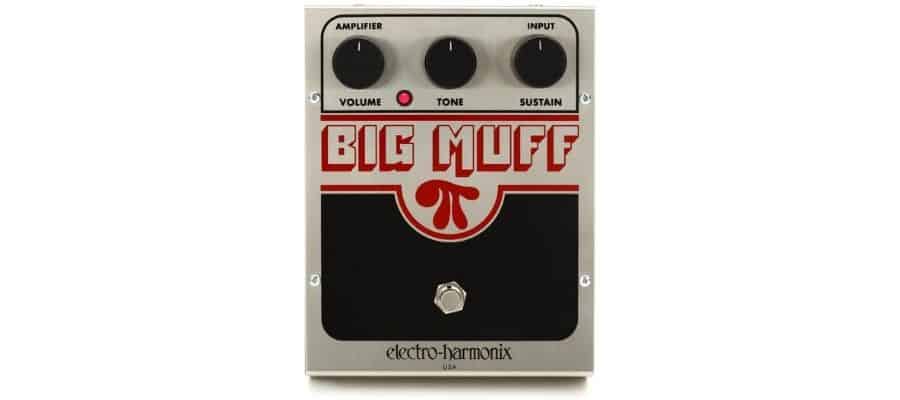 Cobain used an Electro-Harmonix Big Muff Pi fuzz pedal to get a thumber and darker sound in a few songs like Lithium. But, in live performances, he just used a Boss DS-1 or DS-2 instead.
Electro-Harmonix Electric Mistress Echo Flanger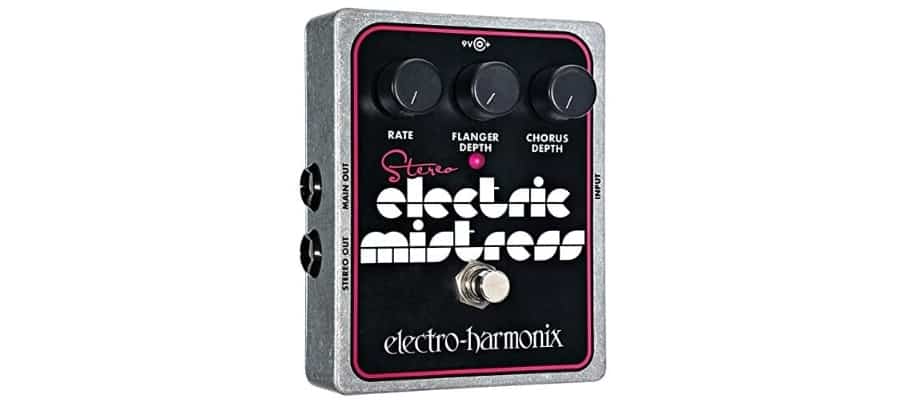 For the entire, In Utero album recordings, Kurt Cobain used an Electro-Harmonix Electric Mistress Echo Flanger, which gave the characteristic sound to the album.
Electro-Harmonix Polychorus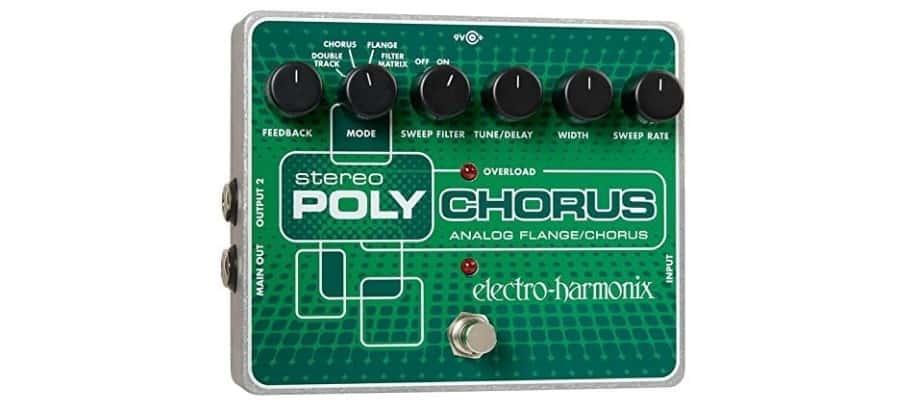 Electro-Harmonix Polychorus has the same circuitry as Electro-Harmonix Echo Flanger, which Cobain used in the In Utero era. He mainly used Polychorus for live performances.
Tech 21 SansAmp (Original Vintage)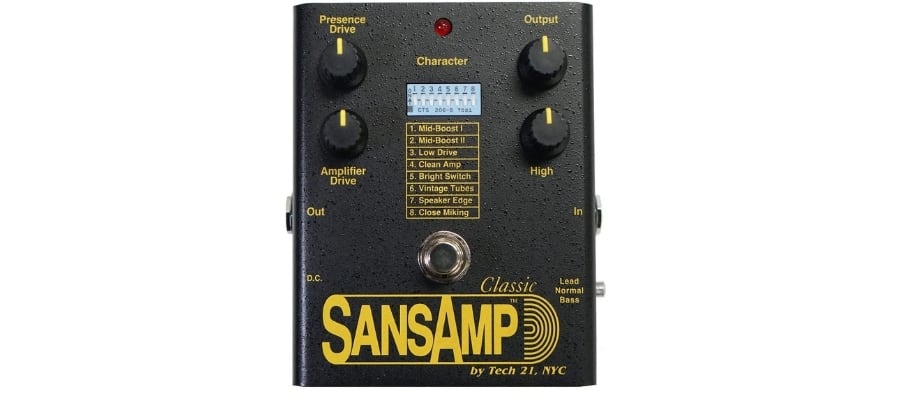 Although in the live gigs, Kurt Cobain continued using the Boss DS-2 as his primary distortion source, in the recording of the In Utero album, he used Tech 21 SansAmp (Original Vintage) pedal to get his distortion tone.
Kurt Cobain's Accessories
Dunlop Tortex .60mm Guitar Picks
Kurt Cobain used Dunlop Tortex .60mm Guitar Picks for most of his career as his first choice of picks.
What Is Special About Kurt Cobain's Guitar Tone?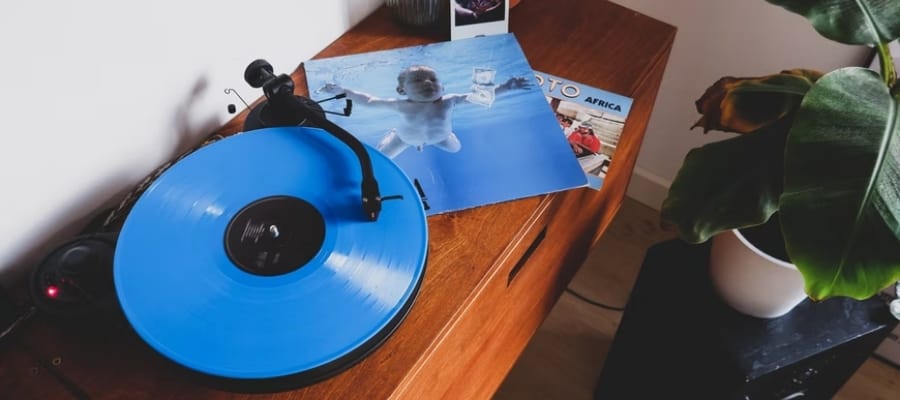 Nirvana was the pioneer of the grunge movement in the late 80s and 90s, mainly thanks to the iconic guitar tone of Kurt Cobain. He defined the 90's grunge sound by cranking up the gain and playing heavily distorted power chords and the twangy clean tones for some riffs.
Mainly Kurt Cobain used two tones; a distorted guitar tone for choruses, riffs, and solos, along with a twangy clean tone for intros and simple riffs. His massive sound characteristics can be clearly heard in the leach (1988), Nevermind (1991), and In Utero (1993) albums.
The distorted tone had a high gain to make the tone crunchy and thick as much as possible. The tone was full but was also clear rather than muddy. This is the iconic grunge sound that went well with his playing style, full of attitude and emotion. He slightly led the guitar feedback, took advantage of occasional harmonics, and led the open strings ring out, creating a fuller sound.
His clean tones, which he often used in most of his songs, at least in some parts, were full and twangy. It was bright but not too harsh, with a bit of reverb and delay that gave depth to his tone. He used this tone mainly in intros and for some simple riffs in verses.
How To Sound Like Kurt Cobain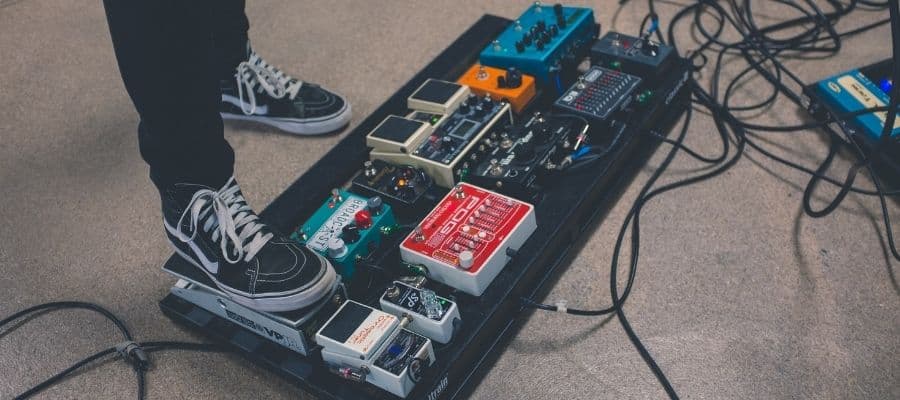 Kurt Cobain did not use fancy gear to get his tone, so it is not hard to get the iconic Nirvana sound. With the correct settings and gear, his tone is not hard to replicate.
Guitar
To start with the guitar choice and settings, you will need a guitar with at least a humbucker on the bridge position. Kurt's signature guitars throughout his career were Fender Jaguar and Fender Mustang, which featured a humbucker in the bridge position, while the Jaguar also had another humbucker in the neck.
He used high-output humbuckers to get his crunchy grunge distortion tone and a vintage-style humbucker for his clean sounds that had a lot of brightness and warmth.
You can get any guitar with a humbucker on the bridge position and replace the pickup with a Seymour Duncan Hot Rails pickup to get done with the guitar part of his tone. On the guitar part, this is enough to replicate the iconic grunge tone of Nirvana. Your tone and volume knobs should always stay cranked up, and the rest of the tonal adjustments will be made in the amps and pedals parts.
Amp / Amp Settings
Kurt Cobain mainly used A Mesa Boogie Studio .22 Preamp with a Crest 4801 Power Amp into a Marshall Cabinet. However, he used the clean channels without affecting the tone of the amp. Instead, he relied on his pedals for any kind of effects like distortion, delay, reverb, and chorus.
So, the most important thing in the amp settings to get his tone is the equalizer settings. Although he slightly changed them for different songs in-studio sessions, he mainly went with high mids and treble to provide enough depth along with a moderate bass for some thickness for his distorted tone.
You can try the settings with your own setup. If the tone is too thin, you can add some more mid frequencies, and if it is too muddy, you can decrease the bass or distortion while adding more treble. I recommend starting with bass around 6, treble, and mids around 8 o'clock. Unlike Kurt, if you are getting distortion from the amp, crank up the gain as much as possible without getting the tone muddy.
He used a bright, clean tone with moderate bass and treble along with high mids for the clean parts. This way, his clean tone was bright and warm with enough twang. He also used reverb and delay to give depth to his clean tones. I suggest you go with the bass and treble around 5 and the mids around 7 to get his clean tones. If it sounds too thin, try to increase the mids; if it is too bright and harsh, you should decrease the treble.
For the amp choice, any 50W or higher combo amp will get the job done efficiently.
Pedal Effects / Pedal Settings
Kurt's main source of effects was his pedals. He used a basic setup to get his effects which are mainly the distortion, chorus, and flanger effects, along with some delays and reverbs here and there.
Starting with the distortion effect, he used Boss DS-1 and DS-2 with the level knob at max, tone knob around 11 to 1 o'clock, and distortion at max. This is how he got his iconic distorted grunge tone.
Most of his iconic guitar riffs are played with these settings, such as the chorus riffs of Smells Like Teen Spirit, Heart-Shaped Box, and Lithium.
An important note is that the DS-1 that Cobain used was discontinued, which is the reason he switched to the DS-2. The settings are the same with both pedals, but the new DS-1 Boss released is quite far from what Cobian used. So, you should go with the DS-2 to get closer to his sound with these settings.
The next pedal Cobain used throughout his career and liked a lot is the Electro-Harmonix Small Clone Chorus pedal which is a must for the grunge tones. You should turn the depth control to the up and the rate knob to about 3 to 4 o'clock.
For live performances, he used an Electro-Harmonix PolyChorus instead of the Small Clone. He switched the mode to the chorus, with feedback and rate knobs around 4, width around 10, tune around 2, and the filter switch on.
The chorus tones can easily be heard on the verses of Smells Like Teen Spirit and Heart-Shaped Box, as well as Radio Friendly Unit Shifter.
Techniques
Probably the most important element for the unique tone of Kurt Cobain is his distinctive playing style. His playing was not about perfection or precision but more about attitude, emotion, and passion. He liked to play aggressively with many power chords, letting the open strings ring out, allowing for guitar feedback, and taking advantage of accidental harmonics here and there.
He liked the play solos, which sounded close to the melody or the vocal lines of the song, just like the solo of Smells Like Teen Spirit. Instead of a technical approach, he had a melodic approach playing more catchy licks.
He also took advantage of percussive string mutes and open string transitions like in Smells Like Teen Spirit and Lithium riffs.
He also liked to use chromatic riffs like in Come As You Are, creating a sense of chaotic dissonance and tension.
His playing technique was not perfect, and he had a bit of carelessness. But, that is what gave the characteristic style to his playing with short and simple but not underwhelming riffs and solos.
Kurt Cobain Guitar Rig Examples
Budget
Guitar
Instead of Cobain's high-end custom Mustang or Jaguar, you can go with a Squier Affinity Series Stratocaster. Depending on your pickup configuration, you can change the bridge pickup with Seymour Duncan Hot Rails or DiMarzio Super Distortion to get the high-output tone you need.
Amp
A decent combo amp with around 50 W will be enough to get the Nirvana tone. Depending on where you will be playing, you can go for higher output or a lower output model. My recommendation here is to go with Boss Katana, which is a highly versatile amplifier.
Pedals
No products found.
For the pedal setup, you should go for the Boss DS-2 and Electro-Harmonix Small Clone Analog chorus pedal, which are the exact pedals Cobain used. If you end up getting the Boss Katana amp I would suggest not buying those pedals but merely duplicating their sound using the tone you have on the amp.
Mid-Range
Guitar
For the mid-range budget, you can get a Fender Player Jaguar along with a DiMarzio Super Distortion pickup, which would get you very close to the custom Jaguar of Kurt Cobain.
Amp
For the amp, you can again go with the Boss Katana 50 watt or 100-watt model. As the effects solely rely on the pedals, a decent combo amp like Boss Katana will be sufficient for the Nirvana tone.
Pedals
For the pedals, Boss DS-2 for the distortion and Electro Harmonix Stereo Polychorus Analog for the flanger/chorus pedal are excellent choices as these are the exact pedals Cobain used. If you end up getting the Boss Katana amp I would suggest not buying those pedals but merely duplicating their sound using the tone you have on the amp.
High-End
Guitar
The best guitar to play Kurt Cobain tones is his signature model Fender Kurt Cobain Jaguar NOS if you have the budget. It is equipped with a DiMarzio PAF DP-103 humbucker in the neck and DiMarzio DP100 Super Distortion humbucker in the bridge position along with the Gotoh Adjust-O-Matic Bridge and vintage floating tremolo with a lock button.
Amp
You can directly use the same amp combination with Kurt Cobain with Mesa Boogie Studio Preamp and Crown Power Base amp.
Pedals
No products found.
As Kurt Cobain used a simple yet effective pedal setup, replicating his setup is not hard or very expensive. With a Boss DS-2 Super Distortion, Electro Harmonix Polychorus Analog Flanger and Chorus, Electro Harmonix Electric Mistress Flanger, and a Tech SansAmp SA2 Classic Amp Simulator, you can achieve any tone you like in the whole Nirvana career from Bleach to In Utero albums.
Conclusion
Kurt Cobain is one of the most iconic symbols of rock and music history with his amazing vocals, impressive songwriting skills, destructive live performances, and of course, the signature sound he created that pioneered a genre. His unique sound and his slurred, non-virtuosic playing style are often criticized, but it does not change the fact that Cobain became one of the most influential guitarists and songwriters of all time.
Thanks to his simplistic approach, it is not hard to replicate his guitar tone and unique sound. He did not use fancy gear or complicated setups but kept things simple with basic equipment. Following the steps in this article, you can easily achieve his iconic sound to play some rock-solid Nirvana tunes or simply to adapt his approach to your own.
If you found this article useful, you may want to save this pin below to your Guitar board.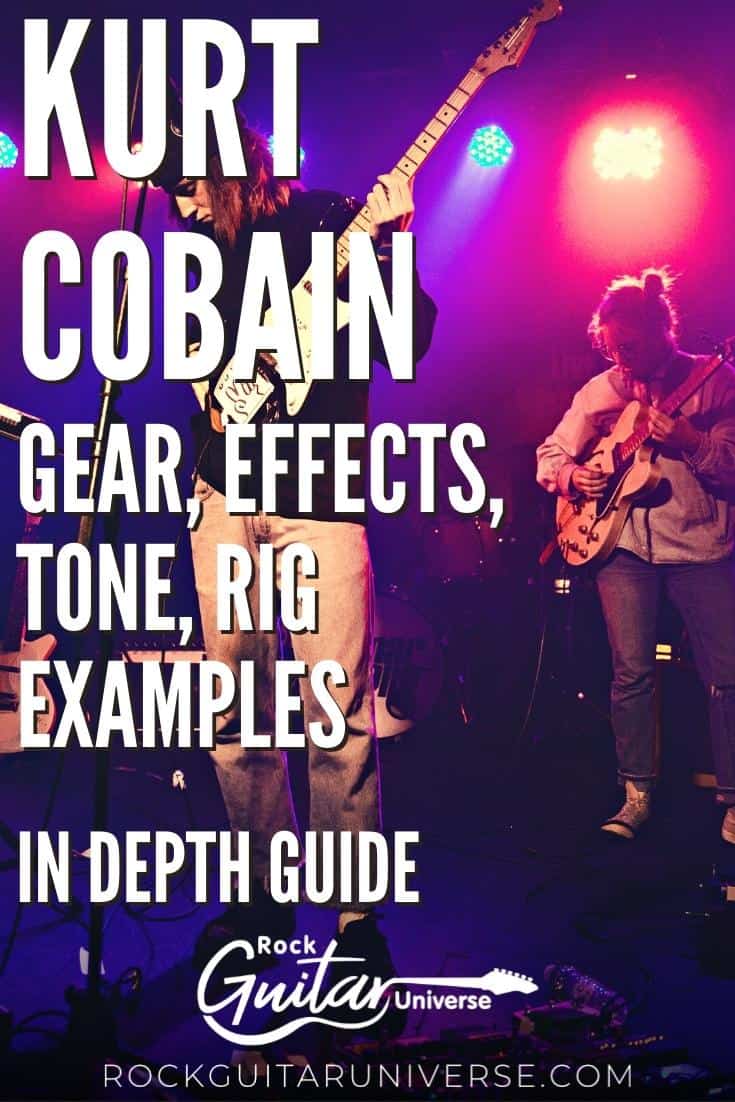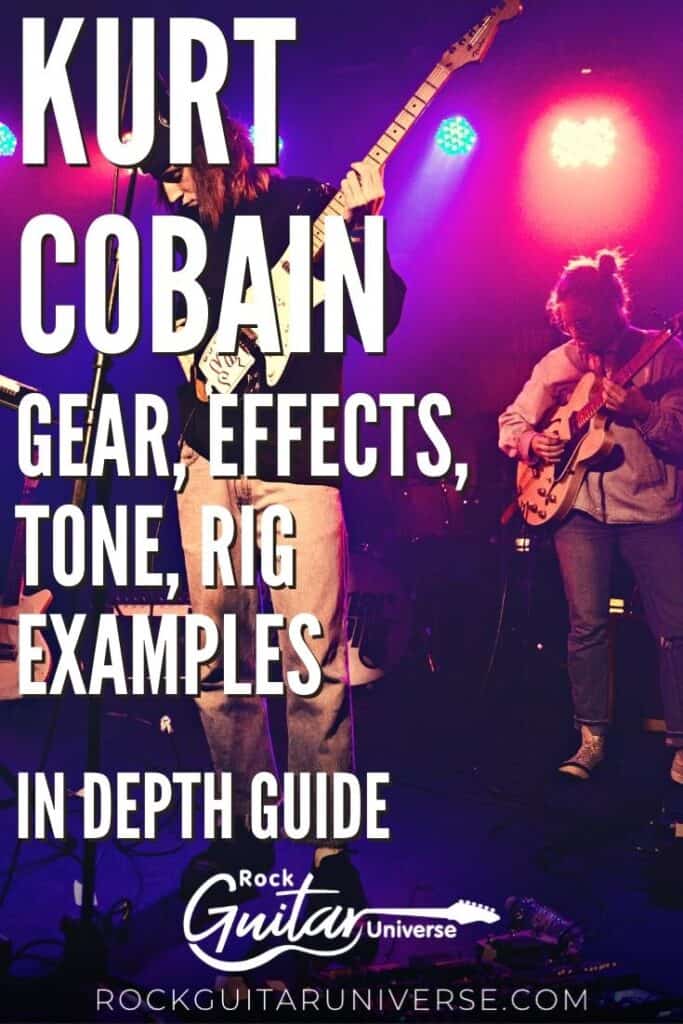 Last update on 2023-02-06 / Affiliate links / Images from Amazon Product Advertising API