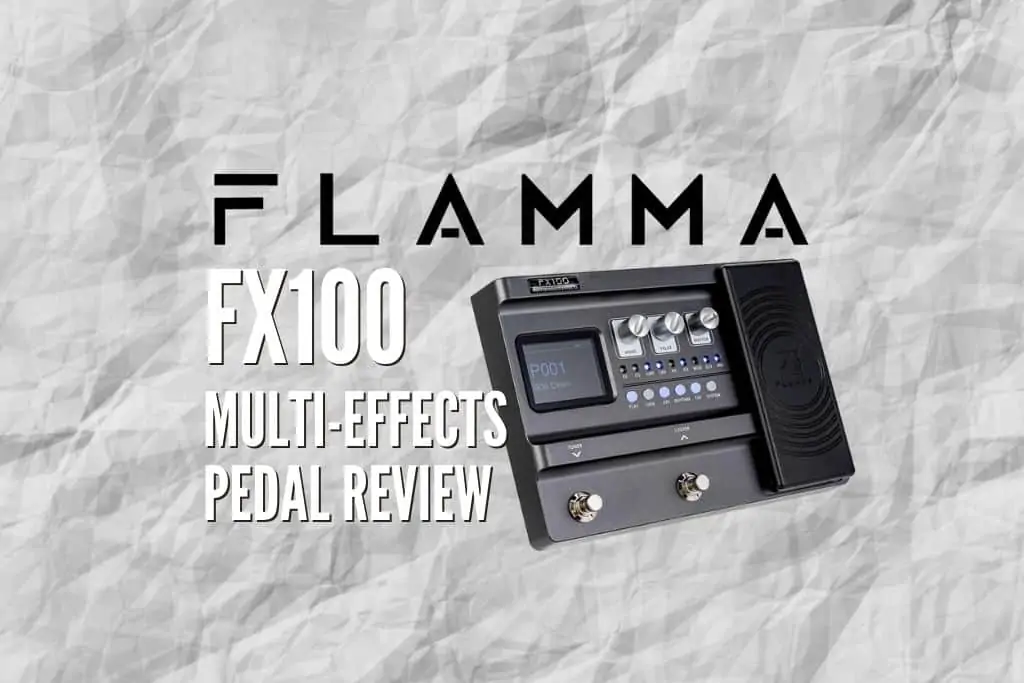 As technology progressed and new gadgets came into the scene, digital effects became an integral part of the music world. Paying $80 for a singular analog effect pedal compared to paying $200 for a multi-effect processor is much more preferable for many guitarists. Plus, the only aspect is not the price.
While analog singular effect pedals are basically focused on one thing and doing it well, multi-effect processors offer a wide range of effects with high-quality thanks to modern chip technology. Digital units such as multi-effect processors may be complicated to use. Still, when you get used to the features, you have endless tone possibilities like overdrives, distortions, modulation even amp and cabinet emulation.
As today plug-ins and home recording audio interfaces are more accessible than ever to use, digital effect processors have to compete with them. The sounds of the digital multi-effect processors from the early 2000s do not satisfy the players anymore as they do not have the quality or versatility of plug-ins or interfaces. But these days, some fantastic multi-effect processors can be used with software to edit tones and elevate versatility.
FLAMMA FX100 Guitar Pedal Multi-effects Processor with Looper Amp...
【9 EFFECTS BLOCKS】Fxcomp, Distortion, Overdrive, Amp, Cab, Noise Gate,...
【55 Classic & Modern High-Quality Guitar AMP Models】 that utilize...
【200 PRESETS】 can provide multiple sound options for beginners. Connect...
【OTG FUNCTION】 supports compatible mobile phone or tablet connection....
With its petite yet sturdy design, more than 200 customizable presets, high sound quality, and tone versatility Flamma Fx100 is one of the best examples. The processor features software that can be used with a real-time connection on a PC where you can fully take control of each individual effect. This way, you gain access to infinite combinations and tones.
In this sense, Flamma Fx100 is not taking the place of an analog pedal set-up; but instead, it is designed like a set of plug-ins. It can be used as a processor or an audio interface with your DAW. Furthermore, thanks to its surprisingly warm and well-rounded sound with many options, it is an excellent device for beginners and intermediates. I would give this multi-effect processor 4 stars out of 5 without hesitation.
| | |
| --- | --- |
| Pros | Cons |
| Great value for the price | Not for professional use in live settings or recordings |
| Fully customizable 151 effects,55 amp, 26 cab models create an extreme versatility | |
| Software connection for better control and recording | |
Flamma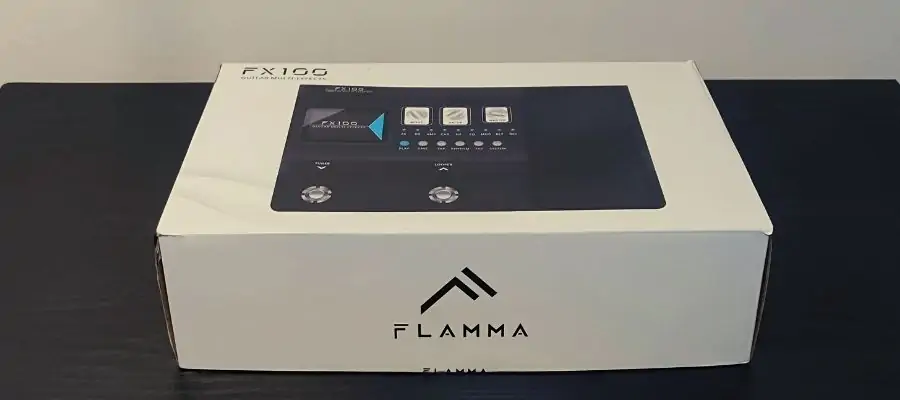 Flamma is a musical accessories brand founded to create the latest music technology to inspire musicians globally. The company was established by a veteran group of experienced musicians and engineers whose aim is to make the industry more accessible for working musicians and music students looking for better and affordable guitar effects and tools.
The brand specializes in compact and easy-to-use innovative products, which helps beginners and pro guitarists achieve their desired tone conveniently and quickly. Thanks to their highly affordable, surprisingly high quality, extremely innovative, and good-looking products, the brand is a rising star in the electric guitar scene.
Flamma Fx100 Multi-Effects Pedal Specs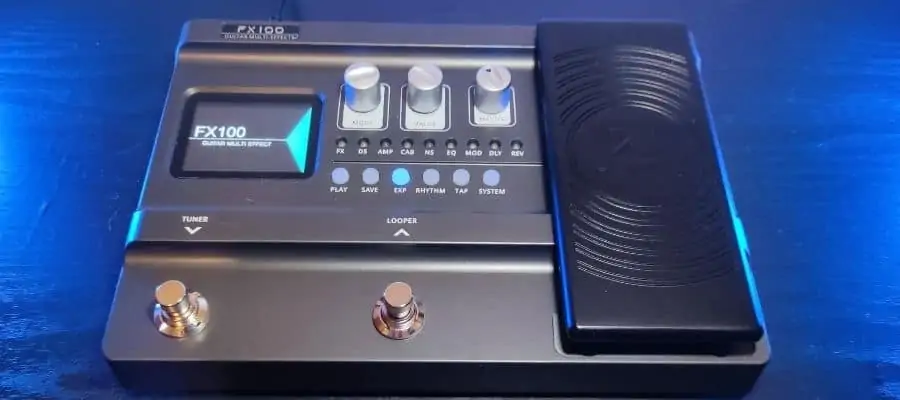 General
| | |
| --- | --- |
| Model | Fx100 |
| Casing | Hard Plastic |
| Color | Black |
Dimensions
| | |
| --- | --- |
| Weight | 1.9 lbs (860 g) |
| Width | 9.05" (23 cm) |
| Height | 6.14" (16.6 cm) |
| Depth | 1.29" (3.3 cm) |
Electronics
| | |
| --- | --- |
| Num. Effect Blocks | 9 |
| Num. of Effects/Presets | 151/200 |
| Dynamic | 98dB |
| Impulse Response | IR |
| Format | WAV |
| Sampling Rate | 44.1 kHz |
| Sampling Accuracy | 24 bit |
| Sampling Point | 512 pts |
| Working Current | 300 mA |
| Led Indication | Yes |
Controls
| | |
| --- | --- |
| Knobs | Mode, Value, Master |
| Switches | Tuner, Looper |
| Buttons | Play, Save, Exp, Rhythm, Tap, System |
Input/Output
| | |
| --- | --- |
| Input | 1/4" Mono Audio Jack |
| Output | 1/4″ Stereo – Left (Mono), Right |
| Power Jack | 9V DC adapter |
| OTG Port | Micro USB Port |
| AUX In | 1/8" stereo audio jack |
| Headphone Output | 1/8" stereo audio jack |
Flamma Fx100 looks pretty impressive with its molded aluminum black casing. The chrome footswitches, bright LED indicators, an easy-to-read screen, and a strong metal expression pedal make the processor look like a professional studio gear compared to cheap plastic, dull designs of other low-budget multi-effect processors.
It is an extraordinarily lightweight and compact processor which weighs around 1.9 lbs (860 g) with measurements around 9.05" (23 cm), 6.14" (16.6 cm), and 1.29" (3.3 cm). There is a whole world of tones and effects in this miniature portable box which is also great for traveling around.
There are mode, value, and master knobs on the control panel to adjust the selected effect. On the other hand, play, save, exp, rhythm, tap, system buttons also exist for different features such as looper, metronome, drum machine, and tone navigation. Finally, the two footswitches on the control panel are used to turn on the looper and tuner.
There is an easy-to-read screen to help you control the processor and bright LED indicators to show you which effect you are using or customizing. The expression pedal feels pretty solid and does not experience any jumps or unbalanced adjustments.
The processor features 55 amp/cabinet/mic models emulating everything from VOX, Marshall, Mesa Boogie, and more. There are 9 effect types from modulation, delays, reverbs, pitch shifting, adding up to 151 in total. Furthermore, there are 200 fully customizable preset patches of factory settings ranging from jazz and metal to ambient to soundscapes.
Continuing with the features, the processor has an 80-second digital looper with one-button recording along with 40 different adjustable rhythm patterns from pop, rock, metal drum machines, and metronome and, of course, a chromatic tuner.
The features do not stop there. For better control on adjustments, the processor has Fx Studio software that you can use on a PC. Every aspect of the tone can be adjusted on the software, from basic EQs to mic placement in the cabinet simulator. The option to control everything on a screen rather than the stompbox gives a huge comfort that really changes the game.
The pedal features traditional ¼" Mono Audio Jack as input and output along with 1/8" stereo audio jack AUX-In and headphone out. Plus, it has an OTG function with a micro USB port that lets you record anything anytime on the go on your smartphone. However, you will need a cord-dongle to use this fantastic feature.
Flamma Fx100 Multi-Effects Pedal Manual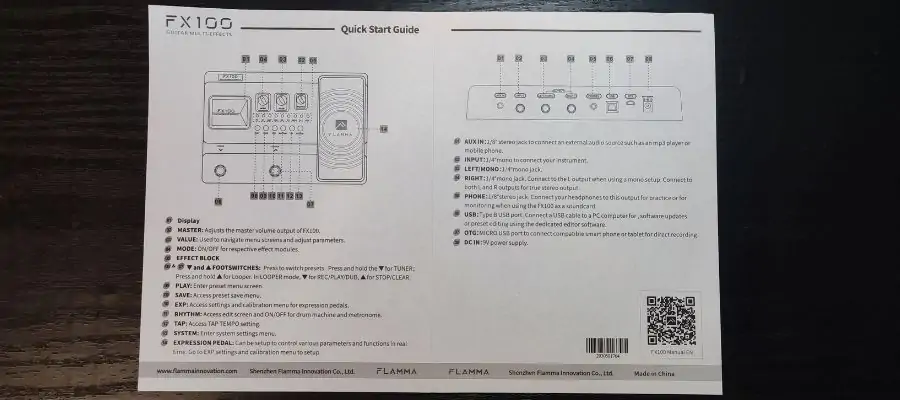 Flamma Fx100 Multi-Effects Pedal Features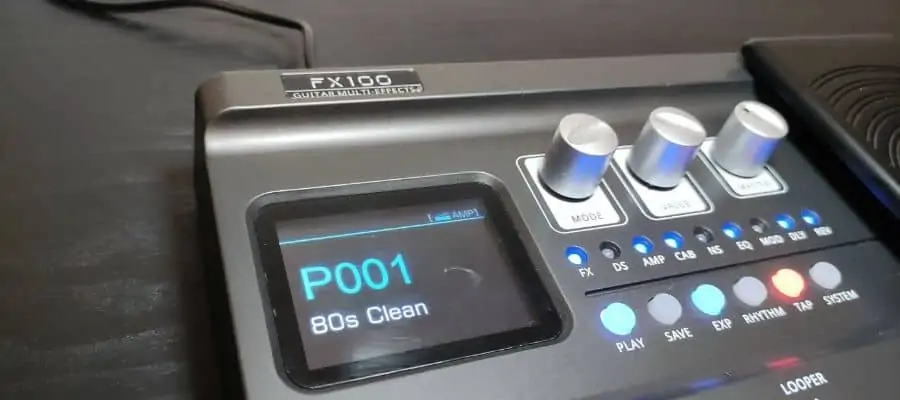 Amp models
Flamma Fx100 processor features 55 high-quality amp/cabinet/mic models emulating everything from VOX, Marshall, Mesa Boogie, and more. This system uses non-linear digital amp modeling technology, which provides the warm and well-rounded tones of the processor.
Cabin models
Flama Fx100 has 26 IR-based factory speaker cab models created to emulate the sound and feel of a real tube amplifier. The pedal has 10 user slots to load in the desired 3rd party IR files.
Effects
There are 9 effect types, including modulation, delays, reverbs, distortion, compression, amp, cab, noise killer, and EQ. The effects can all be customized and add up to 151 different effects in total. The LED indicators show which effects are in use at the moment on the control panel.
Expression Pedal
The solid expression pedal of the processor is well-designed with balanced reach and no jumps. It can be used for both volume or any pedal effects for dynamic real-time customization. This is an excellent feature that comes really handy. There are no jumps, and the range is pretty well balanced. The only problem is that it turns on and off by a soft touch which may be a problem while using the wah, for instance.
Looper
The looper feature is easy to use and quite efficient, which records up to 80 seconds. You can use it with only one button and turn it on or off with the footswitch. It successfully allows the user to create dynamic, multi-part arrangements.
Drum machine
With 40 different adjustable rhythm patterns from pop, rock, jazz, and blues, the drum machine features Rhytym and Metronome mode. Both of them have style, BPM, and volume adjustment options.
Tuner
The processor also features a chromatic tuner that is highly accurate and easy to use. It can be turned on or off with the footswitch. It is accurate and responsive enough, just like you would expect from a decent tuner.
Flamma Fx100 Multi-Effects Pedal Sound Quality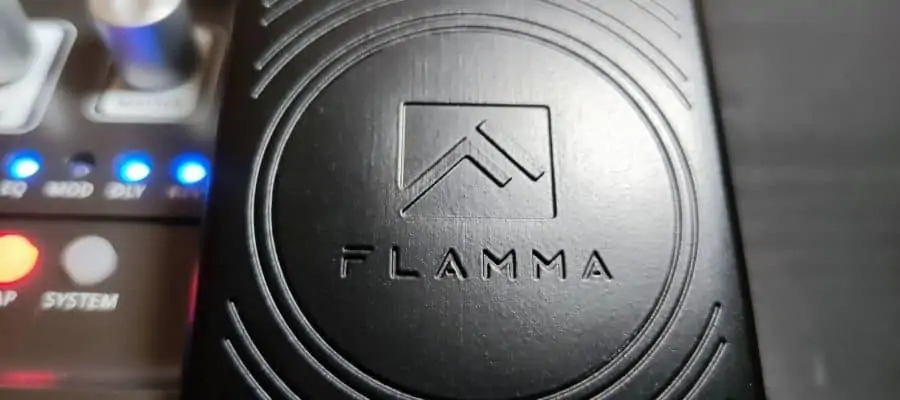 Digital effect processors have always been a topic of discussion until recent years. The discussions focus on the feel of a tube amplifier and whether it can be achieved through digitalized sound. Thanks to advanced technology, this discussion is ending these days as the digitalized sounds achieve extraordinary results. Digital sounds of chips are doing their best to emulate analog pedal sounds; even some of them are exceeding them in terms of sound quality.
Flamma Fx100 is designed to emulate the sound and feel of real tube amplifiers with many effects in a wide range of varieties. Besides the warm and well-rounded tone of emulated amps and cabins, each effect is doing precisely what you desire with high efficiency. The sound is highly responsive and realistic, which lets you get sweet or sick sounds, depending on your tastes.
The processor sounds excellent with headphones, while it also sounds excellent with amps. Of course, the sound will vary depending on the equipment used, but you can be sure it will be high quality anyhow. The versatility is so high with this product that you can easily find a tone you like with any equipment and any effect.
The default presets are not the best and need some adjustments. I have also noticed that some of the preset, especially the ones with fuzz-like noises, start to break down on high volumes. The clean presets are not totally clean; all of them have a bit of distortion, which also can be customized to have a more transparent sound.
Of course, the quality of the effects can not reach the level of a high-end analog pedal or a high-end professional digital processor. But for beginner and intermediate levels, this processor provides spectacular sound quality and versatility, especially when the price is taken into account.
You can check the attached demo video to listen to the pedal yourself to have a better opinion. The demo shows 10 different presets on the pedal with different effects.
Flamma FX100 Studio Software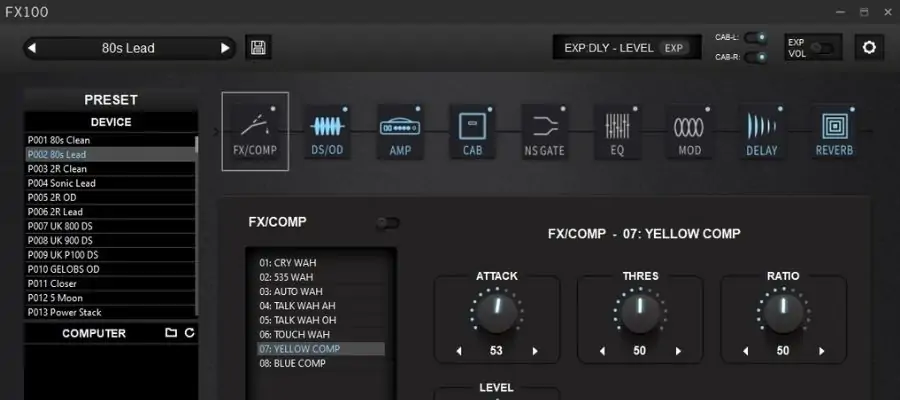 One of the best features of the Fx100 processor is that it comes with free software for effect and preset customization along with recording and live playing. This software makes this processor the ultimate home recording guitar companion. You can connect the processor with the USB cable that comes in the box to a PC or Mac for direct recording, software updates, and preset or effects editing.
You can basically use the software to edit quickly, save effects and presets, or add or remove amp and cabin modulations. It is pretty easy to navigate through the software as the interface is pretty straightforward with the effects, amp and cabin modulations, and presets on the left panel, and virtual adjustment knobs on the main panel. You can scroll through the various options to quickly find what you are looking for.
For recording and live playing, you can use the software as a plug-in with your desired DAW. The software provides high-quality tones without the issue of any lag, which more than satisfies the users.
When writing this article, I had some trouble finding the studio software for the fx100. So if the links aren't available on their website here are the files.
FX100 V1.0.1 Studio Software Win
FX100 V1.0.1 Studio Software Mac
Flamma Fx100 Is Perfect For Whom?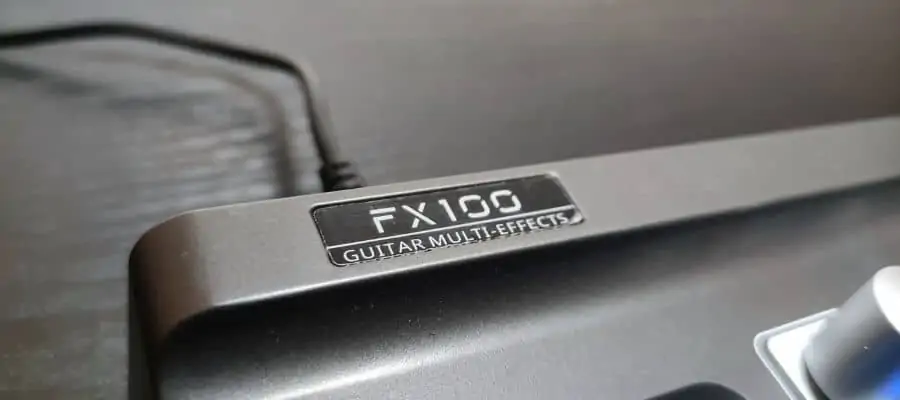 Flamma Fx100 is an excellent gear for players looking for just one device to achieve most of the tones they like. Its portable size and spectacular versatility let it be your only companion for practice sessions or live performances as well as recordings. Of course, not all pre-existing presets are great, so if you want to use Flamma Fx100, you should be ready to make many adjustments and spend some time with the processor.
It must be said that this is not a professional device, so I would not recommend it for professional recordings or live performances. It is a perfect device to create demo recordings, use practice sessions, make it a part of a home studio or even small local live performances. But if you are looking for a more professional sound, you will have to spend more money on your effects setup.
As a digital multi-effects pedal, Flamma Fx100 shines with its versatility. So any type of player can use it without hesitation. It does not matter if you play rock, jazz, pop, or blues. This processor will give you the tone. Also, it is great for guitarists who want to experiment and learn with different tones and gears like loopers, drum machines. With many pedals in one box, you will learn about effects, pedals and find the tone that suits you best.
Flamma Fx100 Multi-Effects Pedal Compared To Other Pedals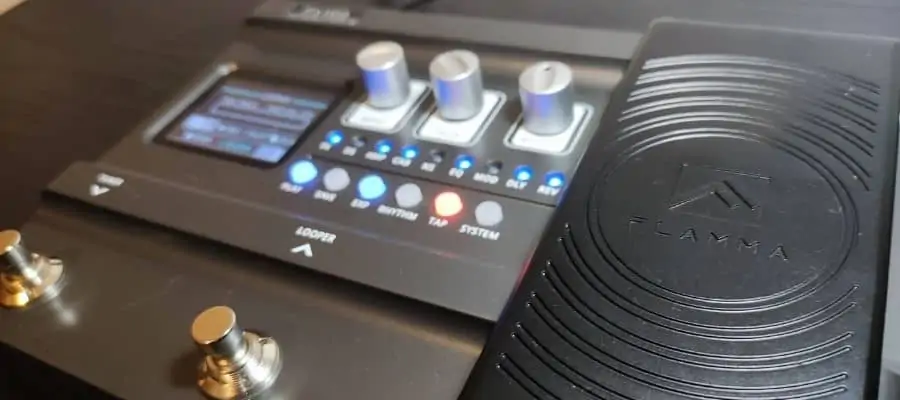 Flamma Fx100 vs. Zoom G1X Four
Zoom G1X Four is one of the best budget multi-effects processors on the market today. It is a compact-sized processor with many effects and features, perfect for home practice.
Zoom G1X Four features 70 built-in effects, while the Flamma Fx100 offers 151 effects in total. G1X Four has 13 amp models for simulating classic rigs, but the Flamma Fx100 provides 55 classic & modern high-quality guitar amp models with better sampling technology.
With G1X, you can use 5 different effects simultaneously, while this number is 9 with the Fx100. The looper of G1X can record up to 30 seconds, but Fx100 can record up to 80 seconds. The drum machine of Zoom offers 68 built-in rhythm patterns, while Fx100 offers 40 drum patterns with 10 metronome options.
The Flamma Fx100 exceeds Zoom G1X's in terms of features as well as in terms of the effect, sound quality. I would recommend paying a bit more and getting Flamma Fx100 instead of Zoom G1X Four as the versatility, and the quality is significantly higher.
Flamma Fx100 vs. Nux MG300
Nux MG300 is known as one of the best multi-effects processors on the market thanks to its TSAC-HD (True Simulation of Analog Circuit) algorithm. This system delivers high-definition, pro-quality electric guitar tones with a realistic feel and playability.
MG300 features 24 legendary amps, 24 cabinets, 4 microphones, as well as around 40 effects pedals: overdrives, distortions, modulations, delays, and reverbs combined. The Fx100 overreaches MG300 in terms of versatility with its 151 effects, 55 guitar amp models, and 26 cabinet models.
Nux MG300 is famous for its Impulse Response technology. The built-in 24 cabinets IRs combine 4 classic microphones with 3 positions, while Flamma offers 26 IR-based factory speaker cab models. Both devices support 512 sample resolution, which delivers high sound quality.
MG-300 provides 8 rhythm styles, each with 7 different beats with tits built-in drum machine. Fx100's drum machine features 40 drum patterns plus 10 different metronome options. The looper of MG300 can record up to 60 seconds, while Fx100 can record up to 80 seconds.
In terms of sound quality, both processors thrive pretty successfully. Both processors support a computer interface to customize effects, record with DAWS, download, and share presets. I can say that MG300 is more portable, but Fx100 is more versatile and performs slightly better. Finally, both processors have almost the same price tags.
Flamma Fx100 vs. Valeton GP100
Valeton GP-100 is an affordable compact multi-effects processor that offers quality tones and highly versatile functions for entry-level players and advanced musicians. Its rock 'n roll tones are especially impressive.
GP100 features 140 effect selections including 45 legendary guitar/bass/acoustic amp simulations, 40 high quality factory cab IRs. The Flamma Fx100 has slightly more effect options with 151 effects, 55 guitar amp, and 26 cabinet models.
The looper of GP100 can record up to 90 seconds which overreaches Fx100 looper with 10 seconds. Another cool feature GP100 has is the pre-effects looper which changes the loop tone when you change the effects. The GP100 drum machine gives you access to 100 different drum grooves, while the Fx100 features only 50 grooves with metronomes included.
Both processors support up to 9 simultaneous effects and support USB-OTG, plus computer software for recording, sound editing, and presets managing. The processors have almost the same price tags, and there is not much difference between them.
Flamma Fx100 vs. Mooer GE150
Mooer GE150 is a highly versatile multi-effects processor with an affordable price tag. It has pretty similar features to the Flamma Fx100 with similar sound quality.
Just like the Flamma Fx100, GE150 features 151 different effects in total along with 55 high-quality amp models. The difference comes with the technology of the GE150, which uses MNRS technology from the PREAMP series, which gives quite realistic tones.
The looper of both processors can record up to 80 seconds, and the drum machines feature 50 different drum grooves with metronomes included. Both devices support OTG function for high-quality live streaming, and they come with free computer software for effect customization, recording, and downloading new presets.
There are not many things to separate these two processors. Mooer GE150's price is just slightly higher than Fx100.
Other Flamma Products Worth Mentioning
Flamma FA05 Guitar Amp
Flamma FA05 is a mini portable 5-Watt guitar amplifier with 7 classic amp models, built-in effects, and I/O options. It features a small 3" speaker, which surprisingly performs quite loud for its size. The amp delivers a fantastic tone, and its high portability makes it a great amp to move around with.
Flamma FS21 Drum Machine Looper Pedal
Flamma FS21 is a looper pedal with a built-in drum machine supporting import-export looper files with editor software. You can download the software and audio drivers easily from the official website.
The looper pedal has a recording time of up to 4 minutes per track with 40 preset slots and 160 minutes of total recording capacity. On the other hand, the drum machine has 100 different drum grooves from 10 unique music styles along with 10 types of metronome settings.
Flamma FS06 Digital Preamp Pedal
FLAMMA FS06 Digital Preamp Pedal Guitar Effects Pedal with Built-in...
【7 Preamp Models】7 different preamp models that cover a wide variety of...
【Compatible】You can connect it to a power amp of a guitar amplifier,...
【7 Saveable Preset】Every preamp model has two channels with a saveable...
【Cabinet Simulation】Built-in cabinet simulation allows users to connect...
Flamma FS06 is a versatile digital preamp pedal with two easily switchable channels for each preamp inside. You can toggle on or off the cabinet simulator depending on the real-life cabinet, while you can easily adjust the EQ knobs to edit the tone and save it to the preset slots. The footswitches also make it relatively easy to toggle on or off the features or switch between channels.
Alternatives To The Flamma Fx100 Multi-Effects Pedal In Terms Of Look, Sound, Specs, And Price
Zoom G1X Four
The Zoom G1X Four features 70 effects and 13 amp models, a looper, and a drum machine with 68 groove patterns. It also gives you access to the ZOOM Guitar Lab'S additional library to download and customize the effects.
The sound quality is solid with a good spread of basic reverbs and delays, especially the tape echo sounds pretty great. Of course, the effects are not professional quality and sound a bit digital. However, this is a great multi-effect processor extremely intuitive to use that you never feel the need to look at the manual.
It is a great home practice companion, but I would not recommend it for recording or live performances. This gadget costs less significantly less than the Flamma Fx100, which makes sense when its versatility and sound quality are taken into account.
Nux MG300
NUX MG-300 Multi Effects Pedal TSAC-HD Pre-Effects,Amp Modeling...
Update the firmware from the official website for the first playing.
TSAC-HD Pre-Effects and Amp Modeling algorithm providing optimum sound...
IR (Impulse Response), USB audio stream (recording interface with re-amp...
Load 3rd-party IRs to expand sound ability,56 drum beats and 60 seconds...
As one of the best value for price multi-effect processors on the market today, Nux MG300 is a fantastic portable multi-effect processor with 24 legendary amps, 24 cabinets, 4 microphones, and around 40 built-in effects pedals. It uses highly innovative technology to elevate the sound quality like the TSAC-HD, which replicates the same playability most guitarists prefer in a real tube amplifier.
It can be connected to a computer to use with its own software for effect customization, preset download, and recording with DAWs. It has an exceptionally easy-to-navigate control panel with a high-quality screen that makes everything easier and more intuitive. The pedal truly shines with its ease of usage.
Nux MG300 costs almost the same amount as Flamma Fx100.
Valeton GP100
Valeton GP-100 Guitar Bass Amp Modeling IR Cabinets Simulation Multi...
140 Built-in Guitar/Bass/Acoustic Effects with 45 Legendary Amp Models and...
100 Built-in Drum Rhythms and 90 Seconds Looper, 198 Presets, Adjustable...
Powerful HD Digital Modeling System delivering Organic Living Tone, 3rd...
USB Audio Interface with Stereo Audio Streaming, Support OTG function for...
Valleton GP100 is a compact-sized, portable multi-effect processor with high versatility and sound quality. With its 140 Built-in Guitar/Bass/Acoustic effects with 45 Legendary Amp Models and 40 carefully selected impulse responsive cabinet simulations along with 24-bit 44.1kHz signal processing, it is a fantastic processor with a surprisingly affordable price tag.
GP100 is an excellent tool for guitarists who want to play various genres with only one device with its high versatility. It is perfect for home practice and home studios as well as live performances. The sound quality is quite excellent; plus, it features a very intuitive and highly user-friendly design.
Another cool feature is the computer software to customize the effects and record with any DAW of choice. You can also download other users' presets or share your own presets easily on the internet.
Valeton GP100 costs around the same as the Flamma Fx100.
Mooer GE150
MOOER GE150 Electric Guitar Amp Modelling Multi Effects Pedal Portable...
Tone Versatility: GE150 designed to adapt to a wide variety of musical...
Inspire Creativity: 26 user slots to load in your favorite 3rd party IR...
Record at any moment: Built-in 80-second looper, 40 types of drum rhythms...
Easy to share: USB-OTG improves the sound quality of your live stream and...
Mooer GE150 is an outstanding multi-effect processor with highly versatile features and a pretty affordable price tag. With its 151 different effects and 55 high-quality AMP models, it can be used to play any music genre with precision.
Its features include tuner, looper, tap tempo function, OTG support, programmable expression pedal, and 26 user slots to load in your favorite 3rd party IR file session pedal. When a more than satisfying sound quality is added to these features, you get an ideal multi-effect processor for home practice and home studios. It can also be used for small live performances successfully. But if you are an analog fan, it is hard to get a satisfying tone with any affordable digital processor.
The price of Mooer GE150 is slightly above the price of Flamma Fx100.
Summary
All things considered, Flamma Fx100 shines between multi-effect processors with its sturdy yet elegant design, its versatility with 151 effects and 50 amp models, its realistic, warm, and well-rounded tones, easy-to-use control panel, and software for effect customization. The extra features added, such as the tuner, looper, drum machine, and expression pedal, are the ideal multi-effect processor for a reasonably low price.
It is a perfect companion for home practice and home studios for quick records, demos, and jam sessions. It can also be used for live performances, but of course, it will not give you an entirely professional analog sound. Outside of that, this processor has got everything you will need.
If you found this article useful you may want to save this pin below to your Guitar board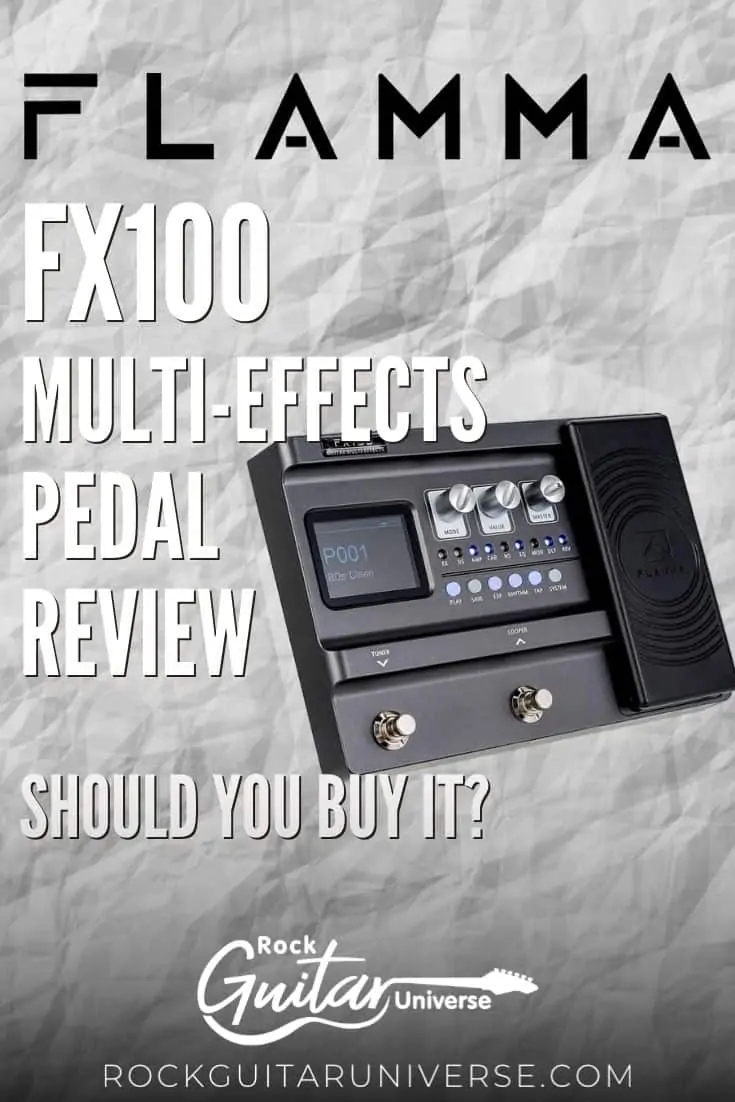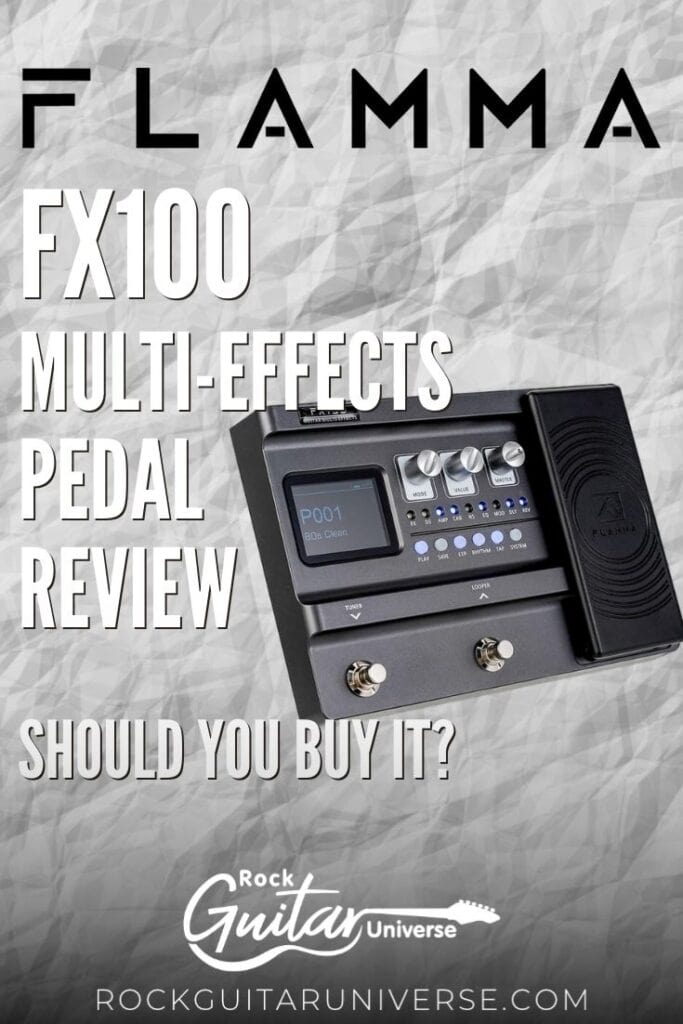 Last update on 2023-10-04 / Affiliate links / Images from Amazon Product Advertising API