One of the biggest issues with big amplifiers or complex setups (using multiple pedals or routing your sound into a stereo output) is the amount of time it requires to set up.
It is particularly inconvenient to do a long setup when you are looking to solely do a practice session, especially when your practice time is limited.
The best way to work around this is by getting a mini/small amp that requires a quick setup to sound great.
The good thing about our present is, technology has advanced to a point where you can get small and compact amplifiers and still have a fantastic, full, and powerful sound.
Yamaha THR5 Guitar Amp
10 Watts of output power
Powered by either AC Adaptor or Batteries
Five different amp models: Clean, Crunch, Lead, Brit Hi, and Modern
Dual knobs for multiple FX including Reverb, Delay, Chorus, and Tremolo
Great versatility, very compact, and easy to set up
The Yamaha THR5 is one of the most recent amplifiers to shock the market. Its portable nature, paired with the great versatility it has without losing audio quality, has made this amp one of the most sought small/mini amps.
This 10-watt amp is quite easy to transport and set up. It also has some of the best sound quality produced by a smaller amp.
The main thing to talk about is its versatility. It has 5 different amp models that range from a clean, crystalline tone, to a heavy modern rock-type of sound.
Added to this, you have your stock FX to make your sound even more interesting. You have also the option to save presets to access your sounds with ease.
Boss Katana Mini
7 watts of power output
Compact amplifier, battery-powered
4-inch speaker (10cm)
Rich and full-sounding tone
Three versatile amp types: Brown, Crunch, and Clean
Includes a three-band analog tone stack to shape your tone
Built-in tape-style delay for warm ambience
BOSS Katana line of amplifiers is one of the best in the market. Thanks to their improved technology, the sound quality of these amps are beyond what you would expect.
The Boss Katana Mini is a miniature version of the full-powered Katana amps. However, despite its reduction in size and power, the quality of sound does not disappoint.
This is an excellent beginner's amp, mainly because even when you begin to improve your playing skills, it will take some time to outgrow the sound quality of the amp.
The most positive spec within this amp, in my opinion, is its huge low end. It is very easy to lose all of your lows when having a small amp but BOSS made sure to not allow that.
Added to this, the warm, analog delay sounds quite nice and is a great first FX to experiment with.
Positive Grid Spark 40 Guitar Amplifier
The ultimate practice amp
40-watts of power output
Positive Grid's BIAS technology: 10,000 + tones for you to choose
Physical interface with 7 amp models, 3-band EQ, gain and master controllers, and built-in FX
Decipher songs' chord progressions and loop passages
Auto-generates jam band for you to practice
Works with bass and acoustic guitar as well
The Positive Grid Spark 40 Guitar Amplifier is the ultimate practice tool a guitar player could ask for. It is the latest invention from renowned company Positive Grid and it is a leap in guitar-amp technology.
The first thing to notice is that this amp is a 40-watt power hybrid amp. This means you can dial your sound from its physical interface or its downloadable software (controlled from your phone).
Its physical interface is what you would expect from a solid amp: 7 amp models that include bass and acoustic guitar, a 3-band EQ to shape your tone, gain and master controllers, and built-in FX (Mod, Delay, and Reverb).
On the other hand, its software is powered by Positive Grid's incredible BIAS technology, which allows you to have over 10,000 sounds at your disposal. Any tonal option you may want, this amp has it.
The Positive Grid Spark 40 has several other great specs. Its interface allows you to stream any song from any platform such as Spotify and it deciphers the chord progression to help you learn the song.
It also has a built-in jam band that analyzes your progressions, tempo and, feel to accompany you. This amp really has it all.
Blackstar FLY3
3-watt compact mini amp
2 channels – Clean and Overdrive
Patented ISF (Infinite Shape Feature) EQ
Digital 'tape' delay effect
Emulated Line Out for 'silent' practice or recording
3″ speaker producing true Blackstar tones
Battery or DC powered
The Blackstar FLY-3 is one of the best small guitar amps for beginners. It is super compact and very light. However, this doesn't take away from its output power and weight.
Its main feature is Blackstars Patented Infinite Shape Feature (ISF). It allows you to create several types of tones that can suit different styles. It's advantageously small and packs a punch, even at the lowest volumes.
Another great addition to this amp is its Digitally recreated Tape Delay. You have a Delay Level and a Delay Time knob to help you dial in the desired effect.
I think that having that one FX is a great advantage and opportunity to explore what can be done with the Delay, which is without a doubt, one of the most important effects a guitarist has at their disposal.
Line 6 Micro Spider Guitar Amplifier
6 watts of power output. Battery-powered
Increased versatility with four amp models and one acoustic guitar model
Three-band Equalizer
Five user-programmable channels to have different setups
Tuner incorporated to the system
6.5-inch speaker
If you are looking for multiple sounds, one of your best options in mini/small amps is the Line 6 Micro Spider.
Line 6 has become one of the leading digital amp manufacturers and are well-recognized for their sound and versatility.
With four different amp models, an acoustic guitar model, and several FX such as reverb, delay, chorus, and tremolo, you have all of the options you could ever want for in this all-in-one amp.
A great addition to this amplifier is its ability to store five different presets. This allows you to have five different sounds in a very accessible way.
You can take advantage of that and have a clean sound, an overdriven sound, and a full-distorted lead sound at your disposal.
Finally, you have a built-in tuner, which is a nice thing to have within an amp.
Marshall DSL1CR Guitar Combo Amplifier
15 watts of power output
Tube amplifier: 2 ECC83 preamp tubes and 1 ECC82 power amp tube
2 channels: classic and ultra gain
Celestion G8C-15″Eight-15″ speaker
3-band EQ and built-in reverb
Classic Marshall tone
It is fair to say that if we're talking about Marshall, it is really hard to go wrong. Marshall has had years and years of expertise and reassurance to give us some of the best-sounding amplifiers out there.
The Marshall DSL1CR is a small, 15-watt tube amplifier that exposes you to the classic, hard-driven Marshall tone.
Paired with this, you have the option of two different types of distortion: classic and ultra. Added to this, you have a 3-band EQ and a built-in reverb to fine-tune your sound.
A small, great addition to this amp is its inclusion of a footswitch, which allows you to change from classic gain to ultra gain with comfort and ease.
From super bright, clean tones to aggressive, rock-n-roll tones, the Marshall DSL1CR combo has the features and versatility to provide the sound that suits you.
Monoprice 611705
2AX7 preamp tube and a single 6V6GT tube amplifier
A smooth, vintage-sounding tone with natural overdrive
Simple to use with only a volume and a tone knob. Practical for people looking to not mess a lot with EQ.
Celestion® Super 8 Speaker with balanced mids and highs
Classic Styling for a 40s-50s aesthetic vibe
The Monoprice 611705 is one of the top options for small/mini tube amps. Being a tube amp also gives it a great sonic advantage over all portable amplifiers.
An advantage this amp has (for those looking for simplicity) is the fact that the Monoprice 611705 only has a volume knob paired with a tone knob. This allows you to not overspend your time trying to dial-in the "perfect tone"
One of the great things about tube amplifiers is their ability to get you a natural, smooth-sounding overdriven tone. You only need to crank the amp.
The Monoprice 611705 is an excellent beginner's amp and is a particularly good choice for those looking to eventually shape their tone with pedals.
VOX Pathfinder 10
All-analog solid-state amp
10 watts of output power
Clean and Overdrive channels
2-band EQ, volume, and gain knobs
1 x 6.5″ Vox Bulldog Speaker
Classic Vox tone with a lot of versatility
VOX is one of the most recognized amplifier brands in the world. George Harrison, Brian May, and Jimi Hendrix are some of the legendary guitarists who favored VOX over other companies. The reason? Their excellent quality, and irreplaceable tone.
The VOX Pathfinder 10 is a 10-watt, all-analog solid-state amplifier that has all that you would expect from a VOX amplifier: the sound, the looks, and the versatility.
Granted, this amp might not have a lot of room for tonal-shape, but it doesn't need to. Its highly responsive nature allows the tone of the guitarists to come out from their playing, rather than the amp.
This allows you to perfect your tone while improving your guitar skills and only using the amp as a fine-tuner. The VOX Pathfinder 10 is also a great amp to pair with guitar pedals.
Orange Micro Dark Terror MT20
20 Watt of output power
Hybrid between tube preamp and solid-state power amp
Single ECC83 (12AX7) Preamp Valve
Tone range from bright clean to heavy distortion
3 parameters you can adjust: Volume, Tone, and Gain
The Orange Micro Dark is a 20-watt hybrid amplifier head designed to get high-gain tones. This is one of the best mini/small amps for rockers and lovers of heavy metal.
Being a hybrid amplifier means that it combines the technology of solid-state amps and the vintage-sounding nature of tubes. This enables the Orange Micro Dark to have a great tone at an affordable price.
These amps were based around Orange's popular Dark series of amplifiers. The Micro Dark offers the same searing gain and tonal versatility but in a tiny, portable format.
Its 3-knob control panel makes pulling great sounds out of your Orange Micro Dark easy. With 3 controllers, one for volume, one for gain, and one for tonal shape, you have a good combination of simplicity and versatility.
Fender Acoustasonic 15
15 Watts of output power
6" Fender Special speaker with an enhanced high-frequency response
Two channels: instrument and mic. Each comes with independent volume controls
Includes a 3-band EQ and a Chorus FX knob
Classic Fender look and sound
If you are looking for a small amplifier for your acoustic guitar, this is one of your best choices. The Fender Acoustasonic 15 is a 15-watt acoustic amp specifically designed to capture the nuances of electro-acoustic guitar pickups and/or guitar microphones.
This amp comes with two independent channels, one for an instrument cable, and one for a microphone cable (XLR input). This allows you to use an electro-acoustic guitar or go a bit more old-school and mic your guitar. I'd recommend the latter.
Its classic Fender tones and aesthetics deliver just what you would expect from a respected brand such as Fender.
For extra push into ambient depth and shimmer, the Acoustasonic 15 features a built-in chorus effect. However, it's only available for the instrument channel.
Roland MICRO CUBE
2-watt Ultra-compact guitar amp with custom-designed speaker
7 guitar amp models including the legendary JC-120 and a special mic preamp model
FX included: chorus, flanger, phaser, tremolo, and separate Delay/Reverb
Powered by AC Adaptor or Battery
Roland is another of the top amplifier manufacturers in the market. Their JC-120 model, for example, is one of the most sought amplifiers for its clean tone and analog chorus.
The Roland MICRO CUBE is an adaptation of the original Roland Cube, only made smaller, more compact, and battery-powered if needed.
This amp comes with 7 guitar amp models (including a recreation of the iconic JC-120), 6 DSP effects to create your sound, and a built-in digital tuner. This gives you everything you need, all in one small amp.
This amp is a solid beginner amplifier, and the fact that it is very easy to transport is a huge plus. The multiple options it provides for you also lets you expand your ears and understand the combinations of different effects and amp models.
Fender '57 Custom Champ
5-watt tube amplifier
8 inch Fender Custom speaker
12AX7 preamp tube matched to a classic 6V6 power amp tube
Single volume knob, two instrument inputs
Vintage Fender tone and aesthetic
If we take a look into the higher-end small amplifiers, the Fender '57 Custom Champ is on top of that list.
The Fender '57 Custom Champ is one of the most used small amps and is often used in actual studio recordings. Some of the guitar players who favored these types of amps are Joe Walsh from the Eagles and Eric Clapton.
The main thing to notice is its simplicity. There is only a volume knob for you to control. Don't let this fool you, the combination of a 12AX7 preamp tube matched to a classic 6V6 power amp tube gives you a warm analog tone of the highest quality.
Lastly, Fender's 5F1 circuit used in this amp is well-known for its heightened dynamic response and sweet-sounding tube overdrive when pushed. One of the best small/mini amps in the market.
Fender Mustang LT 25
25-watt combo amplifier
Single 8" Fender Special Design guitar speaker
Ultimate versatility: 50 presets, 20 amp types, 25 effects
Stereo headphone output for silent practice
Built-in chromatic tuner
If you are looking for a small amp with great versatility, one of your top choices will be the Fender Mustang LT 25.
This 25-watt combo amp has so many tonal options for you. First off, you have your volume and gain knob, plus your typical 3-band EQ. However, where this amp shines is in its digital interface.
The Fender Mustang LT 25 has 30 preloaded presets plus 20 extra for you to have an immense plethora of sounds. The interface in itself is simple to use and allows you to adjust your tone and use different FX to create unique sounds.
A particularly nice thing for someone looking to practice late at night or at spaces where you can't really turn the volume up, is its stereo auxiliary input. This allows you to connect headphones and practice, without losing your stereo image.
BUGERA V5
5-Watt Class-A amplifier
Driven by 1 x EL84 tube and an authentic preamp design from the '60s featuring 1 x 12AX7 tube.
British engineered 8" Turbosound speaker
Vintage Equalizer with dedicated Tone control and Integrated high-definition reverb with dedicated Reverb control
Built-in 2-way Power Attenuator allows you to get ultimate sound at any volume
Designed and engineered in Germany
If you are looking for a high-end, top-quality, low-budget tube amp, this is the best choice for you. The Bugera V5 is a 5-watt Class-A tube amp with 1 x EL84 and 1 x 12AX7 valve.
With knobs designated for gain, tone, volume, and reverb, the Bugera V5 is fairly simple to use and has a very dwell-defined vintage tone.
A great feature of this amp is its high-definition Reverb, which helps you put the perfect finishing touch to your sound.
The Bugera V5 proves that good tube amps need not be expensive. I'd definitely recommend you trying this one put if you are looking for a good small practice or recording amp.
Quilter Mach 2 Combo 8
The ultimate grab and go performance amplifier
200-watt Guitar Combo Amp
8" Celestion TF0818 speaker
Great variety of controls, including a 3-band EQ, Gain, Boost with several styles, FX, and more
Light for a heavyweight amp. 19 lbs. (8.5 Kg)
Quilter Mach2 Combo 8 is the ultimate tool in terms of analog amp modeling. Most amps with modeling functions are digital, which reduces the quality of the sound (especially older ones)
This amp, however, offers you great versatility by having 6 different, yet analog, amp models. Its sound quality is definitely something to mention.
Apart from its analog amp modeling, the Quilter Mach 2 Combo 8 has multiple tone-shaping control elements. These elements include gain, EQ, filters.
The amp also has a built-in Boost function with 6 modes that go from flat to adding scoop EQ to adding a tone resembling the sound of having an overdrive pedal in front of the amp.
Conclusion
Before anything, it is fair to say that there is a big difference between a small/mini amp which its main purpose is to be a quick setup practice amp, versus a small/mini amp intended to be compact, yet of the highest quality.
As you can see from this list, that factor can radically change the overall cost of the amplifier. Therefore, it is important for you to be able to discover and understand your needs.
If you are looking for a small beginner's amp, having a lot of versatility in your tonal options might be your main focus. Then again, you might want an amp that is as simple as a 3-knobs type of amp and prefer its simplicity.
On the other hand, if you are looking for a high-quality amp that can function as both a practice amp and as a recording or small-venue live situation, a tube amplifier might be your best bet.
Either way, this list is meant to offer you an overview of the different parameters you can find in small/mini amplifiers. I'd recommend you take the time to look at these options and decide for yourself what would be better suited to your needs.
If you found this article useful, you may want to save this pin below to your Guitar board.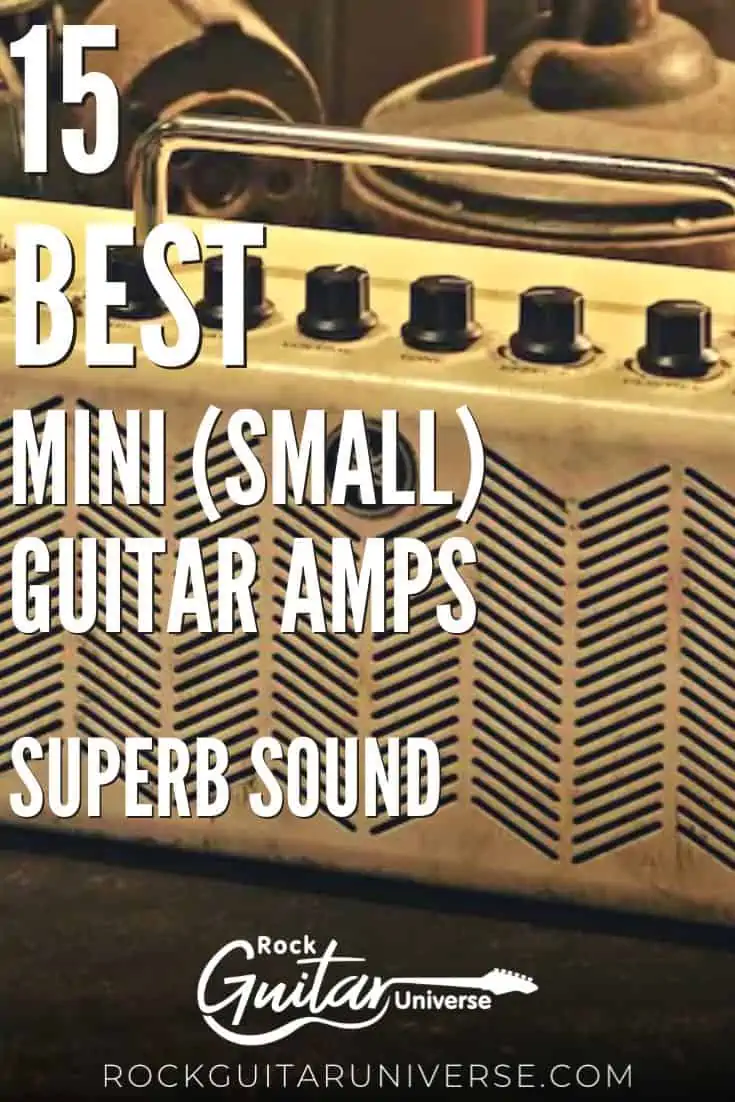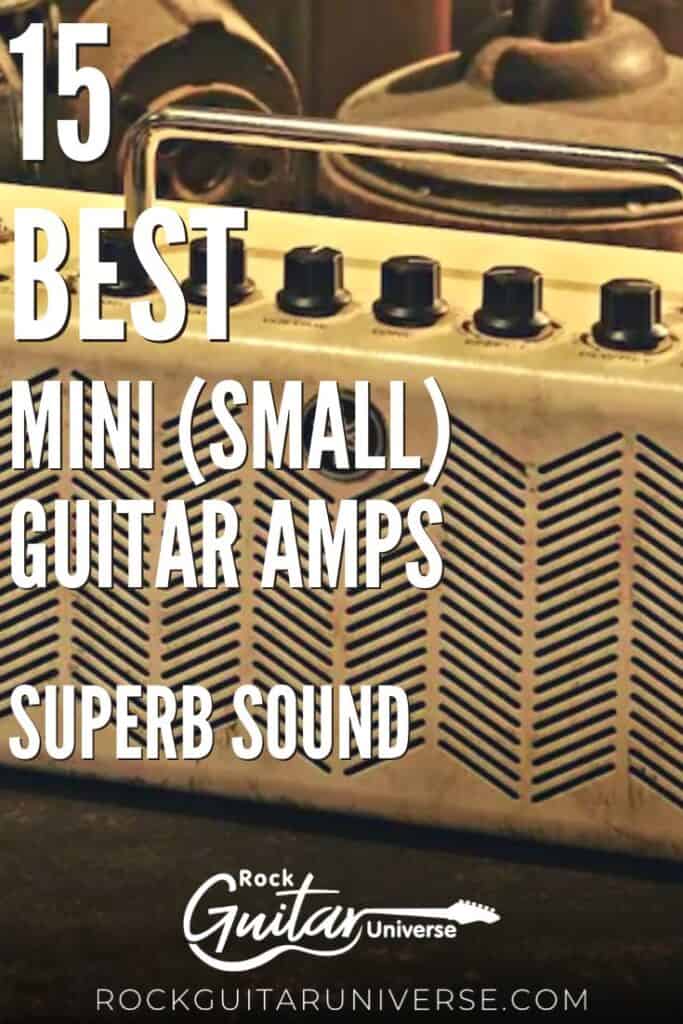 Last update on 2023-10-04 / Affiliate links / Images from Amazon Product Advertising API