If you are a beginner guitar player, getting a multi-effect pedal might be a good option. While these pedals aren't the best possible option, they can be so much cheaper than building a good pedalboard.
And for beginners, this might make all the difference in the world. They are still inexperienced and aren't aware of the pedals and configuration they enjoy yet, so trying out multi-effect pedals can be a great way to start.
As with any other piece of equipment, these pedals can be quite expensive as well. The prices for pedals are between $50 and well over $2,000.
Multi-Effect Pedals Under $100
The first category on this list is the cheapest option. Needless to say, these aren't incredible, and they probably won't last you for a long time. Not that there will be a problem with performance or that they will break, but rather that you'll learn more and start looking for something better.
However, cheap pedals can still be a good tool and a decent starting point for beginners. Regardless of the quality, it is so much better to practice with any type of distortion than playing without effects at all.
Ammoon PockRock Guitar Pedal
No products found.
15 effect types
Drum machine
16 preset patches
Comes with an adapter
Can work on two AAA batteries
Metal buckle on the back
PockRock is just what you'd expect it to be. It is a portable multi-effect pedal you can carry with you (or on your belt). The main difference is that this one is not meant for the floor, and you won't be stepping on it.
It's made of plastic and offers several different types of distortion, along with various other effects. Naturally, it isn't the best available option, but it is more than affordable. It is highly unlikely you'll find a cheaper pedal for your instrument.
As you can hear, it can be a great tool for beginner guitarists, and it will allow you to try out different notes while practicing.
Donner Multi Guitar Effect Pedal Alpha Force
Three types of effects – delay, chorus, and higain
Channel for each effect, with three knobs for additional tuning
Heavy distortion with a wide range
Analog-voiced delay
Aluminum-alloy case
LED indicators
Analog circuit
14.1 ounces (400 grams)
13.39 x 2.56 x 2.13 inches (34 x 6.5 x 5.41 centimeter)
Donner is an excellent option if you are just starting your music career. The best thing about this model is its price since it is rather affordable. While it is not the best option available, you will have a challenging time finding cheaper equipment.
As I already mentioned, there are three effects and you can run them all at the same time. The pedal looks amazing and quite modernistic. The package also comes with an adapter, which is something that sounds great.
The pedal is a lot smaller than you'd expect, and works like a charm. Furthermore, the higain option gives you a chance to pick from a variety of distortions that can sound surprisingly good. In the end, it is a great pedal for the price, and a lot better than low-end generic multi-effect pedals that give you hundreds of effects you'll never use.
VOX STOMPLAB 2G Modeling Guitar Multi-Effects Pedal
Vox model
100 presets
Expression pedal
Three knobs
Tuner
Easy to use
Customizable effects
The next item on the list comes from Vox which is one of the major companies for music equipment. Unlike many amps they design, you won't need to spend a fortune to get it. Stomplab 2G is affordable and it can be a great starting point for beginner guitarists.
One of the best things about this multi-effect pedal is that it comes with an expression pedal, so you won't need to bother with auto-wah and other simulations.
It is a decent pedal that gives you a lot of different styles for many musical genres. Of course, you can always create your own effect and save it for easy access. The pedal is under $100, which seems like a bargain.
JOYO R-09 Modulation Pedal
Dual-channel
Eight knobs
9 different effects and 18 modulations
Metal case
15 oz (425 grams)
6.3 x 5.12 x 2.28 inches (16 x 13 x 5.8 centimeters)
R-09 is a modulation pedal with two channels. There are dozens of different effects you can use like phaser, chorus, flanger, octave, tremolo, vibrato, and many more. The main advantage, of course, is the price, and it is rather affordable.
As with other entries on the list, this isn't the best option, but it can be a pretty good alternative for individual pedals.
The design of the pedal is also decent, and you won't need to worry about accidentally damaging it while changing effects. The metal case is more than enough to keep your pedal safe.
Nux MG-100 Multi-Effect Processor
58 types of effect
Classic amp modes
Expression pedal
EQ
Analog circuit simulation
2.55 pounds (1.156 kilograms)
9.9 x 8.8 x 3.1 inches (25.15 x 22.35 x 7.87 centimeters)
Nux MG-100 is a decent processor for beginners, and probably the best on the list so far. Naturally, the price is a bit higher, and it is on the edge of the price range. There are many different effects you can use, and the best thing is that you can activate up to eight simultaneously.
Drives and distortions sound a lot better compared to other, cheaper models, and you can use one of many drum tracks during your practice. It is a good tool to have, and you will have so much fun trying it out.
Multi-Effect Pedals Under $200
The next group on the list are multi-effect pedals under $200. The quality here is a lot better, and you will face a significant improvement in quality. Needless to say, I will ignore pedals from the previous range and focus only on models between $100 and $200.
These are designed for beginners and more advanced players who have some idea about the sound they're looking for.
Valeton Multi-Effect Pedal Dapper Indie
Analog RAT-style distortion
Big Muff style fuzz
Chorus, Tremolo, Phaser
Three delays
Three reverbs
Headphones jack
Metal case
1.95 pounds (884.5 grams)
18.03 x 2.83 x 2.05 inches (45.8 x 7.19 x 5.21 centimeters)
Dapper Indie can sound really good. Not all effects are perfect, but there are those that will make your guitar sing. It is a significant improvement compared to the previous group, and it is in the mid-range of the price group.
The pedals offer a variety of effects, and there are five switches you can use. Each switch has its own knobs that you can use for fine-tuning.
It is a nice pedal to have, and there are so many things you can try out. Check the video above for more details and an in-depth guide of the pedal.
VOX Lil' Looper
Dual pedals
Option to record
Loop
Twelve built-in effects
1.59 pounds (721.21 grams)
8 x 3 x 7 inches (20.32 x 7.62 x 17.78 centimeters)
VOX Lil' Looper is another exciting pedal from this famous brand. The main difference here is that the focus is on the loop part of the processor, but you will still get a couple of effects to try out.
This means that you can record and try out different techniques while playing. Two independent loops, with solid design, and a variety of effects make a rather interesting combination that you should check out.
The pedal also offers a metronome and different options for each loop. It is fun, and it offers something more unique compared to other entries on the list.
Zoom G3n
70 effects
5 new amp emulators
75 custom-designed patches
Free software
Up to 7 effects simultaneously
Three displays
3.74 pounds (1.696 kilograms)
11 x 6 x 9 inches (27.94 x 15.24 x 22.86 centimeters)
Now that we've amped the price, things are becoming more interesting. Zoom is one of the most popular brands when it comes to processors, and their G3n is quite good. There are 70 effects you can try out, and each of them is customizable.
But more importantly, the sound is astonishing. As you can probably expect, it is a bit more expensive, and near the price limit for this category.
G3n is good for both beginners and more experienced players who are willing to try out something new and play with this pedal.
BOSS GT-1
Premium BOSS sound engine
Modern design
Easy to use
Expression pedal
Display
2.2 pounds (997.9 grams)
15 x 8.5 x 4.5 inches (38.1 x 21.59 x 11.43 centimeters)
Boss has been a go-to brand for many guitar players regardless of their skill. And this pedal is great. It is on the very edge of the price range, but it is worth the price. There are all effects you'll ever need, and you can design your own tone.
There is also an acoustic simulator if you are interested in playing something a bit different. The pedal can also run on batteries, but it might prove to be a bit expensive since you'll need to run the pedal.
If you opt for this model, you'll undoubtedly have so much fun. Distortions are great, and the options are almost limitless.
DigiTech Element XP
58 effects
Amp and cabinet simulations
Expression pedal
Drum machine
Tuner
Comes with an adapter
1.92 pounds (870.897 grams)
6.44 x 11.69 x 2.63 inches (16.36 x 29.69 x 6.68 centimeters)
The next big name on the list is DigiTech. The company has been working for quite a while, and they are one of the major names when it comes to processors. And this one is incredible.
The pedal has a bypass, and it offers a drum machine. This is an excellent option for all guitarists that love practicing at home. There are some of the most popular effects available like reverb, wah, chorus, tremolo, delay, and so much more.
Finally, if you are not satisfied with the effects the pedal has to offer, you can always design your own in no time.
Multi-Effect Pedals Under $300
The higher the price is the better the equipment will be. At least to a point. As we up the price, the difference becomes more obvious, and these pedals can be quite good. They work great if you are both a beginner and a more experienced player.
Naturally, there are some brands that I already mentioned before but with more expensive models now.
Zoom G3Xn
70 effects
5 amp emulators
Up to 7 effects simultaneously
Expression pedal
Stereo/mono looper
4 pounds (1.81 kilograms)
12.52 x 7.13 x 2.52 inches (31.8 x 18.11 x 6.2 centimeters)
G3Xn is the older brother of the G3n model, and it is a bit more expensive. But this means that the quality is a lot better as well. Unlike G3n, this model has an expression pedal and incredible presets you can try.
The case is durable, and it's quite heavy. This means that you can use it without any worries.
Probably the main advantage of this model is the quality of effects and how you can use them. You can chain up to seven effects simultaneously and at any order. Furthermore, you will get tons of different effects you can try out.
Nux MG-20
Built-in drum machine
Looper
Tuner
Expression pedal
60 effects
A true simulation of analog circuits
USB port
6.95 pounds (3.15 kilograms)
12.99 x 7.8 x 11.02 inches (33 x 19.81 x 28 centimeters)
Nux MG-20 is a significant step forward compared to the MG-100 I mentioned before. If you love durable equipment, you will adore MG-20. The case is made of metal, and the whole thing weighs nearly seven pounds!
The processor is easy to use, and you can program it as you like. There are many great effects on the presets as well as amp simulations you can try out.
There is also a drum machine that is perfect for practicing if you are unable to play with the real band.
Mooer GE 200
55 high-quality amp models with 10 free slots
70 effects
Looper
Adjustable signal chain
Incredible design
Expression pedal
Drum machine
Metronome
4.88 pounds (2.2 kilograms)
11.69 x 5.73 x 1.79 inches (30 x 14.55 x 4.55 centimeters)
Since we are near our budget limit for the category, the quality becomes quite good. GE 200 is a great processor, looks modern, and is quite durable. There is an expression pedal, and 70 effects you can use.
Lovers of heavier genres will adore the quality of distortion GE 200 has to offer. But this doesn't mean that only metal players can use it. There are so many different effects that you will undoubtedly find the one that's good for you.
Wampler Terraform
11 effects
Metal case
Mono or stereo
8 presets
Modern design
1.43 pounds (648.64 grams)
7 x 6 x 4 inches (17.78 x 15.24 x 10.16 centimeters)
Wampler is another great brand that sounds really good. Unlike many other entries on the list, the size of Terraform is a lot better, and you can probably fit it in your pedalboard. When it comes to effects, each is customizable and sounds really good.
You can also use it with an expression pedal, although it is not included in the package. It is the easiest way to get one of many Wampler effects in just one small package.
The pedal is perfect for more experienced players, and if you are looking for something other than the effects Terraform has to offer, you can easily add it to your pedalboard. The available effects are Dimension, Chorus, Harmonic Tremolo, Tremolo, AutoSwell, Rotary, U-Vibe, Phaser, Flanger, Envelope Filter, and AutoWah.
BOSS ME-80
Expression pedal
Four channels
USB audio/MIDI interface
Huge selection of BOSS effects
Dedicated knobs
Excellent footswitches
7.94 pounds (3.6 kilograms)
20 x 13 x 6 inches (50.8 x 33 x 15.24 centimeters)
ME-80 is a great addition by BOSS, and it is among the best pedals on this list. Each of the effects is based on BOSS' well-known pedals and sounds they have to offer. There are so many settings available so you can mode each tone to your liking.
This multi-effect processor is huge, and it weighs nearly eight pounds. However, with the number of effects and settings you get, you will hardly need any other pedals.
It is a great pedal for any type of musician, and you can easily create a tone you'll adore.
Multi-Effect Pedals Under $500
The final category is pedals under $500, and what you can expect from them. Needless to say, these are the best ones on the list, and the price is not something everyone could afford. Since some processors can cost a couple of thousands, these are still the budget versions for more experienced players.
Tech 21 Richie Kotzen RK5 Fly Rig V2
Signature Richie Kotzen pedal
Boost plus compression
Overdrive plus fuzz
Reverb plus tuner
Delay plus roto
All-metal housing
20.7 oz (581 grams)
12.5 x 2.5 x 1.25 inches (31.75 x 6.35 x 3.175 centimeters)
There is so much to say about legendary Richie Kotzen and his incredible playing. He's one of the best guitarists of our age. But if you were wondering what is the secret of his tone, the answer is RK5.
This model is his signature version, and it is incredible. You get a variety of effects you can use, each with its own individual setting. To check out the review, see what the master himself has to say about it in the video below.
Even though the pedal is in the final category, it is still surprisingly affordable. Guitarists often use equipment worth thousands of dollars, but that isn't the case with RK5.
Zoom G5n
Over 100 effects plus 10 amp emulators
Expression pedal
Four displays
Looper
USB audio interface
4 stompbox switches
7.48 pounds (3.392 kilograms)
18 x 9.5 x 4 inches (45.72 x 24.13 x 10.16 centimeters)
Since Zoom is one of the best brands when it comes to processors it would be strange not to mention one of their more expensive models. The pedal has everything you need and the company advertises it as "126 boutique pedals you don't have."
It is a lot more advanced compared to cheaper models, and it sounds incredible. There are almost all the effects you'll ever need, and the quality is astonishing.
You can easily hear that this is a high-quality processor and each effect available sounds great. Naturally, the price is a bit higher, but it's worth every penny.
Mooer GE250
Expression pedal
Indicators on footswitch
70 effects
Tone capture feature
Metal casing
6.09 pounds (2.76 kilograms)
12.76 x 6.38 x 2.36 inches (32.41 x 16.21 x 6 centimeters)
Once again, Mooer made it to the list. This time with the GE250 model. The pedal is great for nearly any genre, and each of the effects available sound like a dream. As with other models, you can design your own sounds or customize the existing ones.
Many guitarists are skeptical when it comes to processors but GE250 is such a great piece of equipment that you will adore it if you buy it.
GE250 looks really great, but what's more important is that it offers excellent sound. If your amplifier doesn't have any effects, you might want to consider this model.
Line 6 Pod Go
Simple interface
Portable
Numerous effects
Modern design
Expression pedal
High-quality sound
8.56 pounds (3.88 kilograms)
14.13 x 9.05 x 3.46 inches (35.89 x 23 x 8.79 centimeters)
Line 6 is an incredible company and they are well-known for their pedals and amplifiers. Here, you will get the traditional sound of their Helix model, but for a fraction of the price. The Pod Go pedal is a lot smaller, but it kept the unique sound players love.
Pod Go also has great distortions, and it even works great for heavier genres.
The price is a bit higher, but you'll undoubtedly love the sound from the Pod Go model.
Boss GT-100
Expression pedal
Sturdy case
Hundreds of different effects
USB
Well-known Boss sound
7.92 pounds (3.6 kilograms)
14.13 x 9.05 x 3.46 inches (35.59 x 22.99 x 8.79 centimeters)
The final entry on the list is made by Boss, and it's an excellent pedal if you are willing to pay as much. Needless to say, the quality is exceptional, and you will get the authentic Boss sound with each effect.
As with other models, you can further customize the sound and adjust it to your needs.
The pedal has two displays, four pedals, expression pedal, and additional stompboxes and knobs for adjusting the sound. It is an excellent pedal, but the price is at the higher limit.
Summary
There are so many different multi-effect pedals or processors you can find, and the only thing that will determine the quality is your budget.
While you can find pedals for under $100, the sound will not be nearly as good as with more expensive models. However, it is a great starting point, and something that beginner players often buy.
If you are willing to pay around $500, there are exceptional models to choose from, and the equipment is great for both beginners and experienced players.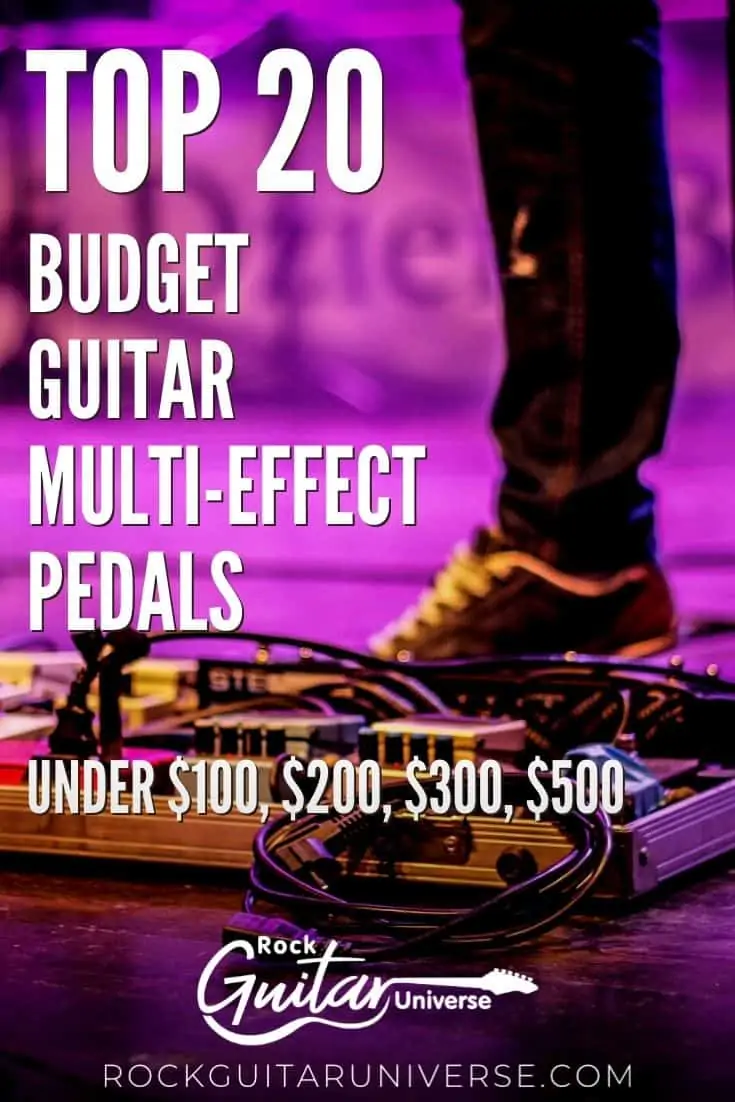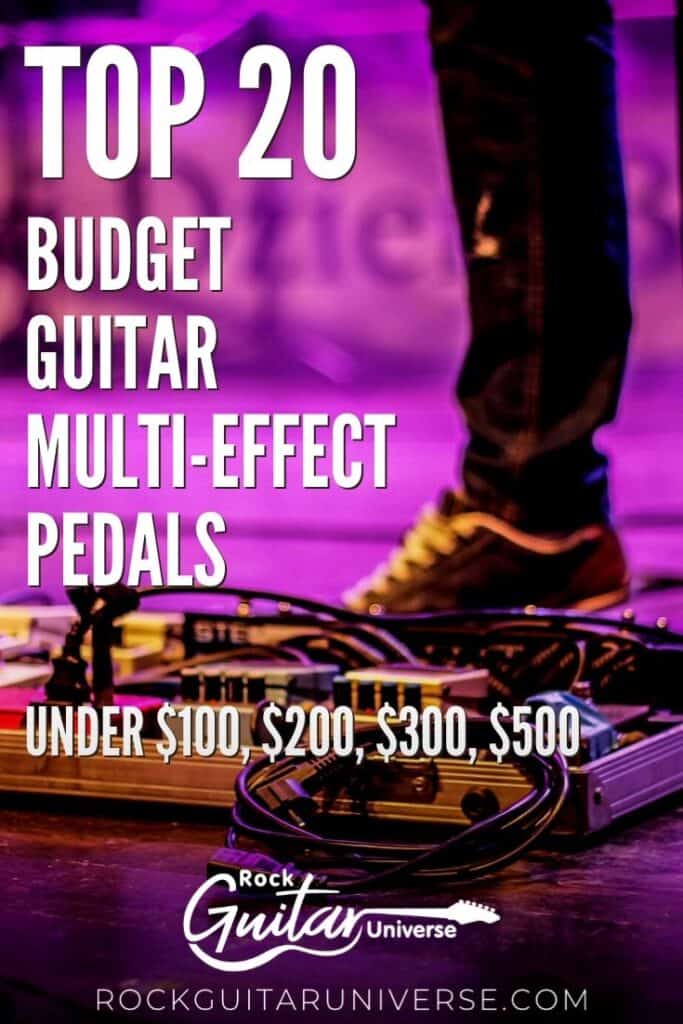 Last update on 2023-10-04 / Affiliate links / Images from Amazon Product Advertising API