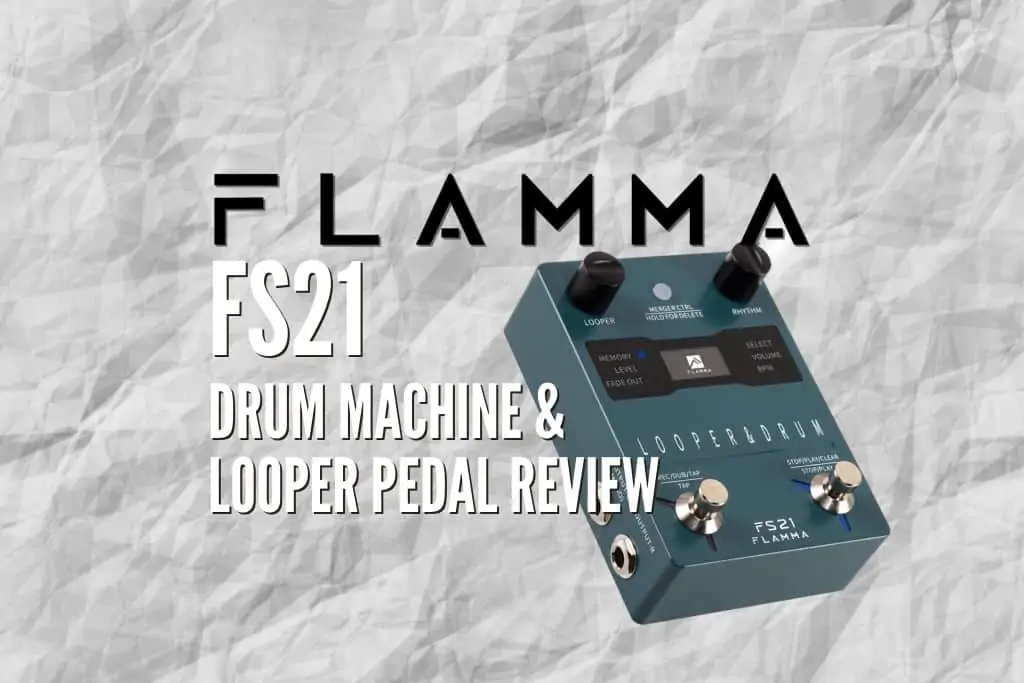 Looper pedals are fantastic tools to push the limits of jamming, practicing, and composing. Nowadays, more and more guitarists use them in the process of creating their songs or simply practice or jam around.
Thanks to the technology nowadays, there are many looper pedals with different valuable features like drum machines and high recording capacities along with high-quality sounds. This is exciting, but it also makes the process of choosing one quite challenging. There are classic professional series like Boss RC along with new and affordable pedals such as Flamma FS21. Both are outstanding looper pedals for different needs and fields of use.
Today, we will examine the Flamma FS21 looper pedal and drum machine, which is a fantastic pedal with an amazingly low price tag. It features 160 minutes of total recording time with 100 different drum grooves with more-than-satisfying sound quality. It has anything you would expect from a looper pedal, such as stereo input and output support, independent volume for the rhythm, and the looper, along with a highly intuitive layout and an incredibly low price tag.
| | |
| --- | --- |
| Pros | Cons |
| Great value for the price | Not for professional use in live settings or recordings |
| Highly easy-to-use | |
| Quite versatile with 100 different drum grooves and 160 minutes of looper recording time | |
The only letdown of this pedal is that it is not suitable for professional live performances as it is designed for home practice. The sound quality is decent but is not at the professional level. But for practices, jam sessions, and maybe small amateur concerts, it is an outstanding pedal with an exceptional price-quality ratio. I would give it 4.5 stars out of five without hesitation.
Flamma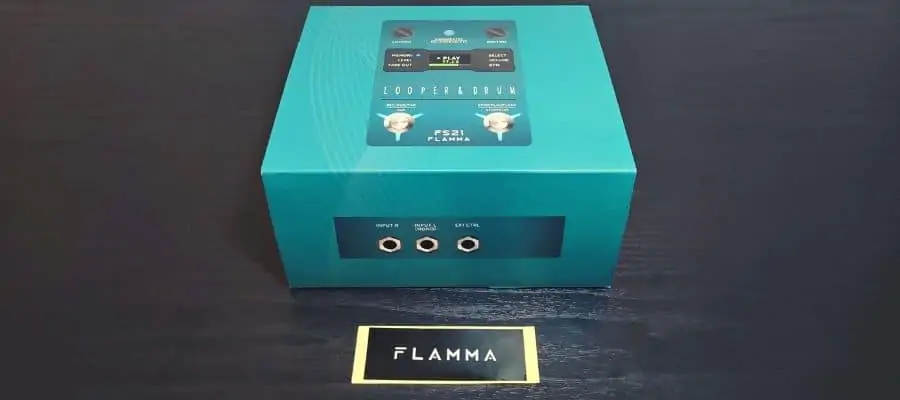 As a musical accessories brand created to use the latest music technology to inspire musicians all over the world, Flamma is a relatively new member of the scene of the musical products. It was founded by veteran musicians and engineers who are highly experienced in the music sector. Their aim is to make the industry more accessible for working musicians and students who are in need of better quality and more affordable musical products.
Flamma is well-known for its compact and easy-to-use innovative products such as effect pedals which are great tools for beginner and pro-level guitarists to reach their desired tone for cheaper. The brand is the rising star of the industry thanks to its highly innovative, high quality, and good-looking products.
Flamma FS21 Looper Pedal Drum Machine Specs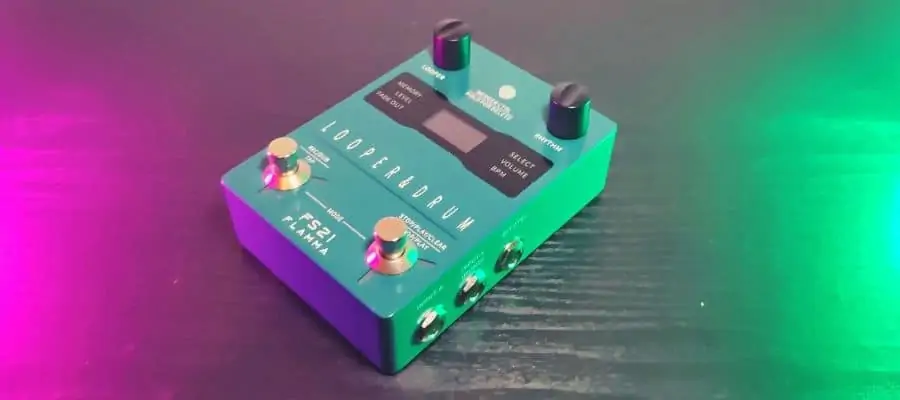 Let's look at what the Flamma FS21 looper has to offer.
General
| | |
| --- | --- |
| Model | FS21 Drum Machine Looper Pedal |
| Casing | Whole Aluminum |
| Color | Dark Green |
Dimensions
| | |
| --- | --- |
| Weight | 15.36 oz (430 g) |
| Width | 5.31" (13.5 cm) |
| Height | 2.44" (6.2 cm) |
| Depth | 4.25" (10.8 cm) |
Electronics
| | |
| --- | --- |
| Chip Model | |
| Input Impedance | 1 M Ohms |
| Output Impedance | 470 Ohms |
| Working Current | 300 mA |
| Led Indication | Yes |
Controls
| | |
| --- | --- |
| Knobs | Looper, Rhythm |
| Switches | Rec,Dub,Tap – Stop,Play |
| Buttons | Merger Ctrl |
Input/Output
| | |
| --- | --- |
| Input | 2 x ¼" Mono Audio Jack |
| Output | 2 x ¼" Mono Audio Jack |
| Power Jack | 9V DC adapter |
Flamma FS21 looper pedal with drum machine looks quite solid and elegant with its whole aluminum dark green casing. The pedal is quite sturdy and durable, which shows the build quality is pretty good. The knobs, the switches, the LEDs, and the screen are well-made and are reasonably better than the pedals in this price range.
With its weight around 15.36 oz (430 g) and its dimensions of 5.31" (13.5 cm), 2.44" (6.2 cm), and 4.25" (10.8 cm), it is a portable stompbox that does not take much place on the pedalboard or to carry around in a bag.
There are 2 knobs on the control panel. The first one is used for adjusting the looper settings like the memory, level, and fade out, while the second one is for the drum machine settings such as selecting the pattern, volume level, and bpm. There is a screen for ease of use, and the LED indicators show which setting is currently adjusted. Thanks to these features, it is pretty easy to navigate through the pedal settings.
You can turn on the looper or the drum machine quickly by pressing the footswitches. There is also a Merger Control button to play or stop the looper and the drum machine at the same time.
There is also a tiny screen on the control panel in order to navigate through the pedal easier and make the adjustments like recording, playback, selecting drum patterns or memory slots, or remove recordings quicker. The pedal can also be connected to a PC with a USB cable, which lets the user control the recordings and drum patterns from the editor software. You can import or export recordings and drum patterns easily using this feature.
Flamma FS21 features double input and output 1/4" Mono Audio Jack jacks for stereo sound, which is another excellent function, especially for a pedal at its price range. It works with a 9V DC adapter that comes in the box. Unfortunately, the pedal does not support battery power.
The looper can record up to 4 minutes for each track to 40 slots, making the total recording time 160 minutes. The drum machine features 10 different music styles with 10 different drum patterns each, summon up to 100 different drum patterns in total. Also, the tap tempo function is there to arrange the metronome of the tracks easier and quicker.
Flamma FS21 Drum Machine Looper Pedal Pedal Manual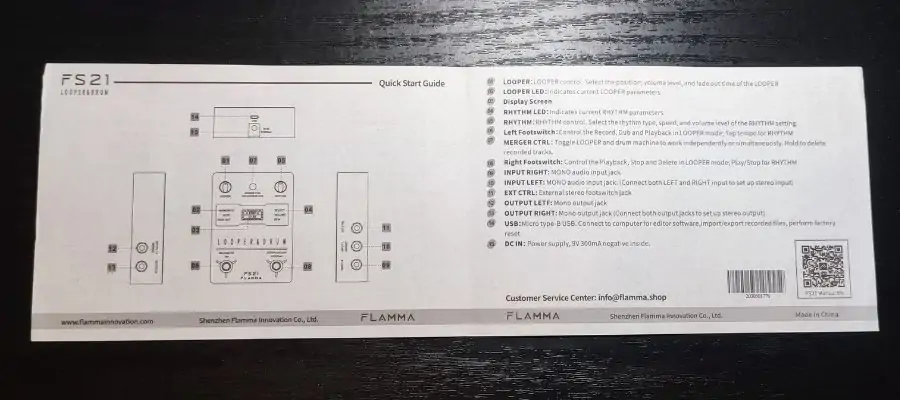 What Power Does Flamma FS21 Require?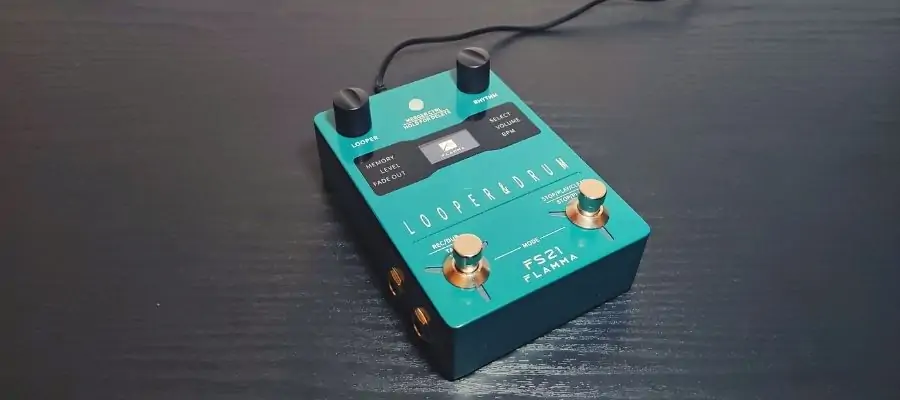 Flamma FS21 works with a 9V DC adapter of at least 300mA. The adapter comes with the package meaning that you do not have to buy it separately. In order to get rid of the adapter and cable chaos on your pedalboard, you can also use the pedal with power boxes or multi-power adapters.
Unfortunately, the pedal does not work with batteries. So you will always need an electric source to use Flamma FS21.
The Flamma FS21 Drum Machine Looper Pedal Sound Quality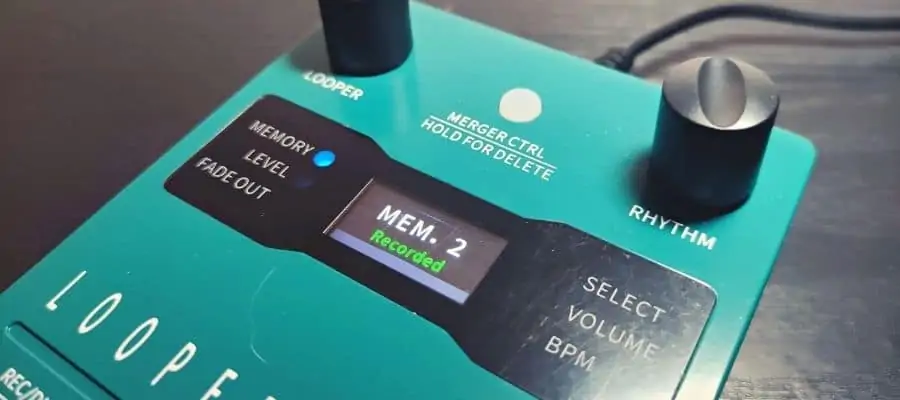 The Flamma FS21 has an outstanding sound for its price. It features a 44.1kHz 24bit high-quality looper and drum machine, in terms of specs along with the stereo ins and outs, a ton of memory, fantastic sounding drum samples, and a click track. It is a highly versatile pedal with valuable specs and great sound quality.
As a budget looper pedal, it sounds pretty fantastic. The looper has a clear sound without a loss of sound quality even when multiple effects are running at the same time. The option for stereo sound is also a huge plus, thanks to dual input and outputs.
The drum machine, which features around 100 patterns from 10 different music styles, also sounds quite realistic with an organic feeling. They are perfect for practices or amateur concerts, but of course, they are not for professional use.
The volumes of the looper and the drum machine can be adjusted separately. That being said, the overall volume of the pedal is relatively high, which is also great if you are going to use it in a studio. You can find a good balance with the option of adjusting the sounds of the guitar, the looper, and the drum machine individually.
Overall, it can be said that the sound quality of the pedal is impressive for its price, and it is perfect for practice and jam sessions. You can check the attached video to hear the sound of the pedal to decide for yourself.
The Flamma FS21 Drum Machine Looper Pedal Compared To Other Pedals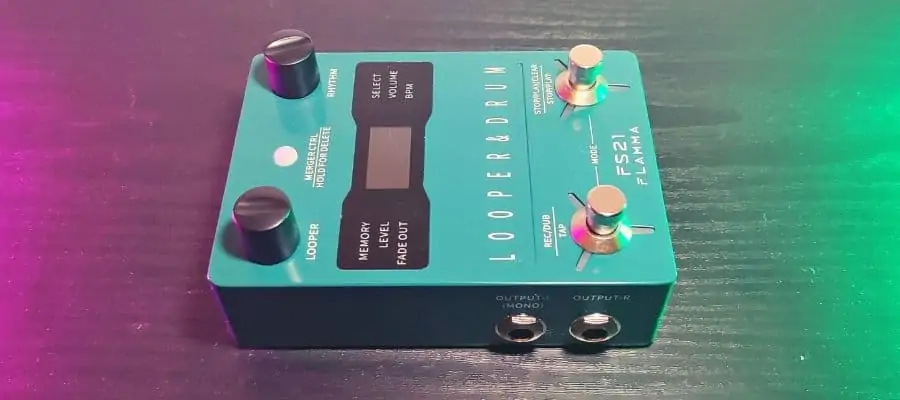 Flamma FS21 Drum Machine Looper Pedal Vs. Boss RC-5 Loop Station
The Boss RC series is one of the iconic pedals of the looping scene. One of the new members of the series is RC-5, with its 57 different rhythm patterns with 2 variations, totaling 114 different drum grooves. These numbers overreach Flamma FS21, which features 100 different drum grooves.
Another plus for the RC-5 comes with its sound quality which features 32-bit sound processing, while the Flamma FS21 has 24 bit sound processing. Plus, the RC-5 provides 99 memory slots with 13 hours of recording time in total. The numbers for Flamma are 40 memory slots with 160 minutes of total recording time.
Just like Flamma FS21, Boss RC-5 also supports stereo sound, and both are compact pedals, with Boss being a bit more compact. Boss also supports PC connection for audio file imports and exports.
As one of the most versatile and best-sounding looper pedals on the market, Boss RC-5 costs double the price of the Flamma FS21. It also must be added that Flamma FS21 is much easier to use and navigate through.
Flamma FS21 Drum Machine Looper Pedal Vs. Donner Circle Looper
Flamma FS21 and Donner Circle Looper are very similar looper pedals with drum machines. They are both high quality and highly affordable pedals with fantastic sound quality and versatility for their prices.
Both pedals feature 100 different drum grooves from 10 different music styles and 4 minutes of recording time with 40 different memory slots, totaling up to 160 minutes of recording time. They both feature stereo input and output jacks along with the PC connection option for importing and exporting audio files.
There is not much to separate these two pedals, which are both gems for their price. The sound quality of both is impressive for practice and jam sessions but would not satisfy users for professional use.
Both of the pedals are pretty compact, with the Donner slightly smaller. The price tags of the pedals are also similar to the Donner's, slightly lower. But it must be noted that the Donner does not feature an adapter while the Flamma FS21 does.
Flamma FS21 Drum Machine Looper Pedal Vs. Nux NDL-5 JTC Pro Drum & Loop
NUX JTC Pro Rhythm Looper is a copy of Boss RC-10R with its extended rhythm section and high-quality looper pedal. It features 40 different highly realistic-sounding drum grooves. Yet, the drum patterns are highly repetitive, which makes the experience quite boring after a while. But as mentioned before, the sound quality of the drums is exceptional.
Another significant aspect of the JTC Pro is its 6 hours of recording capacity with 256 slots which is much higher than the capacity of Flamma FS21. JTC Pro also offers different ends to the loops, such as immediate stop, stop at the end of the loop or fade out.
The rest of the specs are pretty similar, with both pedals supporting stereo sound, USB connection to PC for audio file import and export, and compact sizes.
While Nux JTC Pro offers higher specs, Flamma FS21 offers essentials, simplicity, and an affordable price. JTC Pro costs 1.5 times the price of Flamma FS21.
Flamma FS21 Drum Machine Looper Pedal Is Perfect For Whom?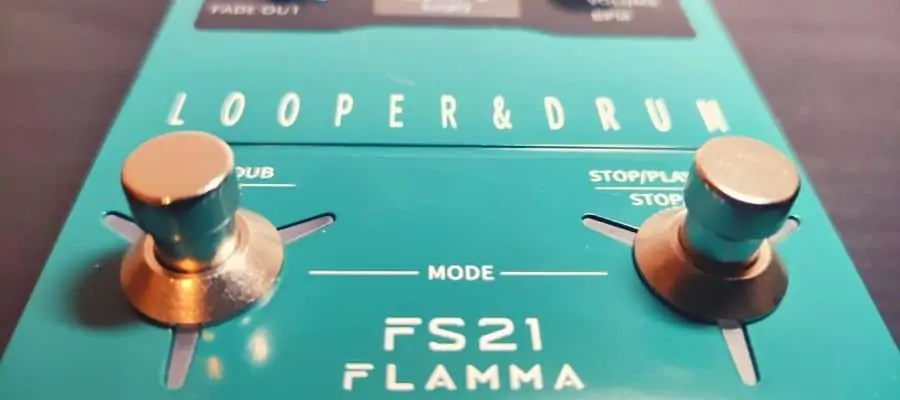 Flamma FS21 is a perfect practice tool for guitar players looking for a reliable and affordable looper pedal with good sound quality, more than enough storage space, and various rhythm drum grooves to experiment with.
The beginner and intermediate level guitar players who want an exciting looper pedal and drum machine to practice at home can choose Flamma FS21 without hesitation. You can learn and compose new melodies with the high-quality looper or jam on top of 100 different drum patterns. As this pedal is highly affordable and has enough capacity for recording, it is a great pedal to get familiar with looper pedals and spice up the practice at home.
It is not a professional-level looper pedal, and the sound quality and the variations of drum patterns are not suitable for professional live performances. However, for small live performances, Flamma FS21 can get the job done. But if you want a live gig looper pedal and a drum machine, you might want to look at the higher-end models. Although Flamma FS21 sounds amazing for home practice and amateur settings, it would hardly satisfy the player for professional use.
Where To Place The Flamma FS21 On The Pedal Board?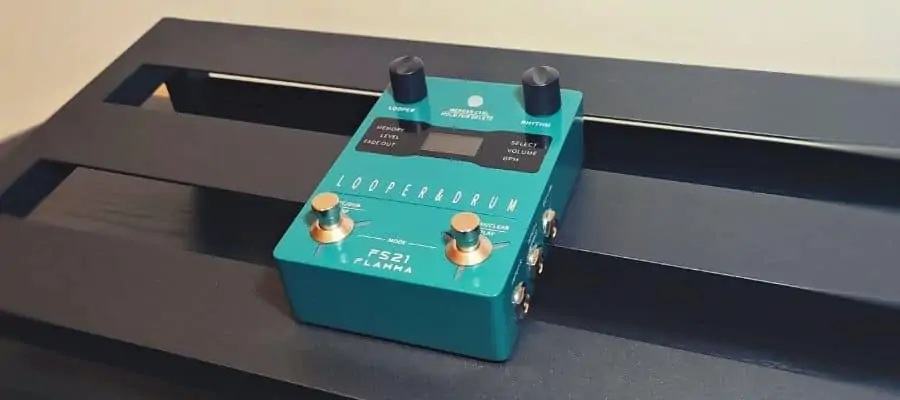 As you may know, there is an order to be followed when setting up a pedalboard. In order to achieve the highest potential of sound and signal quality with the minimum interference between the pedals and minimum lag time, professional guitar players and sound engineers suggest a way of ordering the effect pedals.
Volume pedals, compressors, wah, filters, pitch shifters are the regular first steps on the signal chain. Overdrive and distortion pedals are the second step the signal travels through, while the modulation effects like chorus, flangers, phasers are the third party. The final step is the time-based effect pedals such as reverb and delay pedals, as these effects should be added on top of the existing guitar tone.
When it comes to the loopers, they are not considered effect pedals but recorders. This means they do not add anything to your guitar tone, but they record and playback the sound they receive.
If your amp has the send and return inputs you need to connect it via those connections, outside the pedalboard chain. Otherwise, the looper must be the final step of the signal chain, even after the time-based effect pedals. This way, they can record your guitar tone fully with all your pedal setup.
Other Flamma Pedals Worth Mentioning
FLAMMA FS01 Drum Machine & Phrase Loop Pedal
Flamma FS01 is a compact and simple looper pedal with 11 different drum grooves and 20 minutes of looping time. You can use the looper and the drum machine individually or simultaneously.
FLAMMA FC01 Mini Digital Drum Machine & Phrase Loop Pedal
Flamma FC01 is a basic digital looper with a built-in drum machine. It features 16 different drum patterns along with a 20-minute looper recording capacity. The drum machine and the looper can be used separately or simultaneously, and the volumes of each mode can be adjusted individually.
FLAMMA FX100 Multi-Effects Processor
FLAMMA FX100 Guitar Pedal Multi-effects Processor with Looper Amp...
【9 EFFECTS BLOCKS】Fxcomp, Distortion, Overdrive, Amp, Cab, Noise Gate,...
【55 Classic & Modern High-Quality Guitar AMP Models】 that utilize...
【200 PRESETS】 can provide multiple sound options for beginners. Connect...
【OTG FUNCTION】 supports compatible mobile phone or tablet connection....
Flamma FX100 is a highly versatile multi-effects processor with up to 9 effect types for 151 different effects total,40 drum rhythms and 10 metronome options, and 80 seconds looper recording capacity. The processor also offers 55 classic & modern high-quality guitar amp models with non-linear digital amp modeling technology, which offer highly realistic tones.
Alternatives To The Flamma FS21 Drum Machine Looper Pedal In Terms Of Look, Sound, Specs, And Price
Donner Circle Looper
Donner Circle Looper Pedal, Stereo Guitar Loop Pedal for Pedal Boards,...
[2 in 1 Looper Drum Machine] 44.1kHz, 24bit high-quality stereo looper with...
[Large Capacity Loop Pedal] 40 memory slots and each can store 4 minutes...
[Looper with Screen] The bright screen shows the current loop mode, time...
[Import/Export Function] Donner Circle Looper supports import/export...
Donner Circle Looper is a tremendous budget-friendly looper pedal and drum machine with around 100 different drum grooves, the capacity of up to 4 minutes of loop recording, 40 preset slots, and storage of 160 minutes total recording time. This pedal offers almost everything a player would expect from a looper for a highly affordable price.
The sound quality of the looper and the drum machine is immensely satisfying. Furthermore, it supports stereo sound, another big plus, especially for the pedal's price range. You can also connect Donner Circle Looper to the computer to edit, add, remove, download, upload audio files, and drum grooves.
Donner Circle Looper is slightly cheaper than the Flamma FS21.
Nux Loop Core Pedal Looper
Nux Loop Core is a great compact looper pedal with a drum machine. It features 6 hours of recording time and unlimited overdub layers. It is easy to use and gets the job done while practicing, jamming, or composing.
It offers 40 different decent quality drum grooves. It is a beginner looper pedal with a good sound quality without fancy and complicated. It can be a good choice for a first looper pedal.
The price tag of Nux Loop Core Pedal is below the $100 mark and also Flamma FS21's price. However, in my opinion, it worths spending a little more and go for the Flamma FS21 pedal.
JOYO O.M.B R-06 R Series Looper & Drum Machine Pedal
JOYO Looper & Drum Machine Pedal (Looper Cycle Recording/Drum...
JOYO O.M.B Looper & Drum Machine Pedal, features LOOPER cycle recording,...
An auto-align function and features stick count-in for first recording. 40...
Whole new appearance and the iconic ambience lights bring out futuristic...
JOYO is over decade of brand reputation, provide worry-free after-sale...
JOYO O.M.B R-06 R is a great looper and drum machine pedal with 40 minutes of total recording time, unlimited overdubs, and 49 different drum grooves from 7 different genres.
It is a highly intuitive pedal, and it is simple as it can be. With 4 different adjustment knobs and LED indicators, it is quite an easy pedal to use. It also features some excellent features like auto-align,
This is a basic pedal for basic needs. It can be a tremendous first looper pedal for home practice. It costs almost the same as Flamma FS21 with similar sound quality but fewer and more limited features.
Summary
Flamma FS21 is an excellent looper pedal for home practices, jam sessions, and amateur concerts. It has plenty of recording capacity with a highly versatile drum machine that can push your composing and jamming skills to the maximum.
Despite the minor issues reported by the users, which are totally acceptable for the price range, the sound quality is more than enough for mentioned fields of usage, and it is highly easy to use, making it an ideal first looper pedal. I highly recommend this pedal for beginner and intermediate-level guitarists.
If you found this article useful, you may want to save this pin below to your Guitar board.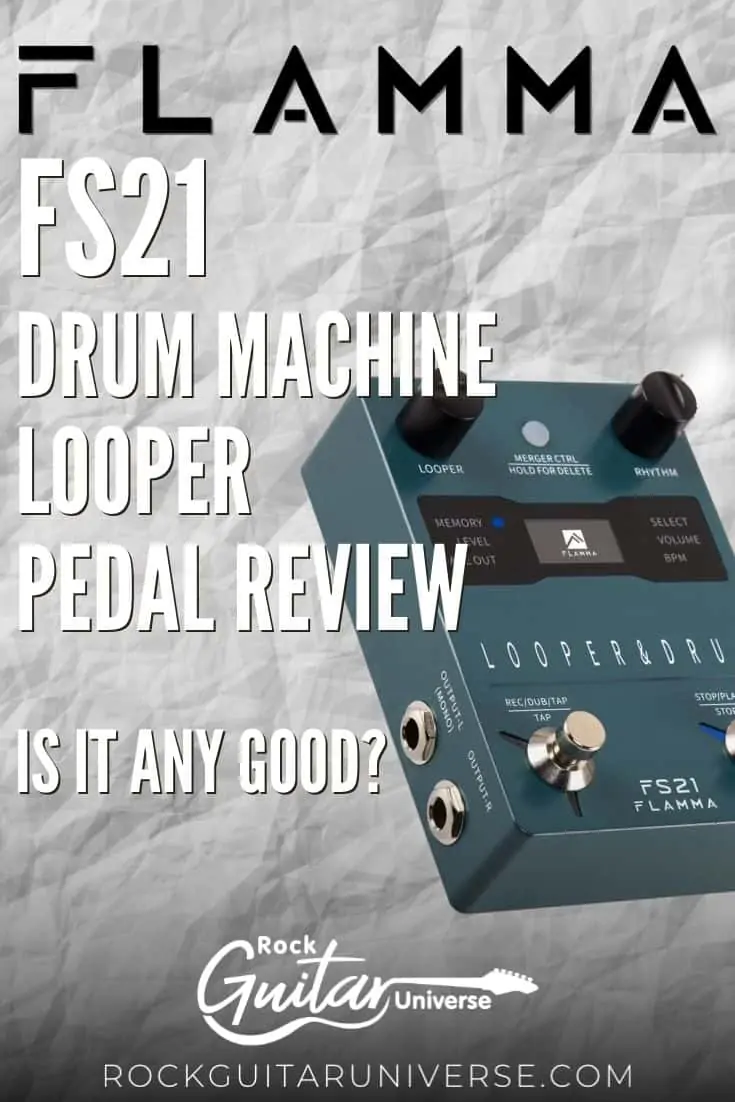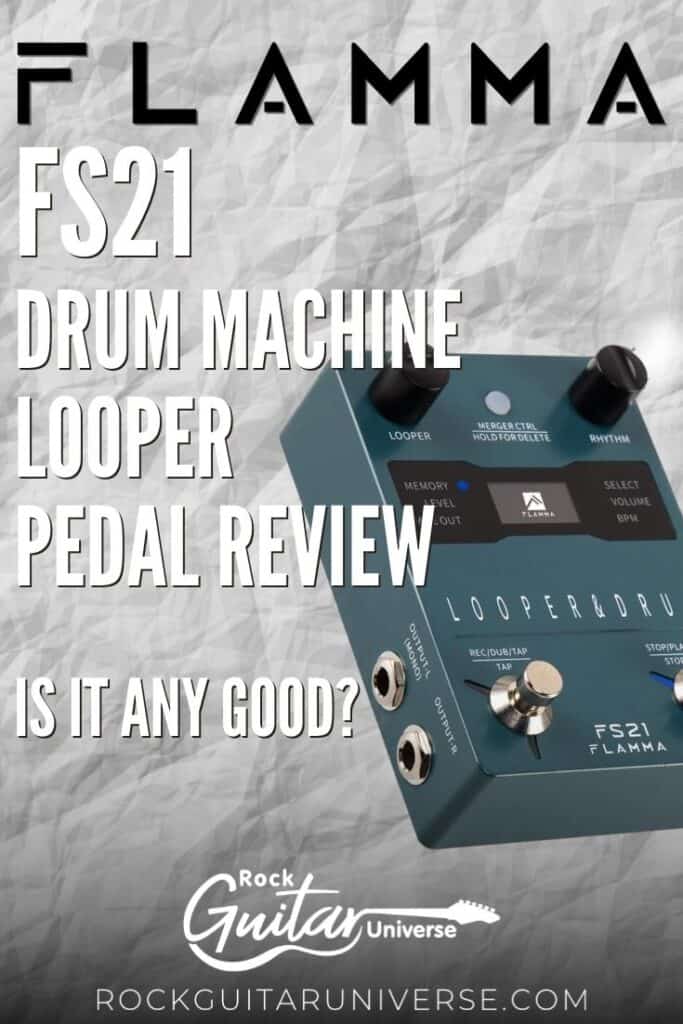 Last update on 2023-10-04 / Affiliate links / Images from Amazon Product Advertising API