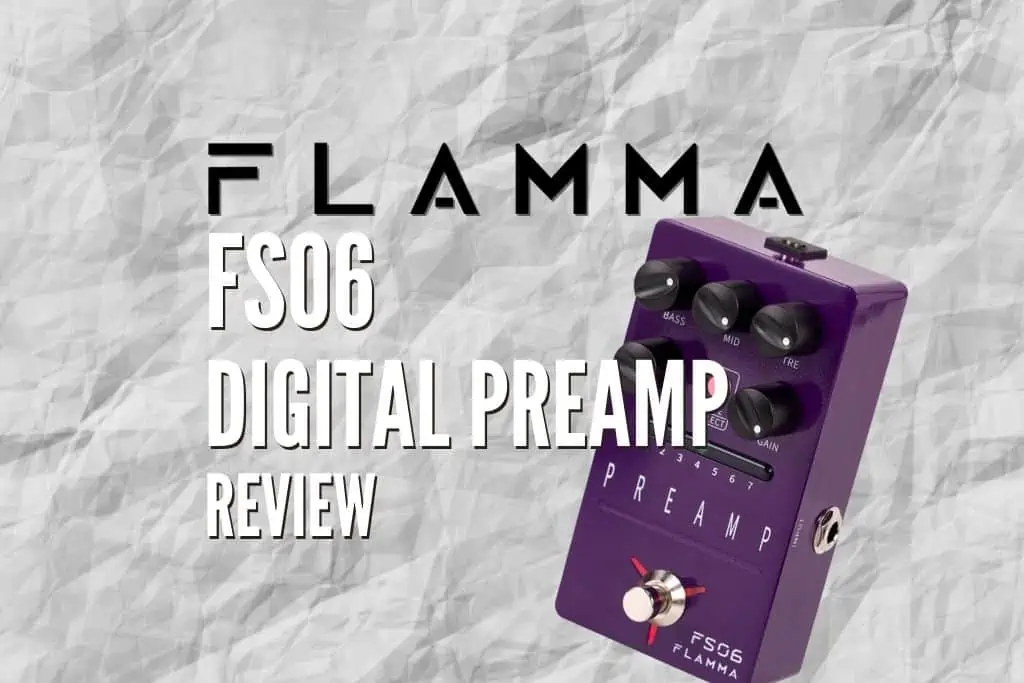 Since the signal coming out of the guitar is too weak to be used for anything, the only way you can get a good sound is by amplifying it. And this is why amps are used for electric guitars. One common part of amps is preamp or pre-amplifier. The purpose of this part is to amplify the signal from the guitar, making it usable for further processing.
One way you can approach the situation is by getting a preamp pedal. This will allow you to get the desired sound while being able to plug it into a speaker or a mixer. It is an excellent way to simulate the sound of the amp, but without spending too much money on the equipment.
Flamma FS06 is an excellent model you might want to check out. It has two channels, different amp simulations, and the sound is quite good. Most importantly, the price is perfect for beginners and those that can't afford to spend a lot of money on a real amp. 
FLAMMA FS06 Digital Preamp Pedal Guitar Effects Pedal with Built-in...
【7 Preamp Models】7 different preamp models that cover a wide variety of...
【Compatible】You can connect it to a power amp of a guitar amplifier,...
【7 Saveable Preset】Every preamp model has two channels with a saveable...
【Cabinet Simulation】Built-in cabinet simulation allows users to connect...
| Pros | Cons |
| --- | --- |
| Great value for the price | Requires an adapter |
| Versatile | Requires additional equipment |
| Can be used with mixer/PA/footswitch | |
If you are interested in getting a preamp pedal, Flamma FS06 is a great choice. Of course, the primary advantage is its price, and you will have a hard time finding something better with a similar price/quality ratio. I would rate this pedal 4 out of 5 stars.
Flamma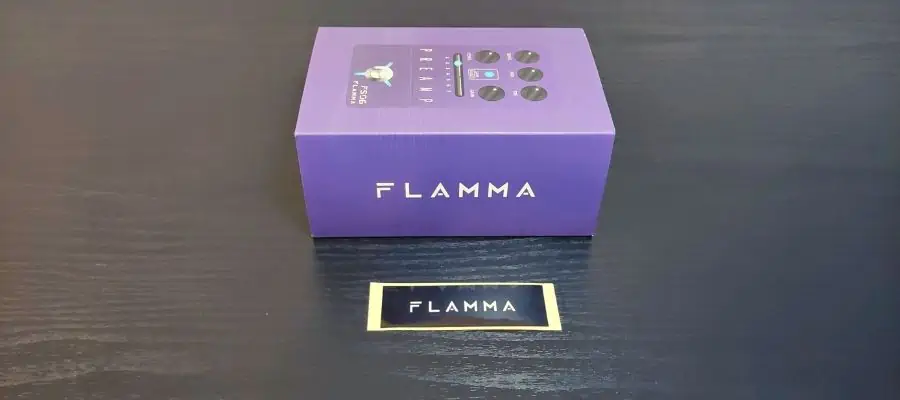 The full name of the Flamma company is Flamma Innovation Co, Ltd., and it is located in Shenzhen, China. It is one of the newest additions to the world of budget equipment, and the company quickly proved its worth.
As you can probably guess, the price range is perfect for beginners, which is why they are the primary focus of this brand. One of the most impressive things about Flamma is that they offer an excellent choice of pedals for a low price. The company is rather similar to Donner, and they are a worthy competitor.
Of course, Flamma is still a young company and they don't have as impressive a repertoire as other budget brands that have been around for a longer time. This just leaves a lot of space for innovations, and if Flamma continues as they did in the past few years, they will easily become one of the biggest budget brands on the market.
Flamma FS06 Specs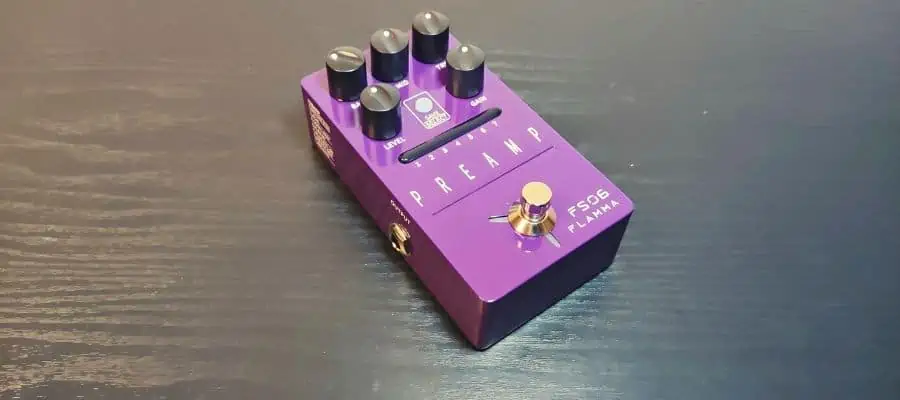 Now is the time to take a look at what Flamma FS06 has to offer.
General
| | |
| --- | --- |
| Model | FS06 |
| Casing | Metal |
| Color | Purple |
Dimensions
| | |
| --- | --- |
| Weight | 10.51 oz (298 g) |
| Width | 2.75 inches (69.85 mm) |
| Height | 4.78 inches (121.41 mm) |
| Depth | 1.97 inches (50.04 mm) |
Electronics
| | |
| --- | --- |
| Input Impedance | 4.7 M ohms |
| Output Impedance | 100 ohms |
| Current Draw | 300 mA |
| Led Indication | Yes |
Controls
| | |
| --- | --- |
| Knobs | Bass, mid, treble, level, and gain |
| Switches | None |
| Buttons | Save/select |
Input/Output
| | |
| --- | --- |
| Input | 1 x 1/4" Mono Audio Jack |
| Output | 1 x 1/4" Mono Audio Jack |
| Power Jack | 9V DC |
Let's start from the beginning. Flamma FS06 has fairly standard dimensions, but it tilts slightly to the "larger" side. It is 2.78" (69.85 mm) by 4.78" (121.41 mm) by 1.97" (50.04 mm) and it weighs 10.51 oz (298 g). This means that it is not as big as models with two footswitches, but it's not as compact as mini pedals.
The top of the pedal is for potentiometers, and there are five of them used to adjust the sound. The first row is reserved for EQ, where you can adjust bass, middle, and treble. Below, you have two additional knobs to select level and gain. Using the pedal is pretty simple, which is one of its main advantages.
Using the pedal is similar to using any other amplifier, and you will turn the knobs to find the sound you enjoy. In addition, there are seven additional effects you can try out. These preamp modes are used to simulate the sound of classic guitar tones.
You can choose between Deluxe Blue, AC31, Coral Reef, Plex 50, Blue Eye 100, MB 5th Gen, and HVE 5151. There is also an LED bar that allows you to see which effect is active at the moment, which will allow you to navigate the pedal even in the dark. The names of the effects are also written on the side of the pedal.
Each amp simulation has two channels, and there is a saveable preset slot you can use as well. The built-in simulation allows you to plug the pedal directly into the PA system or a mixer, and you can use the footswitch to select channels. 
As for the casing, it follows the general idea behind Flamma, which means it's made of metal, durable, and you won't have any problems with it.
What Power Does Flamma FS06 Require?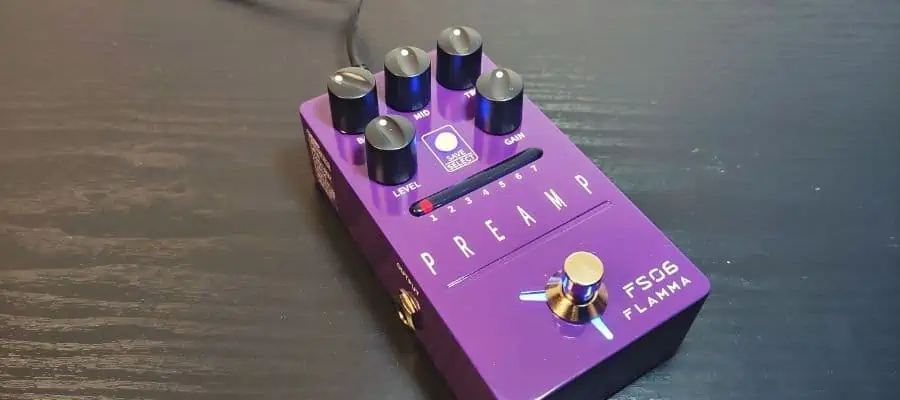 Flamma FS06 is a standard pedal, which means that it needs a 9V DC power source with 300 mA. If you already started building a pedalboard, you can use the same adapter or daisy chain as with the rest of the pedals. But if you don't own an adapter, it can be a problem.
The only option you have is to buy an adapter separately since it isn't included in the package. Now, for some people, this might be a huge downside, but pedals today rarely arrive with the power supply. Some can work on 9V batteries, but Flamma FS06 is not one of them.
The majority of Flamma pedals don't even have a slot for the battery, and the only option is to buy the adapter.
The Flamma FS06 Preamp Sound Quality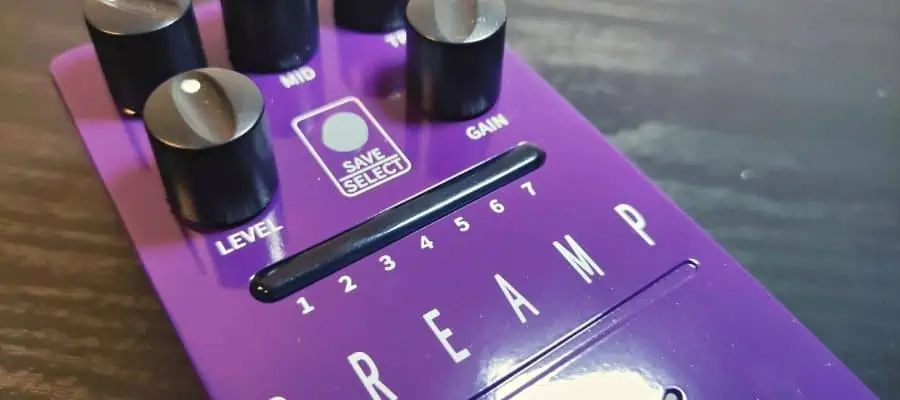 The next thing to discuss is the sound of the pedal. Having seven different presets shows that the pedal is highly versatile and that there is a huge chance that you will be able to find something you will enjoy.
As I mentioned earlier, you can further shape the sound using the three-band EQ and two knobs for level and gain. The ability to save presets and use two channels is excellent, and just adds a new level of possibilities.
The quality of the sound is really good, and Flamma FS06 does an excellent job of replicating the well-known sound from famous amps. You can even guess which sounds are available from the names of the effects.
The Deluxe Blue is a version of Fender's Blues Deluxe, and HVE 5151 is obviously a simulation of EVH 5150.
There are so many different possibilities and options you can choose from, and the simulations are highly versatile. You can easily go from blues to hard rock by pushing a button. Needless to say, it will take you a bit of time to learn your way around the pedal and find the sound you will adore.
One of the main problems here is that there are no additional effects, so you will need to combine Flamma FS06 with other effects if you are looking for something more.
Flamma FS06 Preamp Compared To Other Pedals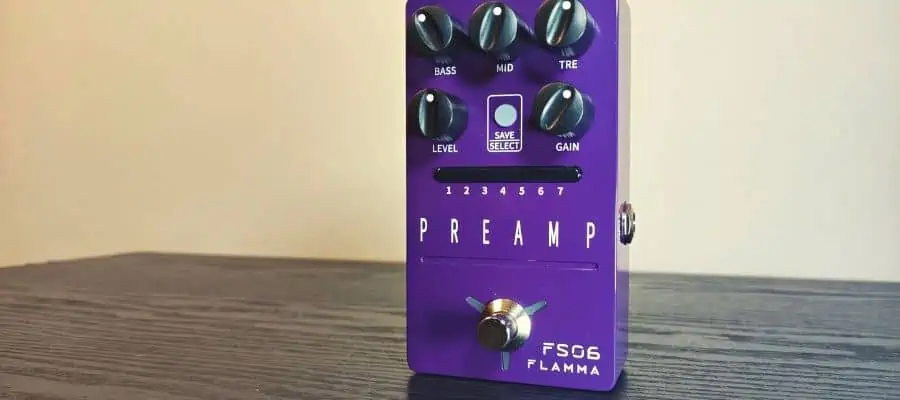 You are probably wondering how Flamma FS06 compares to other preamp pedals. Let's take a look.
JHS Clover
JHS Pedals JHS Clover Preamp/Boost Guitar Effects Pedal
The Volume control allows you to set your volume at unity or as a boost to...
3 EQ controls to give you tons of control to cut or boost Bass, Mid and...
The rotary switch has 3 settings: Full EQ, No Mid and No EQ
Low Cut dip switch removes some of the lows if you feel your tone is too...
The pedal has a standard design, five knobs, and one footswitch. The sound from this pedal is incredible. But it still is easy to use. It can be a nice addition to your pedalboard, and it is a worthy investment. It is worth mentioning the price difference between this model and Flamma FS06.
Furthermore, JHS Clover is not as versatile, and there aren't simulations you can use. It is more focused on doing one thing, which is why many people might dislike it. If this is the sound you were searching for, it is a great choice. Otherwise, Flamma offers a lot more options.
Voodoo Lab Giggity
Voodoo Lab is another excellent example of pedals you can find. The company comes from the U.S., and it can give you quite the boost. The pedal has five knobs to adjust the brightness, loudness, body, air, and master. There is a single footswitch, which makes it easy to use.
It also has the true bypass and it's quite versatile. Is it more versatile than Flamma FS06, the answer is – probably not. Additionally, the price is significantly higher compared to Flamma. This doesn't mean that the pedal is bad. In fact, it's great. But it does one thing, and it does it well.
Dunlop Echoplex
JIM DUNLOP Echoplex® Preamp
Faithful reproduction of the legendary Echoplex EP-3 front end
Gain boost up to +11dB
True Bypass
Model Number: EP101
Many players turn to Dunlop when it comes to guitar equipment, but it is not often that you find a pedal designed by this brand. The Dunlop EP101 Echoplex is a subtle effect that works as a preamp or boost. The primary advantage of the pedal is its simplicity.
You get 11 dB of boost, and it's easy to use since there is a single knob on it. This means that you don't have any amp simulations, and the shape of your sound would need to come from elsewhere. If you already own a pedalboard, this can be a nice addition to it. 
Flamma FS06 Is Perfect For Whom?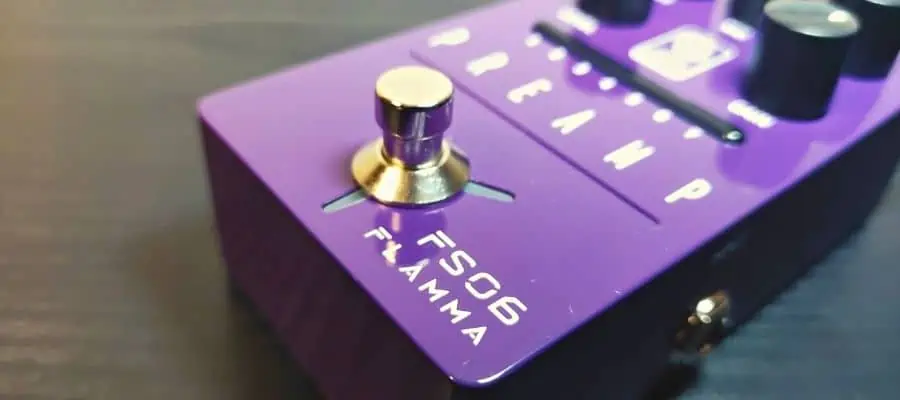 There are no requirements as to who can use the Preamp pedal. Anyone can try it out. But it is worth mentioning that Flamma mostly designs budget equipment, which means that the primary audience is those not willing to spend a lot of money.
If you are looking to build a pedalboard for a low price, Flamma is an excellent choice. This doesn't mean that the pedals are bad. In fact, they are surprisingly good. But professional musicians will probably want something a bit better.
So, if you are interested in getting a great pedal for a low price, here is a perfect opportunity. The same thing applies to the skill levels. But it is worth mentioning that Flamma pedals are mostly designed for beginners and those with intermediate playing skills.
Where To Put Flamma FS06 On The Pedalboard?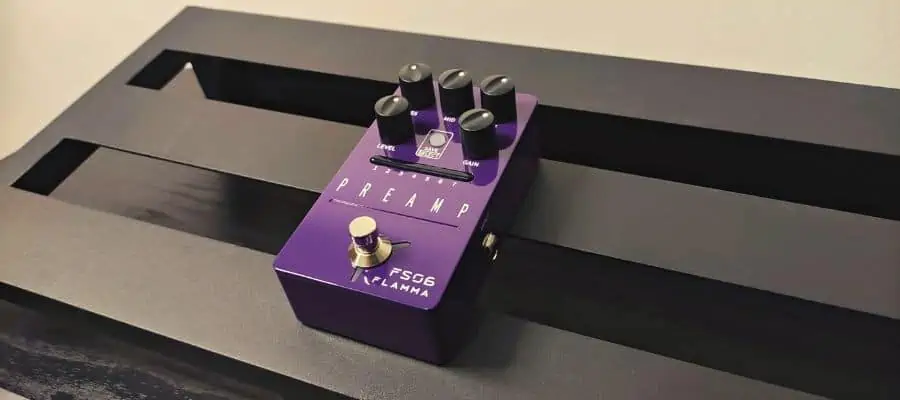 There is an unwritten rule to placing effects on the pedalboard. The first spot is usually reserved for tuners, followed by effects that affect the pitch of the sound like octavers and compressors. The next ones on the list are those in charge of shaping the sound (distortion and overdrive), and pedals that modify tone like chorus, phaser, and flanger.
Reverb, delay, and looper are usually on the end of the chain, and they are connected to the amplifier or the PA system. So, where do you place the preamp? Since the entire idea of this pedal is to replace the preamp on the amplifier, you will need to put it quite early in the chain.
This means that you will need to place it before the power amp or amp simulators. Ideally, you will place it in the first position after your guitar unless you have a tuner. Tuners are always the first piece of equipment connected to the guitar since you want the cleanest possible tone while tuning. This will ensure the highest accuracy. So, unless you have a tuner, Flamma FS06 should be the first pedal in the chain. 
Alternatives To Flamma FS06 In Terms Of Look, Sound, Specs, And Price
JOYO British Sound
JOYO Overdrive British Rock Amp Simulator Pedal Brit-Rock Era...
JOYO British Sound guitar effect pedal get tones inspired by the Mashall...
The British Sound delivers that 60s and 70s warmth and harmonic overdrive...
Level and Drive controls add incredible range, with it's full 3 band EQ and...
JOYO is over decade of brand reputation, with the most popular budget...
JOYO is another one of the brands that focus on budget gear. There is a variety of pedals you can find by JOYO, and each offers decent quality for a ridiculously low price. JOYO British Sound is no different. As you can guess from the name, this preamp simulates the sound of British amps.
The focus is on the Brit-rock era, and the pedal is quite versatile. There are six knobs you can use to adjust low, mid, high, level, voice, and drive.
B-Box Mosky
Mosky designs effects for electric guitars. This model here is called B-Box, and it is a preamp pedal you should check out. Of course, the main advantage is its price, and it's quite affordable. The pedal has four knobs to adjust gain, treble, bass, and volume.
It's easy to use, it's small, and it sounds good. If you are interested in getting a mini pedal, this can be an interesting option.
Xotic BB Preamp
Xotic BB Preamp V1.5
Overdrive/Preamp Effects Pedal with Active 2-band EQ
Gain and Volume Controls
True Bypass
Xotic BB Preamp follows the same idea as other pedals in this category. There are four knobs for gain, treble, volume, and bass. It's durable, and it has a true bypass. While the price is a bit higher compared to alternatives, it is still a model worth checking out.
BB – Preamp is easy to use, and you will be able to create a variety of effects with it.
Other Flamma Pedals Worth Mentioning
FLAMMA FS07
If you are someone who enjoys the idea of having different cabinet simulations on your pedal, Flamma FS07 might be something you'd enjoy using. The design is identical to the rest of the FS series, and there are seven different modes to choose from. 
The pedal is a simulation of different amplifiers, and you will get a version of the most popular models like Fender, Vox, EVH, and Mesa Boogie.
FLAMMA FC07
The FC series is smaller compared to the FS, and it offers fewer knobs. This model, FC07, is a drive pedal with three main knobs and a single switch. You can adjust overdrive, volume, and tone.
The switch on the pedal allows you to choose between two modes – hot and warm. All things considered, Flamma FC07 is a great pedal for those interested in the drive only. If you don't plan on using the amp simulation, this simpler version might be a better choice.
FLAMMA FC06
FLAMMA FC06 Mini Distortion Pedal with 9V 300mA Power Supply
2 distortion working modes: High Peak Mode, boost up the bottom-end, when...
Ultrawide dynamic range and extraordinary open tube-like drive sound. True...
Compatible with FLAMMA FS-Series & FC-Series Pedals.Tip negative, sleeve...
An isolated power supply means less noise interference with your sound,...
Similar to other pedals in the FC series, this one offers a single effect. Flamma FC06 is a distortion pedal, and there are many great things about it. It's cheap, it's small, and it sounds great.
Flamma FC06 gives you an option to adjust drive, volume, and tone, and you can use the switch on it to select between high-peak and low-peak modes. The design of the pedal is fairly standard, and the casing is made of metal.
Conclusion
Finding a good piece of equipment is never easy or cheap. But there are still a couple of great models you can find if you look close enough. Flamma FS06 is one of the examples of incredible products for an unbelievable price.
It is a preamp pedal designed to offer many different effects, and the quality of the sound is surprisingly good. Since the price is so low, beginners will love the chance to play with it. It's highly versatile, sounds great, and it is easy to use.
There are no special requirements and anyone can try it out. If you are looking for a preamp pedal that can simulate famous amplifiers, this can be a perfect choice for you.
If you found this article useful, you may want to save this pin below to your Guitar board.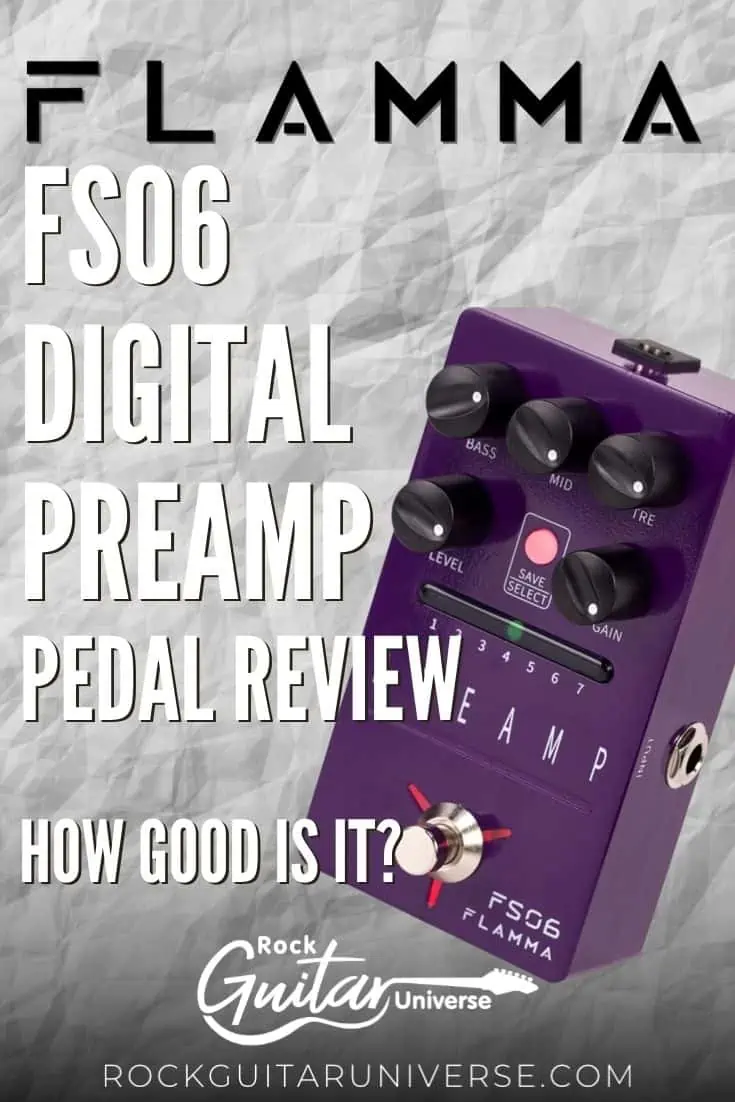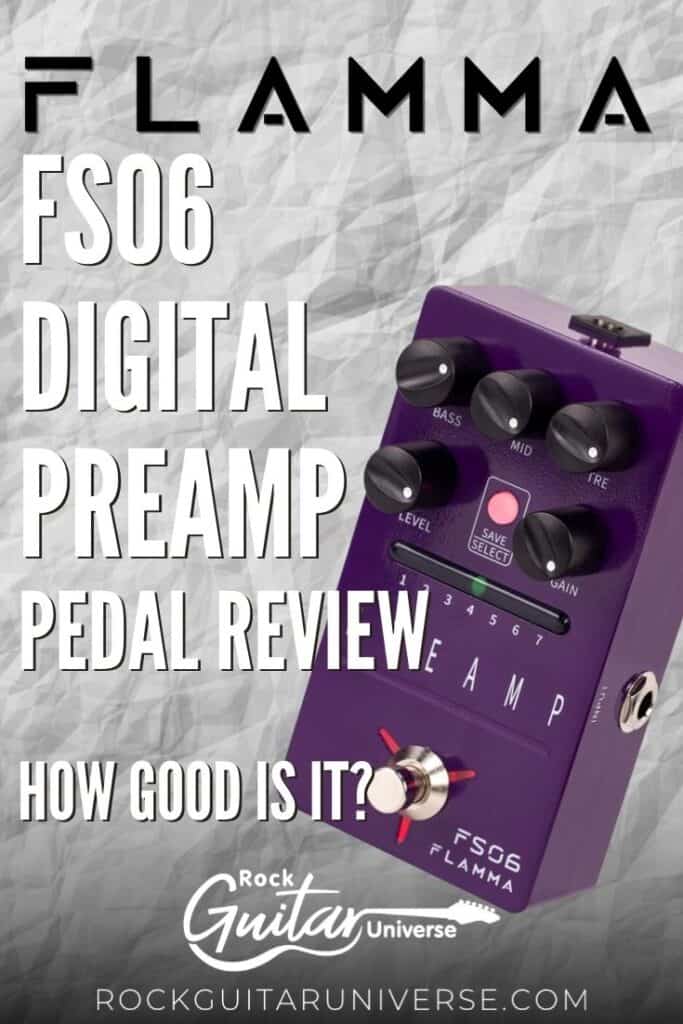 Last update on 2023-11-30 / Affiliate links / Images from Amazon Product Advertising API