For a long time, the acoustic guitar fell behind with the technology to enhance and transform its sound. Electric guitar has evolved to a point where you have loads of different effects, tonal shapers, and loop stations.
Fortunately, the acoustic guitar has now evolved and has some great tools as well. In this list, I'll show you some of the best budget acoustic guitar effects.
Budget Acoustic Guitar Effects Pedals under $50
First off, when purchasing a budget pedal, you have to define what is the effect you want or need most. At the very beginning, I'd recommend getting a DI box or an amp modeler. However, elements such as tuning and EQ are a crucial foundation for you to build on.
Donner Dt-1 Chromatic Guitar Tuner Pedal (True Bypass)
Compact chromatic tuner
Powered by 9V DC adaptor
LED light to indicate working state
Input & Output Jack:Analogy though 1/4'' mono audio jack
True Bypass that gives you zero coloring to your sound
The first crucial thing to take into consideration is purchasing a tuner. You may have the best effect pedals out there but if your guitar is not in tune, it just won't sound great.
You could purchase clip-on tuners but I recommend a chromatic tuner pedal to avoid misplacing it or just having to buy batteries all the time.
The Donner Dt-1 Chromatic Guitar Tuner is a very budget-friendly tuner that has everything you'll need.
A great spec from this tuner is its ability to completely silence your around when activating it. This is great to avoid annoying people hearing you tune.
Finally, its true bypass is more than required to avoid coloring your sound with unwanted frequencies or pedal character. Sometimes you do want that from overdrives or compressors, but not from tuners.
Danelectro DJ-14C Fish & Chips 7 Band EQ
Super compact EQ pedal unit
Graphic 7-band EQ for more precise tonal shaping
Noise-free
Allows you to boost or cut frequencies
Frequencies to alter: 100Hz, 200Hz, 400Hz, 800Hz, 1.6kHz, 3.2kHz, and 6kHz
Being able to understand and master the alteration of frequencies is a challenging task. However, it is one of the most important abilities you can develop not only as a guitarist but as a musician.
The Danelectro DJ-14C Fish & Chips is a budget-friendly 7-Band EQ that works as a great tool to begin experimenting with EQ.
By having it be a graphic equalizer, you can develop a keener sense of which frequencies affect which part of your overall sound.
Its sliders are quite smooth and include an overall level controller to boost or attenuate the whole signal.
While this pedal might not be the most impactful purchase first-hand, I insist on developing your ability to know where to boost your lows for more fullness (100-200Hz), where to increase highs for clarity (3.2-6kHz), and just having a good understanding of frequencies in general.
Caline Acoustic Guitar Effects Pedal DI Box
Acoustic guitar DI and two-band EQ —
Treble Boost footswitch to increase the overall brightness of the tone.
Anti Feedback footswitch to reduce natural guitar feedback for an increased volume of gain. Allows you to play at higher volumes without risking unwanted resonance.
Overall input knob dictates the gain and coloring of this preamp.
Mini-sized, portable, and easy to carry. True bypass produces a transparent tone.
The Caline Acoustic Guitar Effects Pedal DI Box is a preamp pedal designed to boost the overall gain, volume, and color of your acoustic guitar. These types of pedals are great to give your sound a unique tonal character.
This pedal is quite simple in nature. With an input knob to increase your gain and a 2-band EQ (treble and bass) to shape your tone, you really don't need much more.
Lastly, the Anti Feedback knob helps you prevent high volume and gain feedback. In addition, it can also control the degree of voice concentration. Turn left is the original sound, and turn right will make the tone more powerful and clear.
Behringer V-Tone Acoustic Driver DI ADI21 Amp Modeler
Acoustic guitar preamp/stompbox with added DI recording output.
Analog circuitry and tube-modeling to give you natural warmth and presence
3-band EQ with sweepable mids for accurate feedback control and tonal shaping
Super-high impedance to retain maximum signal integrity and dynamics
Powered by 9 V battery or the Behringer PSU-SB DC power supply (not included)
The Behringer V-Tone Acoustic Driver DI ADI21 is an amp modeling/DI box designed to get the most out of your acoustic guitar. Its tube modeling circuitry gives you a natural warmth and presence that simulates an authentic tube preamp.
In addition, this pedal has a 3-band EQ with an added mid freq control that allows you to boost a specific range of mid frequencies.
Lastly, its blend control lets you mix the amount of amp/mic emulation you want to be added to your direct signal.
The Behringer V-Tone Acoustic Driver DI ADI21 also functions as an active DI box for direct recording.
Donner Verb Square Evolution+
Mini digital reverb pedal suitable for any music style
Powered by 9V battery or DC adaptor
7 different presets that give you a wide array of effects and atmospheres: Room, Hall, Church, Spring, Plate, Mod and Darksea
3 controllers to fine-tune your sound: E.level, Decay, and Tone
Effect Tail footswitch to further enhance your reverb
Super compact
If you are looking for one specific effect to begin enhancing your guitar sounds, reverb is most likely to be your #1 choice. The Donner Verb Square Evolution+ is a 7-in-1 reverb pedal that has all the versatility you'll need.
Starting off, this pedal has a total of 7 different reverb presets, including the classics: room, hall, church, plate, spring, and mod. The final preset of the 7 is their unique darksea mode.
For these 7 types of reverb, you also have a 3-knob controller that lets you adjust the level of the effect, the decay of the reverb, and its tonal qualities. Just one preset has a huge amount of variations you could employ.
Budget Acoustic Guitar Effects Pedals under $100
Pedals under $100 can get you some great starter packs, especially for enhancing the sound of your acoustic guitar.
At this point, we can really begin super fine-tuning your sound to great quality. However, it is a good place to begin purchasing some pedals that will properly work with your acoustic guitar.
BOSS Acoustic Preamp Guitar Pedal
Acoustic-electric guitar preamp with advanced BOSS sound processing
Small and compact. Powered by 9 V Battery or DC Power Adaptor
3 parameters: Acoustic Resonance, Ambience, and Notch
Acoustic Resonance reproduces the complex resonance characteristics of an unplugged acoustic
Ambience knob provides optimized acoustic guitar reverb
Notch filter to reduce feedback
The BOSS AD-2 Acoustic Preamp is a pedal designed to further enhance the qualities and characteristics of an acoustic-electric guitar. In a way, its main function is to correct the faults of cheaper acoustic guitars that won't have the best resonance and tonal quality.
This pedal was 3 parameters for you to adjust: Acoustic Resonance, Ambience, and Notch. Acoustic resonance helps you enhance the overall resonance of your guitar, while Ambience is an optimized reverb that works well with acoustic instruments.
Lastly, Notch allows you to reduce unwanted feedback your guitar may produce from high gain or output volume. It's a very simple and standard pedal, but a great quality booster for your instrument.
TC Electronic Helix Phaser Pedal
Super-versatile phaser pedal with the signature TC Electronic sound
Great range of variety of phaser effects
True bypass to avoid unwanted coloring of your tone
Built-In TonePrint technology to further enhance your phaser tone
One of the most common effects that guitarists add to their sound is the phaser. By slightly displacing the original signal, you create this atmospheric sound that blends really well with both acoustic and electric guitar.
The TC Electronic Helix Phaser Pedal is a guaranteed success for those looking to add the phaser effect to their arsenal. It has very simple controls that include: Speed, Feedback, Depth, and Mix.
Added to this, you have 3 different phaser modes: Vintage, Smooth, and the signature TC Electronic preset, TonePrint.
Its TonePrint technology allows you to upload many different sounds and settings to get all sorts of sounds. From vintage-sounding Gilmouresque swirls, full Van Halen sweeps to more modern phaser tones. It's all included in this small, compact, and sturdy pedal.
TC Electronic Body-Rez Pedal
Acoustic guitar pickup enhancement pedal
Gives you a studio-quality acoustic tone, all with only one parameter to control
Built-in feedback suppression
Small, compact, and sturdy
Phase control footswitch mode offers an easy and effective way to kill low-frequency feedback
True bypass to avoid coloring
Similar to the BOSS Acoustic Preamp Guitar Pedal, the TC Electronic Body-Rez Pedal is a resonance enhancer pedal designed to correct and improve the resonance and tonal quality of your acoustic guitar.
It is slightly better in terms of quality than the BOSS pedal and is much more simple to use. With only one knob, there is not much to have to do to achieve an improved sound from your instrument.
The secret behind this pedal is its pre-configured filters, which are combined with subtle quick compression. All of this is happening behind-the-scenes but is crucial in the overall final sound you can achieve with this pedal.
As with pretty much all TC Electronic pedals, it also includes a true bypass, which allows you to not have the unwanted coloring of your tone.
Ernie Ball Expression Series Overdrive
Tube-like natural overdrive that enrichens your tone
Three separate controls for drive, tone, and boost
Very dynamic build that allows you to exploit the natural expression of a foot pedal
Can go up to +6db boost level
Very sturdy and durable
Dynamic pedals are a whole other world you can explore. Whether it is a volume pedal, an FX pedal, or an overdrive pedal, it allows you to have much more control over your performance and the overall dynamics of your playing.
The Ernie Ball Expression Series Overdrive is a pedal that replicates the tube sound overdrive so cherished by guitar players. With its three controllers (drive, tone, and boost) you can dictate the range of the tonal enhancement this pedal gives you.
At its zero position, it is completely transparent and it blocks any tampering with your original signal. The more you push the pedal, the more coloring you'll get, giving you a wide range of variety.
Lastly, this pedal has a great build and is very, very durable.
Valeton Dapper Acoustic Mini Guitar Multi-Effects Pedal
Acoustic Guitar Effects Stirp with the main components you'll need to achieve a solid sound
Three different sections/parameters to control: Reverb, Preamp, and Compressor
Preamp: volume knob, 3-band EQ, and a notch knob, and an N frequency knob.
Compressor: volume knob, compression knob, and attack knob
Reverb: one knob to adjust the amount of reverb you give to the signal.
Built-in chromatic tuner
If you are looking for an affordable, all-in-one type of pedal, the Valeton Dapper Acoustic Mini Guitar Multi-Effects Pedal is a solid choice for you.
This pedal has probably the 3 most important elements to control and get a good sounding-tone from your guitar: its preamp, a compressor, and some reverb.
Its preamp section has a volume control for its gain, a 3-band EQ, and two knobs dedicated to eliminating any unwanted feedback.
Its compression section gives you a volume knob for the overall output of the compressed sound, a compression knob to dictate the amount of compression your sound will have, and an attack knob.
The last one dictates how fast will the compressor act once you strike the string (I usually recommend longer times for guitars.
Finally, its reverb section gives you a bit of ambiance to give your sound more fullness and depth.
Budget Acoustic Guitar Effects Pedals under $150
Pedals under $150 will hardly include amp simulators or multi-effects racks worth taking a look at. It is still a bit below the overall price of a good amp simulator pedal.
However, at this point, you do get to see some great quality individual effects that can go a long way when building your pedalboard from the ground up.
NUX Stageman Floor
Analog acoustic preamp with FX and a looper function
3-band EQ, as well as a Gain knob and a Notch controller
Built-in Reverb and Chorus effects, each controlled independently
Includes a 60 Seconds Looper function to jam with yourself
Toggle switch to decide if you want preamplification for a piezo or magnetic pickup
Outputs to amp, mixer, headphones, music player, and effect pedal
The NUX Stageman Floor is an analog acoustic preamp with built-in FX (chorus and reverb) and a 60-second looping function. It includes a solid-state preamp, input gain control, and a highly sensitive 3-band EQ with MID scoop toggle switch to reduce feedback.
A great thing about this pedal is its input pickup selector. You can optimize your preamp input according to your guitar pickup type to either Piezo or Magnetic. This will allow you to have better signal processing, depending on which type of pickup your guitar has.
Finally, you have a 60-second looper function that lets you build your own jam tracks and practice exercises.
MXR M134 Stereo Chorus
Analog stereo chorus effect pedal
Super lush sound that has many parameters for you to fine-tune the sound
Powered by two 9-volt batteries, an 18-volt adapter or the DC Brick™, Iso-Brick™, and Mini Iso-Brick™ power supplies.
3 controllers for the chorus overall tonality: Intensity, Width, and Rate
Bass and Treble controls for EQing the chorus tonal character
Stereo outputs allow you to further expand the chorus' spread
A lot of people prefer to purchase individual effect pedals to have a much more refined and unique tone. If you are looking to purchase a chorus FX individually, this pedal is a good place to start.
The MXR M134 Stereo Chorus is one of the best chorus pedals put there. It includes 3 controllers to adjust the overall quality of the effect, as well as a 2-band EQ and a mono/stereo output function to enhance the spread of the effect.
The great thing about this pedal when going into stereo-mode is that it allows you to apply the effect only to the high frequencies of your sound. This prevents you from losing the fullness and weight of your sound.
MXR M117R Flanger
Analog flanger effect pedal
Powered by two 9-volt batteries, an 18-volt adapter or the DC Brick™, Iso-Brick™, and Mini Iso-Brick™ power supplies.
4 parameters: Manual, Width, Speed, and Regeneration
Create wild sounds from jet plane takeoffs, vibrato, cool space effects, and short delay
Reminiscent of '70s rock and funk music
Its parameters allow you to create multiple FX, such as chorus, delay, or vibrato
The MXR M117R Flanger is another great choice for those looking to purchase their effect pedals individually. It is one of the best affordable flanger effects out there and has great tonal qualities, as well as versatility.
This pedal has 4 parameters for you to control: Manual, Width, Speed, and Regeneration. Manual allows you to dictate in which part of your frequency spectrum will the flanger act on (highs or lows).
Width and Speed let you control both the intensity of the effect, as well as how long it takes for the effect to begin.
The Regen. knob increases the overall intensity of the effect (Width affects the soundwaves, Regen. the output of the effect).
TC Electronic Flashback 2 Guitar Delay Pedal
Tone-Print enabled delay pedal
11 different types of delay available: 2290, Analog, Tape, Lo-Fi, Dynamic, Modulation, Ping Pong, Slap, RVS, TonePrint, and Loop
40-second built-in looper
Tone Print technology for further sound exploration and saving
TC Electronic MASH technology adds an expression pedal to your arsenal
One of the most favored effects by guitar players is the delay effect. It allows you to create lush atmospheres, eclectic sounds, or just an added flavor to your sound.
The TC Electronic Flashback 2 is a delay pedal with 11 different delay sounds, TonePrint technology, TC Electronic's MASH technology, and a 40-second looper.
Its delay types include 2290, Analog, Tape, Lo-Fi, Dynamic, Modulation, Ping Pong, Slap, RVS, TonePrint, and Loop delays. They all have their own character and provide you with immense versatility.
A great thing about this pedal is its ability to provide you with the bpm with its audio tapping technology. Just strum the tempo and the delay will calculate the bpm.
Lastly, its TonePrint technology lets you share and recollect user-based presets, expanding your tonal options even further.
TC Electronic Viscous Vibe Pedal
1: 1 recreation of the legendary Shin-Ei Uni-Vibe
3 parameters: Speed, Intensity, and Volume
Tone print enabled – for a world of signature and customizable effects
Small, compact, and sturdy
True bypass to prevent unwanted coloring
Another favored effect by guitar players is the vibe effect. The TC Electronic Viscous Vibe is a recreation of the legendary "Shin-Ei Uni-Vibe", originally created for electric organs.
The Viscous Vibe gives you the best of both worlds. It effortlessly combines the old analog sound and warmth with modern-day functionality.
To adjust your sound, you have the 3 most common Vibe parameters. Speed dictates how fast the sound will "vibe". Intensity dictates how far the waves displace up and down. Volume is pretty self-explanatory.
Lastly, as with all TC Electronics pedals, you get the famous TonePrint technology. This technology allows you to share and recollect all types of user-presets, giving you tons of tonal options to play with.
Budget Acoustic Guitar Effects Pedals under $200
Lastly on this list, once we get to the $200 mark, you start to see some high-end pedals that can enhance both your overall tonal quality and your creativity.
At this point, it is a safe bargain to get an amp simulator, since their quality will be much better. On the other hand, you can still purchase individual effects to begin slowly building your effects rack.
L.R. Baggs Align Equalizer Acoustic Guitar Effects Pedal
Acoustic preamp pedal with built-in EQ and Anti feedback
6-band EQ for precise tone sculpting
Includes a high-pass filter with 3 Hz variables for best sound and feedback control
Phase inversion for both passive and active pickups
3 position gain switch for easy level control (+6, 0, -6dB)
Notch knob notch to filter and tame resonant feedback
As I mentioned before, being able to understand, control, and manipulate frequencies is one of the most valuable abilities you can have. The L.R. Baggs Align Equalizer Acoustic Guitar Effects Pedal is a preamplifier pedal with a built-in EQ system and anti-feedback.
Starting off, this pedal has a 6-band EQ that allows you to boost or cut the most important frequencies in an acoustic guitar: 85Hz, 350Hz, 700Hz, 1.6kHz, 4.8kHz, and 10kHz.
Some other features this pedal has are a variable high-pass filter with 3 different frequencies (40Hz, 80Hz, and 120Hz), a variable gain switch, and a notch knob to reduce unwanted frequencies and avoid feedback. You also have a phase switch to avoid any phase issues.
Wampler Ego Compressor V2
Ultra transparent compression pedal with enhanced sensibility
Designed to ensure you can retain your playing dynamics.
Blend knob allows your original signal to be combined with the processed signal
Settings allow you to have a compression range that goes from full country squash to open studio level parallel compression
With a comprehensive array of controls and a pure core tone, the Ego works perfectly as an "always-on" compressor or as "an effect"
When looking for a good compression pedal, guitarists usually look for one that can give you a great variety of compression without compromising both the dynamics of your playing and your tone. This compression pedal does just that.
The Wampler Ego Compressor V2 is an ultra-transparent compressor pedal that lets you blend your original, untampered signal with your fully-compressed and processed one.
You have your 5 custom parameters that any good compressor pedal will have: Sustain for increased tonal length, Tone to make your sound brighter or darker, Attack to dictate the speed of the compressor, Volume for overall output, and Blend to mix your signals
Ernie Ball Expression Series Ambient Delay
Expression pedal with built-in digital delay
Digital delay is layered with plate reverb, for maximum ambiance and atmospheric creation
From 50 milliseconds up to 1 second of delay time
Separate controls for reverb, time, and delay
Dynamic foot-control gives you ultimate expression and dynamics to your performances
Ultra-compact housing, study, and very durable
External Tap Tempo Input for a pedal that lets you tap in the bpm of your performance
This pedal is one of the best dynamic expression pedals you can incorporate into your pedalboard. The Ernie Ball Expression Series Ambient Delay is a digital delay pedal with a built-in expression tool to adjust your delay levels on the fly.
Added to this, this pedal has a reverb knob that lets you blend your delay with a plate reverb, giving you much more complex and atmospheric sounds.
Your three parameters let you dictate the amount of feedback, the tempo of the delay, and reverb. You can also separately purchase an eternal footswitch to tap your BPMs as you perform.
Zoom AC-2 Acoustic Creator
16 source guitar type/body preset acoustic guitar pedal. Gives much versatility to your sound.
Built-in Reverb effect with independent controller
Input pickup select for what suits your guitar best (Piezo or Magnetic pickups)
3-band equalizer to shape your tone
Anti-feedback button to reduce unwanted resonances
Boost switch gives you up to 9 dB of additional gain
Built-in chromatic tuner
Dual output jacks for mono or stereo output
Powered by 2 x AA batteries, the included Zoom AD-16 power adapter (9V DC in), or bus power via micro-USB port
When it comes to amp modeling and multi-effects pedals, Zoom is and has been one of the most successful and sought companies. The Zoom AC-2 Acoustic Creator is one of the best acoustic guitar amp models in the market.
This pedal has 16 different source guitars that give you an immense array of tonal options. All of these options can be fine-tuned with their built-in 3-band EQ and reverb. This pedal also includes a boost button for added headroom.
With a switch selector for pickups, you can adjust the pedal to whether you have a piezo pickup or magnetic pickups and get an even better sound.
TC Electronic Ditto X4 Looper Effects Guitar Pedal
A guitar loop station designed by guitarists and adjusted to the players' needs
True bypass and analog dry through, no unwanted coloring to your sound
Dual loop tracks create evolving multi-track compositions or fully fledged songs
7 loop FX endless creative potential
MIDI sync – for perfectly timed live loops
A loop station is one of the most important tools a player can have. It can massively change their practice routines and the way they interact with guitar improvisation and creation. The TC Electronic Ditto X4 Looper Effects Guitar Pedal is one of the best loop stations in the market.
By having two different loop channels, and multiple FX at your disposal, this looper is the ultimate tool to expand your creativity.
Conclusion
Of course, there are many other types of pedals and brands that can give you different specs and colors. This is just a list where you can see what type of pedals you can purchase and what your budget options are.
Take the time to investigate the pedals' specs and watch some videos to ensure it is exactly what you are looking for.
If you found this article useful, you may want to save this pin below to your Guitar board.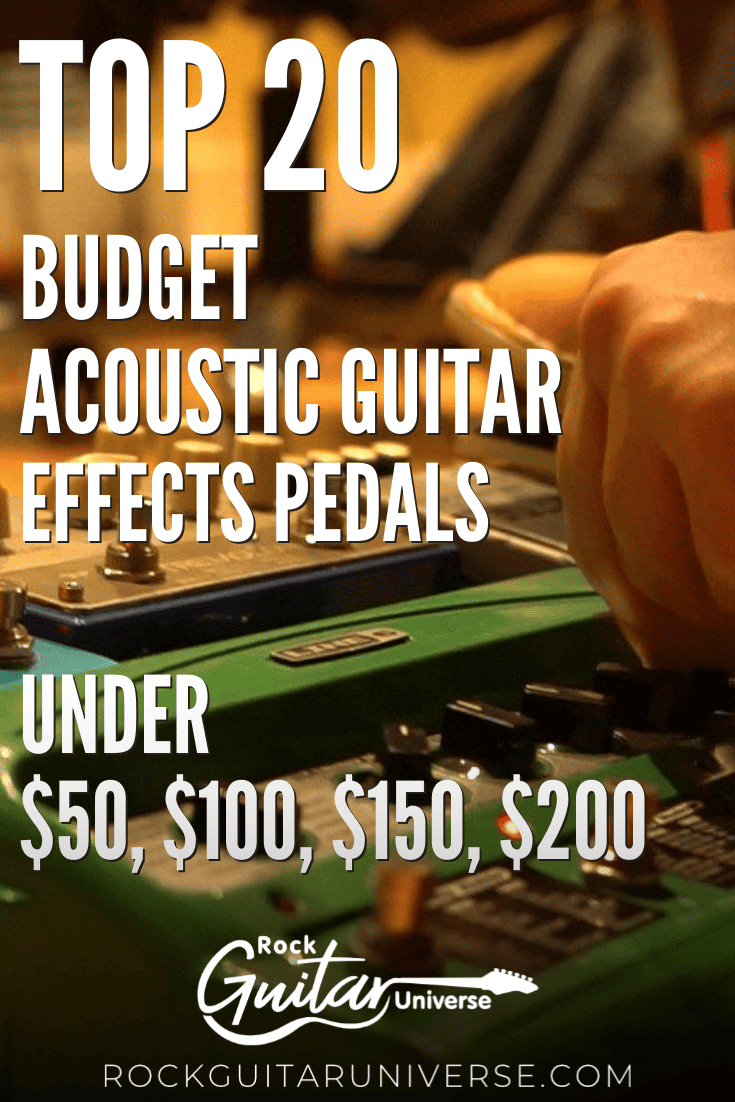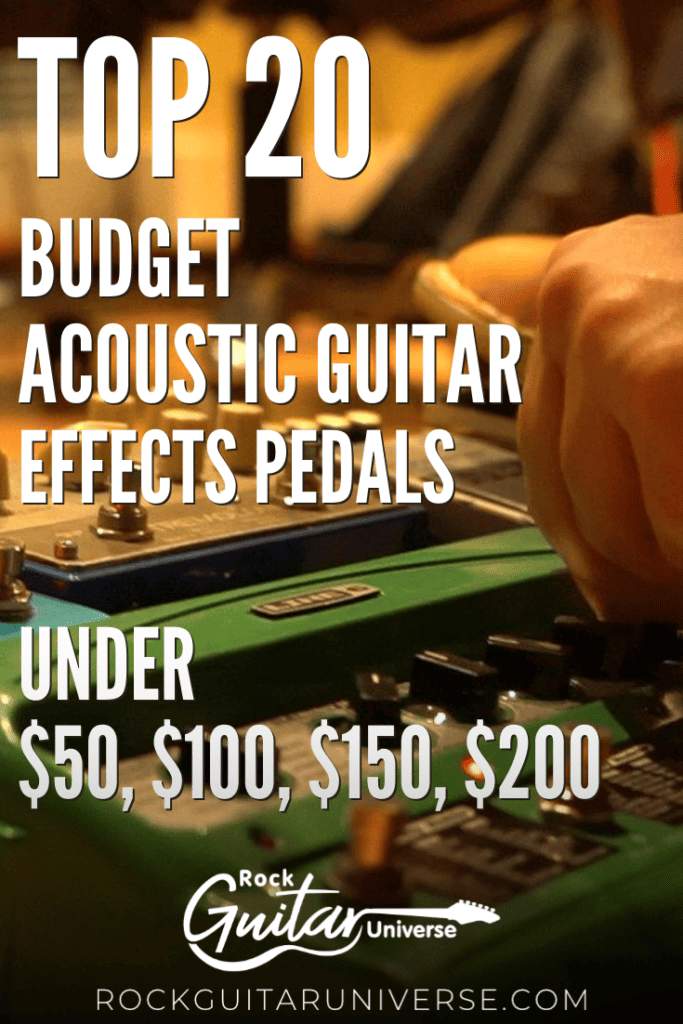 Last update on 2023-02-06 / Affiliate links / Images from Amazon Product Advertising API