Multi-effect pedals are amazing devices that combine all the advantages of an effect pedal setup in a big stompbox. From authentic effects to the different amp and cab simulations, you can find any tool to shape your tone in multi-effects pedals, thanks to their big DSP capabilities.
In the past, multi-effects pedals were often overlooked as they sounded too synthetic. But, in the recent decade, the technology was so advanced that now multi-effects pedal tones are extremely difficult to distinguish from the real thing.
So here are the 35 of the best multi-effect pedals on the market today that you can check out to step into the wide world of tone-shaping.
Headrush MX5
Unique DSP system with impressive multi-core processor
Rich effects library including amps, cabs, mics, and effect models
Ability to store numerous custom impulse response files
4" HD touchscreen display
Freehand edit option for live situations
Looper
Headrush MX5 is one of the most versatile multi-effect pedals you can check. It shines with its 46 amplifiers, 15 cabs, 10 mic emulations, 300 IRs, and 63 professional-quality effects onboard, as well as great design with a 4" touch display and looper. It is also an easy-to-use unit thanks to its straightforward interface and freehand edit mode for rapid live editing.
TC Electronic PLETHORA X5
TonePrint pedalboard with a user-friendly and versatile design
5 configurable Toneprint pedals on each board
127 fully customizable presets
Customizable FX signal chain
75 TonePrint FC memory presets per pedal
MASH tech system to convert all 5 footswitches to expression controllers with customizable mapping
TC Electronic PLETHORA X5 is another great multi-effect unit with 127 stored pedalboards in its system. All the pedals in the collection are individually foot-switchable and are specially taken from TC's TonePrint pedal range. You select 5 and combine your pedalboard as you like in any order. Some great pedals from the collection are Hall Of Fame 2 Reverb, Sentry Noise Gate, Sub n Up Octaver, Corona Chorus, Vortex Flanger, Quintessence Harmony, and many more.
Tech 21 Fly Rig 5 v2
Similar design and circuit with the SansAmp circuit with some extra features such as Plexi and Cali distortion modes switch, independent reverb with customizable room size effects loop, tuner, switchable speaker simulation and XLR output
Controls: Plexi: Drive, Tone, Level – Boost – Blonde: Drive, Low, Mid, High, Level – Delay: Time, Repeats, Level – Reverb
Buttons: Plexi / Cali, Boost Pre / Post, Speaker Sim, Delay Drift, Delay 8th, Reverb Size, Ground Lift
Footswitch: Plexi, Boost, Blonde/Tuner, Delay, Tap/Reverb
Tech 21 Fly Rig 5 v2 offers the players a complete pedalboard with killer effects from a wide collection. Some great effects inside are Plexi or Cali-style overdrive, 12 dB clean boost, two different reverbs, delay variations with tap tempo, effects loop, chromatic tuner, and many more. The unit is highly versatile and can be used for roaring hard rock solos and riffs, as well as modern high-gain metal sound or smoothly overdriven blues tones.
Boss GT-100
Double LCD screen for user-friendly, easy-to-use navigation through the pedal
400 memory slots in total with 200 user-made and 200 built-in presets
100 dB dynamic range
Original amp and overdrive-distortion tones with the amp customize and od-ds customzie features
Graphical Tone Frid for creating new patches with the improved EZ Tone function
FX loop
24 Bit / 44.1 kHz A/D converter
The new generation COSM processor, the BOSS GT-100, is one of the most popular and best-selling multi-effects processors on the market today. The device impressively helps you re-shape your tone from scratch with its tons of effects options, 200 presets, 100 dB dynamic range, Amp Customize, OD/DS Customize features, FX Loop, and more. The GT-100 draws the new limits of your tonal capabilities with its amazing tonal quality and user-friendly interface.
Headrush Gigboard Guitar FX
7" Touchscreen interface for ease-of-use
Eleven HD modeling engines along with the powerful quad-core DSP system for high realism
Great effects library with dozens of effect models, amps, cabs and mics onboard
Third-party impulse response support for expandable cab options
4 Footswtiches on the pedal
Looper with a 20-minute time limit
Headrush Gigboard Guitar FX helps the players to combine different tonal resources with its dozens of amps, cabs, mics, pedals, and more pedals which results in thousands of custom combinations. The device has a quad-core DSP system in order to provide the guitarists with highly realistic amp and pedal models that shine with their detail, touch response, and clarity.
Line 6 M5
Over 100 stompbox effects
Simple one-effect-at-a-time design
Dedicated knobs control each effect parameter
Tap Tempo syncs for time-based effects
Built-in chromatic tuner
Expression pedal jack
Heavy-duty all-metal chassis and footswitches
Line 6 M5 offers five different categories of effect options with delay, modulation, distortion, filter, and reverb effects. In total, you will find 19 delays, 23 modulations, and 17 distortions, plus 12 compressors and EQs, 26 filters, and 12 reverbs in the unit, and there are also 24 presets you can customize. With the built-in chromatic tuner, metal chassis, footswitches, and dedicated knobs for each parameter, the device has almost everything you expect from a decent multi-fx pedal.
Zoom G3Xn
One of the most powerful and popular amp modelers and multi-fx unit
Option to mix and match 5 speaker can impulses and 5 tube amps
Hardware sturdy knobs for easy real-time editing
68 digital FX choices, including overdrive, chorus, reverb, delay, and many more
80-second stereo looper
Onboard tuner
Headphone out for personal practice sessions
Zoom G3Xn is a highly popular multi-effects unit thanks to its innovative system, user-friendly interface, and feature-packed design. There are three independent editing displays for ease of use, while 68 digital FX, including reverb, chorus, flanger, and overdrive, give enough sonic versatility to shape your sound as you like. The device also comes with Zoom Guitar Lab software which allows the users to download new patches and effects as well as amp-cabinet simulators to enrich the already rich effects collection in the unit.
Boss GT-1000
It can be used with electric guitar or bass
Full DSP capacity in the compact design
Impressive AIRD technology
24 effect blocks and 150 unique amp-effect models ready to use
Compact design for more portability
Fits into any pedalboard setup easily or can be used as a stand-alone processor
Versatile connectivity options
The high amount of control options
Boss is probably the first name to come to mind when talking about effect pedals and processors. Boss GT-1000 can be used with electric guitars and bass guitars as it offers 24 simultaneous effect blocks and over 140 unique amp/effect types. The pedal gives way for more versatility on the rear panel with its effects loops, MIDI, external control, and much more.
The 32-bit/96kHz processing rate is great, and the pedal gives you amazing control over your sound. So, overall, this is
Zoom G6
Great Zoom effects from the 30 years of experience: drives, mods, delays and reverbs and many more
70 preloaded cab impulse response options with various mics and mic position options
4.3" color touchscreen display for ease of use
Pedal-style effect switching process with the 6 stompbox footswitches
Real-time parameter manipulation access with the expression and volume pedals
Looper with a 45-second time limit
68 onboard rhythm patterns
One of the most versatile multi-effect processors out there is the Zoom G6, offering great functions for a considerably low price point. As Zoom is one of the most famous and trusted names in the music market, you can rely on this device without hesitation. It is a sturdily built, versatile effects processor that comes with six different amp models, 22 cabinet emulations, 70 pre-loaded full impulse responses, and countless effect combinations, including drives, modulation, delays, reverbs, and more.
Tech 21 Richie Kotzen RK5
Similar design and circuit with the SansAmp circuit with some extra features such as delay with tap-tempo, boost, independent reverb with customizable room size, a rotary effect, compressor, tuner, fuzz, XLR output, a headphone jack and switchable speaker simulation
Controls: Boost Level – OMG: Drive, Tone, Level – SansAmp: Drive, Low, Mid, High, Level – Reverb – Delay: Time, Drift, Repeats, Level
Buttons: Comp, Fuzz, SansAmp, Reverb Size, Roto, Headphones, Ground Lift
LED: Effect on
Footswitch: Boost, OMG, Reverb/Tuner, Delay, Tap/Speed
Input (6.3 mm jack)
Output (6.3 mm jack)
Made in the name of the great guitar virtuoso Richie Kotzen, Tech 21 Richie Kotzen RK5 is the upgraded version of the former model of the series. It features the Richie's Signature OMG overdrive, an independent reverb with customizable room size, a compression effect, a rotary speaker mode, delay circuits, fuzz, a chromatic tuner, as well as XLR and headphone outs. With this one, it is more about quality than versatility.
Line 6 Helix
New generation double DSP-based HX modeling engine with 4 discrete stereo-signal paths
Offers 50 guitar amp models, 12 bass amp models, 37 speakers and 16 mics as well as 104 effects in total
12 footswitches with pressure sensitivity for editing
3 expression pedal ports
Extensive MIDI control options and amp switch out
Extensive in and outs to use the device with other pedals
Line 6 Helix is one of the best multi-effects units available. It is the top model the brand offers, and it has been the pioneer model for a time. The professional guitar effects processor features 50 Guitar amp models, 12 bass amp models, 37 speakers, 16 microphones, and 104 effects, along with 12 12 Pressure-sensitive footswitches for editing. The versatility you get is quite impressive, and the touch-sensitive footswitches are highly comfortable and easy to use.
Line 6 HX Stomp
No products found.
Helix sound technology
Offers more than 300 effects and models from different liens such as Helix, M Seris, and different Line 6 products
Allows the user to use 6 effect blocks, amps and boxes at the same time
Looper
Coloured LCD
Integrated audio interface
3 Footswitches with color-coded LED rings
Expression pedal connection
Line 6 HX Stomp is another Line 6 wonder that comes with over 300 effects and models from the Helix, M series, and other Line6 products. There are 6 simultaneously usable amplifiers, boxes, and effect blocks – including a looper in the pedal, and the colored LCD makes it quite elegant and user-friendly.
The unit also has an integrated audio interface to use with DAWs. The quality of the effects and simulation are top-grade, as you would expect as HX audio engine ensures top-notch performance.
Kemper Profiler Stage Floorboard Amp
Kemper profiler guitar amp combined with the profiler remote foot controller in one floorboard
Offers the same features and same sound quality with the famous Profiler head
Allows you to manipulate, manage, control and program everything from program performances to rig switches and complex parameter morphs
Bright backlit display, easy-to-read even in daylight
Main Out L & R: 2x XLR / 6.3 mm jack
Monitor Out L & R: 2x 6.3 mm jack
Footswitch/Exp Pedal 1-4: 4x 6.3 mm stereo jack
Kemper Profiler Stage Floorboard Amp
Kemper Profiler Stage Floorboard Amp is one of the most versatile modern amps, equipped with a top-grade multi-effects processor and amp-cab simulator. The new generation smart amp allows you to use hundreds of mouthwatering amps, stomps, and studio effects.
The Profiler Stage allows you to customize anything from scratch and use thousands of pre-built tones on the internet. You can download and use any tone built and shared on the internet and get some of the legendary tones of different virtuosos.
Harley Benton DNAfx GiT Pro
Multi-Fx processor with an IR loader and advanced amp modeling technology
Huge library of amp simulations
Expression and volume pedal onboard
Allows you to organize all the effects in any desired order
Sturdy aluminum casing
5" color screen
Channel switching with the AMP control function
Harley Benton DNAfx GiT Pro is probably the most cost-effective multi-fx processor created by the Thomann Music brand Harley Benton. The device offers amazing functions such as the stack of virtual amps and modeled boutique effects, hyper-accurate cab sims with IR loading, advanced amp control and integration, USB recording, and a rich suite of practice feature. The unit allows the user to have all necessary weapons for tone shaping from scratch.
Neural DSP Quad Cortex
Compact yet powerful design thanks to the DSP from the Quad-Core SHARC design
Unique Neural capture network lets the players capture the dynamics and sound of different amps
Wi-Fi sharing feature to capture presets, backups, and updates
The integrated Superior Modeling Technology regularly grows and adds different algorithms to maintain and enhance the sound quality and overall versatility
Low-latency system and great routing flexibility
7" touch screen
The first thing to notice is the Neural DSP Quad Cortex 7-inch full-color touchscreen and 11 rotary footswitches that twist and stomp to bridge hands. This way, it offers quite straightforward and user-friendly controls and interface, which is great in many situations especially live gigs.
Another important feature is the neural capture network which listens to and simulates other tones from other amps. Also, you can share your presets, backups, and updates wirelessly through wi-fi networks. Plus, with the Superior Modeling Technology, the sound quality and tonal versatility are constantly updated and maintained.
Eventide H9
Simplistic approach with the one-knob design
99 presets onboard, and more than 500 presets in the app
One-button design makes it user and beginner-friendly
Great onboard tuner
True bypass option
Eventide H9 is one of the most easy-to-use units on the market, but it gives the same versatility as other ones on the list. It comes with 52 algorithms taken from Eventide's award-winning stompboxes, including amazing ones such as PitchFuzz, SpaceTime, Crushstation, Sculpt, UltraTap Delay, Resonator, and Compressor EQ. On the rear panel, it has audio I/O and MIDI I/O, plus an expression pedal and auxiliary switch inputs for added versatility. Furthermore, a built-in tuner and true bypass circuit are some extras you get in the processor.
Boss GT-1
Offers great versatility with 108 effect types
Looper with a 32-second time limit
7 hours of battery life
99 presets and 99 user patches available for customization
An expression pedal and an additional footswitch or expression pedal input
3 Footswtiches onboard
USB port to use the device as an editor or audio interface
Editor app is free for downloading from bosstonecentral.com
Another great multi-fx unit from the pedal pioneer brand, Boss, is the Boss GT-1, which comes with amazing functions such as 108 Effect Types, 32 Seconds looper, 99 Presets, 99 user patches, 3 Footswitches, 1 expression pedal, and 1 additional footswitch/expression pedal input as well as a USB port to use it as an audio interface. You get all the tonal options as well as recording functions you need with this special unit.
It is the brand's flagship model and has all the top-notch functions you can find. So it is quite a high-end product. Also, it is a big yet lightweight unit weighing around 2 pounds. With this one, you can get all the Boss legends from classic stompboxes like the OD-1 Overdrive to modern MDP-powered effects.
MOOER GE300
Impressive ToneCapture feature with 4 different mode settings, including amp-guitar-stomp-cab modes to capture any tone
108 top-quality amplifier simulations
3-voice synth engine onboard
164 top-quality effect choices
Looper with 30-minute recording time
Half-time and reverse effect options
256 user presets to create your tones
Mooer GE300 shines with its intuitive, user-friendly interface and feature-packed design that competes with the bigger names in the industry, such as Boss and Line6. The unit comes with 108 High-quality amp simulations, a 3-voice synth engine, 164 High-quality effects, a looper, and an Integrated ToneCapture function with 4 modes.
With the tone capture mode, you can replicate your favorite tones immediately. It is enough to capture the desired sound for a while, and the machine will prepare it for your guitar.
ISP Technologies MS Theta Pro
Michael Sweet's favorite unit, which he uses with teh Stryper
Offers 11 of Michael's presets that he uses on the stage
Versatile with 3-band parametric EQ, post distortion EQ, tuner, and rotary speaker effect
Rich cleans and high gain tones with the vintage-inspired preamp
DSP with a 32-bit floating point for impressive detail, dynamics, and depth
Offers many effect modes such as wah, compressor, multistage stereo phaser, stereo flanger, tremolo, four-voice chorus, pitch shifter, stereo rotary speaker, 1,300-millisecond delay, stereo ping-pong delay, and reverb
ISP Technologies MS Theta Pro is more than a multi-effect pedal as it is a floor-controlled whole guitar system with a digital preamp, a vintage preamp, and a multi-effects processor. The unit gives everything you need to shape your tone with limitless possibilities. It has 3-band EQ, post distortion EQ, tuner, and rotary speaker effect, along with the standard multi-fx features.
You can use the vintage preamp for rich cleans and high gains, while the digital preamp offers amazing depth, detail, and dynamic response for more modern tones. The unit has all you need to create your desired tone.
Zoom G11
Offers 6 custom amp models for great sonic textures and ear-tingling tones
Features impressive effects of Zoom devices such as dynamics, mods, delays, reverbs and many more
Has 5 extra effects with 3 mods and 2 distortion effects
Allows the users to have 9 effects in the chain at the same time along with an amp emulation
70 preloaded cabinet impulse responses with various microphones and mic positions
The 5-inch color touchscreen enables you to drag, drop, and swipe your way to new sounds
69 built-in rhythm patterns run the full gamut of genres and time signatures
Zoom G11 has one of the most simplistic designs in the multi-fx world, with the help of the touch screen and straightforward editing processes. The design features a row of five digital pedals, each with four parameter knobs to customize your tone. So the unit becomes a whole pedalboard in a stompbox.
One of the richest points of this unit is the amp simulations of over 24 choices, including Marshall, Fender, and Vox, along with high-gain Krampus, which is the famous Zoom original. The amp simulations also have a range of IRs onboard which increases the realism significantly.
Boss ME- 80
Smart floor-based multi-fx unit with analog controls for easier use
COSM preamp section borrowed from the popular Boss GT-100 processor
The new MDP technology from Boss
Each parameter has its own individual knob for an easier tweaking process
8 footswitches and an expression pedal
Looper with 38-second time limit
Boss Tone Studio Software for further customizations
Boss ME-80 is another popular multi-fx processor with a floor-based design and easy analog controls for ease of use. The special footswitches of the unit can be used in different ways: to switch a collection of individual pedals or to recall different multiple effect combinations. You can use a maximum of 8 effects at the same time to create different combinations.
The range of effect choices is wide and offers almost everything you need. Some effects like Boss's Tera Echo have Multi-Dimensional Processing to create unique ambiances. Overall, the unit is highly practical, versatile, and high-performing for practice or studio sessions and live performances.
Tech 21 Paul Landers PL1
SansAmp Fly Rig section with 2 different channels
The Fire channel with active 3-band EQ and switchable mids
Bite switch option
The Water channel offers 2-band EQ and a compressor
Dual mode boost
+6 dB or -10 dB options
Onboard tuner
As the name suggests, Tech 21 Paul Landers PL1 has been designed with the help of the Rammstein guitarist Paul Landers. He has been a fan of the Tech 21 units for a while, and his iconic tone in tunes such as Du Hast has been created with the help of great Tech 21 gear like the SansAmp GT2 and SansAmp PSA.
So, Tech 21 Paul Landers PL1 offers everything you need from Tech 21 in a single unit. It comes with 2 SansAmp channels, one clean and one dirty, along with a bite switch and Active 3-band EQ.
Boss MS-3
Multi-Fx switcher
Offers different effect modes for guitars and basses such as tuner, noise reduction, global equalizer, midi, amp switching, USB port & editor
Easy to use with analog buttons
MIDI Out and 6.3 mm Jack in
Boss MS-3 is a multi-effects switcher that comes with a built-in tuner, noise suppressor, and global EQ. Boss had the idea to put everything players would need from a pedalboard controller into one unit. It has more than 200 patch memory slots for instantly saving your customized tones to recall later.
The pedal also makes all effects such as fuzz, delay with tap tempo, momentary flanger control, reverb, and chorus available with a single tap—a great unit to control your setup.
Line 6 M9
Over 75 Vintage-style and modern effects, including distortion, reverb, delay, and modulation
28-second looper
Seven footswitches
Six easy-to-reach control knobs
Bright backlit display
Use up to three effects at once
Total of 24 store-able pedalboard "scenes," accessible via MIDI
Line 6 M9 features over 75 vintage and modern effects to choose from, including distortion, overdrive, delay, reverb, modulation, and many more. The device comes with color-codded displays, sturdy footswitches, as well as Cornish-Bradshaw vibes. The scene function is also unique as it allows the users to recall the custom-made combination of effects with a single button.
So the unit allows you to have more than 20 pedalboards available anytime you want. If you are playing in more than one band or project, the pedal gets highly handy to store your setups.
NUX MG-300
The realistic playing feel and playability
56 Drumbeats
60-Second phrase loop with rhythm sync
Global 3-band EQ for quick adjustment
Built-in expression pedal
Controls: Select, Gain, Level, Master
Push buttons: Edit/Save, Save, Mode, Jam, Tap, Pedal, Group module (x2)
NUX MG-300 might be small, but its power is enormous. The powerful modeling processor offers authentic amp simulations, an extensive effects section, and plenty of handy functions for every guitarist. The FX library of the unit is highly rich, and Mini Core and Verdugo series are especially impressive.
The well-known delay effects of the Nux Cerberus and Atlantic are available in the library, and the real-time control of parameters is very straightforward. Plus, you can find any effect in the library from modulation, distortion/overdrive, reverb to wah, and many more.
MOOER GE250
Offers more than 70 top-quality amps and 32 different cab simulations derived from the Micro Preamp series
60 drum rhythms and 10 metronome options
11 different effect types to use at the same time
Over 180 top-quality effects in total
Trail-On feature for delay and reverb effects
255 Preset slots in 85 preset banks
Mooer GE250 is a sophisticated multi-effect pedal unit with extensive effect options of over 180 FX. It allows you to use 11 of them at the same time, and the amp-cab modeling functions are specially designed with high realism. It is a highly versatile processor with over 70 realistic amp models onboard and a Tone Capture feature that immediately models any amp you desire.
The arsenal of the pedal consists of 70 amp simulations, 32 cab simulations, 60 drum rhythms, 10 metronome choices, and 11 effect types to be used simultaneously. In total, the unit offers over 180 high-quality effects.
Line 6 HX Effects
Multi-effects pedalboard with massive control capabilities
Over 100 effects models onboard
World-class polyphonic pitch-shifting effects
HX audio engine ensures pristine audio and realistic modeling
Dual effects loops integrate your favorite stompboxes
External amp and expression pedal control
True stereo performance from input to output
Line 6 HX effects unit is another great effects processor that can perform well on its own or be used to control the whole rig. The design emphasizes effects processing and is packed with an impressive range of Helix effects. The device does not have an amp, speaker cabinet, or mic model to confuse the users and keep things simple.
The effect model options are over 100, and 77 of them are legacy effects from previous models of the Line 6 range. So these are all top-grade effects loved by guitarists. The effects library consists of distortion, dynamics, EQ, modulation, delay, reverb, pitch/synth, filter, wah, and volume/pan, with up to nine different effects ready for simultaneous use.
Hotone Ampero MP-80
New-Gen CDCM & FIRE Modelling System
9 effects to use at the same time with the modeling Dual-DSP effects processor
64 Amp and 60 cab models and over 100 effect models in the library
198 Presets
Over 50 original Hotone effects – including High Quality Drive / Dynamic / Filter / Mod / Delay and Reverb models
Hotone Ampero MP-80 delivers the impressive and widely praised Ampero sound in a more compact designed stompbox. The effects processor provides the guitarists with the traditional sounds of rock from the 60s to the modern days. Adding the 4" high definition color touch screen is great for ease of use and a smarter experience.
The technology behind the unit is the most impressive as it features the New-Gen CDCM and FIRE Modelling System for more realistic tones and higher-quality sound. With 64 amp models, 60 cab models, over 100 pedal models, and 198 presets, the versatility is over the roof, and with over 50 original Hotone effects, the quality is amazing.
Valeton GP-100
Versatile with preset and stompbox modes for different situations
More than 50 effects, including drive, EQ, mod, delay, dynamics, reverb, and many more
Onboard expression pedal
Looper mode
Almost 200 presets
Valeton GP-100 is one of the cost-effective multi-fx processors on the list with its compact design, quality sound, and powerful features aimed toward beginner guitarists as well as professional musicians. The interface and controls are highly user-friendly, and the price tag is great for a device of this quality and versatility.
The device has 45 guitar, bass and acoustic amp simulations, over 50 effects, an expression pedal, a looper, and almost 200 presets, along with a tuner. The drum machine has 100 different patterns for practice and the looper's max time limit is 90 seconds. So, the unit is highly versatile and handy both for beginners and experienced players.
HoTone Ampero II Stomp
Onboard Tri-Core DSP technology
High-quality ESS Sabre AD/DA for a fuller and higher-quality sound
300 presets, 87 amp, and 68 cab models
Onboard looper with 60-second time limit
Can fit on any pedalboard thanks to its compact design
HoTone Ampero II Stomp shines with its highly realistic guitar amp sounds and impressive features such as the built-in Tri-Core DSP, CDCM HD, and F.I.R.E. modeling tech with 24-bit signal processing and 127 decibels of dynamic range. The stompbox is very compact and lightweight and comes with three assignable footswitches with LEDs which helps you to navigate through 300 presets 87 amp models, 68 cab models as well as the 60-second looper.
The unit also has some extra features, such as the option to run in full stereo and the option to use it as an audio interface with 8 channels—a compact yet powerful and versatile multi-fx processor for all types of guitarists.
Conclusion
Altough modern technology is not entirely accepted by some old-school guitar players, the versatility and quality offered by modern multi-effects processors are simply impressive. It is very hard to differentiate the sound of a vintage real tube amp and the sound from a digital circuit of the multi-effects unit that replicates a vintage tube amp. So that is why these units are praised by most guitarists.
There are plenty of multi-effect pedals that come in different models from different brands. They have slight differences in terms of price, size, tonal tendency, versatility, and features offered. So be sure to check them out carefully and analyze what you need and expect from a multi-fx processor before purchasing one.
All the models in the list are some of the best-selling and most popular processors for different budgets for you to check.
If you found this article useful, you may want to save this pin below to your Guitar board.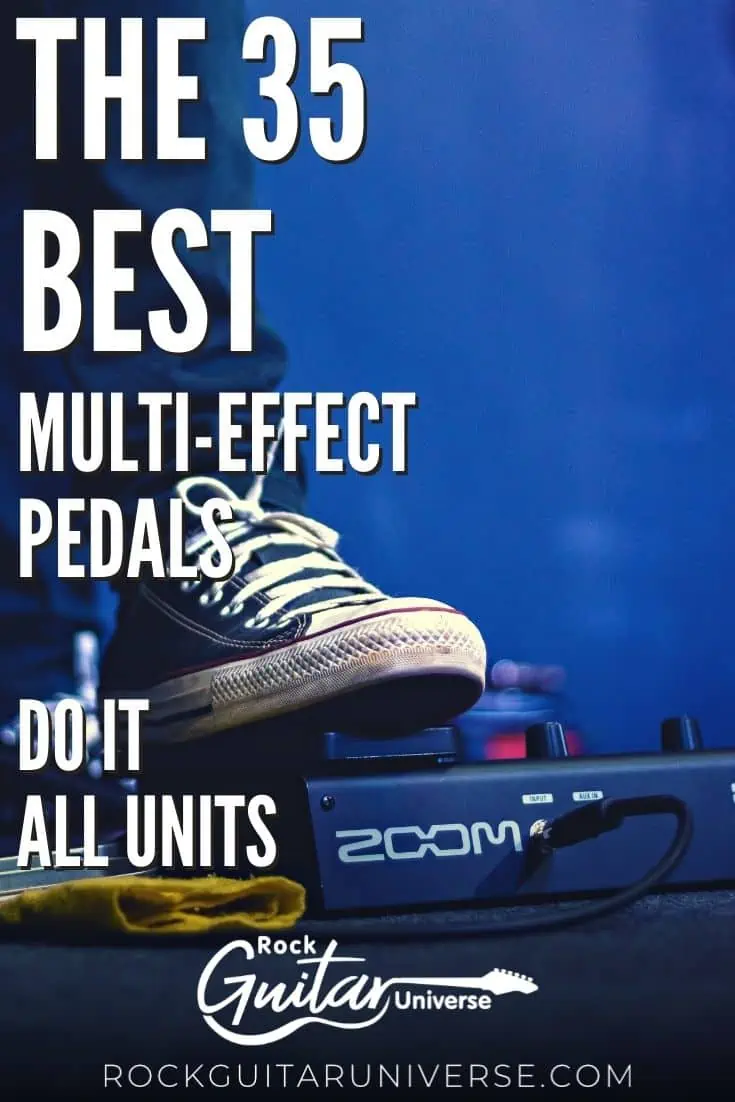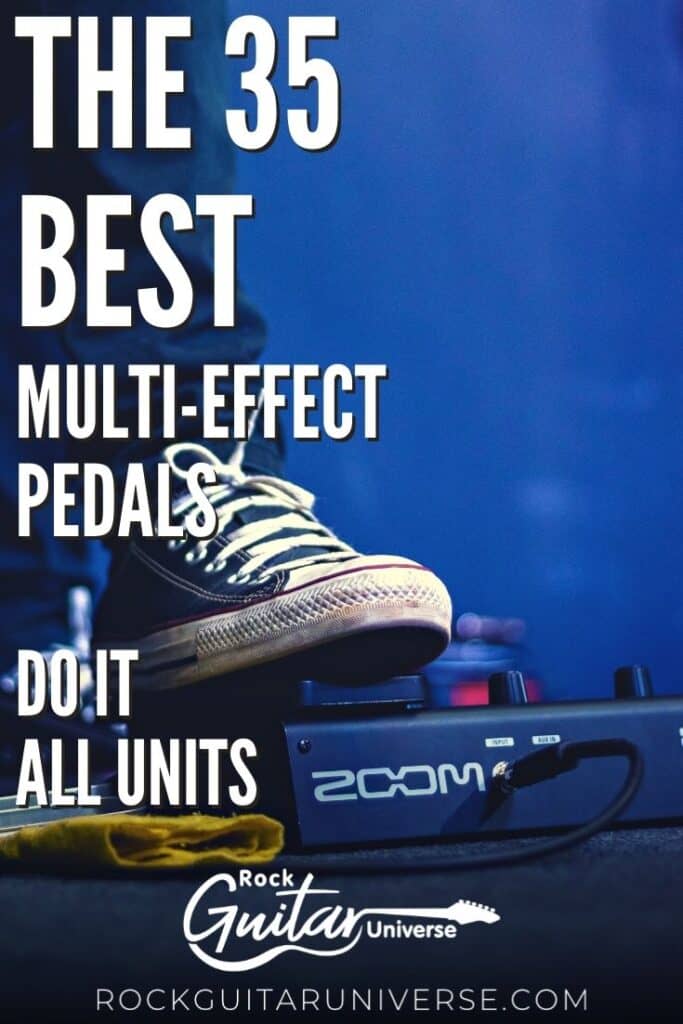 Last update on 2023-10-05 / Affiliate links / Images from Amazon Product Advertising API