After the guitar, a decent guitar amp is one of the most significant purchases a guitarist will make. But arguably amp is more important to your overall tone than the guitar. In the beginning, the amp you'll crave will be something your guitar hero plays, but later, you'll figure out your style, and you'll want something that will fit your style the best.
There are so many different amp models on the market today that you need to do serious research to find the ideal one for you. Cheaper digital modeling amps are a great starting point. Then there are a lot of mid-priced tube amps, and for most people, this quest will end. But for some that want more, there are also expensive boutique amps that feature all you can imagine.
Boss Katana Artist MkII 1×12
Digital combo amp
5 different amp voices, including clean, crunch, brown, lead (from the BOSS Waza), and Acoustic mode
10 total core amp tones with the variation switch button
60 great-sounding Boss effects, customizable and accessible with the Boss Tone Studio
Cranked amp tone even at lower volume thanks to the variable power control
Boss Katana Artist MkII is one of the most famous and best-selling amps today as it offers a great variety of tones, features, and tone-shaping options to players. Katana has Tube Logic amp models with different voicing for each mode, with a total of 10 core tones available by default.
There is a 3-way mid contour to smooth out vintage voices and 5 simultaneous effects for giving unique spices to each. The amp also offers a classic amp playing experience if you do not want to get things complicated.
The amp has a simple layout, but it is extremely versatile thanks to the sophisticated amp rigs, tones, effects, MIDI footswitch support, and a stereo link to benefit from both sides of the stage. The options include delays, 3D reverbs, and many more. The Artist MK II has a Class AB power component that delivers 100 watts of tube amp push and pulls.
Finally, there is the custom-voiced WAZA 12-inch speaker for punchy bass response, rich tonal harmonics, and clear sound, as well as great mid and high-frequency response.
Electro-Harmonix Dirt Road Special 40-watt 1×12
Transistor amp combo
Cassic '70s amp design
Sturdy construction
40 Watts of power with a 12″ speaker
Holy Grail Max for 4 types of foot-switchable reverb settings
Great dynamics
Natural overdrive when strummed hard
Dirt Road special is the iconic old amp of Electro Harmonix, which was brought back a few years ago by the company. The compact 40-watt amp has a 12" speaker, and the reissue model is much more durable, as the internal parts, system, and design are upgraded for a more sturdy amp.
The amp features four footswitchable reverbs, including spring, plate, hall, and reverse, created with the Holy Grail Max. The system adds great dimensiınality to your tone. When strummed hard, the amp sounds clean and breaks up into natural overdrive. The dynamics can be adjusted with the interactive volume and bite knobs for more natural overdrive creation or more compressed tones.
Fender Mustang GTX 100 1×12
Digital amp combo
Upgraded model of Fender's famous Mustang modeling amps
Highly versatile with 40 amp models and tens of effects
Excellent looper with the Fender Mustang GT Footswitch
USB connection option for recording with your PC
Preset slots to save and recall personalized tones
Bluetooth streaming option for playing along with
The latest model and the most advanced amp in the Fender Mustang line is the Fender Mustang GTX100. The GTX 100 has an upgraded amp circuit, speaker, and cabinet, along with the classic 200 presets a wide range of effects, and excellent connectivity options. The amp sounds fantastic and powerful with its 100-watt power output and 12" Celestion speaker. Combined with the high tonal versatility provided by the tone-shaping options, GTX 100 is a hard-to-beat Fender amp.
With a Wi-Fi connection, you can download new amp updates and presets to the amp, have total control over all effects with teh Fender Tone 3.0 smartphone app, and stream audio playback with the Bluetooth connection.
Line 6 Catalyst 60 1×12
Digital amp combo
Versatile with 6 original amp models for many tones from high-gain metal to warm cleans
Speical reverb modes with 6 different reverb styles
18 effects in total
Built-in power attenuator, mute function for at-home playing and recording
4-channel USB audio interface function
Effects loop, power amp, and MIDI inputs
Catalyst edit app support on PC and smart devices
Line 6 Catalyst 60 is a fantastic amplifier with 60-watt output power and a 12-inch speaker, along with great features making the amp an ideal choice for gigs, home practices, and recording sessions. The Catalyst 60 features a 6 original amp design that arms you with a versatile range of tones, from high-gain metal tones to warm cleans for blues, jazz, or classic rock.
On the other side is the built-in-effects sectiın with 18 total effects and a dedicated reverb sectioın with six unique reverb types. With all these tone-shaping optiıns, the amp is one of the most versatile on the list.
The power attenuator is another fantastic feature, allowing you to adjust the power output according to your environment. You can use the amp with half power, muted, or 0.5 watts when you need to be quiet. Plus, the amp can act as a 4-channel USB audio interface.
Positive Grid Spark Combo Amp
Digital amp combo
Spark App for tone customizations and greater control on the smartphones
Over 10.000 presets for electric guitar, acoustic guitar, and bass
Dual 4" Ported hi-fi speakers
40 watts output power
It can be controlled with voice commands
Smart tracks for guitar progressions that create live bass-drums accompaniment
Creates chord charts for songs loaded from Youtube, Spotify, or Apple Music
It comes with PreSonus Studio One Prime DAW and can be used for recording with a USB connection.
Positive Grid Spark combo amp features one of the most extraordinary value-for-price ratios ever an amp had in the guitar amps market. It is a breakthrough model offering a new way to jam, track, practice, and learn songs with its innovative features. The 40-watt amp provides a great sound and is exceptionally versatile with 10000 classic BIAS amp-pedal-cab presets. The 4" ported hi-fi speakers work great.
The amp also acts as a USB audio interface as you can directly record into your DAW with the USB connection and 1/8-inch TRS headphone output. The voice control via the Spark smartphone app function is highly handy as you can simply say "Get me Slash's tone" to have a tone similar to Slash. The amp even creates chord progressions for different songs and offers excellent real-time drum and bass accompaniments when you play your guitar.
Quilter Labs Aviator Cub 50-watt 1×12
Transistor amp combo
50-watt output power
1-channel amp with 3 inputs
Tweed input, blonde input, black input modes for different tones
12-inch speaker with vintage sonic character
Built-in limiter to control volume for better sustain
Headphone output for personal playing sessions
The Quilter Labs Aviator Cub is an excellent 50-watt amp with 1-channel and 3-input design. The Tweed, Blonde, and Black inputs provide great distinctive tones. The Tweed input provides a classic clean tone, while the blonde input delivers bell-like tones with a throaty growl. On the other hand, black input is made for quintessential rock tones.
The amp also has a 3-band EQ, built-in limiter, and an effect loop port. The 12-inch speaker is created by Eminence and sounds pretty great. Furthermore, the line and headphone outputs make it easy to use the amp on the stage or at home for personal playing sessions.
Roland JC-40 Jazz Chorus 2×10
Tube amp combo
Compact size amp with the iconic classic Jazz Chorus
40-watt amp power, stereo sound, 10" speaker
Mono and stereo input options to use with guitars, keyboards, processors, etc.
Versatile with many effects such as chorus, reverb, distortion, and vibrato
Stereo effects loop port
Roland JC-40 Jazz Chorus 2×10 is a highly versatile combo guitar amp for amazingly detailed clean tones. The amp has the sonic character and quality of its bigger brother JC-120, which became an iconic sound with great clean tones.
The amp has a versatile effects section with vibrato, chorus, reverb, and distortion. If you want to use different instruments like a keyboard, the JC-40 has stereo inputs as well as outputs and an effects loop channel for the occasion. With this compact amp, you can get the ultimate clean tones you are looking for.
Vox AC15C1 1×12
Iconic British combo guitar amp
15-watt output power
25-watt Celestion Greenback speakers
Top Boost and Normal channels
Spring reverb and tremolo effects
EL84 power tubes
Vox AC15C1 Custom provides the players with the great sounds of iconic British combo amps. That is the sound that made Vox famous in the first place, which is the classic chime and complex grind of British tube amps. The amp was and is one of the most popular ones and can be seen on the stages worldwide.
The AC15 Custom 15-watt delivers excellent volume and sonic character. It is pretty powerful, and the sonic detail and quality are exceptional. The 25-watt Celestion Greenback speaker is one of the show's stars as it significantly mellows down the harsh high frequencies. If you want a Vox with a vintage look, the AC15 Custom is the ideal choice.
Supro Delta King 12 1×12
Tube amp combo
Classic Supro tones with 6L6-loaded Class A power
Master volume control for distorting tones at lower volumes
FET-driven boost for strengthening the midrange response
Pigtronix FAT mode for high-gain tones with a huge response
Distinctive analog spring reverb effect
The Delta King 12 1×12 is a modern reissue of the British Invasion-era Supro from the mid-60s. The amp creates all the crunch early Supros used to produce without the need for high volumes, and as a 12-watt amp with a 12-inch speaker, it is ideal for bedroom guitarists. The amp features a 6L6-loaded Class A power section, a custom 12-inch Supro speaker, and basic control for shaping the perfect tones.
With the Pigtronix FAT high-gain mode and FET-driven boost, you can quickly thicken up your tone. On the other side, analog spring reverb gives incredible depth and dimension to your sound. If you want a reminiscent of the iconic vintage amps, Supro Delta King 12 is a great choice.
EVH 5150 Iconic Series 40-watt 1×12
Tube amp combo
Extra voicing on each channel gives you added sonic versatility
Footswitchable Boost function adds another 10dB to your lead channel's signal
Smooth-sounding reverb injects your playing with depth and dimension
The speaker-emulated output makes DI-ing super simple
Dual parallel speaker outputs provide no-fuss expansion
High-quality effects loop for integrating your pedalboard and outboard processors
EVH 5150 Iconic Series 40-watt 1×12 is a great amp that provides two channels of tube-style EVH-type tones. The tube amp combo equips you with all you need to cover the full gamut of Edward Van Halen's iconic hard rock sound.
There are great options for tone-shaping with gain and volume knobs, 3-band EQ along with presence and resonance controls. Thanks to its sonic quality and versatility, the amp performs excellently on the stage and in the studio.
The amp comes with an EVH Celestion speaker and custom-made cab-producing pristine cleans and articulated distortion tones. The low-end response of the amp is also great. The 5150 Iconic series amp combo features a noise gate, top-quality reverb, and Boost function that can be activated with a footswitch. Overall, it is a great combo amp for hard rock tones.
Blackstar HT Club 40 Mark II 1 x 12
40-watt all-tube 1 x 12-inch guitar combo amplifier
Footswitchable 2-channel design
12-inch Celestion speaker
Clean channel with coax sparkling
Versatile with Infinite Shape Feature (IFS), delivering different tones
Speaker emulated output for recording or PA
Different reverb styles
Effect loop
Blackstar HT Club 40 Mark II 1 x 12 is one of the most famous amps today, thanks to its high versatility and great sound. The amp has excellent updated, clean channels with a unique sound. The overdrive channel delivers British-style grit with the tight and punchy response due to the Infinite Shape Feature (ISF).
There are two different reverb modes and speaker-emulated outputs on the backside, which makes the recording better and easier. If an amp with versatile sound is what you are searching for, Blackstar HT Club 40 Mark II might be the ideal one.
Fender Blues Junior IV 1×12
Tube amp combo
15-watt power output
12-inch Celestion A-type speaker
Spring Reverb effect
Fat switch button
3-band EQ
Fender Blues Junior IV 1×12 is another popular amp among guitarists after the all-tube amp sound of vintage blues pieces. It is an excellent amp for clean and slightly overdriven tones. It comes in a giggable size, pedal-friendly system, and a significant volume range.
The Celestion A-type 12-inch speaker delivers excellent sonic character, and smooth reverb gives more versatility to the device. The amp also has a unique legendary look that shines on the stage or in the studio.
ENGL Ironball 20W Tube Head
All-tube head with 2 channel design
20-watt, 5-watt, 1-watt, and speaker-off options
The clean channel delivers crystal clean sound and handles crunch well
The lead channel is excellent for high-gain tones for modern players
3-band EQ
Presence and master volume controls
Gain and volume boost and foot-switchable reverb
Effects loop
ENGL Ironball 20W Tube Head is a great all-tube head and is one of the top-of-the-line amps that rock and metal players prefer. The sound quality provided by the amp is fantastic and is ideal for rock-solid tones on the stage, in the studio, or at the house.
Although the amp has a compact size, it delivers a massive sound with different power options, including 20, 5, and 1-watt power options, as well as a speaker-off mode for a personal playing experience. The amp offers great shimmering cleans and ferocious distortion at any volume level.
PRS Mark Tremonti MT15 Head
Mark Tremonti signature model compact tube amp head
2-channel design
Full-Half power switch for 15-watt or 7-watt power
Effects loop
The PRS Mark Tremonti MT15 15/7-watt tube amp head is the signature model of Alter Bridge's great guitarists. It delivers great high-gain detail, crystal cleans, and versatility that Mark Tremonti likes on the stage and in the studio. The amp has 15 watts and 7-watt switches in a compact design which makes it great for homes, studios, and stages at the same time.
The MT15 has a two-channel design which is flexible enough for great tonal shaping options. It can be used for many different playing styles and genres, just like Mark Tremonti does.
Bugera V22 Infinium 1×12
Tube amp combo
12AX7 and EL84 preamp and power tubes for great distortion tones
Turbosound speaker made in Britain for excellent sound quality
Infinium Tube Life Multiplier technology for long-lasting tubes
Classic 3-band EQ and presence controls
Normal and bright inputs for optimum tones
Reverb effect with dedicated control
If the vintage looks and sound are what you are looking for, Bugera V22 Infinium might be great. Equipped with three 12AX7 preamp tubes and dual EL84 power tubes, the amp delivers amazing distortion tones with its 22-watt power design.
The amp provides fantastic performance with its two independent channels, reverb effect with dedicated control, and British-engineered exceptionalş Turbosound speaker, either on the stage or in the studio. The V22 Infinium provides good tones and versatility as well as durability, thanks to the Bugera's Tube Life Multiplier tech. The technology prolongs the life and enhances the performance of the tubes.
Egnater Tweaker-40 112 1×12
Tube amp combo
11 switches to help dial in your tone
Buffered effects loop
Celestion GH-50 speaker
USA/AC/BRIT switch
Many, if not most, guitar players are continually on a quest for the perfect tone. Egnater Tweaker-40 offers excellent tonal options with its two independent channels for that goal. Each channel has its controls, and the amp has 40-watt power output with a 6L6 power tube design and a custom-voiced Celestion GH-50 speaker.
There are 11 control switches on the control panel, which you can use to shape your tone effectively. The vintage-modern switch is the most eye-catching one, which allows you to shape your sound according to modern or classic rock tones. The hot-clean button is also great for adjusting gain, and the mid-cut switch, USA/AC/BRIT switch, and Egnater's signature tight and bright controls all add significantly to the amp's versatility.
Peavey Classic 30 II 30-watt 1×12
Tube amp combo with 2-channel design
Single 12" speaker
30 watts output power
Spring reverb
Footswitchable channels and included footswitch
3 x 12AX7 preamp tubes and 4 x EL84 power tubes
Great for rock, blues, and country tones
Additional output for an extra speaker cab
The Peavey Classic 30 112 tube combo amp is another iconic amp from the old days. There are three 12AX7 preamp tubes and four EL84 power tubes providing excellent power and headroom for every sound from chimy cleans to crunchy vintage overdriven tones.
The spring reverb sounds pretty sweet and gives great depth to the tone. The amp is basic yet does its job amazingly.
Revv D20 20/4-watt Tube Head
The all-tube guitar amplifier head
Cabinet Emulation tech created by Two Notes
6 adjustable virtual cabs
Option for bypassing the tube power amp and using a simulated power section
Reactive load to protect the ammo when there is no speaker present
Power-reduction circuit for great tones at lower volume levels
FX loop for pedal integration
The all-tube amp head Revv D20 20/4-watt shines with great tubes inside, such as 6v6s and 12AX7s. The virtual cab tech is fantastic and shows that it is made by virtual cab tech masters Two Notes. The amp offers great tonal shaping options with the 3-band EQ, volume, and gain controls, as well as the push-pull gain pot that leads to a crunchier sound. Plus, the power reduction circuit is great for having the same sonic performance even at lower volume levels.
The FX loop and reactive load for amp protection are also great additions that provide versatility and durability to the amp.
Rivera Clubster Royale Recording Head
All-tube amp head with 25-watts power
2-channel design
Design to have the Rivera's Knucklehead sound
6 spring Accutronics reverb options
6 amazing speaker voices
Output sans EQ for using with the speaker IRs
Half-power switch
Effects loop
The dual-channel Rivera Clubster Royale Recording Head is an excellent all-tube guitar amp head equipped with 25-watts power, 6 springs, Accutronics reverb options, and 6 fantastic speaker voices. The amp head is designed to have the iconic Knucklehead sound to cover all the tones, from smooth cleans to hot and crunchy overdrives.
The amp has six high-quality speaker voices for direct recording, and you can pair the Cubster with your desired speaker IRs. Even at lower volume levels, the robust tone, due to the half-power switch, is excellent for playing the amp at home due to the half-power switch. Thanks to its versatile design, the amp is a real swiss army knife of the amp world.
Victory V40 The Duchess
Tube amp head with a single channel
2 voice options, including American tube combo swagger and British valve head tones
EL34 and 6L6 tubes
Digital reverb with a smooth and modern sound
Effects loop
Low-power mode
Victory V40 The Duchess is a 40-watt tube amp with a single channel design and 2 voice options. On one side, it provides the classic sound of the American combo amps, while on the other side, it delivers the aggressive and crunchy character of classic British tube heads. And it does all of this with a single channel.
Furthermore, you get entire control over shaping the sound of the amp. With three tone controls and a Mid Kick, the feature gives you the opportunity to shape your sound as you like. The effects loop and reverb effects add to the value of the amp and provide versatility.
Orange Rockerverb 50 MKIII Head
Tube amp head
50 watts all-tube power
Dual-channel and revoiced system for higher versatility
Foot-switchable attenuation and power-scaling for dynamic control
Spring reverb
Effects loop
The orange amp is one of the most famous names in the amp world, thanks to its new era in the 2000s. The Rockerverb series, which created the new era of the Orange amp series, became one of the most used amps in the world shortly after its release. The all-tube amp, Rockerverb, is the result of the fine-tuned adjustments made over a decade. In the end, the amp became a game-changer.
The MKII has a newly-voiced clean channel, providing chimy cleans, while the dirty channel allows you to shape your sound anywhere between vintage British crunch and modern heavy metal. With the power scaling and footswitchable-attenuation added, the amp becomes a workhorse that never lets you down.
Synergy SYN-30 30-watt Head
Tube amp head for Synergy preamp modules
4 12AX7 preamp tubes ensure rich harmonic performance
2 6L6 power tubes provide loads of clean headroom
The built-in clean channel delivers high-headroom cleans
Preamp module dock unlocks two additional channels of boutique-quality tone
Modular preamps are voiced by the industry's most renowned amp designers (modules sold separately)
Global Presence control shapes your amp's overall character
Transparent effects loop for integrating your external pedals and processors
The SYN-30 packs the power of Synergy's modular preamp system into an all-tube amp head. The 6L6 tubes provide excellent clean headroom and make the SYN-30 a fantastic choice for favorite modules. It allows you to pull off pushed crunch if that is what you seek.
The SYN-30 includes a built-in clean channel and preamp module dock, giving you a total of three foot-switchable channels. The industry's most renowned amp designers have voiced Synergy's modular preamps, and the SYN-30 is a great way to push these legendary tones through a cabinet. The SYN-30 features a cabinet-simulated output, MIDI programming, and an effects loop.
Hughes & Kettner GrandMeister Deluxe 40
Tube amp head
128 unique tones
Great-sounding modulation effects
Power soak system for better cranked amp sound quality at lower volumes
Onboard Red Box AE
Controllable with iPad with the GM40 Remote app
One of the most versatile amps is the Hughes & Kettner GrandMeister Deluxe 40 tube guitar amplifier head with 128 unique tones and great-sounding modulation effects. The amp performs great whether you are playing jazz, blues, or even death metal. The all-tune tones of the amp are tremendous, and you can save up to 128 presets.
The cranked-up amp tone is excellent at every volume level, thanks to the adjustable power output and onboard Red Box AE; the cranked-up amp tone is perfect at every volume level. Onboard modulation and reverb effects give depth and sweetness to your style. The versatile amp is excellent for most applications and is recommended for any player.
Fender '65 Twin Reverb
Tube amp combo
85-watt power output
2-channel Vintage Reissue Series
4 12AX7 and 2 12AT7 preamp tubes
4 Groove Tube 6L6 output tubes
2 x 12-inch Jensen speakers
Reverb, tremolo, 2-button footswitch, and tilt-back legs
Another highly popular tube amp combo is the iconic Fender '65 Twin Reverb. It does not matter if the guitar has single-coils or humbuckers, as Fender Twin Reverb provides excellent clean tones with its 85-watt all-tube circuit. The amp's great clean tones are highly popular and are used by many guitarists for different genres such as classic rock, country, blues, jazz, fusion, and more.
The amp is very loud and powerful with its dual 12-inch Jensen speakers. It has a fully throated sound and a beautifully glassy tone.
Marshall JTM45 Head
30-watt tube amp head
Successful reissue of the iconic JTM45 amp
GZ34 tube rectifier
Ideal to use with a gain boost pedal
Straightforward controls for great 60s-style tones
Marshall JTM45 Head is another legendary amp created as the reissue of the iconic JTM45 amp from the 60s. Marshall's legendary amp was on almost every stage back in the day and was an iconic amp among the classic rock and blues scene.
The legendary guitar tones of many guitarists are thanks to this amp, and its sonic sweetness is provided by the GZ34 tube rectifier, which adds the natural sustain and compression that the amp is famous for. Simply it is a fantastic amp if you like vintage classic rock tones.
Mesa/Boogie Mark Five 1×12
3-channel tube amp combo
Extremely versatile with 3 voicings on each channel
Graphic EQ
Multi-Watt power control
Simul-Class to alter amp's power layout
Hard-bypass switch to get rid of FX loops, output level land solo level controls in the signal chain
Mesa/Boogie Mark Five 1×12 is another iconic tube amp combo with a 3-channel design. It is a remarkably versatile amp as it has 3 voicing in each channel, with 9 voicings in total. Thanks to its fantastic tube amp distortion sound, the amp is widely used by hard rock and heavy metal guitarists. The high-gain monster offers fat and broad tones of the Mark IV with slight upgrades.
The Mark V delivers the guitarists the classic British crunch as well as highly-coveted Boogie-style overdrive. The 5-band EQ, multi-watt, and simul-class power, along with the 3-channel design, gives the great amp versatility, while the clarity, punch, and crispiness of the amp give you a top-notch amplifier to use with high-gain tones.
Tone King Imperial Mk II 1×12
Tube amp combo with boutique-style American tones
The 2-channel design offers Cali-style cleans and grinding tweed-style tone.
The onboard power attenuator provides cranked tone at a quiet volume
Custom-voiced Eminence Tone King 33 12″ speaker
Bias modulation tremolo circuit delivers a vintage-style pulse
Tube-driven spring reverb with wide-ranging control
Tone King has been hand-building their flagship Imperial 20-watt 1 x 12″ electric guitar combo amplifier for 20 years. Upon its release, it was one of the best-sounding American-voiced amps. Twenty years on, Tone King has improved on the design with the Imperial MK II.
The MK II's two channels will sweep you through California cleans to syrupy, tweed-style overdrive. And the amp's tube reverb and tremolo further enhance the amp's vintage leanings. Factor in the onboard Ironman II power attenuator, and the Imperial MK II continues the model's rich legacy of top-notch tones.
Morgan Amps AC20 1×12
Tube amp combo
20-watt all-tube Class A amp
Variable power scaling goes from 20 watts to 0.25 watts
Simple cut, volume, bright, and bass controls
EL84 Class A power section
Celestion Creamback 12-inch speaker
Morgan Amps AC20 1×12 offers the chime and clarity most guitarists seek in their tones. The amp provides rich harmonics with its tube amp 20-watt class A design. Thousands of guitarists rely on Morgan Amps AC20 when creating their tones as they perform exceptionally.
The amp delivers great tones either with the clean mode or British-style overdrive. The amp features an outstanding level of touch sensitivity which is one of the main reasons it is so popular. The power scaling option allows you to adjust the power between 20 watts and 0.25 watts.
Magnatone Panoramic Stereo 2×10
All-tube combo amp with stereo sound
12 x 12-watt EL84 power sections
Stereo effects like pitch shifting, tremolo, and Accutronics reverb
Foot-switchable effects
Dual Jensen 10" speakers
External speaker and line outputs
Magnatone Panoramic Stereo 2×10" all-tube amp shines with its vintage-style effect options and tones. Its compact shape is great for gigging, recording, or practicing. The amp has a highly detailed clean tone and amazingly gritty power-tube overdrive, which the brand is famous for.
The onboard effects and dual power sections with 12-watt power provide old-school sonic performance options, including stereo pitch shifting, spring reverb, and tremolo effects. The dual Jensen 10" speakers also perform great with the rest of the design.
Friedman JJ-Junior 1×12
Tube amp combo
20-watt, 2-channel Jerry Cantrell Signature amp
Gain, saturation, and compression by the JBE Switch
Handcrafted amp with great components
Presence control and bright switch for tone shaping
Effects loop
The Friedman JJ-Junior 1×12 is the Jerry Cantrell Signature model combo amp which delivers the dark and deep tones of the JJ-100 model in a compact size for gigging and practicing. The 20-watt amp is created for the Alice In Chains guitars Jerry Cantrell and provides that heavy sound that the guitarist is well-known for.
THe JJ-Junior features great tones with punch sustain that the modded British amps are famous for. However, this amp does not have the harsh high-end frequencies that British amps have. The amp is powered up by the EL84 power tubes. It is a great amp for killer rock and metal tones.
Wampler Bravado 1×12
Tube amp combo
40 watts power output
Great performance with effect pedals
Harmonically rich and punchy tones at all volume levels
12" Celestion Creamback G12M-65 speaker
Fat switch and Bright switch with 6 positions
Effects loop
The Wampler Bravado tube combo amp shines with its greatly pure sound. The amp is created to be the perfect clean platform for effect pedals with the sparks and punch you want from a great tube amp added. When you combine the amp with effect pedals, the sound stays tight and focused.
The amp delivers excellent depth and detail instead of flattening your tone when effects are added. It also has an active effects loop designed by Dave Friedman, the master amp builder.
Soldano SLO-100 Head
Tube amp head
100-watt power output with a 2-channel design
Bright and Crunch switches with the crystalline clean of the normal channel
Overdrive channel with a super-thick and fat sound
Preamp gain and master volume controls
Great construction and durability
Soldano SLO-100 Head is not an ordinary high-gain tube amp head as it is much more than that. The amp is called the fire-breather due to its cascading-gain preamp design, which provides considerably juicy, fat, and thick tones for many genres, from red-hot jazz fusion to heavy metal and whiskey blues. The amp is also appreciated for its dynamic sensitivity, which gives it a unique voice.
The 100-watt amp has 2 channels and features a preamp gain and master volume knobs on the control panel. It also has an effects loop and a variable slave output for DI configurations.
Bogner Ecstasy 3534 35-watt Head
Tube amp head with 3 channels
35-watt design with classic Bogner tone
Channel 1 has volume, bass, mid, treble, and gains controls
Channels 2 and 3 have shared bass, mid and treble knobs, and independent volume and gain knobs
Shared Presence control knob
4 footswitch accessible sounds
Effect loop
The Bogner Ecstasy 3534 blends 35 watts of EL34-loaded tube power into a relatively compact amp head. The 3-channel workhorse has all you want for shaping your tone with its excellent range of control knobs and much more.
It does not matter if you want crunchy blues tones, raging high-gain tones, or crystal clear tones, the amp can deliver, and you can switch between them with the four-footswitch accessible sounds.
Dr. Z Z Wreck Jr. 15-watt Tube Head
Tube amp head
15-watt output power
Great dynamic response and high headroom
EL84 power tubes
Simple Control panel with volume, treble, bass, and cut dials
5Y3 rectifier tube
Many guitarists consider the original Z Wreck amp the definitive Dr. Z guitar amp. The Z Wreck Jr. tube amp head has 15-watt power output, with which it delivers that iconic touch response and tonal range, all thanks to the convenient master volume control.
Dr. Z's Nova, MAZ, and Jetta amp models all have the same post-phase inverter volume circuit, which is famous for the ability to dial down the volume without sacrificing tonal quality. Finally, the amp has aluminum chassis, which increases its durability.
Diezel Herbert III 180-watt Head
Tube amp head
Powerful with the 180-watts power output
12AX7 preamp tubes and KT77 power tubes
Parallel, series, and switchable effects loops
3-channel design
3-band EQ for each channel
MIDI switchable design
Diezel foot control jacks
The Diezel Herbert III 180-watt Head is an actual power machine with its 180-watt power output and 12AX7 preamp and KT77 power tubes. It is the ideal amp for a down-tuned guitar for modern metal tones. The nature of the infinite headroom provided by the amp makes the amplifier a true fire-breathing dragon. The amp has a tight and articulate sound and a MIDI programmable switch on channel two.
Diezel Herbert III 180-watt Head is highly versatile as it performs great whether you play clean or high-gain tones. The 3-channel design and 180-watts of power provide great tones for high-gain aficionados.
Conclusion
As you saw in the article, there are amps for all tastes and styles as well as all budget ranges. It's up to you to figure out what you're looking for from the amp and how much you are willing to spend. There is a constant debate about whether you should buy expensive guitar and a cheap amp or vice-versa. I think that is personal, and each of us should decide for ourselves.
But to achieve a great guitar tone, it's impossible with a bad-sounding amp, even if you have a 10000 $ guitar. A good guitar amp is a must-have for a good tone. Even if you use a lot of pedals, you still need a good pedal platform amp. So don't hesitate when it comes to buying an amp, to give a few extra dollars will definitely be a good decision.
If you found this article useful, you may want to save this pin below to your Guitar board.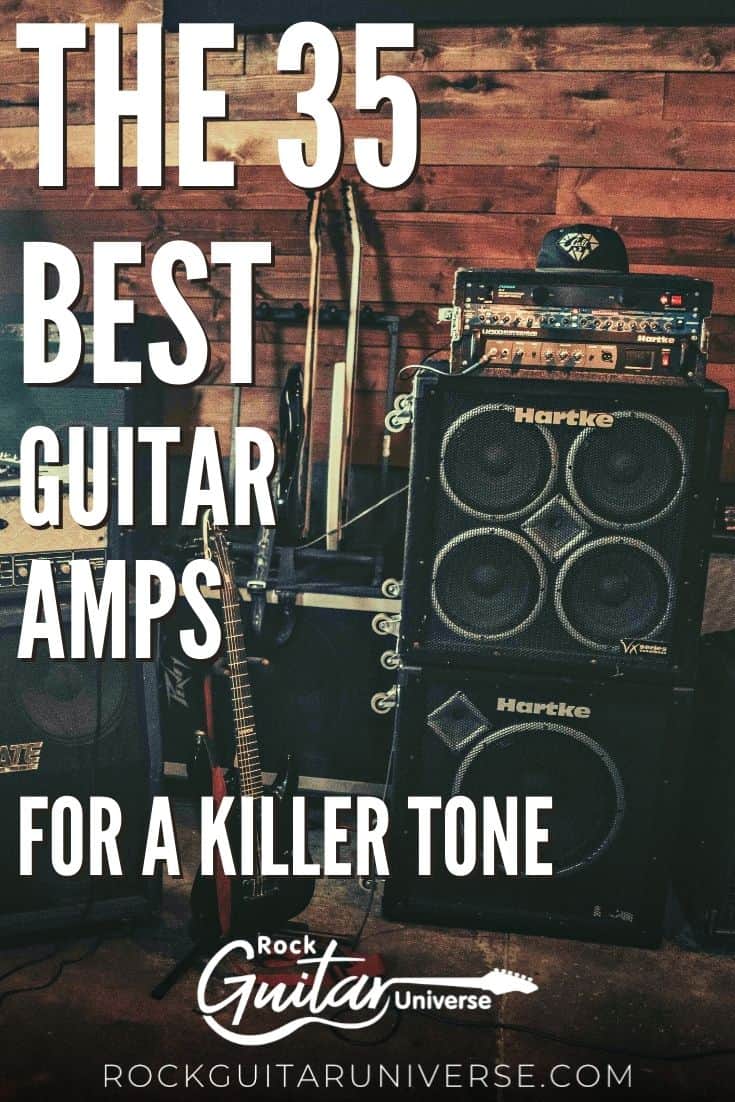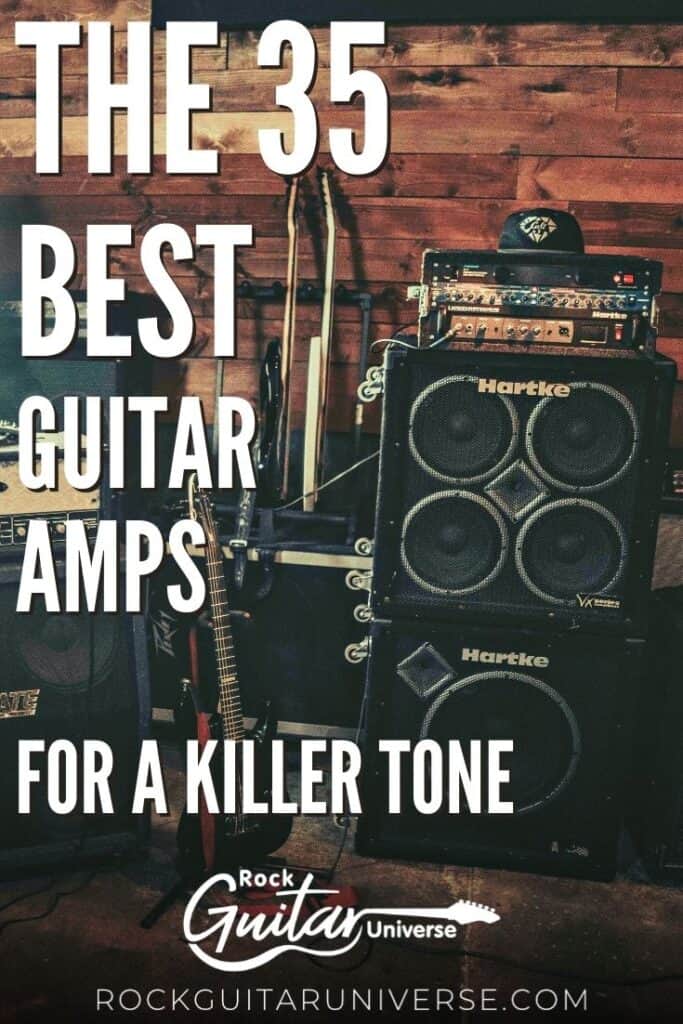 Last update on 2023-02-06 / Affiliate links / Images from Amazon Product Advertising API