While playing clean is great, having some different effects in your setup gives you plenty of versatility to shape your sound as you like whenever you need it. As part of the modulation family, phaser pedals are some of the unique effects you can deploy to add movement to your tone.
Phaser effects can be used to add dramatic swirls or layers to your sound for a unique tone. They can also be used to add extra body to your tone or to replicate a rotary speaker. If you want to hear some unique use of the phaser effect, you can check out Van Halen's iconic song, Eruption or Breathe, by Pink Floyd.
Here are some top-notch phaser pedals you can buy today to add versatility and quality to your tone.
MXR Phase 90
Analog 4-stage phaser pedal
A rich and warm tone with shimmering velocity
Iconic pedal used in many recordings
Simple and compact design
9 V battery power
As one of the most iconic pedal brands, MXR created the MXR Phase 90 back in 1974. The 4-stage phaser became one of the most popular phaser pedals and was used in many iconic recordings. The pedal provides great tones from on-bubbles to smooth ranges.
MXR Phase 90 is a simple pedal with a straightforward design. It only has a speed control on the control panel along with the True Bypass button. It works with 9 V battery power, but you can also purchase an adapter separately.
Many guitarists like Eddie Van Halen used Phase 90 as their primary phaser. As an affordable pedal, it is one of the best options for guitarists looking for quality without breaking the bank.
MXR Phaser 95
Analog 2-stage, a 4-stage phaser pedal
Iconic pedal used in many recordings
Compact design
Versatile with added controls
Speed knob, 45/90 toggle switch, and Script switch
9 V battery power
MXR Phaser 95 is the next level MXR Phase 90 with added controls for extra versatility. It is one of the most iconic phaser pedals used by many great guitarists, just like its small brother. The Phaser 95 not only has the speed control like the 90 models but also a Phase 45 circuit for a two-stage phaser effect along with a Script switch.
This way, you can reach vintage and modern tones whenever you like, making the pedal quite versatile for most situations. The compact design is also great for fitting the pedal easily to your pedalboard. If you like the MXR Phase 90 iconic phaser effect and looking for some extra flexibility added, this one could be a great addition to your setup.
Fender Lost Highway
Analog 4-8 stage phaser pedal
Slow and moody ranges to rapid and warped modulation
LED-illuminated controls
Rate 1, Depth 1, Rate 2, Depth 2, Blend, Feedback, Sensitivity, Stages, Wave, Slow/Fast Footswitch controls
9V DC power adapter
Fender Lost Highway is one of the most versatile phaser pedals with four and eight-stage analog phasing. The plenty of controls give the flexibility to shape your sound with the fast-slow footswitch, independent rate and depth controls, blend, feedback, sensitivity wave, and stage controls.
The boost button is great for any kind of midrange dip, and the toggle switches provide a wide phasing range. If you are using the phaser effect constantly and have to change your sound according to your needs, this pedal is a great choice with its high versatility and quality phaser effect sound.
Electro Harmonix Small Stone
Analog phase shifter pedal
Color switch and rate control knobs
True Bypass switch
Radiohead-style effect swirls
Classic analog phaser effect
9V DC power adapter
Another one of the classic phaser pedals is the Electro Harmonix Small Stone, which shines with its spacey swirls that add an ethereal atmosphere to your tone. It is frequently used by alternative rock bands such as Radiohead. If you listen to the OK Computer album, you will hear that the pedal is one of the most dominant effects.
The color switch adds a bit of versatility to the pedal and gives a more pronounced frequency shift. The pedal combines simplicity and quality amazingly, making it one of the best phaser pedals out there.
Keeley Dark Side
Analog Fuzz pedal with DSP effects
Fuzz, Delay, Rotary/Flange, Phaser/U-Vibe
Multi-effects pedal with high versatility
Based on Pink Floyd style effects
9V DC power adapter
Keeley Dark Side is a versatile multi-effects workstation with a great range of effects. The pedal was built around the iconic tones of Pink Floyd to create the psychedelic and other-worldly tones of David Gilmour.
The pedal provides fuzz, delay, phaser/U-vibe, and rotary/flange effects, which you can control through the control panel with Mod Level, Fuzz Level, blend, depth, rate, filter, and fuzz knobs. You can also connect an expression pedal to the Dark Side, which is great if you want to use it on the stage.
Mojo Hand FX Mister-O
Analog six-stage phaser pedal
Vintage tones based on the '70s rock sound
Unique LFO waveform with different speeds
Depth, Speed knobs, and Color switch
9 V DC power adapter
Mojo Hand FX Mister-O is a great six-stage phaser pedal created with inspiration from the Maestro Phaser of the '70s. There are some upgrades and improvements to that original pedal in this one, but the unique LFO waveform is still there.
On the control panel, there are depth and speed knobs to adjust your tone, while the Color switch is great for controlling the feedback regeneration. So if you are looking for an affordable way to get the unique vintage phaser effect, this pedal might be a great option.
Walrus Audio Lillian
Analog 4-6 stage phaser pedal
Vibrato effects
True bypass switching with relay
Sturdy die-cast casing
Rate, width, feedback, and D-P-V knobs
9 V DC power adapter (sold separately)
What makes Walrus Audio Lillian stand out as a phaser pedal is its D-P-V, a dry-phase-vibrato control knob. It gives great versatility to the pedal to blend vibrato and phase effects together with the dry signal as you like. The pedal has 2 distinctive voices with 4 and 6-stage phaser effects, and it allows you to activate the foot selector for momentary phasing.
Another plus is that the rate is one of the slowest out there, which is great for having a subtle phaser effect of standing out in the tone. The pedal is quite versatile with the D-P-V blend, and the overall sound is pretty mellow. It is a great pedal for guitarists looking for a subtle phaser effect or a versatile pedal to mix vibrato and phase effects together.
TC Electronic Helix
A digital stereo phaser pedal
Vintage swirl, modern sweeps, or the TonePrint setting
Speed, Depth, Feedback, and Mix controls
TonePrint Editor software
2 channels with Stereo I/O with Analog-Dry-Through
9V DC power supply (sold separately)
If Gilmour-style swirls or Van Halen-style driving sweeps are what you are after, TC Electronic Helix might be the ideal phaser pedal for you. It provides fully customizable and versatile modulation effects with the 2 main presets, shimmery vintage mode and the smooth modern phaser sound. Plus, there's also a TonePrint setting onboard to customize your own phaser effect.
On the control panel, you have the speed, depth, feedback, and mix controls along with the stereo input and outputs. You can load custom artist presets with the TonePrint editor software to have different phaser effects.
Strymon Zelzah
Digital stereo 4-6 stage phaser-modulation pedal
Phasing, chorus, flanging, and other modulation effects
2 simultaneous stereo effects
Expression pedal input, MIDI control, USB port
Sweep, Depth, Mix, Speed, Voice, Sweep modes: classic, barber, and envelope
9V DC power supply (included)
Strymon Zelzah is one of the most versatile and top-quality effect pedals in the list with its highly modern design. With the Strymon quality, you get a multidimensional stereo phaser pedal which gives you both the vintage phaser effects with the 4-stage phaser and top-notch modern modulation effects with the 6-stage circuit.
The pedal has so much to offer with the controls for the sweep, resonance, and even the voice knobs. When both channels of stereo design are fed into each other, then the two phasers blend to create amazingly complex interactive phaser effects. This pedal might be overkill if you are after basic phaser effects, but if you want an all-in-one style complex phaser-modulation pedal, Strymon Zelzah is hard to beat.
BOSS Phase Shifter PH-3
Digital phase shifter pedal
Unidirectional phasing with Rise and Fall modes
Rate, depth, res, and stage controls
Classic multi-stage phasers with selectable stages
Tap tempo sync of phasing effects
9V DC power supply (sold separately)
One of the classic phaser pedals is the BOSS Phase Shifter PH-3, which provides 4, 8, 10, and 12 phase stages with Rise and Fall modes for unidirectional phaser effects. The 7-mode phaser has a tap tempo and simple controls to shape your sound.
To use the tap tempo, you will need an expression pedal. You have the rate, depth, res, and stage control on the pedal to shape your effect. For the price, it is one of the best pedals you can buy that balances versatility and quality.
Pigtronix Moon Pool
Analog 4-stage phase shifter and tremolo effect pedal
Effects can be used independently or simultaneously
Phase speed, Tremolo speed, depth, and sensitivity controls
Dynamic control function changing the rate of effects according to your playing style
9-volt DC adapter (sold separately)
Pigtronix Moon Pool is a great effects pedal that combines tremolo and 4-stage phase shifter effects to create a great modulation pedal. The mini pedal features independent speed controls and shared depth and sensitivity controls for both effects that you can use separately or simultaneously.
The mini design is great for crowded pedalboards, and the touch-sensitive interactive amplitude is a nice addition that changes the rate of effects according to your dynamics.
Old Blood Noise Dweller
Unique analog "phase repeater" pedal
4-8 stage phaser with three wave shapes; sine, triangle, and random
Stretch, rate, mix, regen, and depth controls, along with voice and shape switches
Stretch control to adjust delay time in each phaser stage
Expression pedal port
9 V DC adapter
Old Blood Noise Dweller is a different phaser pedal than the classic phasers as it features a stretch control, which is a time stretching circuit to adjust delay time in each phaser stage. The pedal has a 4 and 8-stage phaser along with sine, triangle, and random wave shapes for different phaser effects.
The pedal is capable of delivering anything from familiar phase, and vibe sounds to resonant random step filtering and warm delays. It is a fun and unique phaser pedal, but it might not be for you if something classic is what you are after.
Red Witch Analog Deluxe Moon Phaser
Digital phaser-tremolo pedal
Velocity, trajectory, and cosmology controls
3 different phaser settings
Internal bias adjust control for further customizations
9 V DC adapter
Red Witch Analog Deluxe Moon Phaser blends the phaser and tremolo effects to create a throbbing phaser. With the cosmology knob, you can get one tremolo and two hybrid tremo-phase settings, while the hidden internal knob gives you the option to have a more shimmery or more throbby sound.
The pedal gives you a warm transparent tone that can go well with any other pedal setup. You can also sculpt your tone even further with the velocity and trajectory knobs.
Earthquaker Devices Grand Orbiter V3 Phase Machine
Analog 4-stage phaser pedal with OTA-based circuit
Rate, Depth, Resonance, and Sweep Controls
Rate and Phase-vibrato switches
Handcrafted high-quality pedal
9 V DC power supply (sold separately)
Earthquaker Devices Grand Orbiter V3 Phase Machine is a great analog phaser pedal for guitarists who are looking for the classic 70's phaser effects. It gives you 3 modulation phases with the OTA circuit with slow sweep mode in rate 1, fixed resonant filter in rate 2, and swept mode in rate 3.
The versatility is high with the rate, depth, resonance, and sweep controls and the extra phase-vibrato switch, which cuts dry signal to create a vibe-vibrato effect.
Walrus Audio Vanguard Dual Phase Pedal
Digital dual phaser pedal with one 10-stage and one 4-6-10 stage circuit
Two phaser pedals in the same stompbox
Complex phaser effects
Dry mix, rate 1, depth 1, regen, wet mix, rate 2, depth 2, tweak controls
9 V DC power supply
Walrus Audio Vanguard Dual is a great choice if you are really into phaser effects and looking to build complex phaser sounds, from symphonic tidal waves to thick and sweeping harmonics. Two phasers working together give you the option to create deep phaser textures with a 10-stage phaser and a second phase with 4-6-10 stage options.
There are 8 controls in total on the pedal, which is more than enough to shape your phaser sound as you like. You can also bypass the second phaser or use the true bypass to bypass all the pedal circuits when you want.
MXR EVH90
Analog classic phaser pedal designed by Eddie Van Halen
Eddie Van Halen's Signature Frankenstein Guitar Look
Simple design with the single-knob operation
Script switch for choosing between a vintage "Script Logo" phase tone and a more in-your-face "Block Logo" phaser
9 V DC power supply (sold separately)
Created by the collaboration of Eddie Van Halen and Dunlıp, MXR EVH90 has been one of the iconic analog classic phaser pedals for years. The pedal was first used in the debut album of Van Halen in 1978, and those iconic guitar tones are mainly created with this pedal.
The pedal features a simple design with a single knob of speed and a script switch that allows you to go between a vintage Script logo phase tone and a more dominant Block Logo tone. Plus, the pedal looks quite amazing, just like the iconic Frankenstein guitar of Eddie Van Halen.
Whirlwind Rochester Orange Box
Analog hand-wired phaser pedal
Simple design with a single-knob design
Used in many iconic albums since the 70s
Compact size
True bypass
9V DC power supply
Another iconic phaser pedal from the 70s is the Whirlwind Rochester Orange Box. The hand-wired analog phaser pedal features a simple design with a single-speed knob. If you like the iconic '70s phaser effect, this pedal can do it easily for you.
It was used in many iconic albums thanks to its warm modulation with a smooth tone. The pedal keeps the natural tone of your guitar while adding the phaser sweetly on top of it, providing the '70s swirling sound.
Source Audio Lunar
Digital 4-8 stage and Univibe stereo phaser, flanger, and chorus pedal
Highly versatile with 3 phaser modes
Expression input
Depth, Speed, Resonance, Shape, Vibe/Classic/Multi controls
Neuro Editor software to reach the effects library and download into the pedal
9V DC power supply
Source Audio Lunar is a highly versatile digital pedal that provides you with a great range of phaser, flanger, and chorus effects. There are 3 phaser modes, including 4-stage, 8-stage, and Univibe-style phaser effects.
The Univibe mode provides great chorus and vibrato effect simulations to create a real warble if you want more spice in your tone. The 4-stage mode delivers the classic phaser sound, while the 8-stage mode is more suitable for a bubble effect.
Plus, there is the Neuro editor software which allows you to reach a huge effects library to download into the pedal. You can save up to three different effects on your pedal to use later on. There are 4 controls and a switch to shape your tone on the control panel, which increases the versatility even higher.
Chase Bliss Wombtone II
Analog 2-4-6 stage phaser pedal
Can go from full dry signal to pure phase vibrato
High transparency
Ramp, volume, feed, rate, depth, and form controls, along with stage and waveform switches
9V DC power supply
Chase Bliss is known for their highly versatile pedals, and Wombtone II is no different. From the waveform of the modulation to tap tempo and 2-4-6 stage phasing, you can adjust your effect as you desire. The all-analog pedal provides a smooth vintage effect, just like the 70's style phaser sound.
Another great aspect is that the pedal delivers a very high transparency that colors your tone almost to none. Along with the stereo input and output ports, there is expression/CV input and tap/midi output jacks to use the pedal with bigger setups. All in all, it is a great pedal if you want to take full control of your analog phaser effect tones.
Empress Phaser
Analog 2-3-4-stage phaser pedal
8 different waveforms: sine, triangle, asymmetric sine, swung sine, sawtooth, reverse sawtooth, square, and step
Rhythm and Auto modes
Gain control
Auto-wah swells, ring modulation, vibrato, and more effects
Expression pedal and external tap to voltage control ports along with external audio control and MIDI outputs
9 V DC power supply (sold separately)
Empress Phaser is more than just a digital multi-stage phaser pedal as it provides a great range of effects from auto-wah swells to vibrato and ring modulation. The pedal offers 2-3-4 stage phaser effects with analog circuity but digital controls. You can choose from 8 different waveforms to shape your effect while having blend, speed-ratio, width, and gain controls for further sculpting your tone.
There are an expression pedal, external tap tempo pedal, external audio control, and MIDI ports to use the pedal in bigger setups. Plus, the slim and lightweight design makes it even more compact for your pedalboard.
Conclusion
Phaser effect pedals are great to add that spice to your tone for dramatic swirls and layers that make your tone stand out. So, here are 20 of the best phaser pedals you can check out, which are all great in their own specialties. So, give them a look to find the most suitable one for you!
If you found this article useful, you may want to save this pin below to your Guitar board.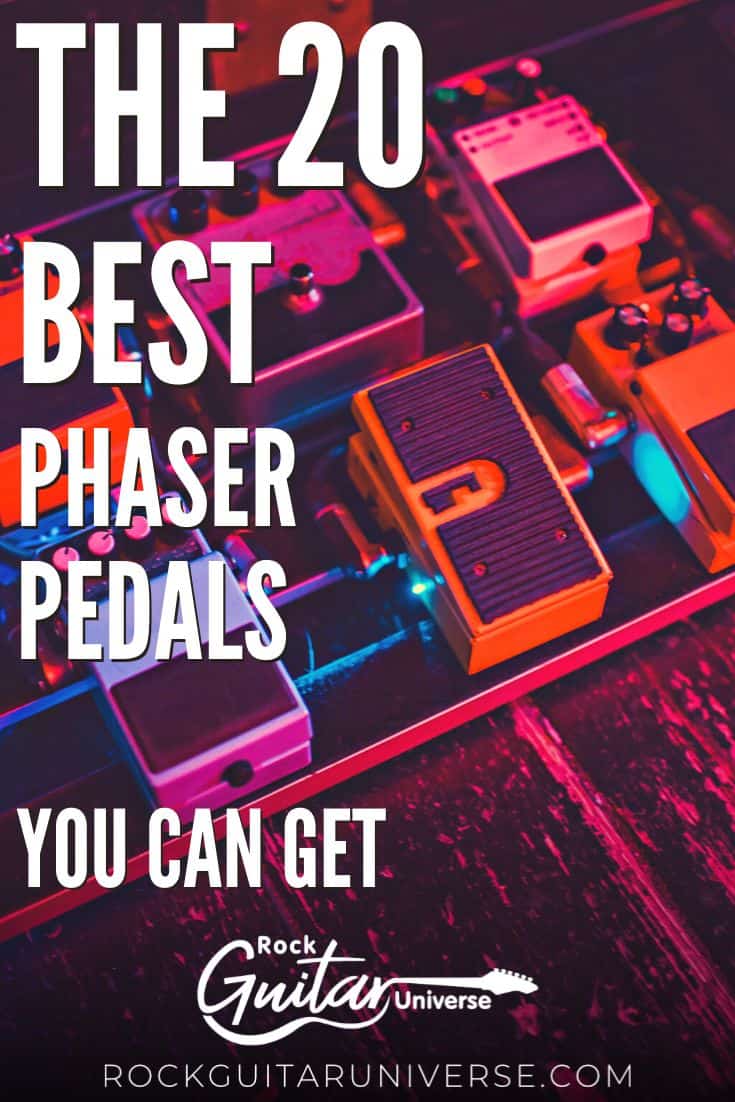 Last update on 2023-02-06 / Affiliate links / Images from Amazon Product Advertising API