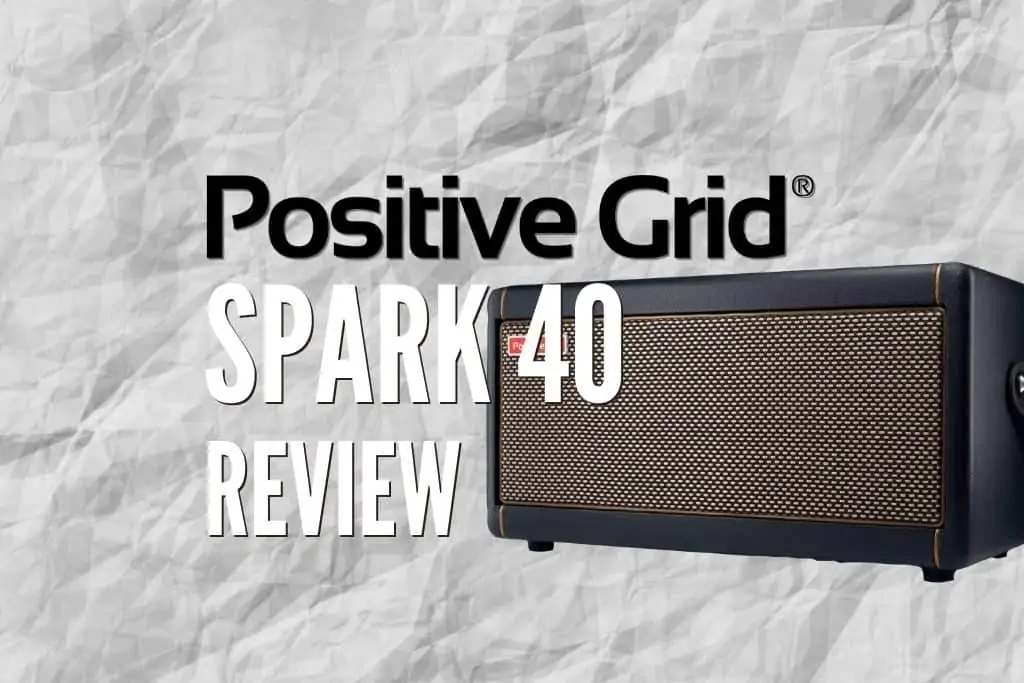 As technology advances, the features of amps get more and more useful every day. Besides tremendous and versatile sounds and tones, the new generation digital modeling amps help players with extra features to make playing more educative, fun, and prosperous.
Positive Grid has announced the Spark 40, a new amp designed to help beginners learn to play guitar or practice their playing. You can play along to existing songs or generated backing tracks, follow dynamic chord charts, select guitar tones, and quite a lot more. The system consists of a speaker and an app that integrates with music streaming services to play music for you to practice while generating chords in real-time.
Positive Grid Spark 40-Watt Combo Practice Guitar Amplifier Electric...
Smart Jam learns your style and feel, generating authentic bass and drums...
Access to 10,000+ amp-and-FX presets on ToneCloud, powered by...
Import your music from Spotify, Apple Music or YouTube and Spark's smart...
Powerhouse 40 Watt combo includes onboard tone stack controls, effects,...
| | |
| --- | --- |
| Pros | Cons |
| Extremely versatile tones and features | Low power output |
| Excellent practice tools Smart Jam and Auto Chord | Not suitable for playing live |
| Portable amp | No footswitch included |
| Good value for money | |
Spark 40 is excellent for beginner guitarists who do not have a trained ear or are still looking for their sound. The amp helps them with its outstanding features like chord recognition, backing track creations, easy-to-navigate app-controlled interface, and built-in thousands of effects, presets, and tone.
Spark 40 costs around $250, and I would rate this amp 4.5 stars out of 5, maybe not because of its sound but because of its versatility and helpful, innovative features. It undoubtedly elevates the digital modeling amps to another level with its innovative solutions.
Positive Grid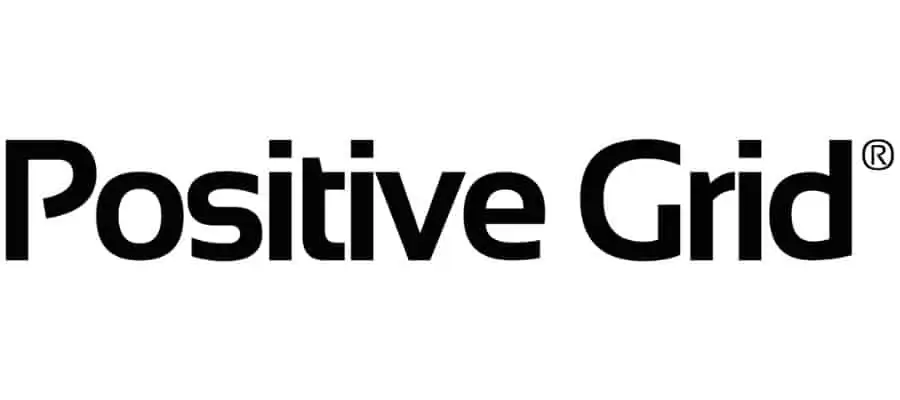 Founded in 2013, Positive Grid consisted of only a few people with a big dream of changing the world of amplifiers. They tried to combine mobile technologies with innovative sound and interface designs, leading them to introduce a new music creation experience. This new experience with simple apps encouraged many beginner guitarists to progress faster and have fun along the way with much more versatility and playing options.
Today, Positive Grid offers many innovative tools for music creation, from free mobile apps and advanced sound design programs to intelligent, connected effect pedals and high-quality amplifiers. Connecting with music makers love and frequently use, the company makes new tones accessible to everyone. With all of their technologies compatible with major platforms, Positive Grid allows music creators to experiment and explore new approaches.
Today, Positive Grid's team behind these innovations consists of sound designers, programmers, electrical engineers, industrial designers, scientists, and virtuoso musicians. The company shows a huge potential to take music technology higher and higher in the near future.
The Specs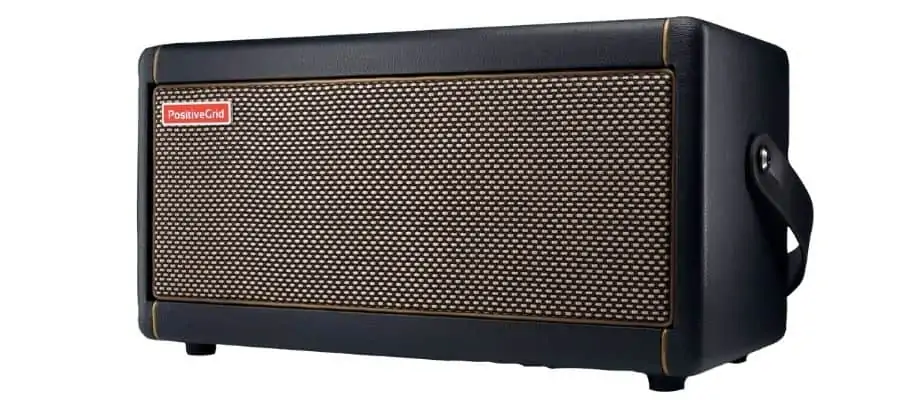 Let's take a look at what the Spark 40 amp has to offer.
General
| | |
| --- | --- |
| Series | Spark |
| Model available In The Series | 40 |
| Types Of Amp | Digital Modeling |
| Technology | Digital |
Dimensions
| | |
| --- | --- |
| Weight | 11.46 lb (5.2 kg) |
| Width | 13.78" (350 cm) |
| Height | 7.48" (190 cm) |
| Depth | 7.08" (180 cm) |
Electronics
| | |
| --- | --- |
| Output wattage | 40 Watt |
| Power Requirements | Standard IEC AC cable |
| Control Panel Location | Top |
| Display | On App |
Controls
| | |
| --- | --- |
| Knobs | Amp Type, Gain, Bass, Mid, Treble, Master, Mod, Delay, Reverb, Output Volume, Music Volume |
| Switches | None |
| Buttons | Tap/TunerFour Programmable Preset Buttons |
Speaker
| | |
| --- | --- |
| Speaker configuration | Two – 4″ Custom Designed Speakers |
| Speaker model | Custom (4Ω, 20w) |
| Unit impedance | 4 ohms |
Input/Output
| | |
| --- | --- |
| Instrument jack | 1/4″ Guitar Input |
| Aux In | 1/8″ Aux Input |
| Headphones out | 1/8″ Headphone Output |
| Speaker Out | None |
| Effects Loop | None |
| Line Out | None |
| Foot Control | None |
| USB | USB Interface for Recording1 In x 2 Out |
| Bluetooth | Bluetooth Audio |
The first aspect of Positive Grid Spark 40 that catches the eye is its new Spark system, which allows beginners to practice and explore new ways to learn songs and techniques. With its Auto Chords feature, it displays the chords played in the desired song.
Any song can be picked from YouTube, Apple Music, or Spotify, and the connected app demonstrates the chords on the interface. It must be said that this system works much better than its alternative Fender Songs, which only works on Apple devices.
In addition, Positive Grid App includes a feature called Smart Jam, which acts as an automated backing track generator. Based on what is played on the guitar, the generator watches and learns your playing style to create bass and drums for you to play along with.
It does not end there: The app can be controlled via voice commands. So you can speak and command it to play a rock song, for instance, and it will play it in a second without the need of reaching for the phone with your hand.
When I examine the amp itself, it seems that it has more than enough qualities for home use. It is essentially a desktop combo guitar amp with 2 built-in speakers, equal to 40 watts combined. In addition, there are knobs to control a three-band EQ, Gain, Bass, Mid, Treble, Master, Mod, Delay, Reverb, Output Volume, along with an amp type knob for selecting the kind of music or instrument.
The amp offers a massive library of guitar tones created for its Bias amp range. Additionally, the Spark app gives thousands of guitar amp and effect modulations, resulting in over 10,000 tones to experiment with.
In terms of weight and dimensions, Spark 40 is a pretty portable amp. It has a weight of 11.46 lb (5.2 kg) along with a width of 13.78" (35 cm), a depth of 7.08" (18 cm), and a height of 7.48" (19 cm).
Spark 40 traditionally has 1/4″ Guitar Input, 1/8″ Aux Input, and 1/8″ Headphone Output along with a USB Interface for Recording 1 In x 2 Out. In addition, there is an option to connect via Bluetooth. However, it does feature an FX/Return, speaker out, or effects loop inputs.
The amp also offers a built-in tuner and a Tap tempo function to be used as a metronome. You can use the device like an amplifier, a multi-effect pedal, and even a Bluetooth speaker. Overall, it is an incredibly comprehensive offering. It covers everything a beginner guitarist would need to play and practice at home.
The Sound Of The Amp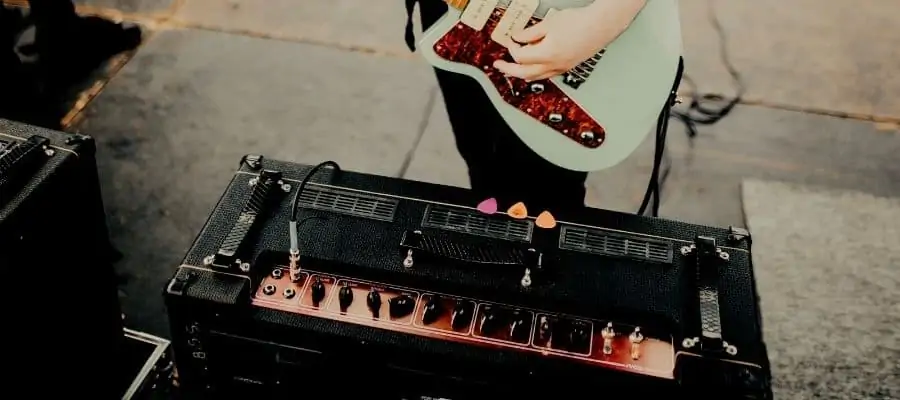 The sound quality and versatility are the most crucial aspects of the success of an amp at the end, and it determines whether it is worth buying or not. Spark 40 passes the test with its crystal-clear highs and deep bass along with the before-mentioned tones with over 10.000 options.
You can craft your own sound using 30 amps and 40 effects, with access to over 10,000 presets created by Spark users, artists, and producers in Positive Grid's ever-growing Tone Cloud. For example, when learning a song, you can download many sounds free from the Spark database. The chances are high that somebody has already designed the perfect sound for the tune you are looking for and uploaded it to the database.
The design of its speaker is deep, resonant, and immersive. It delivers versatile tones for electric guitar, bass, or acoustic guitar that if you will have to make sure to use the preset that best suits you for the type of music you are creating.
There are some great clean tones and some fantastic gritty rock or blues tones, but things get interesting when it comes to hi-gain territory: It sounds pretty great! The 4-inch speakers and 40-watt Class D amp are not as loud as the authentic, tube-driven thing, but the speakers get the job done well to model the various speakers inside classic amps; the closed-back design helps preserve the punchy low end too.
The two 20W built-in speakers more than satisfy the player with their great low ends for the amp's size. The amp may not be loud enough for a live concert, but don't let it mistake you; Spark 40 is very loud for small settings such as homes. So, it is perfectly suitable for jam sessions with friends or exploring loud tones. The sound palette it offers is extensive, making Spark 40 one of the most versatile amps today.
To better understand the versatility and the sound of Spark 40 you can watch this review video and hear it yourself.
Positive Grid Spark 40 Is Perfect For Whom?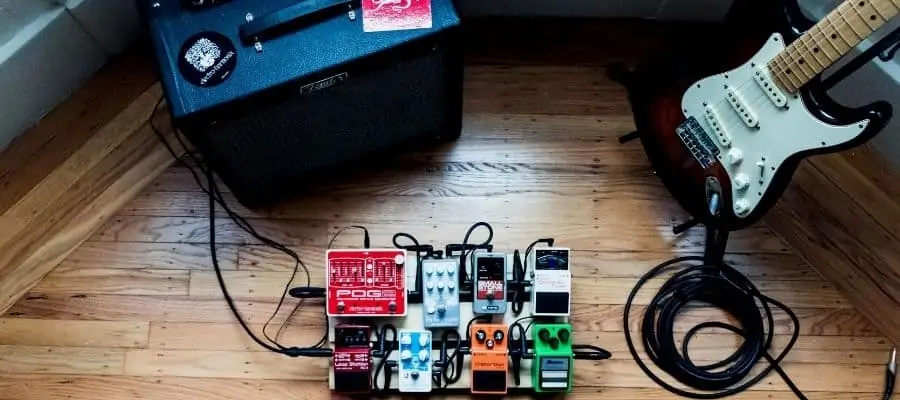 Spark 40 is a truly complete amplifier for home use. However, to be as straightforward as possible, I must directly say that if you are looking for an amplifier to play live with a band or an amp to use as a multi-effect processor for bigger systems, Spark 40 is not the one.
For one thing, it doesn't have enough power to deliver good output volume, so its sound could be lost if you play along with a drum kit or just a more powerful amp. If that is your intention, you should connect it to a microphone with a more powerful output, not the best solution.
Finally, it is an amplifier that allows you to get the most out of it through its application, so many of its functionalities are designed to be used through the application. So it will be quite tricky to change it in live performances without using a footswitch.
But if you are a beginner and want to make practicing and playing at home more fun, or if you want to experiment with different tones for some new projects, you can go with Spark 40 without a doubt. It is more than enough for small jam sessions in small settings, and its great features make the learning process much easier and faster.
Footswitch
Airstep Spk Edition
One of the letdowns of Spark 40 is that it does not come with a footswitch. But, Airstep released a footswitch that is compatible with Spark 40, solving the problem. The Airstep Spk Edition can change the channel and toggle the effect of Spark Amp wirelessly.
Airstep features three control modes for Spark that meet all your use cases. You can edit the presets through the app to toggle drive, mod, delay, and reverb effects for different control modes.
There is no setup required to use the footswitch; it is plug-and-play. Airstep can wirelessly control effect software, plugins, DAWs on mobile phones, tablets, and computers via Wireless MIDI and HID. It can even play or pause, forward and backward the Youtube videos, and turn the music stores' pages entirely hands-free.
In addition, it comes with a built-in rechargeable battery for 300 hours of continuous use. It also features a robust aluminum extruded shell that looks elegant. The device costs around $100, which is acceptable for a multi-functional footswitch.
Alternatives To The Amp In Terms Of Look, Sound, Specs, And Price
Yamaha THR30II
Yamaha THR30II Wireless Desktop Amp
Realistic tube-amp tones and feel plus essential effects
15 Guitar amps, 3 bass amps, 3 mic models for acoustic-electrics, and flat...
Bluetooth support for audio playback, editing via THR Remote, and more
Built-in wireless receiver compatible with optional Line 6 Relay G10T...
Yamaha has manufactured a portable practice amp with really effective qualities for guitarists looking for a highly versatile amplifier, with characteristics and possibilities that complement their creativity and performance.
The best aspect of this amp is definitely its simplicity. It has a wireless connection, Bluetooth, app interface, lithium battery, many tones for electric and acoustic guitar, as well as some bass tones.
The amp also can act as an audio interface which is excellent for home studios.
On the other hand, the amp sounds truly fabulous. It has 2 speakers of 3.5″ and is designed to play at home with low volume, yet with the sensations and behavior of the tubes. You have the sound of tubes at low volume.
Yamaha calls this amp series "the third amp" as it is not a gig amp but not a studio amp as well. It is specially designed for practice and home use; it is s unobtrusive and is built to deliver good tones at low volume.
Maybe the only downside of THR30II is its price. It costs almost double Spark 40. But when you consider the hours spent practicing and playing your instrument at home, it does not look like a bad investment, especially when the product is so versatile and comfortable as Yamaha THR30II.
Boss Katana Air
The Boss presented its Katana series back in 2016 with different model choices of output power and performance levels. The series was renovated in 2019 and became one of the best digital modeling amps ever created. Boss Katana Air stands out as the portable design of the series.
The portable design, which works without the need for any cable, features great tones in low volume. The connection works exceptionally well with ultra-low latency. It has a 30W power output which is more than enough for home use and small jam sessions with a few friends.
You get access to the modeled Boss effects, which is a massive plus since Boss has a legendary reputation on its stompboxes. Many of their effect pedals are considered industry standards.
The intelligent amp allows you to save your favorite presets and setting with its built-in digital memory system to preserve your favorite tones, presets, and settings. These presets can be edited through external editors, apps on a computer or mobile devices. All of the details can be edited and adjusted through the app.
Another significant aspect is the Power Control feature which optimizes sound at low volumes and offers various types of speaker emulations for silent recording and playing. Just like the rest of the amps on the review, Katana can act as a USB interface to record directly through this connection.
As the world's first fully wireless amp, Katana Air is highly portable and can work with battery power. The dimensions are 13.8″ x 7.1″ x 5.7″ (35 x 18 x 14 cm) and the weight is 4.85 lb (2.2 kg.)
It is considered an expensive amp with a price tag of around $400. But for what you get I think it is a highly reasonable price.
Summary
Positive Grid Spark 40 is perhaps one of the best, if not the best, amp to practice at home today. It is a multifunctional amplifier that allows you to improve or define your style and try different electric or acoustic guitar or bass techniques.
It can be used for practically any type of practice with your guitar or bass, from improvisations, own creations, ensemble, production, post-production, song analysis, or even creating covers of your favorite songs.
Thanks to its USB interface and its mobile application, it allows you to take your creations to a computer to have that extra quality touch and configure all its functionalities.
It is perfect if you are just starting and want to improve your technique or define your style or even if you already have experience and want to have an amplifier to practice solo songs and/or improvise on the rhythms you like the most.
In addition, Spark 40 has the size and weight indicated to be considered a portable amplifier. It has an interface to connect your creations to the computer or save them on a USB, it produces accompaniments from your own creations, and it has an infinite number of backing tracks of all styles to practice. Furthermore, it has the advantage that you will have a multi-effect pedal, a Bluetooth speaker, and an amplifier all in one.
Besides all of these great features, Spark 40 delivers a great sound that is more than satisfying. The clear highs and deep basslines are delightful while you experiment with its over 10,000 guitar tones and adjustable presets. I highly recommend this digital modeling amp, especially for beginner guitarists.
If you found this article useful, you may want to save this pin below to your Guitar board.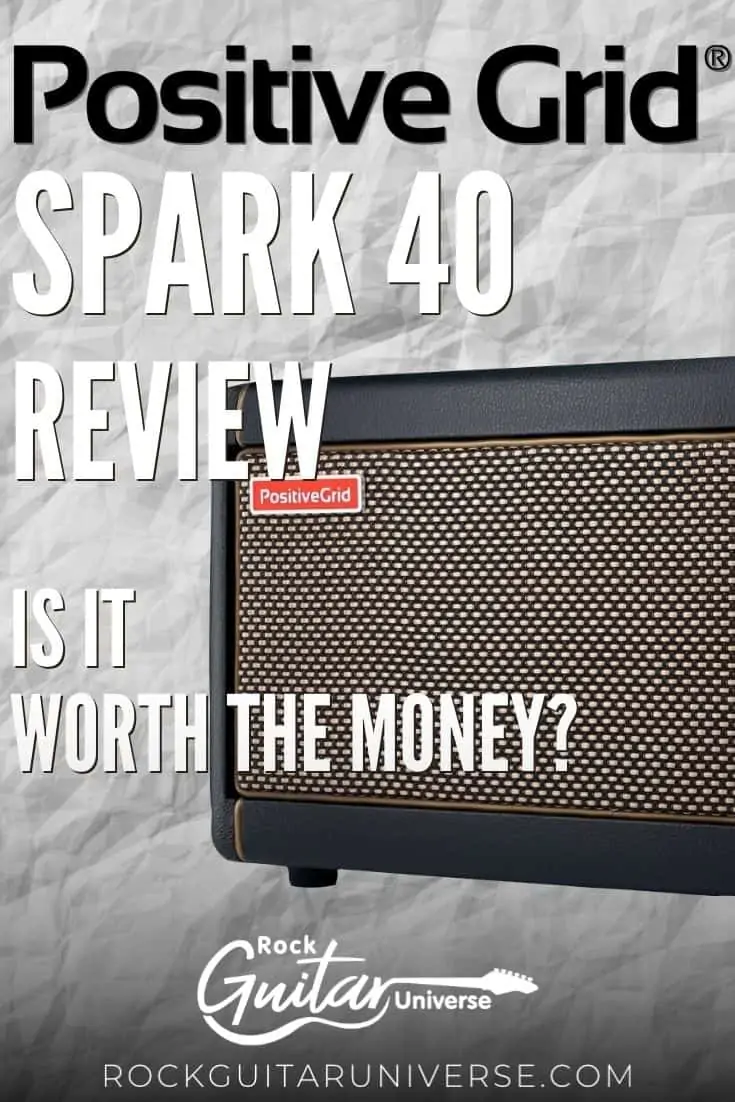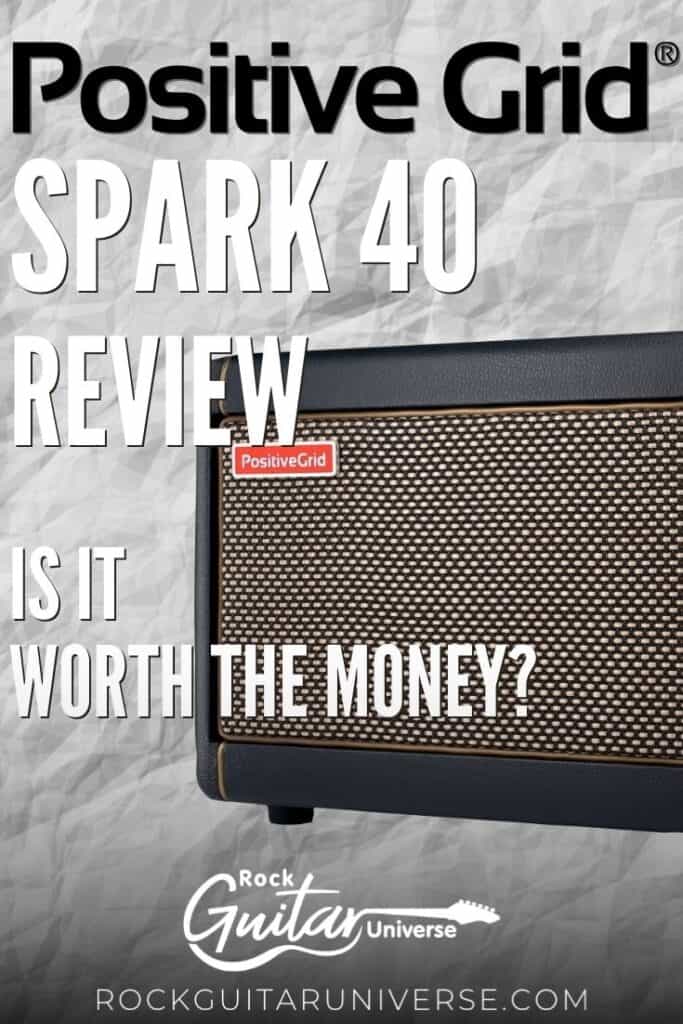 Last update on 2023-05-29 / Affiliate links / Images from Amazon Product Advertising API