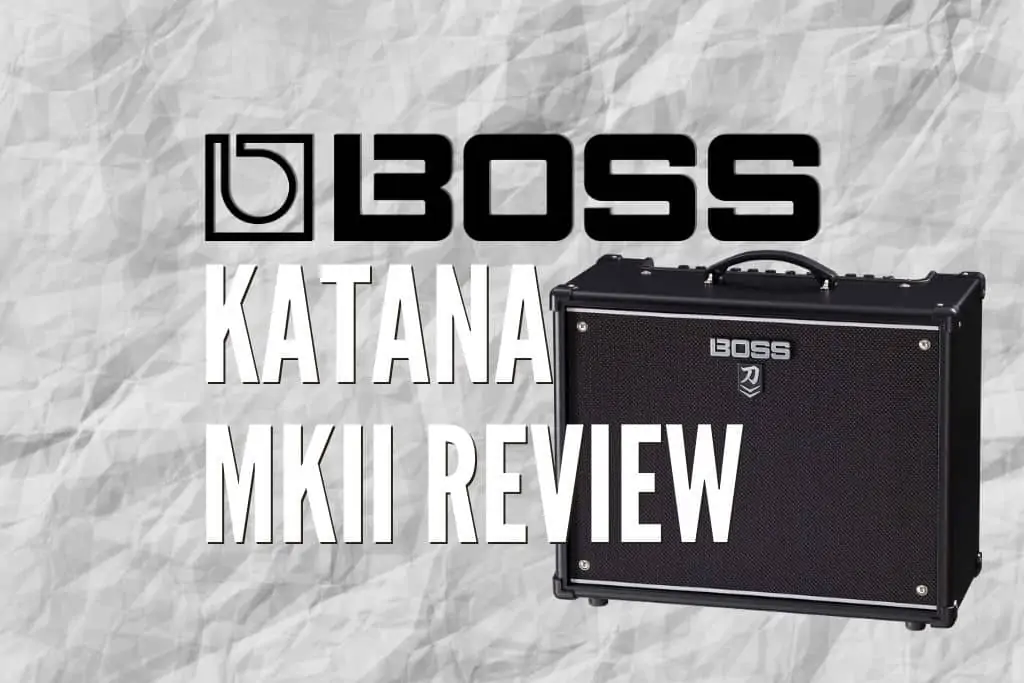 Since the BOSS Katana amp series showed up in the guitar world, they have grown to be one of the top-selling amplifiers for players looking for an outstanding tone that entirely beats other solid-state amps in the market. Now, players have even more reasons to be fans of these industry-standard combo amps after the MKII update.
The amp features expressive tonal response through its 5 original amp characters with many variations along with tons of effects, making it an extraordinary amplifier for every type of guitar player. On top of everything, the amp's reasonable price is a massive plus that appeal's to every budget.
With MKII revision, The Boss Katana Series now embodies various amplifiers made for guitar players who desire to achieve more than tube-saturated guitar tones, creating an entire live set with different amps and effects all through one amplifier. With its world of tones and expressive abilities without becoming overwhelmingly complicated, the Katana series is truly the swiss knife of the amplifier universe.
The aforementioned aspects are only a small portion of why these amps are best-sellers and why they are considered one of the best amplifiers ever produced. From beginners looking for an amplifier that they won't have to upgrade or experienced players looking for a new enhancement to their live setup, can go with Katana without a doubt. Let's go deeper into this fantastic amp series' features.
| | |
| --- | --- |
| Pros | Cons |
| Outstanding sound | footswitch not included, you need to buy it separately |
| Versatility with many tones | Effects Controls are a bit complicated for beginners |
| Incredible value | |
The Katana series is one of the best solid-state combo amps on the market. They genuinely sound great, they are reasonably priced, and they offer excellent tone versatility. Whether it is the mini version for traveling or the Artist model for professional live performances, all models deliver outstanding performances. I can easily rate the Katana series as a 5-star perfect amp. The only letdown is that the footswitch is not included, and it is a bit complicated to use until you get used to the system.
Boss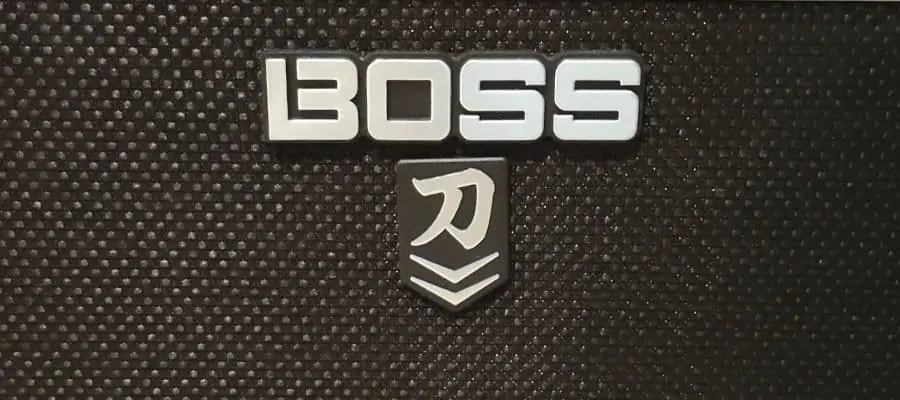 Probably as you know, Boss is the globally famous manufacturer of effects pedals for electric guitar and bass. It is a division of the massive Roland Corporation, the Japanese manufacturer specializing in musical equipment and accessories.
Since the production of their first effects pedals back in 1972, Boss has achieved legendary status among guitarists by offering a world-leading and diverse product line that involves effects for guitars, including "compact" and "twin" effects pedals, multi-effects pedals, electronic tuners, and pedalboards. They have recently expanded their product range to include Digital Studios, Rhythm machines, and other electronic equipment.
Many of Boss pedals became industry standards with an incredibly high appreciation. Almost all famous guitarists and bass players used a Boss product at some point in their career. Many are still using them. Today, they are still the industry leaders with high-quality pedals, amps, and other musical equipment.
The Specs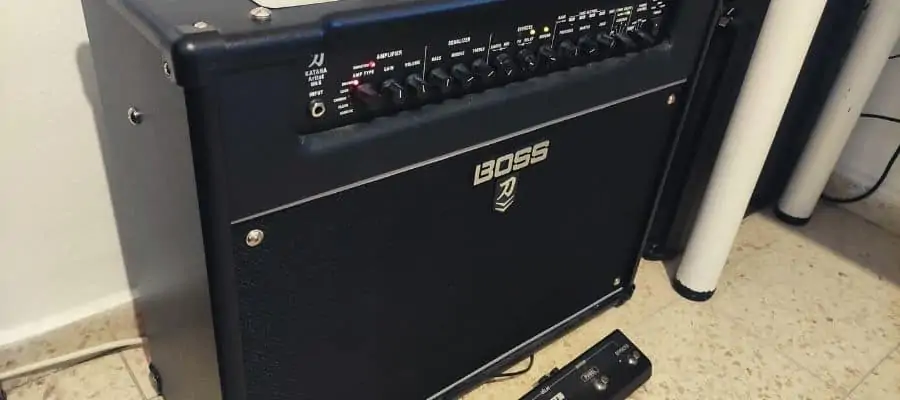 Let's take a look at what the Boss Katana amps has to offer.
General
| | |
| --- | --- |
| Series | Katana MKII |
| Model available In The Series | 50/100/100-212/Artist/Head/Air/Mini |
| Types Of Amp | Solid State |
| Technology | Digital Modeling |
Dimensions
Katana 50
| | |
| --- | --- |
| Weight | 25 lbs (11.6 kg) |
| Width | 18.6" (47 cm) |
| Height | 15.7" (40 cm) |
| Depth | 9.4" (24 cm) |
Katana 100
| | |
| --- | --- |
| Weight | 32 lbs (14.8 kg) |
| Width | 20.9" (53 cm) |
| Height | 17.5" (48.4 cm) |
| Depth | 9.8" (24.8 cm) |
Katana 100/212
| | |
| --- | --- |
| Weight | 43 lbs 11 oz (19.8 kg) |
| Width | 26.4" (67 cm) |
| Height | 17.5" (48.4 cm) |
| Depth | 9.8" (24.8 cm) |
Katana Artist
| | |
| --- | --- |
| Weight | 41 lbs (19 kg) |
| Width | 24.8" (63 cm) |
| Height | 20.3" (51 cm) |
| Depth | 9.8" (25 cm) |
Katana Head
| | |
| --- | --- |
| Weight | 19 lbs (8.8 kg) |
| Width | 18.6" (47 cm) |
| Height | 8.5" (21.5 cm) |
| Depth | 9" (23 cm) |
Katana Air
| | |
| --- | --- |
| Weight | 4 Ibs (2.2 kg) |
| Width | 13.8" (35 cm) |
| Height | 7.1" (18 cm) |
| Depth | 5.7" (14 cm) |
Katana Mini
| | |
| --- | --- |
| Weight | 2 lbs (1.2 kg) |
| Width | 9" (23 cm) |
| Height | 7.1" (18 cm) |
| Depth | 4.6" (12 cm) |
Electronics
Output wattage
Katana 50 – 50W
Katana 100 – 100W
Katana 100/212
Katana Artist – 100W
Katana Head – 30W-100W
Katana Air – 20W-30W
Katana Mini – 7W
Power Requirements
Standard IEC AC cable
Control Panel Location
Top / Front (Artist)
Display
None
Controls
Knobs
Master, Amp Type (Acoustic, Clean, Crunch, Lead, Brown), Gain, Volume
Bass, Mid, Treble
Booster, Mod, FX, Delay, Reverb
Switches
Power, Power Control
Buttons
Variation, Booster, Mod, FX, Delay, Reverb, Tap
CH1, CH2, Panel
Speaker
Speaker configuration
Katana 50,100,Artist – 12"
Katana 100/212 – 2×12″
Katana Air – 2×3"
Katana Mini – 4"
Speaker model
Custom Katana Speaker
Artist – Waza G12W speaker
Input/Output
| | |
| --- | --- |
| Instrument jack | 1 x 1/4″ |
| Aux In | 1 x Aux-In (3.5mm jack) |
| Headphones out | 1 x 3.5mm Jack |
| Speaker Out | 1 x 1/4″ (Head) / 3 x 1/4″ (Artist) |
| Effects Loop | Send/Return (Artist,100 and Head models) |
| Line Out | 1 x 4" (Artist, 100 and Head models) |
| Foot Control | 1/4-inch TRS phone type |
| USB | 1 x USB B type |
| Bluetooth | Only Air model |
Boss Katana offers 6 different amp models; 50, 100, Artist, Head, Air, and Mini. The options vary between 7 watts, 50 watts, and 100 watts power outputs with or without built-in speakers. In addition, all the amps are equipped with five types of amp simulations (Clean, Crunch, Lead, Brown, and Acoustic) and built-in effects.
Besides the small portable models and the Head model, all models feature 12" custom-made Katana speakers that sound genuinely great. Air and Mini models have 4" and 3" custom speakers, respectively.
There is the effects section on the front panel where we discover new features since we can now combine 5 different effects against 3 in the previous version, divided by families: Booster, Modulation, FX, Delay, and Reverb. Furthermore, each effect is available in 3 possible variations, enriching the tonal variety.
After, we find the Presence, Master, and Power Control settings, the attenuator that allows us to switch to Standby mode or adjust the output power for different playing environments.
Regarding the rear panel, there is the plug for the power cable, another Speaker Out plug that allows you to connect another speaker with a minimum of 8 ohms, an effects loop if you want to connect other effects in your possession.
It must be noted that not all the models have Line Out or Effects Loo; only the Artist and 100W models come with them. The Speaker Out plug amount and existence also varies from model to model, as you can check on the list.
There is also a Stereo switch if you want to add a second Katana to create a stereo-sounding amp pair. The Artist, Head, and 100 models also come with an Out/Line Out socket if you want to connect directly to a sound card or a mixer, such as a Power Amp In socket, to bring sound from another device directly to the power amp.
There is a USB 2.0 port to connect the Katana to your computer and thus use the features of the software downloadable from the Boss website for ultra-precise control of every effect, every type of amp. You will be able to save these sounds in the different channels of the Katana.
To unlock the full potential of your Katana, you have to use the detailed adjustments and edits you can achieve with the Boss Tone Studio Editor app. You can easily download the app to your computer, plug your amp into your pc and create any tone variation you like.
In addition, it can act as a USB interface to record directly through the USB connection. The Power Control feature optimizes sound at low volumes and offers various types of speaker emulation output for silent recording.
The amp also features an Aux-In input to connect an MP3 player for playing on backing tracks or your favorite songs, a foot control plug to connect the GA-FC pedalboard, which is sold separately, and another input to connect other expressions and control pedals—finally, a traditional headphone jack to play without disturbing everyone at home.
The models offer a digital memory system to save your favorite settings and also the possibility of editing these settings from the amp itself or external editors on a computer or mobile device. In these editors, a more detailed level of adjustment can be achieved.
The Sound Of The Amp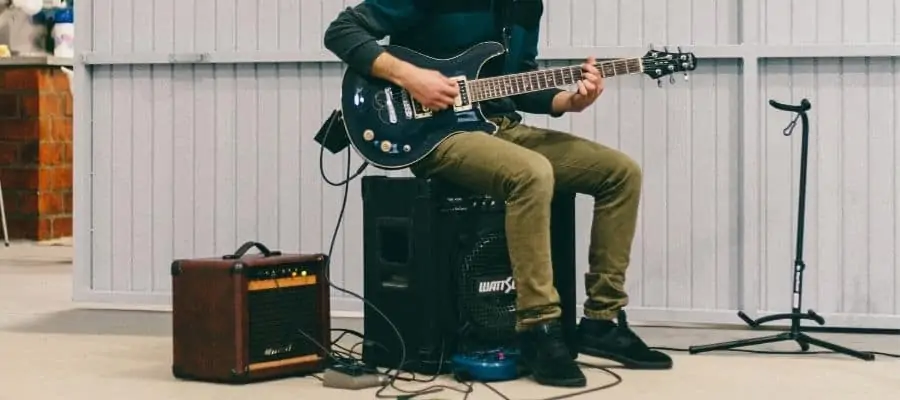 As Boss is famous for their fantastic effect pedals that lead the industry, as expectedly, they do not disappoint the players with Boss Katana Series in the sound section. Crystal clear cleans, rock crunches, and distortion with bite. With all the effects available, it is highly possible to embellish the sounds.
Although it may be complicated to edit the tones the first time you use the amp, it is relatively intuitive. It's pretty easy to understand how it works, and by turning a few buttons, you already achieve a satisfying sound. Despite everything, the effects section requires a little more time, and the manual will make it easier to find all the available effects because the color code of the LEDs and the selection of the right Bank to find the right effect is less straightforward.
In any case, you can quickly play a little any style; this is the perfect jack-of-all-trades amp type for it. To begin with, the distorted sounds, for example, sounds pretty impressive. But, it still does not sound thick like a tube head plugged into big speakers. You can not expect a digital modeling solid-state amp to catch that sound, but Katana does an outstanding job, especially when compared to the amp's price.
From clear Fender-style sounds to Vox and Marshall-inspired sounds in the crunch and lead sector to the high-gain club, everything is actually on board with exceptional sound quality. You shouldn't expect high-end amp modeling here; in the high range, the digital sound generation also shimmers through, but of course, you have to keep the pricing in mind when evaluating.
For significantly less than 300 or 400 euros, you get a lot on offer. The crunch and lead amps can still be controlled well via the touch dynamics; the Brown amp models deliver a rich and dense distortion sound, which, however, comes out of the speaker quite transparently even at higher gain settings.
When editing with the Boss Tone Studio app, there are, of course, considerably more parameters available. The adjustments on the amp itself are absolutely enough for setting the basic sound, but if you want to play with effects and fully exploit the potential of the amp, you should definitely get to work with the Boss Tone Studio app.
A noise gate can then be set, and all 65 effect models are available, which can be loaded by modules sorted by type (Mod, FX, Delay, Reverb, Boost). In terms of sound, the whole thing is more than convincing; the processor does a good job and does not fail even under harder loads. An octaver combined with a pedal bend effect delivers a clean tone without dropouts. This is rarely the case with an amp in this price range.
Boss Katana Is Perfect For Whom?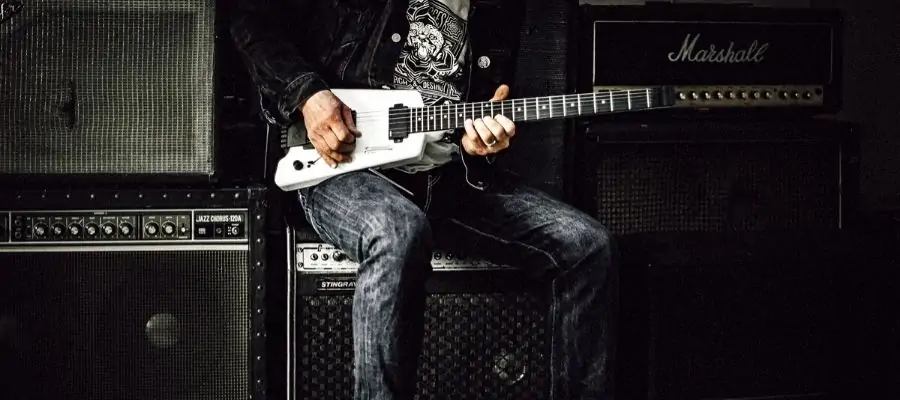 Boss Katana Series offers different models for every budget and various needs. Whether you want a live gigging amp or a rehearsal, studio amp, or just a portable small amp to travel around, you can find a Katana perfect for you.
Well, first of all, I must say all of the models in the series have very similar features. They use the same system, have the same presets and effects, and sound truly remarkable. If you are in the market for a Swiss army knife type amplifier, you probably found it. For every genre, you can use the Katana models without a doubt. Which model you are going to prefer is totally dependent on where and how you are going to use the amp, how much power you want and how much is your budget.
Let's begin with the Katana 50. If you are on a budget and looking for an amp to play mostly at home and some small setting live performances or studio rehearsals, the 50-watt option is right for you. It is an outstanding amp for the price. If you are a hobby guitarist and do not want a live performance amp, you can go with the 50.
If you have the budget to spend a bit more, Katana 100 is a better option than Katana 50. Not just because it is more suitable for live performances with its more powerful output, but it also supports GA/FC 6-way footswitch to control your tones, and it has effects loop/return features. So, if you have the budget Katana, 100 is a perfect amp for home practice since it also sounds excellent in low volume. Additionally, you get the option to use it in live settings without a doubt. Bottom line, if you are a serious or semi-serious guitarist who performs live, the 100 is great for you.
The Artist model is a brilliant amp, the heaviest, the biggest, and the most expensive of the series. It is not for guitarists who move a lot and looking for portable amps. But if you heard the 50 and the 100 models and still want a fuller sound, The Artist will deliver what you need. It has an upgraded speaker and sounds amazing. It is the most professional amp of the series with some valuable extra features. Perfect for professional regular performer guitarists.
The Katana Head model is for more experienced players who own a speaker and still want to profit from the unique features of the Katana series.
The Air and Mini models are the most portable options. They are great for traveling, busking in the street, or simply practicing at home. Air is a very light amp with a wireless system, while the Mini is more like a traditional portable amp.
Differences Between The Models In The Series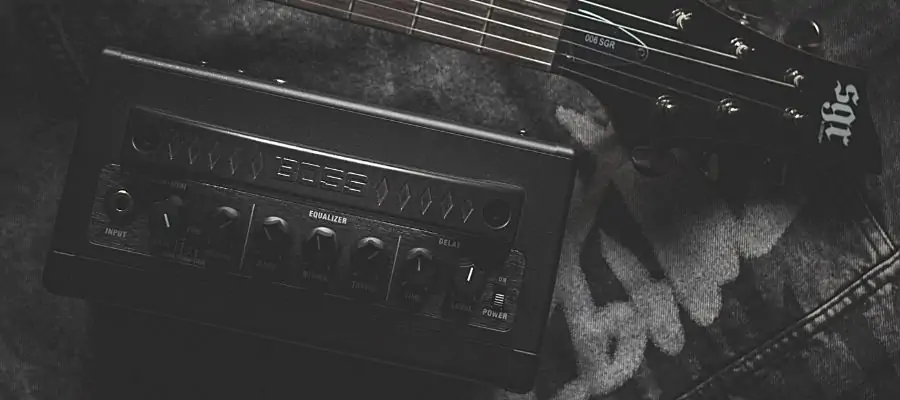 Although the features do not vary much between the Katana models, some slight nuances are to be taken into account.
Katana 50
The Katana 50 model has a 50W power output, as the name suggests. It is the middle brother of the series, which can be mainly used at home or in small jam sessions with friends. The dimensions are 18.6" (47 cm), 15.7" (40 cm), 9.4" (24 cm), and the weight of the amp is 25 lbs (11.6 kg.)
Katana 50 does not have Effects Loop and Line Out plug options. It has a 12" custom-made Katana speaker but of course; it is not as powerful as the Artist or 100W models. I think it makes sense to save a few bucks and go for the 100W option instead of 50W to have a fuller, more versatile amp.
Katana 100
The Katana 100 model features the 100W power output as the most powerful amp of the series and the Artist model. It has dimensions of 20.9" (53 cm), 17.5" (48.4 cm), 9.8" (24.8 cm), and a weight of 32 lbs (14.8 kg.), making it the second biggest and heaviest model after the Artist.
Katana 100, Head, and the Artist models contain an Effects Loop and Line Out plug options, which the other models do not have. It also has 2 x 1/4″ Stereo Footswitch inputs, one more than the rest of the models. The amp has a built-in 12" custom-made speaker and is more than suitable for home use, rehearsals, and small gigs.
Katana 100/212
Boss Katana 100/212 is the same model as Boss Katana 100 with an extra speaker. It has two built-in 12" custom-made speakers instead of one. The dimensions are also of course a bit bigger than the 100 models with 26.4″(67.0 cm) x 19.1″ (48.4 cm) x 9.8″ (24.8 cm) and 43.65 lbs (19.8 kg,) making it the biggest and heaviest model of the series.
If you want to play with a powerful sound and have some budget to spend you can go with this one. All the specs are the same with the Katana 100 model, the only difference is that you have 2 speakers in it. You can use the amp in live gigs or rehearsals without any hesitation.
Katana Artist
The most expensive and most developed model of the Katana series is the Artist model. This model is a complete solid-state amp that differs from the rest of the series with a digital modeling system.
It has an upgraded custom-made premium 12-inch Waza speaker, which delivers a better sound than 100 and 50 models. The speaker delivers a wide dynamic response, smooth midrange, and rich harmonic overtones of the benchmark 25-watt British stack speaker from the 1960s. It is the second biggest and heaviest model with 24.8" (63 cm), 20.3" (51 cm), 9.8" (25 cm), and 41 lbs (19 kg.)
This is the only model with the control panel on the front rather than the top of the amp, making it easier to control.
The Artist features a 3×1/4″ Mono Speaker output, which is different than the rest of the models with 1 x 1/4″ Mono Speaker outputs. If you have the budget, this model is the best amp of the series, which won't let you down in any setting.
Katana Head
The Katana Head model is the only amp head in the series. It does not feature any speakers, so you will have to purchase your own speaker to use it. It has dimensions of 18.6" (47 cm,) 8.5" (21.5 cm,) 9" (23 cm), and a weight of 19 lbs (8.8 kg.)
The features of the amp head are the same as the rest of the models; the only difference is that it does not have any built-in speakers.
Katana Air
One of the two portable options of the Katana series is the Air model. It is a tiny and light amp with 13.8" (35 cm), 7.1" (18 cm), 5.7" (14 cm) dimensions, and 4 Ibs (2.2 kg) of weight. It is a highly portable amp, perfect for traveling with.
The Katana-Air shines with its totally wireless connection system. You do not need any cable to play through it, and the latency is as low as almost non-existent. It can be used with battery power or plugged in as you prefer.
The amp features a 3" built-in speaker with up to 30W adjustable power output level. This model is an excellent choice for home practices with the comfort of the wireless system.
Katana Mini
The smallest, the lightest, the most portable, and the cheapest option of the series is the Katana Mini model. It weighs around 2 lbs (1.2 kg) and its dimensions are 9" (23 cm), 7.1" (18 cm), 4.6" (12 cm). It is a highly small amp to throw into your bag and go anywhere with the opportunity to play, practice anywhere.
It has a built-in 4" speaker along with a 7W power output. It has fewer amp styles with only 3 options Brown, Crunch, and Clean. Also, the control panel is smaller with only Volume, Bass, Middle, Treble knobs as the equalizer and time and level knobs as the delay. It only features input, Aux-in, and phones out jacks.
It runs on a special rechargeable battery or regular alkaline batteries, and the AC adapter is sold separately. While its features are limited, Mini is a great amp to have the opportunity to plug and play quickly anywhere.
The Difference Between The Boss Katana MKI and MKII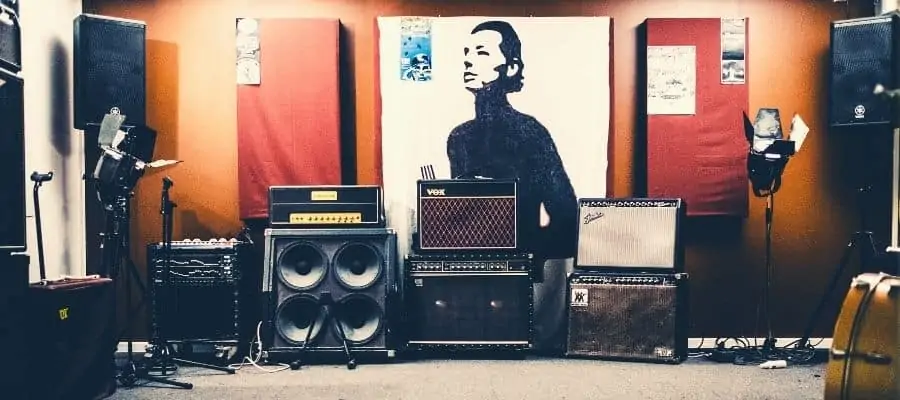 The Boss Katana series was presented for the first time in 2016 and consisted of several models of different powers and performance levels. In 2019 the Boss renewed the series and released a new variety of models called Katana MKII.
In general, nothing has been changed in terms of appearance, the amps are the same size, color, and the 12″ custom speakers are the same Class A/B power amplifier as the previous models. The upgrade applies to the Katana 50, 100, and the Katana Head, which will no longer be produced in the old version; only the Air, Artist, and Mini models will remain.
During the upgrade, all features were revised, whereby the transfer of the patches from Katana MKI to Katana MKII is definitely possible. If someone decides to replace the old model with the new one, there is no need to start from scratch with the sound programming; the old sounds can be transferred.
Now comes the plusses that came with the upgrade: There is a variation button for the amp selection, with which you now have a model variation for the selected amp model. The effects section has also been upgraded to five independent effects, which can be set with three knobs. Two stacked potentiometers make this possible, with which booster/modulation and FX/delay can be set separately over the entire control range. Before, there was only one controller available for two effects.
The effect selection has been expanded; there are now a total of 65 effect models available, including Spring Reverb, Flanger 117E, Phaser 95E, Poly Octave, and Pedal Bend (Whammy Effect), which can be controlled with an external expression pedal. You will, of course, also get to hear the new effects right away. If you would like to enjoy your effects in stereo, you can now couple two 100-watt models (actually only works with 100 and Artist models) and then output the effects in stereo. In addition, the two amps can be controlled via a master footswitch (GA-FC), sold separately. Furthermore, the Boss Tone Studio editor for Mac and PC has also been redesigned.
Footswitch
There are several footswitch options you can use with your Katana amplifiers.
BOSS GA-FC
The best and most comprehensive footswitch Boss offers for the Katana series is undoubtedly Boss GA-FC. This footswitch gets the amp's panel to the floor for you to control everything with your feet. You can switch instantly between four channels and two-loop routes, reverbs, boost settings, and many more.
The device also gives space for expansion with plug-ins for expression pedals. You can connect two expression pedals for real-time control of volume and drive. This is the best option to keep your hands on while playing through your Katana.
FS-5U/FS-5L
both models feature single switches. The silver one, FS-5U, is a momentary "unlatch" style footswitch and the FS-5L, the black one, is a latch-style footswitch with a Led indicator to show the status.
BOSS FS-6
Boss FS-6 Dual Foot Switch
Dual Momentary/Latching Footswitch
Stereo input jack for single stereo cable connection
Can be used with a wide variety of instruments, rhythm machines, guitar...
Each footswitch can be assigned latch- or momentary-type
Another option is the Boss FS-6 which has two switches in one device. The model features latch and momentary style combination switches in the same device. You can set each switch as latch or momentary as you prefer.
BOSS FS-7
Boss FS-7 Dual Foot Switch
Dual Footswitch with Switchable Polarity
Switchable Momentary/Latching Operation
Operates as momentary switch with no power (LEDs will not illuminate...
Turn instrument effects on/off with your foot
FS-7 is a more developed yet compact option with two switches and remote control of effect pedals or amp channel switching. The footswitch pedals are designed as a tandem to save space creating the compact style of the device, which saves space on the pedalboards.
Alternatives To The Amp In Terms Of Look, Sound, Specs, And Price
Marshall Code Series
Marshall Code Series is an affordable amp series that combines an outstanding level of versatility and performance. These amps are great choices to be used both at home for practice or for gigging. It can easily be the best friend of a musician.
The 25-watt version is great for home use, the 50-watt version suitable for small gigs, and the 100-watt model is great for any live performance.
The sounds and effects you can create using the Marshall Code are almost limitless. It may be one of the most fun amps in the market to play around with to explore and experiment with new tones for hours.
With all of the features of the amp considered, it is a dream come true for experimental guitar players. You can play along with all of your favorite guitarists' tones right in the amp, or you can try some of the iconic models of Marshall to explore new sounds. In addition, the amp gives you complete control over the sound and tone you are playing with.
VOX VTX Series
VOX VT40X Modeling Amp, 40W
40 Watts; 1 x 10" Speaker
VET (Virtual Elements Technology) delivers stunning sound quality
Valvetronix preamp uses a vacuum tube multi-stage amplification circuit
11 realistic amp models; 13 high quality on-board effects; 33 preset...
The VOX VTX Series represents an evolutionary step in VOX's Valvetronix Series. These amps combine an entirely new sophisticated modeling technology with a multi-stage tube preamp circuit that reproduces the unique distortion, sensitivity, and response characteristic of classic tube amps.
The series offer 20-watt, 40-watt, and 100-watt options; all come with VET (Virtual Elements Technology), which provides impressive sound quality.
The new modeling algorithm recreates the analog circuitry of the most sought-after tube amplifiers. It allows users to adjust the gain structure, switch operation between Class A and Class AB, and adjust the amplifier bias in real-time. The VTX amps also offer 13 classic effects based on some of the most iconic pedals of all time that sound amazing when paired with any of 11 realistic amp models.
VTX series shine with their affordable prices, which is around half of the Marshall Code series.
Conclusion
Boss Katana Series is the rising talent of the amp world and it totally deserves its reputation. The series' tone versatility and sound quality are remarkable, and on top of everything, the price is outstanding.
Katana 50 MKII and Katana 100 MKII are in the second generation of first-class practice amps at home, which can also be taken to rehearsals or a gig due to their high performance. The Head model provides the Katana experience to instrumentalists who prefer their own speakers.
If you are looking for a portable amp to travel, practice, or busk on the street the Mini and Air offer the Katana quality with lower output levels and smaller sizes. Air stands out with its wireless connection options.
You get a lot for your money here. The selection of amp models is not large in quantity but includes everything you need to serve the important sounds of rock and pop history. The range of effects is more complete and of very good quality for this price range.
Therefore, the Katana amps are very suitable for beginners or advanced users as practice amps or second amps for at home. The Katana amps are also highly recommended as an amplifier in guitar lessons. You can even use the 100 and Artist models for live performances.
If you found this article useful, you may want to save this pin below to your Guitar board.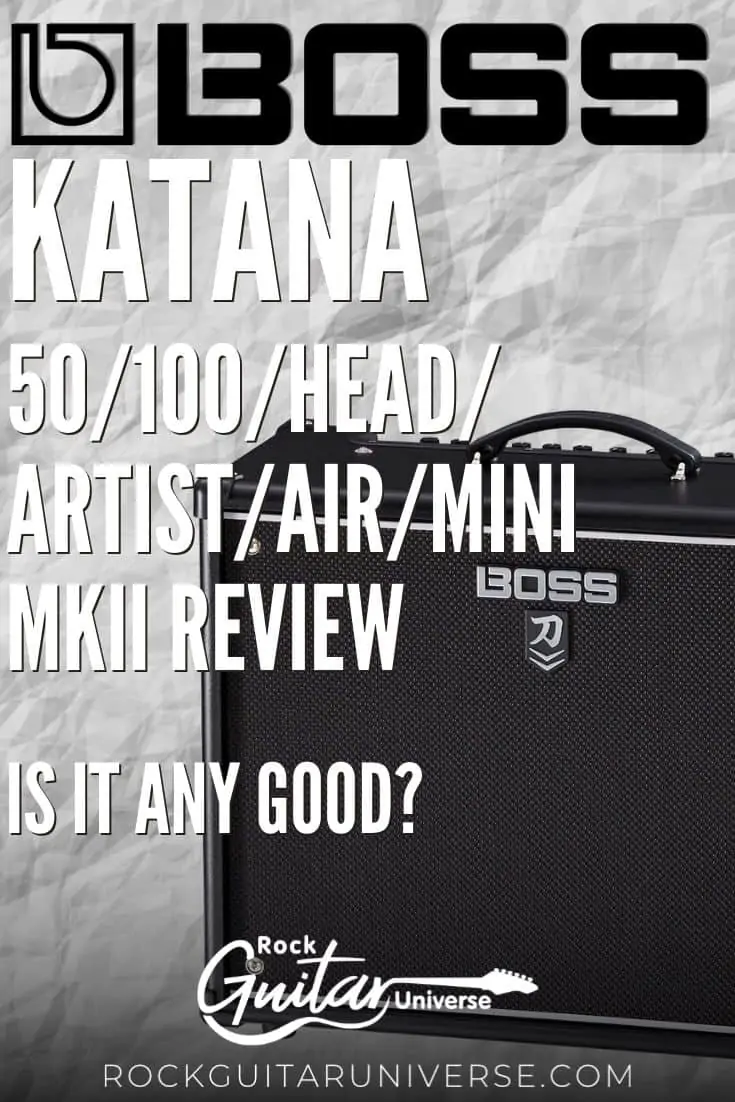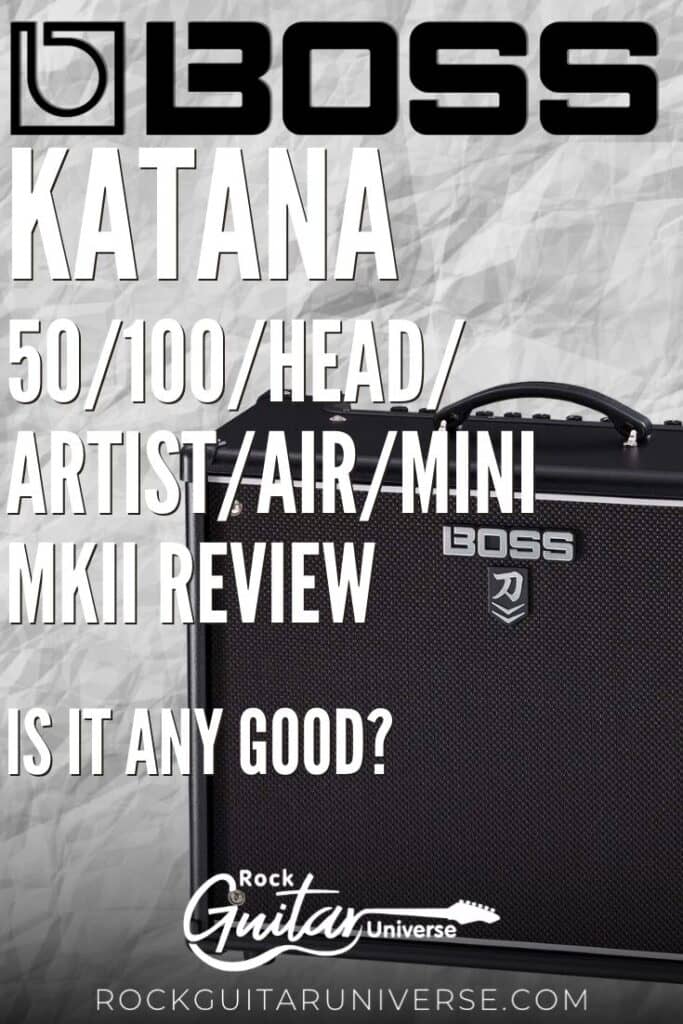 Last update on 2023-11-30 / Affiliate links / Images from Amazon Product Advertising API