If you plan on playing an electric guitar, it means that you will need an amplifier as well. It would be impossible for you to hear anything with the amp, and there are so many great options to choose from.
However, the main problem with amps might be the price. Music equipment can be rather expensive, and not everyone can spend a fortune on an amplifier. Here, I will talk about budget options you can check out, that might be an excellent option for you.
Furthermore, since buying an amp and a speaker separately is nearly impossible in the budget price range, I will talk only about combo amps you can find.
Budget Guitar Amps Under $50
You are probably aware that you won't get the best possible option in this price range, and that the quality will be quite low. Amplifiers under $50 are hard to find, and the only thing you'll be able to do with them is practice.
This means that you can forget about performing anywhere with this equipment since no one will be able to hear you. The main benefit is, of course, price, and that you'll be able to hear better while practicing.
JOYO JA-01 Mini Amplifier
No products found.
Works on batteries
Compact
2 Watts
MP3 input
Earphone input
LED indicator
Two channels
6.4 ounces (181.44 grams)
1.5 x 8.11 x 5.12 inches (3.81 x 20.599 x 13 centimeters)
If you are looking for the cheapest amplifier on the market, this is it. The amplifier works on a 9V battery, and it does its job. However, the quality of sound coming out of it is not impressive. But considering the price, it might work for you.
For everyone looking to hear what they are playing, and are not focusing on the quality or volume, this might do the trick. The amp is easy to use, and there are no settings to play with. All you need to do is plug it into your guitar and start playing.
The amp has two channels and you can pick between the clean and distortion. It is an interesting option that will allow you to play the electric guitar in the same way you would acoustic, without bothering your roommates or neighbors.
Danelectro HoneyTone
Vintage design
Works on batteries
Three potentiometers – volume, tone, and gain
Belt clip
Headphone jack
10 Watts
15.2 oz (430.91 grams)
6 x 3 x 6 inches (15.24 x 7.26 x 15.24 centimeters)
HoneyTone is an interesting amp you can try if you aren't willing to invest in a more expensive amplifier. Naturally, the quality of the sound can't compare to more professional amps, but it is a significant improvement compared to the JOYO.
The amp works on a 9V battery, and there is a handy belt clip that allows you to carry it with you while you play. This amp might be an excellent piece of equipment for beginners, and you'll have so much fun using it.
It has a vintage design, and it looks beautiful. Another great thing is that even more experienced players can have fun using it if they are traveling or if they find themselves in a situation where they can't carry their real amp with them.
Valeton Rushead Pocket Amp
Pocket-sized amp
Several modules like clean, overdrive, and distortion
Effects – chorus, tremolo, flanger
Ambient mode with reverb and delay
AUX input
USB charger
2.39 oz (67.76 grams)
4.7 x 3.8 x 1.5 inches (11.94 x 9.65 x 3.81 centimeters)
Valeton is known for designing budget equipment, and here, you will get something quite impressive. While Rushead is a small, pocket-sized amp, it still sounds good and will significantly improve your practice.
The design is simple, and you don't need cables. All you need to do is plug in the amp and start playing. But the best thing is that you'll get a couple of effects that are unusual for low-end amplifiers.
It seems like such a good deal for beginner players, and everyone else who likes the idea of having an amp in their guitar case. The amp works on 9V batteries and sounds surprisingly good. And with all the effects you'll have at your disposal, practicing your guitar skills has never been easier.
VOX AP2AC AmPlug
Easy to use
Works on batteries
Headphone out
AUX-in
Three modes
Nine effects
3.04 oz (86.18 grams)
7 x 1 x 5 inches (17.78 x 2.54 x 12.7 centimeters)
VOX has been around for quite a while, and they make incredible guitar equipment. It came as no surprise that they wanted to tap the budget market as well. Their model amPlug is similar in design to Valeton's pocket amp, and it sounds quite good.
As other pocket amps, it works on batteries, but this time you will need AAA batteries instead of standard 9V ones. The amp is easy to use, and you don't need cables to play. The best thing is that amPlug comes in several options based on genres so you will easily find the one that fits your needs.
Even though each offers a slight variation, and it still isn't an amp you can play on stage, it's great for practice and if you are traveling regardless of your skill level.
Fender Tonemaster Mini
Portable amp
1 Watt
Four potentiometers – gain, volume, tone, and power
Works on batteries
Comes with a stand
1.1 pounds (498.95 grams)
3.6 x 7.5 x 7.2 inches (9.14 x 19.05 x 18.29 centimeters)
This amp is a miniature replica of legendary Tone Master amp by Fender. The mini version works on 9V batteries and sounds pretty good. Once again, the amp is for home use and for practice, and you won't get enough power to play with other people.
The design of the amp looks like a Fender's cabinet, and it will allow you to adjust the sound using the knobs on the front side of the amp.
It's not the best amp available on the market, but considering the price, it seems like a great deal.
Budget Guitar Amps Under $100
The next category covers amplifiers in the price range between $50 and $100. Now, the difference is still small but there are significant improvements you'll notice. These amps are still designed for beginners or someone who is looking to have an amp they can carry around while traveling.
This means that you won't get an excellent tone that will make your guitar sing. However, it can be a great tool for practice if you are unable to use the real thing.
Blackstar Mini Fly3
Works on batteries
Blackstar amp design
Four potentiometers – gain, volume, EQ, and delay
3 watt
Two channels
Patented ISF feature
MP3/line in output
1.98 pounds (898.11 grams)
7.59 x 5.59 x 4.29 inches (19.28 x 14.199 x 10.897 centimeters)
Another amp that works on batteries comes from Blackstar. The main quality of the amp is in the ISF feature that allows you to easily adjust the tone to find something you like. But there is more.
You can also plug in your MP3 player, so you can practice along with real songs you love. This is a significant improvement and a great addition to the traditional amplifiers, which makes it an excellent tool for practice.
When it comes to sound, the amp is surprisingly good. Naturally, you won't get as perfect a sound as with a real amp, but it will undoubtedly help you if this is your only option. Fly3 doesn't use 9V batteries, and instead, you will need to get six AA batteries. Bear in mind that you will need to replace them every month or two based on the amount of time you spend playing.
Sawtooth 10
10 watts
Five potentiometers – volume, gain, treble, middle, bass
Drive select switch
6.5-inch speaker
Black
6.1 pounds (2.767 kilograms)
10.5 x 5 x 11 inches (26.67 x 12.7 x 27.94 centimeters)
Sawtooth 10 is a 10-watt amplifier that doesn't require batteries. It looks quite good for the price you pay, and it gives you a couple of options for adjusting the sound. While the sound is not the best one, you will get a real amp for the price that will allow you to play your guitar.
Moreover, it has a headphone jack as well if you want to play the instrument without disturbing anyone. Usually, amps like this are a bit more expensive, and it seems like a really good deal if you are not willing to invest more.
Sawtooth 10 also has five knobs for fine adjusting to create a tone you'll enjoy. All in all, it is a decent amp that's quite cheap.
Marshall Micro
Famous Marshall design
Compact
Work on batteries
Belt clip
Two potentiometers – volume and tone
On/off/od switch
Headphone jack
12.8 ounces (362.87 grams)
5.51 x 2.36 x 4.33 inches (13.995 x 5.994 x 10.998 centimeters)
Marshall has been one of the most popular brands when it comes to amps, and it's not surprising that they designed their own mini amp. It has the same design as their cabinets, only smaller.
The amp works on 9V batteries, and you can plug in headphones if you want to practice in peace. Moreover, it has a belt clip so you can easily carry it around while you play.
It is a great option for all of the players wishing that they owned a Marshall amp, and for everyone carrying their guitar on vacation.
Donner DEA-1
10 watt
Five potentiometers – gain, volume, treble, bass, middle
Boost switch
Sturdy
9.98 pounds (4.527 kilograms)
15 x 14.5 x 10.5 inches (38.1 x 36.83 x 25.67 centimeters)
Donner DEA-1 looks rather similar to Fender's Frontman series, which means that it is a real amp without batteries. It's good for practice and it can be quite loud for your home practice. Of course, it still won't be enough to use it on stage.
The amp works even better if you plug in a couple of pedals since it only has a drive channel. Moreover, switching between channels requires you to push the button on the amp since there is no footswitch.
It's a great amp considering the price, and you will be able to improve so much if you use it for practice.
Orange Crush 12
Single-channel
12 watts
Six potentiometers – volume, treble, middle, bass, overdrive, gain
Orange or black color
12.34 pounds (5.597 kilograms)
11.42 x 6.88 x 12 inches (29 x 17.48 x 30.48 centimeters)
There are so many players out there that adore the sound of Orange, and if you are one of them, you will love Orange Crush 12. The amp is probably the best amp so far, and the price is on the very edge of our range.
It offers Orange sound with its traditional layout. There is a single channel, and you can use knobs to create a tone and levels of gain or distortion.
It's a great amp for beginners or anyone else who always wanted to have an Orange amp in their collection.
Budget Guitar Amps Under $200
As the price range increases, so does the quality. Here, you will find well-known names, and all amps are significantly better than those I mentioned before. For the price of between $100 to $200, you will find decent amps for practice that can sound pretty good.
Marshall MG15FX Combo
Custom 8-inch speaker
Clean, crunch, od1, and od2 channels
Line in for playing along
Eight potentiometers
16.3 pounds (7.394 kilograms)
8 x 15 x 14.8 inches (20.32 x 38.1 x 37.59 centimeters)
With a higher price range, you'll be able to get something like an MG15 which is quite a decent amp for beginners. Moreover, it is designed by Marshall, and it can sound really good. If you are a beginner, and you are looking for a great budget amp, MG15 is an excellent choice.
The amp has different channels, effects, and everything else you might need during your practice. Even without any effects, it will still sound great, and adding more pedals is just a bonus.
Marshall is often the safest choice, and this amp is still in the affordable category, so you might want to check it out.
Peavey Solo
12 watts
8 Blue Marvel speaker
TransTube emulation circuitry
Two channels
Five potentiometers – overdrive, volume, low, mid, high
14 pounds (6.35 kilograms)
16.12 x 9.75 x 14.87 inches (40.94 x 24.77 x 37.77 centimeters)
Peavey is a great brand, but it is still not nearly as popular as Marshall or Fender. Their TransTube Solo amp is affordable and sounds great especially if you are looking for a heavier-sounding amp.
Naturally, the heavier sound will not be as clean as with some other amps but it is a good place to start and will allow you to improve guitar control while using overdrive.
This doesn't mean that the amp is specifically for metal lovers, and anyone can use it. Over the years, Peavey proved that they were a worthy competition, and they have many models that sound great.
Fender Champion 20
20 watts
8-inch speaker
Single-channel
Reverb, delay/echo, chorus, tremolo, vibratone, etc
Headphone jack
Seven potentiometers
FX selection
6.6 pounds (2.994 kilograms)
16 x 12 x 16 inches (40.64 x 30.48 x 40.64 centimeters)
Guitarists are usually divided between Fender and Marshall, and each has its qualities. The Champion series from Fender is incredible, especially if you love modern style and variety of effects.
Here, you will get a chance to choose between many different modes, effects, and sounds. It's great for experimenting, and it can be so much fun. And the best thing about this amp is its price. It's rather affordable considering the quality you'll get.
The amp is great for any type of music, but it really shines if you are playing rock or blues. Moreover, single-coil pickups work like a charm when you pair them with a Fender amp.
Orange Crush RT20
20 watts
Two footswitch channels
8-inch speaker
Seven potentiometers – dirty, treble, middle, bass, gain, clean, and reverb
Fully analog
6.61 pounds (2.998 kilograms)
7.87 x 13.78 x 15.75 inches (2 x 35 x 40 centimeters)
Crush RT20 is a more expensive version of Crush 12, and it sounds a lot better. Needless to say, the price is a bit higher compared to the previous version, but Orange fans will love this model.
Another exciting feature that RT20 has to offer is a tuner. You won't often find amplifiers that have a built-in tuner, and it's a nice addition that is more than useful. The model I added here is black, but you can also find a traditional orange one as well.
The amp is easy to use, and everything is quite simplified, so all you need to do is plug your guitar, and you'll be ready to play. It also has 20 watts which means that it is a bit louder than the previous models on the list.
VOX Valvetronix VT20X
20 watts
Eight-inch speaker
Valvetronix preamp with a valve
Built-in tuner
AUX-in jack
Headphones jack
16.09 pounds (7.3 kilograms)
16.14 x 8.86 x 13.66 inches (41.0 x 22.5 x 34.7 centimeters)
Vox Valvetronix is a great amp for all the tech lovers out there. It combines vintage design with modern functions and it has a real valve in the preamp which isn't something you'd expect on cheaper amplifiers.
There are eleven realistic amp models, thirteen effects, and thirty-three presets you can use. It also comes with a built-in tuner, and you can even get a version with a footswitch. The amp sounds incredible, and there are so many different sound combinations you can create.
The only problem for some might be the modern effects and all the work you need to do to create a sound you love. But there is no doubt that it is an incredible amp that sounds amazing.
Budget Guitar Amps Under $300
The final category is amps in a price range between $200 and $300. The quality increase is once again something you should consider, and these amps will sound a lot better than any other on the list.
Fender Champion 40
Digital amp
Variety of sound range
Multiple effects
40 watts
Two channels
Twelve-inch speaker
23.4 pounds (10.6 kilograms)
20 x 20 x 11.5 inches (50.8 x 50.8 x 29.21 centimeters)
Fender Champion 40 is an improved version of Champion 20, and it is rather similar. There are two main differences and that's quality and price. Champion 40 is more expensive, and the sound is so much better.
As with the previous model, you can select a number of effects and modes available, and you can use them as you see fit. Since the amp offers 40 watts, this means that you can use it for practice, during rehearsals, and so much more.
The price of the amp is incredible considering what you'll get. The only thing you should worry about is your neighbors since Champion 40 can get quite loud.
Peavey Vypyr VIP 2
40 watts
Twelve-inch speaker
TransTube technology
10 instrument models
12 string models
Modeling amp
29 pounds (13.15 kilograms)
20.75 x 20.25 x 11.5 inches (52.71 x 51.44 x 29.21 centimeters)
Vypyr VIP 2 is another modeling amp, and you will get tons of effects with it. More importantly, the amp is great for beginners, and you will be able to experiment with effects for as long as you want. It's easy to use, and it is so much fun. At least if you like modeling amps.
Among the effects you can use are chorus, flanger, tremolo, octaver, phaser, pitch shifter, and many others. You can also try out different amp simulators, and find something that suits your playstyle.
If you like Peavey and love experimenting with sound, this amp might be a perfect choice for you.
Orange Crush 35RT
Solid-state amp
35 watts
10-inch speaker
3 band EQ, volume, gain, reverb
Built-in digital reverb
29 pounds (13.15 kilograms)
11.8 x 20.5 x 19.1 inches (29.97 x 52.07 x 48.41 centimeters)
Another amp from the Crush series is 35RT. As you can probably expect, the amp is even better than cheaper options. The controls and everything is rather similar to the 20RT but each part is improved.
As a result, you have 35 watts, a 10-inch speaker, and more control over sound quality. It's a great amp if you love Orange.
It also has a built-in tuner and all other options that you might find in the previous version.
Blackstar HT-1R
Two channels
All tube
Eight-inch speaker
1 watt
Reverb
13.2 pounds (5.987 kilograms)
6.77 x 12.13 x 12.01 inches (17.196 x 30.81 x 30.51 centimeters)
Even though it might sound weak, HT-1R is an excellent amp for any skill level. If you are looking for a great amp that can offer you a perfect tone, then you might want to check HT-1R. There are four vintage knobs – gain, volume, EQ, and reverb.
Additionally, there are two switches for overdrive and voice.
But the main quality of HT-1R is in tubes. If you are a fan of amps with valves, this might be the cheapest possible option. Just don't let the size fool you. There is a beast hidden inside of it.
Boss Katana 50 MkII
50 watt
12-inch speaker
60 effects
USB support
Five independent effect sections
Dedicated pedal FX
25.57 pounds (11.6 kilograms)
18.5 x 9.37 x 15.67 inches (47.0 x 23.8 x 39.8 centimeters)
Katana 50 is the first in the series, and it can be pretty good. There are many different effects and modes you can try, and each sounds incredible. MkII comes in different sizes as well, but here, I will focus on the smaller one since it is the only model that fits the category.
There are four main sections – amplifier, equalizer, effects, and tone section. Each of the categories has its own knobs for fine-tuning.
You can get this amp regardless of your skill level, and you will probably enjoy every second you spend with it.
Summary
Guitar equipment can be quite expensive, and it's not always easy to find something that doesn't cost a fortune. But even if you are not able to buy the best possible amp in the world, you can still find some decent options.
The only thing that will determine the quality is your budget, but you can find amps that will sound great under $300. Of course, you should focus on what sounds the best to you, and try to find an amp that will fit your budget.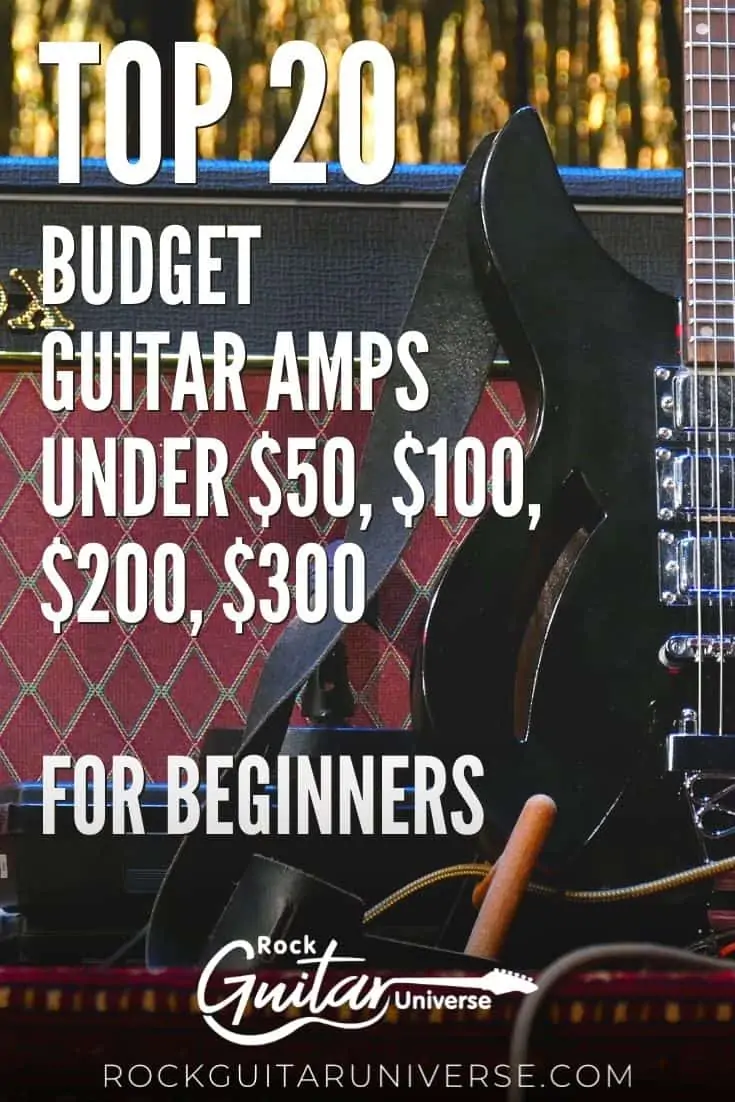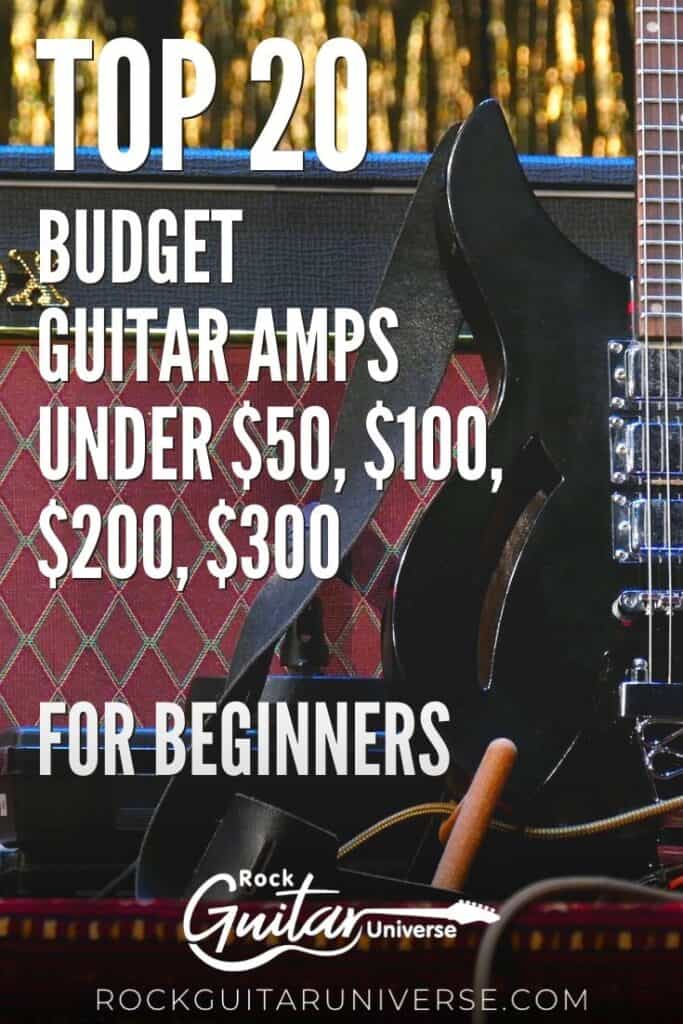 Last update on 2023-10-04 / Affiliate links / Images from Amazon Product Advertising API