It probably happened to you, as it did to all of us, that you are unable to play the guitar on the amplifier due to a number of reasons. Your family member might be sleeping, you have grumpy neighbors or any other thing that might prevent you from blasting distortion through your amp.
One of the options is to play the guitar without the amp, but that will defy the whole point of the electric guitar. However, there is one more option you can try out. And that's to play the guitar with headphones.
This way, you will be able to hear the sound of the guitar, all the effects, and the best thing about it is that you won't bother anyone around you. Probably the main problem people might encounter is the tech side of it, and how to make it happen.
One of the things I should mention from the start is that plugging the guitar directly into headphones is impossible. The electrical current generated by the pickups is too small, and it would be impossible for anything other than the amplifier to reproduce it and make it hearable.
Use The Guitar Amp Headphone Jack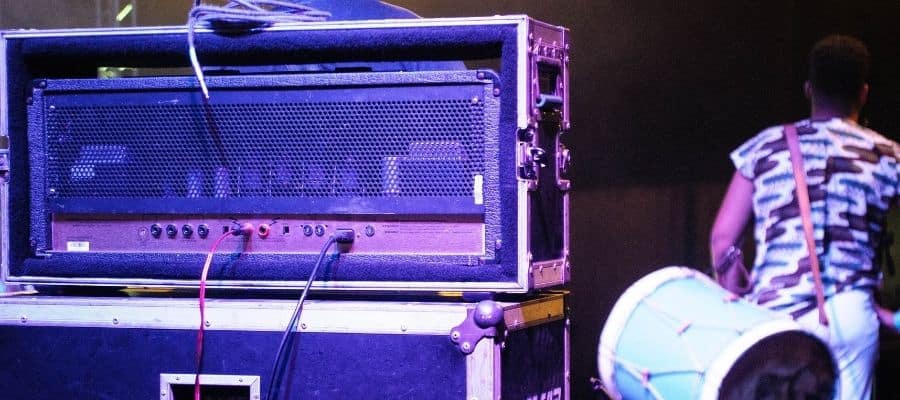 The first option on the list is probably the best one, but it's not available to all guitar players out there. For this case, all you'll need to do is plug your headphones directly into the amplifier, and that's it.
In most cases every guitar amp has a headphone jack, but sometimes you can stumble upon an amp without one. So, this method will be unavailable to you. The first thing you'll need to do is check your amp and see whether you have headphones out.
There are a couple of possible scenarios, and it is mostly based on the brand where you'll find the jack on your amp. In the majority of cases, it is located on the front side of the amp, where all the potentiometers are.
For those amps that have pots on the top side, it is where the jack will be located as well (if there is one). Finally, there is a third option, which is on the back, and some amps will still have knobs on the front side, but headphones jack on the back.
So, be sure to inspect your amp to see whether you have it at all. Or you can just Google it and see the specs and whether headphones are supported in the manual.
This covers the first part of the process. If your amp offers headphones out, the next thing you'll need to do is check the size of it. There are two possible options for the jack size – 1/8″ (3.5 mm) which is the size of the standard headphones and 1/4″ (6.35 mm) which is the same size as the guitar jack.
Top 3 1/8″ (3.5 mm) to 1/4″(6.35 mm) Adapters
In most cases, your amp will have a 1/4″(6.35 mm) headphones input, so in order for you to connect the headphones, you will need an adapter. So, here is a list of what I consider the top adapters to do that job.
UGREEN 1/8″ (3.5 mm) to 1/4″(6.35 mm) Gold Plated Adapter
If you have a 6.35 mm headphones jack, there is a high chance you'll need to use an adapter for everything to work. Now, getting one is rather affordable, and you can find it nearly anywhere.
The adapter will allow you to plug standard headphones into the bigger guitar jack. They are durable, work great, and will allow you to play the guitar in no time.
ANDUL 1/8″ (3.5 mm) to 1/4″(6.35 mm) Pure Copper Adapter
I should talk about the other option, which is not as common as the first one. In this case. You already have headphones with a 6.35 mm jack, but the jack on the app is smaller or designed for standard headphones.
Even if this is the case, you can still find an adapter that will allow you to use headphones you already own, without buying new ones. Here, you can check out 6.35 mm to 3.5 mm adapters, and it works in the same way as the previous model.
DuKabel TopSeries 1/8″ (3.5 mm) to 1/4″(6.35 mm)
Finally, you might want to consider the length of the cable your headphones have. If the cable is shorter, and you don't want to sit on the floor (or on the amp), you will need an extension cable.
You can find models like DuKabel that will give you more freedom and increase the cable's length. Needless to say, the adapter is available in both options I mentioned above, and based on the type of headphones and amp you have, you will buy one.
Use A Micro Guitar Amp/Headphone Amp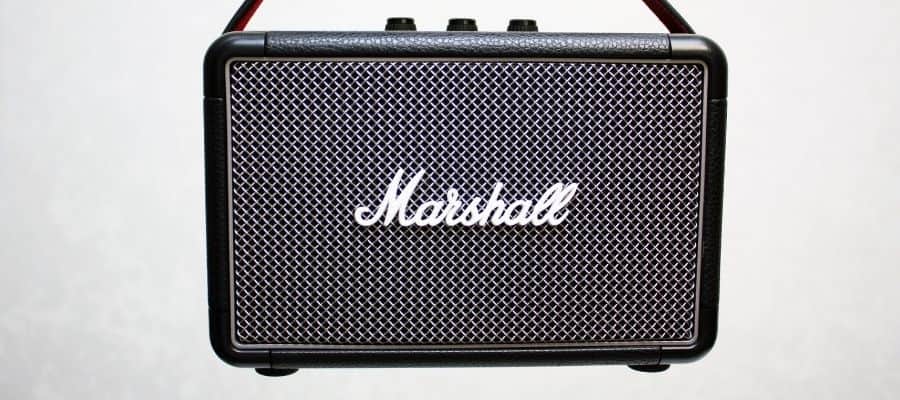 There are so many reasons why you might not want to buy an expensive amp-like Fender Twin Reverb. For some, the primary issue is with the price, but there are also those who could afford one but have no need for it.
The amp can be quite loud, and it might be a bad idea for someone who just wants to have a practice amplifier. This is why the popularity of micro amplifiers is growing in the past couple of years.
But what exactly are micro guitar amps? The term is usually used to describe small amplifiers, that are usually powered by a 9V battery. This means that they are portable, and don't require electrical sockets or extra cables. The only thing you'll need is a guitar cable, and almost all models have headphone jacks.
While the sound is not as great as with real, non-portable models, the price and possibilities make up for it. Needless to say, the process of plugging headphones is the same as with regular amplifiers, and there is a chance that you'll need to buy an adapter based on the headphones model.
Top 3 Micro Amps & Headphone Amps
One of the most attractive things about microamps is the price since they can be rather cheap, especially if you compare them to high-end amps. Furthermore, they are perfect for traveling when you are unable to carry your real amp with you.
It is a great way to practice playing your guitar with headphones, and buying one won't cost you a fortune.
Another thing you might want to consider are headphone amps, and they might be necessary for some models of headphones.
VOX amPlug
Vox designed a mini amp, and for this model, you don't need a cable. The amp plugs directly into the guitar, and all you need to do is turn it on and start playing.
It is also worth mentioning that the amp has a small speaker, and you don't need to use headphones to play it, however, it still has a headphone jack. When it comes to the price, it's one of the cheapest amps you can find on the market, and it is surprisingly good.
You can also pick a model based on your taste, and you can find blues, classic rock, clean, lead, metal, and others.
Marshall MS-2
There is a high chance that you already encountered this model, and it is among the most popular mini amps. One of the primary reasons is that it was designed by Marshall and that you can put it on your belt and walk around with it.
The amp has two knobs – volume and tone, and there is a switch to choose between on, off, and overdrive. Just bear in mind that overdrive is not great, but it will do well enough for you to practice and learn new things. The amp runs on a 9V battery, and you can even use a power bank if you have it.
Fender Mini Tonemaster
The final amplifier I'll mention in this category comes from Fender. It is rather similar to the Marshall one, and it is up to your personal taste to pick which one you'll buy. The amp has an on/off switch, and three potentiometers – gain, volume, and tone.
Naturally, it works on a 9V battery, and it is designed to look like a Fender cabinet.
Use An Audio Interface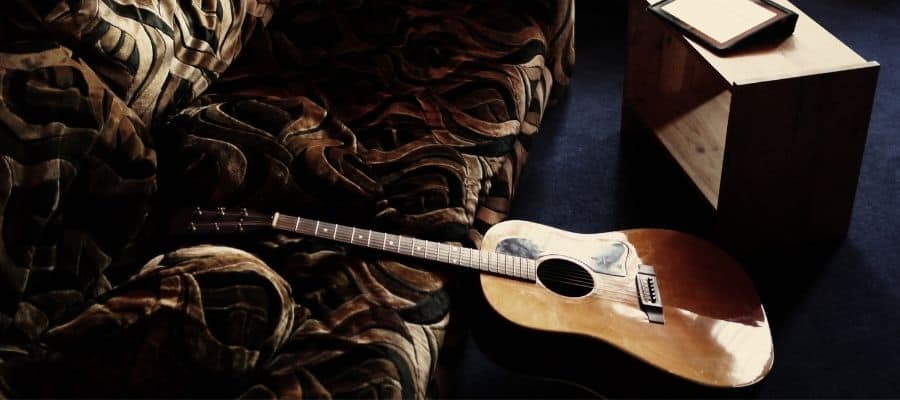 The next option you can check out is to use an audio interface. Audio interfaces are rather popular among people who want to record themselves playing, and you can find excellent amp simulators that will make your guitar sound like a dream.
Now, the price range for audio interfaces can vary from $50 to a couple of hundred (or even more). Based on the model you buy, and the software you pick, you will be able to significantly change the sound of your instrument.
All types of audio interfaces work with headphones. The very nature of the device is to plug it into something, and they don't have their own speaker. This means that the only way to hear what you're playing is through an external speaker.
The most common option is to plug the guitar into the interface, and then connect the device to your PC. From there on, you can use either headphones or speakers to hear the sound of the guitar.
As you can probably imagine, the choices are nearly limitless. The only thing that matters is how much you're willing to invest in the interface and all the programs necessary for it to run properly.
Top 3 Audio Interfaces For Guitar
The best thing is that you still don't need to spend tons of money, and there are numerous free programs you can try out to see how much you enjoy using this type of device.
Focusrite Scarlett Solo
The Focusrite Scarlett Solo is one of the most popular audio interfaces for guitar. The price might be a bit higher, but the quality is exceptional. It supports USB 2 (and type-C), and it has tons of different options when it comes to shaping the sound.
You can record yourself playing, simulate different amplifiers, and you can easily plug a number of pedals and other effects if you like to. Of course, the audience for this device are guitarists who want to experiment with recording, and if you plan on using it just for headphones, you might want to try a cheaper option.
While it will work great with headphones, there are so many other things you could do with it, and it would be a shame to use it just for this one purpose.
Behringer Audio Interface 1x XLR/TRS
For those who are looking for a cheaper option, you will hardly find anything better than Behringer. The company is one of the biggest ones when it comes to guitar gear, and the audio interface is incredible, especially if you consider the price.
The device is easy to use, it has great resolution, and it is compatible with most popular recording software like Cubase.
All things considered, Behringer XLR/TRS is a great option, but keep in mind that you might need to buy an adapter to use it. Moreover, it supports only 16-bit sampling.
Steinberg UR22C 2×2
Steinberg is the company behind Cubase. The model is in the mid-range when it comes to price, but the quality is exceptional. It supports USB 3.0, has an incredible audio resolution, and you can connect it to nearly any device.
Since the device is designed by Steinberg, Cubase AI, Cubasis LE, and dspMixFX are included, and you won't need to worry about getting them separately. This is a perfect opportunity for every guitar player to get great programs as a part of the package.
As you can probably guess, free programs are not nearly as good as paid ones.
Connect To Phone Or Tablet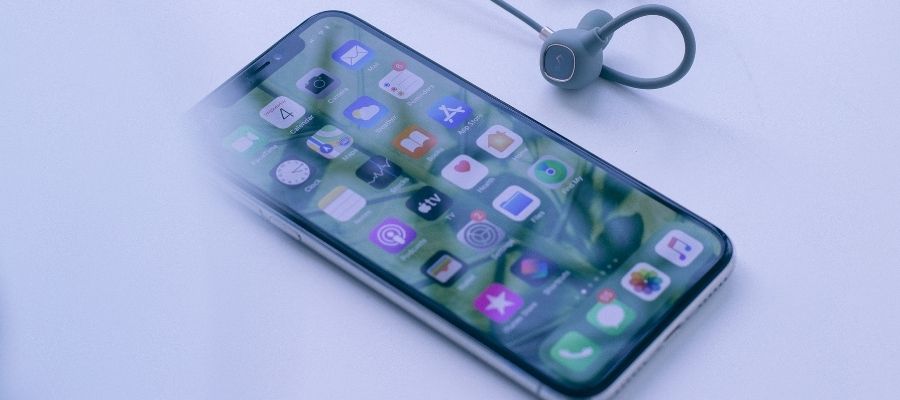 Now, the first thing I need to explain here is that you can't plug your guitar directly into the phone or a tablet. The majority of smartphones and tablets have a headphone slot, which means that you can't use a regular cable or the adapter I mentioned before.
You will still need to use some kind of interface to make it work. It is worth mentioning that some of the audio interfaces mentioned in the previous part will work on smartphones and tablets. But if you are looking for something more in line with the phone, there are a few devices you need to check.
The idea behind them is quite simple. You will plug your guitar into the interface, and then, connect it to the phone. There are many different programs you can use to further shape the tone, add effects, or find an amp simulator.
Top 3 Guitar Phone/Tablet Interfaces
These audio interfaces are rather similar to the ones for PCs, but they are a bit simpler due to the differences between PCs and smartphones/tablets.
IK Multimedia iRig 2
Probably the most popular device in this category is iRig 2 by IK Multimedia. All you need to do is plug your guitar in it, and connect it to your iPhone or iPad. It uses ¼" input for the guitar and ⅛" for the iPhone/iPad.
If you buy the iRig 2, you will also get an AmpliTube CS program for free, and you can download it from the Apple store. Now, as you probably noticed, the main downside of the iRig is that it doesn't support Android devices, and works only for Apple.
Fortunately, Android users can get a similar device by the same company that will allow them to use them on non-Apple products. If you have an Android device, check out iRig UA instead.
NANYI Audio Splitter
The cheapest possible option is to use an audio splitter. All you need to have here is the splitter, guitar cable, smartphone, headphones, and your guitar. It's as simple as that.
The first thing you'll need to do is connect your headphones to the audio splitter. You can't miss this since there is only one possible option where you can plug them. From there on, plug the guitar into the other part of the splitter, and connect it to the smartphone.
NANYI audio splitter costs a couple of dollars, and you probably already own the rest of the equipment. Furthermore, you can find great amp simulators on the Play Store or Apple store that won't cost you a single dime. It is a great option that will save you a lot of money and will allow you to play the guitar with ease.
It is worth mentioning that the same process can work on PCs, tablets, laptops, and any other device you can imagine.
Saramonic SmartRig+
As you can probably guess, iRig is not the only product available that can allow users to connect the guitar to a smartphone. There are many other options, and you can check them out if you are interested in something like this.
Naturally, the most important part of the process is your budget and what are you trying to achieve. For some, the iRig might be a perfect choice, but there are those who might want to try out the alternative.
Multi-Effects Pedal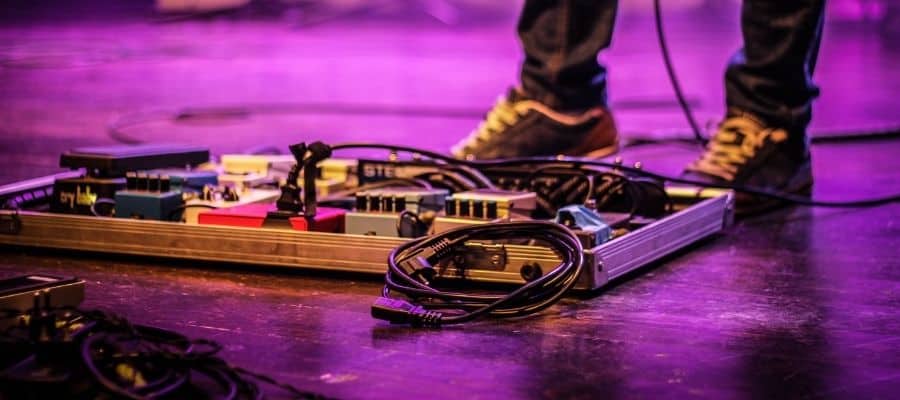 The final option you can try out is using a multi-effect pedal or a processor. Almost every multi-effect pedal has headphones out, which means that the entire process is rather simple. It works the same way as with amplifiers, and if you already own a processor, it means that you have the necessary equipment.
Since these pedals are designed to offer a plethora of effects, it means that you can create the sound of your dreams in no time. For those without such a device, the options are almost limitless.
Top 3 Multi-effect Pedals
The price range of multi-effect pedals goes from $50 to over $1,000, so it all comes down to the budget and how much you're willing to invest.
So, let's take a look at some of the options for multi-effect pedals you can check out if you don't have one already. I will try to add different price ranges so you have a better idea of what you can expect.
Zoom G1X Four
Zoom is an uncrowned king of guitar pedals. The reason for this is that the company offers rather cheap processors which most beginners encounter at one point. Naturally, they have more expensive ones as well, but the main quality is in the low-end ones.
A perfect example is G1X four. The processor comes with tons of effects, display, different settings, expression pedal, and so on. Now, it is possible to find an even cheaper one, but I'd suggest getting one with an expression pedal.
Boss ME-80
If you can afford to spend a bit more, Boss is the way to go. It has eight multifunction footswitches, an expression pedal, tons of effects, looks great, and it has an incredible sound.
You can use it even if you plan on playing live, recording, or anything else. The quality is obviously the selling point here. The best thing about processors is they are programmable, and you can create any sound you like, and tailor it to your taste and preferences.
Vox Lil' Looper
Finally, if you don't care about expression pedals and want to avoid paying a lot of money, Vox might have a solution for you. The Lil' Looper is a loop pedal, but you can also use it to create great effects, and of course, plug your headphones.
The pedal is affordable, and you can use it for any instrument you want. Naturally, you can find anything else you imagine on the market, and it is up to you to pick the model you like the most.
Top 3 Headphones For Playing Electric Guitar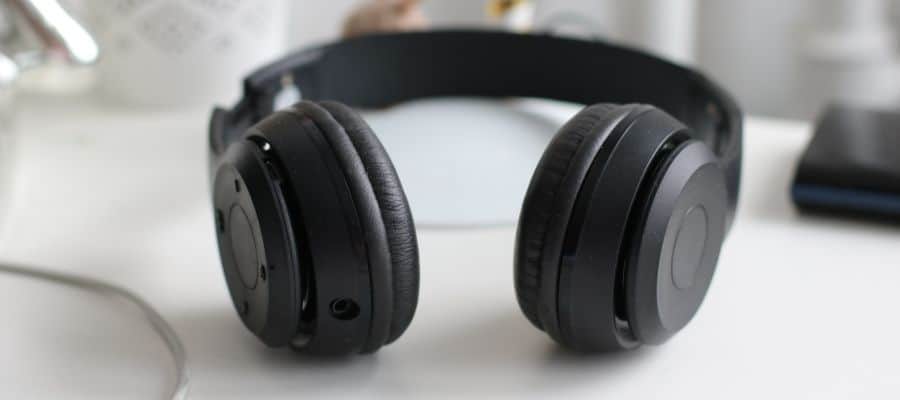 Now that we've covered all the ways you can use your guitar with headphones, let's take a look at some of the options you need to check when it comes to headphones. Now, there is a chance that you already have one, but getting a new pair might be a good idea.
Especially if you plan on playing the guitar often. Your goal should be to have the best possible sound, and this might require you to upgrade the device.
Sony MDR7506
Sony is known for being one of the leaders in the field, and you can't really go wrong if you pick this brand. The MDR7506 might seem a bit pricey, but it is significantly cheaper than the majority of pro models.
It offers an expansive frequency range, a great design with minimum leakage, and rather decent noise isolation. All things considered, it is a great option for playing the guitar, and it is quite versatile.
Audio-Technica ATH-M50x
The ATH-M50x is a professional studio monitor, which means that it's designed for guitars and other instruments. It offers a perfect ear seal with incredible noise isolation. The cups are adjustable, and it comes with a bag and extra cables.
While the price is a bit higher compared to the ones designed by Sony, the quality is incredible, and if you can afford it, you won't regret getting this model.
Beyerdynamic DT 880
The last model I'll mention here is by Beyerdynamic, and it is the most expensive of the three. However, with the higher price, you will get better quality. The headphones are comfortable, have powerful impedance, wide frequency response, and excellent bass and mid ranges.
Once again, the main problem with the model is the price, since not everyone will be willing to spend as much on a pair of headphones.
Summary
Playing the guitar on an amp is not always possible, and all of us are often forced to try and find a quieter option. The easiest way to still continue playing without bothering anyone around is with headphones.
Now, the easiest way to use headphones with the guitar is if your guitar amp or pedal has headphones out. If this is the case, all you need to do is plug the headphones, and you'll be ready to go.
If this is not the option, you can always get an adapter and use headphones with a PC or smartphone/tablet.
If you don't have the necessary equipment, you'll be forced to buy it. Fortunately, there is a vast choice of pedals, amps, and adapters available, and the only thing you should ask yourself is how much you're willing to pay for it.
If you found this article useful, you may want to save this pin below to your Guitar board.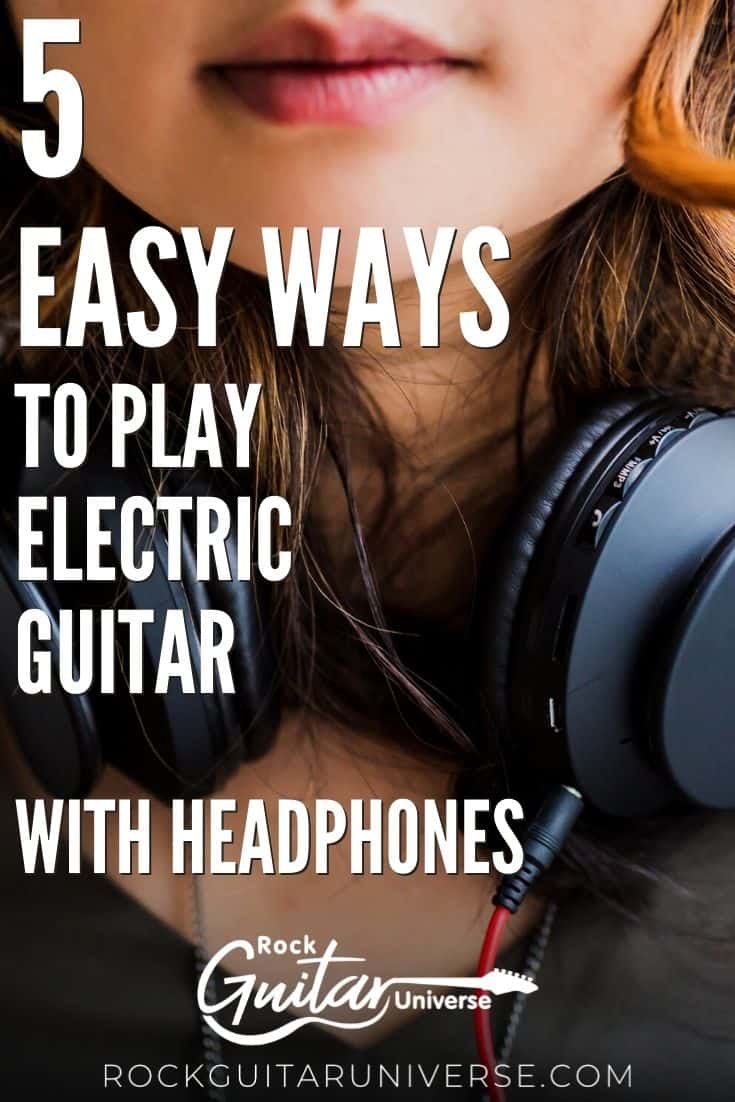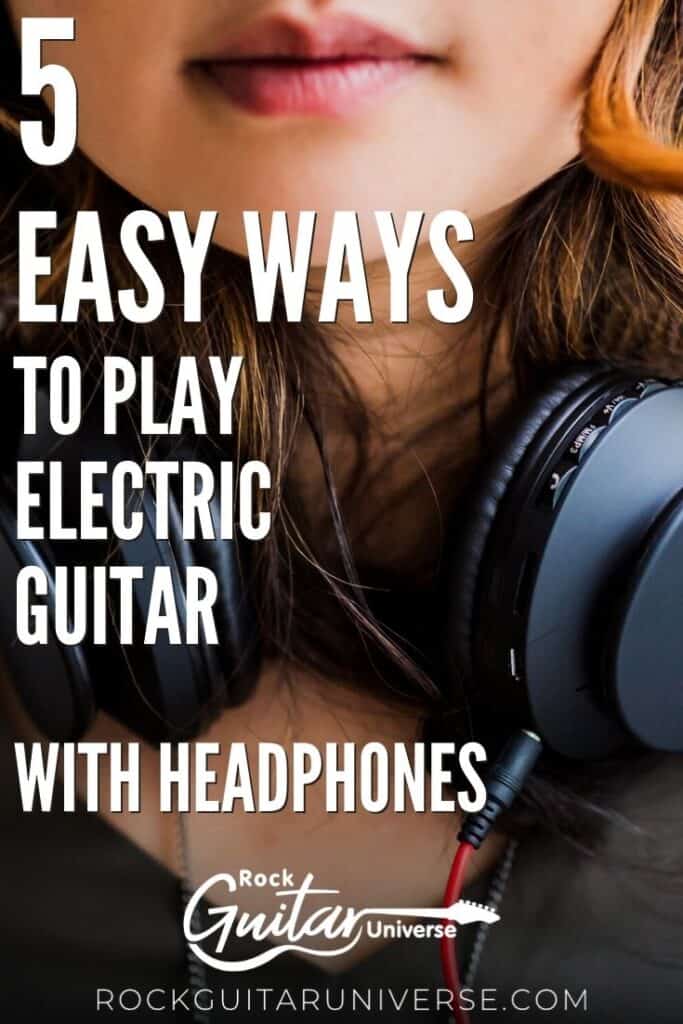 Last update on 2023-02-06 / Affiliate links / Images from Amazon Product Advertising API