Sometimes we have a problem with noise regulations, or with angry neighbors, so we need to practice quietly. Guitar headphone amps are the real solution for this need. Picking the best headphone amp for your guitar that will give you awesome sound and effects isn't easy.
Guitar headphone amplifiers have exploded in popularity, thanks in part to advancing technology that allows for greater tone in smaller sizes. Many guitarists don't have the luxury of being able to practice through a real amp at loud volumes at all times, and this is especially true if distortion or overdrive are involved.
Guitar headphone amplifiers offer a practical solution to this problem with portability that is unmatched. Even if you compare them with small cabinets and small combo amplifiers, they are still a great solution if you don't need an amp that fits in your pocket.
Boss Waza-Air Wireless Personal Guitar Amplification System
With premium amp and effect sounds
With 2.4 GHz wireless connectivity
Bluetooth audio streaming and sound editing via smartphone
Custom 50 mm drivers deliver high-quality audio with full sound
Access to over 50 customizable effects in the BOSS Tone Studio app
Boss Waza-Air Wireless Personal Guitar Amplification System are studio-quality headphones with 50mm drivers and low-latency BOSS WL-T wireless transmitter deliver impeccable sound. They also have a rechargeable lithium-ion battery that provides up to 5 hours of continuous play and their innovative 3D algorithms create an immersive playing experience that makes you play for even longer.
They're packed with 5 different amp types and over 50 effects based on BOSS's Katana amplifiers. These headphones have a foldable design and durable construction, conforming earpads that are super-comfortable for extended playing sessions, while the rugged build ensures lasting durability for everyday practice and jamming.
If that's not enough, you can jam to tunes streamed over Bluetooth, impressively, this 'virtual band' can also be placed next to your amp for uncanny realism. The Waza-Airs are so good, we wonder if they render small practice amps obsolete. At last, a product that makes us glad to be alive!
Vox VGH AC30 Guitar Headphones with Effects
Dynamic, closed headphones with integrated analog guitar amp technology
Direct connection to the electric guitar, without the additional preamp
Quality drivers by Audio-Technica
Vox's VGH series of headphones take the manufacturer's micro-amp amPlug 2 technology a step further. Now, instead of having to hook up an amPlug 2 to your guitar before plugging your headphones into it, you just have to plug a pair of VGH headphones into your ax and start playing.
Low-noise practice is a breeze with the Vox VGH Guitar Headphones! Audio-Technica's innovative headphone design, VGH Guitar Headphones delivers top-notch guitar tone perfect for late-night sessions or wherever cranking your full-stack is frowned upon.
Each VGH model comes with three distinct amp modes for additional sonic variety, and onboard chorus, delay, and reverb effects allow you to dial in your perfect sound.
Donner Guitar Headphone Amplifier
Provides the excellent experience of guitar playing, the sound is based on Soldano SLO100*.
Built-in recharge lithium battery works for 5 hours after fully charged (USB charge cable included)
1/4″ (3.5mm) Aux Input jack lets you play along with your CD/MP3 player.
This pocket-size headphone amp was designed to mimic the Soldano SLO100. It is the ideal practice mate for the heavy metal player.
You plug it directly into your guitar, plug in your headphones and you can begin to jam away, and you can also turn on the built-in chorus effect for more tonal possibilities or you can simply fine-tune the sound with the included controls.
If you want to make your practice or jamming time more interesting, you can connect an external audio source into the aux input so you can play along with any of your favorite tracks. It also includes a headphone splitter, which will allow you to add a second listener into the loop.
It is very convenient to use especially with the built-in rechargeable battery, which can last up to five hours after a full charge. Charging it is also very simple especially with the included USB cable.
This certainly is a great headphone amp. To show the manufacturer's confidence in this product, it comes with a 30-day money-back guarantee. You can return it if you don't like it.
Fender Mustang Micro Headphone Amp
12 Amp models from the Mustang GTX series
12 Effects
EQ
Bluetooth 5.0
This Fender Mustang represents many features of Fender's Mustang series amps, fit into a compact, bug-type guitar headphone amp unit. What sets this one apart is the use of newer technology, including Bluetooth compatibility (for playing along with your favorite audio) and USB-C connectivity for direct recording.
The Mustang Micro headphone amp/audio interface is the simplest way to get your hands on Fender's next-level Mustang GTX amp and effects models. Hands-on controls for EQ, amps, and effects eliminate the need for software control. And when it's time to take your music on the road, the Mustang Micro's articulating plug (compatible with both Strat- and Tele-style electrics) folds flat for easy storage in a front pocket.
The Mustang Micro features an onboard rechargeable lithium-ion battery to keep you juiced up on the go. What's also unique is that the Mustang Micro is itself a USB-C interface. This feature lets you capture those hard-worked stereo guitar tones in the studio without any special cables and without incurring any loss in quality.
Factor in Bluetooth audio streaming with automatic A/V sync for song learning and cover creations, and the Fender Mustang Micro headphone amp is one piece of gear that no guitarist will want to be without.
Vox amPlug 2 AC30 Headphone Guitar Amp
Integrated 6.3mm jack for direct connection to the electric guitar
Aux input for MP3 player
Controls: Chorus / Delay / Reverb
Operating time: up to 15 hours with 2 x AAA batteries (included)
Vox has one of the best reputations when it comes to delivering top-quality amplifiers to guitarists the world over. The amPlug 2 Headphone Amplifiers is a very convenient tool for the active guitarist. It makes it easy for you to play your guitar with ease anywhere and everywhere without being a nuisance.
It is designed for easy use, has three different in-built models, which include guitar and bass, and 12 different effects, which include 3 choruses, 3 delays, and reverbs. You can also plug in an extra audio source, which will allow you to jam along to your favorite songs.
It comes with simple controls that include volume, gain, and tone. These help you dial in the exact sound you feel at home playing with. This little amp is battery-powered. Two AAA alkaline batteries will last for about 17 hours with the effects off and about 11 hours with the effects on.
Old Blood Noise Endeavors Headphone Amp
Control for volume
6.3 mm mono jack input
2 x 6.3mm mono jack outputs
Made in USA
The Old Blood Noise Endeavors Headphone Amp is ideal for silent practicing and even includes two mono outputs, for two people to listen. Modeled after a unit made by Brian from small sound/big sound for OBNE demo boards, this compact unit features a standard pedal design with a single volume knob. Players can add this pedal into their rig, so it's ready when they want to practice.
This handy little unit is ideal for late-night jams or touching upon parts during rehearsals and sessions. The Headphone Amp is pretty much exactly what it says on the tin, so to speak, it has great tone, metal rugged housing and it is made in the US.
Mooer Audiofile Headphone Amplifier
Analog Class A amplifier circuit
Specially designed for use on guitars and bass pedalboards
Can also be used as a high-fidelity booster
Integrated speaker simulation
True bypass
The new Mooer Audiofile is a professional headphone amplifier, specifically designed for use with guitar and bass pedalboards. It utilizes an analog Class A amplification circuit that secures the purity, warmth, and wide dynamic range of the input signal from your instrument and effects pedals.
The AudioFile can be used with either headphones (with mono or stereo input) or in front of your amp as a hi-fi signal booster. It is a 100% true bypass and pristine sound will make it become a permanent resident on your pedalboard.
SONICAKE Guitar Headphone Amp
Classic Tweed Amp Clean and Overdrive Tone Tastes.
Built-in Reverb Effects adding additional Sonic Dimensions to the Overall Tone.
USB-Chargeable
Sonicake is a brand committed to offering guitarists the tools they need to excel. This tiny Amphonix US Classic headphone amp loaded with features is one such tool. First, it is designed to deliver the classic US combo amplifier sound. It's also designed to look the part.
All you need to do is plug it into your guitar, connect your headphones and you are good to go. For a more interesting practice session, you can also connect an additional audio source into the 1/8 aux input. You can connect a favorite track from any media player and then jam along with it. You can even add a second listener with the included headphone splitter.
This little box also offers you the luxury of adding some tonal dimension to your sound with the in-built reverb effect. In addition to this, you can take full control of your sound with the included volume, gain, and tone controls. It has a rechargeable power source. On a single charge, you can use it for up to five hours. The USB cable needed to charge it is also included.
NUX Mighty Plug MP-2 Guitar and Bass Modeling Headphone Amp
Drum beats: 10 patterns and Metronome
AUDIO mode to play along with music only or APP mode to control the effects
Long Battery Life (3 Hours Playing time) and ECO Mode
Mighty Plug is a handy silent-play gear for both guitarists and bassists, featuring various effects, modeling amplifiers, and Impulse Response (IR) cabinet models. With built-in acoustic guitar IR models and acoustic amps, you can play regular electric guitar to simulate acoustic guitar. The embedded Drum patterns can let you play along with your favorite music styles.
Guitar Mode: There are 3 channels and an Acoustic Guitar simulator for electric guitars.
Bass Mode: There are 3 channels for bass guitar. 6 effect modules and 25 variety effects in total.
You can record your instrument without using any audio interface. Mighty Plug has a built-in audio streaming function, so you can connect the Amplug directly to your computer with a Micro USB cable, and it is ready to play and record. A driver-free solution that helps you to produce music with a direct connection. You can use the headphones output for monitoring, you will hear both your guitar and the audio from your computer.
Mighty Plug Mobile App: There are loads of pre-amp models and guitar cabinet IRs and effects available with our FREE MightyAmp app. And the best part is that you can save all the changes you made to a channel for further use.
Also, the compact and lightweight design allow you to play comfortably on any guitar and bass body type, including acoustic guitars and ukuleles.
Kithouse B6 Guitar Headphone Amp Mini Plug Guitar Amplifier
Built-in rechargeable lithium battery, working time > 8 hours.
5 Guitar Effects
The Kithouse B6 is a feature-packed bug-style headphone amp. It comes with reverb, flanger, chorus, wah, overdrive, and of course, a clean setting. The clean setting is very good, but the biggest advantage is the overdrive which provides a lovely crunch without excessive distortion. One of the standout features of the B6 is the Bluetooth in function, which allows you to stream music or backing tracks into the amp to jam along through your headphones.
This is a rechargeable amp that runs for a little over 8 hours on a full charge, making it the longest-lasting of the rechargeable amps on a test. To cycle through the various FX on this amp, there is a single side-mounted button, and to adjust the levels, there is a slider on the front. Kithouse did outfit this headphone amp with display lights that show at a glance which setting you're currently running, which is a nice touch.
Verdict: The Kithouse B6 is a genuinely good headphone amp. Tonally speaking, it sounds good, and looks-wise it's pretty unique, especially with the wood effect trim. It's well made, too, although I do feel a dial would have been a better choice for level control than the slider they fitted. It's one of the easiest headphone amps to use, and the fact that it offers Bluetooth input at such a low price is quite remarkable.
Palmer Pocket Amp MKII
Authentic tube tone
Distortion
Direct analog recording
Durable
2-band EQ
Palmer is a German company that offers a smaller version of the amplifier named Pocket Amp. This is the second iteration of the amp, and it's quite nice. If you were wondering about the brand, you should know that legendary Joe Bonamassa has his own signature model of the Palmer.
The Pocket Amp is easy to use, there is a single footswitch on the device, but you can adjust the sound using the knobs on top of the amp. There are different amp modes like the U.S., British, or Vintage, and the entire amp is analog. What is worth mentioning is that the amp is rather similar to Tech 21 GT2, and many players would say that this is a clone version for a significantly lower price.
Valeton Rushead Max
Compact
Different modes
Distortion
Chorus, tremolo, flanger
USB
Reverb and delay
LED
Valeton is another great brand that focuses on budget equipment, and the Rushead Max amplifier is incredible for anyone looking for a cheap headphone amp. What makes this amp so good is that it offers the most important effects and settings you will need. It is not often that you find a compact headphone amp that offers chorus, tremolo, flanger, reverb, and delay!
In addition, the amp is easy to use, and the design is similar to the Vox series of headphone amps. Valeton Rushead Max is one of the most versatile amps you will be able to find, and the price is almost unbelievable. Needless to say, the amp is easy to use, and it is an excellent option for anyone looking to experiment with different sounds and genres for a budget price. You can also connect the amp to your phone if you are looking to jam along with your favorite songs.
Electro-Harmonix Headphone Amp Portable Practice Amp
Affordable
Compact
LED
Easy to use
Great for practice
Works with pedals
Electro-Harmonix is a brand known for excellent pedals, but this time, we have something different. The Headphone Amp is a great tool for practice, and it will allow you to easily exercise without bothering your neighbors or family members.
What makes the Headphone Amp different is simplicity. You plug in your guitar, turn up the knob, and you are ready to play. It is as simple as that. If you are interested in adding more sounds and effects, you can easily use this amp with any other pedal. The amp comes with a speaker, but considering its size, it is not the best one you can find. The sound via the speaker is a bit weak, but the amp is not designed to be played with one. Instead, you can use the headphones to get the max out of it.
Blackstar amPlug2 FLY Guitar Headphone Amplifier
10 Watts
Standard amp design
Three channel units (clean, crunch, and lead)
ISF control
9 effects
Foldable jack
Blackstar has been a go-to brand for many players, and if you enjoy the sound of it, Blackstar amPlug2 is something you need to check out. The design of the amp is fairly standard, and it is similar to any other headphone amp. But what makes it so different is that it is designed by Blackstar. This means that you will get a well-known ISF control, and three channels you can use.
Furthermore, the amp comes with nine different effects! You can use three types of chorus, three types of delay, and three types of reverb. If you plan on going somewhere with the amp, you can fold in the jack, and it works on AA batteries. As for the quality of the sound, it's rather impressive considering how small it is.
Boss Pocket GT Effects Processor
Designed for learning
Works with apps
iOS, Android, Mac, and Windows support
Over 100 amp simulations and effects
Great design
Boss Pocket GT is something a bit different from your standard headphone amps. It is designed to help players learn and practice better using apps like YouTube. All you need to do is plug in the guitar on one side, and your smartphone, tablet, or PC on the other. It is based around the GT amp, and it offers numerous different amps and settings you can try out.
Of course, this is just to provide additional functionalities. You can still use Boss Pocket GT without a smartphone or a tablet, and all you need is your guitar. It is an excellent plug-and-play device, and the sound is incredible. If you are looking for a perfect practicing tool, Boss Pocket GT might be the one.
Vox VGH Rock Guitar Headphones with Effects
Headphones and amp combo
Great design
Easy to use
Compact
Vox VGH is a unique device that allows you to easily plug in your guitar and listen to the sound using headphones. What makes it different from other amps is that the amplifier is in headphones. That's right, you don't need to use any additional devices, and all you need is to plug your guitar into the headphones.
The headphones/amp combo offers several different effects, and using it is as simple as it could be. The amp comes in three different versions, and you can choose between Rock, AC30, and Bass versions.
Dunlop Rockman Guitar Ace
Great design
Durable
High quality
Easy to use
Tone controls
Dunlop is one of the most popular brands in the world, and a go-to for many guitarists out there. Here, we have a Rockman Guitar Ace, which is a headphone amp you might want to check out. One of the first things you will notice is the design, and it is a combination of vintage and modern. The amp allows you to easily adjust the sound, and it has three different tone settings for your guitar.
You can pick between clean, semi, and heavy distortion, and there is a volume knob to adjust the output. The amp is incredible, and the quality is amazing. What is great is that you can still hear the range of the instrument, and it is a perfect tool for practice.
NUX GP-1 (Guitar Pro)
Modern design
Easy to use
Great quality
LED
Tone and gain knobs
Works on batteries
Another model designed by NUX, but this time it is a GP-1. The name is short for Guitar Pro, and it is a handy little tool for all the guitarists out there. The design is similar to the Vox series of headphone amps, but it is modernized. The amp works on batteries, it's easy to use.
Needless to say, the main advantage of this amp is its price, and you will have a hard time finding something cheaper. At the same time, the quality of the sound is quite impressive, and it also offers a classic British distortion.
Joyo JA-03
Compact
Classic design
Great sound
Affordable price
Versatile
Joyo is a budget-friendly brand that is among the most popular ones for beginners. You can find numerous different pieces of equipment designed by Joyo, and the quality is surprisingly good. This amp here is called JA-03, and it is a Super Lead version of the amp. Now, this isn't the best amp you can find on the market, but it is undoubtedly worth the price.
If you are in a situation where it is impossible for you to crank up the amp, Joyo JA-03 will allow you to still hear your instrument and practice properly without bothering anyone. All things considered, it is worth checking out.
Harley Benton Rockplug
Standard design
Compact
LED
Analog overdrive circuit
Lithium Ion battery
USB port
It is impossible to create any type of list without mentioning Harley Benton. The company is a part of Thomann Music, and it offers exceptional products for a ridiculously low price. This one here is a headphone amp that sounds amazing. What is different here is that it offers a rechargeable lithium-ion battery you can charge using the USB port.
The amp offers knobs to adjust the tone and drive, and it's easy to use. And the sound is surprisingly good. If you are looking for a versatile amp, this one might be it. The model here is a Classic Rock, but you can also check out the Metal version.
Conclusion
Practicing at home with a decent amount of volume is hardly ever an easy thing to do. You want it to sound right but unless you live in the middle of nowhere then the volume has to be controlled. Therefore, having a small practice amp you can plug into is an advantage. So, take a look at these few we wrote about and make your choice, according to what are your needs and of course, your budget. I am sure that there is an amp for everyone's pocket.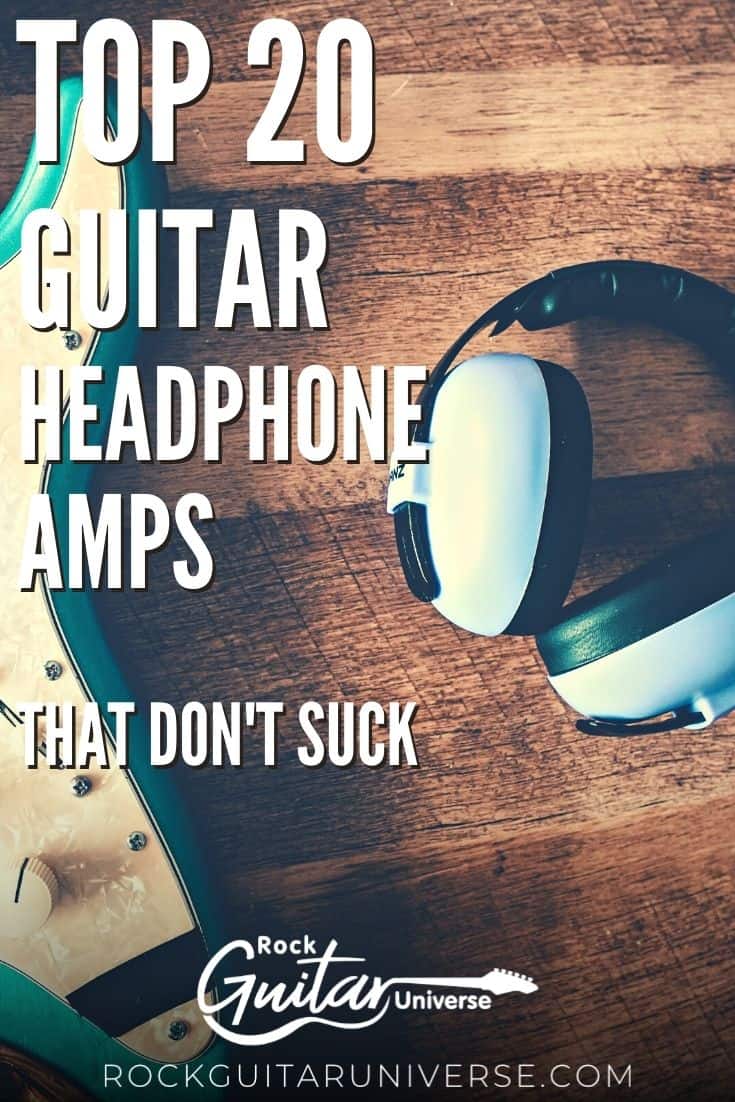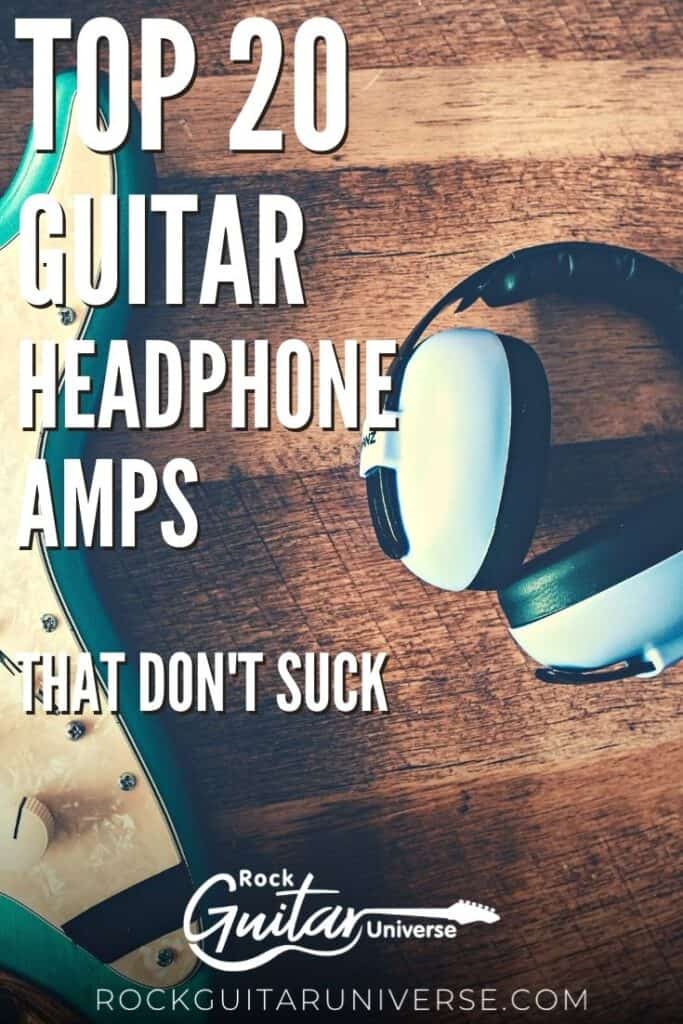 Last update on 2023-05-29 / Affiliate links / Images from Amazon Product Advertising API