This question has been within the guitar society ever since PRS and John Mayer announced their new PRS Silver Sky model. Comparing and deciding between these guitar models is not an easy task to do. Both Fender and PRS have been with us for a long time and have created some of the most iconic instruments ever made.
But what is the difference between these models? The first thing everyone notice is the unusual combination of the Fender Stratocaster body with the PRS iconic neck and fretboard bird inlays. It takes time to get used to the look of Silver Sky, especially for Stratocaster players who are used to the iconic Fender Stratocaster body and neck.
Although the visual difference is obvious, tone-wise, they are hard to separate from one another. You will most likely notice the difference only when they are played side by side. Both of the guitars share the same type of pickup and body shape, which are the main reason behind the tone. The main difference is in the neck and its shape, as well as its visual design of it.
Both of these guitars are, without question, great instruments to play and have. They are often compared, and players have divided opinions. Some of the players think that the Silver Sky is groundbreaking, and more traditional players are not satisfied with the combination of its features of it and like to stick to the traditional Stratocaster.
Through this article, we will dissect the differences and similarities of these instruments and help you decide what is the right instrument for you.
| | | |
| --- | --- | --- |
| | Fender American Professional II Stratocaster | PRS Silver Sky |
| Body Shape | Strat-style | Strat-style |
| Body Wood | Alder | Poplar |
| Neck Shape | Deep C | Rounded C |
| Neck Wood | Maple | Maple |
| Neck Construction | Bolt-on | Bolt-on |
| Fretboard Material | Maple | Rosewood |
| Scale Length | 25.5″ | 25.5″ |
| Number Of Frets | 22, Narrow Tall | 22 |
| Frets Material | Nickel Silver | Nickel Silver |
| Type of Bridge | 3-Saddle Top-load String-through body with Brass Bullet Saddles | 2-Point Steel Tremolo |
| Tuning Machines | Fender Standard Die-cast | PRS Vintage-Style |
| Pickups | 3 x Fender V-Mod II Single-coil | 3x 635JM "S" |
| Pickup Selector | 3-way blade pickup switch | 5-Way Blade Pickup Switch |
| Controls | 1 x master volume, 1 x master tone (push/push series) | 1x Volume, 2xTone Controls |
| Weight | 8 lbs (3.6 kg) | 7.1lb(3.1kg) |
Fender Stratocaster History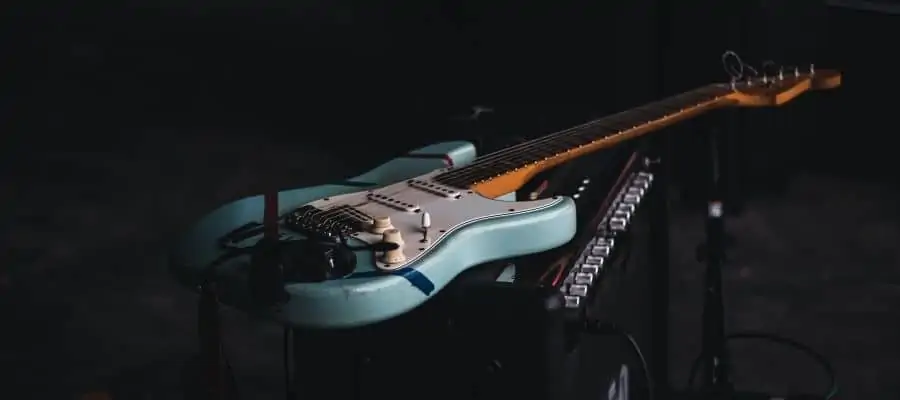 Among one of the most famous guitars ever made, one of the top places is occupied by the Fender Stratocaster. This guitar has been for a long time with us. It was introduced in 1954, and since then, Fender has never stopped producing it.
Stratocaster has its design roots in Telecaster. Fender tried to essentially create a more streamlined edition of Telecaster with more tonal versatility, which Telecaster was in lack of. The Stratocaster was an immediate hit. You can see it being used in almost every genre that ever existed.
PRS Silver Sky History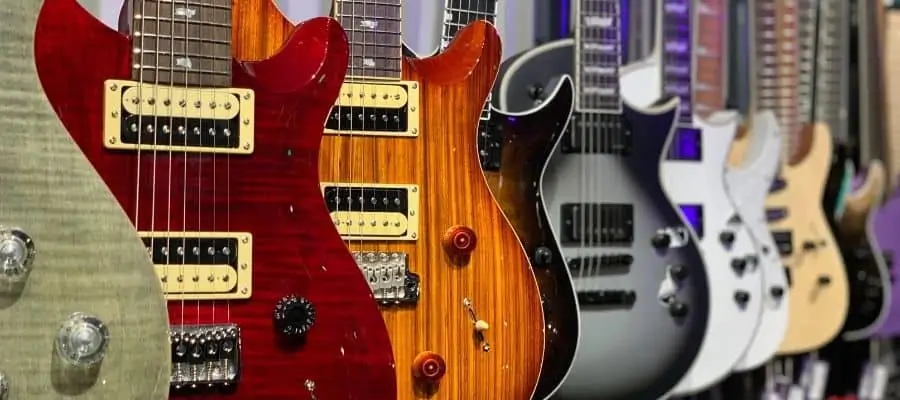 The PRS Silver Sky is the most anticipated electric guitar model of the modern age. The first mode of the PRS was introduced in 2018. This guitar is a result of the close operation of PRS with John Mayer, which shocked the audience since Mayer was one of the biggest endorsees of Fender and was exclusively a Strat player.
This guitar was not an overnight project. Paul Reed Smith and John Mayer have been working on the design for nearly two years. They were inspired by the vintage instruments of 1963 and 1964 and did their best to bring the feel of those guitars to the Silver Sky.
The final result was a great-sounding instrument that feels great in my hands and captures the unique feel of vintage instruments. The fact that John Mayer stands behind the design says something, and you can see in his reviews that he truly loves this instrument and that it is not all about the money.
Bodies Compared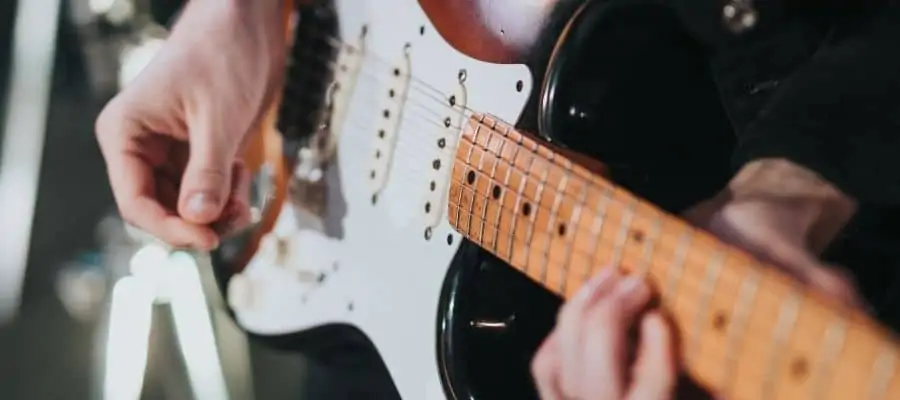 The bodies of these guitars are almost the same, and visually you will hardly notice any difference. Both of the instruments have the iconic Strat-style double cutaway design. Although the design is similar, the material from which the body is made is different.
Fender Stratocasters usually have bodies made out of Alder. This wood type has great resonance and sustains, which is part of the reason why Stratocasters sound the way they sound. On the other hand, the PRS Silver Sky models have bodies made out of Poplar.
Its resonance and sustain are almost the same as with the Stratocaster. Playing them side to side would be difficult to decide which sustains and resonates better.
Neck & Scale Length Compared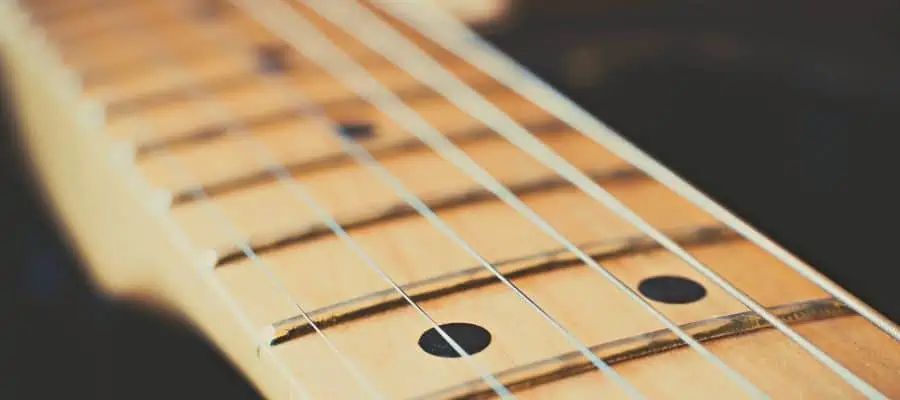 Visually, the necks of these guitars are not even close to being the same. Apart from visually being different, the Stratocasters have a Deep C neck shape, and the Silver Sky models have a Rounded C neck shape. The material of the neck for both models is Maple, and the neck is Bolt-on to the body.
The fretboard of the PRS Silver Sky model is visually truly unique with the iconic PRS bird inlays. The material of this fretboard is Rosewood, and for the Fender Stratocaster, the fretboard material is Maple, the same as the neck. The scale length of both guitars is 25.5″ with 22 Narrow Tall frets.
Hardware Compared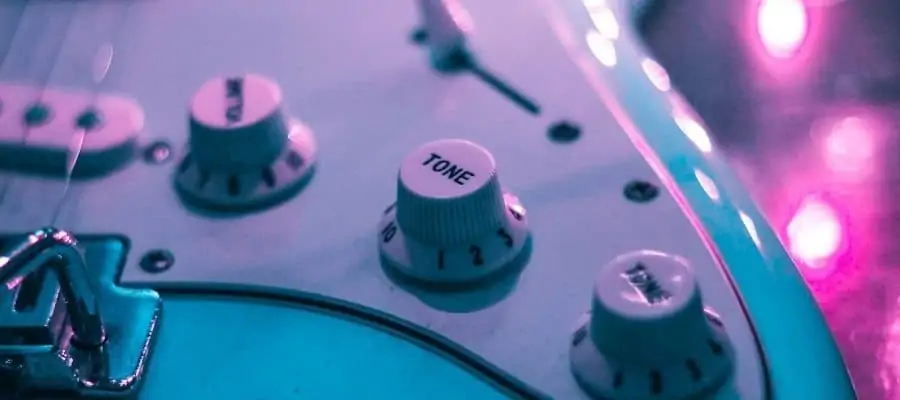 Both models share the same type of bridge, the tremolo bridge. Sure, it is the same type of bridge, but the bridge itself is of a completely different design. PRS Silver Sky models have a 2-Point Steel Tremolo bridge manufactured in PRS facilities, while the Fender is rarely seen without a 3-Saddle Top-load String-through body with Brass Bullet Saddles bridge.
The tuning machines are also different. Fender added their standard Fender Die-cast tuning machines, and PRS added the PRS Vintage-Style tuning machines. Both of these tuners keep the guitar greatly in tune and are of high quality.
The tone control for both instruments is the same. The standard models have one master volume knob and two tone knobs, as well as the 5-way blade switch. An overall great combination for amazing tonal versatility.
Pickup Configuration Compared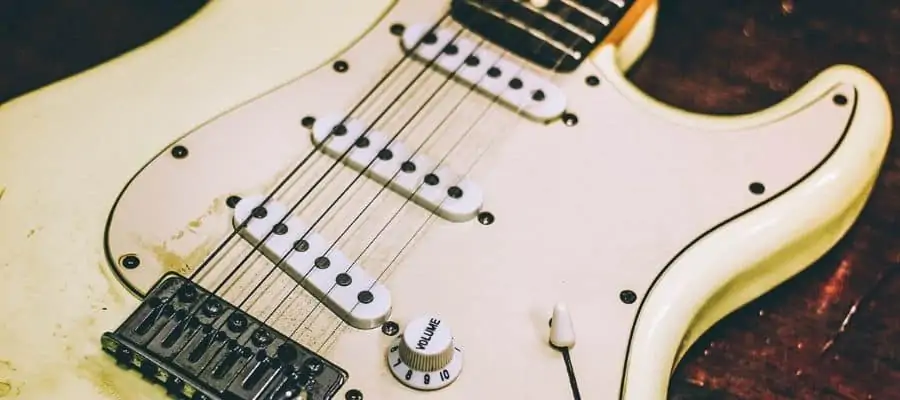 One of the most important features of both guitars is the pickups. Both of the models have three single coil pickups in SSS configuration. That is the usual configuration for these models, but you can get them in different configurations as well.
Although the type of pickups is the same, the pickups are manufactured in a different way for each model. The Fender Stratocasters are rarely seen without their Fender V-Mod II Single coils, while the PRS added their John Mayer signature PRS 635JM "S" single coil pickups.
Fender Stratocaster Tone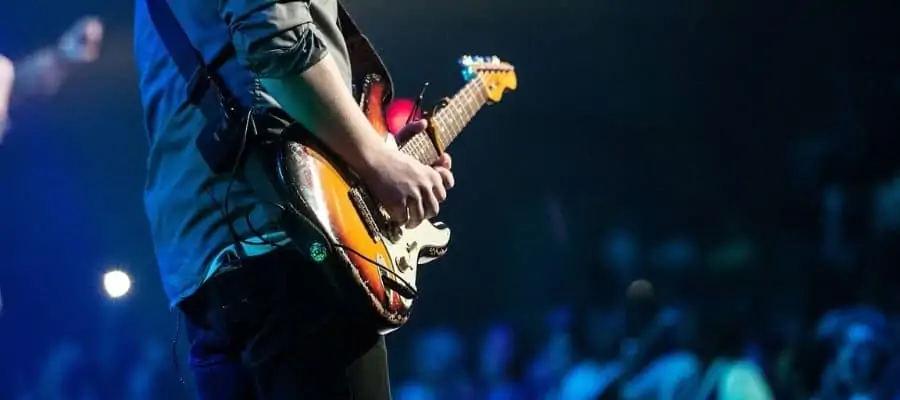 Stratocaster has one of the most famous tones ever. What is unique about its tone is that it is the gold standard on what electric guitar should sound like. The three single coils make this guitar the most versatile guitar out there. Many will agree that the HSS on Stratocaster is the perfect pickup configuration to cover every genre possible.
Unmodified, Fender Stratocaster has a warm and somewhat glass-like tone. Apart from that, it can deliver great punch and have such a thone that will sit perfectly within the mix while playing with other musicians.
Responsibility for the Stratocaster tone sits on the pickups of the guitar. Standard Stratocasters come with three single coils, but you can get them with many different pickup configurations and modifications on hardware.
PRS Silver Sky Tone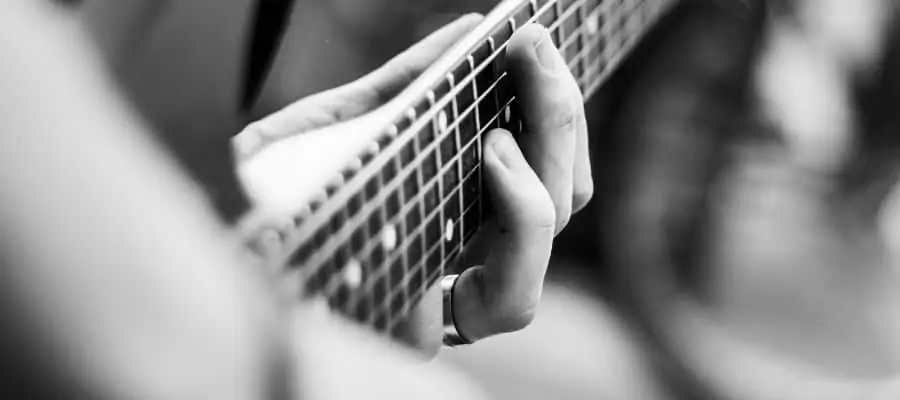 As you may have already guessed, the PRS Silver Sky tone is pretty close to the tone of the Fender Stratocaster. Still, played side by side, it has a unique and different character compared to Fender Stratocaster.
Considering it has three single coils, you can expect this guitar to be versatile as any Stratocaster out there. What is great about the silver sky is that it will sound the same in your room and in a venue. This makes this guitar a great working horse that you can take on tour with, and be confident your soundchecks will be short and achieve a great result.
Fender Stratocaster Feel & Playability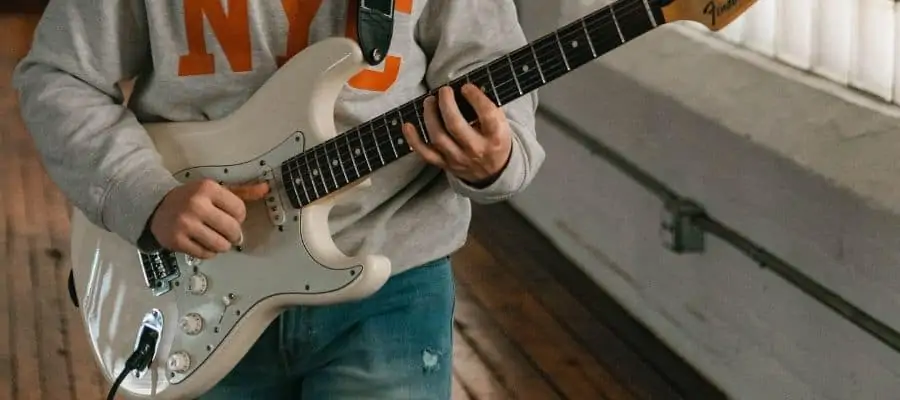 Many guitarists consider the Stratocaster to be one of the most comfortable guitars to hold and play. The weight ratio of the body and neck is as good as it gets. With this guitar, you will not have problems with neck or body dive or vice versa.
Fender made sure to contour the body such that guitarists would not even feel it in their lap. The double-cutaway design allows you to access the upper frets with ease and play as well as on the lower frets. This guitar is a must-have for every guitarist because it is such an iconic guitar that it serves its purpose.
PRS Silver Sky Feel & Playability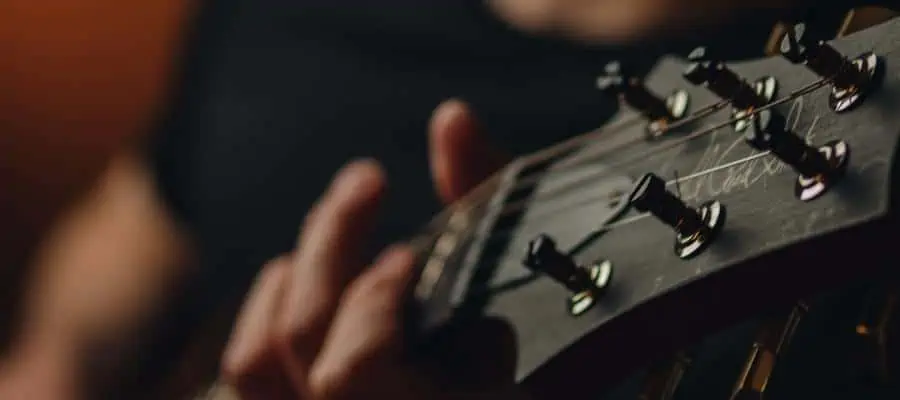 For people who are moving from Fender Stratocaster models to PRS Silver Sky, it will take some time to start to love the neck. It feels quite different from Fender's neck, and in the beginning, you will probably hate it, but after some time, you will be attached to it.
As we already know, Stratocasters have beautiful bodies that sit on the lap great. It is the same with Silver Sky. There are no rough edges, and the contours of the body are great. PRS had really nailed it with the overall feel and playability of this instrument.
Fender Stratocaster Look

Stratocaster wears the title of the most easily recognizable guitar ever. The looks of this guitar have not changed since its introduction. Sure there are some differences between different models and the location where they are manufactured, but the soul of the instrument has been there since the beginning.
It is a truly beautiful guitar. Fender had made sure to introduce as many finishes as possible so every guitarist could find the right one for himself. You can also get them with different colors of the neck and different headstock sizes.
PRS Silver Sky Look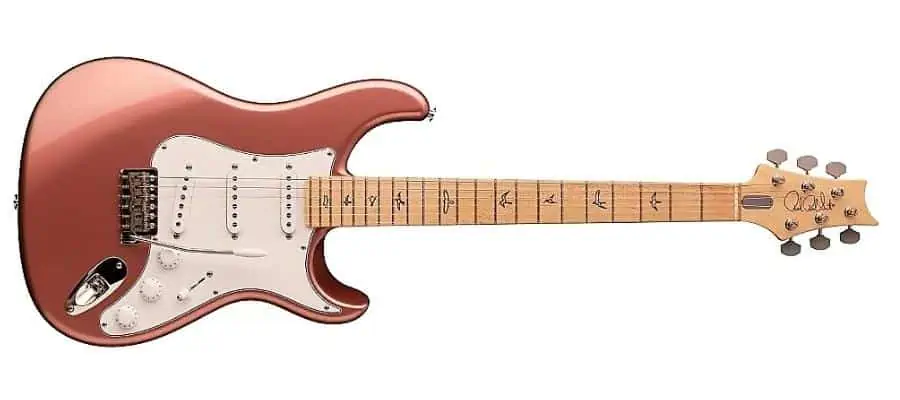 Most Strat or PRS players would agree that, at first look, seeing the Startocster body paired with PRS neck and headstock seems bizarre, and it takes time for eyes to adjust. Although it was hated by most players, eventually, they got used to the idea and started to love it. It is a truly unique combination of features.
Altogether, this is one remarkable-looking guitar. The unique bird inlay on the PRS neck complements the Stratocaster-style body. You can get this guitar in various different finishes, and each one of them is truly beautiful. The looks of this guitar make it perfect for people who are having second thoughts between PRS and Stratocaster.
Famous Fender Stratocaster Players
Jimi Hendrix
One of the most, if not the most, iconic guitar players who ever lived is Jimi Hendrix. He was rarely seen without his Fender Stratocaster model, which inspired many people to start playing the guitar and to buy the Stratocaster for themselves.
Apart from his unique guitar-playing skills, his being left-handed further stood him out. Jimi Hendrix may be the reason why Fender started to produce guitars for left-hand players. Throughout his career, he will show great tonal versatility, for which the Stratocaster proved to be a great guitar.
Jeff Beck
Like Jimi Hendrix, talking about the Fender Stratocaster guitar would not make sense without mentioning Jeff Beck. This guitar player is known for his versatility and is often seen jumping from genre to genre in his live shows.
Jeff Beck is an amazing guitar player, and Stratocaster really complements his guitar-playing skill. You can even see him create beautiful notes with nothing but his fingers and tremolo bridge. He is rarely seen without his Fender Stratocaster.
Eric Clapton
Eric is, so far, one of the best-known guitarists. He is one of the biggest blues-rock players who ever lived. Throughout his career, he was seen with many different guitar models, but in the end, he would always come back to Stratocaster. He loves the response this guitar gives to him, and in a way, they complete each other.
Clapton is seen either with acoustic or strat, and this says something. The Stratocaster is the closest thing to the real acoustic guitar, and yet you can get many different types of sounds from it. Over the years of his career, Clapton will show the versatility of Stratocaster's tone pallet.
David Gilmour
David Gilmour is a truly unique guitar player and musician who is easily recognized just by listening to him play. David is almost never seen with his Stratocaster with a black finish. He can truly make the guitar sing and sound heavenly.
His string-bending technique is out of this world, and many youngsters to this day are learning how to play his songs. Along with great technique, he uses many different effects to which Fender Stratocaster responded perfectly.
Famous PRS Silver Sky Players
John Mayer
One of the most iconic guitar players of the modern era is John Mayer. Apart from having great hit songs, he is the man behind the design of PRS Silver Sky. Although Fender Stratocaster has an amazing history with many guitar legends using this guitar, John Mayer may have set the path for Silver Sky to be among the legends.
Mayer, in terms of genres, is seen all over the place. He mostly sticks with blues and somewhat jazzy sounds. The PRS Silver Sky in his hands is an amazing combination from which you will be able to hear great-sounding results.
Ed Sheeran
The many behind one of the most beautiful songs of the modern age are Ed Sheeran. Although not recognized as a guitar player, Ed Sheeran has some great guitar-playing skills. Also, he is known for usually playing an acoustic guitar in his live shows, but he will use a PRS Silver Sky here and there.
The reason why he chooses the Silver Sky may be actually simple. It may be due to the fact that this guitar gives him the same response as an acoustic guitar. Here you can see him playing the PRS with John Mayer in one of John's live shows.
Shawn Mendes
Like many PRS Silver Sky players, Shawn Mendes is a fan of John Mayer. So naturally, he will buy one as soon as it comes out. His debut single on the Billboard Hot 100, which debuted at number 24 for the week ending July 12, 2014, made him the youngest artist to have a debut album of his own that reached the top 25.
Shawn, at just 15 years of age, had done something many musicians try to do their entire life. He has been seen playing the PRS Siver Sky in his live shows but also made a Twitter post on how much he likes this guitar.
Conclusion
The Fender Stratocaster is, without question, one of the most important guitars ever made. Over the years of its existence, it was used by many legendary guitar players. When PRS introduced the PRS Silver Sky model, they managed to flip the guitar community upside down.
The question of which is better is difficult to answer. Both of the guitars are amazing pieces of equipment, and to be honest, tonally, they are not too different from each other. The best answer you can get is by trying both of the instruments one after another and deciding on them. In the end, the looks of the guitar may be the tipping point of your decision.
If you found this article useful, you may want to save this pin below to your Guitar board.