Harley Benton made a big name for itself in the past couple of years with its affordable guitars with outstanding quality, especially when the price tag is taken into account. The company offers excellent instruments along with accessories that are produced and sold by one of the biggest music retailers in the world, Musikhaus Thomann.
So, where are Harley Benton guitars made? Harley Benton guitars are manufactured in around 20 factories in China, Indonesia and Vietnam. The guitars are produced in the Far East and shipped to Thomann warehouses in Germany, where the quality control is made, and orders are shipped.
There is a belief that remained from earlier decades that any product manufactured in the Far East, especially China, is always low-quality, so "made in China" is a label that should be avoided. This situation changed dramatically within the last decade, as high-quality, reliable, and unique products started being produced in the country. One of the best examples is Harley Benton, as the quality of the instruments is quite impressive.
Harley Benton Guitars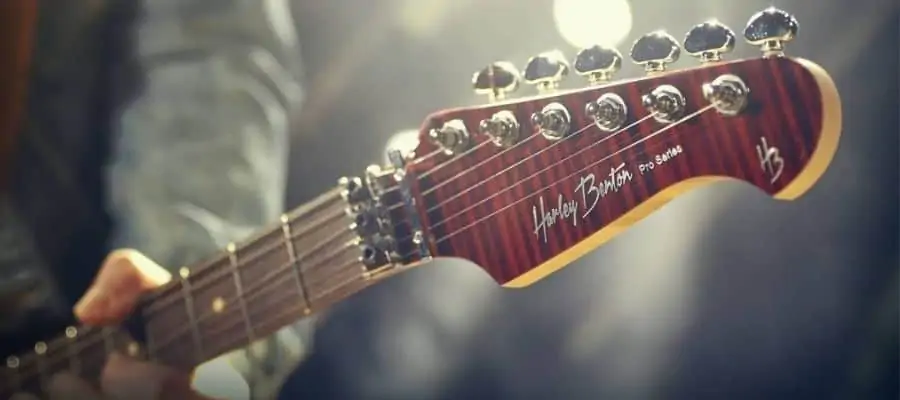 As one of the youngest names in the guitar world, Harley Benton quickly made an indelible impression with its affordable prices and unique instruments. The company was founded by Musikhaus Thomann and is the official brand of the great German retailer.
Based in Bavaria, Thomann offers various music instruments and accessories from a wide range of brands. Naturally, they are the official store for Harley Benton musical gear. On the other hand, Harley Benton has around 20 factories, with the majority in China and the rest in Far Eastern countries. The musical products the company produces are mainly dedicated to guitarists, such as electric and acoustic guitars, amps, effect pedals along with ukuleles and banjos.
You can check the Harley Benton products in the virtual store of Thomann, and you can buy them wherever you are, as they ship their products worldwide. Harley Benton products are maybe not for professional use, but they offer outstanding instruments and accessories for beginner to intermediate level players.
Where Are Harley Benton Guitars Made?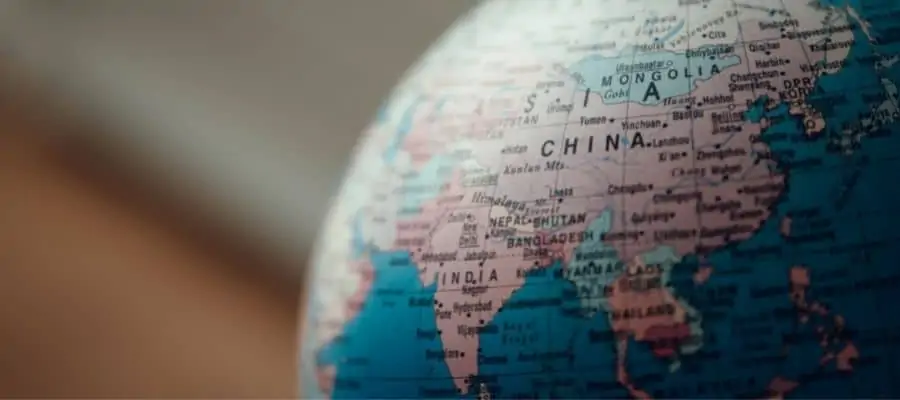 As these are some of the most affordable instruments on the market, the production place is an essential factor in the final price tag and product quality. Harley Benton guitars are primarily produced in China, but the company also has factories in other Far Eastern countries such as Indonesia and Vietnam.
There are many brands such as Fender, Ibanez, Cort, which use the same countries for production. The key part here is the quality check to keep the instruments high-quality and reliable. Harley Benton uses the same standards as Ibanez, Fender, and ESP for quality checks, making sure all of the guitars are high-quality.
The guitars are manufactured in China, Indonesia, and Vietnam and shipped to the Thomann warehouses in Germany, Treppendorf. Here they are collected and quality-checked, so they can wait to be shipped for coming orders.
Does It Matter Where Harley Benton Guitars Are Made?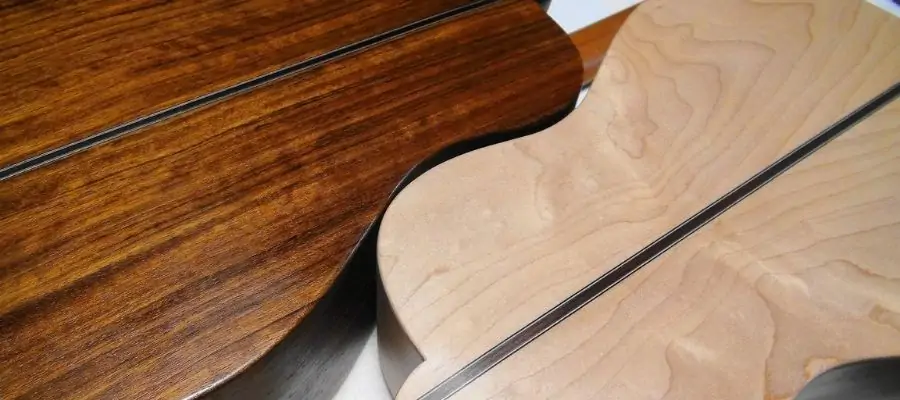 With the advanced technology today, the country of an instrument's origin started to matter less day by day. As the skill and the art of manufacturing have spread to different parts of the world, the same production quality can be achieved anywhere nowadays.
The most important factor, especially for the acoustic guitars, is the quality of the wood's process. For example, the temperature for drying wood is crucial, which can dramatically change depending on the location. But like today, it is pretty easy to manipulate temperature, humidity, and all the necessary paradigms.
Another aspect is that even if a guitar has a "made in Indonesia" or "made in Vietnam" label, it does not mean that all the parts used were from the same country. The tuners can be from China while the woods from the U.S.A. etc. In the case of Harley Benton, most of the parts of instruments and accessories are made in China. Even the instrument itself is made in another country.
In the end, the production country is not that important as it was 20 years ago. But, there is "the feel of an instrument," which can not be described objectively. Some players love Korean guitars while some others like Indonesian ones and how they feel. But, objectively, there are only subtle differences that are barely noticeable.
How Good Are Harley Benton Guitars?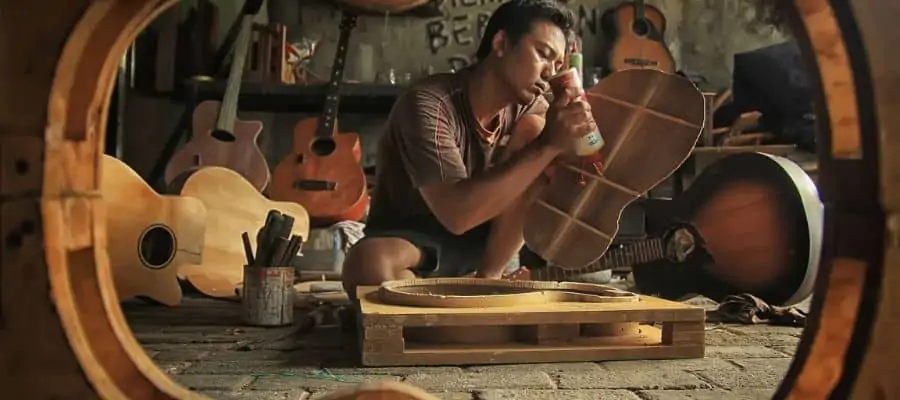 It is pretty natural to doubt the quality when you see a low-price tag. When it is a brand you have never heard before from anyone or anywhere, some questions and doubts come to mind.
However, Harley Benton guitars are low-priced yet high-quality instruments that would surprise any guitarist. They are well-made instruments with striking looks and sound. Of course, these guitars would not satisfy professional players with extremely high standards, but they are perfect for beginner to intermediate level players.
HB guitars are often quite heavy, which sits quite well and is balanced in the lap. But if you are a frequent player and want to play standing, this might be a minor issue, as it can be tiring.
Harley Benton has a high-quality standard and strict quality check, making sure each instrument maintains the desired standard. So the company leaves no space for major defaults. When it comes to minor issues like scratches, or little errors, Harley Benton generously offers a change and refund policy; hence you must not worry.
If you are a beginner or if you are an experienced player with a need for a particular guitar, meaning that if you know what you need and why then you sure will be more than satisfied with these highly affordable excellent guitars.
The Price Of Harley Benton Guitars?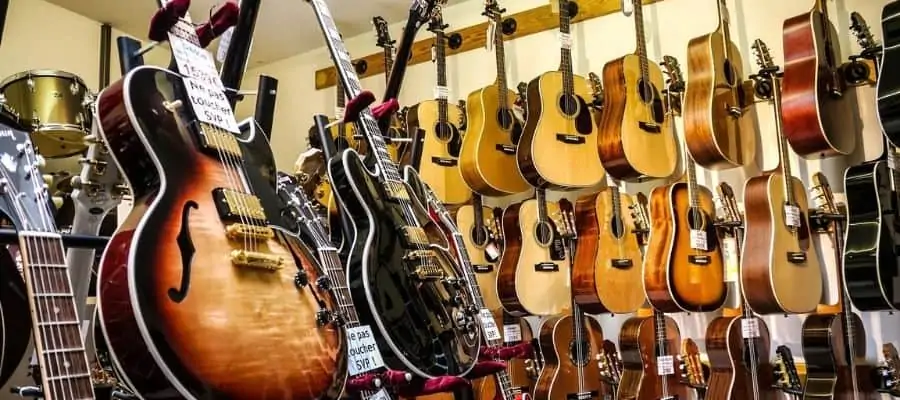 As mentioned many times before, Harley Benton products shine with their price tags. They are low-budget instruments from a reliable brand, Harley Benton and Thomann, with high-quality parts and build quality. The price range between around $60 to around $600. The most expensive Harley Benton guitar is the Amarok 7 string model with around $600 price tag, and the cheapest one is the CG200CE-BK classical guitar model with around $60 price tag.
Harley Benton guitars come with high-quality wood, including Canadian Maple, Ash, and Mahogany.  The hardware, for example, on their famous Telecaster style model, TE-52, is more solid than the Squier Classic Vibe 50s Tele. The feel and the responses of the guitar and gear on it are pretty impressive, especially for a low-end priced electric guitar.  The switches and volume pots feel better, and the bridge also looks a lot higher quality.
In all estimations, the savings come down the labor costs. These guitars are made in Asia, and the cost of production is far less expensive. Prices will also vary based on your local currency and exchange rate.
It can truly be said that Harley Benton guitars are worth more than every penny you pay for them.
Harley Benton Electric Guitar Models
Electric Guitar Model Series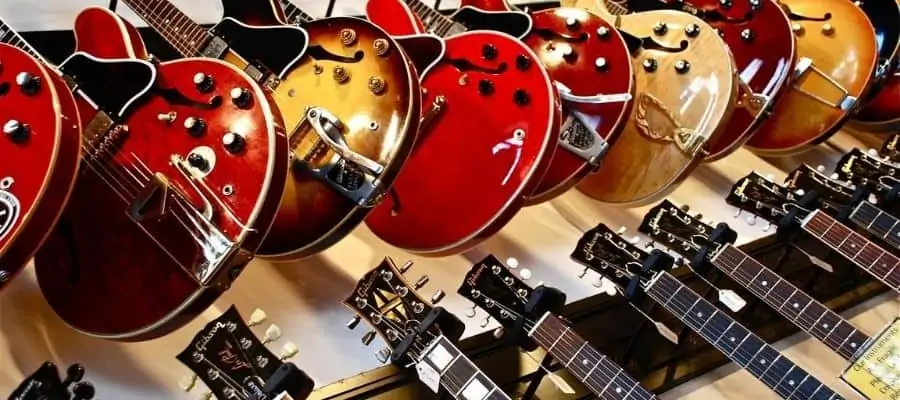 ST-Style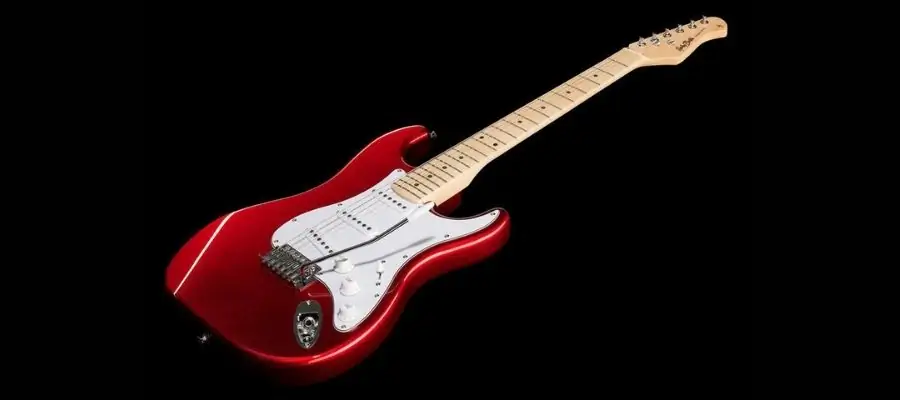 Harley Benton ST style guitars come with a double-cutaway design, three single-coil pickups, and the world's most popular and iconic electric guitar design ST-shape. There are many options with different pickup configurations and nuances that make the guitars suitable for each genre, from pop to heavy metal.
TE Style
Harley Benton TE-style guitars feature the classic TE-shape with one cutaway and the characteristic sound of two single-coil pickups. There are many pickup combinations, colors, and wood options.
Double-Cut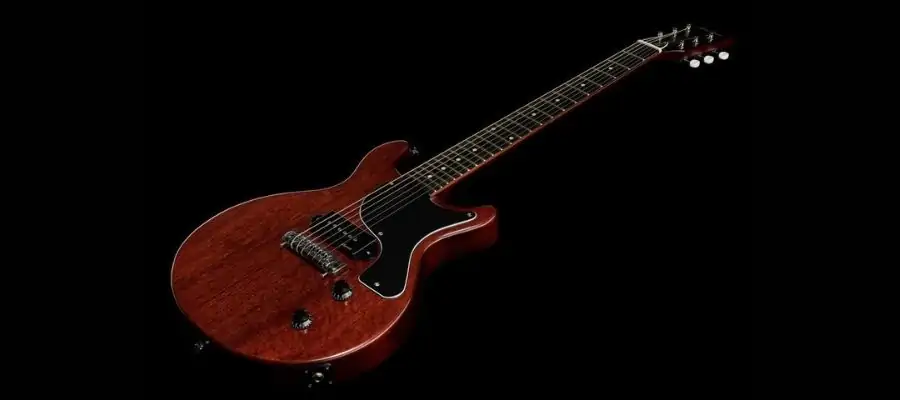 Double Cut Harley Benton guitars are inspired by classic double-cut body shapes from rock and pop history. The model line even offers a double-neck guitar which is fantastic.
Single Cut
Single Cut models provide legendary tones along with iconic looks. The SC model line guitars take you on a bit of tour of rock history beginning from the 1950s.
CST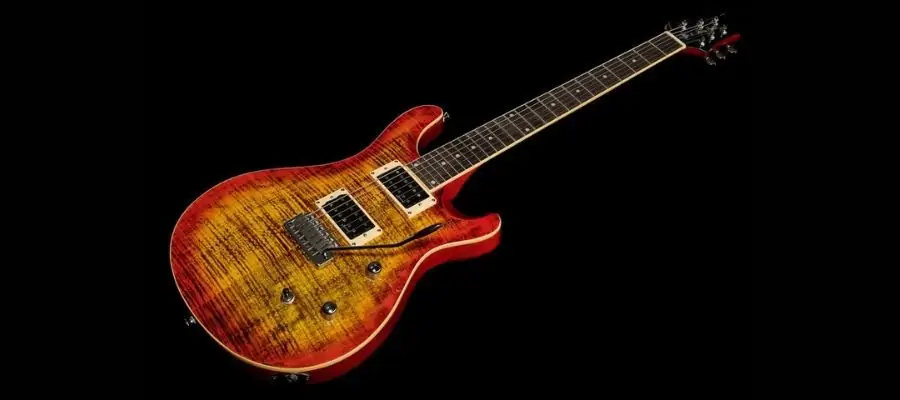 Made from exquisite woods and legendary body shapes, the CST model line combines ST-shaped guitars with different scale lengths and pickup configurations to achieve different sounds and styles.
Prog
Prog electric guitar model line features 6, 7, or 8 string, standard tuning or baritone, right or left-handed, standard or fan-frets, with or without tremolo guitar variations that are designed for high-gain tones.
Offset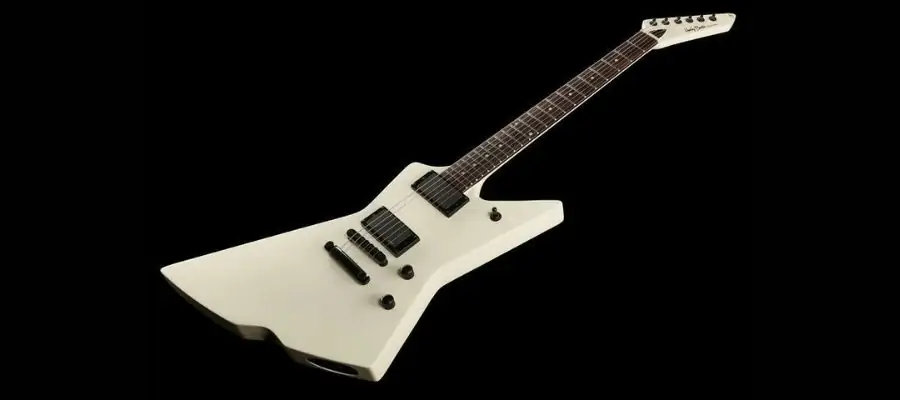 Offset model line offers V, X, or Z-shaped electric guitars specially designed for rock 'n roll with a complex and heavy tone.
Fusion
The fusion model line features Superstrat and Supertele style guitars with different pickup configurations, mainly for hard and heavy genres.
Amarok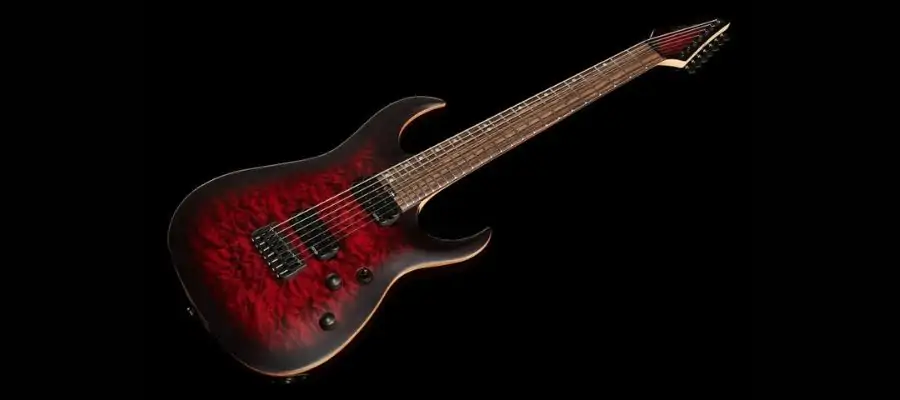 Amarok model series consists of unique electric guitars for the metal genre from doom and djent to prog and power metal. The series offers different string counts, hand orientations, colors, and designs, all created to play heavy sounds.
Tribute
As the name suggests, the Tribute model line offers similar guitars to the ones that famous guitar players are using.
Headless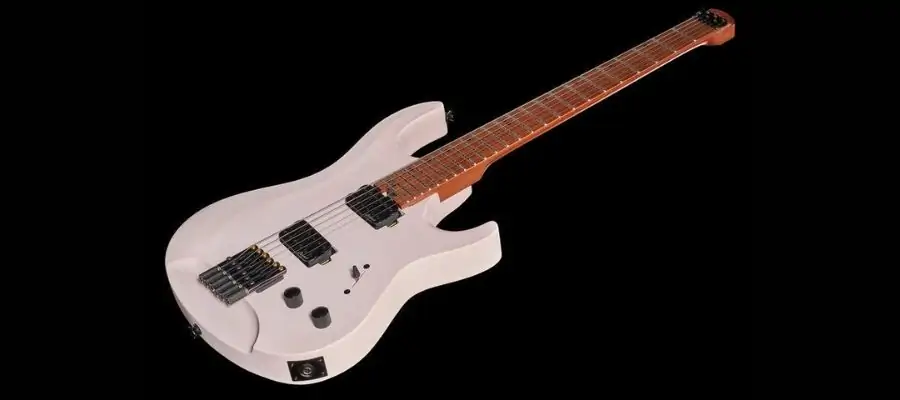 Headless Harley Benton models shine with their compact dimensions and low weight without sacrificing sound or feel. There are 7 different models with different designs and wood options.
Community
The community model line offers three different models; one LP style and two Sueprsrat styles electric guitar, which are created with fan feedback. These guitars are designed by the Harley Benton community, which consists of endorsers, artists, and influencers.
Hollowbody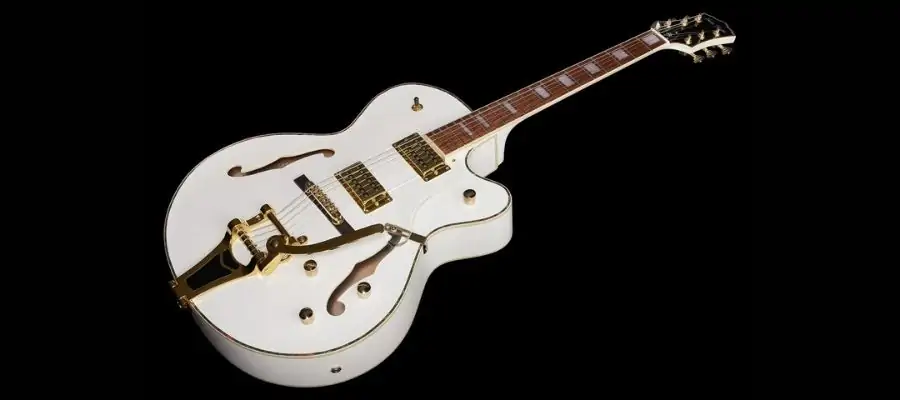 The hollow body model series features a wide range of styles, from authentic traditional jazz guitars to modern fusion-style guitars. The 21 different models offer quite a versatile catalog with different shapes, colors, and designs.
Bluegrass
The bluegrass series consists of authentic bluegrass and country guitar variations, slider guitars, and guitar-ukulele synthesis instruments.
Acoustic Guitar Model Series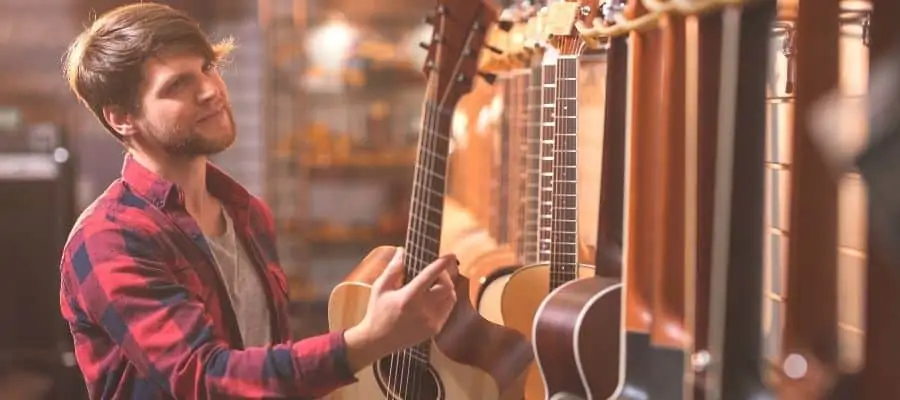 Classical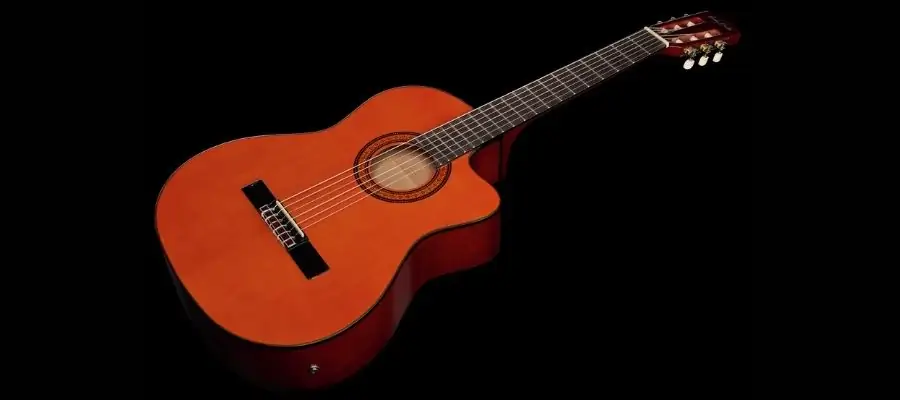 Classical acoustic guitar series offer acoustic guitars with nylon strings from warm and full sound authentic classical guitar sound to soft and refined accents to modern styles.
Roundback
Roundback acoustic guitar series features a sturdy and durable BS body with tightly focused sound and high feedback resistance, making them ideal for playing with amps or PAs.
Dreadnought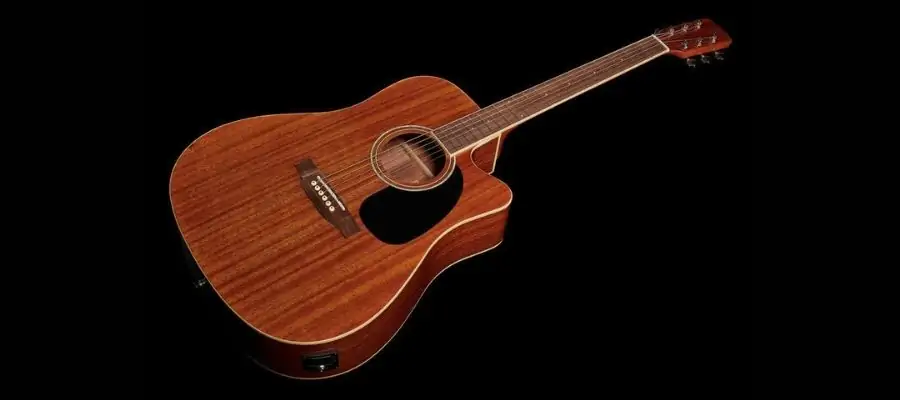 Harley Benton Dreadnought acoustic guitar series consists of 41 different dreadnought body acoustic guitars with different wood, color, and design options, different hand orientation choices, with or without a cutaway.
Jumbo
Jumbo series provide big and loud sound with rich bass and mids along with clear highs. Their great body shape creates a great acoustic sound even when fingerpicking. The series offers 6 different guitars, all with different wood, color, and design options with or without a cutaway.
Mini Jumbo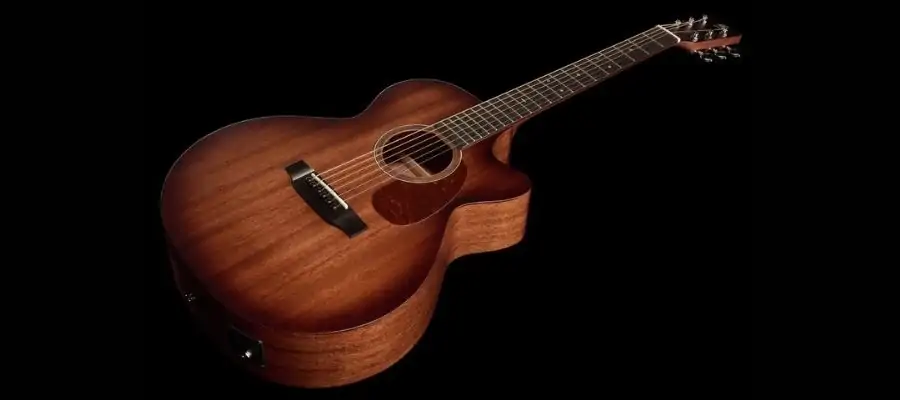 Mini Jumbo series offers slightly smaller instruments than the Jumbo series with the same specs. All of the guitars here come with a cutaway.
Delta Blues
Delta Blues series come in different body sizes with the same attractive look, which is created by transparent Bourbon Vintage Satin Burst finish and richly textured grain.
Bluegrass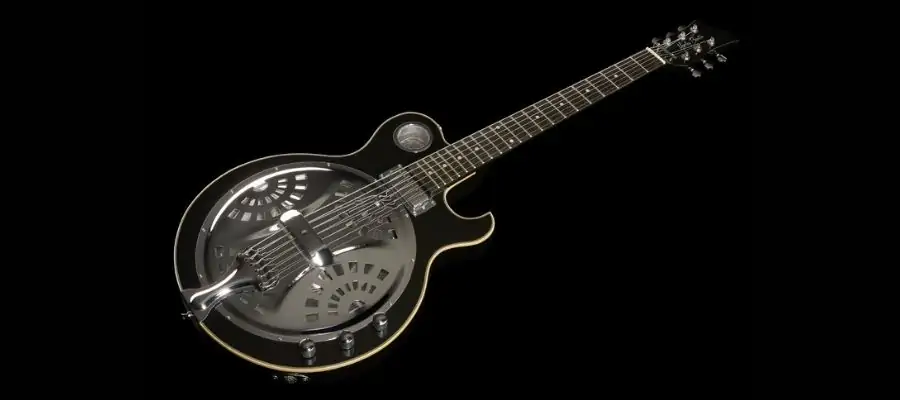 Bluegrass series offer folk and country-style instruments with distinctive sounds. The series consists of banjos, mandolins, resonator guitars.
Auditorium
Auditorium model series sweeps contours and a handy size between Grand Concert and Dreadnought style acoustic guitars. The 24 models in the series offer different wood, color, and design options, with or without cutaway and pickup configurations.
Mini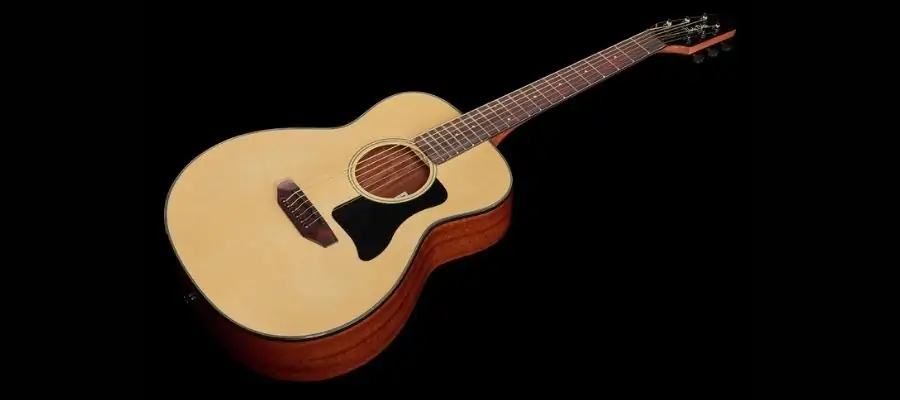 Mini acoustic guitar series feature travel or 3/4 size guitars with or without pickups.
Thinline
Thinline model series offer steel or nylon string acoustic guitars designed to be played on the stage without worrying about feedback. The shape and playability are close to an electric guitar.
Parlor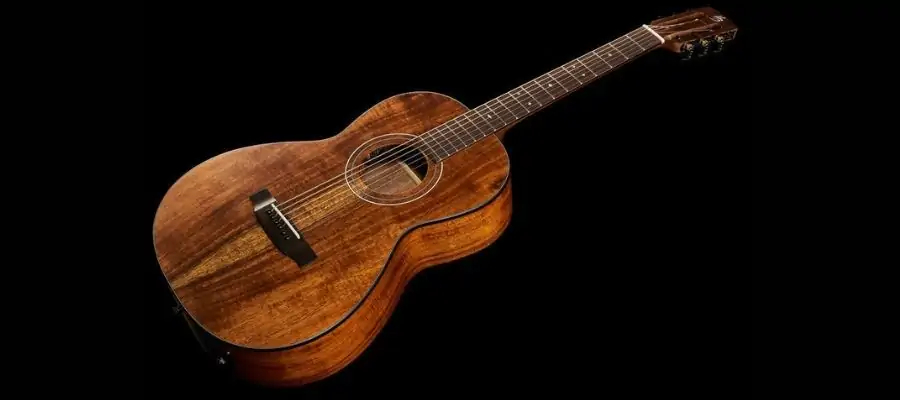 The parlor model series offers guitar models as they came out of a Victorian saloon with their distinctive body shape, small size, and bright sound.
Concert
The concert model line consists of electro-acoustic guitars that sit on a sweet spot between portability and rich acoustic tone.
Does Harley Benton Make Other Products Besides Guitars?
Harley Benton specializes in electric and acoustic guitars but also in bass and ukuleles.
On the other hand, the brand also offers many other instruments such as banjos, mandolins, ukuleles, diatonic harmonicas, electric violins, electric violas, and lap steel guitars. You can check all of the products on Thomann or the official Harley Benton website.
Besides the instruments, the brand also offers amps, effect pedals, multi-effect processors, and accessories. All of the products share the same motto as the Harley Benton guitars, which are high-quality for affordable prices.
Conclusion
Harley Benton is one of the shining stars of the last decade, with impressive instruments with more impressive price tags. The high quality of their products makes beginner and intermediate level guitarists happy as the brand offers many great options for different needs. The only thing that does not change is their highly affordable prices.
Of course, the reason behind this quality-price ratio is about the location the products are produced. Harley Benton has around 20 factories in the Far East, mainly in China, Vietnam, and Indonesia. These countries have extremely low labor costs, and with good quality checks, brands like Harley Benton can produce high-quality, reliable guitars and other instruments, accessories in these countries for meager costs.
At the end of the day, Harley Benton guitars outperform most of the guitar brands on the market in terms of bang-for-buck. It is true that most of their guitar models are quite heavy in terms of weight. However, this is not a deal-breaker as they feel, and the sound of the instruments is quite outstanding.
And in the end, all of these processes result in amazing products making us, musicians highly satisfied without our pockets empty.
If you found this article useful, you may want to save this pin below to your Guitar board