As the guitarist and the singer of many famous bands, such as Blink 182 and Angels and Airwaves, Tom Delonge is one of the most recognizable influences on today's zoomer guitar pop rush. He is known for his distinct nasal singing voice and his infectious and catchy guitar riffs.
Tom has used many different guitars along with different amps and pedals throughout his career. To create his punk-rock style guitar riffs and melodies, he uses many different effects pedals and amps with unique adjustments to create his iconic aggressive and thick guitar tones.
Let's look at some of the gear Tom Delonge uses that we learned from interviews and pictures that he shared, along with some insights on his guitars, pedals, amps, effects, and adjustments in his rig.
Tom Delonge's Signature Guitars
Gibson Tom DeLonge Signature ES-333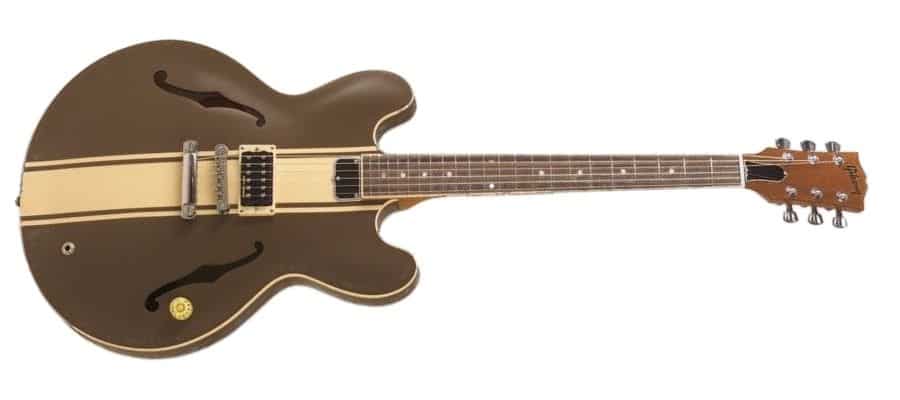 Gibson Tom DeLonge Signature ES-333 is the signature guitar of Tom DeLonge. He used and is still using it with his solo projects and Angels And Airwaves.
He started collaborating with Gibson to create a signature model in 2002 while touring with his former band, Box Car Racer. First, he used a Gibson ES-335 with the volume knob removed and the bridge pickup changed with a Seymour Duncan Invader. Playing that guitar inspired him to create his signature model.
The guitar features a classic Gibson semi-hollow body design along with a beautiful brown and cream finish. It has a thick and distorted sound that has shaped American punk rock.
This tone is created thanks to the only pick-up guitar features, the Gibson Dirty Fingers humbucker, in the bridge position. Along with the single pickup, the guitar has a single-speed knob for the volume. Another signature addition is the Sperzel locking tuners.
Tom Delonge was first seen with a Gibson ES-335 style guitar on tour in 2002. He changed the bridge pickup with a Seymour Duncan Invader and put many stickers on top of the cherry-colored body of his guitar.
Just after a year, he made contact with Gibson for a signature guitar contract which resulted in the Gibson Tom Delonge Signature ES-333 model. Through the years, he used many different colors and designs of this guitar in recordings and live performances. Like many of his other guitars, all of the ES-333 Tom uses have cosmetic alterations like burns, stickers, and tapes.
There is also a more affordable Epiphone model of this guitar, which features some downgrades from the original version.
Fender Tom DeLonge Signature Stratocaster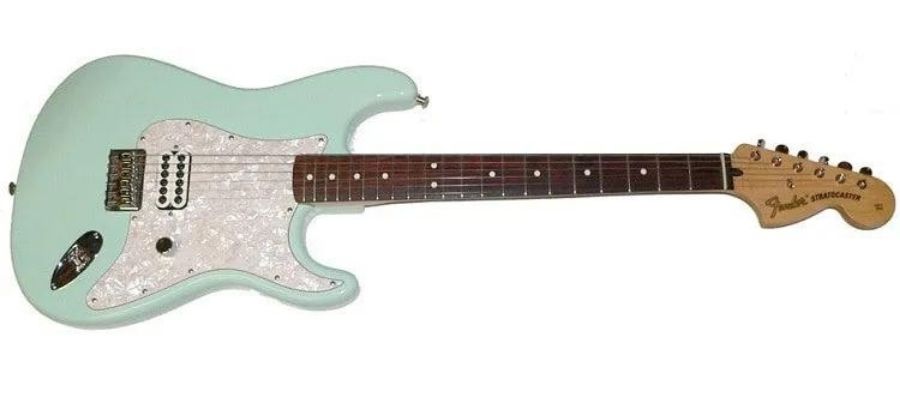 Before the signature Gibson model, Tom Delonge was using a custom Fender Stratocaster. From 1999 until 2004, with Blink-182 and with Box Car Racer, he used various colors of his signature Strat on his recordings and tours.
The predecessor of the Gibson Tom DeLonge Signature ES-333 is the Tom DeLonge Signature Stratocaster with its regular Stratocaster body, one humbucking pickup, one volume knob, and a 1970s-style large headstock. It is also equipped with Seymour Duncan SH-8 Invader in the bridge position, which creates the Blink-182 characteristic ultra-high-output, bright, vicious tone.
The guitars made especially for Tom DeLonge had Sperzel locking tuners, while the regular production models feature stock Kluson-style tuners made by Ping. There is also a cheaper Squire version of this guitar, which is sold with some alterations from the original.
Tom Delonge's Electric Guitars
Fender 1994 American Standard Stratocaster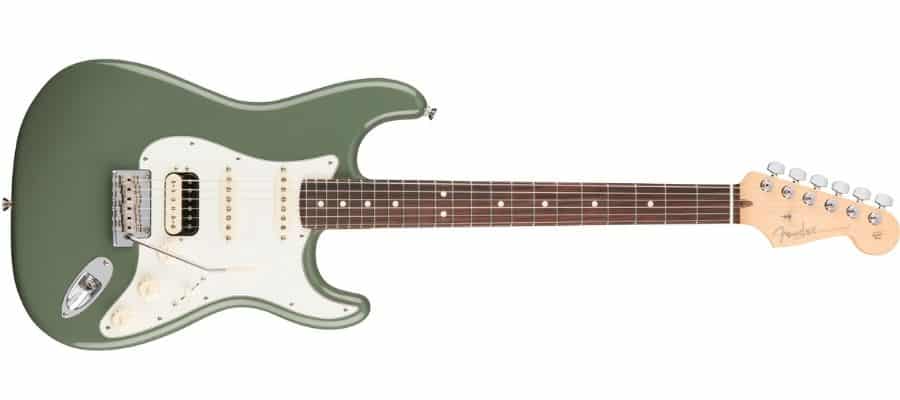 As great all-rounder guitars, Fender Stratocasters are preferred by many guitarists from a wide range of genres. As one of those guitarists, Tom Delonge used a 1994 American Standard Fender Stratocaster from 1994-1998.
Tom's first alteration on this guitar was changing the pickups with a DiMarzio X2N on the bridge, a Seymour Duncan black JB Jr. on the middle, and Seymour Duncan black Hot Rails the neck.
However, he mostly used the bridge pickup only, DiMarzio X2N, which is the pickup heard on all albums and live recordings during this time. He liked the sharp and twangy tone he got of the guitar.
Fender Custom Shop Telecaster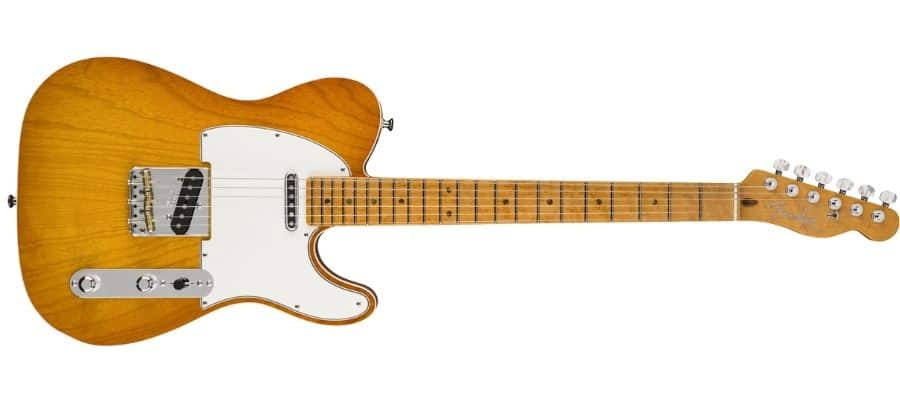 Even though it was not his first choice of guitar, Tom Delonge used Fender Telecaster in some recordings such as the song "The War" by Angels and Airwaves or "Asthenia" of his self-titled album.
When he wanted a more versatile sound with a more vintage touch, he used Telecaster occasionally.
Custom Fender Baritone Jazzmaster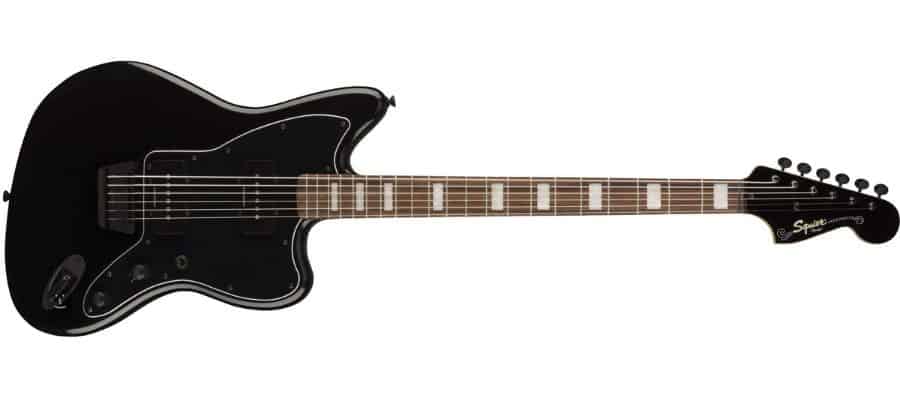 Besides the Tele and Strat, Tom Delonge also used a custom Fender Jazzmaster with similar alterations he made with his signature guitars. The guitar features only one humbucker, Seymour Duncan Invader, on the bridge position, along with only one volume knob.
The interesting fact about this guitar is that it is a baritone guitar. That is why Tom used this one for low tunings. He used this guitar on tours in 2003 and in the recording of the Blink-182 songs, "Obvious" and "Down."
Gibson ES-335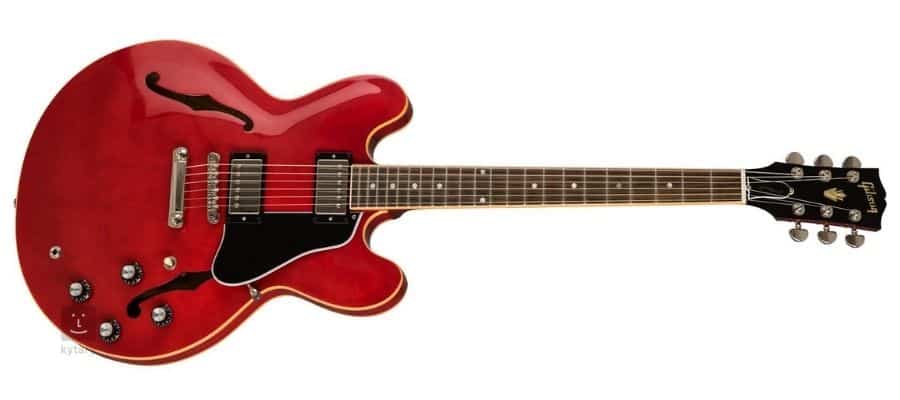 Before Tom got his signature ES-333, he modified a Gibson ES-335 electric guitar early in his career. He used the guitar with a single pick-up and locking tuners which later inspired his signature model.
He was using the cherry-colored Gibson ES-335 in studios and stages quite often. The Dirty Fingers Plus pickup, a high-output humbucker that's all about the raunch, creates the filthy sound he desires.
Custom Gibson Les Paul Standard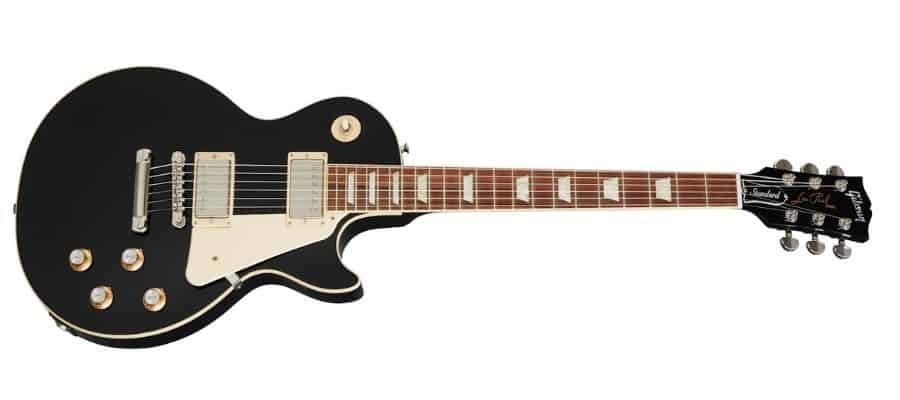 Occasionally, Tom Delonge plays his custom-made Gibson Les Paul in recording sessions. Besides the recordings of some tunes such as "Feeling This," "Dude Ranch," and "Enema Of The State," he also used Les Paul in tours between 1997 to 1999.
This Les Paul also featured characteristic Tom Delonge upgrades such as locking tuners, Seymour Duncan Invader bridge pick-up, along with a single volume knob.
Tom Delonge's Signature Pickups
Seymour Duncan Invader Pickup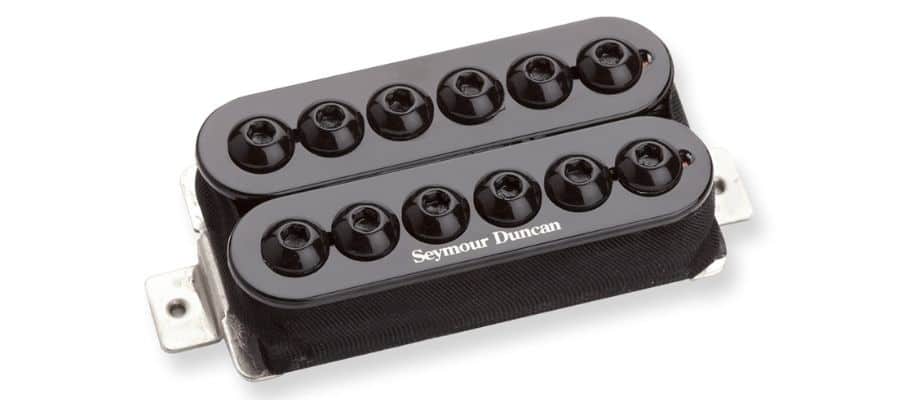 As one of his favorite humbucker pickups, Tom Delonge used Seymour Duncan Invader pickup with many of his guitars. That is why his signature Fender Stratocaster model features the Invader in the bridge position.
Seymour Duncan Invader is an excellent humbucker for an ear-destroying distortion. It is a high-output aggressive pickup with plenty of thickness, unlike the classic Strat pickups tones.
It is a great pickup for a single guitarist in the band who plays power chord after power chord aggressively with a high amount of distortion.
Gibson Dirty Fingers Humbucker Pickup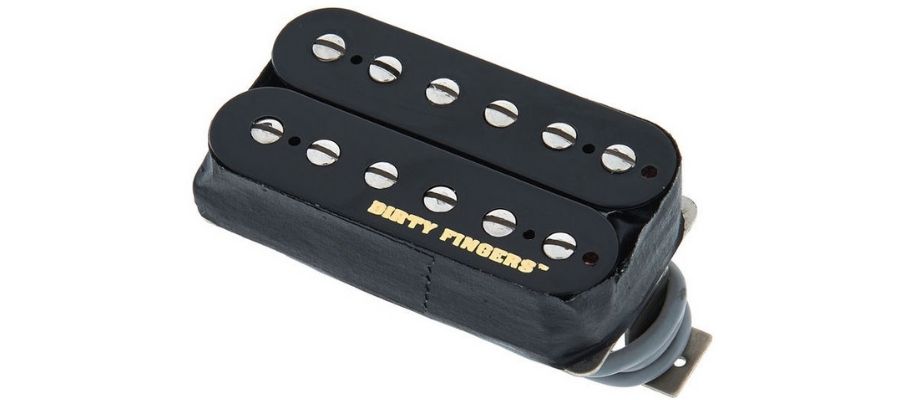 Gibson Dirty Fingers Humbucker is the highest-output pickup Gibson offers. And that is why it is ideal for the Gibson Tom DeLonge Signature ES-333 electric guitar, which Tom Delonge uses regularly.
The clean tones of the pickup are pretty tight and compressed but still very articulate for a ceramic humbucker. As it is a high-output humbucker, it thrives with a good amount of distortion. It provides a high amount of sustain along with excellent pinched harmonics.
It is a high gain humbucker, perfect for aggressive tones associated with Tom Delonge.
DiMarzio X2N Pickup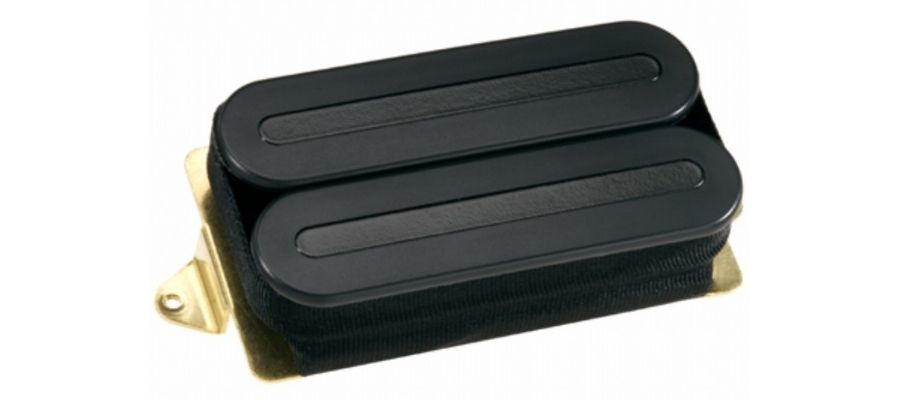 DiMarzio X2N has the highest output level between the pick-ups Tom Delonge used. He used X2N early in his career before he got his signature Fender Stratocaster with Seymour Duncan Invader.
X2N provides a highly aggressive sound with lots of trebles and sustain. It does not provide great clean tones, but it is a super distortion pick-up.
Tom Delonge's Acoustic Guitars
Taylor 814CE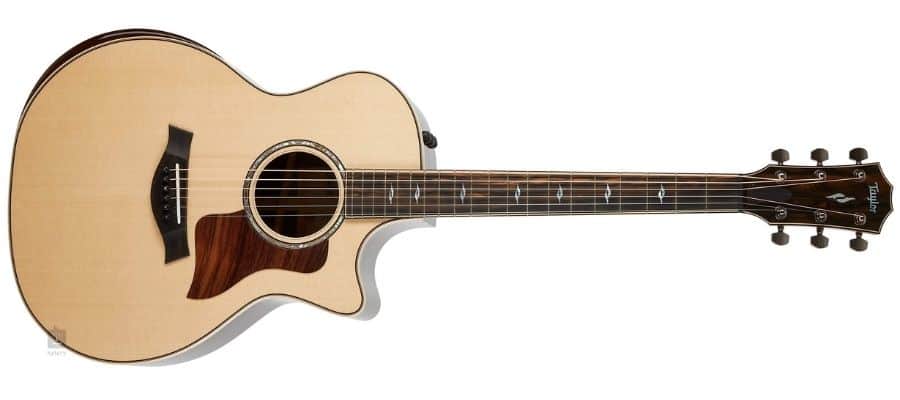 Tom Delonge's famous acoustic guitar, Taylor 814CE, can be seen in his hand in many video clips and live performance footages throughout the years. Just like his other guitars, this one also is covered with stickers, words, and cosmetic alterations.
With its cutaway design, super low-action, perfect neck, and comfortable design, Taylor 814CE is a tremendous versatile guitar to play fast or slow. It has loud and fat lows, rich, smooth mids, and thick thighs.
It is an all-rounder modern electro-acoustic guitar that works well with every style and provides a clear and bright Taylor sound.
Guild D-55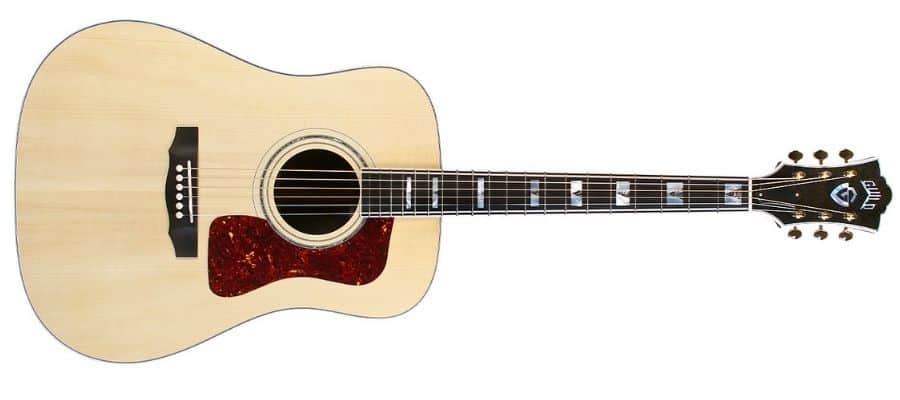 Tom Delonge also used a Guild D-55 acoustic guitar in some shows in 2010. It is an expensive guitar with an amazing, balanced, powerful, and versatile sound. Tom creates great acoustic guitar tones with this one in live performances.
Although it is a great guitar, the neck profile is relatively flat, not for everyone's taste. It features a solid AAA Sitka spruce top and solid Indian rosewood back and sides – A great-looking guitar with a fantastic warm sound.
Tom Delonge's Guitars Strings
Ernie Ball Custom Gauge Nickel Wound 52's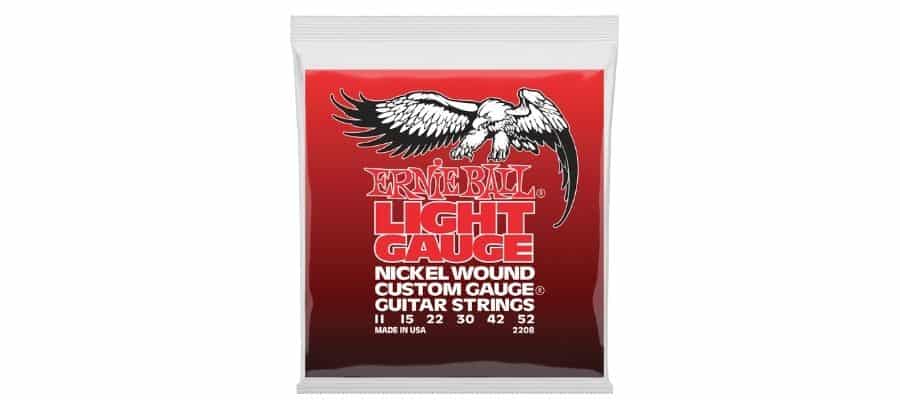 As Tom Delonge plays quite aggressively, he needs solid and durable electric guitar strings. The gauges are .011, .015, .022w, .030, .042, .052, respectively, and the strings are made from nickel-plated steel wire wrapped around tin-plated hex shaped steel core wire.
Ernie Ball Paradigm Skinny Top Heavy Bottom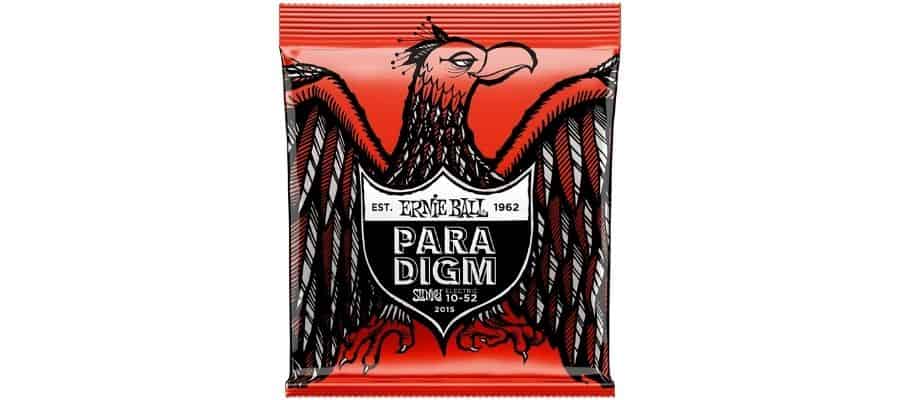 With higher strength and longer life while retaining the tone and feel, another electric guitar string set, Tom Delonge, uses the Ernie Ball Paradigm Skinny Top Heavy Bottom.
The gauges are .010, .013, .017, .030, .042, .052, respectively. As these strings are made with ultra-high-strength steel, Tom can go for a thinner string set than usual.
Ernie Ball Earthwood Phosphor Bronze Medium Light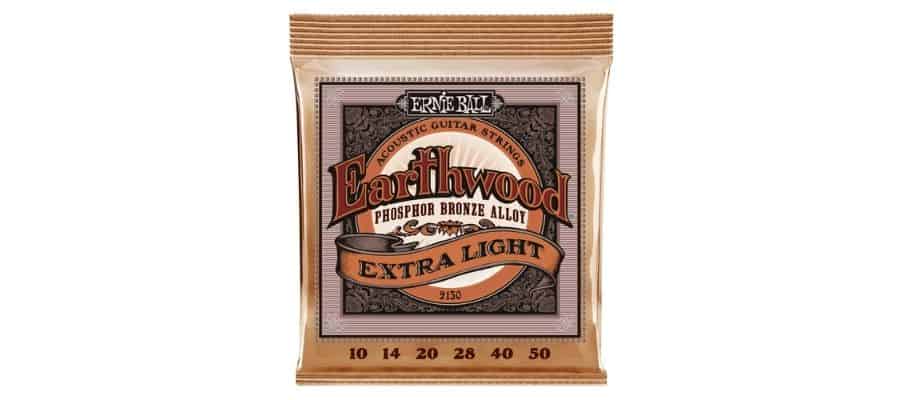 Made from 92% copper, 7.7% tin, 0.3% phosphorus wire wrapped around tin plated hex shaped steel core wire, Ernie Ball Earthwood Phosphor Bronze Medium Light is the acoustic guitar strings choice of Tom Delonge.
The strings provide a clear and mellow tone and the gauges are .012, .016, .024w, .032, .044, .054.
Tom Delonge's Picks/Accessories
Ernie Ball Guitar Strap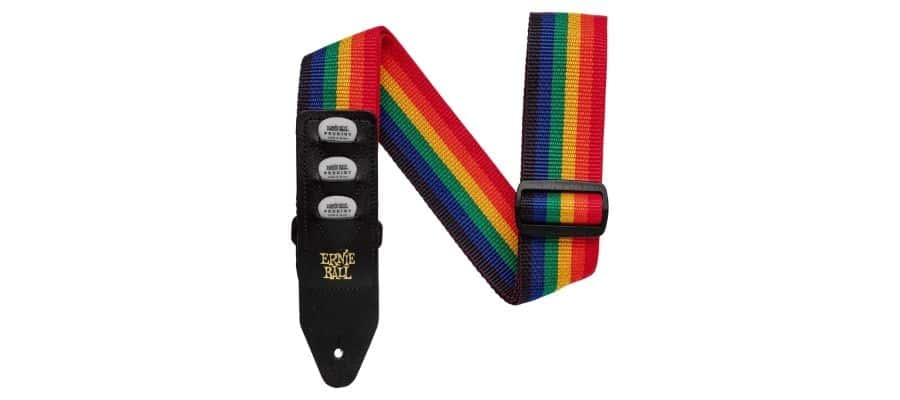 Tom Delonge often used unique guitar straps like Ernie Ball Pride Rainbow Guitar Strap that he had for a long time during the Dude Ranch and Early Enema era.
Dunlop Tortex Standard 0.60mm Guitar Picks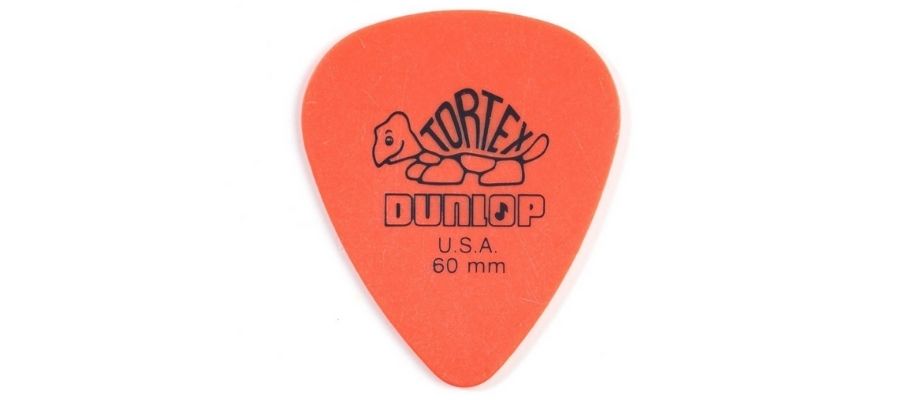 He generally plays his guitar with a Dunlop Tortex Standard 0.60mm Guitar Picks. It is a thick pick which is ideal for his style of playing.
Sperzel Locking Tuners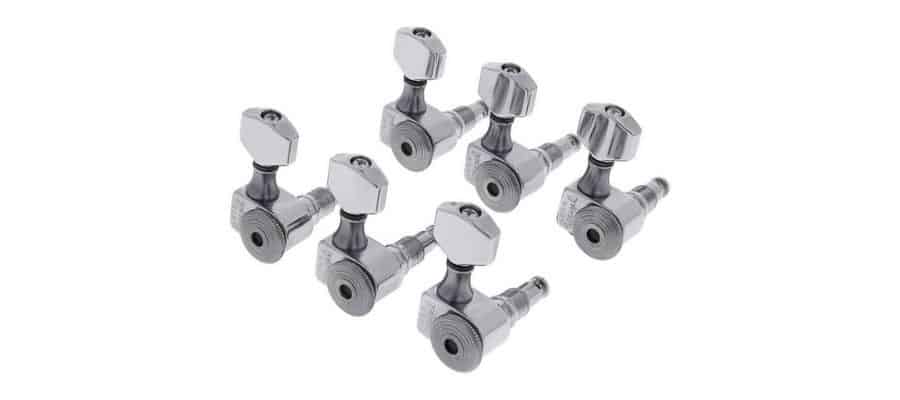 On both of his signature guitar models, Tom Delonge wanted to have Sperzel locking tuners to ensure he was always in tune.
Tom Delonge's Amps
Tom Delonge used many different amps throughout his career, either with Blink 182 or Angels and Airwaves or his other performances. His choices were mainly from the offerings of premium amp brands such as Fender, Marshall, and Vox.
Mesa/Boogie Triple Rectifier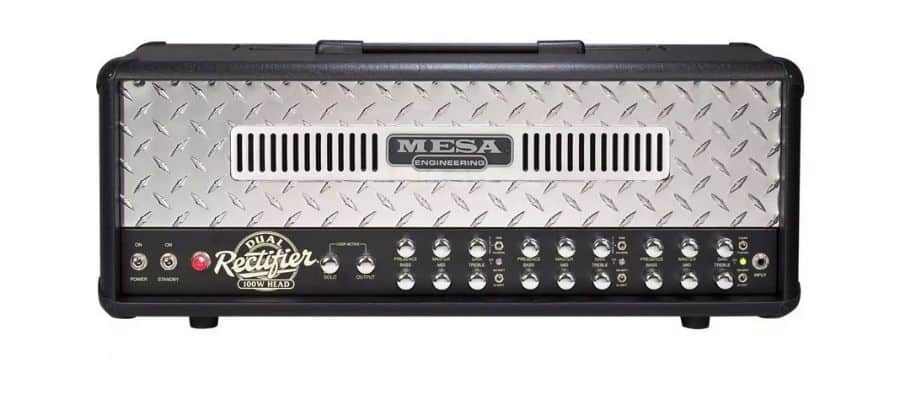 In all of the iconic Blink 182 songs until 2005, Tom Delonge used Mesa/Boogie Triple Rectifier primarily for his distorted tones. It was an essential element of Blink 182's early sounds, which were clean to crisply overdriven.
In one of his early interviews, Tom says, "A Mesa/Boogie is like a nuke: you plug it in, and it fills up every piece of the sonic spectrum." His iconic tone with Mesa/Boogie and his signature Fender Stratocaster can clearly be heard in the albums like Dude Ranch.
He used it with Mesa 2×12 and 4×12 cabinets. That is how he reached the biggest, fattest, loudest sound he could get like he desired. He was plugging straight into the amp heads basically to create the tone.
Marshall JCM900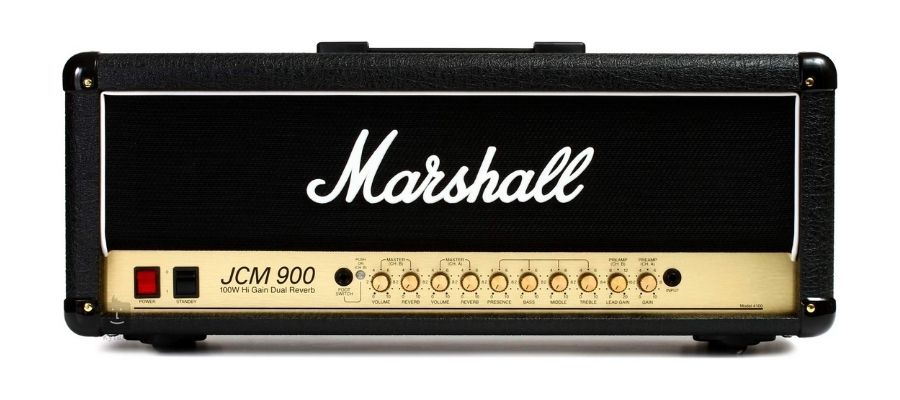 While the leading actor was Mesa/Boogie in the iconic early Blink 182 sound, Tom started using pairing them with Marshall JCM900 after the Dude Ranch album.
He was using the JCM in the clean channel but with the gain cranked all the way up. This way, he was reaching his unique upper mid-range tone with high clarity. The lower mid-range was provided by the Mesa/Boogie Triple Rectifier.
Vox AC30
Since Blink 182 had a short break-up, and Tom Delonge founded Angels and Airwaves in 2005, he uses two Vox AC30's in his recordings and live performances for his distorted tone. It is a classic-looking amp that is mainly preferred by British Bands in particular.
Even though Tom uses it mainly for the famous distorted riffs and choruses of Blink 182, it is quite a versatile amp that adapts well to the clean parts. He often uses two of them in parallel to beef up his tone.
Fender Twin Reverb
Fender Twin Reverb Amp is famous for its crystal clear, clean tones, and that is why Tom Delonge uses it. Again, he uses two Fender Twin amps for a stereo sound.
Tom switched to Fender Twin Reverb and the Vox AC30 after the establishment of Angel and Airwaves. All of his performances and recording after that point included this pair.
With the new Fender Vox pair, his tone grew a bit clearer and less saturated than it used to be with the Mesa Marshall combo.
Tom Delonge's Pedals/Effects
Although Tom Delonge was not using many effect pedals back in the mainstream success years of Blink 182, he started using more and more later, especially for the projects with Angels and Airwaves. As his style diverged from just punk-rock, he started using different effects to spice up his tone.
T.C Electronics G-Force Multi Fx Unit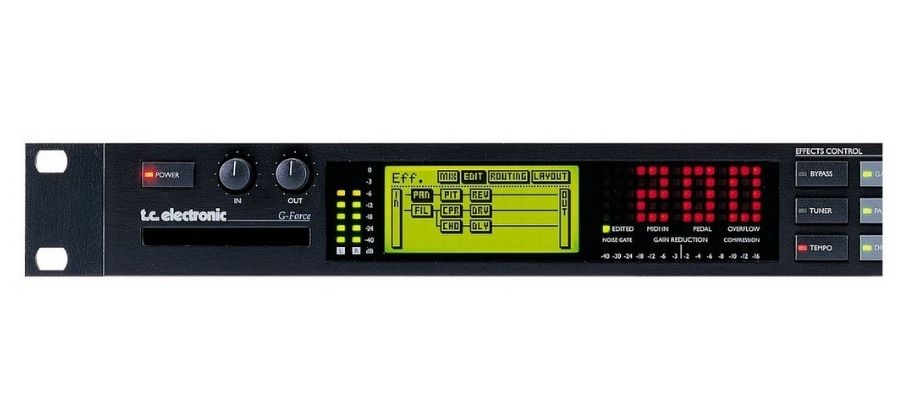 If there is one effects gear that is Tom Delonge's regular companion, T.C Electronics G-Force Multi Fx Unit is it. Especially in his live performances, he uses this FX Unit to create any effect he desires. He uses his Custom Audio Electronics Footswitch, which also is used as an A/B switcher for his Amplifiers to switch between the effects.
Fulltone Fulldrive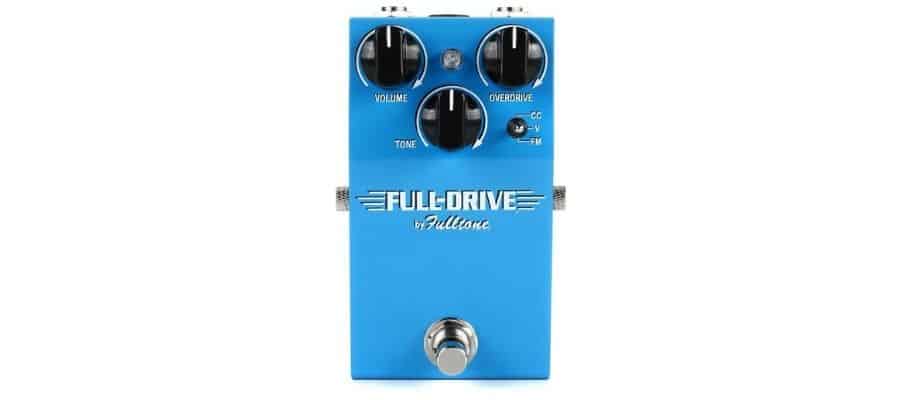 Although Tom did not use any pedals until the mid-2000s, after that point, he had a sonic revolution and started using them to create a more versatile tone. He started occasionally using Fulltone Fulldrive to drive his tone more with Blink 182, and later, he used the pedal with Angels And Airwaves, too.
As he started using the Fender Twin Rever amp for his clean tones, he started using two Fulldrive pedals through his amp to break up his clean tone a little bit.
MXR EVH Flanger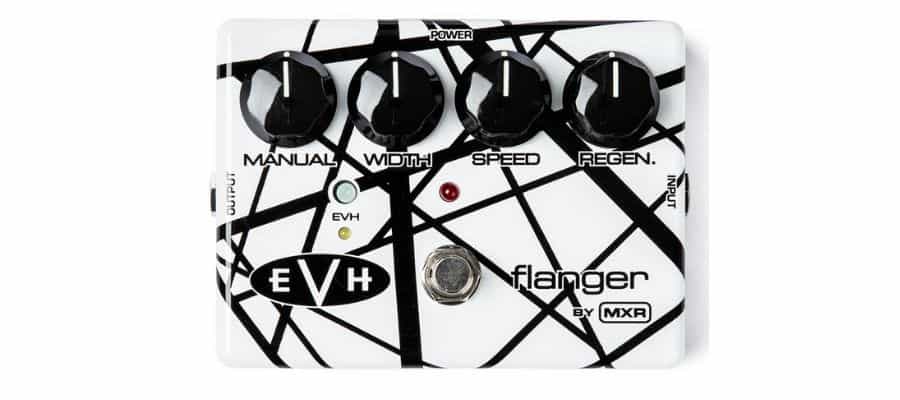 Tom uses one of the most preferred flanger pedals among the guitarists, which is the MXR EVH Flanger pedal. It is one of the elements he brought to the later Blink 182 from the Angels and Airwaves.
Flanger is a pretty important part of Tom's tone as he likes it and wants to hear it all over the place, not just sort of whooshing in the background. His use of the flanger pedal can clearly be heard in the song Love Like Rockets.
Electro-Harmonix Big Muff Pi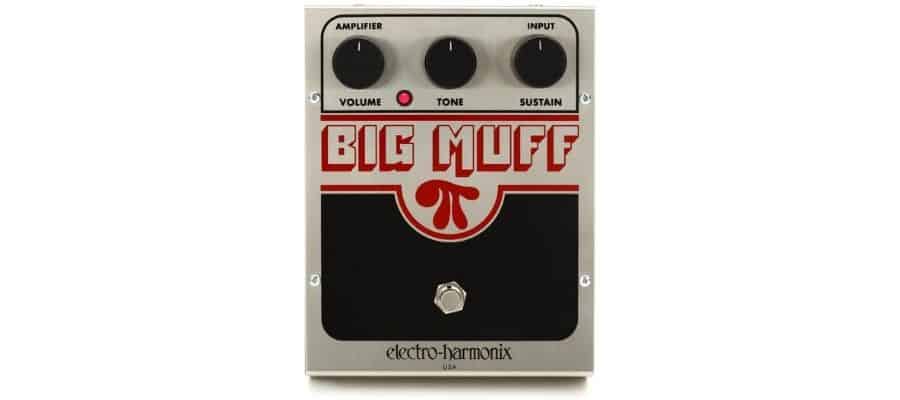 Fuzz pedals are another crucial element of Tom's latter tone, thanks to their unique tone, which can be described as fizzy and noisy. He uses an Electro-Harmonix Big Muff Pi.
MXR Phaser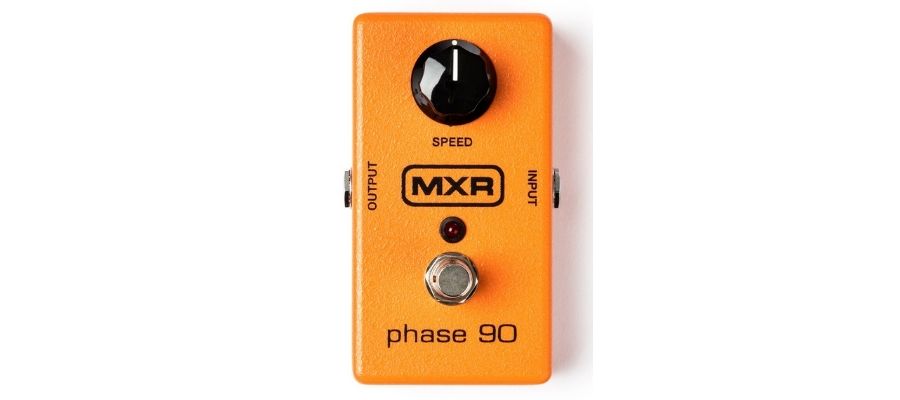 Another spice on Tom's tone is the MXR phaser that he often uses with Angels and Airwaves. The spacy guitar tones in tunes like Rite Of Spring and Love Like Rockets include various effect pedals, including MXR Phaser.
Boss DD-6 Digital Delay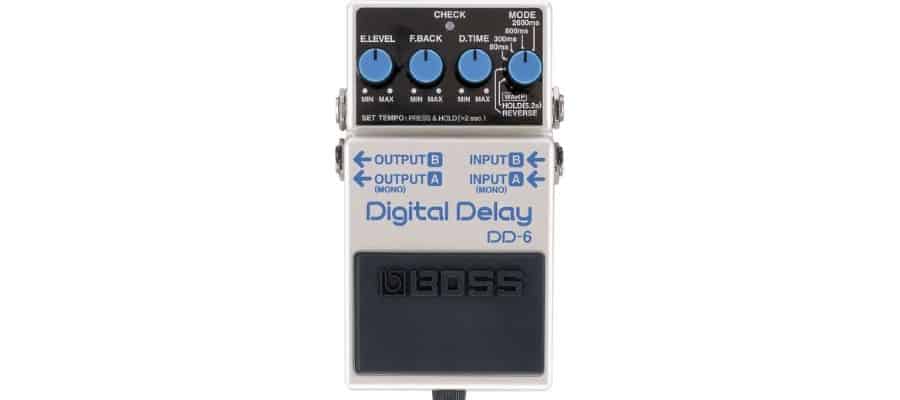 When it comes to delay pedals, Tom Delonge uses a classic Boss DD-6 Digital Delay, which is the first BOSS delay pedal to offer actual stereo delay and panning effects. He uses it mostly for Angels and Airwaves songs, but you can also hear it in some later-period tracks of Blink 182.
Electro-Harmonix Micro Synth Guitar Pedal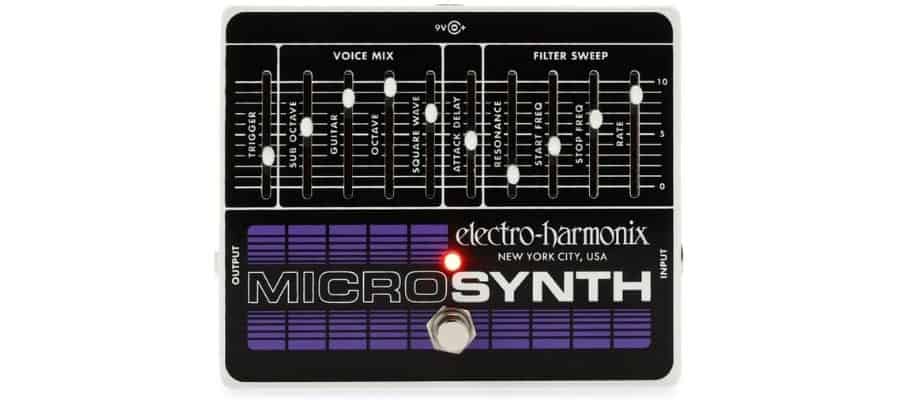 One of Tom's favorite gear is Electro-Harmonix Micro Synth Guitar Pedal which he often used with the Angels and Airwaves. He uses the synth to create a science-fiction-like tone that can be heard in the intro section of Rite Of Spring.
Line 6 Constrictor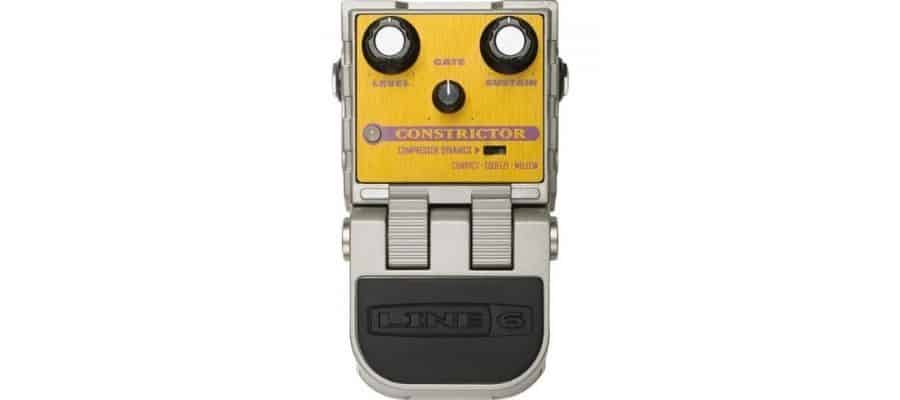 Of course, a pedal setup can not be complete without a compressor pedal. Tom compresses every sound with the Line 6 Constrictor before the signals are sent to the amps.
Fulltone OCD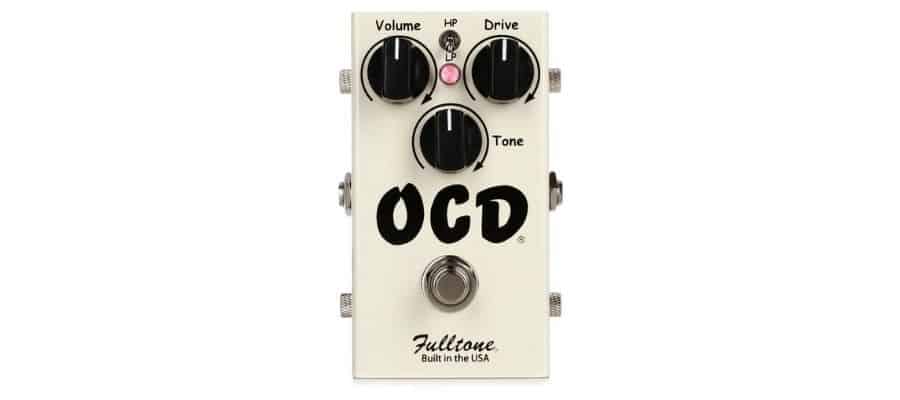 For the album Love Part II with Angels and Airwaves, Tom added a Fulltone OCD overdrive pedal to his setup with the aim of driving his Vox Amps harder. Again, he used the pedal with his other regular overdrive pedal Fulltone Fulldrive.
Tom Delonge's Microphones
As the lead vocalist of his bands like Blink 182, Angels and Airwaves, and Box Car Racer, Tom Delonge used phenomenal mics for his unique vocal style. However, as a guitar player, he does not mic his amps except on some special occasions.
Blue Bottle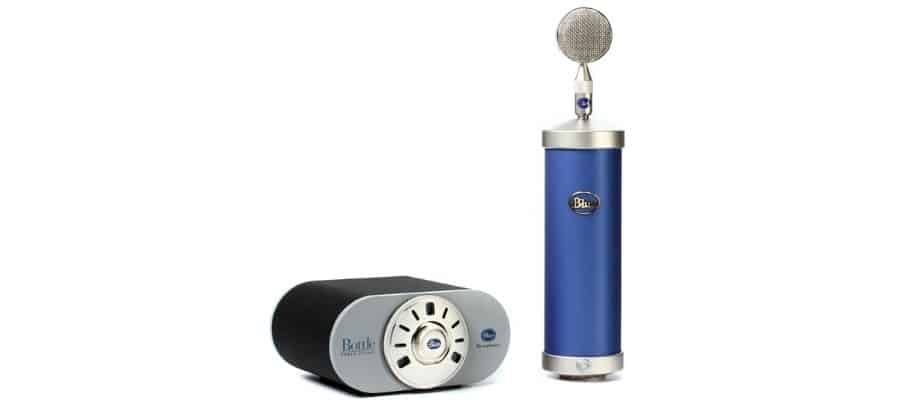 Blue Bottle is the regular mic Tom Delonge uses for his vocals. The tube mic provides a classic sound with a richly present midrange, smooth top end, and neutral bottom.
Most of his Angels And Airwaves, Blink 182, and Car Box Racer albums after 2001 were recorded with a Blue Bottle.
Blue Kiwi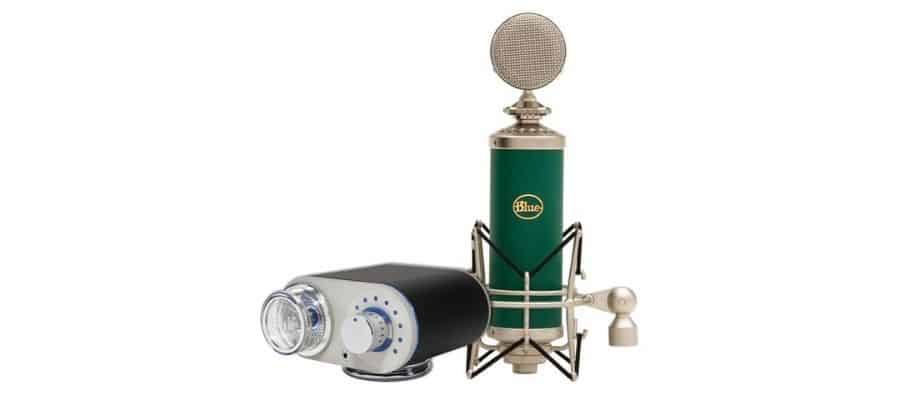 Another Blue microphone Tom Delonge used in the past is the Blue Kiwi. He recorded every album before Take Off Your Pants and Jacket before switching to the Blue Bottle.
Royer R-121 Ribbon Microphone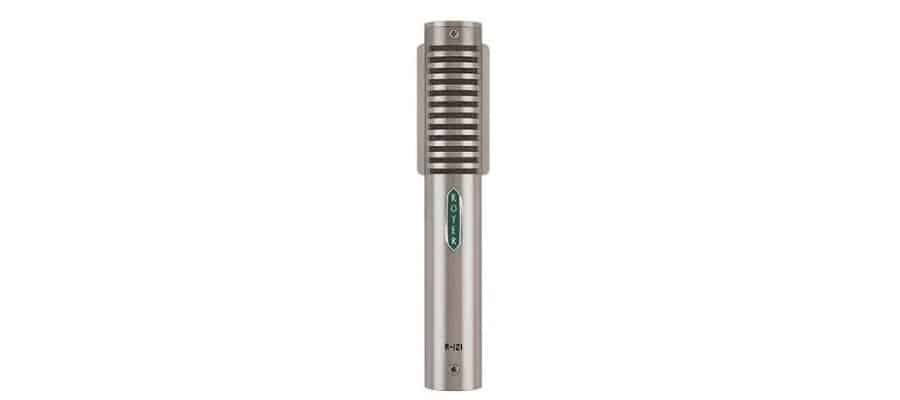 One of the mics Tom uses with his cabs is Royer R-121 Ribbon Microphone. However, he is not a fan of using mics with the cabs; he did it for the recording sessions of the Enema At The State album.
Microtech Gefell UMT 70 S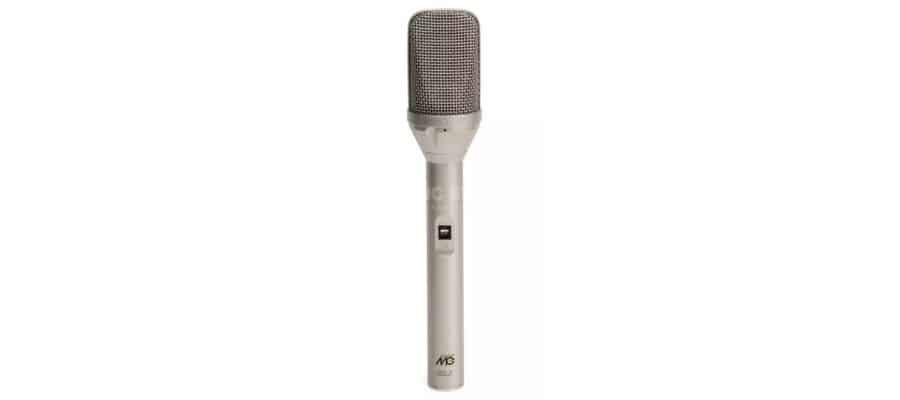 Another amp microphone that Tom Delonge used during the recording of the Enema At The State album is Microtech Gefell UMT 70 S. He paired it with Royer R-121 Ribbon Microphone to get the most from his amps.
Tom Delonge's Keyboards
During the Angels And Airwaves LOVE tour, Tom Delonge started using synths and oscillator rigs for live performances. He has a special custom tower rack system which includes his synth rig with his guitar effects setup. He also used the same system for late Blink-182 and his solo projects. He plays and samples most of the synths and effects for their songs live
Roland Fantom X6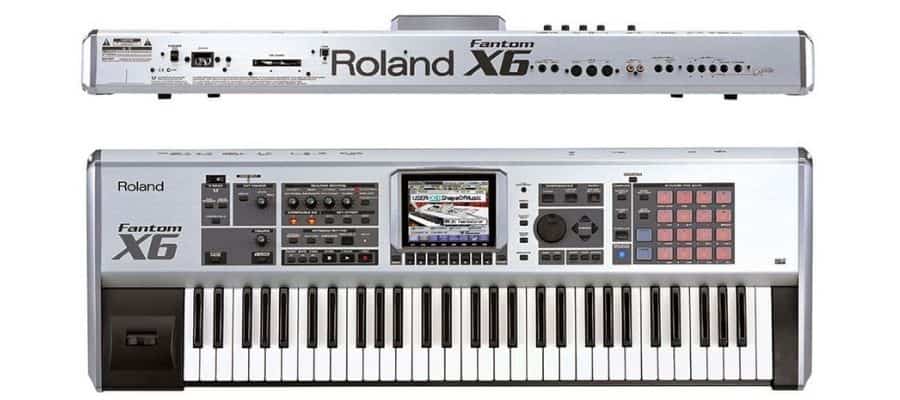 In one of his interviews, Tom Delonge admits that he is a fan of Roland Fantom X6. He used it especially in the album I-Empire with Angels And Airwaves, along with most of his live performances.
Korg Kaoss Pad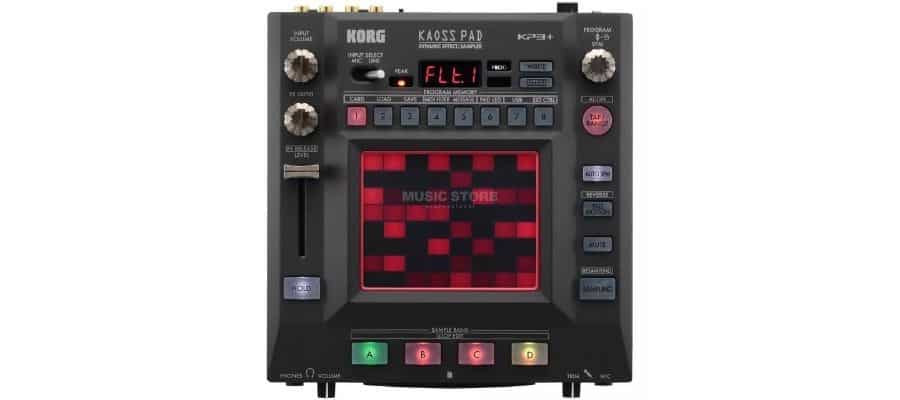 With the same LOVE tour with his band, Tom also implemented Korg Kaoss Pad next to his keyboard in order to achieve more effects and science-fiction-style sounds. He also uses a MIDI pedal to control the Kaos pad.
What Is Special About Tom Delonge's Guitar Tone?
Either with Blink 182 or with Angel And Airwaves, Tom Delonge has a distinct tone that can be easily realized. However, he used different sonic approaches early on in his career and after Angels And Airwaves. So I am going to separate the two time-era and talk about his different guitar tones.
Blink 182 Guitar Tone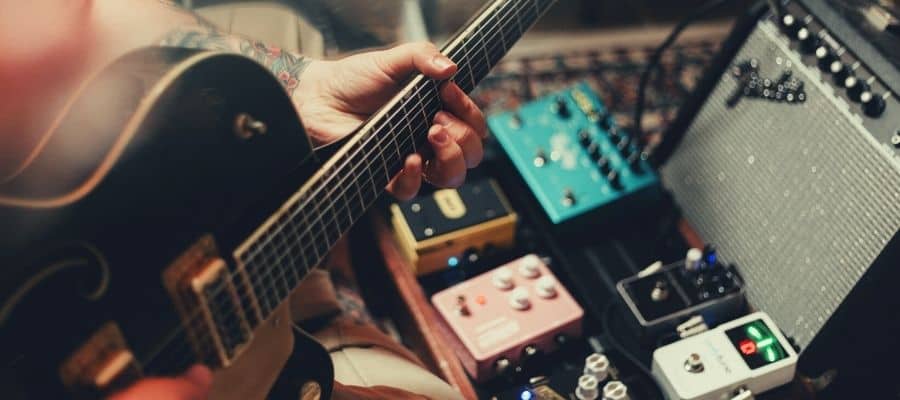 With early-Blink 182, Tom had a thick, crunchy punk rock tone. He used his signature Fender Stratocaster with the used two Mesa Boogie Triple Rectifier amps and two Marshall JCM 900 amps along with Mesa Boogie and Marshall cabs for live shows.
One of the most crucial elements of his unique punk rock tone is the Mesa Boogie Triple Rectifier and his Seymour Duncan Invader pickup. Both of them are beasts when it comes to distorted, loud tones.
For me, the album that portrays the unique Tom Delonge guitar tone is Enema At The State. The so-called quintessential Blink sound is big, fat, loud, and clean to crisply overdriven. It is heavy and gained out guitar tone, but at the same time, it has lots of dynamics. It is punchy and sharp rather than muffled and flat.
The clean tones of Blink 182 are quite twangy and sharp. Tom uses his Marshall JCM 900 dominantly to get his cleaner tone. He also adds a little bit of gain too.
Angels And Airwaves Guitar Tone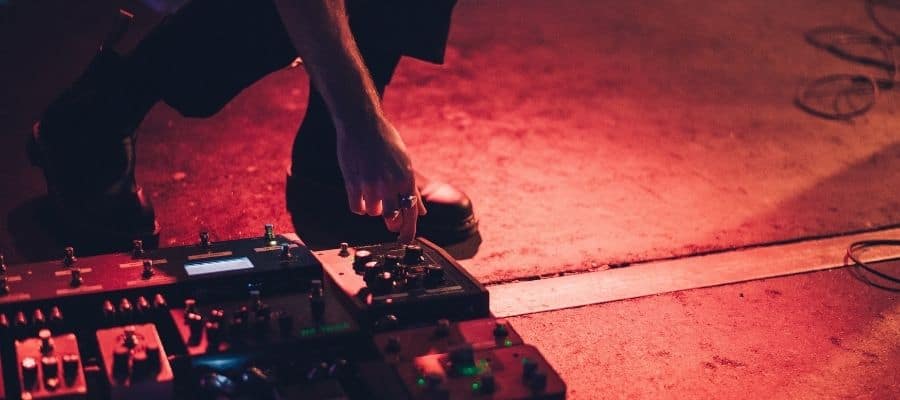 Tom had a sonic revelation after he founded the alternative rock band Angels And Airwaves. He started using less gain and more effect pedals to spice up his tone. He also changed most of his gear. He started using Vox AC30 and Fender Twin Reverb Amp along with many pedals like phasers, flangers, delay pedals, synths, and more.
As Tom Delonge is a fan of space and science fiction, he uses many effects to create a science-fiction, out-of-world tones with Angels And Airwaves. He learned how to produce, how to play piano, learned all about pedals to redefine his tone to a more alternative rock sound.
He uses less distortion with plenty of delay, reverb, and phaser. The characteristic of the tone is the heavy delay, with reverb and phaser being the important companions.
Tom's guitar tone with Angels And Airwaves is quite experimental with loads of effects that feel like coming from aliens as he desired. It is totally different than his tone with Blink 182 but as unique as that one.
How To Sound Like Tom Delonge (Blink 182, Angels & Airwaves)
It is not hard to sound like Tom Delonge if you have the right equipment. With Blink 182, he used a sound that was easier to replicate as he was not using much equipment. But with Angels And Airwaves, he experiments pretty often with different pedals and effects, which can be harder to replicate.
Guitar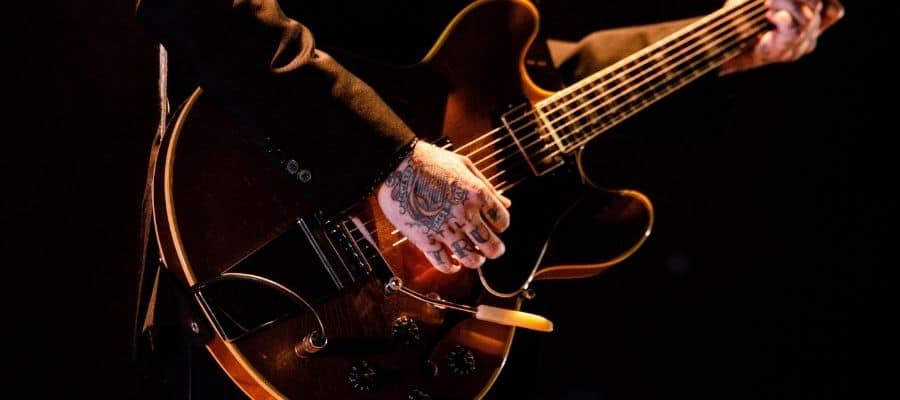 If you really want to sound like Tom Delonge, then you have to take a look at the guitars he plays. He mostly uses his signature Fender Strat or Gibson ES335.
The first thing is that you will need a pretty aggressive guitar to get to that Blink 182 tone. His signature guitars only feature one pickup in the bridge position, and his choice of humbucker pickups are some of the loudest and high-gain style pickups, such as Seymour Duncan Invader or Dirty Fingers.
So you can use your guitar's bridge pickup to replicate his distorted sound. But what is better is to change your pickup with a high-gain style pickup or have a guitar of his signature models is even better. What you need is a sharp and twangy tone that you can easily get with these gear.
Amp / Amp Settings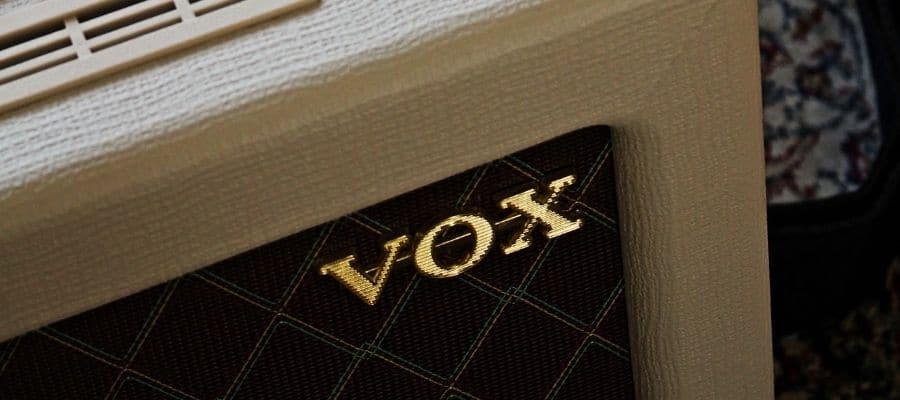 Tom mainly used two different tones with Blink 182. The first tone is the crunchy punk rock tone, and the second is the clean one. The intros and first verses are mostly clean, while the rest of the songs are played with his iconic punk rock tone.
The clean tone is still sharp and twangy, so you will have to have a high treble. You can put your amp's treble around 7 and experiment from there. The exact setting will depend on your amp. Have a little gain to break up the clean tone with the basses around 4 and the mids around 5.
Tom Delonge's distorted tone is quite punchy and sharp. It is not muffled or flat, so go for the treble around 7 along with the bass and mids around 4 to start with.
If you do not have an amp like Tom's Mesa/Boogie Triple Rectifier Two Channel Head, you will have to crank up the gain a lot to reach his sound. But his tone features a high clarity along with the overdrive, which is hard to get without the Triple Rectifier. So go for a high gain but do not exaggerate it, so it gets too much distorted. Start experimenting from level 7 and go higher if you desire.
When it comes to Angels And Airwaves, it is a tone that is harder to replicate as he uses many different effect pedals. He uses Vox AC30 for the gain and Fender Twin Reverb for his clean tone.
Even though the settings would depend on the amp, you can start experimenting with the mids all the way up and the bass and treble around 4. If you can afford a Vox AC15 or AC30 or a digital modeling amp with Vox presets, that would do the trick.
Pedal Effects / Pedal Settings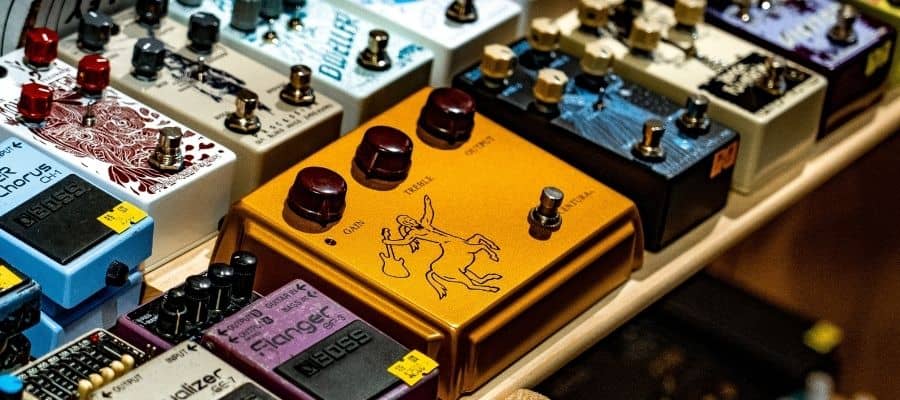 With Blink 182, Tom was not using many pedals to create his iconic punk rock sound. In the early days, he kept things simple by directly connecting to his Mesa Boogie Triple Rectifier Two Channel Head. But, later, he started implementing some other pedals to his setup.
As a punk band, Blink 182 was using overdrive rather than distortion effect. Tom was getting a gritty and crunchy tone but keeping the high clarity of his tone. In some live performances, he used the Fulltone Fulldrive to break up his clean tone a little bit. To replicate that sound, use a low gain with your clean tones.
He also used Boss DD-6 Digital Delay in some clean parts. He experimented with the delay settings, but mostly he used a fast but long echo sound. A moderate amount of delay will do the trick.
With his distorted tone, Tom also used fuzz pedals occasionally. So you can use the Electro Harmonix Big Muff Pie to get his fizzy and noisy sound. The settings would depend on your amp settings but try to have a moderate sustain with the tone knob around 4.
With Angels And Airwaves, Tom used many different pedals, effects, and tones for different songs. I personally like his tones in the album We Don't Need To Whisper, especially in the song The Adventurer. He uses his Boss delay pedal, Fulltone Fulldrive, along with his MXR phaser.
The main ingredient is the delay effect here. So, the delay time should be low with the repeats and effect level high. You can adjust the gain level around 3 or 4 to break the clean tone, and finally, you can add the phaser effect with moderate speed and intensity.
In the tunes like Rite Of Spring and Love Like Rockets, Tom uses the phaser more intensely and adds his synth effect to create his spacy sounds.
Techniques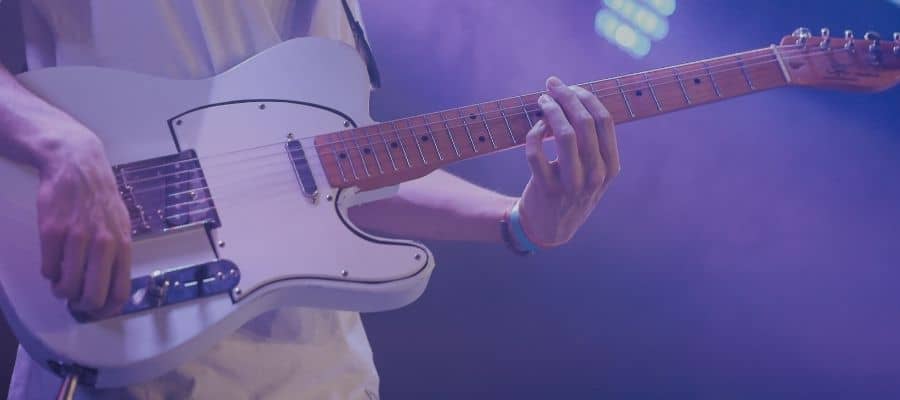 To sound like Tom Delonge, you will also need to replicate his playing style. He mainly uses power chords, palm-muting, and legato techniques in his songs.
Power chords are the best friends of rock bands. Tom used them regularly with all of his bands in different styles. As he was the only guitarist in Blink 182, he used power chords in the rhythm guitar sections with a high speed and aggression. With Angels And Airwaves, he still uses them quite often but slower with different effects.
The second technique he uses the most is the palm-muting technique. He uses them heavily in the verses of many songs like What's Your Name Again and Dammit. This technique can be described as a dampening effect on the strings, so it sounds muted to keep the sustain there.
In Blink 182, Tom played really fast with the palm-muted notes, so you will have to train your strumming hand to keep up with the rhythm. With Angels And Airwaves, he uses palm mutes much slower with different effects like delays and phasers.
The last techniques you need to master are legato techniques which are hammer-ons and pull-offs. He uses them a lot in his solos and riffs, especially with Angels And Airwaves. As he is the only guitarist in Blink 182, his focus is more on the rhythm sections, which does not give much space for legatos. But he still used them in his solo parts.
Tom Delonge Guitar Rig Examples
Budget
Guitar
It is not easy to replicate Tom Delonge's tones fully with a low budget. But, if you have an electric guitar with a high-output humbucker pickup, you can buy some pedals to get closer to his iconic Blink 182 tone. If you do not have an electric guitar, you can go with the affordable options of the Fender Bullet Squier Stratocaster with an HSS pickup configuration.
Amp
The crucial part of Tom's tone is the amp as he uses a tube amp. So the more you spend on a good amp, the better tone you will get. But tube amps are high-end products. So, you can go with a decent digital modeling amp like Positive Grid Spark 40 and with some tweaks and adjustments, it would be easy to replicate his tone. Another option is just to go for the Positive Grid Cloud and download the patch to reach close to Tom's tone.
Pedals
You will need an affordable overdrive pedal like Joyo Vintage Overdrive, a delay pedal like Mooer Reecho, and a fuzz pedal like Biyang FZ-10 Fuzz Star. These are the closest affordable alternatives to what Tom actually uses.
Mid-Range
Guitar
Luckily, there are more affordable versions of Tom Delonge's signature guitar: Squier Tom Delonge Stratocaster. It is a great guitar to replicate Tom Delonge's sound. However, it is a hard guitar to find. You can check some websites like Reverb and eBay to find a good one.
Otherwise, you can go with an Affinity Squier HSS Stratocaster and change the pickup with a Seymour Duncan Invader like Tom did with his own Stat. This pickup is a high-gain monster that will help you greatly achieve his unique tone.
Amp
You can connect directly to a good amp like Vox AC15, the smaller version of the one Tom uses with late Blink 182 and Angels And Airwaves. As the amp is the key part of his tone, you might want to spend a bit more on it.
Pedals
Additionally, you can use the Electro-Harmonix Big Muff fuzz pedal to spice up the dirty tone and the Boss-DD6 delay pedal for the cleaner parts.
High-End
Guitar
In order to get the Tom Delonge tone fully, you will need to get one of his signature guitars: Gibson Tom Delonge Signature ES-333 or Fender Artist Series Tom Delonge Signature Stratocaster. These guitars are perfect for achieving his tones as they are specially designed for his iconic tone.
Amp
As the amp choice, you can either go with the Vox AC30 or Mesa/Boogie Triple Rectifier. Tom likes the stereo sound, so he uses two of them. These are the choices for the dirty tone. For the clean tone, you can get the Fender Twin Reverb Amp which Tom likes and uses a lot.
Pedals
For the Blink 182 tones, the amp-guitar combination will be enough. But for Angels And Airwaves tones, you will also need his pedal setups to achieve the different tones he uses. However, the most important element is the delay pedal Boss DD-6 Digital Delay.
You will need a Fulltone Fulldrive to add a bit of drive to the clean tones along with the MXR Phaser. Tom also uses MXR EVH Flanger in some songs, and he admits he is a fan of the pedal. Other pedals he uses in different songs are Electro-Harmonix Big Muff Pi for the overdrive tones, Line 6 Constrictor to compress everything, an Electro-Harmonix Micro Synth Guitar Pedal to create more out-of-world sounds.
To grasp his tone fully in live performances, there are some other gears also mentioned in this article, but to recreate it, these will be enough.
Conclusion
Tom Delonge is one of the most influential guitarists of our time. He has the iconic Blink 182 punk-rock guitar tone that influenced many musicians, which is dirty with high clarity. It was loud, aggressive, powerful, but yet clear without flatness.
With Angels And Airwaves, he got out of his comfort zone and experimented with lots of different gear, creating different yet fantastic guitar tones. As he is a lover of UFOs, space, and science fiction, he successfully reflected his passion for his guitar sound using many effects that are a joy to listen to and replicate.
In any case, there is a lot to learn from Tom Delonge when it comes to gear and guitar tones, and trying to follow in his footsteps will help anyone greatly on their own journey.
If you found this article useful you may want to save this pin below to your Guitar board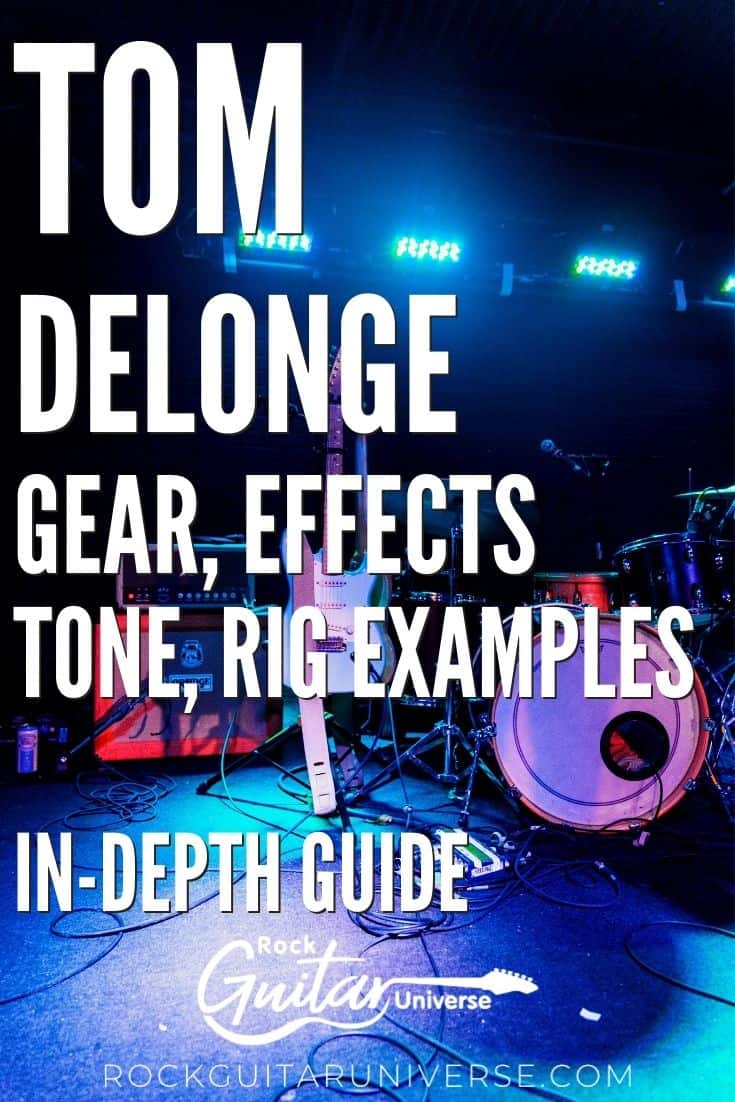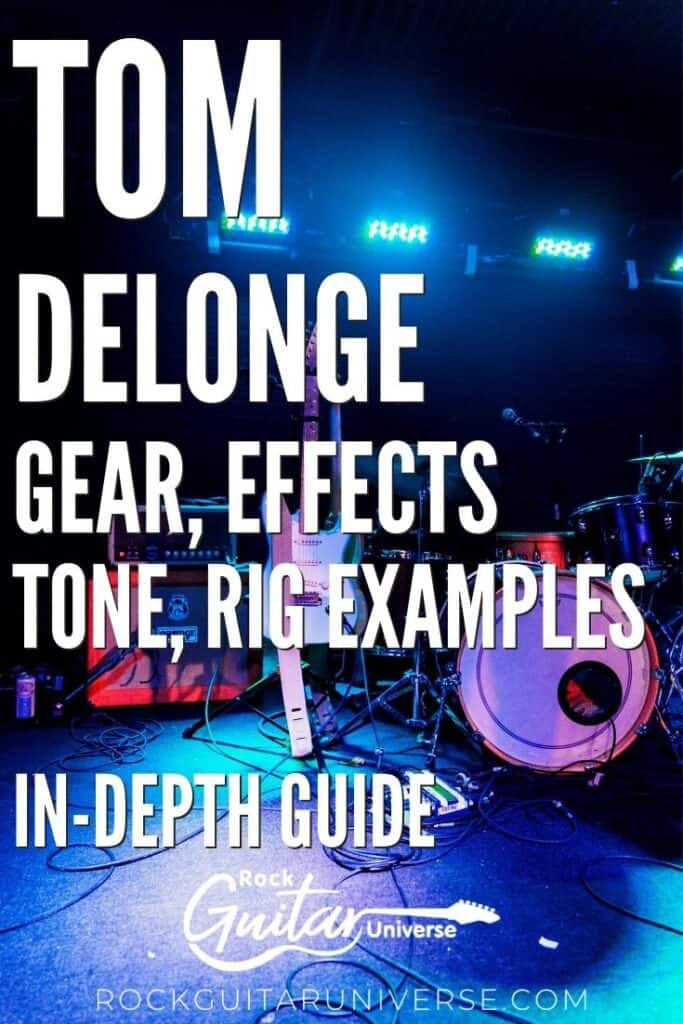 Last update on 2021-12-07 / Affiliate links / Images from Amazon Product Advertising API
Recent Posts