Guitar Strings are one of the most important components of a guitar. In case your guitar strings are starting to get old and no longer feel or sound good, it is time to replace them with a new set.
There are different types of guitar strings available on the market. And after years of trying out different brands and types, I came off with my best choices of strings.
My Top 3 Electric Guitar Strings:
Attention: The following guitar sets are for .009 – .042 string thickness. This is what I use but you are free to choose whatever you want. I recommend that you stick with your usual thickness. If you just started and not sure what to use you can use this thickness.
1. Elixir Strings Electric Guitar Strings NANOWEB Coating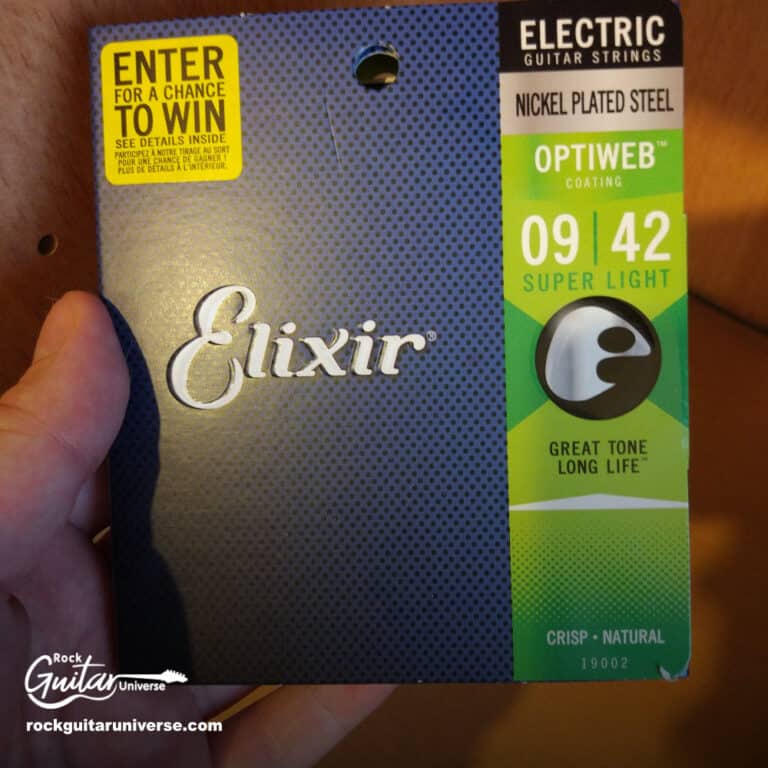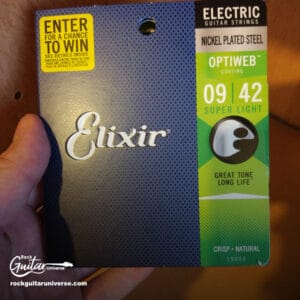 I personally use Elixir guitar strings on almost all of my guitars. They are nickel-plated strings like the others. But, these strings are constructed with steel wrap wire. Also, they are coated with special technology. it keeps them corrosion free and protects them against environmental effects. which results in extended life. Following are some pros of the elixir strings:
Extended Tone Life: Elixir strings are reported to have a longer tone life than any other string, coated or uncoated.
Consistent Performance and Tone: Elixir strings offer great consistency and ready to play whenever you are.
Easy on the Fingers: Elixir strings have a very smooth feel that is super easy on your fingers and enhances playability.
Reduced Finger Squeak: This feature makes them good for both performance and recording.
No Need for Frequent String Changes: This feature makes them a great choice for players as they do not have to spend time on frequent string changes.
2. Ernie Ball RPS-9 Slinky Nickel Wound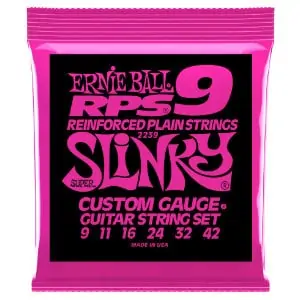 Ernie Ball RPS Nickel Wound Electric Guitar Strings are made from nickel-plated steel wire wrapped around the tin-plated hex shaped steel core wire. The plain strings use a patented winding of bronze wire wrapped around the lock twist of the ball. This reduces the slippage and breakage, making them bright. Some of the pros are as follows:
Lasting Longer than Regular Plain Strings: Slinky nickel wound strings last longer than conventional plain strings.
Slinky Nickel Wound Stay in Tune: These strings stay in tune longer than the regular plain strings.
3. D'Addario EKXL120 Nickel Wound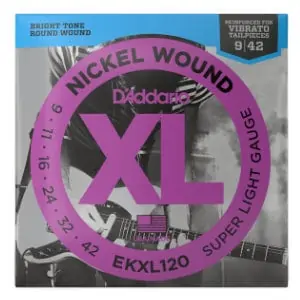 EKXL 120 strings are reinforced with soldered twists at the ball end for increased durability. These strings are well suited for vibrato systems, where strings are under extreme stress and stretch. Some of the pros of EKXL 120 are as follows:
Distinctive Bright Tone: EKXL 120 is round wounded with nickel-plated steel for a distinctive bright tone.
Strength and Durability: Strings gets extra durability and strength with reinforced soldered twists. This also makes them an optimal choice for vibrato systems.
How to Choose the Right Electric Guitar Strings?
There are different parameters to measure in quality of guitar electric strings. Choices can be made on the basis of materials, brand, and thickness. You can decide the best strings for your guitar based on the following criteria. When I choose the guitar strings I take into consideration the following things.
Gauge (Thickness)
Some of you may not understand exactly what the string gauge is. But I am sure that those of you, who have some experience with a guitar can tell that this is a fancy word for thickness.
There are various gauges available for you to choose:
.010 – .046
.009 – .042
.011 – .048
The .010 – .046 and the .009 – 0.42 are the most popular string thickness in use. The first number represents the 1st string gauge and the last number represents the 6th string gauge.
The difference between the first two gauges is that the first one is heavier than the other. The lighter gauge does not sound like a heavier gauge. But, I personally prefer it and use it on every guitar I have. Also, the lighter gauges are easier to play. If you want to be burning up the fretboard with lighting fast leads and intense rhythm chording then I recommend using lighter gauges. But, if you want to play metal and use detuned scales such as drop-D tuning, then you would need heavier gauges.
Blues and classic rock guitarists who use a lot of string bends often use medium gauges. Mainstream jazz guitarists use heavy gauge flatwound strings as they do a lot of note bending and need a broad tone spectrum.
The material
Most electric guitar strings are made of steel. The core of the strings, not matter unwound or plain strings, is the same in all sets of strings. Little variations are offered by different manufacturers for example tin-plating. Most of the differences are in the wrap of strings.
According to my experience, the most popular set of strings is Nickel-plated. It gives a balanced tone and smooth sound. If we do a comparison between a set of pure nickel strings and a set of stainless-steel strings, pure nickel wrap gives a smoother and warmer feeling while stainless steel gives a sharper and brighter feeling.
Strings made out of chrome produce more warmth with less resonance. It is often chosen by jazz and blues guitarists. Strings of Titanium are bright tone with excellent strength. Cobalt strings have a wide dynamic range with notable brightness and pickup response. Polymer coated has less sustain than equal uncoated strings. They are also corrosion-resistant.
String Durability
Another factor to consider is the frequency with which you play. If you are an occasional recreational guitarist then you may settle for less expensive strings. But, if you play and practice like a devout then you should choose a premium-grade, heavy-duty strings. A lot of manufacturers grade their strings according to their durability.
Special technology
Some manufacturers use a special technology in their electric guitar string. This special technology coating that gives a major increase in string life. It prevents the strings from corrosion due to sweat and oils. But, after a while, these strings will become dull as the other as well.
The brand
The brand is important while choosing a set of electric guitar strings. Every manufacturer yields a different product which gives a different feel. Sometimes, two different manufacturers offer strings with the same material, and same polishing but they are different in their tone, fell or even lifespan. It is good to stay with well-known brands.
Sometimes there is a new manufacturer with new technology that will beat the other Brand name. So, at the end of the day, the quality matters and you should buy it from anywhere you can get it. It is possible that a popular brand fails to provide the best quality as compared to some less popular brands.
Package
Some guitar string manufacturers offer guitar strings in a sealed tight package to keep the strings rust free and fresh. Sealed packaging is best because it can keep the strings safe before putting them on the guitar. Some manufacture packages their strings in a paper envelope like packing, which of course doesn't give the same benefit as an air sealed the package.
How to Know If It is Time to Change Your Strings
It is very important for you to keep on changing the strings for optimal performance. And there are signs that you should look out for:
Getting in tune and staying there is more challenging than usual.
There is rust or discoloration on the strings.
String wraps are unwinding and core is getting exposed.
Your tones start to sound flat or dead.
How To Change Electric Guitar Strings
There are two parts to this procedure. I will walk you through it.
Note: if you have a floating bridge you must not remove all the strings at once! You need to remove one string and replace it with a new one, in between cleaning the neck area of that string.
If you want you can do 2 strings in time.
Part 1 (Removing Old Strings)
Put your guitar on a flat soft surface at a comfortable height.
If you have closeable nut open it
Loosen all the strings down a bit.
Remove all strings from the bridge one by one.
Clean your unstrung guitar neck with a nice soft lint-free cloth.
Part 2 (Restringing the Guitar)
Thread your first guitar string through the bridge and into the tuning peg.
Grab the string from both sides of the peg and crimp it in an 'S' shape.
Wrap the end of the string around the other half to lock the string in its place.
Hold lightly your string as you slowly tighten it.
Repeat this entire process for the rest of the strings as well
Lastly, cut off the ends of the string.
Close the closeable nut if you have one.
How Often Should You Change The Strings?
The answer to it depends on person to person. I will write the recommended time for different kinds of players. You can see where you fall and decide for yourself.
Daily: If you are a touring professional and play less than 10 hours than it is recommended to change your strings every day.
Weekly: If you are a professional and play less than or equal to 50 hours a week then it is recommended to change your strings every week.
Monthly: If you are serious about playing your guitar and playing for almost 100 hours a month then you should change your strings monthly.
Three Months: Most of the learners fall into this category. If you are a learner and play guitar for almost or less than 100 hours, then you should change the strings every three months.
Six Months: If you are an amateur then it is recommended that you change your strings every six months.
| | | |
| --- | --- | --- |
| How Often | Hours Used | Guitarist Kind |
| Daily | Less than 10 hours | Touring Professionals |
| Weekly | Less than 50 hours | Professionals |
| Monthly | Less than 100 hours | Serious Player |
| Three Months | Less than 100 hours | Most learner |
| Six Months | Less than 200 hours | amateur |
For most of the players, it is recommended to change their guitar strings every three months.
How To Prolong Your Guitar Strings
You should keep a cloth to wipe down the strings after you are done with your jamming session. It will prolong the life of the strings.
You should also invest some money in buying specialized cleaning tools to keep your strings and fingerboard in great shape.
Oxidation is bad for the string and you can prevent that by washing your hands before playing.
At the end of each section clean your guitar and apply the strings conditioner
Always store your guitar in its case
If you found this article useful, you may want to save this pin below to your Guitar board.