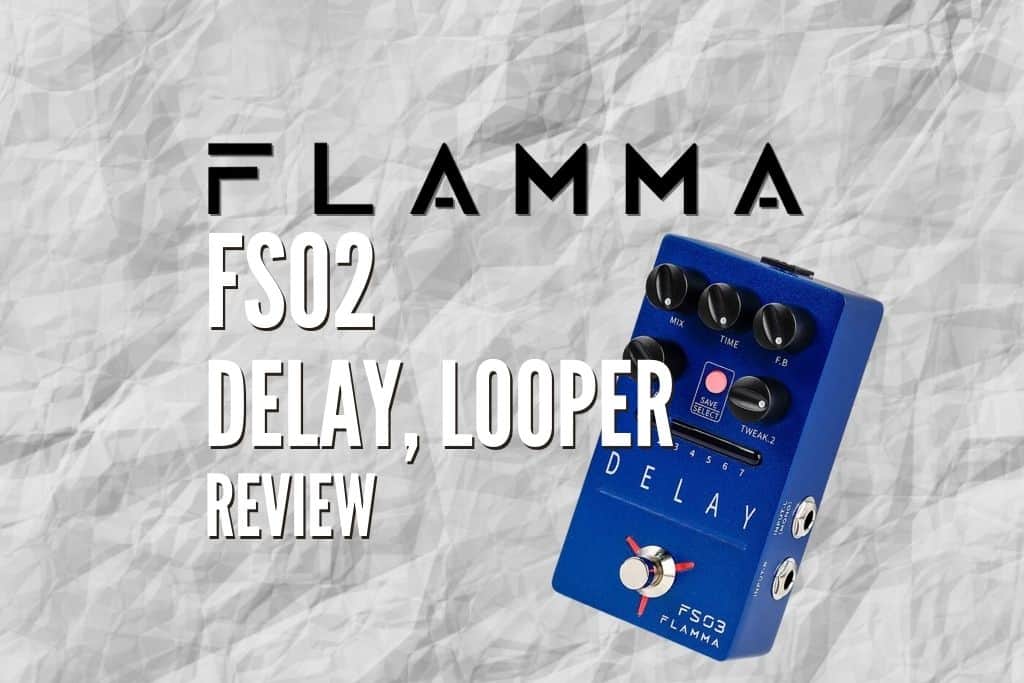 Delay has been a go-to pedal for many guitarists across the globe. And it is an excellent effect you can utilize in so many different ways. But the only way to make magic with it is if you buy one. This is where the problem lies.
For so many beginners, getting a delay pedal is not an option. They are often too expensive if you go for a better model, which leaves the player without the pedal. Unlike drive and reverb effects, the delay is not something you often find on your amp.
However, this doesn't mean that you can't find great models for a low price. And Flamma FS03 is just the model you need. Compared to other products on the market, this delay is ridiculously cheap.
| Pros | Cons |
| --- | --- |
| Great value for the price | Adapter not included |
| Two-in-one pedal | Doesn't support individual loops |
| Durable | |
Flamma FS03 is a great pedal that offers two effects in one device. You will get a delay and looper, and the price is quite low. If you need an affordable effect, Flamma FS03 is an excellent choice. You can also use knobs on it to further shape the sound, it has a true bypass, and it sounds great. All things considered, it is a 4 out of 5 star pedal. Well worth the price.
Flamma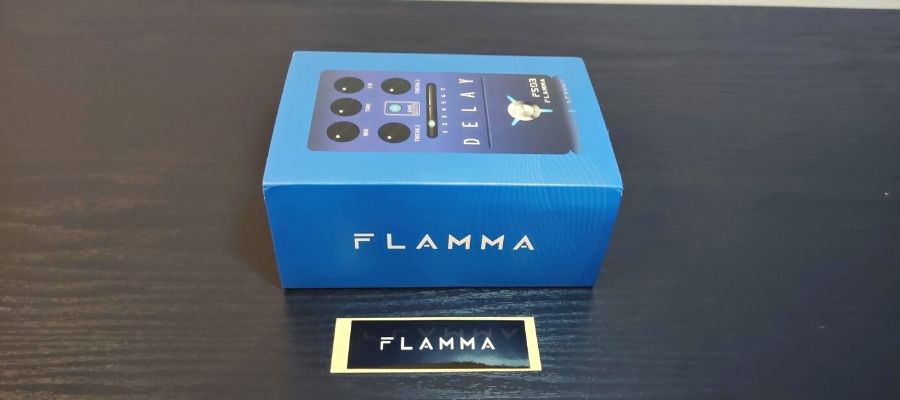 Flamma Innovation is a company based in China, and the primary focus is on budget gear. This means that you can find almost any pedal you can imagine for a significantly lower price compared to the alternative.
This approach made Flamma one of the biggest names in the budget category, and while the company is still young, there are so many excellent products you can find. Since not everyone is fortunate enough to just go and buy the newest Fender amp or guitar, Flamma can make a world of difference.
The target audience of the company are beginners or anyone else looking to find decent guitar equipment on a budget. We can expect even more variety in products from Flamma as the company continues to grow and improve.
Flamma FS03 Delay Specs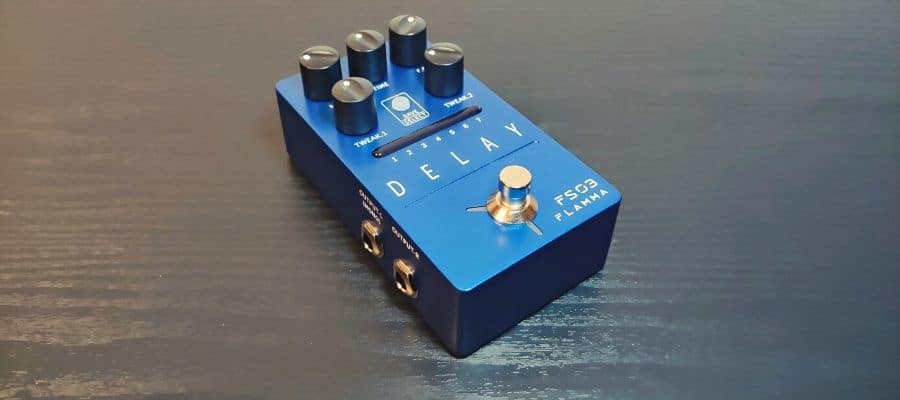 Now it's time to look at all the details and see what Flamma FS03 has to offer.
General
| | |
| --- | --- |
| Model | FS03 |
| Casing | Metal |
| Color | Blue |
Dimensions
| | |
| --- | --- |
| Weight | 10.56 oz (300 grams) |
| Width | 2.75″ (6.99 cm) |
| Height | 4.79″ (12.17 cm) |
| Depth | 1.99″ (5.05 cm) |
Electronics
| | |
| --- | --- |
| Input Impedance | 4.7M ohms |
| Output Impedance | 100 ohms |
| Current Draw | 300 mA |
| Led Indication | Yes |
Controls
| | |
| --- | --- |
| Knobs | Mix, Time, Feedback, Tweak 1, and Tweak 2 |
| Switches | None |
| Buttons | Save/Select |
Input/Output
| | |
| --- | --- |
| Input | 2 x 1/4" Mono Audio Jack |
| Output | 2 x 1/4" Mono Audio Jack |
| Power Jack | 9V DC |
Flamma FS03 has standard dimensions. It is 2.75" (69.9 mm) by 4.79" (121.7 mm) by 1.99" (50.5 mm). The casing is made of metal, and there is a clear indicator of what mode is active at the moment. There are seven different modes or types of effects you can use.
You can choose which mode is active by using the select button on the middle of the pedal. There are tape, liquid, rainbow, galaxy, mod-verse, low-bit, and looper. The looper effect allows you to use up to 80 seconds of loop material, and it comes with a built-in delay effect.
Using the tweak 1 and 2 potentiometers allow you to further shape the sound, and you can combine the effect with vibrato, flanger, chorus, and others. So, the pedal is quite versatile and it gives you plenty of options to shape the sound.
The indicator on the pedal will show the number of the effect that is active, and you can always check out the manual if you are unsure of what numbers/effect combinations are. Another thing I should mention is that Flamma FS03 is a stereo delay pedal. This means that you will need a double set of cables, but you can still use it on a regular amp if you don't want the stereo effect.
Unfortunately, the pedal doesn't include an adapter, and you will need to buy it separately. If you own a daisy chain that powers the rest of your pedalboard, there will be no issues. And if you are hoping to use 9V batteries with it, this is also not an option. There is no slot for batteries, and you are forced to get an adapter if you don't own one.
What Power Does Flamma FS03 Delay Require?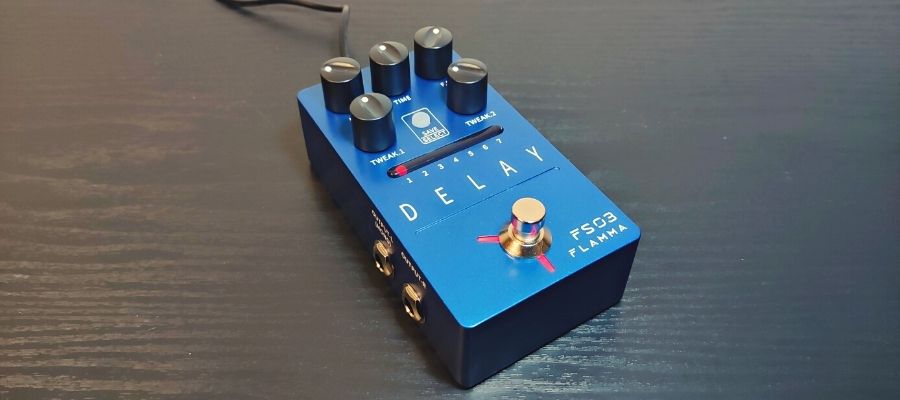 As I mentioned earlier, Flamma FS03 works on a 9V power source, with 300 mA. The adapter is not included in the package, and you are faced with two options. If this is your only pedal, you will need to buy a 9V adapter. But if you own more than one, you can't really get individual adapters for each of the pedals.
Instead, you will need to get a power source that can power multiple pedals at once. These daisy chains can be great, and even if you decide to switch the pedal, you can still use the same power supply. Other things that are included in the package are a safety instruction card, a quick guide, and stickers.
The Flamma FS03 Delay Sound Quality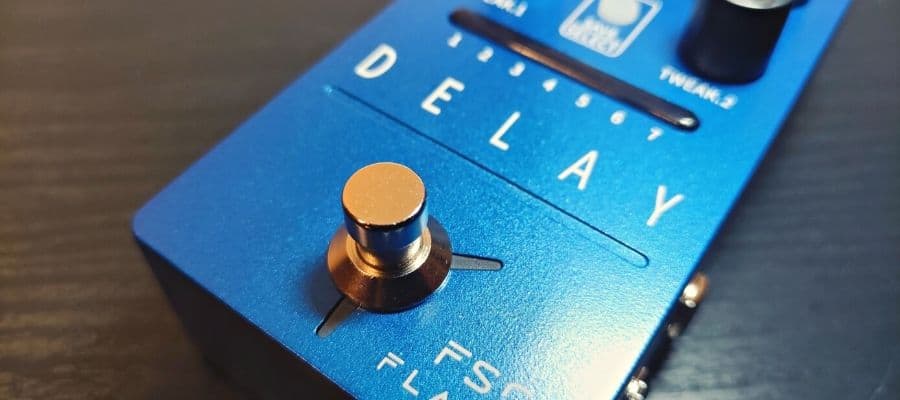 Now, let's talk about the most important thing – the sound of the pedal. Flamma FS03 is quite versatile, and it gives you plenty of options to create the sound you will enjoy. Choosing the right mode will make a lot of difference. For example, the first one on the list is Tape delay, which is a vintage-sounding effect.
Using knobs will allow you to adjust the filter and vibrato, and it gives you a chance to get a sound similar to old tape recorders or vinyl record players. Each mode gives you a different combination, and the knobs will play a role based on the mode. Of course, this means that you will need to experiment a bit before you find a sound you will enjoy.
Looper is a secondary effect, and the primary focus of the pedal is delay. This also means that you won't get as many controls on the looper.
The pedal also has a tap tempo function, which allows you to easily control delay time. Furthermore, you can use the trail-on function of the pedal to seamlessly turn off the effect allowing it to fade away, or turn it off like any other pedal.
Other knobs are for mix, time, and feedback. The design of the pedal is great, and it's easy to use. Naturally, you will need a bit of practice as with any other delay, and it requires you to get used to the pedal.
Flamma FS03 Delay Compared To Other Pedals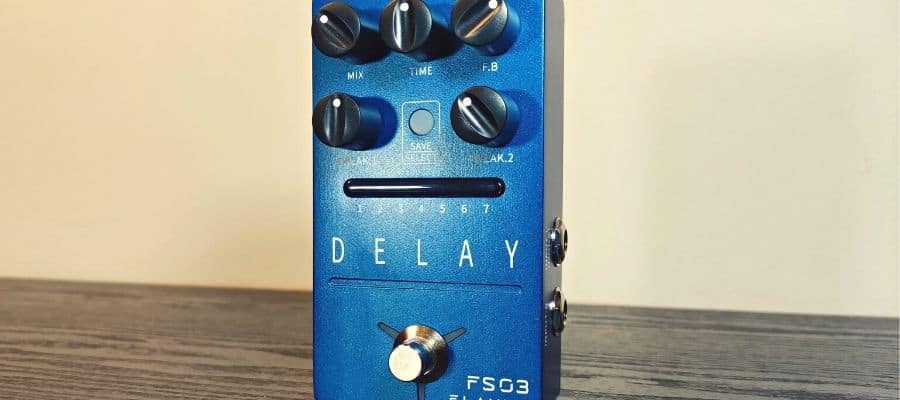 So, the question here is how does FS03 compare to other similar pedals.
Nux Duotime Delay Engine
No products found.
Nux Duotime Dual Delay Engine is a stereo delay pedal with great design and sound. It offers five different modes you can use, and they are analog, tape echo, digi delay, mod delay, and verb delay. It also has a nice little display you can use to see which effect is active at any point.
The pedal has two footswitches, a looper, and plenty of options to further shape the sound. It's quite versatile, and it is a great option for any guitar player. The only downside is that it is more expensive compared to Flamma FS03. If you are going for a budget option, this might not be the best pedal you can find.
Electro Harmonix Grand Canyon
No products found.
Electro Harmonix offers numerous incredible pedals. The brand has proven itself as an excellent option for many guitarists across the globe. Grand Canyon is just one of many examples of what this brand has to offer. It has thirteen presets, different knobs, a looper, and many shiny LEDs that will help you navigate the pedal.
As with many other stereo delays, the main difference compared to Flamma is the price. This pedal is far from being a budget option, and it is something that beginners will hardly be able to afford.
Pigtronix Echolution 3
Pigtronix Echolution 3 Stereo Multi-Tap Delay Pedal
Offers a Myriad Of Sound Design Options: Echolution 3 is a multi-tap stereo...
Compact Package: In a compact package, E3 offers multi-tap delay lines,...
I/O Options: I/O options include stereo output, MIDI sync, and additional...
Time Knob: The time knob sets the length of the delay line. Overrides tap...
Pigtronix is another great brand that's quite versatile and offers great gear. Here, we have Echolution 3, which is a well-made delay pedal. It is a multi-tap stereo modulation delay, with several different modes you can use.
There are four main knobs on the pedal to adjust the time, mix, repeats, and mod. There are also four sets of LEDs to help you navigate the pedal better, and it sounds quite good. Once again, the price is quite higher compared to Flamma, and if you need a budget delay, FS03 is probably a better option.
Flamma FS03 Is Perfect For Whom?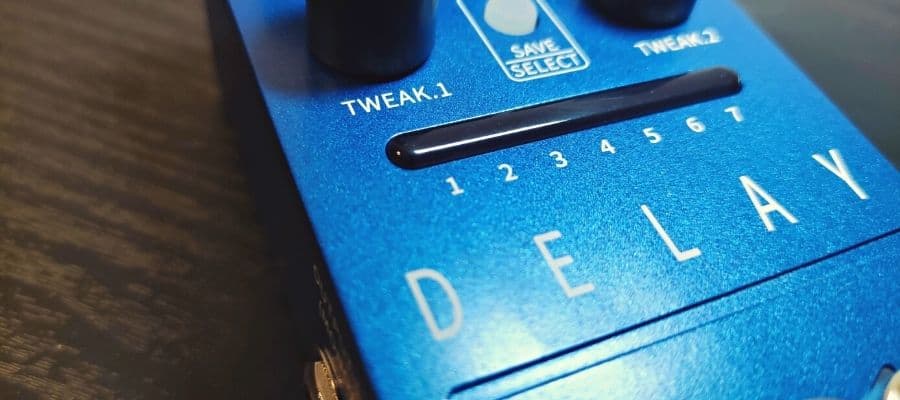 Naturally, the target audience is anyone who doesn't want to spend a fortune on a pedal. The primary advantage of this pedal is its price, and you will have a hard time finding anything similar in the same price range.
As for the pedal itself, anyone can use it. There are no requirements or limitations, and the pedal is quite easy to use. In addition, there are six different delays you can use, which makes the pedal quite versatile.
This means that you can experiment with almost any genre since there are so many options for creating the sound. Usually, beginners would go for affordable gear, which is why they are often the target audience.
Where To Put Flamma FS03 On The Pedalboard?
Delay is an effect that repeats the sound of your guitar. This means that it goes on the end of your signal chain. Keep in mind that the first pedal is the one you plug your guitar into. The last one will be the one connected to the amplifier.
The first in the line is usually effects that affect pitch or dynamics like octavers and pitch shifters, followed by tone creating pedals like distortions. The last ones are most commonly delays and loopers, or even reverbs if you use something like that.
Needless to say, this is not something written in stone. You can experiment with it as you please. You might be able to create an interesting combination. It mostly comes down to the size of your pedalboard. And if you don't feel like experimenting, put Flamma FS03 before the amplifier.
Other Flamma Pedals Worth Mentioning
Flamma FC03
Flamma FC03 is a simple pedal. It has three knobs for time, e. Level, and feedback. It also has a switch that allows you to choose one of three existing mods. They are analog, real echo, and tape echo.
It is worth mentioning that this is a smaller pedal, so you won't have any problems fitting it on your pedalboard. If you don't need the stereo option and aren't looking for anything special, FC03 is a great choice. And the simplistic design along with the incredible price is something that many players will appreciate.
Flamma FS22
Flamma FS22 Ekoverb is a stereo delay pedal in combination with reverb. Unlike many other similar pedals, there is a set of controls for each effect, and you can adjust them independently. This gives you a lot more options when choosing a sound, and it only improves the versatility of the pedal.
As you can probably guess, there are two footswitches for each effect, and there are three pairs of built-in delay/reverb combinations. All things considered, this is a perfect pedal for those in need of both of these effects.
Flamma FS02
FLAMMA FS02 Stereo Digital Reverb Pedal with 9V 300mA Power Supply
7 classic reverb effects: Room, Hall, Church, Cave, Plate, Spring, Mod....
High-quality stereo input and output. True bypass reduces signal loss.Trail...
5 adjustable parameters: Level, High-cut, Low-cut, Decay, and Pre-delay,...
Compatible with FLAMMA FS-Series & FC-Series Pedals.Tip negative, sleeve...
Flamma FS02 is a reverb pedal, which is one of the best effects you can get for blues and softer rock music. Since cheaper amps don't have reverb included on them, it is a nice way to get this effect without spending too much money on it.
The design of the pedal is fairly simple, and there are five knobs to adjust the reverb. There are also seven different modes you can choose from, and the pedal has true bypass.
Alternatives To Flamma FS03 In Terms Of Look, Sound, Specs, And Price
JOYO D-SEED-II
JOYO D-SEED-II Multi Pedal Effect, Stereo Looper Effect & Delay Pedal...
ATTENTION: Power supply adaptor should meet the standard as...
Stereo input and Stereo output, 8 delay modes, supports a maximum of 2000ms...
Pingpong modes are available for each delay effect, offering optimum stereo...
Before you test the pedal or before playing, make sure the guitar is fully...
JOYO is another great brand that has been fighting for dominance in the budget market. And the company is doing quite a good job. D-SEED-II is a stereo delay pedal that includes additional effects like looper and tap tempo.
The pedal is bigger than a standard single-effect model you can find, and there are two footswitches with four knobs. All things considered, D-SEED-II is worth checking out. It is in a similar price range as Flamma FS03, and it offers something a bit different.
Donner White Tape
Donner Tape Delay Pedal,Stereo Delay Pedals for Electric Guitar,Analog...
🔮[Stereo Guitar Pedal]Independent Time, Feedback, and Level controls for...
🔮[Tape Delay Pedal] Stereo tape delay pedal emulates the sound of...
🔮[Analog Delay Pedal] Analog drysignal path and True bypass switch keep...
🔮[Versatility Delay Pedal]Various delay effects,such as Slapback Delay,...
It is nearly impossible to create a list of great budget gear without mentioning Donner. Here, we have a White Tape delay, and it is a standard-sized pedal. There are six potentiometers on it to adjust level, time, and feedback independently for the left and right channels.
Furthermore, it is worth mentioning that this is a fully analog pedal, and it has a true bypass on it. What is interesting is that you can use White Tape not only on your guitar but on synthesizers and drums as well. It's highly versatile, and the price is amazing.
Behringer Vintage Delay
Behringer VINTAGE DELAY VD400 Vintage Analog Delay Effects Pedal,...
Experience true analog delay and vintage slap-back echo that rivals any...
This BEHRINGER product has been designed to compete head to head with...
Vintage BBDs produce up to 300 ms of delay and advanced noise reduction...
Dedicated Intensity, Echo and Repeat Rate controls for awesome sound...
Behringer is an excellent brand if you are looking for a perfect price/quality ratio. The size of the pedal is standard, and it is designed to represent the vintage side of the delay effect. There are three knobs on it to control repeat rate, intensity, and echo, and it's quite easy to use.
More importantly, the pedal is durable, so you won't need to worry about anything happening to it. This true analog delay is an excellent choice for all skill levels, but beginners will adore the price tag that comes with it.
Conclusion
Flamma FS03 is a great delay and looper pedal that will allow you to create beautiful sounds. Probably the main quality of this effect is its price, and it is perfect for anyone looking to create a pedalboard on a budget.
The pedal offers six different delay effects (plus looper), and you can further shape the sound using the knobs at the top.
This makes it quite versatile and great for many different genres, and it is quite easy to use. For those that enjoy having a looper delay combo, this is a great option. Especially if you consider the price.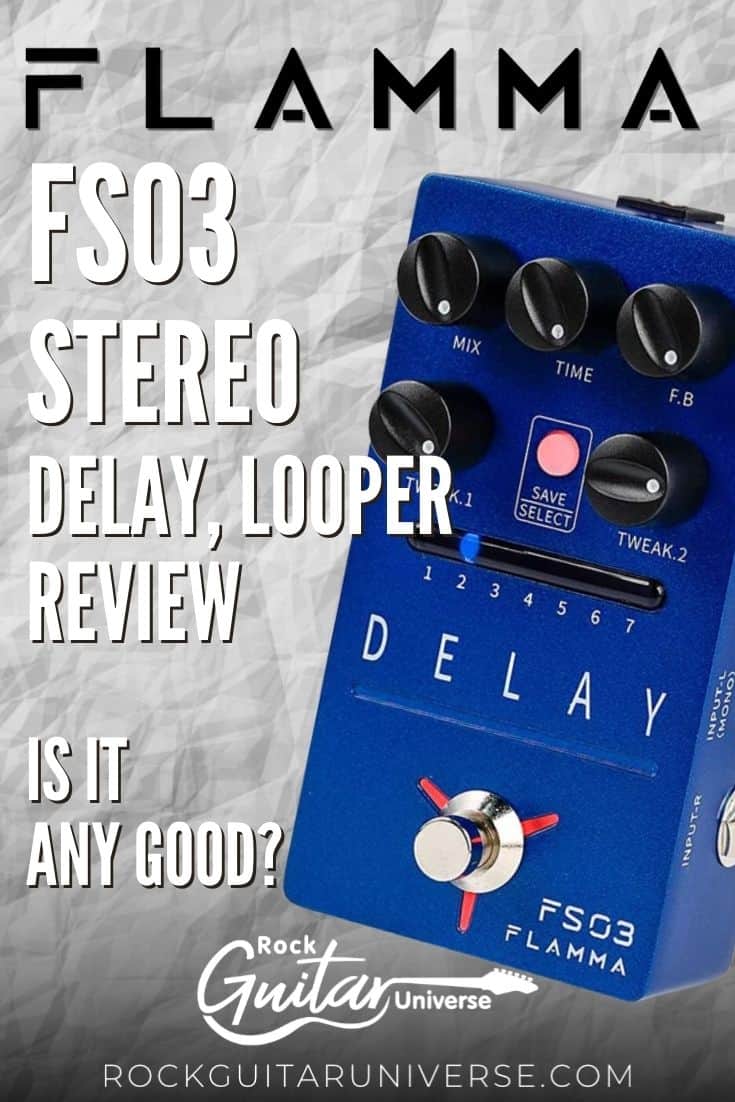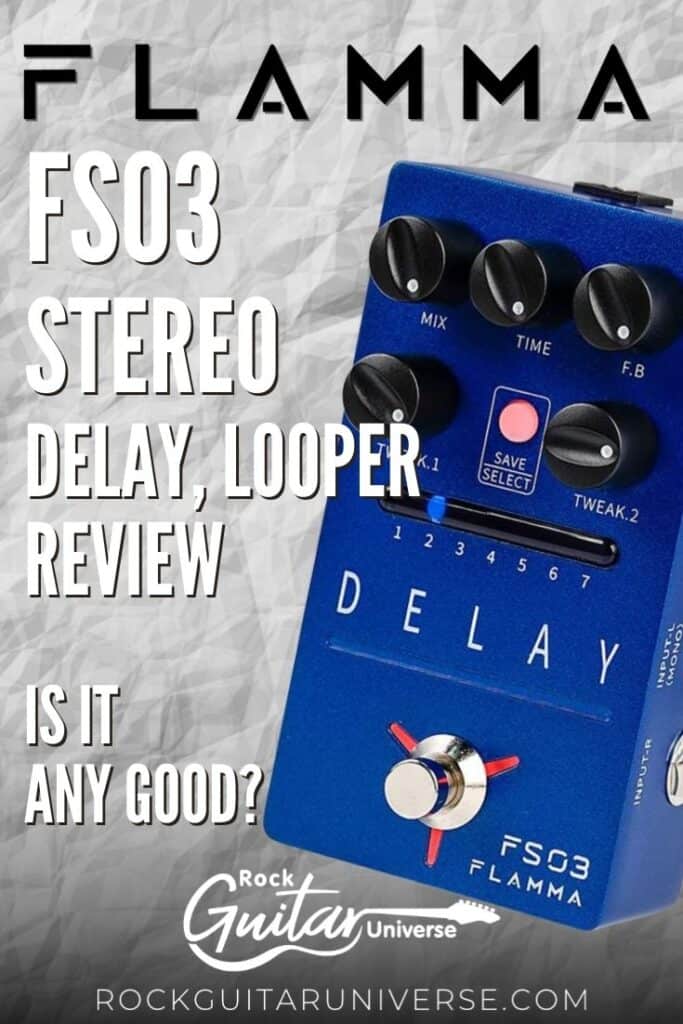 Last update on 2023-10-04 / Affiliate links / Images from Amazon Product Advertising API