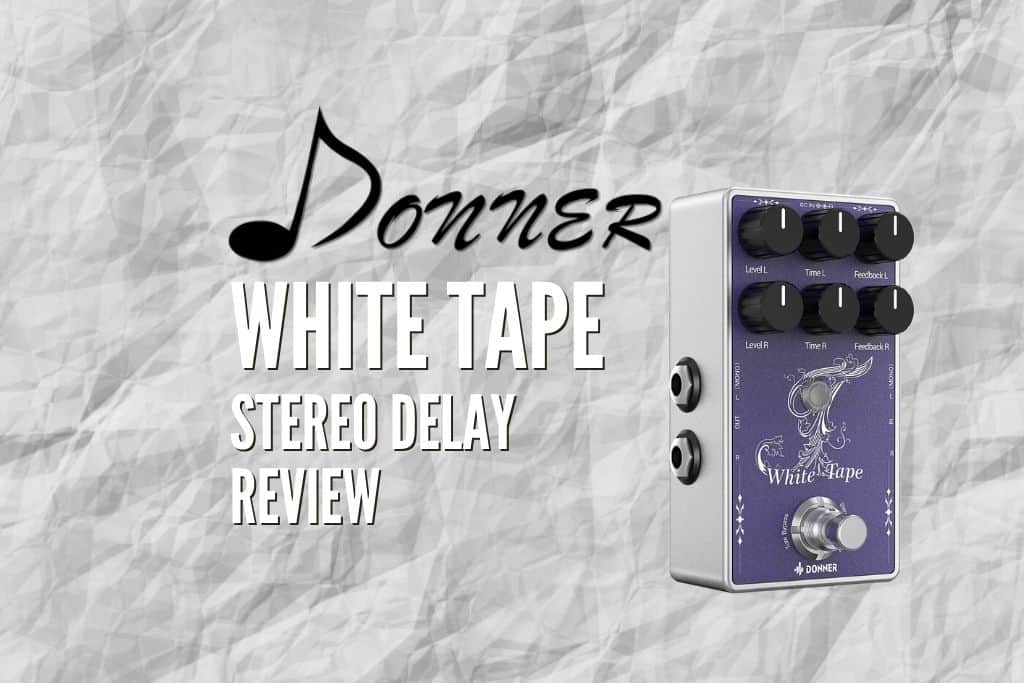 In the past couple of years, Donner has been dominating the market with budget pedals. What is important here is that the quality is quite good. If you are looking for affordable gear, Donner is a brand you need to check out. The company offers a pedal for every occasion, and the quality is surprisingly good. 
And Donner White Tape is no different. The primary advantage of the pedal is price, and you will have a hard time finding something that offers equal quality in the same price range. Delay is an excellent effect for electric guitar, and it's one of the most popular pedals in the world. If you are looking to get yourself one, Donner White Tape is an excellent choice. 
Donner Tape Delay Pedal, White Tape Stereo Delay Guitar Pedal Tape...
[Stereo Guitar Pedal] Independent Time, Feedback, Level controls for stereo...
[Tape Delay Pedal] Stereo tape delay pedal emulates the sound of legendary...
[Analog Delay Pedal] Donner White Tape keeps the characteristics of the...
[Versatility Delay Pedal] Suits for synthesizers, guitars, drum machines,...
The first thing you will notice here is that this is a stereo delay, and what makes it different is that you get separate controls for the left and right tones. And this is the main upside of the pedal. You will get to experiment with so many different tones, and create beautiful sounds. It works on a standard 9V power source, and you can easily fit it on your pedalboard
| Pros | Cons |
| --- | --- |
| Great value for the price | Takes practice to get used to it |
| Durable casing | The feedback knob can turn into an infinite loop |
| Stereo controls | |
All things considered, Donner White Tape is an excellent pedal that you might want to check out. It is fully analog, and it works like a charm. The only problem you might encounter is the weird infinite loop that appears on max feedback, but the range is quite small, and you can still make something interesting out of it. 
The overall rank for this delay is 4.5 out of 5 stars, and you will have a hard time finding a better delay in this price range. Naturally, the quality is not on par with more expensive pedals, but this is something you'd expect anyway.
Donner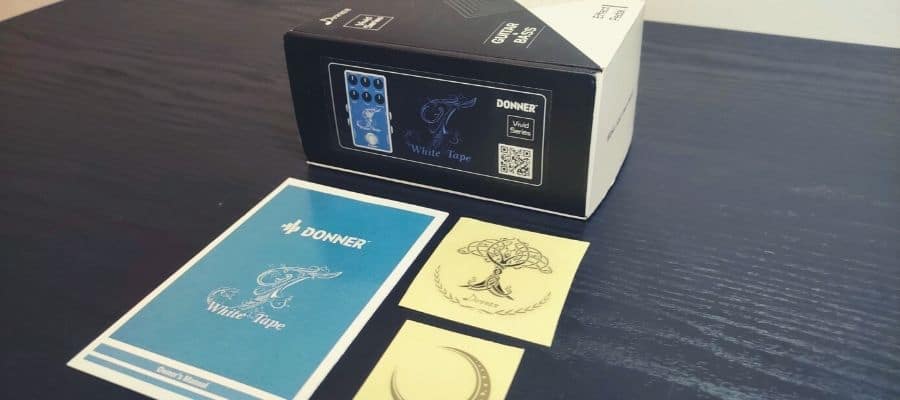 The company was founded in 2012, which makes it one of the youngest brands in the world. Still, Donner managed to make such an impact on musicians across the globe. Initially, Donner started making mini pedals, and the company still offers a wide variety of effects you can find in the smaller version.
But this doesn't mean that you can only find mini models. Today, Donner offers both mini and regular-sized pedals you can try out. Two of the main qualities of the brand are variety and availability. If you are a beginner, you are well aware that guitar gear can be rather expensive.
Before 2012, the choices were quite limited if you were looking to find an effect for a low price. Donner easily swept the competition and the company remains one of the most popular brands in the lower price range.
Even though the primary focus of the company is guitars, you can still find other instruments and equipment as well.
Donner White Tape Pedal Specs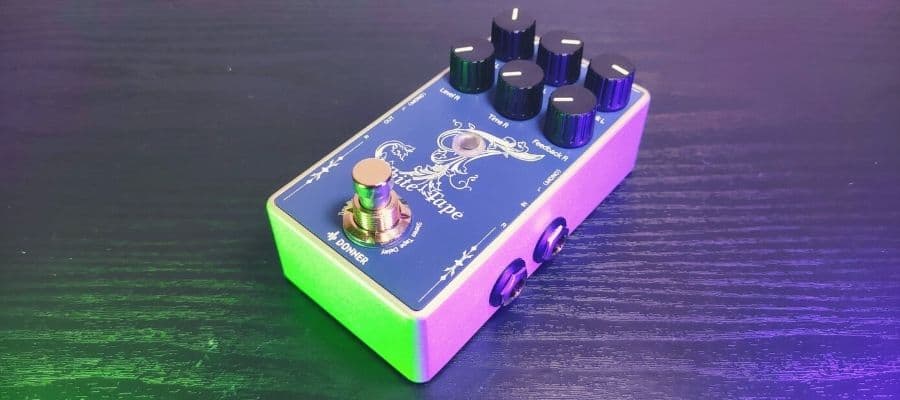 Now, it's time to see what the Donner White Tape has to offer. 
General
| | |
| --- | --- |
| Model | White Tape |
| Casing | Aluminum |
| Color | Silver and Purple |
Dimensions
| | |
| --- | --- |
| Weight | 9.17 oz (260g) |
| Width | 4.45" (11.3 cm) |
| Height | 2.52" (6.4 cm) |
| Depth | 2.09" (5.31 cm) |
Electronics
| | |
| --- | --- |
| Chip Model | |
| Input Impedance | 1 M Ohms |
| Output Impedance | 100 Ohms |
| Working Current | 100 mA |
| Led Indication | Yes |
Controls
| | |
| --- | --- |
| Knobs | Level L, Time L, Feedback L, Level R, Time R, Feedback R |
| Switches | None |
| Buttons | True Bypass |
Input/Output
| | |
| --- | --- |
| Input | ¼" Mono Audio Jack |
| Output | ¼" Mono Audio Jack |
| Power Jack | 9V DC adapter |
The White Tape pedal is made of aluminum which is quite studry and feels durable. The design on the White Tape is amazing, and the sides are painted silver, while the face of the pedal is purple with a beautiful drawing. 
This model is a part of the series, and you can also find a distortion, looper, reverb, overdrive, and noise gate with a similar design. This includes the dimensions of the pedal which are 4.45 (11.3 cm) x 2.52 (6.4 cm) x 2.09 inches (5.31 cm).
Needless to say, the most important part is on the top. There are six knobs you can use to adjust the sound, and there are three for each side since this is a stereo pedal. This means that you will get a level, time, and feedback for the left side, and the same three pots for the right side.
In the middle of it is an LED indicator that will show whether the pedal is turned on. As with the majority of effects designed by Donner, White Tape also has a true bypass. It has a 1/4 inch jack on the input, and two 1/4 inch jacks on the output. The pedal works on a standard 9V power source. 
Donner White Tape Manual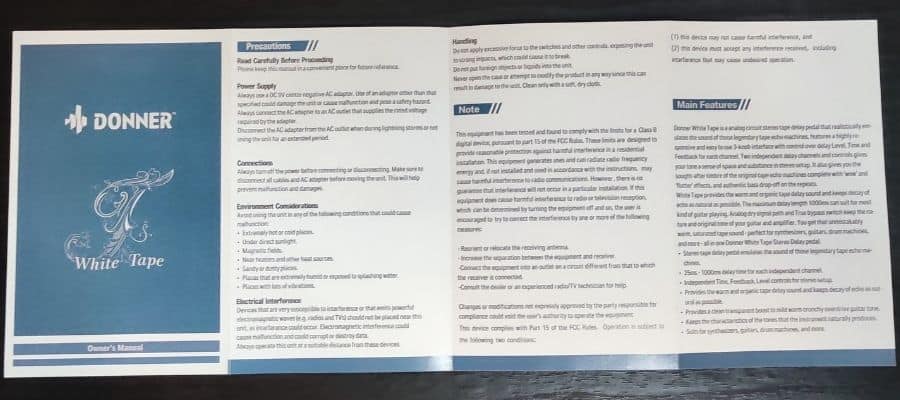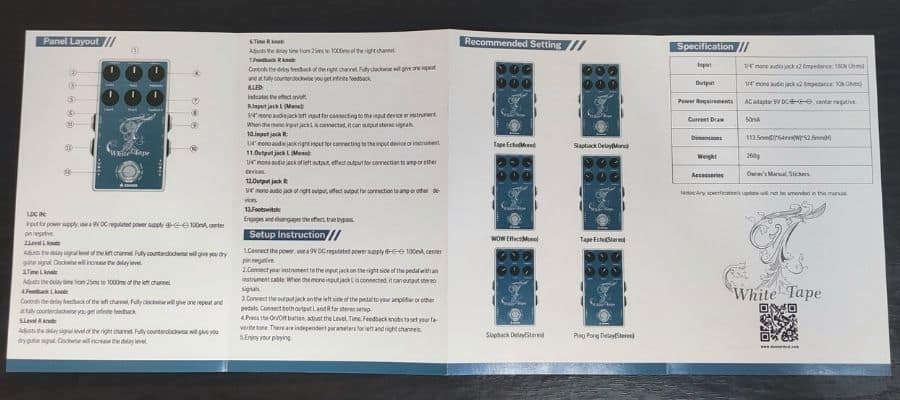 What Power Does Donner White Tape Pedal Require?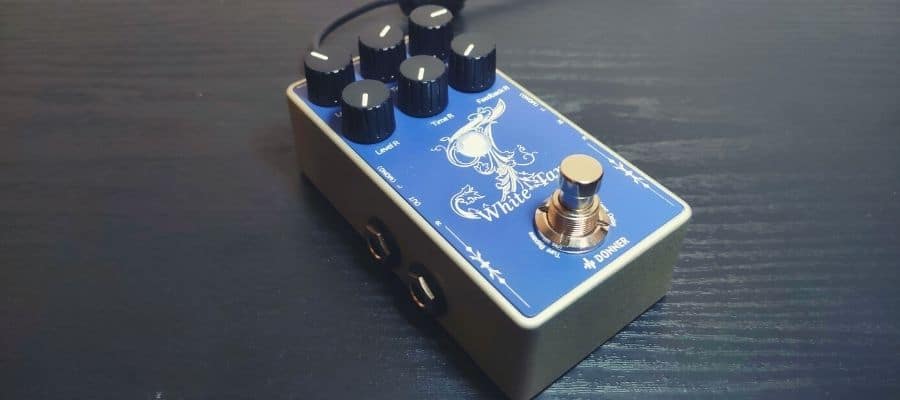 The pedal works on a standard 9V power source, and you can use the adapter if you have one. Unfortunately, the adapter is not included in the package, and you will need to buy it separately. If you already own a pedalboard with a power bank, there is nothing to worry about.
All you will need to do is plug in the pedal and start playing. However, those that just started buying gear and don't own a power source, will need to get it separately. If you enjoy the offers made by Donner and want to find more, you will be delighted to know that there are adapters available by this brand.
One of the options is to go for a Donner DPA-1 power supply, which will ensure that your pedal works without any problems. This is a 9V DC 1A tip negative Daisy chain, and it supports up to five pedals. Naturally, you can find models that offer support for even more pedals, but if you just started building a pedalboard, this will be more than enough.
This will save you a lot of time and money since you won't need to worry about batteries and when to replace them. The only thing you need to worry about is the type of plug based on your country. As I mentioned, this is a Type A plug, which means that it is the one used in the U.S. and Canada. If you live in Europe, for example, you will need to find an adapter for the plug.
As for the pedalboard, you can either build one on your own or buy a pre-made one. Donner offers a DB-3 case, which is durable, portable, and allows you to connect several pedals.
The Donner White Tape Pedal Sound Quality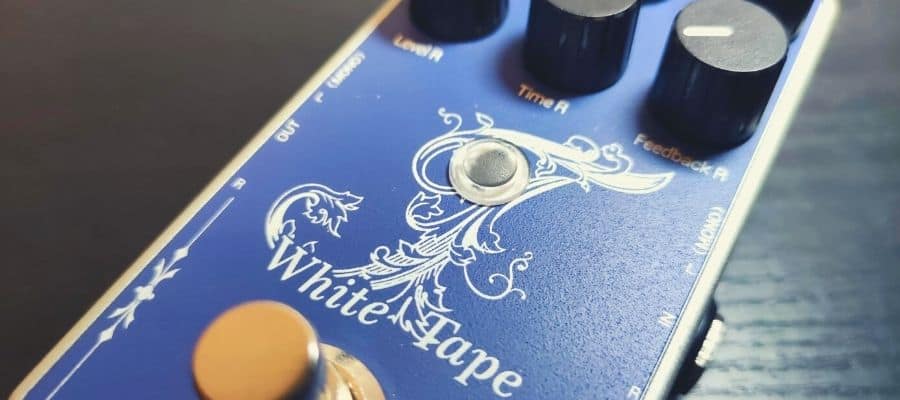 Since this is a stereo delay pedal, the sound is similar to having two delay pedals side by side and running one on each speaker. And the difference is incredible. Especially if you consider that each side gets its own set of knobs. This is something you don't encounter often.
In fact, you will have a hard time finding any other stereo delay with this type of freedom. Usually, delays have a set of knobs you can use, and they only have an additional knob to tweak the tone for each side.
This means that with Donner's White Tape you will get even more options to create something incredible. Now, I'm not saying that this is the best delay pedal in the world, and something like "the best" is often highly subjective. 
But if you consider the price, it is one of the best ones you can find in this category. In essence, not only that you can't find something similar in the market, but the price is quite compelling. Needless to say, the sound will depend on your guitar, amp, and whether you plan on using other effects. But the sound itself coming out of the White Tape is amazing. 
Donner White Tape Pedal Compared To Other Pedals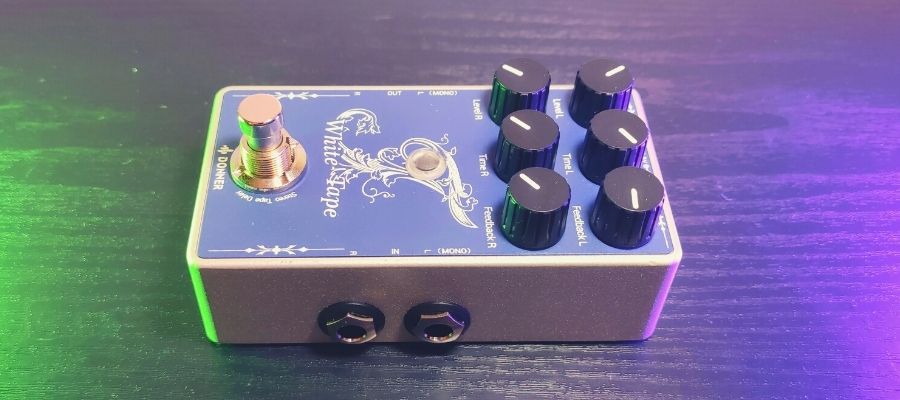 Donner White Tape Vs. TC Electronic Flashback 2
TC Electronic Guitar Delay Pedal (960823001)
Flashback 2 delay effects pedal.
The tc electronic flashback 2 delay packs the company's entire delay legacy...
TC Electronic groundbreaking MASH technology adds an expression pedal to a...
Package Weight: 0.431 kilograms
TC Electronics is an excellent company that designs numerous guitar effects. It isn't a surprise that there is a stereo delay in the collection as well. The pedal is called Flashback 2, and it is a combination of delay and looper. The pedal is an improved version of the previous delay, and it comes with several additional features and improvements.
The obvious difference here is that the Flashback 2 doesn't have dual knobs for each channel and that it is paired with a looper effect. If you are looking for this specific combo effect, TC Electronic is a great option. But for those that want to use just the stereo delay, getting a Donner pedal might be a better choice.
One thing I should also mention is that Flashback 2 costs three times more than Donner White Tape. 
Donner White Tape Vs. Boss DD-8
Boss is an uncrowned king of guitar effects. Almost every guitar player in the world had at least one pedal designed by this company, and the main advantage is that the pedals can be quite affordable. Of course, affordable by Boss is not identical to Donner, and if you are looking for the cheapest option, Donner is still the winner.
Here, we have the DD-8, which is a digital delay designed by Boss. It is rather similar to the previous version of the pedal, or DD-7, but there are a couple of improvements. As you can probably guess from the name, the effect is digital, which might be a huge downside for all the analog lovers out there.
As I mentioned earlier, White Tape is an analog pedal, and this is the first difference between the two. Furthermore, there are no separate control settings for two delays, and you can only adjust level, feedback, time, and mod for the universal output. 
This doesn't mean that DD-8 is a bad pedal, but it still shows how incredible White Tape is. To make it interesting, Boss DD-8 is still more than three times the price of White Tape.
Donner White Tape Vs. EarthQuaker Devices Avalanche Run
EarthQuaker Devices Avalanche Run V2 Stereo Reverb & Delay with Tap...
New custom-built enclosure, Flexi-Switch silent relay based switching for...
A dreamy sonic discovery device with up to 2 seconds of delay time and a...
Features complete control over delay time, repeats, mix and voice (with the...
It can run in one of 3 different modes to really play with your tone:...
EarthQuaker is one of the newer brands that offer breathtaking pedals with unique designs and sounds. Avalanche Run is an interesting combination of delay and reverb, and it sounds quite good.
There are eight knobs on the pedal. You can adjust time, repeats, tone, two mix knobs, decay, and there is a switch to pick different modes. It is obvious that Donner is one of the rare brands that allow you to use the twin-delay pedal, and there isn't a dual knob option on the EarthQuaker pedal as well.
The sound coming out of this pedal can be magical, and it is as good as you would expect from such an amazing brand. The only problem some players might find is the price. It turns out that this pedal is around $300, which is almost six times as much as Donner!
Donner White Tape Pedal Is Perfect For Whom?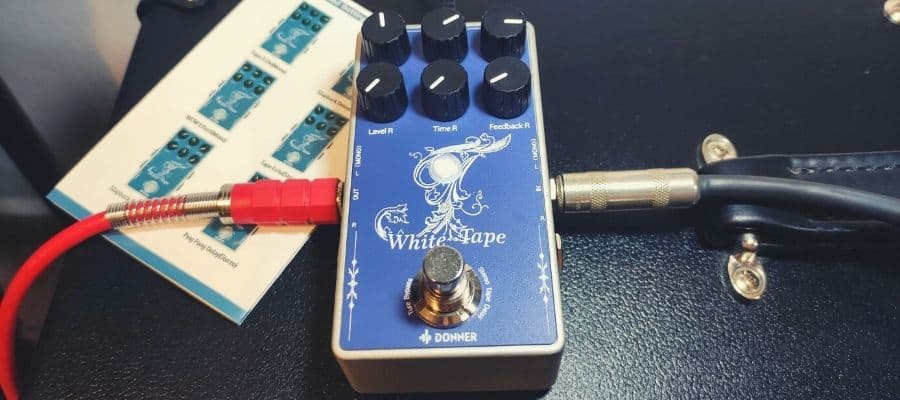 If you are looking to get yourself a great stereo delay pedal for a low price, this is an excellent option. There are no limitations to who can use this pedal, and it's great for both beginners and those with experience.
And the best thing about this model is that you won't need to spend a fortune on it. As you could have seen earlier, alternatives are often a lot more expensive, and this will allow you to get a great pedal for a fraction of the price.
In essence, if you need a delay pedal, and you like the idea of having a stereo delay, this can be a perfect option. One of the downsides is that using the White Tape requires practice. It isn't something that you'll be able to stomp on and start playing. Especially if you want to use it to its full potential. 
So, it might be less beginner-friendly compared to some other options, but the only reason for that is that other pedals don't have as much versatility and customization options.
Where To Place Donner White Tape Pedal On The Pedalboard?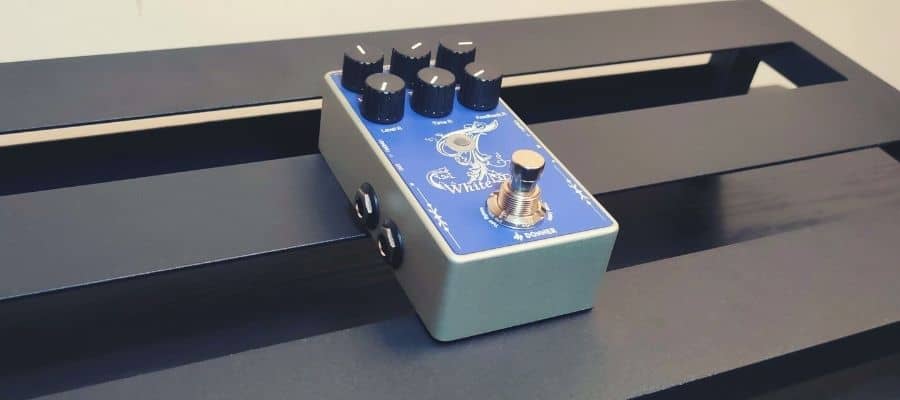 You might be aware of the fact that there is an order in which you should place pedals on the pedalboard. You can't just put it anywhere if you are hoping to get the best possible results. The guitar signal is being changed based on the number of pedals in the pedalboard.
The simpler ones are easier to set up, and if you have a single pedal, there is nothing to worry about. As you increase the number of effects, you will need to start planning carefully where each effect will go.
The general rule is to plug the wah first, if you have one, follow it by a compressor, drive, any type of modulation or pitch-based effect, delay, and finally reverb. This means that the White Tape will go near the end of the chain, based on how many other pedals you plan on plugging. 
As I said before, this is a general rule, so shifting a couple of things is still possible. It mostly comes to what type of sound you are looking to get.
Other Donner Pedals Worth Mentioning
Donner Yellow Fall
Yellow Fall is a great pedal by Donner. It's quite affordable and the sound is great. This is the mini version of the pedal, and it has three knobs. You can adjust echo, feedback, and time, and it's quite simple.
The pedal is pure analog, the casing is made of metal, and the sound is great. If you are looking for a simple delay, Yellow Fall is an excellent option.
Donner Echo Square
Donner Delay Pedal, Echo Square Digital Multi Delay Guitar Pedal, 7...
[7 Delay Modes] 7 delay effects including digital, analog, tape, mod,...
[3 Knobs] MIX is used to control the dry/effect signal ratio. TIME is used...
[Digital Delay Pedal] Digital circuit design, true bypass provides...
[Durable Guitar Pedal] Whole Aluminium-alloy classic, stable and strong....
For those looking for something different, Echo Square is a great alternative. It is a digital delay that offers a couple of different modes you can use. There is the analog mode, digital, tape, lo-fi, sweep and reverse. 
Once again, the pedal is smaller, and it is Donner's trademark at this point. The casing is made of aluminum, and it works on a standard 9V power source.
Donner Tap Delay
Donner Tap Delay Guitar Effect Pedal, 3 Delay Modes Digital Reverse...
[3 Delay Modes] Including analog, digital, and reverse delay, Tap Delay...
[Adjustable Delay Pedal] Use the standard LEVEL, FEEDBACK, and DELAY knobs...
[Tap Tempo Delay Pedal] Tap Tempo function for instant delay time control.
[Buffer Bypass] Buffer bypass provide transparent tone, LED indicator shows...
This is a reverse analog delay that offers a bit more features compared to Donner's mini pedals. There are three different modes you can select by using the switch, and it has a tap tempo function.
The Tap Delay is not a small pedal. In fact, it is slightly bigger compared to the standard size, but the sound and features it offers are well worth the space on your pedalboard.
Alternatives To The Donner White Tape Pedal In Terms Of Look, Sound, Specs, And Price
In terms of specs and features, you will have a hard time finding something similar. There aren't many pedals that offer such a unique design with two sets of knobs you can use independently. However, there are other great delays you can find in a similar price range or with a great sound.
Flamma FS03
Flamma FS03 is a traditional-looking pedal, and it offers six different delay modes. You can use tape, liquid, rainbow, galaxy, mod-reverse, and low-bit. The pedal also has a looper function, and you can loop up to eighty seconds.
If you find a sound you enjoy, you can easily store it in the memory so you won't need to worry about forgetting the preset. There are five knobs on the FS03, and they allow you to adjust mix, time, feedback, and tweak one and two.
Walrus Mako D-1
Walrus Audio MAKO Series D1 High-Fidelity Stereo Delay Pedal...
Powerful multi-function delay with five, studio grade, high-fidelity,...
Each program can be tuned and tweaked with modulation, tone, age, and...
The attack knob adds another dynamic to each program, opening up a new...
The D1 boasts stereo in and out, midi control and on-board presets
Walrus is one of the newer brands that gained popularity thanks to its unique sound and design. The quality of the pedal is exceptional, and there is plenty of space for you to create a sound you will adore.
There are numerous switches, knobs, and settings and the pedal is quite versatile. The only downside some players might find is that the price range is nowhere near where Donner is, but the quality of sound is rather impressive.
Pigtronix Echolution 3
Pigtronix is another brand that became popular in the past couple of years, and this pedal is incredible. The casing and design are beautiful, there are plenty of options for adjusting the tone, and the delay can range between 100 ms and 5 seconds!
If you love using a delay pedal, this will be a real treat. At least if you don't mind paying a bit more.
Conclusion
Donner has been dominating the market in the past couple of years, and it has been a go-to brand for many players across the globe. The main advantage of pedals designed by Donner is that they offer incredible quality for such a low price.
Here, we have a stereo delay called White Tape, and it is a pedal unlike any other. It allows you to independently adjust the sound of each delay, and it feels like you have two delay pedals merged into one. 
As for the sound, it gives you so many options and you can easily make something incredible. The pedal is easy to use, but you still might need a bit of time to master it. All things considered, White Tape is worth every cent, and it is one of the best pedals you can find in this price range.
If you found this article useful you may want to save this pin below to your Guitar board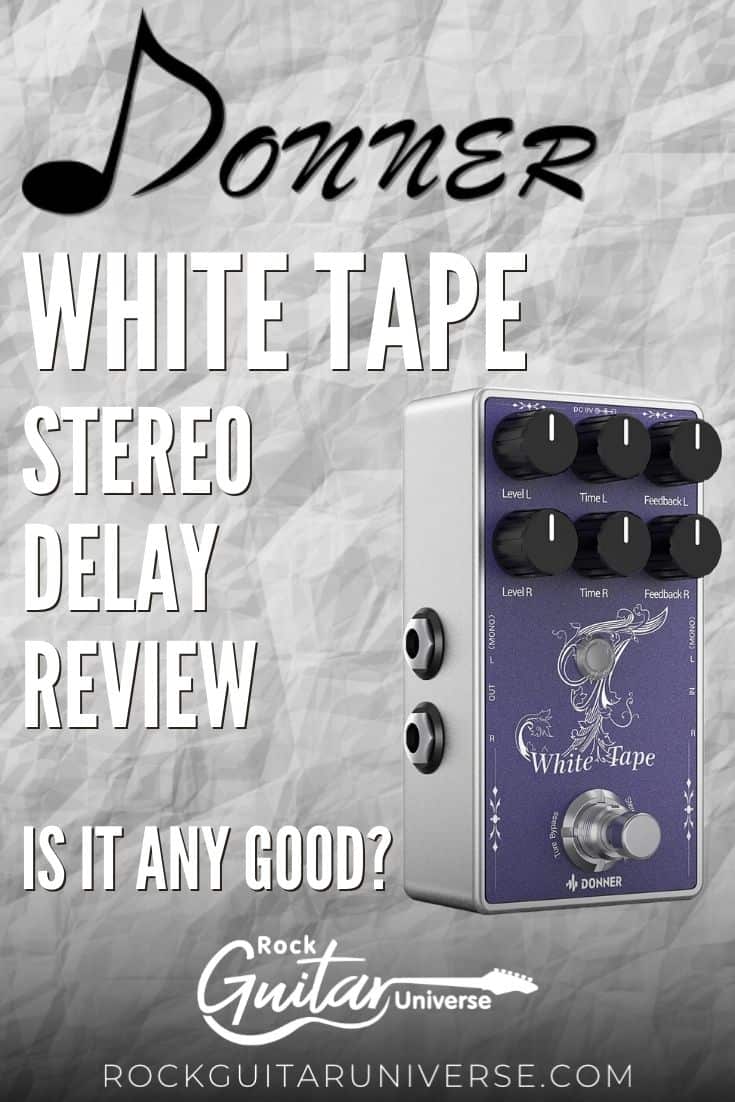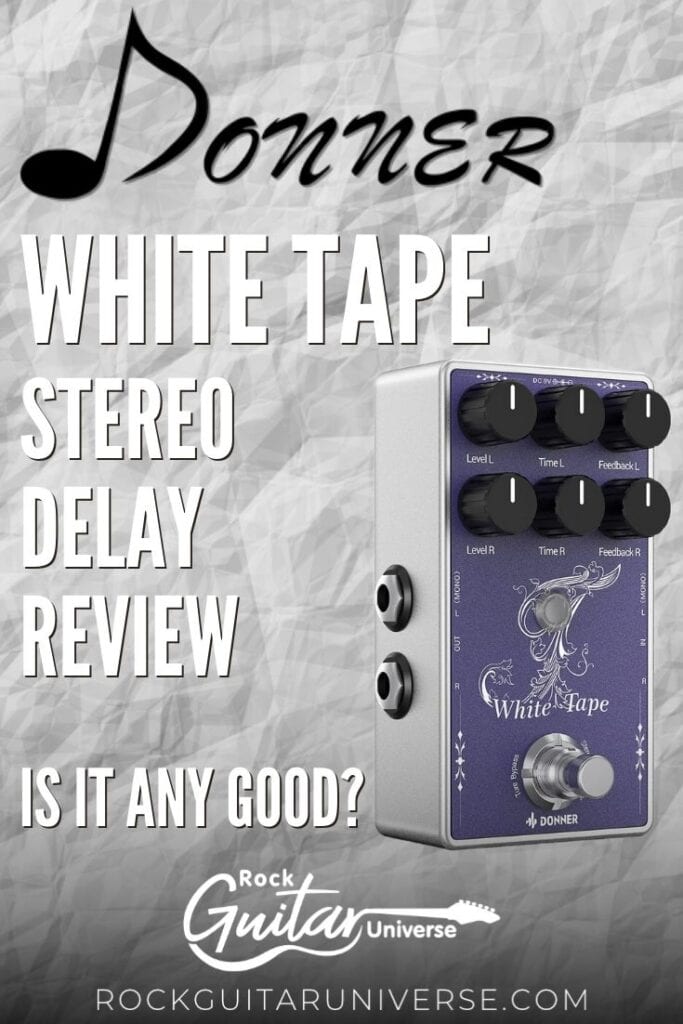 Last update on 2021-12-07 / Affiliate links / Images from Amazon Product Advertising API
Recent Content