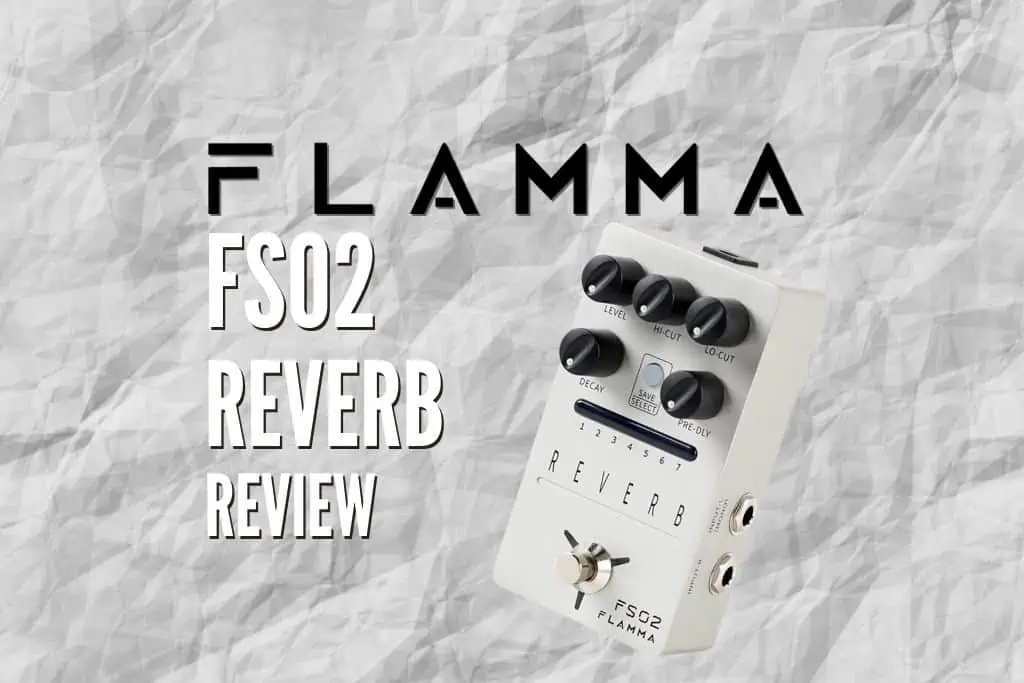 What many guitar players will tell you is that reverb is one of the most important effects you can have. It is a perfect guitar effect for blues and rock or anything else that doesn't use a lot of gain or overdrive. Now, the main problem is that some amplifiers don't have built-in reverb.
This means that you will need to get a separate pedal that will create this effect for you. Even though reverb is a great effect, it doesn't mean that you will need to spend a fortune on it. In fact, you can find numerous great pedals for a ridiculously low price. And one of the examples comes from Flamma.
Flamma FS02 is a stereo reverb pedal that offers a lot of ways to experiment with the sound and find the effect you will enjoy. It is easy to use and sounds quite good.
| Pros | Cons |
| --- | --- |
| Great value for the price | Power supply not included |
| Seven reverb effects | |
| Storable presets | |
Flamma FS02 is a great reverb pedal, and it offers a lot of options when creating the sound. In addition, you can use one of seven preset reverb effects, or create the one you like. It is quite versatile and easy to use.
The switch has a true bypass on it, there is a trail on function, and the design is good. All things considered, the pedal is 4.5 out of 5 stars. Especially if you consider the price.
Flamma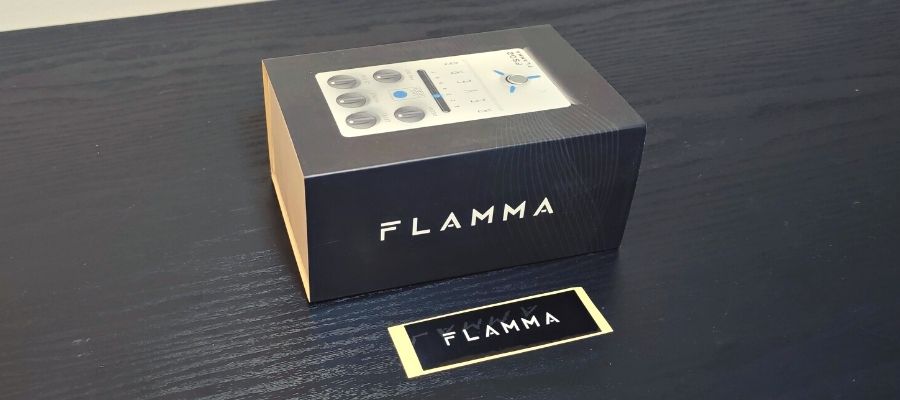 In the past couple of years, there has been an increase in the number of companies that offer budget guitar equipment. Of course, finding cheap gear was never rare, but what makes these companies stand out from the crowd is that the quality is surprisingly good. And Flamma is one of them.
The full name of the company is Flamma Innovation Co., LTD., and it is based in Shenzhen. The popularity of the company grew recently, and it became one of the best brands for budget equipment. If you are looking to get a great pedal for a low price, there is a high chance you can find a model designed by Flamma.
Of course, since Flamma Innovation is not as popular as Donner, for example, the options will be limited. You won't be able to find all the variations and models as you can with other brands, but those that are available are worth checking out.
Flamma FS02 Specs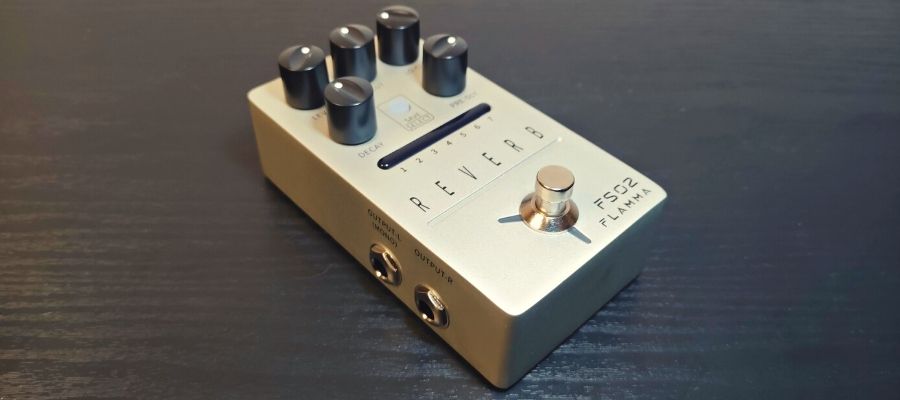 Now it's time to see what Flamma FS02 has to offer. Let's take a closer look at specifications and what's inside this great pedal.
General
| | |
| --- | --- |
| Model | FS02 |
| Casing | Metal |
| Color | Reverb Silver |
Dimensions
| | |
| --- | --- |
| Weight | 10.56 oz (300 grams) |
| Width | 2.75″ (6.99 cm) |
| Height | 4.79″ (12.17 cm) |
| Depth | 1.99″ (5.05 cm) |
Electronics
| | |
| --- | --- |
| Input Impedance | 4.7M ohms |
| Output Impedance | 100 ohms |
| Current Draw | 300 mA |
| Led Indication | Yes |
Controls
| | |
| --- | --- |
| Controls | Level, hi-cut, lo-cut, decay, and pre-dly |
| Switches | None |
| Buttons | Save/select, true bypass |
Input/Output
| | |
| --- | --- |
| Input | 2 x 1/4" Mono Audio Jack |
| Output | 2 x 1/4" Mono Audio Jack |
| Power Jack | 9V DC |
Flamma FS02 is a fairly standard pedal. If you plan on building a pedalboard, the dimensions of the FS02 are 2.75" (69.9 mm) by 4.79" (121.7 mm) by 1.99" (50.5 mm). Since there is a single footswitch, you won't need to sacrifice a lot of space to fit it.
One of the main qualities of Flamma FS02 is the level of customization. Regardless of the type of music you're into, you'll be able to find a fitting reverb. There are five controls on the top to help you tune the sound, and they are level, hi-cut, lo-cut, decay, and pre-dly.
Using the effect is pretty much straightforward, and you won't have any problems with it. There is an LED on the front of the pedal, and you can always see whether it is turned on or not. You can always experiment with potentiometers to find the tone you will enjoy using.
But if you don't feel like turning the knobs and trying out different sounds, there are seven presets you can check out and see whether they fit your music taste. The seven preset reverbs are room, hall, church, cave, plate, spring, and mod.
The first four are based on the size of the room, giving you a smaller or larger sound effect once you turn them on. The plate is reserved for the studio-plate style of reverb, and mod is with added modulation effect. Naturally, spring is based on the classic spring reverb everyone knows and loves.
Pressing the button in the middle of the pedal will allow you to pick reverb modes, and there is an indicator to show which one is used at the moment. Furthermore, you can further shape the sound using the knobs, and create something you will enjoy.
All things considered, Flamma FS02 is versatile, durable, and you will have plenty of options if you are interested in using reverbs.
What Power Does Flamma FS02 Require?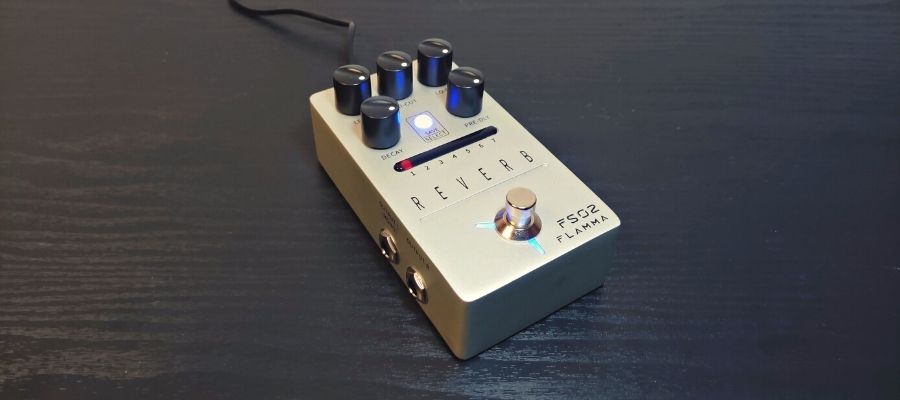 Flamma FS02 uses a standard 9V power source with 300 mA. As with the majority of pedals, you can find on the market, the adapter is not included. This means that you will need to find it elsewhere. Now, for those that already own a pedalboard, plugging another effect won't be a problem.
But if this is your first one to get, you will need to worry about the power source. There are a couple of options you can check out. You can get an individual adapter for your pedal, or if you plan on buying more effects, getting a daisy chain power supply might be a better option. It is worth mentioning that using a 9V battery is not an option with this pedal, so don't think of it as one of your options.
The Flamma FS02 Sound Quality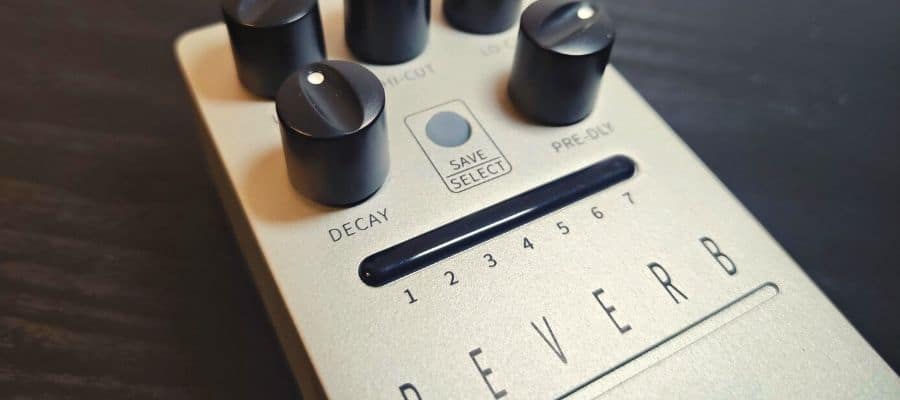 Let's talk about the quality of sound of this pedal. One of the main qualities of Flamma FS02 is its versatility. There are seven different reverb modes, which means that you will have a great chance to find the sound you like. You can also further shape it as you see fit using the knobs on the top of it.
The pedal has a trail-on function as well, which allows you to seamlessly move to the next section of the song. If you are not familiar with the term, trail-on allows the effect to fade out once you turn it off instead of stopping abruptly. Of course, you can still use the switch to turn it off as you would any other pedal. The trail-on function is not something you have to use, and you can activate it by holding the switch button.
It is also worth mentioning that this is a stereo pedal. This means that you will need two cables for both input and output if you want to use it in stereo mode. Needless to say, you don't need to use it as a stereo pedal on two amps, and you can use regular cables and methods to connect the pedal.
The pedal is easy to use, and the effects are excellent. One of the nicer additions is that you can always see which effect is active, and each of the seven modes has its own color. So, even if you are playing on a dark stage, the color will be different to show which one is on. You won't need to rely on seeing the numbers above the indicator bar.
Finally, the pedal has a true bypass to reduce signal loss, and it works great with other effects.
Flamma FS02 Compared To Other Pedals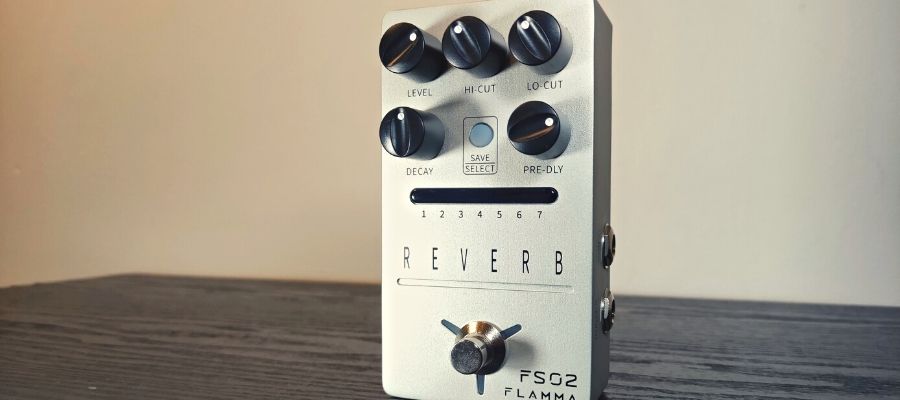 Now, let's take a look at how this pedal compares to other similar reverb pedals you can find online.
EarthQuaker Devices Avalanche Run
EarthQuaker Devices is an excellent brand, and they offer numerous pedals you can check out. One of the examples is Avalanche Run. The primary difference compared to Flamma FS02 is that this is a combination of delay and reverb effects. So, if you are looking for a two-in-one pedal, this is a great choice.
The pedal is stereo, has separate controls for delay and reverb, and it sounds amazing. The only downside is that it is almost four times the price of Flamma FS02. If you are looking for a budget option, this isn't it.
While the quality is exceptional, there is no denying that Flamma offers so much more for the price.
Walrus Audio MAKO Series R1 Reverb
Walrus Audio MAKO Series R1 High-Fidelity Stereo Reverb (900-1056)
Extremely powerful and versatile multi-function reverb
Can quickly go from small intimate room sounds to massive washes of...
Every program can be tuned and tweaked and then saved to one of nine...
Boasts a volume swell effect that can be applied to any program, sustain...
Walrus is another popular brand that is known for its quality and beautiful designs. Here, we have MAKO Series R1, which is a stereo high-fidelity reverb pedal. For those interested in having a versatile pedal, MAKO Series R1 will undoubtedly satisfy their needs.
There are so many different sounds and control options you can use, and the pedal is amazing. However, the price is quite high. Especially if you compare it to Flamma FS02. This is something that will reject so many players. And if you are a beginner trying to build your own pedalboard, this might not be the best option.
Fender Tre-Verb
Fender is one of the biggest companies in the world of music. Everyone knows about its guitars and amps, and you will have a hard time finding something better in the same category. In the past couple of years, Fender has decided to expand on the pedal market, and the company did a wonderful job.
The pedals by Fender are beautiful, and the sound is everything you could expect from professional equipment. And this is the main problem with it. The price is too high. Reverb is rarely the main effect, and not many people will be willing to spend a ton of money on a single effect that won't drive their sound. One thing worth mentioning is that Tre-Verb is a combination of tremolo and reverb, which is not a combination you find often.
Flamma FS02 Is Perfect For Whom?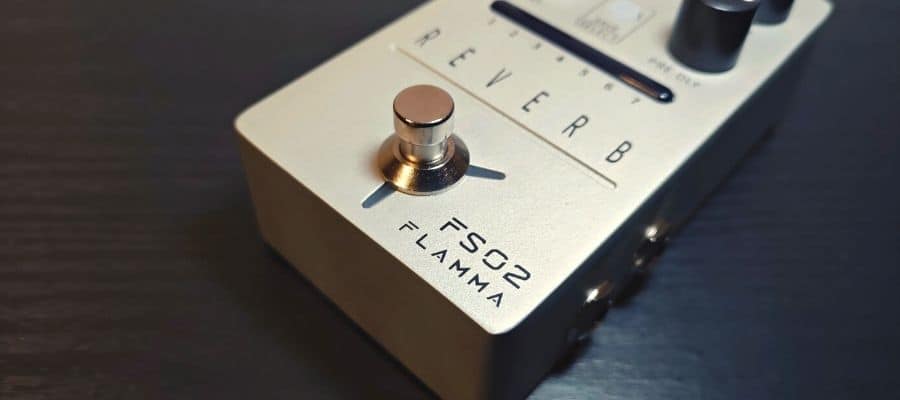 There are no limitations to who can use Flamma FS02. The quality of the sound is quite nice, and any guitar player can find a use for it. Of course, since the price is significantly lower compared to alternatives, the ideal audience is those looking for budget gear.
In addition, those that don't have an expensive amp with a built-in reverb also might want to consider getting it. If you own Fender's Twin Reverb, this might not be the best option. While the quality is incredible, it still can't compare with the original Twin Reverb or something similar.
So, the idea is to get this pedal if you don't already own the reverb on your amp or pedalboard. It works great with numerous genres, and the versatility of the pedal makes it a perfect choice for many guitarists out there.
Where To Put Flamma FS02 On The Pedalboard?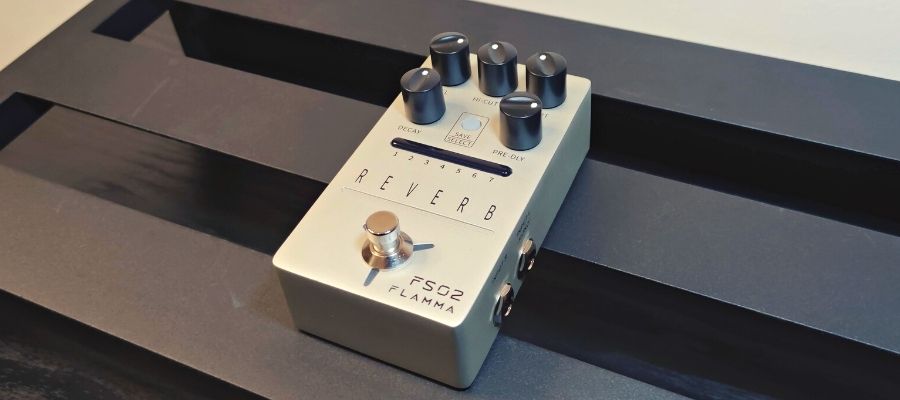 If you have a single pedal to use, using it will be quite easy. All you need to do is plug it in and you'll be ready to go. But once you start adding more effects, things can get tricky. It is necessary to know where to place the pedal on the pedalboard to get the best possible results.
Now, there are no rules to pedal effect order, and you can experiment with it as you please. However, this is the most common option and something the majority of players will use. The order I'm going through here is from the guitar to the amp. So, if I say "the first pedal," that's the one your guitar is connected to.
The first pedal is the tuner if you have one. After that, you will place pitch-shifting effects. This includes compressors, octavers, pitch shifters, and so on. The next spot on the list is reserved for tone effects like overdrives and distortion, and after that, you will place modifying pedals like chorus, flanger, or phaser. Looper and delay generally go after that, and the final spot is reserved for reverb.
You can find delay and reverb effects in the same pedal, in which case this is what will take the last spot before the amp.
Alternatives To Flamma FS02 In Terms Of Look, Sound, Specs, And Price
Donner Vintaverb
Donner Reverb Guitar Pedal, Vintaverb Stereo Reverb 7 Effects Room,...
[7 Reverb Modes] Ranging from essential to ambient, including Room, Studio,...
[Stereo Reverb Pedal] Stereo inputs and outputs add flexibility to fit any...
[Versatility Reverb Pedal] Easy to setup your own reverb tone with MIX,...
[Explore More] Freeze function and switchable True Bypass Mode/Trail ON...
Donner has been dominating the budget market for the past couple of years, and it doesn't a surprise that there is a reverb by this brand as well. Vintaverb is a stereo reverb pedal with seven different modes you can use.
The size of the pedal is on the smaller side, but there is still enough space for you to shape the sound even further.
Behringer DR600
As with any other Behringer pedal, this one is also durable, well-made, and offers great sound. It is a stereo reverb pedal that is easy to use. There are four knobs on the top of it which you will use to select the level, tone, time, and mode.
Modes include popular options like spring, plate, hall, gate, room, and modulate. Unlike Flamma FS02, this one can work on batteries, if that is something you would prefer. The price is quite low, so it is worth it.
JHS Pedals 3 Series Reverb
JHS Pedals 3 Series Reverb (3SREVERB)
Made in Kansas City USA
An extremely versatile unit that allows you to achieve any reverberation...
The EQ lets you perfectly adjust for a bright or dark texture to the...
The Pre-Delay knob allows you to select a short delay before the reverb...
JHS recently released Series 3 of its pedals, and they are quite nice. They all have a similar design and the idea behind them, and JHS Reverb is no different. There are three knobs at the top to adjust verb, EQ, and decay, and you can use the switch to select pre-delay.
If you are looking for a simplistic design, and don't care about numerous options for the effect, this can be a good alternative. However, keep in mind that this one is not a stereo pedal.
Other Flamma Pedals Worth Mentioning
FLAMMA FS22
Ekoverb has been one of the best pedals in the price range, and it is a combination of delay and reverb effects. There are separate controls for each effect, and the pedal is highly versatile and easy to use.
What is more important is that the price is ridiculously low. Especially if you consider what you will be getting. Now, if you only need reverb, there is no reason to buy a combo pedal. But if you are looking for both of these effects, it is one of the shiniest examples of what Flamma can do.
FLAMMA FC02
Those that are looking to save some space on their pedalboard, and don't need a lot of options and settings might want to check out FC02. It is a mini version of the reverb pedal with a rather simplistic design.
There are three reverb modes you can use and they are church, studio, and plate. If Flamma FS02 is too much for you, this is an excellent alternative for an even lower price.
Conclusion
Flamma FS02 is an excellent choice for anyone who is looking to build a pedalboard. Reverb is one of the best effects you can find, and it adds so much to your sound. Naturally, you will need a reverb effect if you don't have it on your amp already.
Among the main qualities of this pedal are price, versatility, and quality. You will have a hard time finding something as good as Flamma FS02 for such a low price. The pedal works great with almost every genre, but it truly shines on low gain.
So, if you are wondering whether this pedal is worth it, the answer is yes! It is a great piece of equipment you can get, and it's worth every cent.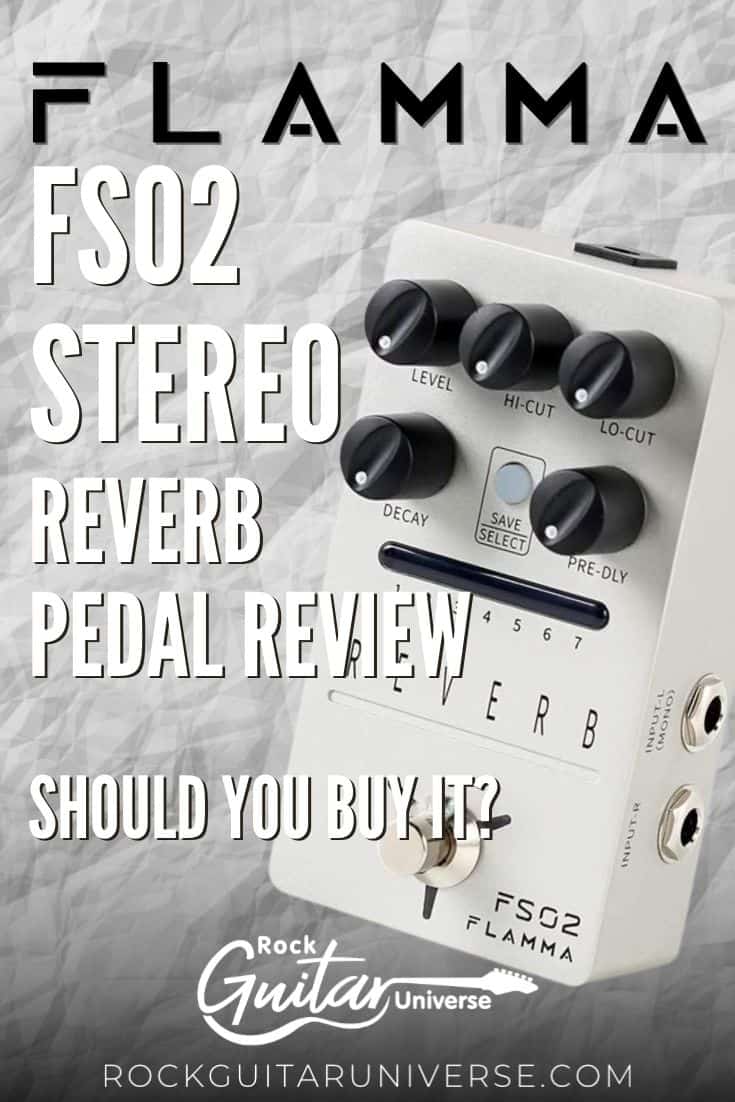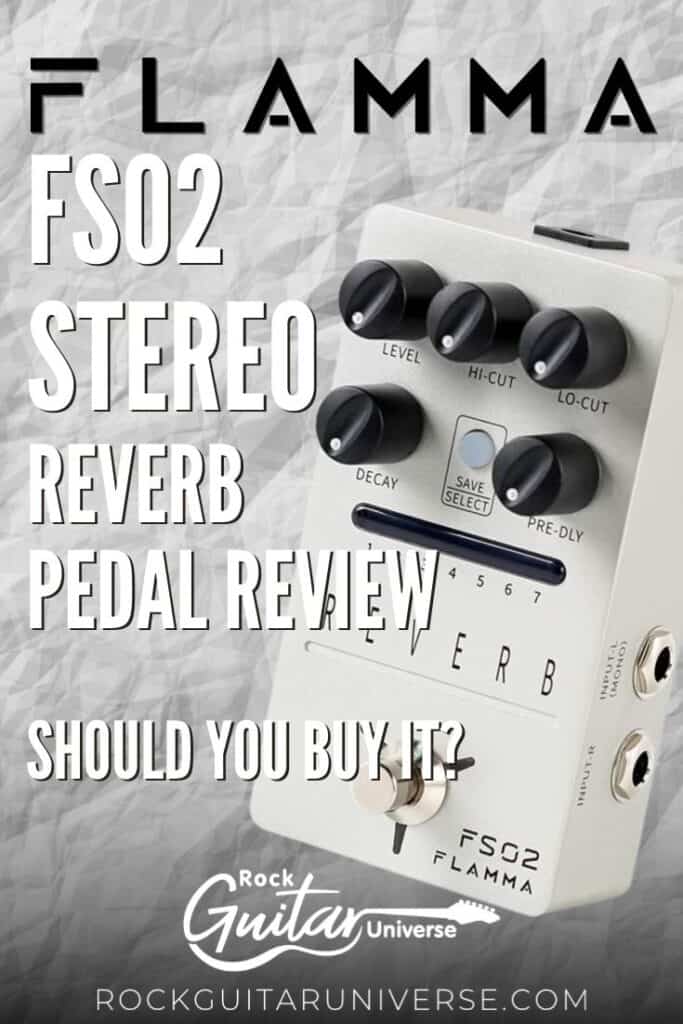 Last update on 2023-11-30 / Affiliate links / Images from Amazon Product Advertising API