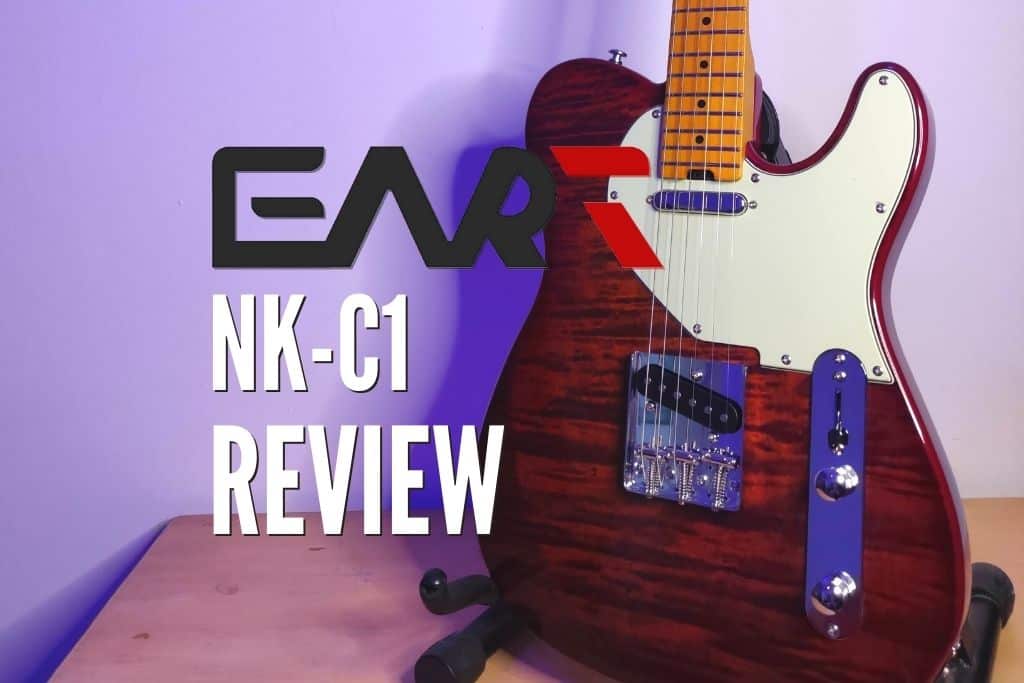 When talking about classic-style electric guitars, the Telecaster must always be mentioned. This archetypal guitar was one of the first designs of Fender, which was used by many great guitarists throughout history. The Fender Telecaster was the first mass-produced solid-body electric guitar, and it is undoubtedly the world's one of the most iconic electric guitars.
A typical Telecaster-type guitar is mainly known for its vibrant and spanky sound. The two primary reasons behind its distinct tone are bolt-on construction and bright-sounding single-coil pickups. Also, several aesthetic elements make the Telecaster recognizable; Its single-cut shape, refined headstock design, and ashtray-style bridge, the classic T-type is loved for its looks just as much as its tones.
As time passed, many other guitar brands have taken inspiration from the qualities of the original T-type. Other brands started to produce alternatives to the iconic Telecaster. Nowadays, regardless of your needs, finding the best Telecaster is complicated as it is fun. There are many brands that are producing high-quality and cheaper alternatives. Among them is the Eart NK C1, with its elegant design and amazing sound.
Eart NK C1 is one of the newer and lesser-known guitar models. Yet, the quality of this model and its versatility of sound is outstanding. I would rate it 4.5 out of 5, and if the quality control were a bit better, I would give it a 5 with no doubt. But the quality control issues are not the big of a deal when you take the guitar's price into account. Overall, this guitar is incredible; just the specs alone really worth the price.
| Pros | Cons |
| --- | --- |
| Great value for money | Inadequate quality control, with problems reported on some guitars like not glued nuts, badly cut nut, and other minor imperfections in the details. |
| Quality and detail-oriented construction | |
| Insanely good fretwork of stainless steel frets, with rounded edges. | |
| Nice and mature sound with good Tele-style pickups | |
Eart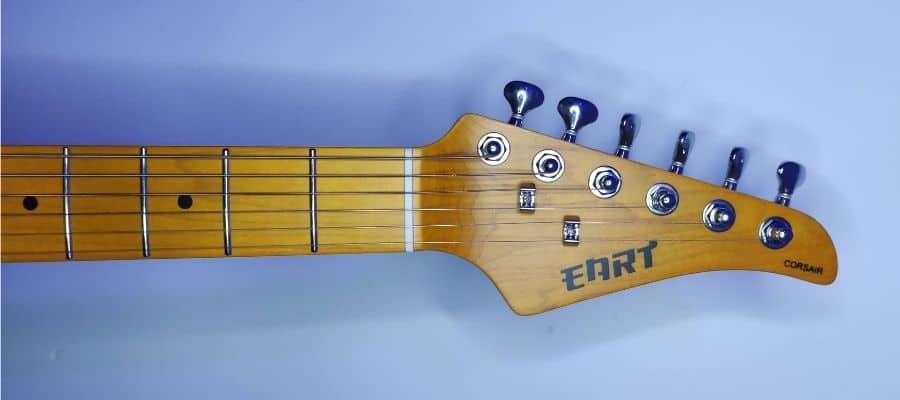 EART is a relatively new brand from China, with its existence on the market for around 10 years. It is quite possible that you have never heard of Eart instruments before as they are mainly focused on the Asian market. But, nowadays, they have a lot to offer to Western musicians with reasonable priced and decent instruments, for sure.
EART mostly produces affordable yet high-quality instruments that surprise the players with their solid craftsmanship. They surpass the expectations with most of their products.
The first thing you'll realize about EART instruments is their appearance. With their incredible finishes in colors and carbonized wood material, the guitars look genuinely great.
But the guitars are not just good-looking, overall, they are also crafted with good attention to detail. You will not encounter any sharp frets, flaws in the finish, or any sloppy detail in major aspects of EART guitars. The overall quality control of the brand can be better since some little details need more attention, such as the nut and cuts on lower models.
Specs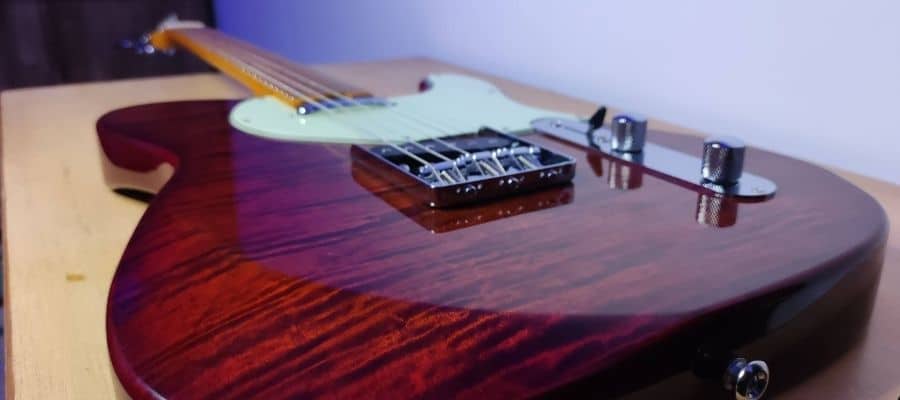 Let's take a closer look at the specs of Eart NK-C1 to understand the brilliance behind this fantastic Telecaster.
General
| | |
| --- | --- |
| Series | NK |
| Number of Strings | 6 |
| Hand Orientation | Right |
| Colors | Blue, Wine Red, Brown |
| Weight | 6.83 lbs (3.1 kg) |
Body
| | |
| --- | --- |
| Body Shape | Telecaster |
| Body Construction | 3-Piece Body |
| Body Type | Solid |
| Body Material | Roasted mahogany |
| Top Material | Tiger Pattern Maple Veneer |
| Top Type | Flat Top With Beveled Armrest |
| Finish | High Gloss |
Neck
| | |
| --- | --- |
| Scale Length | 25.5" (648mm) |
| Neck Construction | One-Piece, Bolt-on, C-shape |
| Neck Material | Roasted Canadian Hard Maple |
| Truss Rod | Single action |
| Truss Rod Type | Spoke Nut Hotrod Trussrod |
| Fretboard Material | Roasted Maple |
| Fretboard Radius | Compound Radius: 7.25″-9.5" |
| Fret Material | Stainless Steel |
| Position Inlays | Dot Inlays |
| Number of Frets | 22 Frets |
| Fret Size | Medium-Jumbo |
| Nut | Bone |
Electronics
| | |
| --- | --- |
| Pickup Configuration | S-S |
| Neck Pickup | ARTEC TRC44 single-coil pickups |
| Bridge Pickup | ARTEC TRC44 single-coil pickups |
| Controls | Volume, Tone |
| Switch | Toggle, 3 Positions: Neck, Both, and Bridge |
Hardware
| | |
| --- | --- |
| Tailpiece | None |
| Bridge Type | Three-point, fixed bridge |
| Tuners | Seal 2018 Technology U.S.A Corporate Colorado |
| Pickguard | Mint Eart Tele Pickguard |
When I look at the specs and the guitar, the first thing that catches my eye is the stainless steel frets. These types of high-quality frets are rarely seen on budget guitars.
The fretwork is insanely exceptional with rounded edges. There is no sharp edge found in any of the frets. They barely reach the end of the fretboard, you can hardly feel them. Considering that rounding the edges is heavy work on stainless steel, the guitar wins a huge plus with its fantastic fretwork.
The ARTEC TRC44 single-coil pickups provide a pretty good Telecaster sound. They are excellent with a moderate amount of gain. They are suitable for playing blues, pop, country, rock with less distortion. They sound crisp on the bridge and truly warm on the neck.
The body is made of carbonized mahogany air-dried for 3 years to prevent deformation. It looks aesthetically great with a tiger pattern veneer.
Unlike other budget Telecaster models from different brands, this guitar is lightweight, 6.83 lbs (3.1 kg), making it easier to play.
I have tried several Chinese guitars before and I noticed on all of them the hardware was made of cheap alloy. However, on this guitar, I can easily say that the hardware is good, solid, and strong.
I would rate this guitar 10 out of 10 for its specs. This guitar is outstanding for a budget instrument with a $280 price tag. With its fantastic fretwork that can be found on much more expensive guitars, nice and mature sound, and decent hardware, it is one of the best Telecasters I have ever played.
It is totally worth the money; only the neck of the guitar would cost more than $280, in my opinion.
The Sound, The Feel Of The Instrument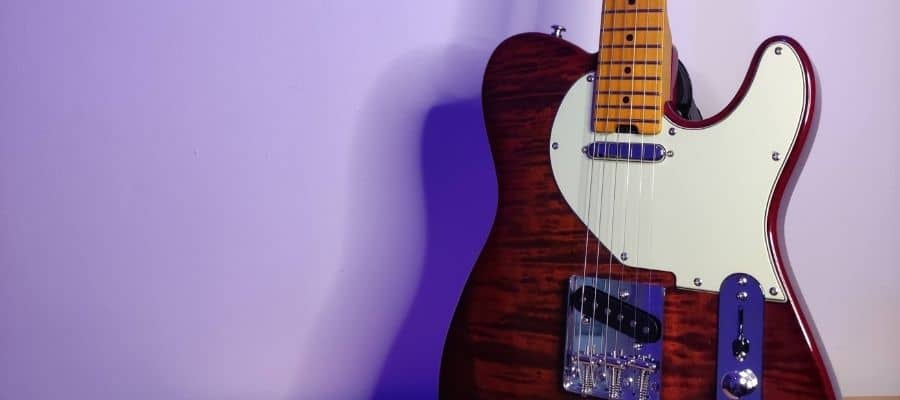 The materials, the craftsmanship, the electronics all seem good, but what about the sound and the feel of the instrument, since they are the most critical aspects of a good guitar.
The feel of the guitar is excellent with its lightweight and high-quality neck. I can clearly say this is one of the most comfortable Telecasters on the market. The compound neck gives the opportunity for perfect bends, while perfectly rounded stainless steel frets give a huge comfort to the left hand. The roasted neck is slippery fast.
The neck is not thick as vintage Telecasters, which is a huge plus for players who are used to modern thinner necks. It is still a bit thicker than regular, but this C-shaped neck is comfortable as hell.
It is clear that EART guitars don't feel like cheap, low-quality guitars made in China. It feels like a high-end guitar. It easily passes the instant playability test that makes an excellent T-type so likable before you've even plugged it in.
Regarding the sound, the pickups work just fine. The Artec TRC44 single-coil pickups are very close to the original telecaster sound. I was impressed how great they sounded clean and dirty and how much crisp the bridge pickup had. On the neck pick-up, the guitar sounds smooth and clean. Both pickups are working just fine with amazing versatility.
All thing aside, as this is a low-budget guitar, you might consider getting a good amplifier and a couple of effect pedals to reach the full potential of the instrument. It would be easy to catch a nice sound with this guitar's versatility and quality.
Also, if you want to play relatively more aggressive tunes, don't forget that this guitar has single-coil pickups which are not very suitable to handle heavy distortion. You will need an aggressive noise gate to prevent the feedback issue if you are going to experiment with heavier tones.
Since this is a guitar from a lesser-known brand, there are few reviews and demos on the internet about them. You can check the video to have a better opinion about the sound of the instrument. The demo is pretty well-made, in which the guitar is played in many different genres and pickup positions with little commentaries in between from the player.
Eart NK C1 Is Perfect For Whom?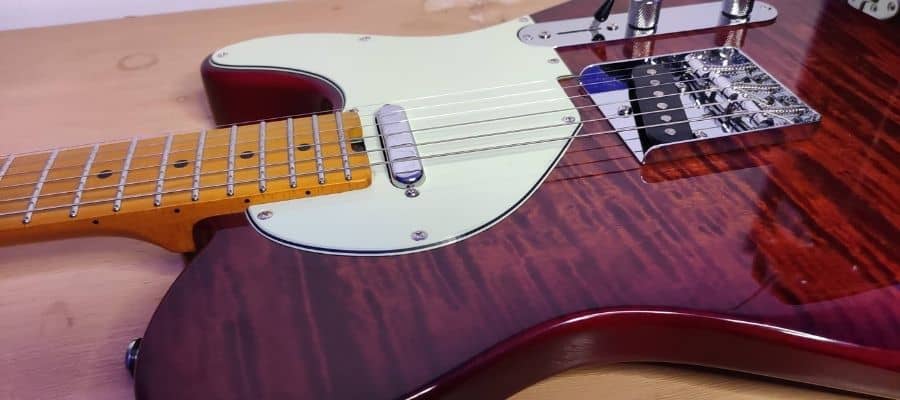 Eart NK C1 is a perfect choice for many musicians, from beginners to advanced players who want a Telecaster. With its affordable price and high quality, it is a guitar that deserves to be in your collection.
Of course, it should be remembered that this is a Telecaster and is suitable for soft to moderate amount of distortion tones such as blues, alternative rock, and classic rock genres. If you mainly want to play heavier genres with more distortion, you should look elsewhere.
For beginners, this is an excellent guitar. You can progress faster with this guitar's versatility, comfortability, and perfect neck. Also, the sound is terrific enough to motivate you to play more.
Again, for more advanced players who want to experiment with Telecasters, this is the perfect guitar. With a few adjustments and upgrades, this guitar can be a great instrument for recordings and live performances. It's lightweight, just 6.83 lbs (3.1 kg). Also, it makes an excellent choice for extended playing sessions.
Is It Possible To Upgrade EART NK C-1?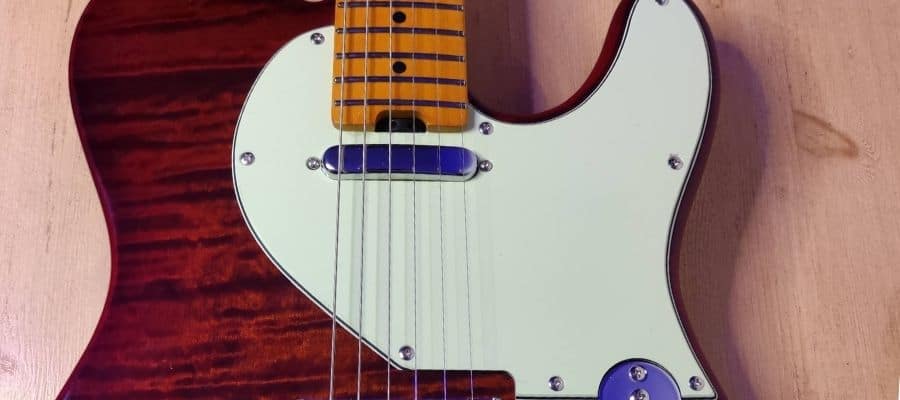 As with most of the guitars, you can upgrade EART NK C-1 according to your needs. Although the guitar is almost perfect the way it is, there are some necessary adjustments, such as changing the nut and any part with imperfections that the quality control team hadn't noticed.
Nut
This guitar's nut is made of bone, and in my case, it wasn't glued properly. Changing it to a graph tech nut or brass nut can enhance the sound quality significantly.
Saddles
To improve the sustain, you can change the saddles for compensated brass ones. It also improves the sound and intonation substantially. It is not because the saddles that come with the guitar have something wrong with them, but it is more of a personal choice. That is why I would not say this upgrade is ultimately necessary.
Pickups
Even though the Artec TRC 44 pickups work just fine, more advanced players looking to have a more distinct sound for their recordings or live performances might consider changing them with a higher quality pickup set. There are many offers with different characteristics for this change. You might consider checking the Fender Vintage Telecaster pickup series since they are the original pickups of the classic Telecasters and have a higher output level.
Alternatives To The Instrument In Terms Of Look, Feel, Sound, Specs, And Price
Vintage V52 Telecaster
The Vintage brand from the UK has made a name for itself by offering instruments inspired by the utmost classical electric guitars.
Obviously, this Vintage Icon V52 is inspired by the Fender Telecaster RI 52. Therefore, we find the color butterscotch blonde, a bridge with 3 vintage saddles, and two single pickups.
It is a more expensive Telecaster than EART NK C-1 with its $500 price tag.
Michael Kelly 1953 Telecaster
With a flamed maple neck and alder body, and beautiful finishes, Michael Kelly 1953 is one of the decent Telecasters on the market. To the Tele style that we all are familiar with, Michael Kelly adds some of its characteristic features like the quad mod.
This mod configuration allows you to have 4 different tone options with a 4-step switch to have access to the additional 4th position to play with both pickups in series.
This T-style guitar also has a price tag of around $500.
Harley Benton TE-52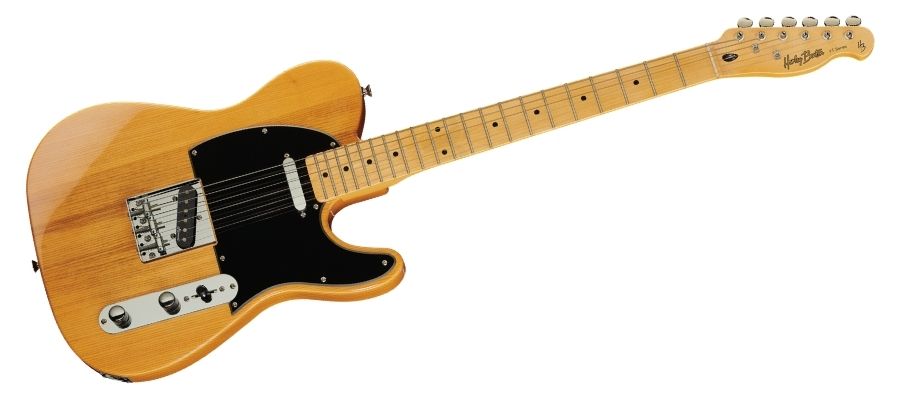 Harley Benton TE-52 is the best Telecaster style guitar for the budget price range you can find on the market. It has exceptional quality for a cheap guitar with excellent pickups, well-made finishes, a solid body, comfortable neck shape, and suitable hardware.
You can check my Harley Benton TE-52 review to get more information about this amazing Telecaster.
If you are looking for a budget Telecaster under the $200 mark, this guitar is the way to go.
G & L Tribute ASAT Classic Telecaster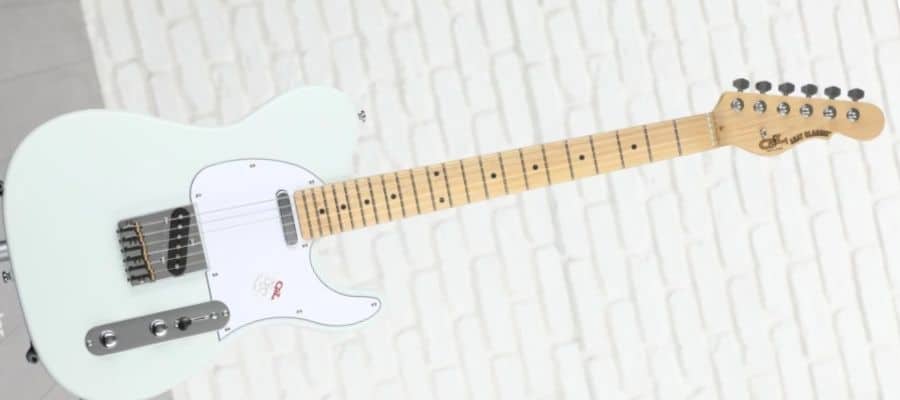 G&L is a guitar brand founded in 1980 by the famous Leo Fender, the founder of the brand Fender.
The G&L Tribute ASAT is a semi-hollow body guitar, this gives it a special coloration in the low frequencies, just as Leo liked to build guitars, this is a Bolt-on system, the arm is attached to the body by screws.
The single-coil is one of the latest Leo Fender designs, a G&L MFD, it uses ceramic for the magneto and allows individual adjustments in each of its receivers, this gives us a more modern, bright, and versatile sound, allowing the sounds of a wider range of genres.
The G&L Tribute ASAT is an excellent guitar, in Fender, an instrument with these characteristics is worth three times or more of the value of this instrument in G&L, remember that the designer is the same and the construction and woods are very similar, a great guitar to an excellent price.
G&L Tribute ASAT Classic is more expensive than EART NK C1 and costs around $400.
Summary
Overall, EART NK C1 is one of the best Telecaster style guitars in its price range. It provides an outstanding quality for a budget guitar.
The impressive fretwork with stainless steel frets, well-made finishes that are jaw-dropping aesthetically, a solid body, exceptionally comfortable neck, and decent hardware are all the aspects that elevate this guitar to a very high level. If I would play this guitar without knowing anything about it, I would surely think it would cost around $1000.
The guitars produced in China had a bad reputation for their low-quality materials, bad craftsmanship, and bad quality control. But, nowadays, there are many brands proving this reputation wrong. The times are truly changing and Asia offers high-quality guitars competing with Western instruments with their much more reasonable prices.
With some reports on minor imperfections on details, the quality control of these guitars is the only let-down, as it seems. But it is compensated with a very attentive customer service that is ready to solve any problems you may have. Also, as these guitars are shipped overseas, these imperfections may be related to the shipping process.
For a $280 guitar, these are problems that can be easily ignored. This guitar 100% worths its price, and it is one of the best Telecasters I have ever played. The sound, the versatility, the comfort are all fantastic. It is truly a joy to play this instrument, and I definitely recommend it to guitarists of all levels.
If you found this article useful, you may want to save this pin below to your Guitar board.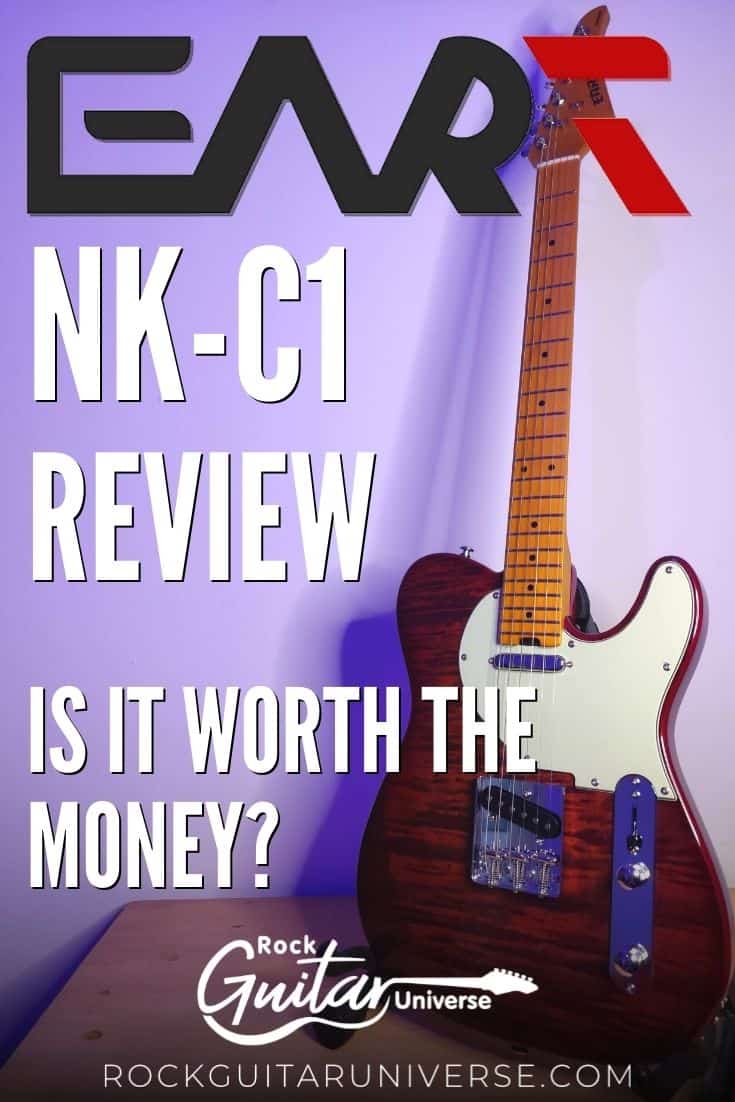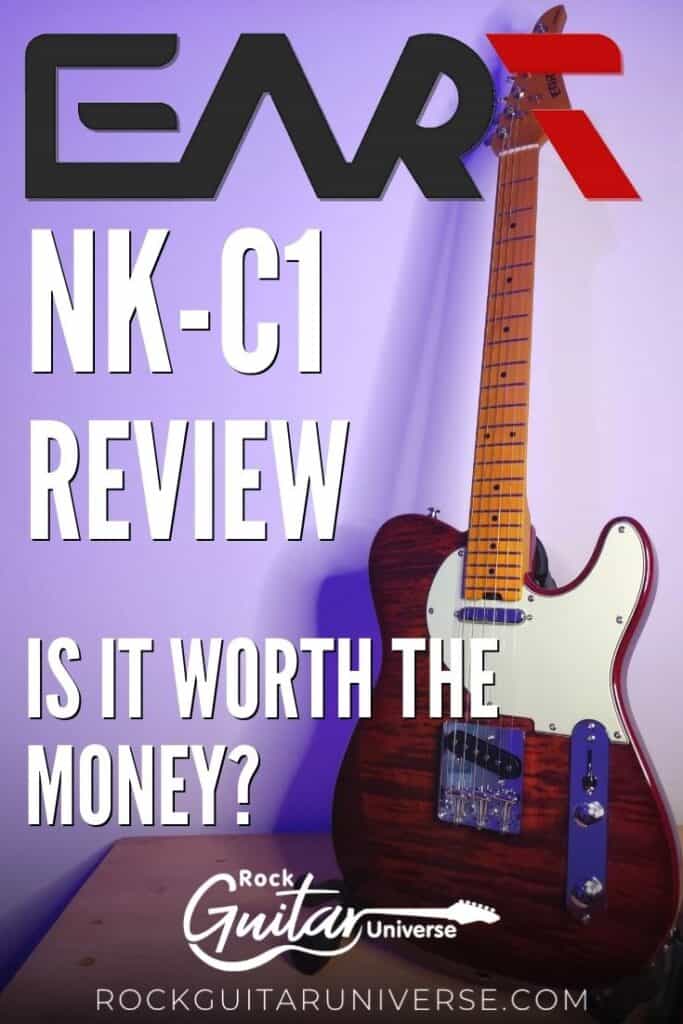 Last update on 2023-02-06 / Affiliate links / Images from Amazon Product Advertising API