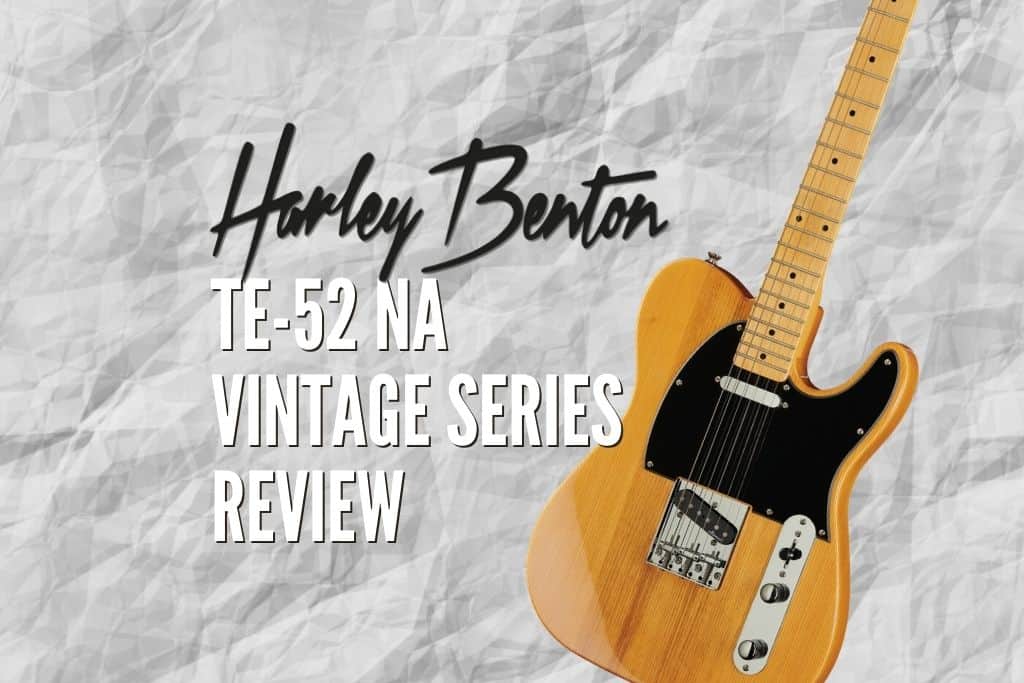 Choosing the right guitar can be very confusing! With so many sizes and styles, it's easy to get lost in the process. Learning guitar is one of the most rewarding hobbies, and it's effortless to maintain your learning curve at the beginning, provided you pick the right instrument.
Deciding to buy a new guitar is always hard and complicated. There are many specifics to take into account, and the budget plays a huge role in the decision. One of the critical points is knowing that not all guitars are the same. Some guitars are great but not suitable for some styles or not comfortable for some players. Every guitar has its characteristics, its soul with specific purposes.
Harley Benton guitars are on the hype over the last few years. Looking at the comments and video reviews, I can say the hype is justified with the guitar's excellent price-performance ratio.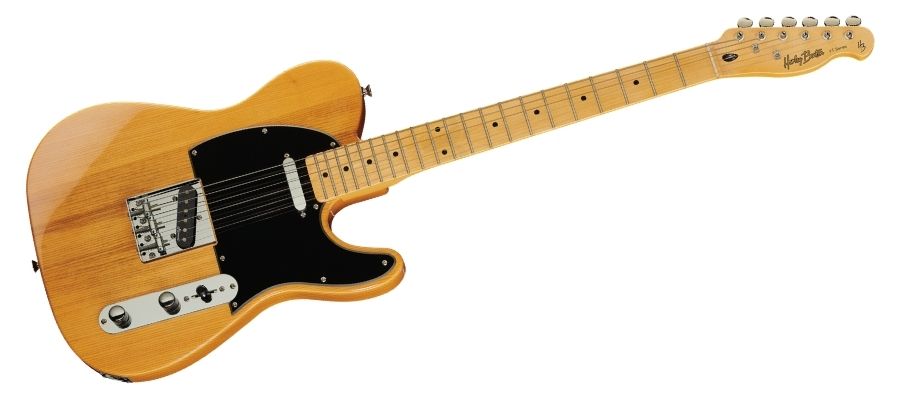 | | |
| --- | --- |
| Pros | Cons |
| As a very cheap guitar, it has a remarkable performance. | Overall quality control is not the best, with problems reported on some guitars like low-quality saddles, unpolished frets, and other minor imperfections in the details. |
| Two single-coil Roswell pickups give a tremendous sustain with a classic Telecaster sound; clean, sparkling, and with lots of twangs. | The tuners are not well-balanced; some are harder to adjust some are very loose. |
| The guitar looks excellent with a 50's Telecaster style and a 2-piece thick maple neck with high playability. | It is a very heavy guitar between 4 to 4.5 kgs (8.8 to 9.9 lbs). Not for playing long hours standing. |
| The fixed bridge holds the tuning well. | |
Inspired by the 50's Fender Telecasters, the Harley Benton TE-52 is a vintage guitar with a more bluesy and rock sound. It is not mainly a great choice for heavy distortions or heavy genres.
With its budget price of around $150, this is a great guitar for players who want to experiment with vintage Telecasters. It is a cheap guitar with a performance far above its price. With some little upgrades, it can unquestionably be a long-time friend.
For those who love the Telecaster style and sound, the Harley Benton Vintage series might be a perfect choice than the alternatives since Fender Telecasters cost a fortune.
Shortly, Harley Benton TE-52 is a good guitar, and I would give it 4 out of 5 stars for its exceptional price-performance ratio, its thick 50's style neck, and two outstanding single-coil pickups. All things considered, this guitar clearly worths the money and won't leave you on the way for sure.
Harley Benton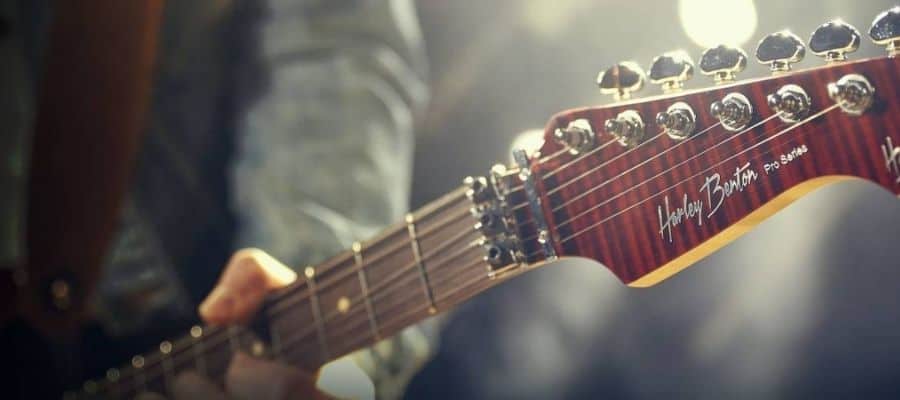 When it comes to guitar brands, it is inevitable to mention Fender, Gibson, Yamaha, and Jackson, and it is that in the end, these are used by great artists of all time. However, other more modest brands are offering different models at more affordable prices. Among these is Harley Benton.
Harley Benton is known for the manufacture of acoustic and electric guitars, basses, as well as other musical instruments and accessories such as amplifiers and effects pedals, at low prices but with quality directly proportional to their cost.
My opinions on Harley Benton are simple: they are guitars of very solid construction with a great result for how little they cost. That is to say: excellent value for money.
Specifically, Harley Benton is a brand belonging to the famous global music store Thomann and manufactures replicas of original guitars of world-famous brands.
Harley Benton guitars are produced by the Chinese company Saein, the same company that builds guitars for other prestigious brands such as Ibanez and Epiphone.
Harley Benton guitars' hallmark is their considerably low price compared to other brands, and many wonder why they don't cost more, which casts doubt on their quality. But the reason for their prices is that Thomann imports the guitars directly from the factory so that since there is no middleman, the prices are not much lower.
The materials used in the manufacture vary according to the type of guitar. For example, if it is a basic and less elaborate model, it is common for its body to be plywood. But in the case of the more expensive models, maple wood is used, although many people think that Harley Benton uses a thin sheet that simulates maple to sell it at a higher price which is not exactly true.
Specs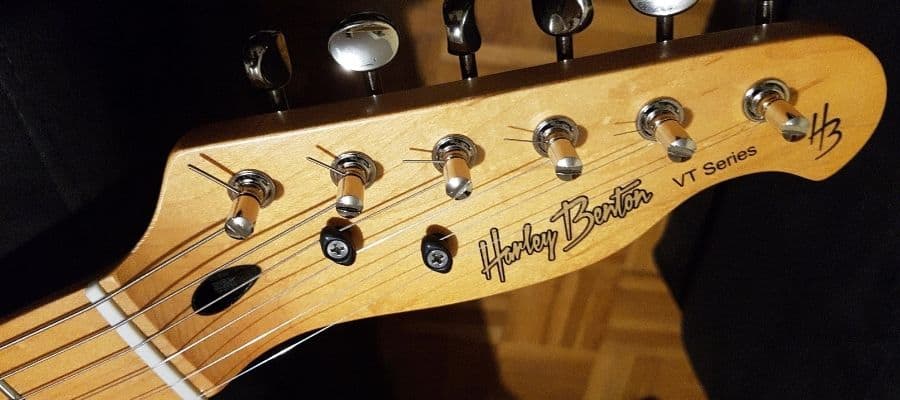 Let's have a look at the specs of Harley Benton TE-52, and check out what it offers.
General
| | |
| --- | --- |
| Series | TE NA Vintage Series |
| Number of Strings | 6 |
| Hand Orientation | Right and Left Options |
| Colors | Natural High Gloss |
| Weight | 8.8 – 9.9 lbs (4 – 4.5 kg) |
Body
| | |
| --- | --- |
| Body Shape | TE (Telecaster) |
| Body Construction | 3-Piece Body |
| Body Type | Solid |
| Body Material | American Ash |
| Top Material | American Ash |
| Top Type | Flat |
| Back Material | American Ash |
| Finish | High Gloss |
Neck
| | |
| --- | --- |
| Scale Length | 25.51" (648 mm) |
| Neck Construction | 2-Piece (Thick C-shape) |
| Neck Material | Canadian Maple Bolt-On Neck with Roseacre Skunk Strip |
| Truss Rod | Adjustment at the nut |
| Truss Rod Type | Wrench |
| Fretboard Material | Maple |
| Fretboard Radius | 13.78" (350mm) |
| Position Inlays | Dot Inlays |
| Number of Frets | 21 |
| Fret Size | Medium frets |
| Nut | Plastic |
| Nut Width | 1.6535" (42 mm) |
Electronics
| | |
| --- | --- |
| Pickup Configuration | S-S |
| Neck Pickup | Roswell TEA Alnico-5 TE-style single coil |
| Bridge Pickup | Roswell TEA Alnico-5 TE-style single coil |
| Controls | Volume, Tone |
| Switch | Toggle, 3 Positions: Neck, Both, and Bridge |
Hardware
| | |
| --- | --- |
| Tailpiece | None |
| Bridge Type | Three-Point Fixed Bridge |
| Tuners | Kluson-style |
| Finish | Deluxe Chrome |
| Pickguard | Harley Benton TE Style Pickguards |
When I examine the specifications, I feel I have to highlight the following characteristics. The solid construction, three-piece body, and the cut in the appearance of the veins are invaluable. Aesthetically, it wins a considerable point.
The Roswell pickups are classic Telecaster single-coil pickups with great sounds. They are excellent with a moderate amount of gain. With more doses, they create feedback. Tones around heavy blues-rock should be fine.
The body is made of three pieces of Ash. The grain of the wood looks very pleasant. The body has a lot of shine which looks vintage and fabulous.
As Ash is one of the heaviest woods, the guitar is pretty heavy, making it harder to play. With its 8.8 – 9.9 lbs (4 – 4.5 kg) weight, this guitar can hurt your back after playing it for a while.
The headstock is the vintage type and holds the tuning properly. But the tuners are not well-balanced. Some seem very tight and hard to turn, while the others are soft and don't feel like they grab properly.
The frets are okay, but on some guitars, it was reported that they need urgent polishing. You will appreciate a good polish before starting to play it when making bends or vibratos.
The electronics also seem like a good point to me, and although it is not shielded, there is hardly any noise. The gap of the bridge pickups is just wide enough to install a double coil pickup if wanted, without needing to expand it.
The other parts of the guitar are pretty standard. You get a set-in neck made of Canadian maple and a fixed bridge. The neck shape is a thick C profile, which is traditional to vintage Telecasters. Some people find it very uncomfortable while others admire it.
These guitars are 10 out of 10 in terms of value for money. You only have to pay less than $150 dollars to get one, and in return, you get a completely solid instrument. I would put these up on the top positions of my list as the best value for money as they are a great value, play great, and are reliable instruments.
The Sound, The Feel Of The Instrument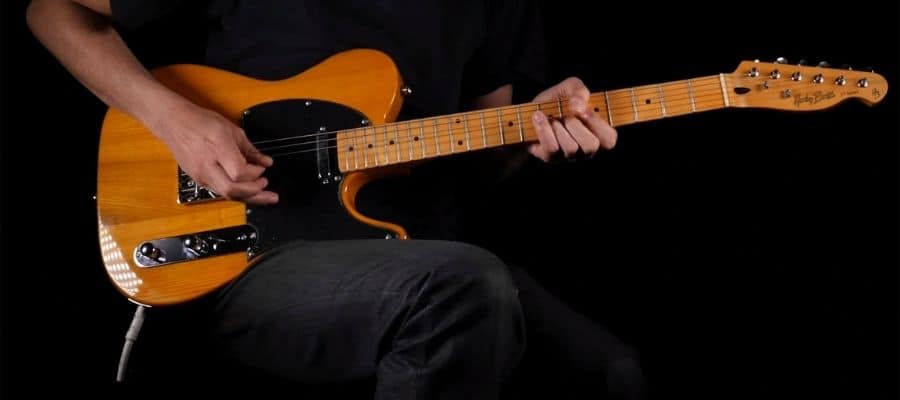 Of course, the materials and looks are essential, but it all comes to the sound and the feel of the instrument at the end.
Regarding the sound, I personally liked the neck pick-up a lot. The Roswell pickups are 100% telecaster. One thing that shocked me was how great they sounded clean and dirty and how much "chirp" the neck pickup had. On the bridge pick-up, the guitar sounds clean, sparkling with lots of twangs. Both pickups sound like how a genuine Telecaster should sound like.
As this is a low-budget guitar, it might be worth getting a good amplifier and a couple of effect pedals to make the best of your guitar. The guitar's potential is high, but it needs some support to reach that potential.
The feel of the instrument is also very relative. If you like vintage thick C-shaped necks, you will like the sensation of this guitar. But if you like thinner necks, you might feel uncomfortable. The satin finish of the neck also feels nice.
It is important to underline that this is a pretty heavy guitar like Les Paul's, so you might have a hard time when playing for a long time when standing up.
You can check out the video review and hear how the guitar sounds with a medium-level amp. You can have a better idea with the sound demo since the guitar is played in different genres and gain levels.
Harley Benton TE-52 Is Perfect For Whom?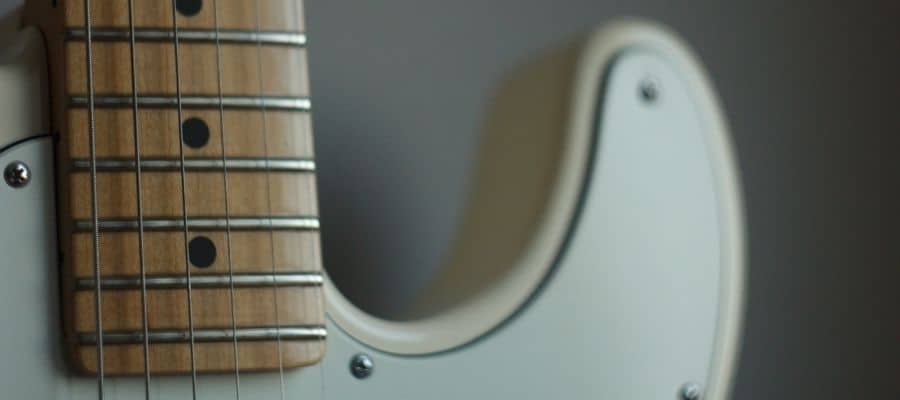 This instrument is advisable to acquire if you belong to one of the following groups.
Group 1; experienced guitarists who want to test the Telecaster sound for cheap. With its excellent price-performance ratio, this guitar is the perfect opportunity to get into the Telecaster world and explore the possibilities it brings to your sound.
Group 2; seasoned guitarists with multiple guitars for other styles and need an affordable Telecaster for certain tracks. Due to the fact that with a good amp set up, it can sound quite powerful, this guitar is perfect for some recordings or live performances of its genre.
As a beginner, you might choose this guitar as your first one, but you would have to take the guitar to a luthier for a general check. The overall test quality for the guitar is not good, so there are various imperfections in each guitar that need to be fixed.
Also, the heavyweight of the guitar can be hard on new players. I can say it might be a risky choice for a first guitar.
Who is this guitar NOT intended for? This is not your guitar if you like to play with a lot of distortion since it sounds better in more bluesy or rock sounds. For the heavy lovers, there are other more appropriate models.
Is It Possible To Upgrade HB TE-52?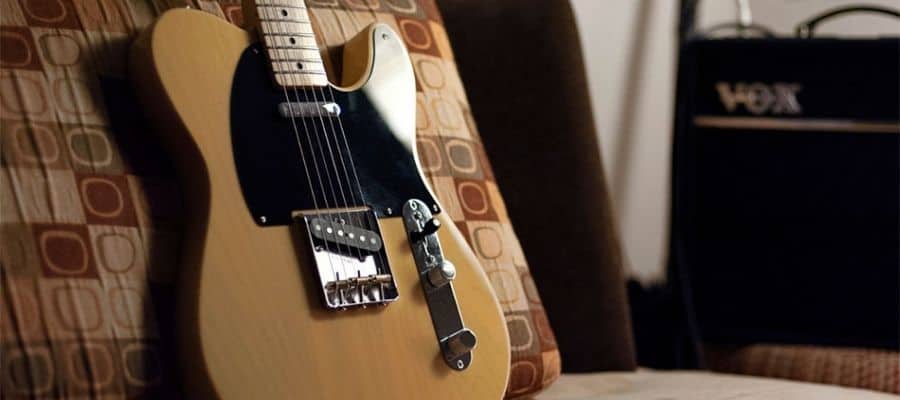 Almost every electric guitar can be upgraded. With TE-52 being a low-budget guitar, some upgrades are even more than necessary.
Let's take a look at some of the parts you have to upgrade to make the guitar more solid. Here, I will highlight options that are a must and that might be a good investment.
Tuners
As mentioned before, the tuners of TE-52 are a bit problematic, so you should consider changing them with a better option. The most common choice here is to go for the locking tuners since they are the most reliable ones.
It is an excellent way to improve tuning stability and get more comfortable with tuning.
Nut
The TE-52's nut is made of plastic, and it is pretty low quality. You can change it with a graph tech nut to get the best performance and sound from your guitar.
Saddles
You can change the saddles for compensated brass ones to improve the sound quality. It improves the sound and intonation substantially. I would not consider this upgrade as ultimately necessary, as the supplied saddles also work just fine.
Pickups
The Roswell pickups work great, as we mentioned before. But some players who want to make recordings with the guitar find the output a little on the lower side. So if you are looking for a completely professional-sounding guitar, you might want to change the pickups with a more expensive model, such as one from the Fender Vintage Telecaster pickups series.
Alternatives To The Instrument In Terms Of Look, Feel, Sound, Specs, And Price
Although Harley Benton TE-52 is the best Telecaster in its price range, you can check some alternatives if you are not satisfied or simply want to compare.
Squier Affinity by Fender Telecaster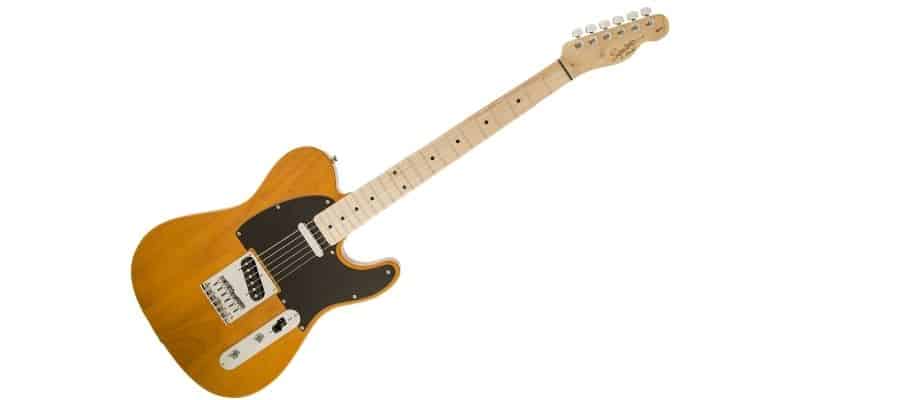 For the players who insist on the consistently high quality of Fender-backed axes, the Squier Affinity Tele is a reliable choice. Simplicity, durability, and of course, great value sums up Squier's budget Telecaster offering.
That's not to suggest you must spend more on the Affinity to have a great sounding Tele. The general consensus is, just like the Harley Benton TE-52, it is incredible for the price.
This guitar is one of the few reasonable alternatives close to the TE-52 price range. But what TE-52 offers, especially with its Roswell pickups, is better, according to many guitarists' reviews.
SX Vintage Series Telecaster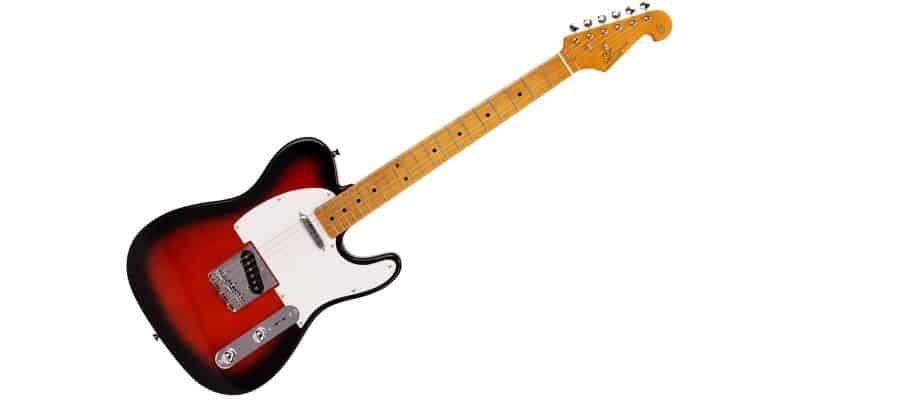 SX Guitars is a Chinese manufacturer of guitars, basses, and small percussion instruments. The brand is known for its budget models with high quality, just like Harley Benton.
This SX Telecaster is from the Vintage Series "Custom Handmade": a copy in exceptional and perfect working order. This "Vintage Series" T-style electric guitar delivers plenty of twang and sparkle via the two single-coil pickups.
The price is slightly higher than the TE-52, varying around $210.
Squier by Fender 50's Telecaster
For guitarists looking for an electric guitar with the actual name "Telecaster" written on the head but who don't necessarily have the means, this Squier 50's guitar is probably what they need.
The Classic Vibe range borrows specifications from old instruments to bring them up. They are great guitars, but their label has triple the price of Harley Benton TE-52
Vintage Guitars V52 Reissue Telecaster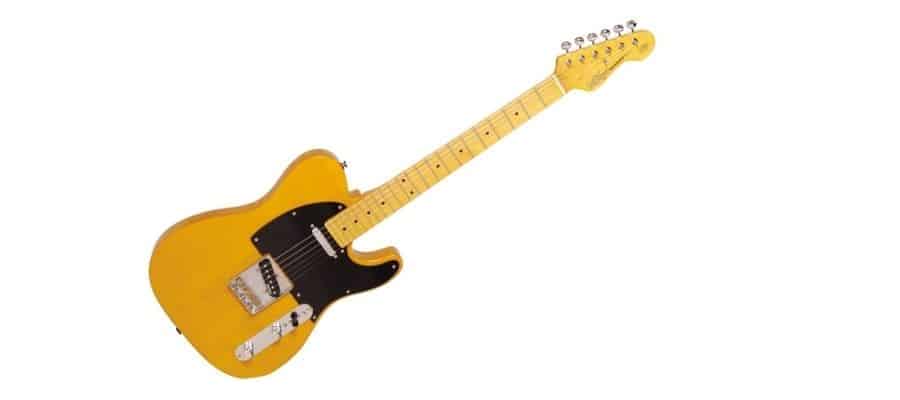 The Vintage brand comes to us from the UK and has made a name for itself by offering instruments inspired by classical electric guitars.
Obviously, this Vintage Icon V52 is inspired by the Fender Telecaster RI 52. Therefore, we find the color butterscotch blonde, a bridge with 3 vintage saddles, and two single pickups.
The price is similar to Squire 50's Telecaster; it is much higher than HB TE-52.
Summary
Overall, Harley Benton TE-52 is the best Telecaster style guitar for the budget price range you can find on the market. It has exceptional quality for a cheap guitar with excellent pickups, well-made finishes, a solid body, comfortable neck shape, and suitable hardware. If you want to get into the Telecaster world, Harley Benton TE-52 is your gateway.
The quality control is one of the let-downs for the guitar. Some instruments have unpolished frets and minor imperfections in detail. But, well, what can you expect from a 150-dollar guitar? Another bad part of the guitar is its heavy weight. With 8.8 – 9.9 lbs (4 – 4.5 kg), it is not a comfortable guitar to play. 
These are the reasons why I don't recommend this guitar for beginners. With possible adjustments needed and weight, beginners can feel uncomfortable and dislike playing it. But if you feel you have a strong back and can deal with extra expenses, you can go for it.
Last words, Harley Benton TE-52, is definitely worth its price. It may even be worth much more than its price. It is an extremely solid instrument and ultimately the best low-budget Telecaster.
If you found this article useful, you may want to save this pin below to your Guitar board.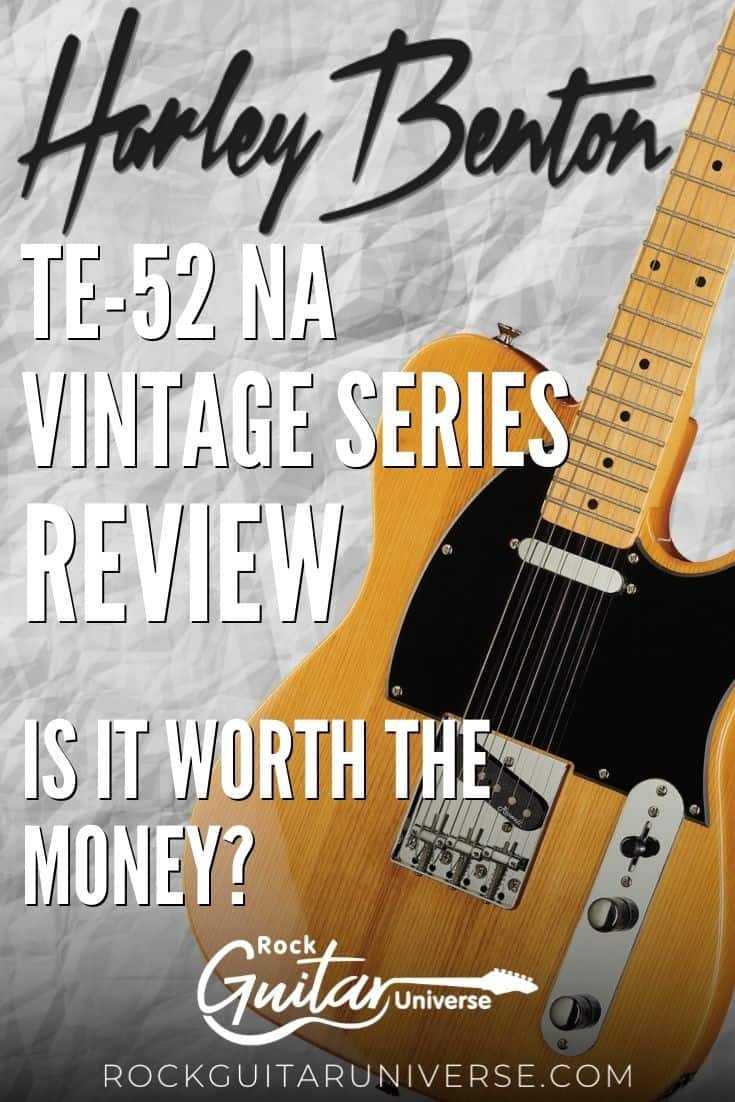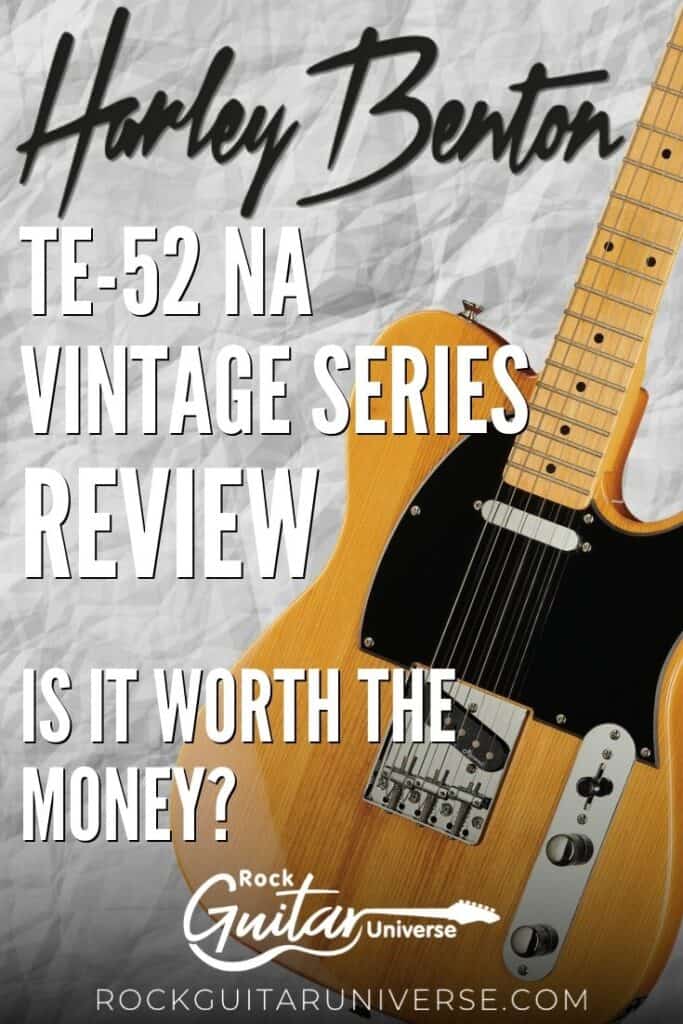 Last update on 2023-02-06 / Affiliate links / Images from Amazon Product Advertising API