Since Fender and Gibson created their first instruments, these companies have been in direct competition. Both companies are one of the most famous guitar companies in the World. The Gibson Les Paul and Fender Stratocaster are the company's most important models ever created.
Although these guitars were, and still are, in the competition, design, and tone-wise, they are completely different. The body shape and size of these instruments are completely different. The Les Paul model has a body known as Les Paul Standard, and the Stratocaster has a Strat-style body, a double-cutaway design.
Tonally the models are different. Stratocaster has a brighter tone, while Les Paul has more fat and a darker tone. This is the direct result of different pickups and body shapes and sizes. Both guitars feel great in hands and are easy to play, but in hands, they are completely different animals from each other.
This article will show the clear differences between these models and help you decide which is better for your needs. In essence, it is time for the clash of guitar titans.
| | | |
| --- | --- | --- |
| | Fender Stratocaster | Gibson Les Paul |
| Body Shape | Strat-style | Les Paul Standard |
| Body Wood | Alder | Mahagony |
| Neck Shape | Deep C | Rounded |
| Neck Wood | Maple | Mahagony |
| Neck Construction | Bolt-on | Set Neck |
| Fretboard Material | Maple | Rosewood, Ebony |
| Scale Length | 25.5″ | 24.75-inch |
| Number Of Frets | 22, Narrow Tall | 22, Medium Jumbo |
| Frets Material | Nickel Silver | Nickel Silver |
| Type of Bridge | 3-Saddle Top-load String-through body with Brass Bullet Saddles | ABR-1 Tune-O-Matic |
| Tuning Machines | Fender Standard Die-cast | Grover Rotomatics |
| Pickups | 3 x Fender V-Mod II Single-coil | BurstBucker™ 61R & 61T zebra, open-coil pickups |
| Pickup Selector | 5-way blade pickup switch | 3-way toggle switch |
| Controls | 1 x master volume, 2 x tone (push/push add neck) | 2 x volume, 2 x tone |
| Weight | 8 lbs (3.6 kg) | 9lbs(4.08 kg) |
Gibson Les Paul History
One of the most recognized electric guitar models is the Gibson Les Paul. It is among the first mass-produced electric guitars ever. Since then, it has grabbed the hearts of many people and music legends.
Les Paul will see the first light back in 1952. The design of this guitar belongs to Les Paul himself, Ted McCarty, and John Huis. This guitar was not an overnight project. Gibson will go through many prototypes of the model until they reach the model we all know and love today.
One of the key moves by Gibson was that they named the guitar after, at the time, super-popular guitar player Les Paul. This move will significantly up the sales of the guitar giving the Gibson correct trajectory.
Fender Stratocaster History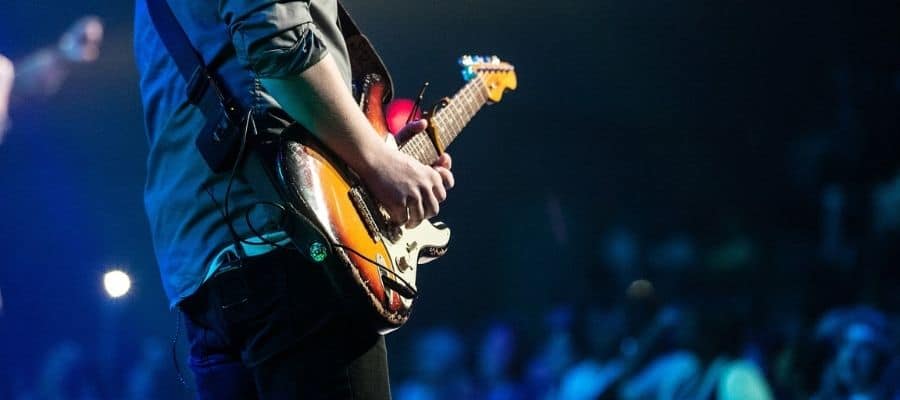 Fender Stratocaster has its roots entangled with one of Fender's most famous models, the Fender Telecaster. The say the least, Stratocaster is a younger brother to the Telecaster. The Stratocaster model was first introduced in 1954; the rest is history.m
Since the Telecaster was Fender's first mass-produced guitar, they soon received complaints about its flaws. So to satisfy the market, they will introduce a more refined "version" of the Telecaster, the Stratocaster.
It was an immediate hit. The features Telecaster lacked, the Stratocaster was there to fulfill. It had better contours and three single coils, which provided more tonal versatility. The Stratocaster will enter the realm of legendary guitars, which today holds the rank of the best guitars in the World.
Bodies Compared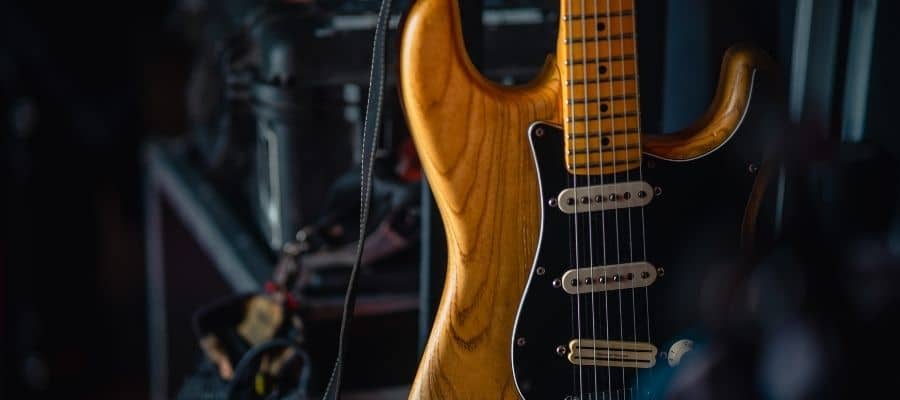 The difference between these guitars is quite visible, especially with their bodies. The Stratocasters have a double cutaway design, while the Les Paul models have a single cutaway. Apart from different designs, the body contours of the models are also different.
The Stratocaster has a much more contoured body, while the Les Paul models have a body that resembles more of acoustic guitar. The material form in which the body is made is also different. Most Les Paul models have a Mahagony body, and the Stratocaster models have bodies made of Alder.
Different sizes and shapes and the material used for the body resulted in different weights of the instrument. Les Paul models at 9lbs(4.08 kg) are heavier than Stratocaster models that weigh 8 lbs (3.6 kg).
Neck & Scale Length Compared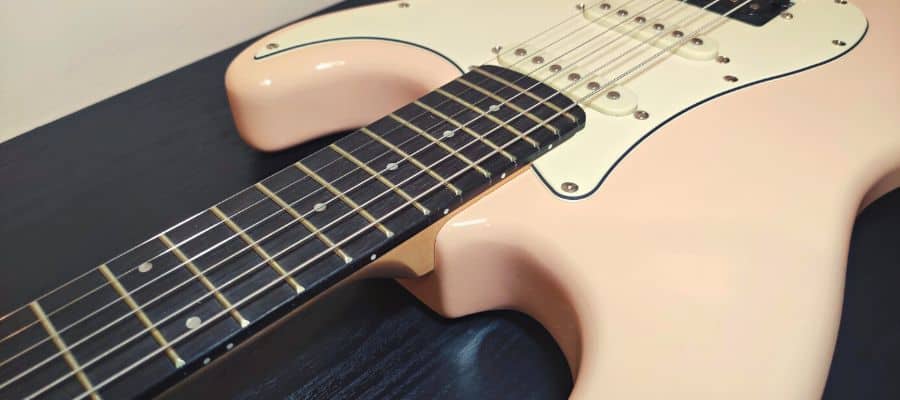 The neck of these models is also different. Apart from having a different design, the neck shape of the Les Paul model is rounded, while the Stratocaster model has a deep C neck shape. The wood from which the Stratocaster neck is made is maple, and the Les Paul has a mahogany-made neck.
The neck construction of the Stratocaster is a bolt-on, while the Les Paul has a set neck construction. The fretboard material of Stratocaster is Maple, and the Les Paul has a Rosewood or Ebony fretboard. Both guitars have excellent sustain and resonance, and the major part behind that is their necks.
The scale length of these instruments is also different. Gibson Les Paul models have a 24.75″ neck scale length with 22 Medium Jumbo frets and the Fender Stratocaster models have a 25.5″ scale length with 22 Narrow Tall frets.
Hardware Compared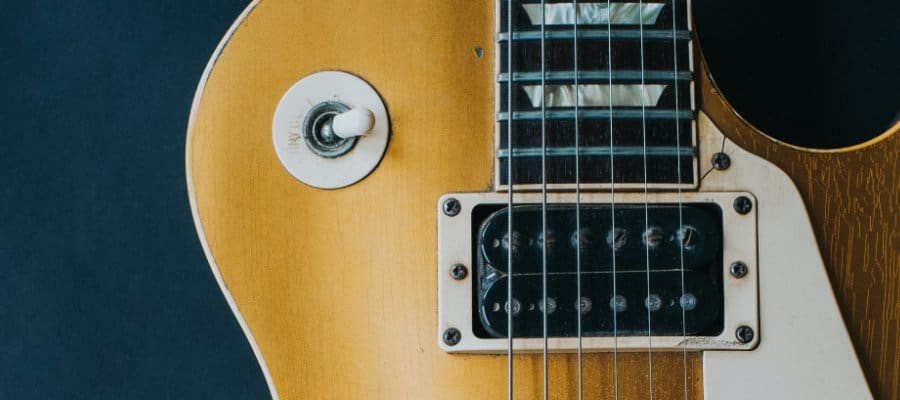 Among all the differences between these guitars, hardware is also among them. Fender Stratocaster usually comes with one volume and two tone control knobs; Les Paul, on the other hand, is a little more complex, with four knobs to control the tone and volume of the guitar.
Another thing you will notice is that the Stratocaster has a 5-way pickup selector on the lower end of the guitar, while the Les Paul has a 3-way pickup selector on the top horn of the guitar.
The bridge is also different. Stratocasters have a bridge with a 3-Saddle Top-load String-through body with Brass Bullet Saddles, and the Les Paul usually comes with ABR-1 Tune-O-Matic. The tuning machines on the Stratocaster are Fender Standard Die-cast and on the Les Paul are Grover Rotomatics.
Pickup Configuration Compared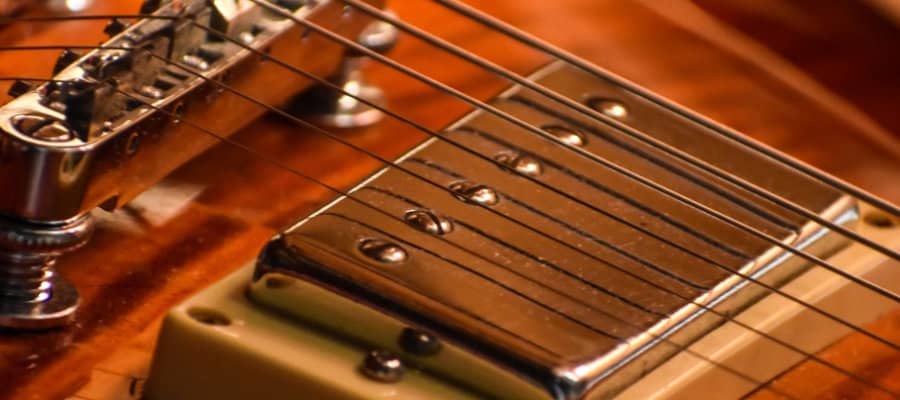 Pickups are one of the key features of both guitars. The Les Paul models pack a set of BurstBucker™ 61R & 61T zebra, open-coil humbucker pickups in HH configuration. These pickups are key factors behind Les Paul's fat and punchy tone.
Fender Stratocaster, on the other usually comes with three Fender V-Mod II Single-coil pickups in an SSS configuration. It is important to note that there are models with SSH pickup configuration, which give this guitar even more tone versatility. The pickup configuration plays a key role in the Stratocaster tone.
Fender Stratocaster Tone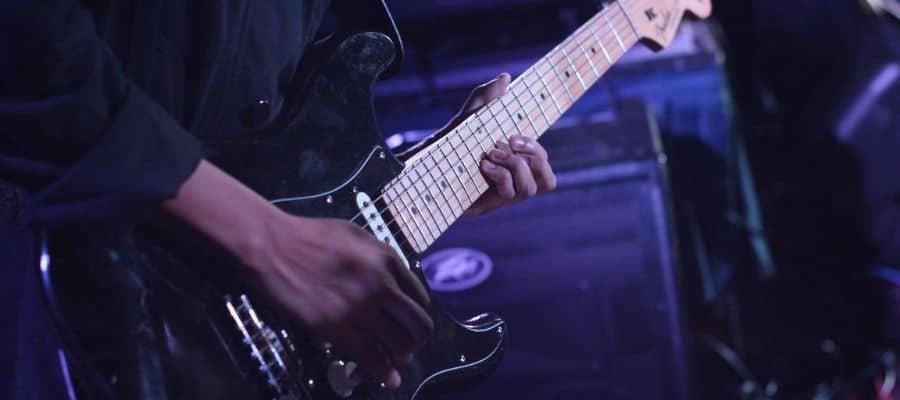 The Stratocaster is known to be the chameleon among electric guitars. Although it has an iconic single coil sound that no other guitar has, it has one of the best tonal versatility. There is no guitar tone that Stratocaster can't create.
Straight out of the box, Stratocaster has a warm and glassy tone. This guitar sounds the most natural out of all guitars out there. That is why you can see them used everywhere, from jazz to hard rock.
Apart from other features, the tone of this guitar is mostly the result of three single coils in an SSS configuration. One of the key selling points of this guitar is its tonal versatility which is appealing to many guitarists.
Gibson Les Paul Tone
As a result of the model's weight and size of the body, Les Paul has a thick and punchy tone that many people can easily recognize. A big part of the guitar's tone is the humbucker pickups which truly complement the shape and size of the body.
Gibson will, over the years, produce many different types of the same models. Each one of those models has a different feel and tone. This is because every little change with this instrument will be seen, so you need to pay attention while choosing the correct model for you.
Although this guitar is not as versatile as the Fender Stratocaster, you can cover a wide range of genres with the correct amplifier settings. It is worth spending some time adjusting the tone of the amplifier to get this guitar to sing.
Fender Stratocaster Feel & Playability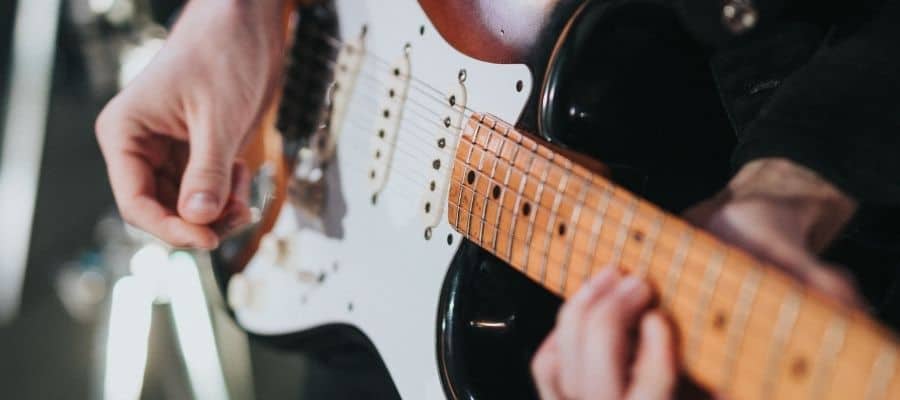 Fender stands right beside the Gibson Les Paul when it comes to playability and feels. The only point where Stratocaster may have the advantage over Les Paul is in a neck-body balance. Fender got this spot on, so the entire guitar is perfectly balanced.
Apart from having a beautiful neck that feels great in your hands, the double cutaway design of the body allows you to play with ease on the entire neck. Stratocaster, compared to other guitars, is a super-model regarding the body's contours. Fender did its best to create comfortable guitar like no other.
Gibson Les Paul Feel & Playability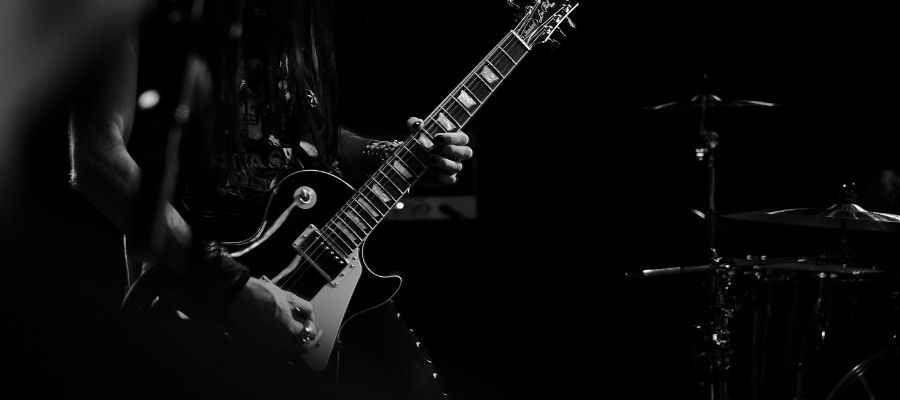 Besides being beautiful, Gibson delivered a good feel and playability with this guitar. Some players consider this guitar among the most comfortable guitars to play and hold.
The fact that Gibson had introduced different types of models over the years created a great palette of instruments where every player could find the right Les Paul model for themselves.
One of the downsides of the design of this guitar is that the neck-body balance is not perfect. The neck tends to tilt up, which is great while playing standing up, but it can create some problems while sitting down if you are new to the model.
Fender Stratocaster Look

The Fender Stratocaster is easily one of the most recognizable guitar models ever. These models can be seen everywhere, from pop culture to the walls of local pubs. Fender had managed to create a legendary guitar that everyone would easily recognize.
Since its creation, the design was not changed drastically. With different manufacturing years and locations, you may get different headstocks or slight differences in size, but the soul of the instruments has always been there.
Gibson Les Paul Look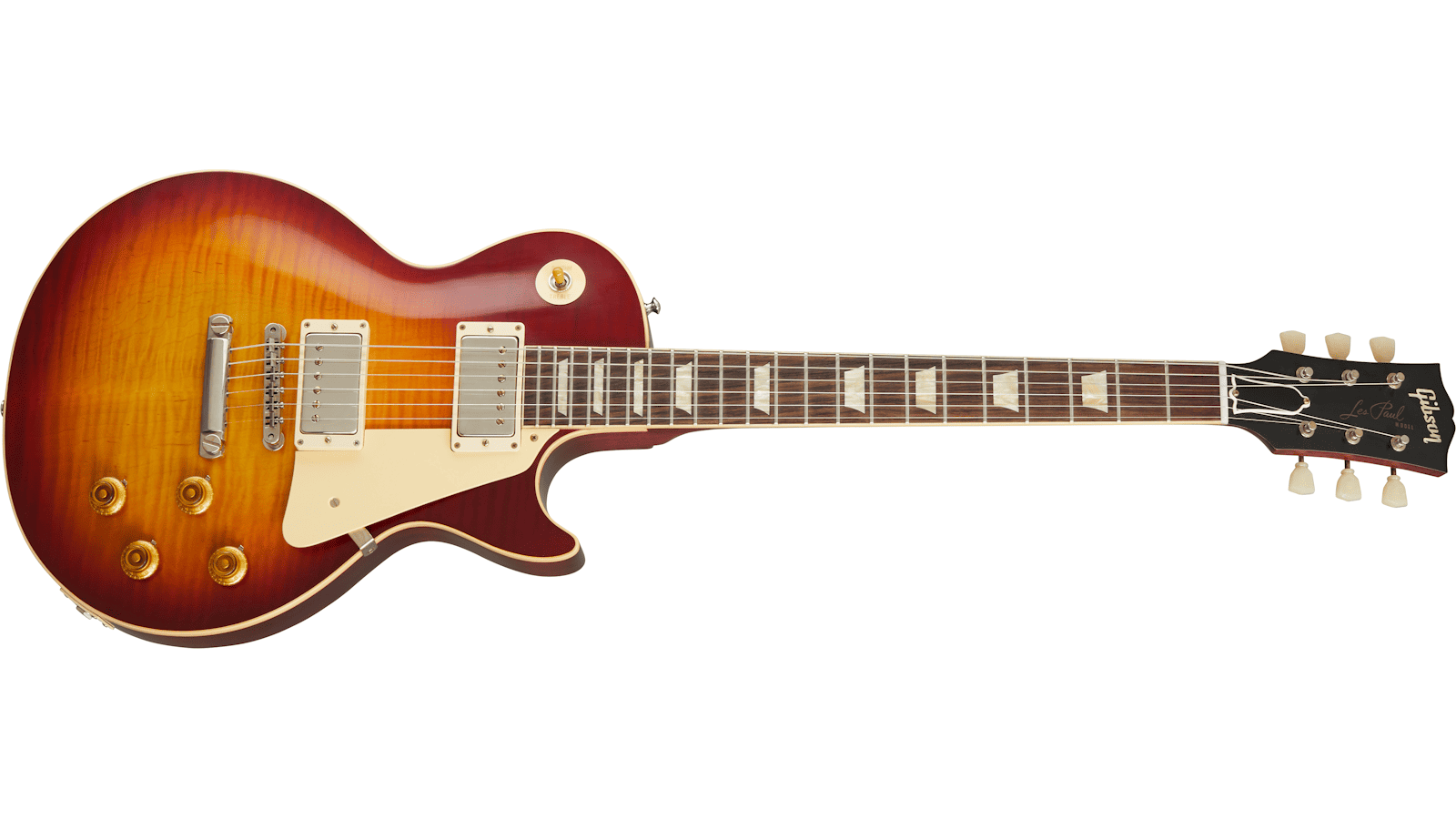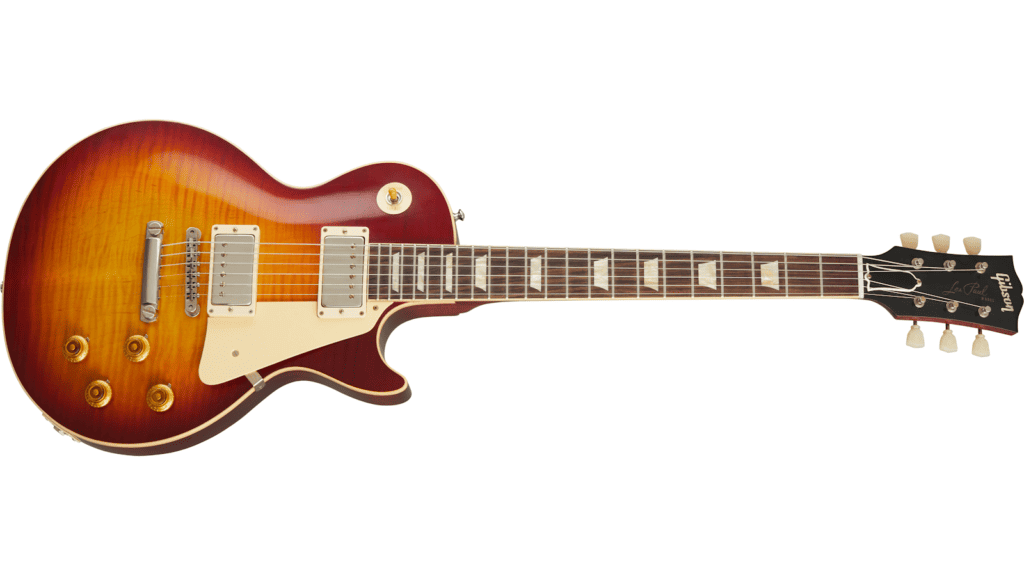 Gibson Les Paul is one of the most beautiful guitars ever made. Many people who are not musicians buy them to keep them in their houses as decoration. During its production, Gibson introduced almost every finish possible.
Every guitarist can find a Les Paul that will match his taste. This guitar is worth having just for its looks. Combine that with its playability, and you have a life instrument.
Famous Fender Stratocaster Players
Jimi Hendrix
It is a fact that Jimi Hendrix is the most influential guitar player that ever walked this planet. He was the inspiration for legendary guitarists, and he earned every guitarist's respect. The key component of Jimi's playing is his Fender Stratocaster.
Jimi was rarely seen without his Stratocaster model, which he adapted to his left-hand guitar playing. Jimi was not an all-one-genre guitar player. His guitar playing has quite a versatility, and the Stratocaster truly served its purpose for Jimi.
Jimi is part of the reason why Fender started producing left-hand guitar models. Also, Jimi is responsible for the invention of the Wah-Wah pedal, which he regularly used during his live shows. The Stratocaster was a perfect guitar for him and uniquely responded to his playing style.
David Gilmour
Among many different guitar legends, David Gilmour is the man who is known for creating the most beautiful guitar solos. He is regularly seen with his black finish Fender Stratocaster, which he used to record many great albums for Pink Floyd.
The comfortability and playability of the Stratocaster helped David to shape the sound of the instrument in his unique way. His string-bending technique is unmatched to this day. No guitar player can do it as well as he does it.
A big part of David's sound is the effects he uses regularly. All of them help him to shape the music in his way. Stratocaster responds to them as no other guitar can.
Eric Clapton
Standing right beside great legendary guitarists is Eric Clapton. He is mostly famous for being an amazing blues guitarist and composer, but Eric is also known for his genre versatility. He was seen playing many different genres throughout his career, and most of the time, he used Fender Stratocaster.
His go-to guitar was the Fender Stratocaster. Yes, he was seen playing different guitar models, but he had always gravitated toward the Stratocaster. The reason for that is its natural sound and the fact that it responded the best to his playing. To this day, he still uses Stratocaster in almost every show he plays.
Famous Gibson Les Paul Players
Les Paul
Writing about Gibson Les Paul would not make sense if we did not mention the man who stands behind this guitar. Besides designing the guitar model, Les Paul was a great guitarist for his age, if not the best.
An interesting fact is that he nicknamed the initial prototype of Les Paul "The Log" due to its unfinished design. Although he was behind the design, his name on the headstock was there to help sell the guitar better. It was a marketing trick for Gibson.
Slash
The guitarist most easily recognizable by his looks is the lead guitar player for Guns'n'roses, Slash. One of the key components behind his look, apart from the top hat and sunglasses, is the Gibson Les Paul.
Slash had inspired a generation of guitarists who wanted the fame, music skills, and glamour Slash had. Gibson should thank Slash for bringing Les Pauls on the market in the middle of the single pickup mayhem. What is interesting about Slash's guitar is that he uses the Les Paul with stock magnets and hardware.
Jimmy Page
The man who inspired Slash to play guitar was Jimmy Page. He is seen playing almost every guitar model, but the Les Paul models have always stuck to him. Somehow, he will always gravitate toward Les Paul after using many different models of guitars, especially in the early era of Led Zeppelin.
Nothing marked the rock'n'roll era as Jimmy's EDS-1275 double-neck Les Paul model, which is legendary. Using this guitar, he will record many great albums and play thousands of live shows.
Conclusion
Without question, Gibson Les Paul and Fender Stratocaster are the most famous guitar models ever produced. Ever since they were first introduced, these models have been in constant production all over the World.
They are available in a wide range of prices, from couple hundred bucks to hundreds of thousands of dollars. The question of which is better is already a long debate in the guitar community.
Choosing the correct model for you depends on the type of player you are and how these models respond to you. The best advice is to head down to your local guitar store, try both of these models, and pick the one that resonates with you best. These are the most legendary models, and at some point, you are guaranteed to wish to own both models.
If you found this article useful, you may want to save this pin below to your Guitar board.