Are you looking for the best gifts for guitar lovers? If yes, then you must keep reading this out. It is always hard to choose the right gift for guitar lovers especially when you are not guitarist yourself.
Because we have got you covered and here I am going to share some excellent ideas which you can give to your loved ones. There is a long list of things that will force you to think outside of the box.
From beginning to end, this list will make any player's jaw drop. These gifts are perfect for both beginners and professional guitarists. Also, this list will definitely fit your bill.
I have compiled a list of things keeping in mind their usefulness and practicality. Now, you can surprise your loved ones with the greatest gifts.
Guitar Tablature Manuscript Paper
If you have someone in your life who loves to write their own music, then you can gift them this manuscript.
It will make it very easy for them to write their songs. This book has blank pages with chord diagrams and blank tab papers to write songs on them.
Dunlop Microphone Stand Pick Holder
This is the best gift for musicians who perform professionally. This is a new model as it attaches to a microphone stand holder. It is made up of high-quality rubber which will help in making your hold firm on the guitar.
Guitar players can easily grab a different pick if they drop their pick during their performance.
Fender Steel Slide
This is a classic gift for guitarists. Chrome slide that should be in every player's case. High quality and high durability will help you get those sweet, sweet blues notes.
But fear not, it is not exclusively for blues. You can play any type of music if you would love to perfect slide technique.
Guitar Pick Holder
Everyone talks about guitar picks. But, here I am going to suggest you buy a pick holder. It will allow you to store many picks in one place.
You can stick this holder to the guitar as well. It is also considered as a great option to gift anyone.
Personalized Guitar Picks
This is a fact no matter how many picks a guitarist has, they always look for more. I myself have lost countless picks.
That is why I think personalized guitar picks are the best gift for guitarists. I guarantee you that every player will love this simple and customized gift.
Snark SN5X Guitar Tuner
It is obvious that every guitarist needs to keep their guitar in tune. Simple to use, a clip-on tuner that allows you to stay in tune anywhere.
It is placed on the headstock where it can pick up the vibrations from the strings. It's precise, easy to use and what is more important: cheap!
Music Nomad String Fuel Cleaner
String fuel cleaner is a must-have product for guitar lovers. In order to produce quality sound, it is very important to clean the guitar properly.
It will keep the strings cleaned and lubricated which will in return maintain the integrity of guitar strings for a long period of time. It will also reduce the noise of the strings.
Guitar Wall Hanger
Nowadays, most of the players hang their guitars on guitar stands or on wall hangers. Using guitar wall hangers will make your guitars look more attractive.
Also, it will keep your guitar in a "healthier" position making sure your neck stays straight. They can also be customized according to the interior of the room. They are available in different sizes as well.
Strap-lock
If you know a player that loves to go wild when playing, you should definitely get him a strap-lock. It is a handy little device that locks the strap so it won't come off by accident.
It is not rare that a guitar falls from the strap and gets damaged or at least out of tune. Strap-lock is one of the most useful things a guitar player can have.
Set of Guitar Strings
Now, I am going to suggest a very tricky gift. A set of guitar strings is something every guitarist need. But, I would like to add that guitarists are very choosy about the strings they choose.
But you can never have enough extra strings. One of the most popular is Elixir strings with Nanoweb coating.
Guitar Mount Phone Holder
When playing off with the phone, sometimes it becomes really difficult to maintain the position. If you are one of those people who play frequently while using your phone, then I would suggest you buy a Guitar mount phone holder.
It is compatible with all smartphones. Also, it is adjustable with 360-degree rotation.
Picture Chord Encyclopedia
As we all know that guitar chords are very confusing.
So, in order to have a better understanding of guitar chords, this book would be extremely beneficial. This book is perfect for beginners.
Guitar Apparel
Whether you choose to buy a shirt, tie or a hat, it's still an interesting gift. If you know the preference of your player, then it will be easier for you to choose the apparel.
Here is the tip to find out the preference. You can look at their favorite guitar and match the apparel with it.
VariGrip Hand Exerciser
This is a hand exerciser. It is perfect for beginners. It will help them in perfecting grip allowing them to play longer without hurting their hand.
It is good for those who want to play longer sessions. This is one of the most interesting gifts you can give to someone.
Footrest
I suggest it is an executive for classical guitarists. If your friend finds it more comfortable to rest one leg, then you must buy this footrest.
It is a perfect gift for professionals and beginners alike.
Acoustic Guitar Sound Enhancement
This is perfect for a player who owns a low price instrument. A sound enhancement device will be inserted in the hole of an acoustic guitar.
It will provide more clarity and volume to the soundtrack.
Kava Capo
Capo or capotasto is a very simple device that is used to change the pitch of music quickly.
Instead of using barre chords for some songs, the capo is placed on a fret allowing the player to use open chords instead of a barre. Kava Capo is a high-quality product and a wonderful gift.
Troy Nelson – Guitar Aerobics
The book is about techniques and exercises that will help speed the learning process. It will train the guitarists to have a stronger grip, speed, stamina, and strength for playing guitar.
By having this book, players can easily get their hands in proper shape. There are numerous exercises for all music types.
Pick Punch
Pick Punch is a very interesting gift for guitarists. Guitarists buy way too many picks but they are often found without one.
Pick punch allows you to use the piece of plastic and just punch the guitar pick in a second. It is great for recycling. Now, it is very easy to make endless guitar picks without any effort.
Pykmax High-Performance Guitar Pick
Pykmax is known for designing picks that fit ergonomically in player's hands. It will protect them from a hand cramp.
It is comfortable and will never slip. It's designed to allow the fastest playing while your hand stays in a natural position.
Earplugs
For the average guitar player, there is no such thing as too loud. Earplugs are something that everyone forgets about. We don't realize how damaging is to be in front of an amplifier every night.
Simple earplugs can save your friend's hearing. Buy your earplugs and help him rock harder and longer.
Guitar to iPhone Adapter
Now, I am going to introduce you guys with a whole new world of mobile fun for guitar players.
This is a simple adapter that will connect your friend's guitar to the world of amplifiers and guitar pedals. All they need to do is to attach their guitar with the adapter and they are on the go.
Awesome Capo/Tuner Combo
There is an interesting option to buy both a guitar tuner and a capo at once. There is a good chance that your guitarist does not have either.
So, they will definitely love it and will start using it immediately.
Amazon Gift Card
It seems like gift cards are no more in the game. Amazon gift card allows you to introduce someone to new music, items, or anything else.
They will get access to millions of items they can buy on the website!
Guitar World magazine subscription
If the person you are buying a gift is interested in guitars, then you must buy them a magazine subscription.
It will keep them updated with the latest news.
Guitar strap
Guitar players usually have the one strap they use for years and it might be years before they think about replacing it.
You can get a more personal, high-quality guitar strap. There are infinite options to choose from color to design and material.
Coin Guitar Picks
For an artistic player, you can make coin guitar picks. Billy Gibbons from ZZ Top has been using silver Peso instead of a guitar pick for years.
The best thing about these picks is that they will last for life.
Dunlop System 65 Guitar Maintenance Kit
Dunlop guitar maintenance kits are one of the best in the market. This kit includes five cleaners along with the guidelines and relevant clothes to clean the guitar.
There is a fretboard cleaner & prep, fretboard deep conditioner, body gloss, string cleaner & conditioner, and guitar polish and cleaner. This set will keep every single part of your guitar in the best possible condition.
7 Multi Guitar Folding Stand
If you know someone with lots of guitars, this is another great option. It will keep all the instruments safe and organized in a very well-mannered way.
It has padded tubing which will protect the guitars from scratches and broken strings. It can hold all types of guitars.
Guitar Pop Chart
A guitar pop chart is something that will refresh the memory of guitar lovers.
This poster contains images of the most recognized guitars throughout rock history. It will look great on the wall.
Ernie Ball Musician's Toolkit
Probably the best guitar toolkit you can find. Everything you need to keep your guitar in perfect condition.
The tool kit includes a microfiber polish cloth, wonder wipes, string cutter, peg winder, screwdriver, ruler, and a set of hex wrench keys. Guitar set-up and re-stringing never been easier.
SpiderCapo
Does your player love to try new tunings? If yes, then here is the product you are looking for. Unlike the usual capo barres the all six strings, SpiderCapo has a setting for each string.
This allows players to experiment with different tunings without changing the tuning of the guitar itself.
Portable Guitar Practice Tool
A portable guitar practice tool is the best gift for beginners. Most of the time, it is not easy to carry the guitar around.
So, this practice tool will provide the opportunity to practice during the day. This gadget is made of plastic alloy with natural rosewood.
Self-Closing Guitar Wall Hanger
If you have seen that your friend does not have a good hanger for guitar. Then, you can gift them a self-closing wall hanger.
It will keep their guitar safe and protected. They can use it for a lifetime.
12 Pack Acoustic Studio Soundproofing Foam Bevel Tiles
These foam tiles can be installed anywhere to help your guitarist friend practice their soundtracks.
Whether your friend is playing acoustic or electric guitar soundproofing a practice room is one of the first things he should do. With these tiles, he can play a bit louder without disturbing neighbors.
Guitar Pedal
Depending on what your friend plays, you can always get him a pedal. A guitarist can never have enough pedals and the choice is almost infinite.
So whether you go for a wah pedal, delay, chorus, drive, boost or a simple tuner, there is a small chance your friend wouldn't be happy. We all love new toys and every new pedal is like Christmas for a guitarist
Planet Waves Circuit Breaker Cable
Cables are something that gets lost or broken too often. Any guitar player will tell you that there is never enough cables.
This D'Addario cable has a built-in momentary on-off switch that allows the player to plug in the guitar, or change guitars without any noise coming to the amp.
Vox amPlug
Vox amPlug is a gadget that can be attached to the guitar. Using the same input as a normal amplifier, allows the player to use headphones to hear the guitar without disturbing others.
It's a perfect gadget for anyone that's not able to play it on a regular amp with full volume. There are different models of the amp depending on the type of music you want to play.
Ernie Ball Peg Winder
Peg winder allows you to restring your instrument 70% faster.
It includes 4 AA batteries and has a universal head that allows you to restring any bass, acoustic or electric guitar.
Marshall MS2 Micro Guitar Amplifier
It looks like a well known Marshall amp but smaller. You can wear it on your belt or on a strap.
Works on a 9V batteries and can be easily carried. It has a headphones jack, volume, tone and drives control. It's fun to use and it is an amazing gift
Power for the Pedal Board
Electric guitarists usually keep a lot of pedals. First of all, this pedalboards saves a lot of space. You can fit 10 pedals in it.
There is no need for cables or countless batteries. You can plug all of your pedals and power them with one switch.
Guitar Stand and Stool
If you are looking for a valuable gift for your guitarist, then a guitar stand and stool is a perfect choice. It is made up of high-quality material.
It will allow them to rest their leg while playing. Also, it is very light in weight. It will fit just right in their home.
Gig Bag
It is almost impossible to carry a guitar anywhere without a gig bag or a case. The gig bag is durable with internal padding.
You can wear it on your shoulder, in your hand or on your back. There is also an extra pocket that can help you with any cables or pedals you might carry.
Starter Kit for the Beginner Guitarist
Beginnings can be hard. The beginner kit might help with the troubles we all had when we started learning to play.
It contains picks, a tuner, guitar care items, DVD series, strap, gig bag, and a guitar stand. More-less everything a beginner guitar player might need.
Audio-Technica ATH-M30x Professional Studio Monitor Headphones
Do you plan to jam out late at night with your guitarist friend? If yes, then you must gift it to them.
These are top-rated headphones which can be attached to almost every headphone jack. It has excellent quality and engineering. It has a convenient single cable exit.
Ergoplay Guitar Rest Professional
This is an interesting innovation for acoustic players. It allows the player more comfortable playing in that famous classical position.
It provides support for the leg with comfortable thigh rest. With easy to mount suction cups, and adjustable high an angle, this might be a lifesaver for a classical guitar player
Gator Cases Guitar Accessory Bag
If you have guitarists around you who travel a lot, then you have come to the right place. This equipment will fit their repair tools, chords, pedalboards and many other things of their need.
It will help them in managing their stuff during traveling. It will stop them from overstuffing their luggage.
Arobas Music Guitar Pro 6.0 Deluxe Soundbank Edition
Guitar Pro has been one of the essential programs for guitar players. It's simple to use, has both notes and tablatures. You can add effects on a guitar and even other instruments.
Countless effects are included in the program too. So whether you're creating music or just want to have it written, this is one of the best programs available.
D'Addario DIY Solderless Pedalboard Kit
This handy little kit allows you to create cables that are the exact length that you need. It will save you a lot of trouble and a lot of space.
The entire kit is solderless so no need for any extra tools. Plugs connect to the cable easily and no matter where you are. It also comes with a limited lifetime guarantee
Metronome
One of the things that most players forget is tempo. While it is one of the most essential tools for music playing, not many guitarists actually own one.
There is a small chance that your guitar friend has one, so this might be a great gift to help him always keep the right tempo.
Guitar Looper Pedal
Looper pedals are great for practicing. They allow you to play the rhythm part and then use the pedal to repeat the few bars you played as your rhythm guitar.
You can then play lead over it the chord progression you recorded. It is great for both solo artists and for beginners.
Full-Size Blue Electric Guitar with Amp, Case, and Accessories Pack Beginner Starter Package
This is a great deal for absolute beginners. The beginner pack includes an electric guitar, an amp, cables, picks, and a gig bag.
While it is not the best guitar or amp available, it is perfect for someone who wants to make the first steps towards being a guitar player. It can also be bought in the "left-handed" option.
Gibson Memory Cable
Gibson's memory cable is the latest technology in the market. It is something that can be used as a normal cable as well as an audio recorder. It allows you to record 13 hours of audio. You can record guitar, bass, drum machine, synthesizer.
The battery lasts for around eight hours. It durable and it comes with a built-in SD card. Of course, you could always get a regular cable that will ensure they get the maximum quality.
Roadie Tuner Automatic Guitar Tuner
Roadie Tuner is, for me at least, a thing from the future. It allows you to tune your guitar automatically.
You just strum the string, place the tuner on the tuning machine and the little motor inside the tuner will do the rest. It's compact, wireless, and quite an interesting innovation in the world of guitar tuners.
iRig BlueBoard Midi Interface
iRig BlueBoard is the first wireless Bluetooth MIDI pedalboard. It is compatible with iPhone, iPad, Mac, Android, and PC. It enables you to trigger any of the midi controllable gear you might have.
You can also use it to connect your generic expression pedal and then configure it as a wah pedal or a volume or any other thing you want.
Electric Guitar "EBow" Electric Bow
You can open a new world of sounds into the lives of electric guitar players. E-bow can add the effect of a cello or a violin.
They use magnets to give the effect of bowing while playing. It can also be used in place of picks.
New Set of Pickups
Sometimes it is a better option to upgrade your guitar than to buy a new one. If you know someone that loves his guitar but could really use an upgrade, search no more.
A new set of pickups will make an old guitar sound like a new one!
Xvive U2 rechargeable 2.4GHZ Wireless Guitar System
Sometimes, guitarists want to avoid the hassle of cords. For that purpose, the wireless guitar system is introduced. It can be attached to any amp and guitar.
It has a battery life of 5 hours. It has a range of at least 100 feet. It will make the job a lot easier for players.
Hammer Jammer
Hammer Jammer is an interesting gadget that is definitely not for everyone. It can be attached to both acoustic and electric guitar. It allows the player to play a bit more like a piano.
There are a set of hammers that hit strings instead of player strumming them. If you know someone that loves experimenting with different styles and techniques this might be a gift for them.
Guitar Display Case
If there is a special guitar in your life, this might be the right thing for you.
Wall hanger with a mahogany finish for electric guitars with UV protection from dust. You can display your guitar on a wall for everyone to see.
OMB for guitar
OMB or OneManBand is an interesting innovation for guitar playing. It is a digital backup band that adjusts to person guitar playing in real-time.
There is no latency and it also allows you to play other instruments' sounds. It is available for both acoustic and electric guitars.
Gator G-Tour Pedalboard-Low Tour Series
If you want to gift a pedalboard to a guitarist, then this is the product you are looking for. It contains everything you are looking for.
This is a perfect choice for all those guitarists who want to take their performance to the next level. It has excellent reviews from customers.
Martin Steel-String Backpacker Travel Guitar
We all know someone who loves to bring their guitar everywhere they go. This is why I have added this backpacker in my list.
This backpack has a super skinny frame which makes it very light in weight. It can be used for traveling, camping and for many other purposes
Bohemian motor oil – electric guitar
Electric guitars are quite unique. Similar to cigar-box or Bo Diddley's guitars. They are available with single or humbucker pickups.
They are limited edition so be sure to order your guitar.
iTrack Dock for Recording
If anyone of your guitarist friends is looking for a heavy garage band, then this is the ultimate solution. It is a very simple instrument that comes in handy.
It is a very powerful docking station that will connect the guitar with multiple inputs.
BeatBuddy
The BeatBuddy is a pedal and a drum machine combo. It allows the player to use it as a stompbox.
It gives the player a feeling of controlling a drum set while playing the guitar. It is an interesting improvement from old template backing tracks.
gTar
If someone is trying to learn to play guitar using a simple method. Then, this is the best gift for them. It will help them in learning where to put their fingers.
It is the fastest way to learn a guitar. You can gift it to someone to whom you are close.
Marshall Amp Fridge
No products found.
If you want to show someone that you love music equally as they do. Then, the Marshall amp fridge is something you are looking for.
It is the most popular amp in the music industry. The fridge is perfect for a few drinks for a pause in between the songs.
Folding Guitar
Folding acoustic guitar is a portable guitar. It can be easily stored in a very small space.
It is perfect for traveling since it can easily fit in the trunk of your car. It is available in both acoustic and electric versions.
Bose L1 Compact System
Do you want to give the best gift? If yes, then you must pick Bose L1 Compact System. This sound system has all the qualities a guitarist need.
This system produces incredible sound with its bass speaker and Bose Spatial Dispersion speaker technology. It has a very stylish and cool look as well.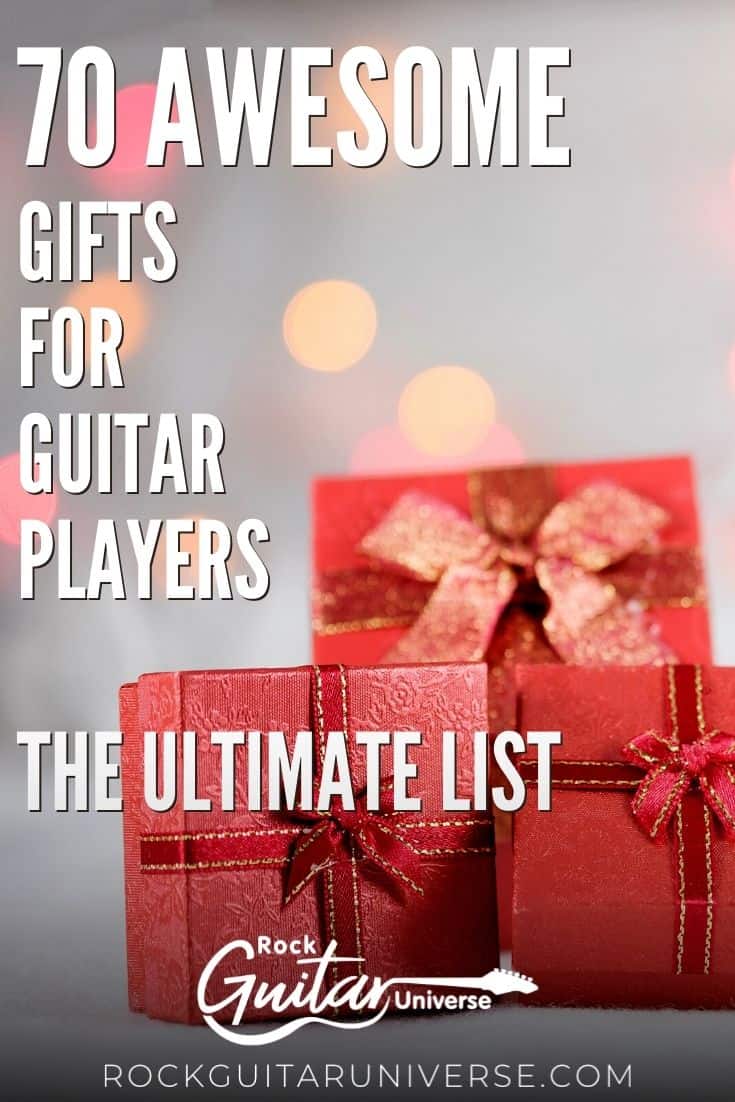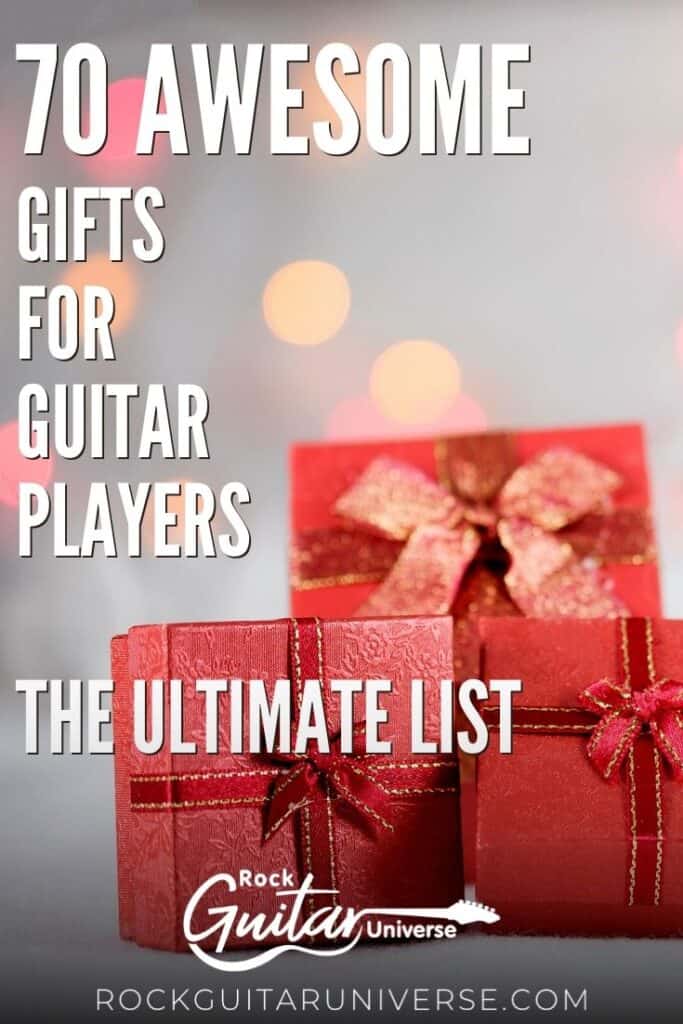 Last update on 2023-02-06 / Affiliate links / Images from Amazon Product Advertising API