Headphones are great for personal practice and playing sessions. Even though the powerful sound of the amps is great, there are situations in which you do not want to disturb the neighbors or somebody sleeping in your house, like your baby, wife or parents, or anyone else. That is when headphones come in handy, as they give you that powerful sound in a personalized way.
The amp headphones today have many forms and shapes, which are great for achieving the mentioned goals. In this article, I will be shortly reviewing some of the best amp headphones in different price ranges on the market, introducing them to you so that you can research and purchase the ones that catch your interest.
Boss Waza-Air Wireless
Top-quality low-latency Boss WL-T wireless transmitter
High-quality Low-latency Boss WL-T wireless transmitter
Up to 5 hours of battery life with rechargeable lithium battery
Bluetooth compatibility with built-in controls for volume and playback
3D algorithms
5 different amp types and over 50 effects from Boss Katana Amp Series
BOSS Tone Studio App
Six different memory slots for saving presets
Foldable portable design
Waza-Air is one of the most popular amp headphones today,y which comes with five different amp types and more than 50 effects taken from the Boss Katana Series. You can add chiming cleans, use searing high-gain distortion and drench the tones in reverb, delay, and mod effects however you like.
The amps and effects in the headphones are fully customizable, but there are also ready-to-play presets that you can try and see. These presets can be found in the Boss Tone Studio App. You can adjust them as you like in the app and store them in the slots.
The headphones also have BOSS's renowned WL series of wireless guitar transmitters, so you do not have to worry about cables or tangled-up cords. These headphones are great with ultra-low latency levels, premium sound quality, and wireless design. It is charged up by a rechargeable lithium-ion battery, which can power up the device for hours.
Vox VGH Rock Guitar Headphones
Designed with Audio-Technica for stellar sound quality
Perfect for silent practice and low-noise settings
Rock model delivers classic crunch directly to your ears
3 different amp modes for tonal variety
Onboard chorus, delay, and reverb effects (Rock and AC30 models only)
Durable, lengthy cable
Approximately 16 hours of life with 3 AAA batteries
Low-noise practice is a breeze with the Vox VGH Guitar Headphones. Using Vox's acclaimed amPlug technology and combining it with Audio-Technica's innovative headphone design, VGH Guitar Headphones deliver top-notch guitar tones perfect for late-night sessions or wherever cranking your full-stack is frowned upon.
Each VGH model has three distinct amp modes for different sonic varieties, and onboard chorus, delay, and reverb effects allow you to dial in your perfect sound. Sweetwater guitarists believe that you should practice how you play, and with Vox VGH Headphones, it's easy to hone your tone without compromise.
Audio Technica Ath M50x
Great build quality and sonic performance made by top audio engineers and pro audio reviewers
15Hz–28kHz frequency response
Neodymium magnets with 45 mm drivers and copper-clad aluminum wires
Flat response and super accuracy in all frequency ranges
Good level of isolation in loud environments with the circumaural design contours around the ears
Comfortable ear band and headband materials
Portable with the collapsible design
Detachable cables (3.9–9.8-foot coiled cable, 3.9-foot straight cable, and 9.8-foot straight cable)
Audio Technica Ath M50x is the popular closed-back design that is one of the best-selling headphones today. They come equipped with 45mm neodymium-magnet drivers that offer accurate frequency response and great detail for recording, mixing, or DJing.
The best aspect of the headphones is the superior isolation with minimal bleed. Another plus is the circumaural earpads deliver high comfort to the ears for long sessions. The collapsible design makes the headphones pretty portable as it significantly saves space.
Thanks to the high-quality materials, the ATH-M50x earpads and headbands are highly durable and comfortable. It also has 90° swiveling earcups for one-ear monitoring. Overall they are great headphones if you are after a flat frequency response range.
AKG K-240
Outstanding audio headphones designed for mixing, monitoring, and critical listening
Great accuracy without sacrificing acoustic isolation with the semi-open back design
Comfortable and adjustable headband
Easily replaceable mini XLR jack with 10' cable
Extra earcups available
Includes gold-plated, screw-on 1/8″-1/4″ plug adapter
The AKG 240 Studio over-ear, semi-open headphones are ideal for professional uses such as mastering, mixing, playback, and monitoring. The headphones feature advanced 30 mm XXL transducers with unique Varimotion diaphragms, which provide amazing sensitivity, high output levels, and wide dynamic frequency response ranges. The sonic performance is quite exceptional, with a solid bass range and extremely clear highs.
The headphones offer outstanding accuracy for music enthusiasts, musicians, producers as well as sound engineers. It is one of the most popular models among studios and is widely used in recording settings. Besides the great sonic performance, the headphones are highly comfortable and durable. When used for extended periods, it does not give any disturbance thanks to the self-adjusting headband for an ideal fit and over-ear pads.
The model comes with a professional mini XLR connector and a 3-meter cable along with a convertible jack plug. Overall, the AKG K240 Studio is a highly powerful device for any kind of music production as well as monitoring appliances.
Beyerdynamic DT-770 Pro
Closed-back studio headphones with diffuse-field EQ levels
Innovative bass response design
Sturdy construction with a steel headband
All parts replaceable
Comfortable soft velour headband for long periods of use
9.8' straight single-sided cable
Gold plated 1/8″ TRS plug and 1/4″ adapter included
Comes with a drawstring storage bag
Beyerdynamic DT 770 Pro delivers professional-grade sound with its closed-back design. The headphones are great for critical listening and monitoring applications. They deliver highly accurate sound, and the design is highly comfortable, which is great for long periods of use.
The frequency response range is quite great, with a 5 Hz to 35 kHz range. The closed-ear design is also useful as it minimizes the outside noise and creates a great fit for your ears, directing the sound directly to your ears. The Beyerdynamic DT 770 Pro dynamic headphones are specially designed for monitoring and critical listening applications in an open environment.
Overall, the headphones are highly durable and perform great: they are a great addition to any home studio setup or to any professional studio.
Sennheiser HD 650
Dynamic hi-fi stereo headphones with an open-back design and top-of-the-range performance
Hand-picked in pairs, the system features narrow tolerances (+/-1 dB)
Titanium-silver finish and elegant look
Balanced and precise attenuation with the special acoustic silk
Detachable connecting cable with highly conductive Kevlar-reinforced oxygen-free copper
Low handling noise
Lightweight aluminum voice coils for transient response
Highly comfortable design thanks to the elliptical shape designed specially to provide extra comfort to ears
Sennheiser HD 650 is designed with great attention to detail to provide great musicality for joyful listening experiences. The headphones are made in Ireland at a high-grade production facility. The design features great attention to detail for handling a different variety of acoustic materials and the best of modern transducer manufacturing.
The quality control is extremely tight, which is great for ensuring all of the individual headphones created and distributed all around the world perform the same. For instance, the resonators are made with stainless steel to guarantee the same-level performance.
HD 650 has all the parts modular, which means you can keep them as your go-to hi-fi playback headphones as long as you want. Each part of the design, from velour pads to the earcup grills, is crafted to provide a next-level personal sound experience.
Sony MDR-7506
Ideal headphones for professional-grade studio monitoring, critical listening, or simply enjoying music
Great sound isolation and consistent listening performance with the closed-back design
Fully adjustable headband for optimum comfort
Durable folding design for portability
Works both with both 1/4″ and 1/8″ headphone jacks with the stereo Unimatch technology
Gold connectors and oxygen-free copper cord for top-notch sound transmission
10 Hz to 20 kHz frequency response range to cover all audible spectrum
Sony MDR-7506 is one of the leading designs of Sony, which comes with a closed-back design. It is a popular model in the music industry and is one of the most-sold headphones models as it offers great value for the price offered. The main stars of the show are the large, well-tuned 40mm drivers or the gold connectors and oxygen-free copper, delivering top-quality sound.
The earcup design is also worth mentioning as they make the listening experience exceptional. The thick, widely spaced earcups isolate the sound perfectly while offering a highly comfortable fit for ears. So, extra long sessions with these headphones are quite smooth.
AKG K553 MKII
Great over-ear headphones with 50 mm transducers
Perfect noise isolation with a closed-back design
A transparent and spacious sonic performance like open-back headphones
Low-impedance drivers for consistent performance with virtually any headphone connection
Foldable design for portability
A detachable cable to extend the life of the product
Features a 1/8″ plug and comes with a 1/4″ adapter
AKG K553 MKII shines with its perfect noise isolation with the closed-back design along with the transparent sound that you are used to having with open-back headphones. It has upgraded 50 mm transducers for top-grade sound. Furthermore, the soft ear pads deliver extra comfort for long sessions. Finally, it comes with a detachable cable which extends the life of the product.
While the headphones are ideal for playing your instrument through an amp for silenced sessions, they also perform great when used to listen to casual music through your computer or smart device. For studio uses again, the headphones provide decent performance.
Yamaha HPH-MT7
Great headphones designed especially for mixing
Reproduces the whole audible spectrum (15Hz-25kHz) with its 40mm CCAW neodymium drivers
Comfortable design, ideal for long sessions
Closed-back headphones for better sound isolation
Circumaural design sealing around the ear for deep, accurate bass
One-on-one-off monitoring option as the ear cups can flip-up
49 ohms of impedance
99 dB/mW sensitivity
Yamaha HPH-MT7 Studio Monitor Headphones is a high-performing pair of headphones designed to reproduce the whole audible spectrum for hassle-free studio monitoring and mixing. They are great for completing the final touches on mixes to hear your material in a realistic light. They also perform great when monitoring as they cover the whole audio spectrum.
Yamaha HPH-MT7 is equipped with full-range 40 mm neodymium dynamic drivers that deliver extremely accurate sound reproduction in all spectrums. The ABS headband design is highly comfortable, and the ear cups, as well as the pads, are great for long practice and mixing sessions. The headphones come with a carry bag, 10-foot detachable cable, and 1/4″ adapter.
Shure SRH840
Perfect for professional-grade studios for mixing and monitoring
Improved bass richness, mid clarity, and treble presence with the premium Shure drivers
Elegant looks with gold accenting
Premium padding headband for extra comfort during extended use
Closed-back design for better sound isolation
Comes with a 1/8-inch cable with 1/4-inch gold-plated adapter
The Suhr SRH840A Professional Monitoring Headphones is one of the high-grade models of the famous Shure designs. The headphones feature premium drivers for optimum playback quality with richer bass, clear mids, and soaring treble ranges.
Besides the top-grade sound quality you'd expect from Suhr, the headphones look incredible with the sleek design and gold accents. The premium pads on the headband significantly increase the comfort for long sessions.
The closed-back design is ideal for total sound isolation to prevent distractions in the studio or during practice. The foldable design makes them more portable, and the 1/8-inch cable and 1/4-inch gold-plated adapter make them more versatile to use with different devices.
Samson SR850
No products found.
Exceptional depth and low-end resolution with oversized 50 mm drivers
Semi-open-back design allows you to hear every detail of your tracks by preventing overwhelming bass
Self-adjusting headband for more stability and comfort makes the headphones suitable for long sessions
Acoustic memory foam ear cushions
SR850 Semi-Open Studio Headphones feature solid bass response and clear highs to deliver great performance for sound engineers, musicians as well as music enthusiasts. The semi-open back design is great for a balanced sound without overwhelming bass, accurate headphone monitoring, and complete comfort.
The semi-open design offers appropriate bleed for better stereo imaging and a wider sound stage which is the biggest advantage of the semi-open design. The 50 mm drivers provide outstanding sound reproduction and a wide dynamic range to hear your final mixes truly and simply enjoy listening to casual music better with higher-quality sound.
In short, the Samson SR850 feature great value for the price they are offered. The headphones sit a bit on the brighter side of the sound spectrum, but the soundstage is quite amazing.
KRK KNS 8402
Based on the true character of KRK's premium class studio monitors
Replaceable parts including cable, head, and ear cushions for longer life
Foldable and adjustable design for more portability and comfort
Circumaural closed-back design
Detachable 8.2-foot straight oxygen-free copper cable with gold-plated 1/8-inch stereo connector and 1/4-inch screw-on adapter
1.57-inch low-weight neodymium driver
5 Hz to 23 kHz frequency response
Professional headphones always face big expectations, and the KRK KNS 8402 closed-back monitor headphones truly meet those expectations. The headphones are voiced to stay loyal to the true character of KRK's class-leading studio monitors; the 8402s are designed specially to work as a reference monitor allowing you to use them just like you use reference speakers.
The headphones deliver exceptionally accurate sound reproduction, with natural and wide frequency response on all ranges with an articulated and silky treble, along with extended and accurate bass. The headphones' robust dynamic range of the KRK KNS 8402s also features low-distortion detail and clarity.
Philips X2 27 Fidelio
Sound reproduction in the purest form with the high-resolution audio
60 mm neodymium drivers for a powerful wide yet precise range
Crystal clear audio with the acoustic open-back design
Breathable cushions to prevent issues with the heat and pressure
Double-layered ear shells designed for precise sound
Philips X2 27 Fidelio is famous for its high-resolution audio technology offering the best in sonic performance, which is way more successful in reproducing original studio master recordings compared to the 16bit/44.1kHz CD formats. The headphones never sacrifice audio quality, which makes them the best companions for music lovers.
Fidelio headphones have all the qualities required for the Hi-Res Audio stamp of quality. The shining star of these headphones is the smooth extended high frequencies that make you get more from your music.
The speakers of the device are handpicked, tuned, and tested. They are paired for the most detailed natural sound possible for monitoring and critical listening. As they come equipped with 50 mm drivers with high-power neodymium magnets for accurate music reproduction, the sonic performance is amazing with all the dynamics as well as crisp bass, transparent mids, and crystal clear highs.
Focal Listen Professional
Elegant and stylish design
Foldable headphones for extra portability
Features remote and mic
Flat, full-range (5Hz–22kHz) frequency response
Memorable listening experience with 40 mm Mylar and titanium drivers
Custom-fit with heat-sensitive ear cups
Silicone-layered headband for even weight distribution
Closed-back and circumaural design for noise isolation
22 mm memory foam ear cushions with microfiber linings
Perfect for phones, laptops, and mobile devices with a low impedance (32 ohms)
Focal Listen Professional catches the eye with its elegant and stylish design. They are the successors of the Spirit Pros, the famous range of headphones. This one features a foldable design, 40 mm drivers, passive noise isolation, and universal smart device compatibility.
The headphones are suited for everyday use, but they perform great as amp headphones as well. The features are great for casual uses, such as universal smart device compatibility, a highly comfortable design with memory foam cups, and a head-conforming, silicone-lined headband for long periods of use.
Sennheiser HD-600
Very transparent sound with the top-quality open metal earpiece covers
Harmonic minimization and distortion intermodulation with computer-optimized magnet systems
Very light-weight aluminum voice coils for highly transient response
Optimum sensitivity and excellent dynamic response with the neodymium ferrous magnet systems
Outstandingly natural, accurate, and spatial sound
Detachable oxygen-free Kevlar-reinforced, copper cable
12Hz-39kHz frequency response
1/8″ stereo mini-jack plug with an adapter to 1/4″ stereo jack plug
Sennheiser HD-600 is an audiophile-favorite pair of headphones with its great design standards, ensuring the finest performance possible. The open, dynamic professional stereo phones are ideal for professional audio engineers to record music.
The main advantage of these headphones is their durability. All the parts are replaceable and can be found easily online or in physical stores. The cushioned earpad and adjustable cushioned headbands are great for comfort, while the high-quality open-ear cups with metal mesh covers look aesthetically great and deliver extremely transparent sound.
The headphones may slightly leak sound, but the acoustic of the headphones is outstanding. The impedance is 300 ohms, and the dynamic response range is extremely wide: 12 Hz to 39 kHz so that you can hear all the details of your guitar tone. The headphones deliver optimum sensitivity and dynamics with neodymium magnets and lightweight aluminum voice coils.
Beyerdynamic DT-880
Coiled single-sided cable
All parts replaceable
Comes with a nylon drawstring bag
Semi-open earpieces with dynamic transducer
Wide frequency response range 5 Hz to 35 kHz
The nominal impedance of 250 ohms
Nominal SPL of 96 dB
Gold vaporized stereo 1/8″ mini-jack and 1/4″ adapter.
The Beyerdynamic DT 880 Pro headphones are another outstanding pair of headphones with great specs and build quality. The semi-open design combines the advantages of both open and closed-back designs and is ideal for extended listening sessions, monitoring while recording amplified instruments and drums, or for casual music listening.
When using mics, it gives you enough air when tracking instruments while still having great sound isolation. Plus, it has a lushly padded headband giving extra comfort to the Beyerdynamic DT 880 Pro headphones when used for longer periods of time.
The headphones have a wide frequency response range of 5 Hz to 35 kHz with clean and clear details. The sound quality is quite outstanding, from the crispy highs to deep bass. The neutral balanced mids are extremely strong without being predominant. The headphones are some of the greatest in the price range.
Grado SR80e Prestige Series
Award-winning headphones with the open back design
Large sound stage with amazing clarity and detail
Lightweight and highly comfortable
Mini plug termination with the 1/4 " adapter
32 ohms nominal impedance
99.8 dB of nominal SPL
20 Hz to 20 kHz frequency response range
Grado SR80e Prestige Series is great for exploring new details in the song you have heard hundreds of times. The driver and the housing work together to create high-quality sound reacting to sound vibrations and virtually eliminating the transient distortion issues. The headphones also deliver excellent dynamics with full-bodied vocals, which complements the musical characteristics of the SR80x.
The headphones are more suited toward mid-focused genres such as rock, blues, and metal. That is why they also perform great when used with electric guitars and amps. Along with the speakers, the cable and the headband feature durable exteriors, and the design successfully protects the audio signal's purity. The headband features comfy cushions for using the headphones for long periods.
KRK KNS 6402
Great sound isolation of up to 26 dB to prevent headphone bleed
All parts are replaceable, including cable, head, and ear cushions for longer life
Dynamic, circumaural, closed-back headphones
Detachable 8.2-foot straight oxygen-free copper cable
Gold-plated stereo 1/8-inch connector
Acoustic cellular foam ear cushion
Wide dynamic response range from 10 Hz to 22 kHz
KRK KNS 6402 headphones are created with a design based on the character of KRK's industry-leading studio monitors. The 6402s are created to be a true reference monitor allowing you to record and mix just like using speakers.
The headphones are amazingly accurate as they provide a natural wide frequency response with articulated and silky highs and extended lows. The strong dynamic range of the headphones also has low-distortion levels without any issues in clarity and detail.
The KRK KNS 6402 headphones are created with comfort in mind as a priority. So the circumaural cradles the ear for a comfortable experience during long periods of use. All parts of the product are replaceable so that you can have a product with a long life. So you can trust these headphones fully.
Status Audio CB-1
50 mm drivers
Compatible with any 3.5 mm cable
Oversized and comfortable ear pads
9-foot audio cables – one coiled, one straight
The wide frequency range of 15 Hz to 30 kHz
Impedance level of 32 ohms, the golden standard for a guitar amp
The Status Audio CB-1 is an industry-standard pair of headphones praised by top musicians, producers, and audio engineers. It comes equipped with large 50 mm drivers providing studio-quality audio with a wide soundstage. You can hear the music as the artists, producers, mix, and mastering engineers intended with these headphones.
The CB-1 headphones feature padded headbands and overstuffed earpads for extra comfort during long sessions. It has an over-ear design fully enclosing the ear along with the passive noise canceling system to prevent outside distractions without putting extra pressure on the head.
Vox VH-Q1 Smart Noise Cancelling
Great audio quality with wide frequency response and high dynamics
Smart sound improvement to mix external noises continuously
Mics on the inside and outside the earphones
Bluetooth or cable connection possible
Can be used as a Bluetooth headset
Frequency range: 10 Hz – 25,000 Hz
Battery life: Max. 36 h
The Vox VH-Q1 Smart Noise Cancelling headphones offer a unique Active Noise Cancelling system and high-definition wireless audio monitoring of your playing both through an amp or acoustically. The easy-to-control Smart Monitoring with Sound Enhancement creates balance in your sound while you are playing live with audio or backing tracks. They are highly versatile and ideal products for practice as well as live performance sessions.
The headphones also have different features for different uses, such as hands-free calling with clear audio. So you can use the device as a Bluetooth headset. The physical buttons and switches with a tactics touch-sensitive earcup for accurate and fast control. It is a highly versatile pair of headphones for different uses and has an amazing active noise cancellation system.
Conclusion
These units offer a lot of possibilities for almost every guitar player. Some have more features than others, but they all allow you to practice and enjoy your playing without disturbing others around you. They are portable, you can take them anywhere, and with well-edited sounds, they can sound amazing.
It's something every guitar player should have at home, or in a guitar suitcase, always ready for playing when inspiration strikes. Hopefully, in this article, you'll find one, or maybe more, that will best fit your needs. With silly prices for the cheaper ones, you just have to agree they are in price reach for everyone interested in buying.
If you found this article useful you may want to save this pin below to your Guitar board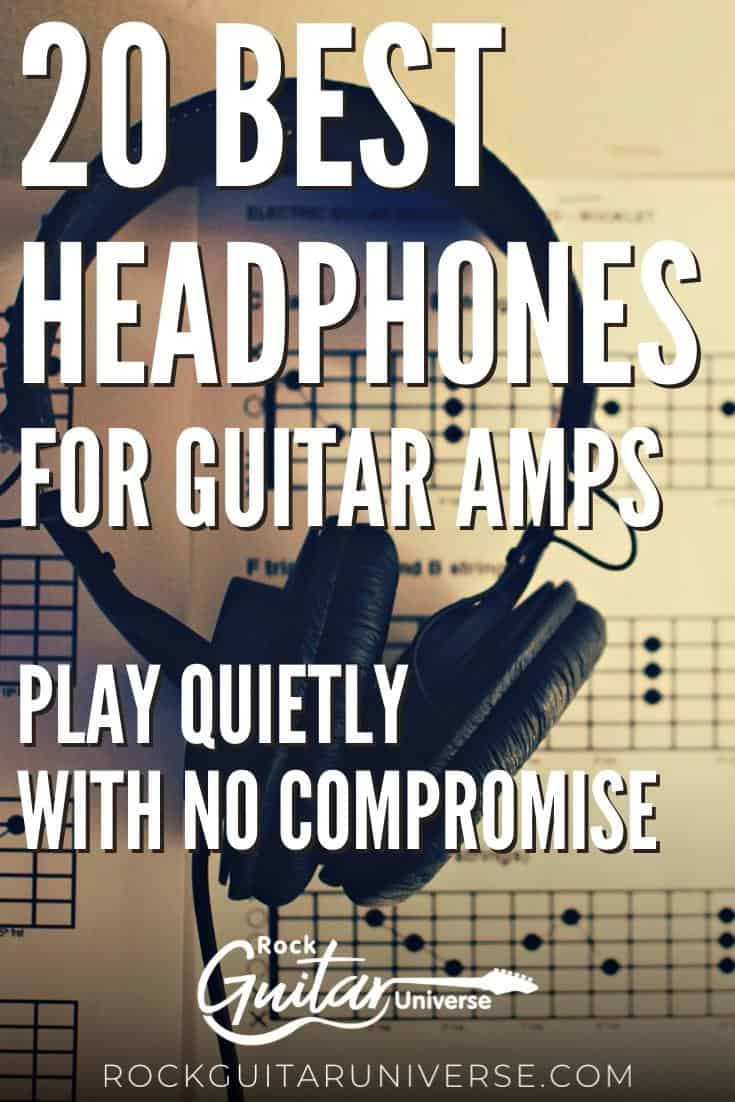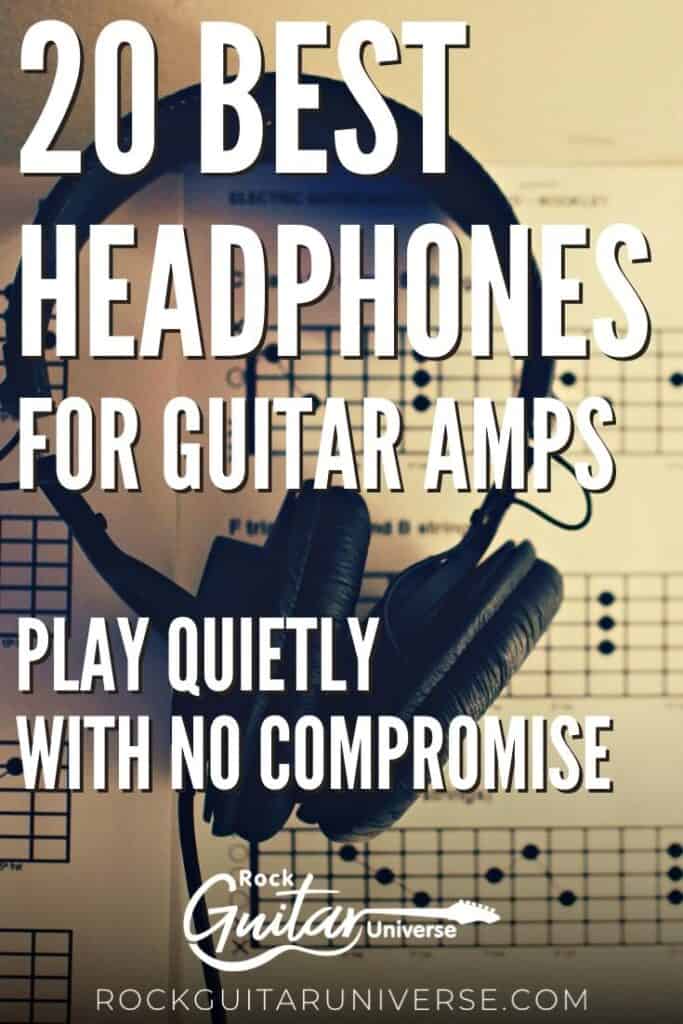 Last update on 2023-02-06 / Affiliate links / Images from Amazon Product Advertising API