If you are new to guitar effects pedals, you may ask yourself, "what does a pitch shifter do?".
Basically, a pitch shifter pedal takes the note that you are playing and shifts its pitch up or down.
Most of the pitch shifters nowadays can also keep your original note and blend it with the one created by the pedal. If you like to experiment with your guitar tone, I bet that this sounds rather fun.
There are at least two types of pitch shifting pedals I will be reviewing here. The first ones shift the pitch of your playing to a particular interval that you've previously set on the pedal, while the other type (like the popular Whammy by Digitech) will let you bend your note in real-time with the foot lever on the pedal.
Top 4 Budget Pitch Shifter Pedals Under $50
While pitch-shifting pedals are pretty expensive to produce, some of the companies keep finding ways to produce them at an affordable price.
Being on a budget in these times doesn't stop you from experimenting with new and exciting pedals. If you are building your first pedalboard, you don't want to spend your whole savings. This is where brands like Donner come into the picture.
Hotone Skyline Harmony
Red
Led indicator
Dry/Wet knobs
Three-way mode switch
Rotary switch for setting the intervals
190 g
74mm x 44mm x 44mm
The Hotone Skyline Harmony is a pitch-shifting mini pedal that has a lot of versatility.
On the pedal, there is a three-way toggle switch, Dry and Wet knobs, while on the top of the pedal, there is a rotary knob. The rotary knob allows you to set how many semitones you want to pitch-shift your played notes.
The toggle switch allows you to choose whether you want to pitch up or down or detune. You can pitch-shift up and down by 1, 2, 3, 4, 5, 6, 7, 8, 9, 10, 12, and 24 semitones, or detune your notes by 25, 20, 15, 10, and 5 cents up and down.
Small and lightweight, this pedal is flexible and reliable, even for live gigs.
The on/off switch is a true bypass one, which is, of course, preferred, and soft enough so you won't hurt your feet.
Donner Harmonic Square
Small enclosure
Aluminium-alloy case
True bypass switching
Three modes
Dry/Wet control pots
Flexible pitch-shifting options
When reviewing budget pedals, Donner keeps coming to my mind. This brand produces one of the best affordable stomp-boxes on the market. It is almost unbelievable how they can make their products be of relatively good quality yet sell them at meager prices.
The Harmonic Square has tiny Wet and Dry potentiometers, a three-way switch, and a big Rotary switch. The rotary switch lets us set how much I want to pitch-shift up or down.
The toggle switch has three modes: Sharp, Detune, and Flat. The Rotary switch gives us the option to pitch-shift 2, 3, 4, 5, and 7 semitones up and down, and also an octave and two octaves up or down.
CUVAVE DIG Pitch
Blue
Small enclosure
Easy-to-use
Great value for the money
The Cuvave Dig Pitch is another affordable pitch-shifter pedal. On the unit, you'll find Dry and Wet control knobs and a selector switch for setting your desired interval. The Dig Pitch offers shifting to -12, -7, -3, -1, 1, 3, 5, 7, and 12 semitones.
It utilizes true bypass switching, and it's powered by a 9V power adaptor with a negative center pole.
This pocket-size pedal fits on your pedalboard without taking too much space.
Behringer FX600 Digital Multi-FX Pedal
Budget-friendly
Multiple effects
Stereo outputs
Nice for the price
Although the Behringer FX600 is not only a pitch-shifter pedal, it does have a pitch-shifting effect.
And if you are on a tight budget but you still want to try the magic of pitch-shifting with your guitar, I recommend checking this pedal out.
The FX600 has six effects in it – Flanger, Chorus, Phaser, Delay, Tremolo, and of course, a Pitch-Shifter. Because in this article, I am reviewing pitch-shifter pedals, I won't focus on the other effects of this pedal. Instead, I will only review the pitch shifter effect.
Other than the mode-selector knob, the FX600 has three control knobs: Level, Par1, and Par2. When you set the FX600 in a Pitch-Shift mode, the Level knob control knob sets the volume of the effect, the Par1 control knob sets a Detune effect, and the Par2 control knob sets the pitch interval. The FX600 has stereo outputs, and it's powered by a 9V power adaptor or by a 9V battery.
Top 5 Budget Pitch Shifter Pedals Under $100
When buying gear, usually, the price dictates the quality. Of course, pitch-shifter guitar pedals are not an exception. Sometimes you don't need to spend the college funds for the kids that you and your wife were saving up for years and still get a good guitar pedal.
Nowadays, there are brands on the market that can make a great-sounding guitar pedal for an affordable price. For example, Mooer, Caline, Boss, Behringer, etc… All these brands make decent effect pedals that sell for affordable prices.
The pitch shifter pedals that sell under 50$ bucks will do the most basic thing that a pitch shifter should do. However, at a price higher than 50$, I expect at least better tracking, and of course, more versatility. Let's review what's on the market when it comes to pitch-shifting under 100$.
Digitech Drop
No garble sounds
Great tracking
Time and money saver
If you are a heavy rock/metal guitar player, you may fall in love with the Digitech Drop. This pedal drops your tuning with one stomping on the footswitch. Oh boy, is it a lifesaver – instead of swapping up guitars several times during a show, you can drop your tuning on the fly!
The Digitech Drop is fast at tracking, and it doesn't produce any unwanted pitch artifacts. It is very sturdy, and on top of that – it is affordable. This pedal can drop pitch down to seven semitones, an octave, plus you can have an octave down and your dry signal at the same time.
On the pedal, there is a rotary selector switch for setting how much you want to drop your tunning and LED indicators that show how many semitones you are down.
Also, there is a toggle switch that sets whether you want the footswitch to be Momentary or not.
It gets powered by a 9V power adaptor, which comes included in the price.
Mooer Pitch Box
Pedalboard-friendly
A simple layout of controls
Affordable
Three modes
Mooer is a fresh brand on the market for guitar pedals from China, and oh boy, do they rock the market. Their pedals are very affordable, but when it comes to quality, they can stand up to many pedals that are produced by brands that have been on the market for decades.
The Pitch Box is part of Mooer's Micro series, which means that the pedal's enclosure is just a little bigger than a matchbox. On the pedal, you will find a very simplistic layout of controls – it has only a three-way mode switch and a big rotary Pitch knob, which serves for setting the semitones that I am aiming to pitch-shift.
The three modes available on this unit are Harmony, Pitch Shift, and Detune. The Pitch knob allows us to choose these semitones up and down from what I am playing: 1, 2, 3, 5, 7, 9, 12, and 24. Although small and simple, the Mooer Pitch Box can strike creativity – I am talking about one versatile monster!
Caline CP-36 Big Dipper
Brown-blue coloring
Wallet-friendly
Sturdy design
Easy to use
Flexible
The Caline CP-36 Big Dipper is yet another affordable option that you can seriously take into consideration if you are looking for a budget-friendly pitch-shifter pedal.
Just like most of the other pitch-shifter pedals in its price range, the Big Dipper has a three-way mode switch (Detune, Up, Down), Wet and Dry control knobs, and a Rotary switch for selecting which intervals you want to add as harmony to your playing or pitch-shift to.
The Detune mode also uses the rotary switch; just in this, the rotary switch serves so you can set how many cents you would want to detune your originally played note (it goes from -15 to +25 cents).
Mooer Tender Octaver MkII
Small size
Budget-friendly
Flexible
Simple
The Mooer Tender Octaver MkII is part of the Micro series that Mooer produces.
This little sweetheart of a pedal will fit right into your pocket, but it can also make your guitar sound way bigger than it usually does. I am talking about an Octaver pedal that comes at an affordable price, that is easy to use, and that will make your audience scream "Whoa!" when they hear your instrument.
The Tender Octaver has three algorithms – Fat, Tight, and Swell. They are accessible through the three-way switch, located between the Sub and Upper control knobs.
In the center of the pedal, there is a big Dry control knob, which is pretty self-explanatory.
This pedal can find its way to the hearts of many guitar players and will stay on their pedalboards for a long, long time. And although it is not the type of pitch-shifter that can do all sorts of intervals and harmonies, it will make a lot of guitars sound beautiful.
TC Electronic Sub'N'Up
Nice looks
Three modes
TonePrint feature
Affordable, yet reliable
If you are looking for an Octaver pedal that will blow your brains out, you might want to check out the Sub'N'Up pedal by TC Electronic.
This pedal can add up one octave above, one octave below, and two octaves below at the same time, and it will make your guitar sound HUGE.
On the pedal, you will find four control knobs, Dry, Up, Sub, and Sub. Other than that, there is the three-way toggle switch that offers three modes – Classic, Poly, and TonePrint.
As you already know, the TonePrint feature allows us to edit my pedal's sounds via the TonePrint app using my Android/iPhone/Mac/PC device.
Top 6 Budget Pitch Shifter Pedals Under $150
In the Under $150, you will come across a lot of great options for a pitch-shifter pedal.
In this list, I am looking at entirely different types of pitch-shifters, each of them being unique in their own way. Some of these pedals are very modern, and if you are not afraid of using technology, you can make your guitar sing with them.
On the other side, in this list, some pedals are pretty much intuitive, and you don't need to read the manual to figure them out. Well, not that the modern pedals require a Ph.D. in Atom Physics or something like that, but you get what I mean. In the end, it all depends on what exactly you are looking for. Let's get to it!
TC Electronic Brainwaves
Polyphonic
Dual-voiced
Versatile
Modern
Fast-tracking
The TC Electronic Brainwaves is a kind of a gem when it comes to pitch-shifting.
It is put in a very compact box, yet it offers a ton of versatility. The Brainwaves is a polyphonic pitch-shifter – this means it can shift more than one note at the same time.
It has a rotary mode switch with four modes (Pitch, V1<V2, Wham, and Detune). Then, there is a Mix control knob (Dry/Wet) and Voice 1 and Voice 2 rotary switches for selecting your desired intervals. There are also dedicated toggle switches for each of the Voices.
The Voice knobs allow us to choose from 2, 3, 4, 5, 6, 7, 9, 12, and 24 semitones up and down. These two are completely independent of each other. Using the TonePrint feature allows you to edit your tones using your PC/Mac/iPhone/Android/Ipad device. Lastly, I must mention the "Mash" switch, which allows us to pitch-bend notes, just like the Whammy does!
Boss MO-2 Multi-Overtone
Solid as a tank
Intuitive
Stereo Outputs
The Boss MO-2 Multi-Overtone pedal is aimed at players interested in adding a layer of overtones to their playing. With the MO-2 pedal, your sound will become fuller and rounder, and sometimes that's all a player needs.
I guess that a lot of modern jazz guitar players will be interested in this pedal. On the pedal, first, you'll find three control knobs (Balance, Tone, and Detune). Then, there is the three-way mode selector switch. 
This switch lets you choose between Unison, Octave below, and Octave above. The MO-2 has stereo outputs – so making your guitar sound big is even more convenient. Although this pedal is not my typical pitch-shifter pedal, it might be the thing you're looking for. Check it out!
Boss OC-5 Super Octave
Sturdy and durable
3Octaves range
Convenient for both guitar and bass
As I mentioned in the introduction of this article, Octave pedals are pitch-shifters too! And maybe that's what you are interested in – doubling your solos with an octave, so your guitar will be more present in the mix.
The OC-5 Super Octave pedal, like any other Boss product, is built so it can last for a lifetime. On the unit, you will find four control knobs – Direct level, +1 Octave level, -1 Octave level, and -2 Octave/Range control knob, and a Vintage/Poly mode switch.
This pedal is convenient for both bass and guitar use, and what makes it even better is the fact that it has two outputs – a Direct Output (which lets through your dry signal) and the standard output.
Easy to use, sturdy and durable as it can get, the Boss OC-5 is worth checking out if that's what you are looking for.
Mooer Pitch Step
Small footprint
Intuitive
Budget-friendly
The Mooer Pitch Step was displayed for the first time at the NAMM show three years ago (2018), and it was a game-changer – this little pitch-shifter/pitch-bender was modern and reliable, yet affordable and easy-to-use. It is very compact, and it can be powered either by a 9V power or by a battery, which makes it very pedalboard-friendly. With the Mooer Pitch-step, you can pitch shift up and down an octave.
On its side, you'll find two toggle switches (Sub/Up/S&U and Sensor/Switch), two controls for setting the volume of the pitch-shifted note, and a harmony button. The Sub/Up/S&U button serves so you can choose whether you want to pitch shift Up, Down, or both; the Sensor/Switch is for choosing how you want to activate the pedal – you can do that by just placing your foot on the pedal if you set to Sensor, or by the good old way by clicking the pedal down – when you set the Switch mode.
If you want your original note to stay in the signal, activate the harmony button, and you are good to go. It seems like every player that owns this unit is pretty satisfied with its performance. So yeah, this pedal deserves checking it out.
TC Electronic Quintessence Harmony
The TC Electronic Quintessence Harmony is yet another pitch-shifter/harmonizer pedal worth checking out. Here, I am looking at a modern guitar pedal that tracks fantastically well, is extremely precise, and will take you into a whole another world of guitar tone sculpting.
In the left corner of the pedal, there is a Key knob for selecting the key you are playing in, and right next to it, you will find a toggle switch that lets you choose between natural and sharp keys. In the right corner of the pedal, there is a Scale rotary switch that lets you choose the scale mode you want to play with. Then, there is the Mix (Wet/Dry knob), right next to it, it is the Latch/Momentary toggle switch, and last but not least, there is the Harmony selector switch.
The Harmony selector switch allows us to add a -6th, -4th, -3rd, 3rd, 5th, 6th, 3rd+5th, and 3rd+6th interval, plus there are three TonePrint spots, so you can make your own choice of intervals using TC Electronic's TonePrint app. The Quintessence Harmony has stereo inputs and stereo outputs, so yeah, if you are the big tone guy, you can do your magic very easily.
T-Rex Quint Machine
Polyphonic
Awesome at tracking
Easy to use
T-Rex is a pedal company from Denmark that produces fantastic sounding pedals.
This stomp-box is an Octaver pedal that can also add up a perfect fifth to your playing. It is a polyphonic one, which means it can work out whole chords without the unwanted "garble" sound that players used to experience a decade ago when pitch-shifting technology wasn't advanced at a level as it is nowadays.
The Quint Machine has four control knobs: Mix (Dry/Wet), +Fifth, +1Octave, and -1Octave. Playing with these four knobs will produce a lot of different sounds – for example,
dialing out the Dry signal will make your guitar sound like an organ, or letting through just the -1Octave will make your guitar sound like a Bass.
Top 5 Budget Pitch Shifter Pedals Under $200
Serious guitar gear can cost a lot of money, and when I say a lot of money, I don't think hundreds of dollars; I think more like thousands of dollars.
Of course, if you are a bedroom type of player, a good pedal will certainly make you smile from time to time, but if you are in the professional world, gigging, recording, and making money out of music, boy, you sure need to sound good. Well, you've got yourself a nice amp and nice guitar; now it is time for the pedalboard. A well-put pedalboard can cost a few thousand dollars; it all depends on how much you are of a pedalboard guitarist.
However, my logic is – if you are making money out of your music or if you want to start making, this is the section you should be looking at. And yeah, cheap pedals can work out at some times, but sometimes they aren't worth the hassle.
Boss PS-6 Harmonist
Rock-solid casing
Versatile
Great tracking
Affordable
Boss is a brand that doesn't need a special kind of introduction – they've been present on my pedalboards for decades, and they have proven to be constant in their sound quality and durable for a lifetime. The PS-6 Harmonist is, of course, no excuse.
The Harmonist has four knobs – Balance(Wet/Dry), Shift(Harmony), Fall Time/Key, and a Mode selector switch. The versatility of this pedal comes from the fact that it has four modes: S-Bend, Detune, Pitch-Shifter, and Harmony (Major/Minor).
The Shift/Harmony knob sets what harmonies you will add to your playing when the pedal is set to Harmony mode, and when set to Pitch-Shift mode, it sets the interval that you are going to be pitch shifting. The Fall Time/Key knob sets the key of your harmonies when you are in Harmony mode and the time of the note coming back when you are in S-Bend mode.
I must mention that this pedal also has Stereo outputs and an expression pedal input, which allows me to pitch-shift in a more expressive way – with my foot.
Electro-Harmonix Pitch Fork
No products found.
No glitches
Polyphonic
Great set of features
Favorite among professional players

The absolute favorite of many guitarists who are into pitch-shifting, the Pitch Fork by Electro Harmonix is one of the best on the market.
On the pedal, you'll find a Blend (Dry/Wet) control knob, a Shift selector knob, a three-way toggle switch for setting whether I want to pitch shift Up, Down, or both ways, a Latch push-button for activating the Latch feature on the footswitch, and of course, the footswitch.
With the Shift selector switch, you can choose the interval that you want the Pitch Fork to produce for you (m2, M2, m3, M4, P4, P5, M6, m7, 1Oct, 2, Oct, 3Oct are available), and there is also the Detune mode, which is pretty self-explanatory.
I also must mention that the Pitch-Fork has a TRS input for an expression pedal, so you can do all those dive bombs on the fly using your foot, just like on the classic Whammy by Digitech.
It gets powered by a power adaptor (included in the price) or by a 9V battery (which is always a plus).
The Pitch Fork is great at tracking – whether you are playing single notes or chords, this pedal won't disappoint you in any matter.
Electro Harmonix Slammi Plus
Great design
Simple
Flexible
The Electro Harmonix Slammi Plus is a pedal that you must check out if you are a fan of pitch-shifter with a treadle. This pitch-shifter looks like a Wah-wah pedal – it is very good at tracking, it is very simple and easy to use, and it feels good under the foot, if you know what I mean.
On the right side of the pedal, there is the Shift rotary switch and the Pitch/X-Fade toggle switch. On the left side of the pedal, you will find the Blend control knob, the three-way Direction toggle switch, and the Pitch Mix control knob.
With the Slammi Plus, you can aim for a minor second, Major second, minor third, Major third, Perfect fourth, Perfect fifth, Major sixth, one octave, two octaves, and three octaves up and down. There is also the Detune feature, which has been getting very popular these last few years. It works with a 9V power adaptor or a 9V battery.
Digitech Whammy Ricochet
Red
Small enclosure
Great at tracking
Great features
The Digitech Whammy Ricochet does the same job as the first Whammy by Digitech that rocked the world more than thirty years ago now. However, the Ricochet is a lot smaller, and instead of having a treadle, it has a Momentary/Latching footswitch.
On the left side of the pedal, there are the led indicators that visually indicate the trajectory of your pitch-shifting.
Then, there are the two toggle switches – one that turns on and off the Momentary switch and a Classic/Chord switch, which is a switch that lets you choose between the classic Whammy sounds or clean polyphonic pitch-shifting sounds.
On the right side of the pedal, there is a Ballistics (Shift/Return) control knob and a rotary switch that lets you select your desired pitch-shifted note.
It has a true bypass switch, and it runs on a 9V DC negative center adaptor.
Alexander Pedals Marshmallow
Interesting graphic design
Dual modulating pitch-shifters
Six modes
Modern set of features
The Marshmallow pitch-shifter by Alexander Pedals will strike an interest in many guitar players just by taking a glance – it has an exciting graphic design. However, the thing that will make them buy it is, of course, the fact that this pedal is one versatile beast.
It has six modes: Dyna (Dynamic Pitch Shifters), Mod (Dual pitch-shifters), Rand (Dual pitch shifters with random modulation), Arpy (Arpeggiator), Ring (Dual pitch shift with tremolo modulation effects), and Cloud (Dual pitch-shift with Reverb).
Of course, the control knobs on the pedal are different for each model. Furthermore, with the Marshmallow pedal, you can use the four factories' pre-sets or make and store your own. If you have a MIDI controller, you can go even further and store 16 presets, all accessible with the push of your finger.
The guys at Alexander Pedals didn't stop here – they added the "Pitch Lock" feature, which offers four options: Unlock, Chromatic, Major, and Minor.
I almost forgot to mention the "Warp" footswitch located is the one on the left side of the pedal, which allows you to play with the pedal panning between two different presets.
Although the Marshmallow is not bigger than the average guitar pedal, it seems like a guitar player can explore the psychedelic world with it.
Conclusion
Today's technology allows us to produce lots of different and interesting sounds with my guitars.
And while some may say that the days of rock music and guitar music generally are over, it seems like the days of great-performing pedals have just come. Well, the analog effects that guitar players used in the past are staying and are being improved, but the digital ones are experiencing their second renaissance.
The pitch-shifter effect pedals that rocked the world a few decades ago are now getting better at tracking, they are more precise than ever, and they are getting more popular, finding their way into many genres of music. And who could think that one can buy a pitch-shifter pedal for less than 50$?
In this article, I reviewed a lot of budget-friendly pitch-shifters, and I must agree that some companies on the market can't stop surprising us with their prices versus the quality they are producing positively.
If you have any comments or questions about the products in my article, feel free to leave a comment below the article.
If you found this article useful, you may want to save this pin below to your Guitar board.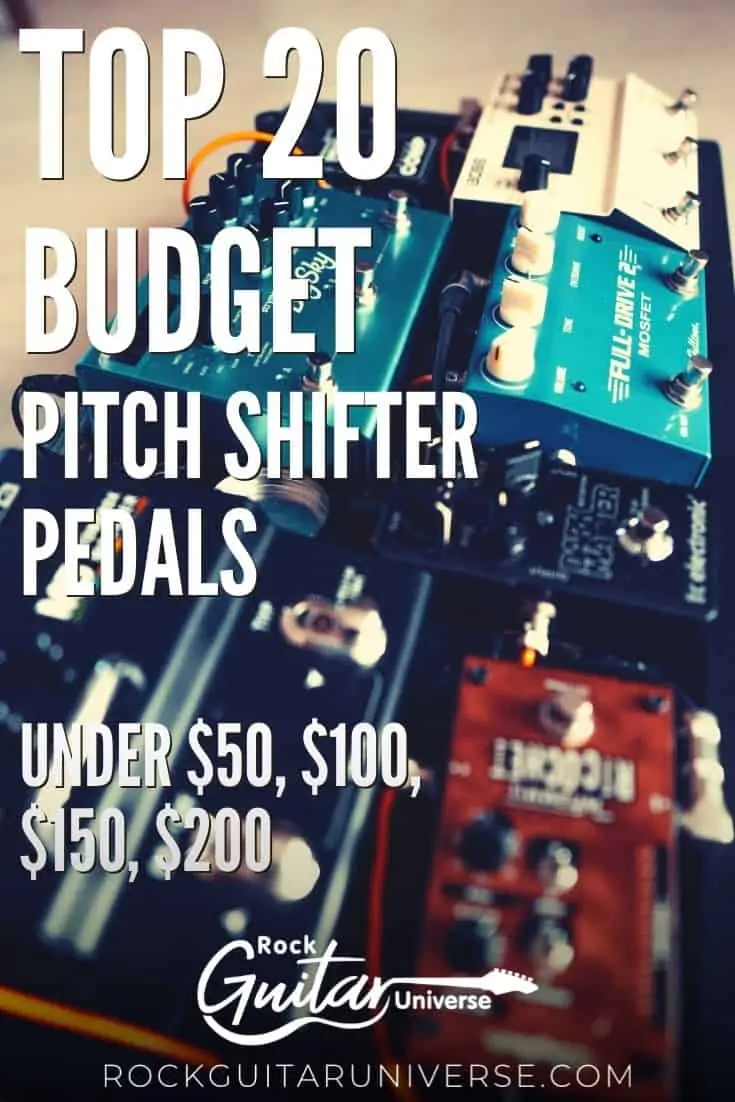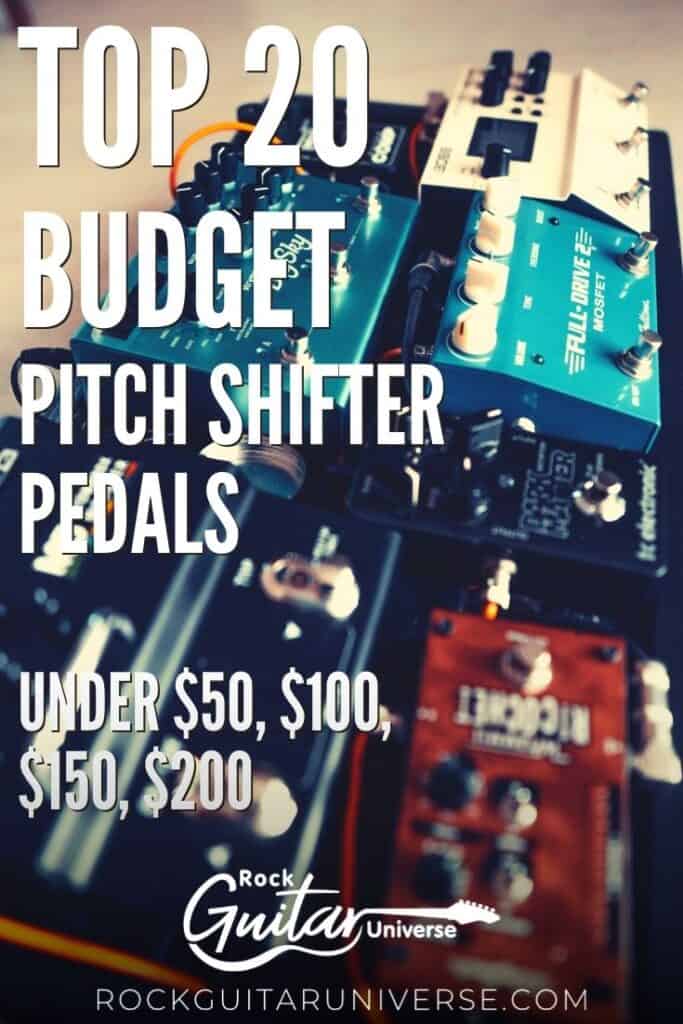 Last update on 2023-10-05 / Affiliate links / Images from Amazon Product Advertising API