When the topic comes to pop-punk, one of the first bands that come to mind is Good Charlotte, rocking the charts in the 2000s. Founded by the identical twins, Madden Brothers, Good Charlotte achieved a unique sound with the hard-charging fury of skate-punk, the melodiousness of pop, and the spooky, mascara-smeared sensibilities of '80s goth.
The lead guitarist of the band, Benji Madden, was behind this pop-punk sound along with his brother Joel Madden. Benji was more interested in punk, while Joel liked pop-rock sounds of the bands such as The Cure and The Smiths. This contrast ended up in a unique pop-punk sound which created Good Charlotte.
As the lead guitarist, Benji Madden became one of the most influential guitarists of the time with his music and private life. With his marriage with Hollywood star Cameron Diaz and his appearances on T.V.s and his gear and playing style, Benji Madden became an icon that many people closely followed.
Let's look at Benji Madden's gear, effects, tone, and playing styles to learn more about the iconic pop-punk guitarist.
Signature Guitars
Ernie Ball Music Man Benji Madden Signature Model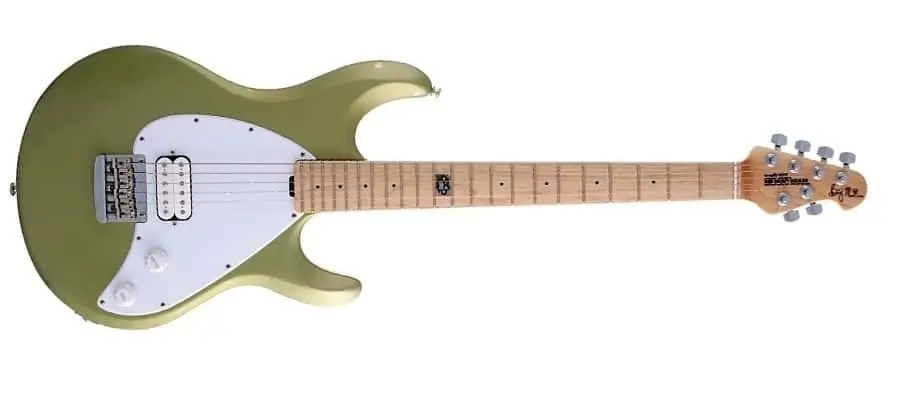 "My favorite guitar would be my green Ernie Ball Silhouette Special. I love how it sounds, and I feel really comfortable playing it. Plus, we jump around a lot when we play, so my guitars take a beating. But the Silhouette Special is really light and sturdy, so it's ideal for me."
These are the words of Benji Madden in an interview he made during the early 2000s. His signature guitar, Ernie Ball Music Man Benji Madden Signature Model, is the only signature guitar from MusicMan, which has a single humbucker. It has an alder body with a 5-bolt- neck attachment along with a 25-1/2″ scale with a 10″ neck radius.
It has 22 high-profile, medium-width frets and a standard MusicMan string-thru bridge of chrome-plated, hardened steel with bent steel saddles. It only has one humbucker at the bridge position, a single DiMarzio Custom wound humbucker. The signature aesthetic touch of Benji Madden is the knuckle dot inlay at the 12th fret position.
Benji Madden's Electric Guitars
Suhr Custom Classic T – Bengal Burst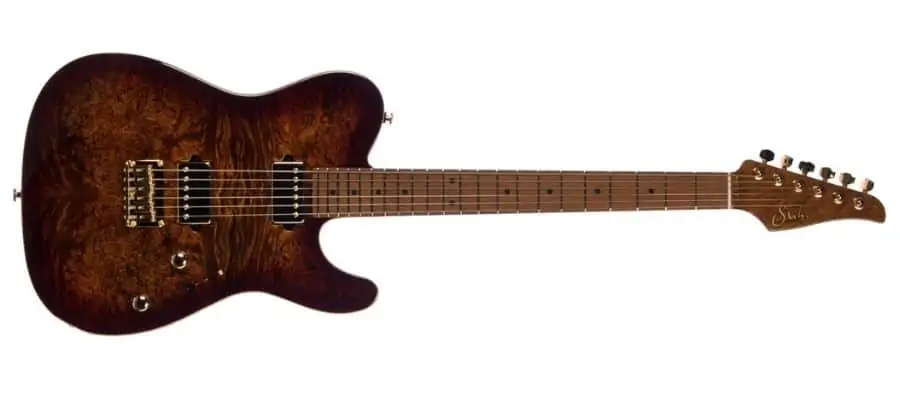 As he explained in an interview, For the recordings of the seventh and the latest album of Good Charlotte, Generation R.X., which was released in 2018, Benji Madden used two guitars. One of them was a Suhr Custom Classic T – Bengal Burst, the Telecaster look of Suhr with two Suhr humbuckers, a stunning look, a one-piece Flame Maple body, and a top with scraped binding.
The tone of the guitar is incredibly well balanced with focused lows, clear and strong mids, and great highs to cut through even the heaviest mixes. Benji used this one as his main guitar on the album, with which he was truly satisfied.
Benji Madden can be seen with the guitar in the video clip of Shadowboxer, the first single of the album, as well as in the live performances after the album's release, such as the Rock Em' Ring in 2018. Although he says he used a Bengal Burst-colored Tele in the recordings, it seems he has many other options such as Trans White and 2- Tone Tobacco.
Gibson Custom Shop Les Paul Standard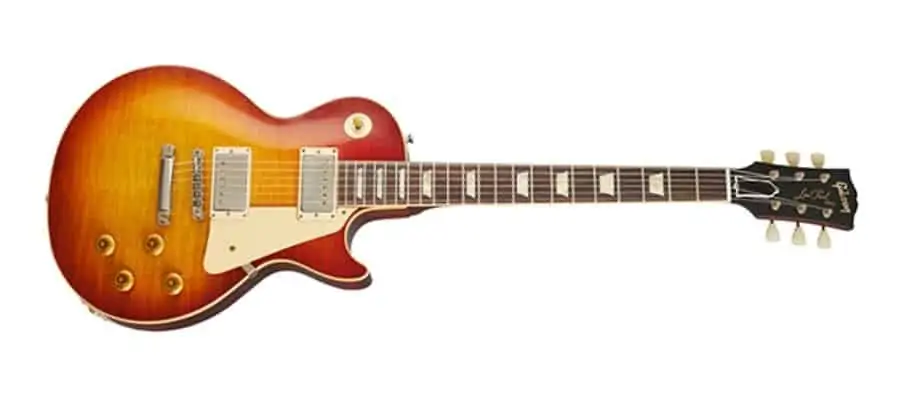 The second guitar Benji Madden used in the recordings of Generation R.X. was a Gibson Custom Shop Les Paul Standard. In the interview, he does not specify the model, but as a standard Les Paul, it certainly has two Custombucker Alnico III pickups for the unique sound of the Les Pauls along with 22 Historic Medium-Jumbo frets, 2 Piece maple-body, and mahogany neck, and a fixed bridge.
Although Benji Madden used this guitar for some parts of the recording sessions of the Generation F.X. album, he does not use Les Paul for live performances.
Fender American Standard Telecaster H.H.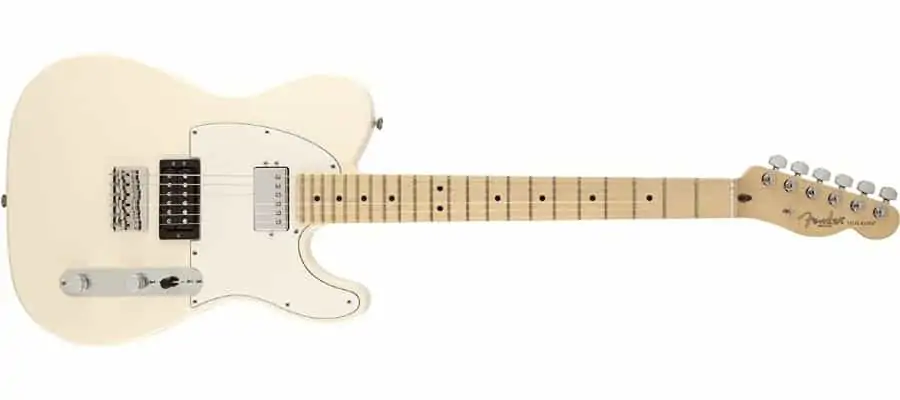 Benji Madden's most preferred guitar for live shows recently is a Fender American Standard Telecaster H.H. The model was released in 2014 and discontinued after a while, making it a rare and hard-to-find guitar today.
It is a standard Telecaster but with an H.H. design that features a pair of Twin Head Vintage humbucking pickups, delivering enormous full-bodied sound. The guitar shines with a traditional humbucker sound but with the feel and playability of a Tele. The sustain and the tones of the guitar are truly great, which is probably the reason why Benji Madden prefers this one for live performances.
Gretsch G5191BK Tim Armstrong Electromatic Hollow Body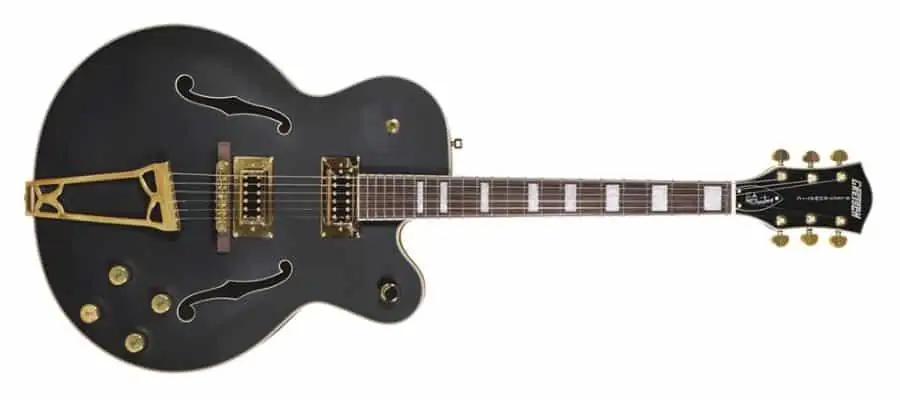 For the 2016 album Youth Authority, Madden used Gretsch guitar models like Gretsch G5191BK Tim Armstrong Electromatic Hollow Body guitar, as can be seen on the official video clips of the songs like 40 oz. Dream.
This guitar is the signature model of the punk godfather Tim Armstrong with its loud and obstreperous tone. Equipped with Blacktop FilterTron pickups and a one-piece fast-action maple neck with a white graphite nut and a bound rosewood fingerboard with acrylic block inlays, this guitar is a 6-string carnage machine. It also looks pretty elegant with a black finish and gold hardware.
Gretsch G6128T Duo Jet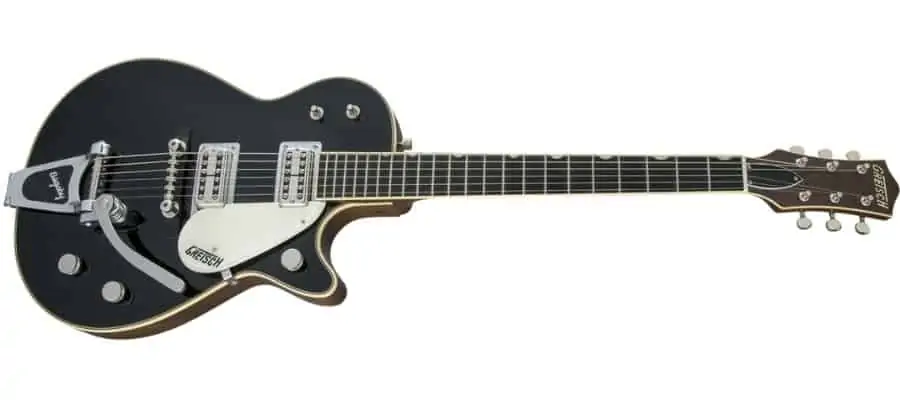 Another Gretsch guitar Benji Madden used during the recording, and performing stages of the Youth Authority album was Gretsch G6128T Duo Jet. He also used this guitar many times before for live performances, especially during the early 2010s. He can be seen in many video clips and live performances with this guitar.
The guitar was created with the golden age of Gretsch guitars in mind which was during the late '50s and '60s. It is a vintage-looking and vintage-built guitar with the authentic sound of TV Jones Classic Filter'Tron pickups, offering classic Gretsch twang and mellow vibrato. It comes with a Treble Bleed circuit with Squeezebox P.I.O. capacitors, a genuine Space Control bridge with a pinned ebony base, and Bigsby B3CB tailpiece, aged mahogany body, and neck binding.
P.R.S. SE Standard 24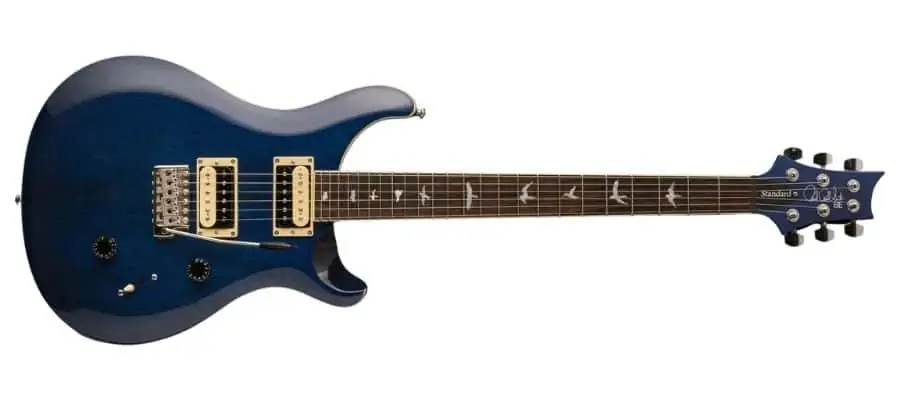 Although P.R.S. guitars are the favorite of the other guitarist of Good Charlotte, Billy Martin occasionally Benji Madden is also seen playing some P.R.S. guitars like the P.R.S. SE Standard 24 model. He can be seen with this guitar on the video clip of the 2009 single Little Things.
Ernie Ball Music Man Silhouette Special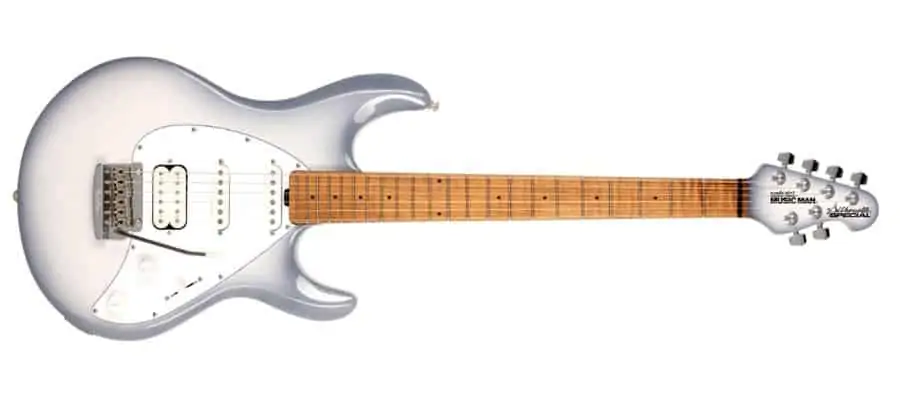 Before Benji Madden got his Ernie Ball Music Man Benji Madden Signature Model, he was using an Ernie Ball Music Man Silhouette Special in the early days of his career. His Sİlhouette Special was equipped with a single Seymour Duncan SH-1 pickup.
This was the root of the Benji Madden Signature Model as the company released the guitar with Benji Madden's customization as a signature model. He used a green finished model with lots of stickers on it.
Fender American Ultra Stratocaster HSS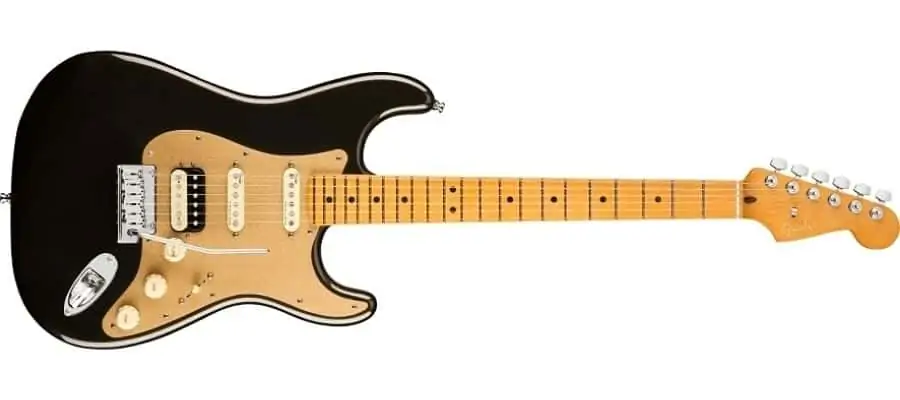 Although not often, Benji Madden also uses a Fender American Strat to play some songs in live gigs. He can be seen with a black finished one, playing the Dance Floor Anthem in the 2018 Rock Am Ring show.
His model features an H.S.S. pickup configuration with a Rosewood fretboard. It seems like a Custom Fender American Ultra Stratocaster H.S.S. model with a black finish.
Benji Madden's Acoustic Guitars
Takamine Pro Series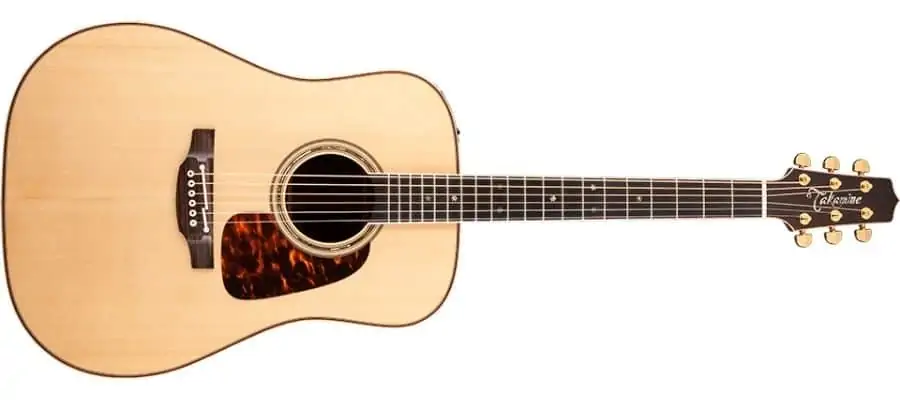 Although Good Charlotte does not often use acoustic guitar in their compositions, they have made several unplugged concerts for various events during the years. For these types of events, Benji Madden plays Takamine Pro Series acoustic guitars.
He has different versions of the guitar, including one that features a single-cut Jumbobody and another one with a Dreadnought Cutaway body. These guitars are electro-acoustic guitars equipped with a CTP-3 Cool Tube preamp system paired with the unique Palathetic™ under-saddle pickup for a peerless amplified response.
Benji Madden's Pickups
Seymour Duncan SH-159 Model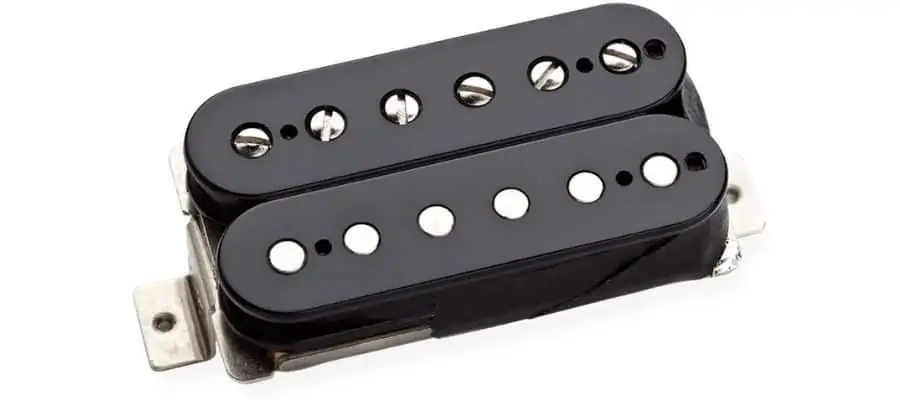 Benji Madden was using a single SH-159 in the early days of the 2000s before he got his signature guitar model from Ernie Ball. This vintage output humbucker pickup delivers a classic P.A.F. tone with a modern touch. It is one of the most popular humbuckers around as it is quite a versatile one.
Madden used SH-159 on his Ernie Ball Music Man Silhouette as a single pickup in the bridge position. He solely relied on this pickup for all of his tone, but later on, his signature model used a custom-wound DiMarzio instead of this model.
On his other guitars, he did not change the pickups and went on with the guitars' default pickup models.
Benji Madden's Guitar Strings
Ernie Ball Custom Gauge 0.12 – 0.52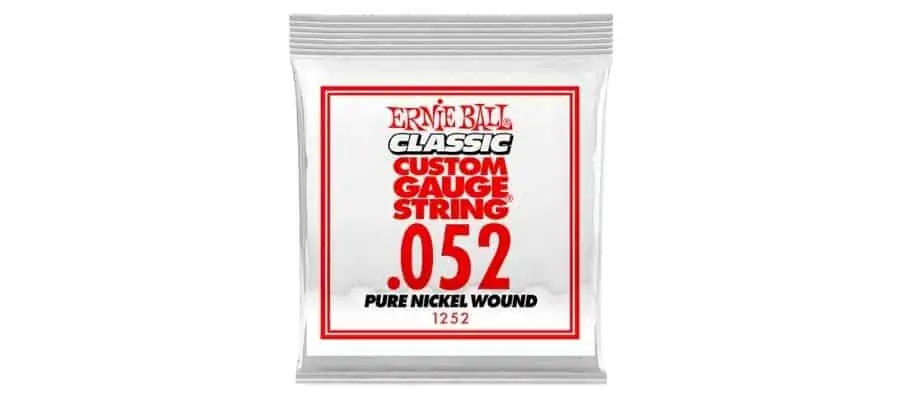 Benji Madden uses Ernie Ball Custom Gauge strings on his Music Man models. The string gauge starts from 0.12 and goes on to 0.52. He used relatively thick strings for a thicker tone.
Benji Madden's Amps
Soldano Decatone 100-Watt Triple Channel Amp Head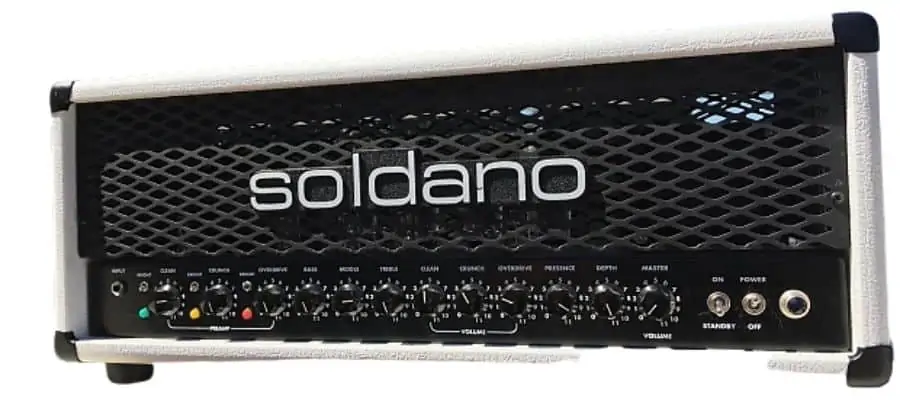 On the first few albums of Good Charlotte, Benji Madden used a Soldano Decatone 100-Watt Triple Channel Amp Head for his distorted tones. In a 2003 interview with Guitar World, he admits that he solely relies on his amps for his tones and does not use any pedals.
The 100-watt tube amp is pretty versatile with a high gain Overdrive channel, a meaty Crunch channel, and a punchy, tight Clean channel. Each channel features its own Preamp gain and Master Volume control, as well as a Bright switch, adding to the versatility.
He says he uses the overdrive channel for rhythm guitar parts, crunch channel for lead tones, and the clean channel for more gritty clean tones. He also has another clean channel that comes from the Budda Superdrive, the second step of the setup.
On the recordings and in concerts of the albums Good Charlotte, The Young and the Hopeless, and The Chronicles of Life and Death, Benji Madden used this amp for distortion while he combined it with a Budda Superdrive 18 SD18 Series II SD-18 for the clean parts.
Budda Superdrive 18 SD18 Series II SD-18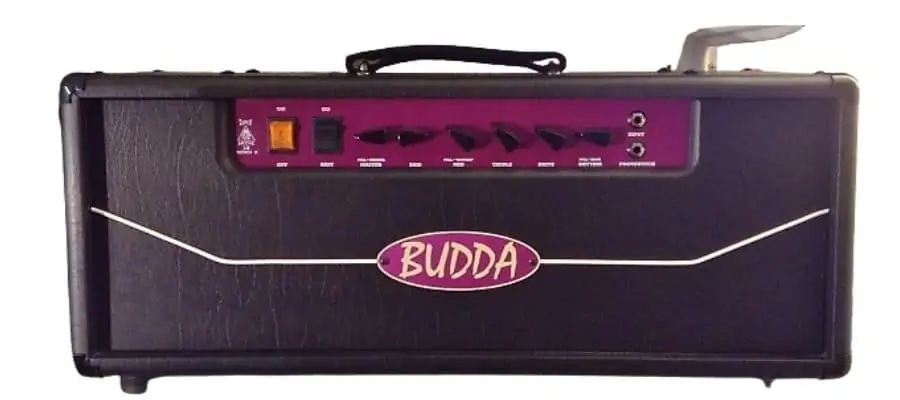 In the same interview with the Guitar World in 2003, Benji also says that he uses Soldano Decatone combined with a Budda Superdrive 18, which he uses to get his clean tones. This, combined with a few cabinets and some basic noise gate and tuner pedals, was his setup.
This amp is a two-channel all-tube head that features a super overdrive channel and a great Chimney Clean channel, which Benji Madden prefers. He gets his clean tones from this Chimney Clean channel which he truly likes.
Soldano Hot Rod 100 Plus 100 Watt Tube Guitar Amplifier Head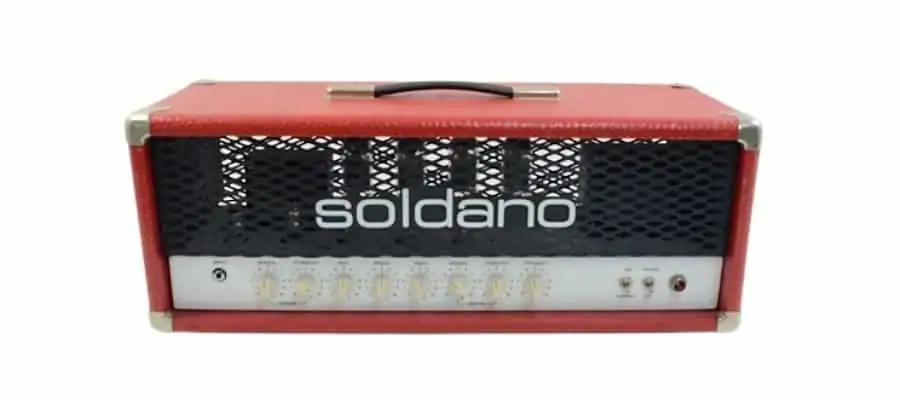 As time passed, Benji Madden switched from the Decatone to Soldano Hot Rod 100 Plus 100 Watt Tube Guitar Amplifier Head. He explains in a later interview in 2018 he started using this amp for his distorted tones with the Generation R.X. album. His way of setting up his tones is the same, but the actors changed.
He used this amp without any pedals for his distorted tones. The amp features 2-Channels with independent preamp and master volume controls. The normal mode is similar to the Crunch mode or the compressed mode from Decatone, which Benji uses for riffs and lead tones, while the Overdrive mode, which is the uncompressed mode, is for rhythm guitar partitions full of power chords.
Laney IRT120H 120W Tube Guitar Amp Head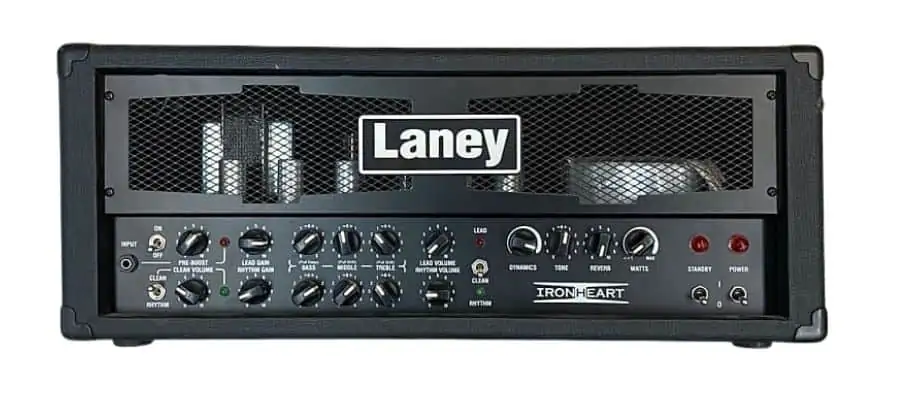 Laney IRT120H 120W Tube Guitar Amp Head is the substitute of Soldano Hot Rod 100 Plus 100 Watt Tube Guitar Amplifier Head in Benji Madden's setup. It is a 3-channel 120 Watt tube amp with Clean, Rhythm, and Lead modes. Benji uses this amp mostly on live performances, while he uses the Soldano amps more for recordings. He explains it in the same interview of Good Charlotte which they made after the Generation RX album. It is also seen in the photographs of a concert in England.
Nineties Matchless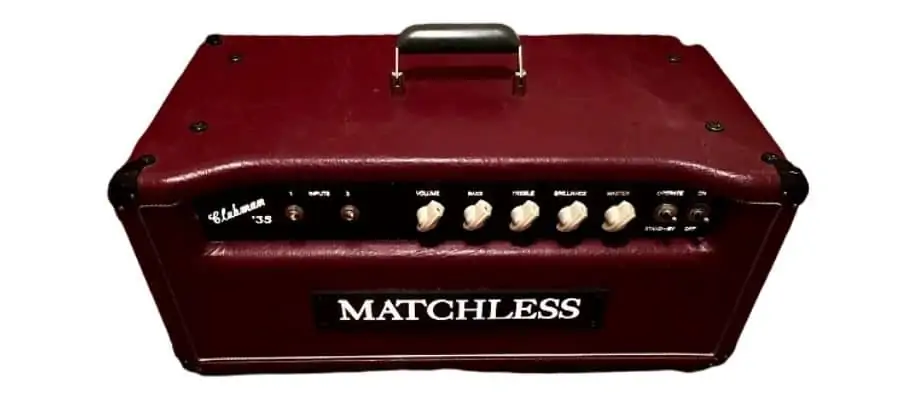 The chime-y clean tones that Benji likes are provided by a Nineties Matchless tube amp head. He uses this amp instead of the Budda he was using in his earlier days. Although he does not specify exactly which model he is using in the interview, all of the tones these rare amps provide are truly amazing.
Laney L50H Lionheart Class A 50 Watt Amplifier Head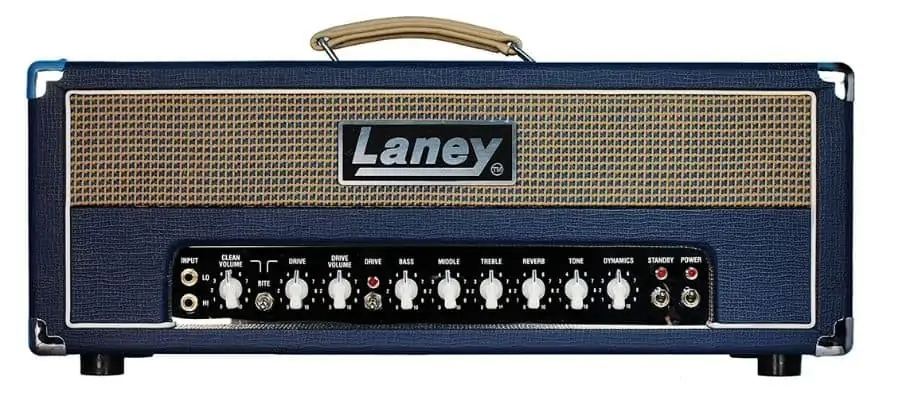 For his recent project, The Madden Brothers, with his brother Joel Madden, Benji Madden uses Laney L50H Lionheart Class A 50 Watt Amplifier Head with L412 cabin. As his style is a bit different compared to the loud pop-punk tones of Good Charlotte, he prefers to go with a more versatile and modern sounding amp for his tones.
His distorted and clean tones heavily rely on this amp which can be clearly heard on the tracks of the album Greetings from California in the songs like We Are Done and Dear Jane.
Benji Madden's Cabinets
Marshall 1960AX
Benji Madden used a Marshall 1960AX 4×12 cabinet with Greenbacks setup to complete his Soldano – Budda combination in his early days.
Laney L412 4 x 12 Cabinet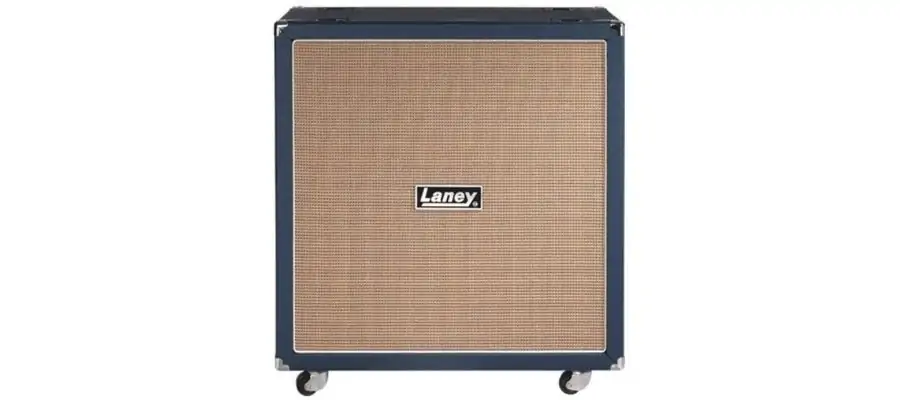 For his Laney Lionheart amp, which he uses with The Madden Brothers project, he prefers a Laney L412 4 x 12 Cabinet.
Laney IRT412 Cabinet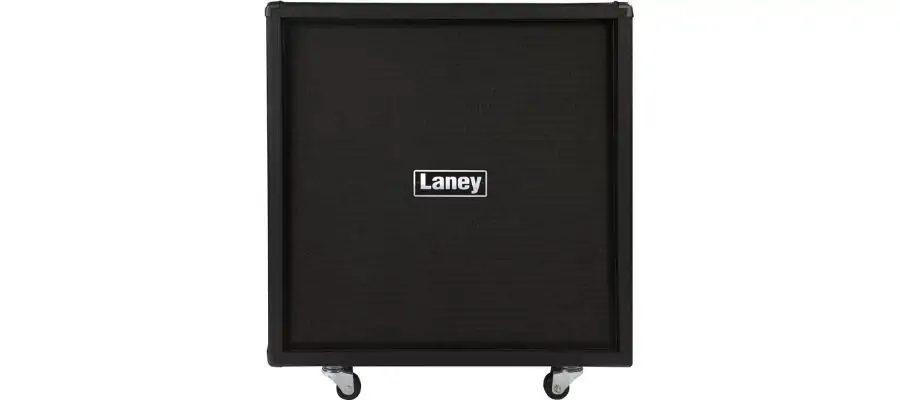 Laney IRT412 Cabinet is Benji Madden's choice to complete his latter setup with Soldano Hot Rod and Laney IRT120W.
Benji Madden's Pedals
Benji Madden is not a fan of pedals and likes to get his tones from tube amps as much as possible. But, he uses some pedals to control his volume, as he is very loud on the stage, and some others to experiment with his tone in recent years.
Boss NS-2 Noise Suppressor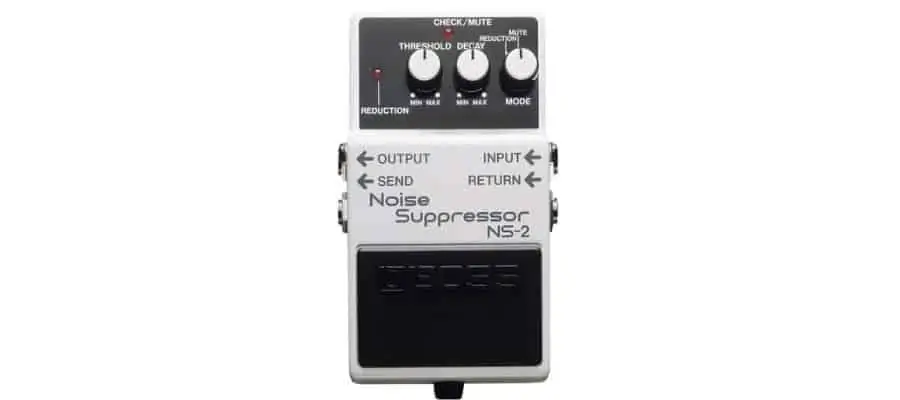 As Benji Madden and all of the members of Good Charlotte are pretty loud on the stage, Madden uses a BOSS NS-2 Noise Suppressor to eliminate the noise from his tone. He sometimes turns it off to get some feedback and play with it.
Whirlwind Selector A/B Box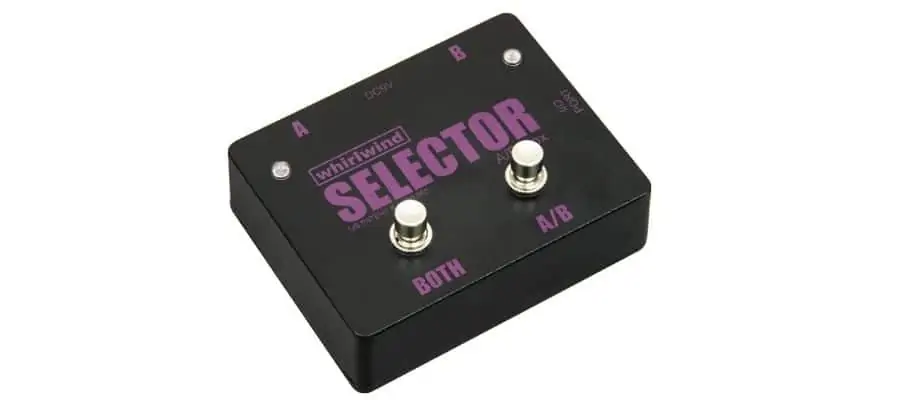 To choose between different amp channels, Benji Madden uses a Whirlwind Selector A/B Box.
Boss TU-3 Chromatic Tuner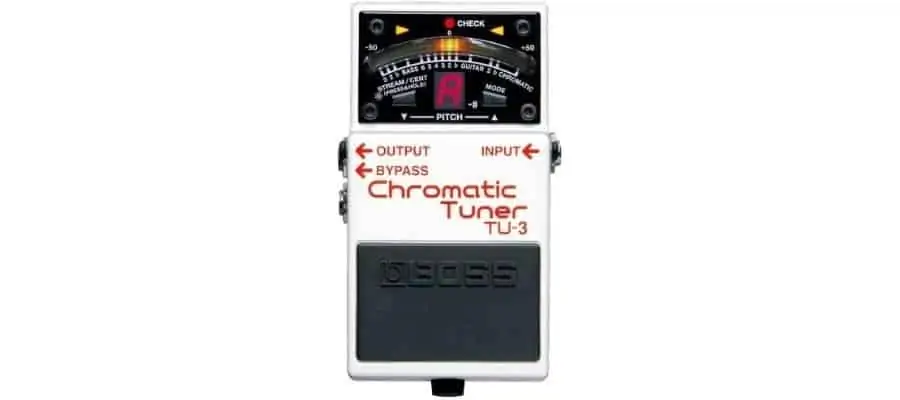 Every guitarist needs a good tuner on the stage, and Boss TU-3 is one of the best. Benji Madden uses it in his setup to keep things in tune as this accurate tuning stompbox with a clear LED display is great to use on stages.
Benji Madden's Accessories
Samson Wireless Guitar System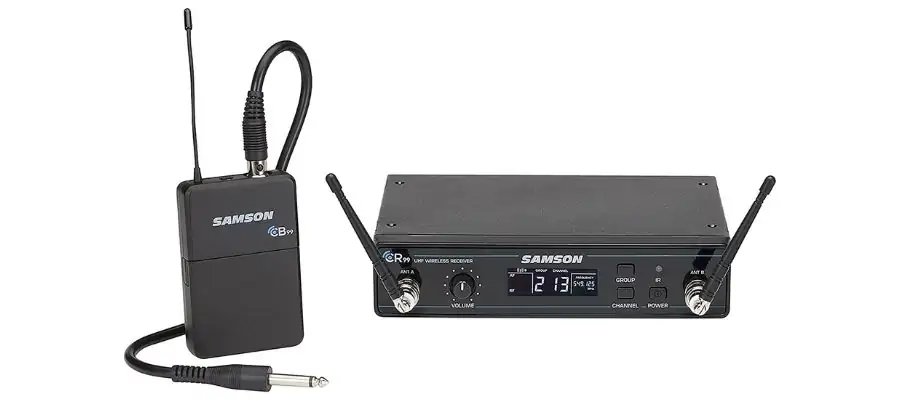 On the stage, Benji Madden is one of the most dynamic guitarists, who runs and jumps all over the platform. Of course, he was much more energetic when he was younger, but still, he likes the comfort of not being wired to anything with his instrument. That is why he uses Samson Wireless Guitar Systems, which connects his guitar to his pedalboard wirelessly.
Ebtech 2-Channel Hum Eliminator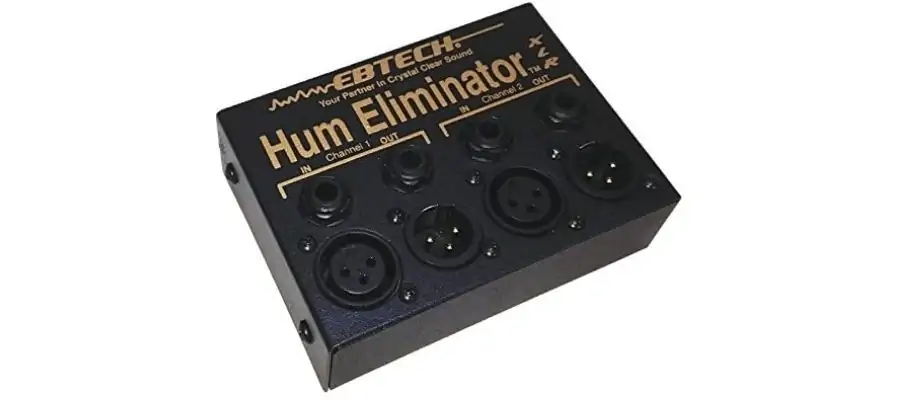 Benji Madden likes to be loud on the stage as much as he can be. So, he needs a good hum eliminator to get rid of the dreaded Ground Loop Hum in amps. Ebtech 2-Channel Hum Eliminator is one of the top-quality industry-standard products on the market, which is why Madden prefers it and does not leave things to chance.
Stickers
Benji Madden likes to cover his guitar with stickers, as can be seen on many live gigs of Good Charlotte. Actually, he liked to use them in earlier days as his only guitar with stickers was the MusicMan he was using in the early 2000s. He has a few of these guitars in different colors with different stickers.
What Is Special About Benji Madden's Guitar Tone?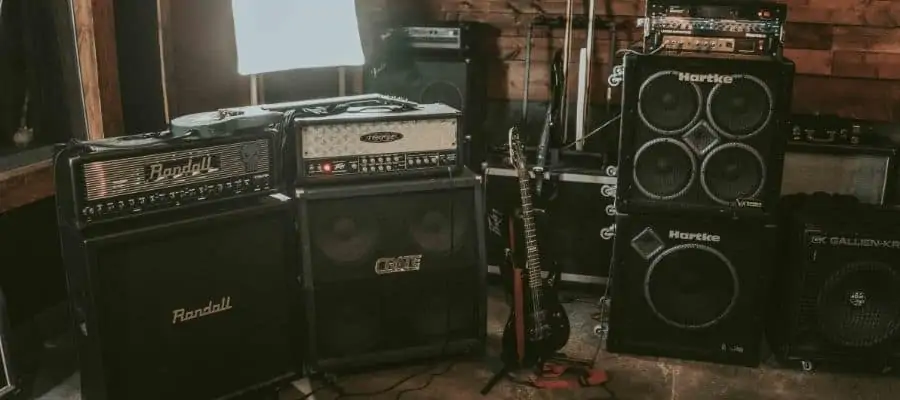 Benji Madden's guitar tone is a rich and famous punk guitar tone. It is not something extremely special or hard-to-achieve, but it has a characteristic that reflects the late 90's and early 2000's pop-punk spirit amazingly. It is not the best tone, in my opinion, and many guitarists underrate this style of guitar tones and playing, and I can see why.
The cranked-up volume, relatively high mids and low basses and highs combined with high-gain distortion, as well as a good humbucker on the bridge position, are the ultimate characteristics of the pop-punk guitar tones and that is what Benji Madden goes for.
In the songs like The Anthem, Lifestyles Of Rich And Famous from The Young And The Hopeless Album, along with the songs like I Just Wanna Live from The Chronicles of Life and Death album, the characteristic Benji Madden pop-punk guitar tone can be heard easily. The loud guitars strumming super fast palm-muted verses and full-bore strummed choruses in a nice and meaty distorted tone is what is special about Benji Madden's guitar tone.
The distortion is achieved with tube-head amps in a vintage style, so his tone is somewhere between vintage and modern. It is loud, meaty, and thick without anything special.
The clean tones of Madden are also standard, nice, and chime-y. They use clean tones mainly in the intros, and Madden likes to have a chime-y clean tone before he switches to cranked-up gain tones for his power chord verses.
How To Sound Like Benji Madden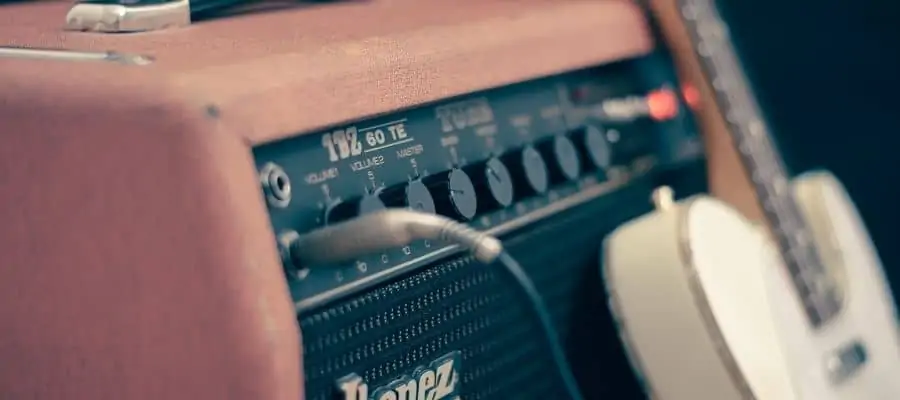 It is not ultimately hard to achieve the Benji Madden – Good Charlotte guitar tone. Most of the early 2000's pop-punk guitar tones are similar built-in ways and use similar processes to achieve the guitar sound they like. Nothing is different for Benji Madden, as, with the right equipment, it is more than easy to replicate his tone.
Guitar
First of all, you will need a guitar with a humbucker in the bridge position. The single coils do not perform well with high-gain tones and create an unwanted noise while not getting thick enough. The better the pickup, the better is the tone.
All of the guitars Madden uses feature humbucker pickups or a P90 in the bridge position. That is how he can get the high-gain meaty distortion tones he likes. For high-gain punk tones, this is crucial.
The rest of the guitar specs are not that important, but a better neck and a lighter guitar will be more comfortable to play. As you have to use many power chords and sometimes bar chords, a comfortable neck will help you greatly, but it is not essential for the tone.
Amp / Amp Settings
For the distorted tones, you will need your bass and middles in the moderate level with trebles a little higher. You can go for bass 4, mid 4, and treble 7 to get closer, but the tone will heavily depend on your gear. So, start from this point and try to search for the most suitable E.Q. settings.
To get to the gritty and crunchy distortion tone of Benji Madden, you should use high-gain on your amp if possible. As Benji gets his distorted tones from the tube amp heads, you would need a high-end amp as he has or an amp that replicates that vintage overdrive effect. Try to crank up the gain to at least 8 to sound like him.
All of his high-gain power chord and palm mute verses and basic solos, like in The Anthem or The Lifestyle Of Rich And Famous, are headed towards this tone settings.
For the cleaner parts, you can again use the same E.Q. settings with a treble slightly higher than moderate amounts of bass and mid-levels. Set the gain as low as it can be, and you should get a closer tone.
Pedal Effects / Pedal Settings
Well, Benji does not use any pedals on his setup, so this section is not really necessary if you have a similar amp to what he has. But, as they are high-end tube amp heads, you probably do not have something similar and will go to get your distortion and overdrive effects from pedals.
If that is the case, you should go for a vintage-sounding overdrive pedal with the gain knob cranked up to high levels. This way, you can have more sustain without reducing the clarity of the tone, which can happen with a more modern distortion pedal or if you use the amp's distortion with high levels.
Techniques
First of all, I don't think Benji Madden is a guitar virtuoso or even a technically advanced guitar player. He is good at what he does, but he does not play anything hard to replicate, or that would give you a new perspective on music. He is a basic guitar player with decent technique and composition skills.
So, he often plays power chords and palm mutes in his verses before he gets loud and plays fast-paced punk style power chords in choruses. There are sometimes basic solos in Good Charlotte songs like the one in The Anthem, which even beginners can play with alternate picking techniques. His solos are always very short and are in basic pentatonic scales.
As said, his style of playing can be clearly heard in the song The Anthem. You can use palm-muted melodies and power chords on the verses and fast-paced strumming for power chorded choruses. And that is all. You do not need anything else.
Benji Madden Guitar Rig Examples
Budget
Guitar

As Benji Madden prefers to play with Telecaster-style guitars like Suhr Custom Classic T and Fender American Standard Telecaster in concerts, you can go for a more budget-friendly T-style guitar like Harley Benton Fusion-T HH HT.
This is an amazing guitar with an excellent value-for-price ratio, 22 stainless steel frets, Nyatoh body, excellent finish options, maple neck, and rosewood fingerboard. It comes with a Roswell HAF-B alnico-5 humbucker pickup at the bridge position, but you can change it with the Benji Madden's humbucker, Seymour Duncan SH-1B-59.
This is a quite versatile guitar for a great price which you can use for many different genres from pop-punk to modern fusion sounds.
Amp
Positive Grid Spark 40-Watt Combo Practice Guitar Amplifier Electric...
Smart Jam learns your style and feel, generating authentic bass and drums...
Access to 10,000+ amp-and-FX presets on ToneCloud, powered by...
Import your music from Spotify, Apple Music or YouTube and Spark's smart...
Powerhouse 40 Watt combo includes onboard tone stack controls, effects,...
As I always recommend, if you need a versatile budget amp, you should go for a Positive Grid Spark Guitar Amplifier. Benji Madden uses tube amp heads, and they are the most crucial aspects of his tone as he relies solely on his amps to get his effects. However, these amps are utterly high-end products that might be over your budget.
So, you can go for a decent digital modeling amp to replicate those tube amp tones. Here Positive Grid Spark 40 does a great job for its price, and with a little adjustment, it would not be hard to get a nice Good Charlotte tone.
Pedals
If you have a digital modeling amp like Positive Grid Spark 40, you will not need any pedals as the amp will provide you with many different and great-sounding effects.
Mid-Range
Guitar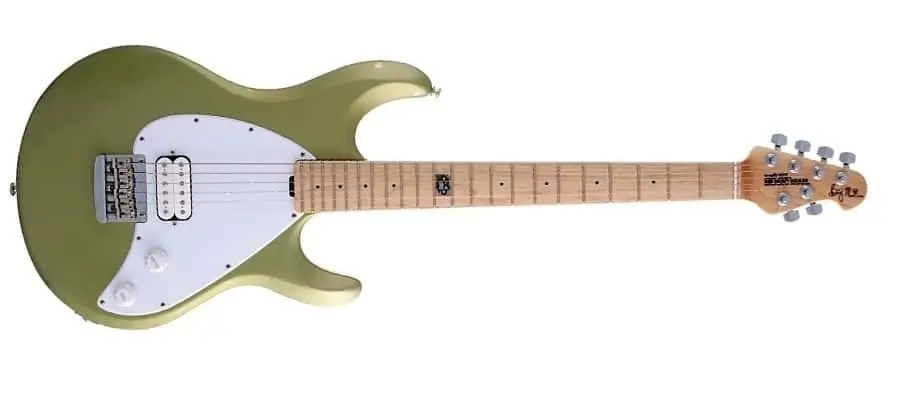 If you want to sound like Benji Madden, one of the best things you can do is to get his signature guitar. Ernie Ball Music Man Benji Madden Signature Model has discontinued a few years ago and is a hard-to-find guitar these days. But, you can find them regularly on Reverb for reasonable prices.
It has a single humbucker in the bridge position, which is a custom DiMarzio created with the needs of Benji Madden. It is a good guitar to have the Good Charlotte style of playing and tone.
Amp
Laney Guitar Amplifier Head, Black (IRT60H)
Switchable cabinet emulation - FS4-IRT included
FX loop series/switchable level - Pre-Boost function
Premium Hand selected ECC83 & 6L6 tubes
Push Pull EQ pots - Modern High gain sounds
As Benji Madden relies on his amps to get his tones, you can go for the mini version of the amp he uses these days, which is Laney IRT60H. If you buy it from Thomann, which I recommend you to, The tube amp head comes with a Harley Benton G412A cabinet. The tube amp head provides three channels Clean, Rhythm & Lead, which creates all of the tonal versatility of Benji Madden.
He uses the 120 Watt version of the same amp in recordings of the recent albums and also in live performances. He combines it with another Soldano tube amp head, but just this amp will be sufficient to replicate his tone if you follow the amp settings he uses.
Pedals
You do not actually need any pedals as you will get the tones you need from the tube amp head. However, for more comfort, you can go with a Boss NS-2 Noise Suppressor to get rid of the noise from the amp and a Whirlwind Selector A/B Box footswitch to easily switch between the channels of the amp. Both gears are also used by Benji Madden on live performances.
High-End
Guitar
Fender American Standard Telecaster HH - Olypic White
Warm tones, wide 'headroom', noise cancellation and rich harmonics from...
Wide note range, smooth string action + expressive note bends via the...
Ability to adjust the string action and playability for a wide variety of...
Made in USA
Benji Madden admits in an interview that his favorite guitar was Suhr Custom Classic T – Bengal Burst in the recent Good Charlotte albums. However, he uses a Fender American Standard Telecaster H.H. regularly in his concerts. I recommend this guitar more than his Suhr modes as his Suhr guitar model is harder to find and is a customized one.
The Fender American Standard Telecaster H.H. is a great and iconic guitar with a T-style body and two Twin Head Vintage humbucking pickups that deliver enormous full-bodied sound. It would be a great choice overall and also to replicate the Benji Madden sound.
Amp
Benji Madden's distorted pop-punk tone is created mainly by his fire-breather tube amp, Soldano Hot Rod 100. But, today, there is a similar but better and more versatile Soldano model, which is the Soldano SLO-100 Super Lead Overdrive 100-watt Tube Head.
This 100-watt tube amp head provides a thick, juicy sizzle that can be used for everything from whiskey-soaked electric blues to red-hot jazz fusion to tooth-rattling metal and, in this case, to the meaty punk tone of Benji Madden. You can combine it with a decent cabinet, and this amp will create wonders in live gigs and recordings.
Pedals
Again, you do not need any pedals for the tone creation. But, as you will be using a 100-Watt tube amp that performs the best when it is loud, you will need a noise gate pedal. You can go with the Boss NS-2 Noise Suppressor as Benji Madden does.
And to switch between the channels of the amp, you need a footswitch. Benji uses Whirlwind Selector A/B Box for this issue, and you can also follow in his footsteps.
Conclusion
In short, Benji Madden and Good Charlotte is a good example of the pop-punk hype in the late '90s and early 2000s. With his loud and crunchy guitar tone, Benji Madden made a name for itself in music history.
His guitar tone and playing are not very special, in my opinion, but reflect the era pretty well. And, if you like the tones and style of the pop-punk genre, he is a good role model to follow. Luckily, his tone is not hard to replicate, and you don't need to use high-end gear necessarily to reach it. If you follow the easy steps written in this article, you are good to go.
If you found this article useful you may want to save this pin below to your Guitar board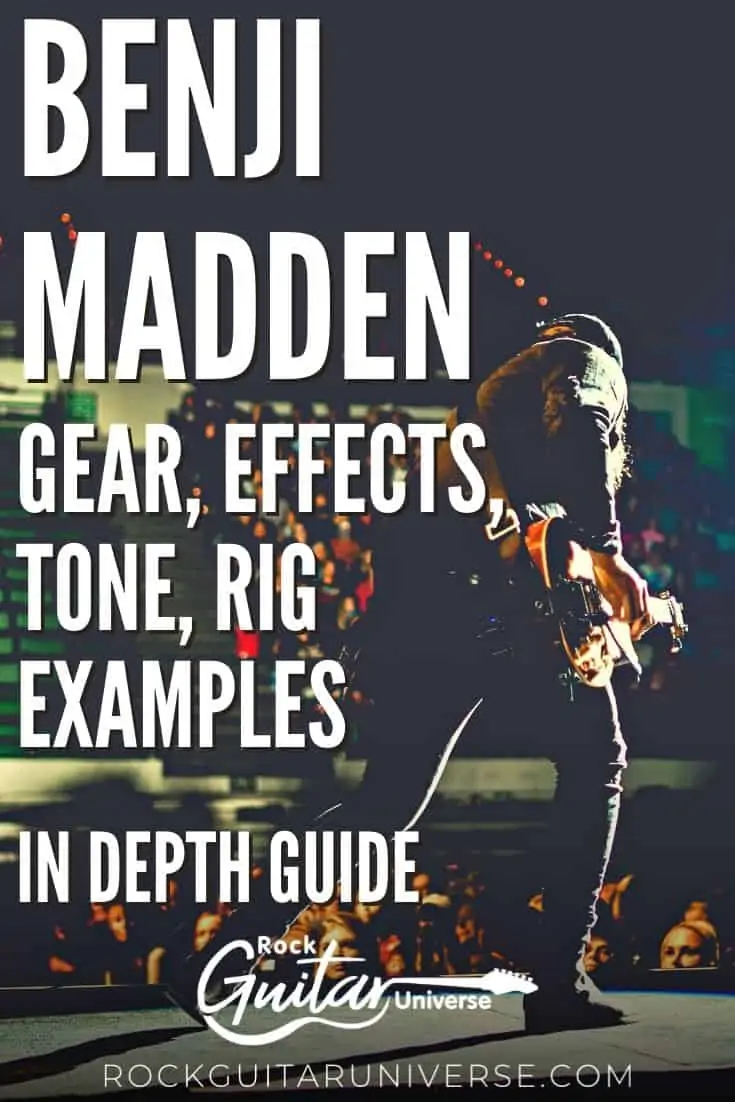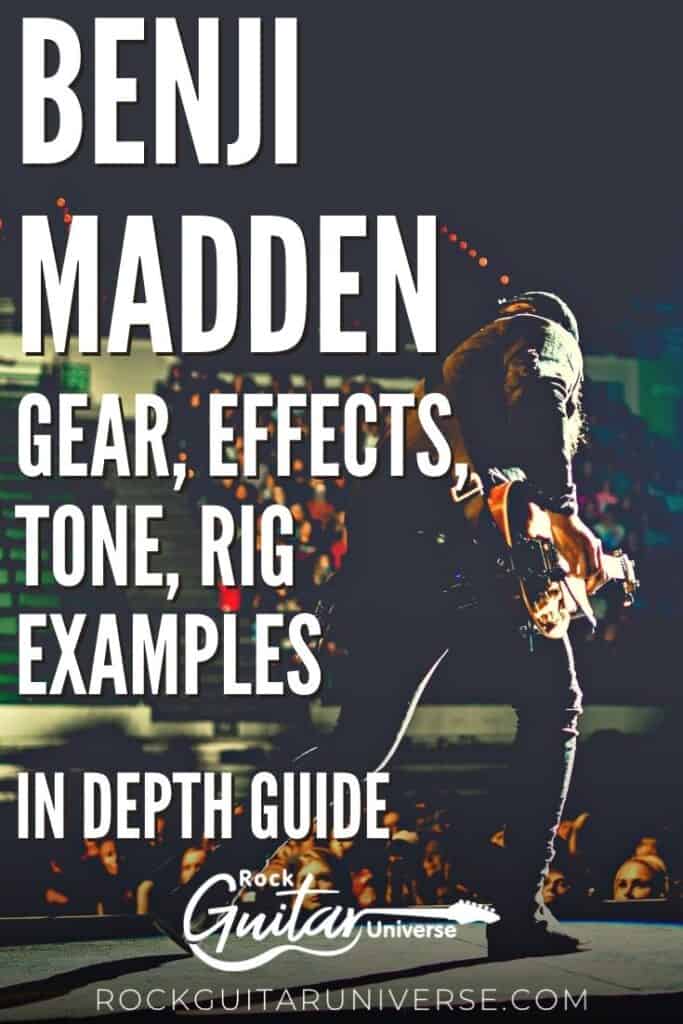 Last update on 2023-05-29 / Affiliate links / Images from Amazon Product Advertising API